Brownie Cherry Cheesecake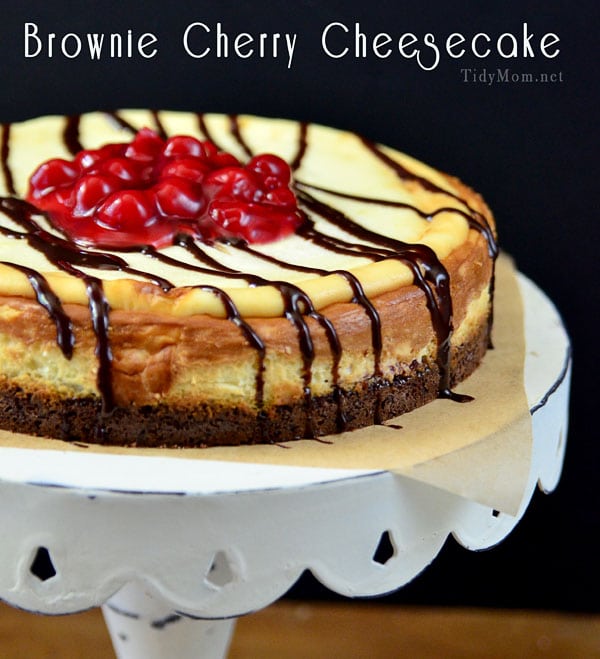 Just let that title and picture soak in a minute…………I'll wait.
I've had this recipe tucked away in a cabinet in my kitchen for months.  I'm not really sure why I had it in there, because it's not a place I keep recipes.  I think it first sat on my counter for a month or two so I would make it, should the need ever arise.  But I got tired of it sitting on the counter so I stuck it in a cabinet, and every now and then it would fall out………as if saying "MAKE ME".
So the other day when it tumbled out of the cabinet for the umpteenth time, I decided there was no NEED for a cheesecake other than I just wanted to EAT cheesecake!……….hence, the need had arose!
What caught my attention most was BROWNIE Cheesecake.  Being big brownie lovers in this house, I knew adding cheesecake to the brownies could only  equal pure bliss!
I mean look at that would you…………
In between that layer of brownie and creamy cheesecake is cherry pie filling……..oh but wait! there's more.
Take a slice, put it on a plate, crown it with a touch more cherry pie filling, a big dollop of COOL WHIP whipped topping and a drizzle of chocolate syrup and you've got your self one fiercely decadent dessert!
By adding a fluffy cloud of COOL WHIP along with your own special touches, like chocolate syrup or sprinkles, can make any homemade or even store-bought desserts extra special.
This Brownie Cherry Cheesecake is not too rich, creamy and delicious and will certainly impress any guests!
I do have one note to pass on about the recipe.  The brownie in this recipe is meant to be more of a crust, than a typical "brownie" I found it to be a little tough.  It was fine to eat and very delicious, yet hard to maneuver with a fork, which was odd, because it wasn't hard to eat.  So, the next time I may just try making a regular batch of brownies for the bottom……..but either way you make them, I don't think you'll be disappointed one bit.
I still managed to eat the whole cake piece!
Now that I have your mouth watering for cheesecake, I guess you want the recipe, huh?
Brownie Cherry Cheesecake
Ingredients
1 8-ounce package of brownie mix or 1-2/3 cup brownie mix
4 eggs, divided
1 Tablespoon canola oil
1/2 cup mini semisweet chocolate chips
3 8-ounce packages cream cheese, softened
3/4 cup sugar
1 21-ounce can Cherry Pie Filling
COOL WHIP whipped topping, thawed
chocolate syrup
Instructions
Preheat oven to 350 degrees. Coat 9-inch springform pan with cooking spray and set aside.
In a medium bowl, stir together brownie mix, one egg and oil until combined. Stir in chocolate chips. Spread batter in prepared pan. Bake for 10-12 minutes or until brownie is just set. (will not be completely done at this point)
Meanwhile, in a large bowl, beat cream cheese and sugar on medium speed until well combined and smooth. Add in the remaining 3 eggs on low speed and set the mixture aside.
Carefully spoon 1/2 can (1 cup) of pie filling into the center of brownie, leave a 2-inch brownie border along sides of pan.
Dollop cream cheese mixture over surface; carefully spread to edges of pan. Bake for 35-40 minutes or until center is set, but jiggles when the pan is lightly tapped.
Cool in pan on a wire rack for 1 hour.
Cover and chill at least 4 hours before serving.
Top cheesecake with remaining cherry pie filling. Garnish with COOL WHIP and chocolate syrup. if desired.
https://tidymom.net/2012/brownie-cherry-cheesecake/
Copyright© 2009-2013 TidyMom.Net
Tools you may need:
I'm linking up with these parties.......please visit them! Made by You Monday, Get Your Craft On, Weekend Wrap Up Party, Pity Party , Tasty Tuesday, Strut Your Stuff and Sundae Scoop
This is just one of the many ways I get creative with COOL WHIP, making every dessert more delicious. Share what your kids love about COOL WHIP and you'll be entered to win $500 cash!
Visit the COOL WHIP Facebook page to see more recipes and to share your own COOL WHIP creations!

Sponsored posts are purely editorial content that we are pleased to have presented by a participating sponsor. Advertisers do not produce the content. Official Sweepstakes Rules.