Grandpa's Layered Pumpkin Chiffon Pie Recipe
This post may contain Amazon or other affiliate links. As an Amazon associate, I earn from qualifying purchases.
Grandpa's EASY LAYERED PUMPKIN CHIFFON PIE is nothing short of delectable! A pumpkin dessert recipe that's cold, creamy, fluffy, and a scrumptious (fought-over) family tradition!
Looking for more holiday favorite pies? Don't miss the award-winning Upside-down Apple Pecan Pie, Chocolate Pecan Pie Bars, or Apple Butter Pumpkin Pie
Be sure to sign up for my email… to get new recipes and ideas in your inbox!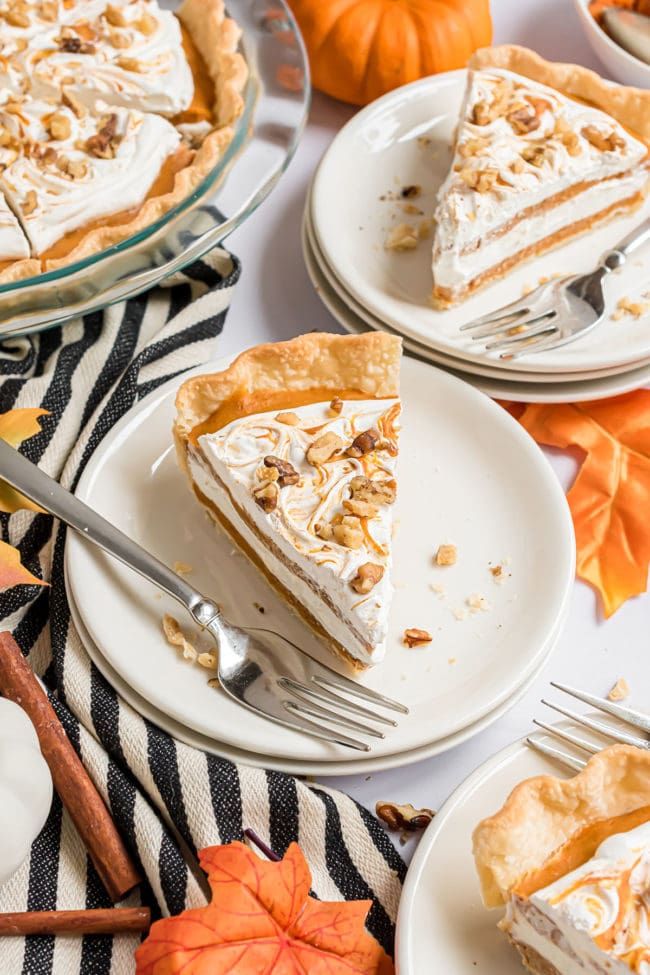 Why You'll Love My Grandpa's Recipe
This creamy, fluffy pumpkin chiffon pie recipe is a wonderful alternative to traditional pumpkin pie. An exquisite, no-bake holiday treat, this pie is truly heavenly!
Light and Fluffy: This cold pie boasts a delicate, fluffy texture, creating a delightful contrast to the usual dense pumpkin pie.
No-Bake: A simple yet impressive addition to your dessert repertoire without the fuss of baking.
Convenience and Ease: made with the store-bought canned pumpkin pie mix/filling and store-bought (or homemade) pie crust.
Time-Save Make Ahead: You save time and stress by making and chilling the chiffon filling a day ahead.
Double the Delight: This recipe yields two pies, so you can share the joy or have a second one ready for seconds!
Gorgeously Layered: Grandpa's Pumpkin Chiffon Pie is a visual delight with its beautifully layered presentation that's sure to impress your guests.
Festive Transformation: Elevate your holiday meals with this unique twist on traditional pumpkin pie. It adds a touch of elegance to Christmas or Thanksgiving dinner.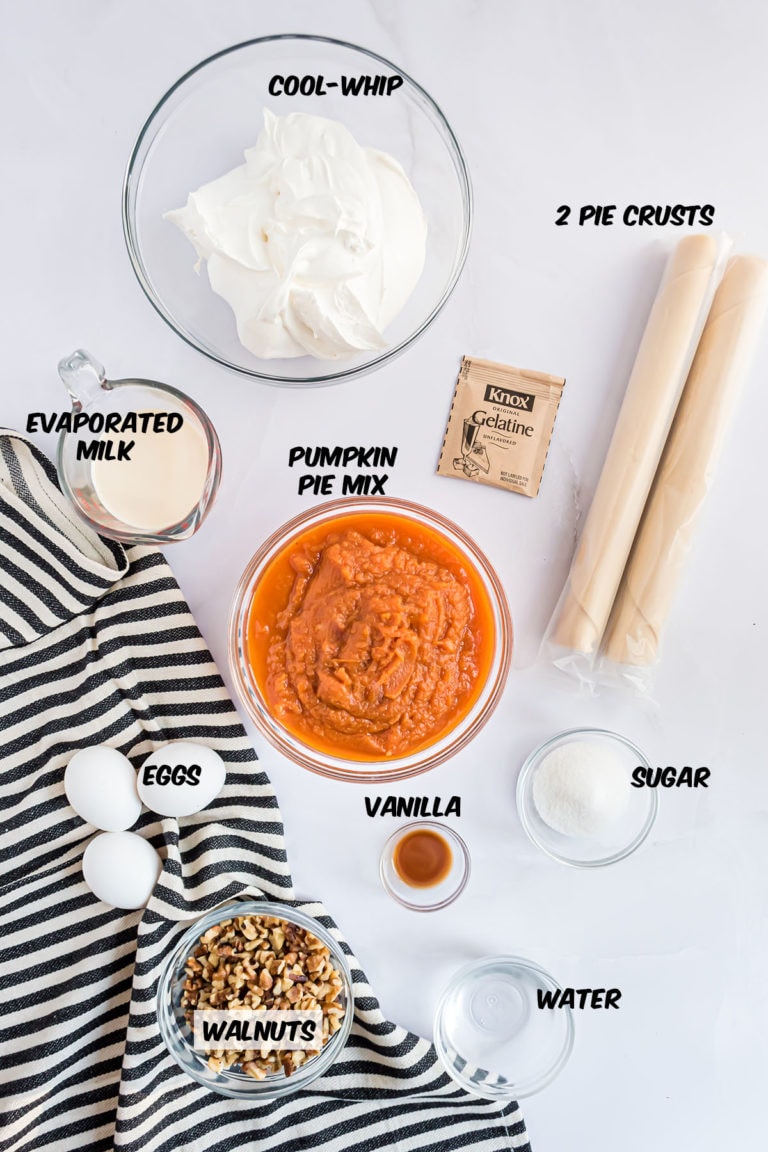 Ingredients You'll Need
For specific amounts, please refer to the printable recipe card at the bottom of the post.
This pumpkin chiffon pie recipe with walnuts makes two 8 or 9-inch pies. A delicious and unique take on a classic pumpkin pie recipe with its light and fluffy texture, and the walnuts add a rich, nutty flavor and crunch.
Unflavored Gelatin – is used to stabilize and support the fluffiness of the chiffon when added to the pumpkin mixture.
Cold Water – You want the cold water to "soften" the gelatin granules before adding the other ingredients.
Pumpkin Pie Mix – (not solid pumpkin puree) canned pumpkin seasoned with salt and a blend of traditional pumpkin spices.
Evaporated Milk – does not contain sugar. It's simply milk with 60% of the water removed. Not to be confused with condensed milk sweetened with sugar.
Large Eggs – you will use yolks with the cooked pumpkin base and egg whites for the chiffon.
Vanilla Extract – enhances pumpkin flavors and provides sweet aromatic notes.
Sugar – white granulated sugar.
Cool Whip – thawed. A convenient, frozen whipped topping. Walnuts – chopped; provide a delightful crunch and add an extra dimension to the pie's texture and flavor.
Pie Crust For 2 Pies – Refrigerated or homemade pie crust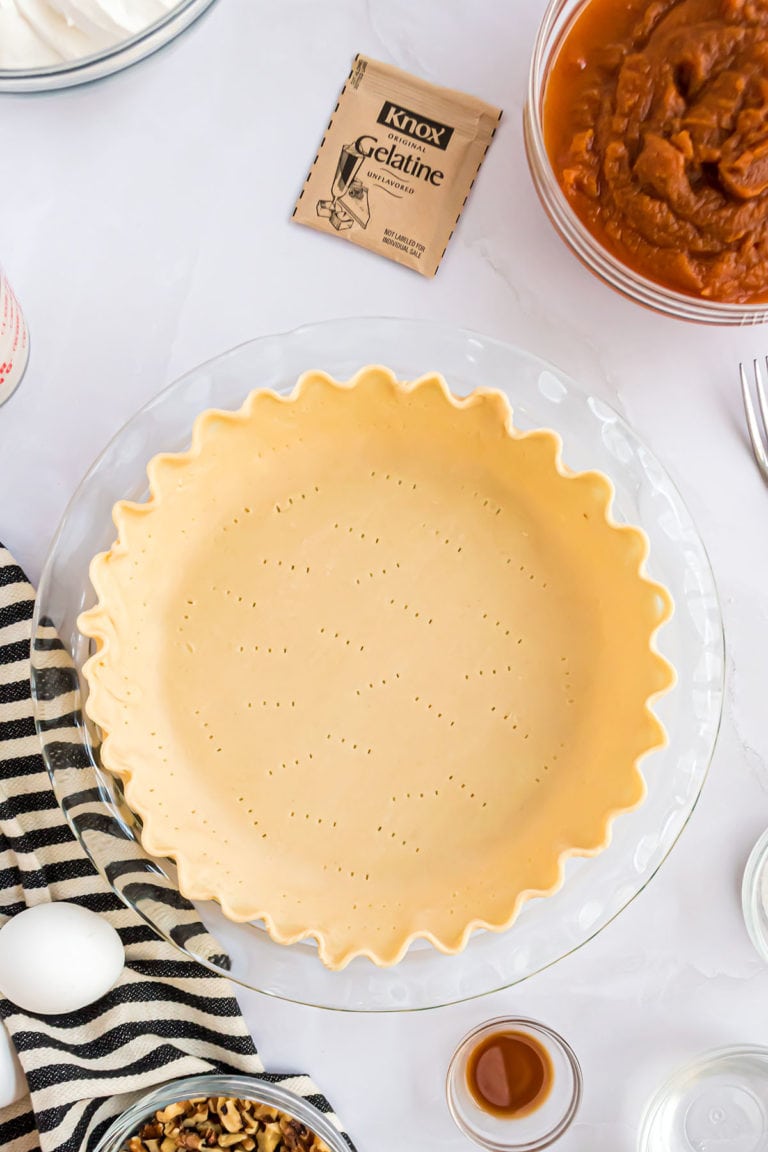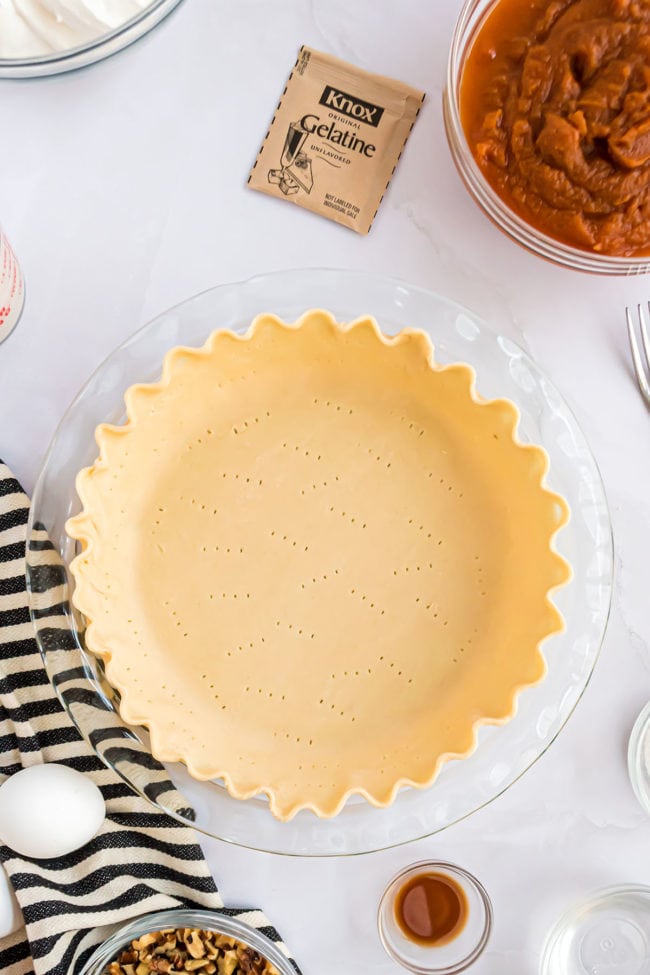 This post may contain affiliate links. Please read my disclosure policy here.
How To Make A Layered Pumpkin Chiffon Pie
This pie recipe may look like a lot of steps, but it's REALLY simple.
Note: After you cook the pumpkin pie filling on the stove, it will need to cool and then chill for several hours or overnight in the refrigerator. I usually make the base filling the night before, then on Thanksgiving (or the day you want to serve the pie) I whisk the egg whites and fold them into the filling while the pie shells bake and cool. Then I fill the crusts by layering the pumpkin filling with the Cool Whip and you're all set! Keep the pies in the refrigerator until serving.
When you are baking, you'll want to use the full recipe at the bottom of the page.
For Pumpkin Base:
Soften gelatin with water in a saucepan, then add pumpkin pie mix, egg yolks, and milk, heat until boiling.
Reduce heat, stirring for a few minutes, then remove from heat.
Stir in vanilla and cool, then chill for several hours or overnight* until thick.
*remember to refrigerate the separated egg whites to use when it's time.
The Chiffon Part:
The next day, when I assemble the pies, I blind bake* refrigerated pie crusts or make homemade pie crusts. Once the pie crusts are cooled, and the pumpkin mixture is completely chilled, grab an electric mixer and a mixing bowl.
Whisk room temperature egg whites until they reach soft peaks; add and dissolve sugar 1 tablespoon at a time until stiff peaks form.
Fold the egg whites into chilled pumpkin mixture, then fold in ¾ of the walnuts.
NOTE: If you use pasteurized egg whites, you will need to add ¼ teaspoon cream of tartar per pasteurized egg white and it will take about 6-7 minutes to whip up nicely.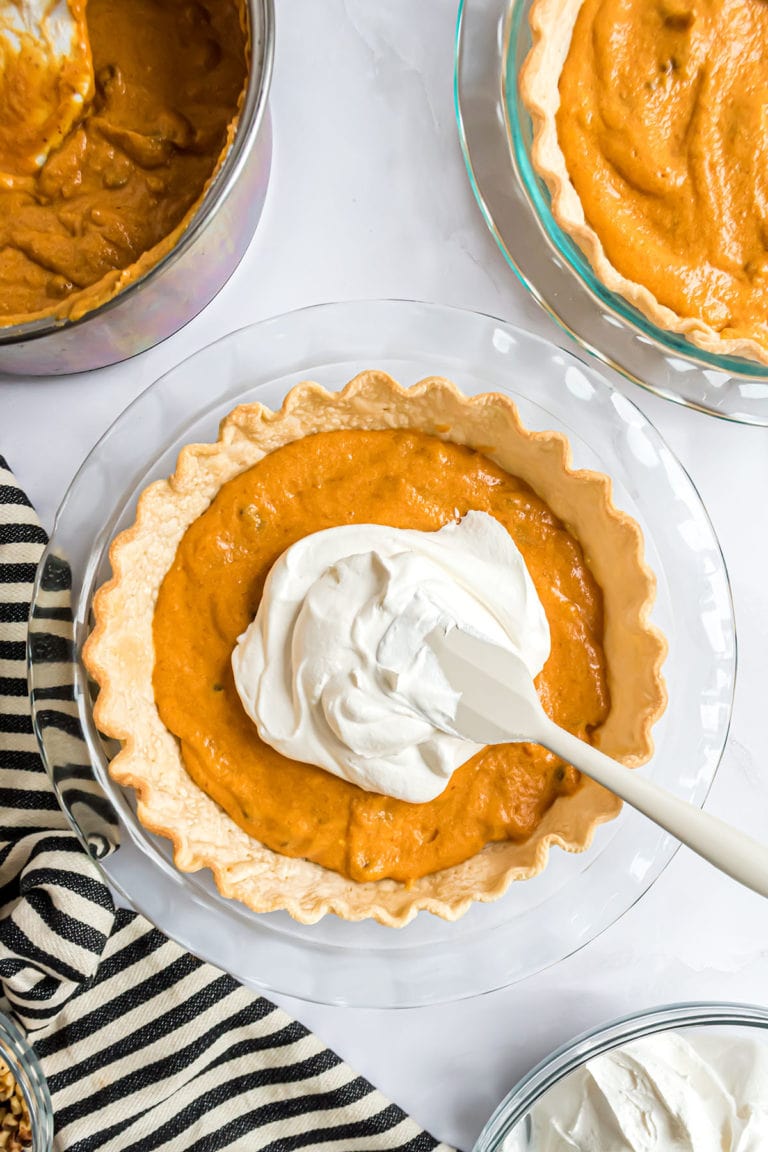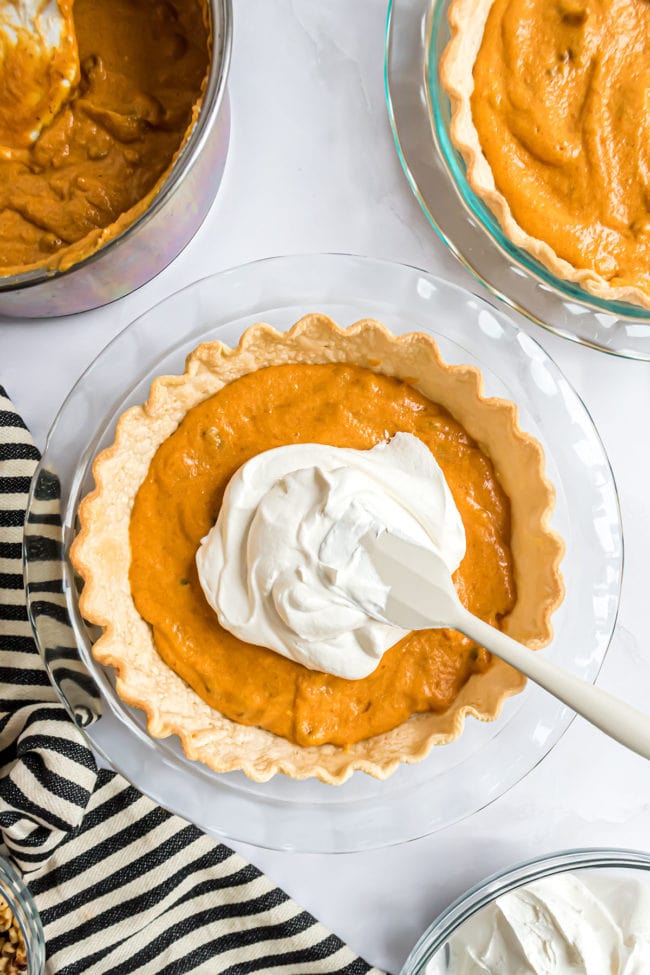 The Layers:
Evenly divide half of the pumpkin chiffon mixture into the two baked and cooled pie shells. (set aside the remaining half of the pumpkin mixture)
Layer half a tub of Cool Whip over pumpkin filling in each pie.
Spread the remaining pumpkin mixture over the Cool Whip layer.
Drop dollops of whipped topping on top of each pie, then take a knife and swirl them slightly into the filling, and sprinkle with walnuts.
Chill your gorgeous chiffon pumpkin pies and serve this creamy confection cold.
*Blind Bake Pie Crust Tips:
Line the unbaked pie crust with a sheet of parchment paper or an aluminum pie tin, and evenly layer the bottom with ceramic pie weights or dried beans. Chill pie crusts for 30 minutes before baking, hardening the fats and reducing shrinkage.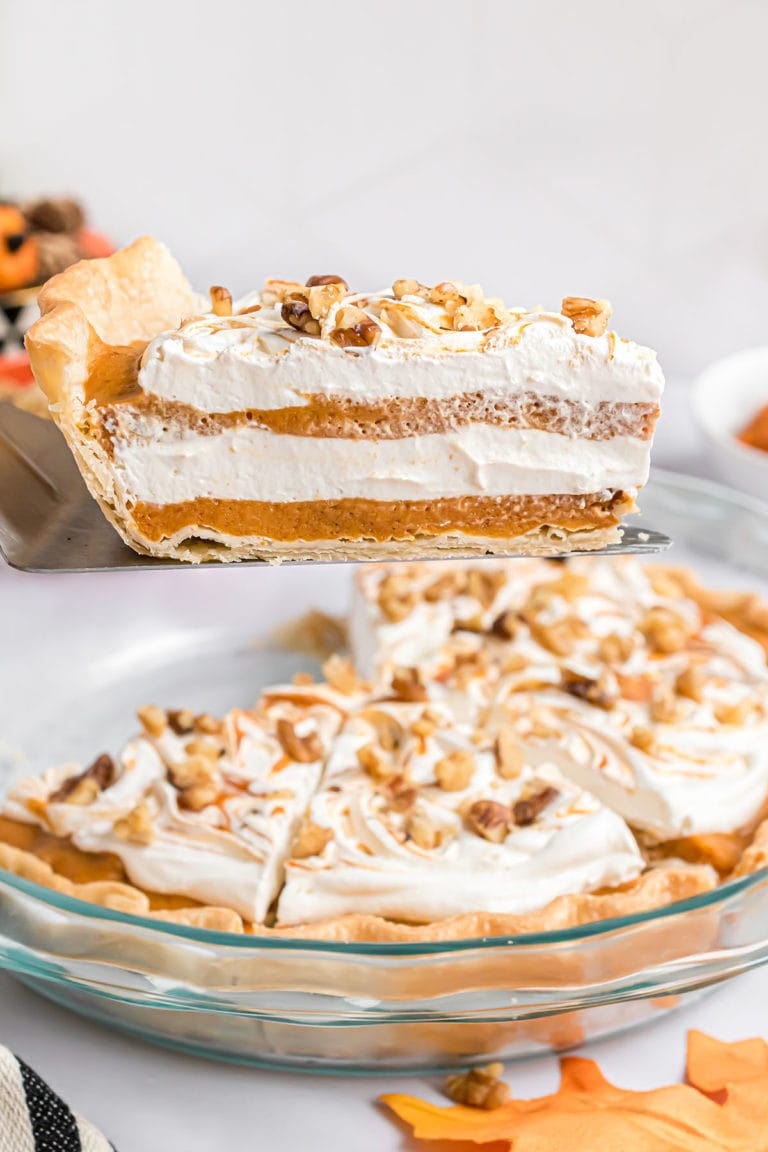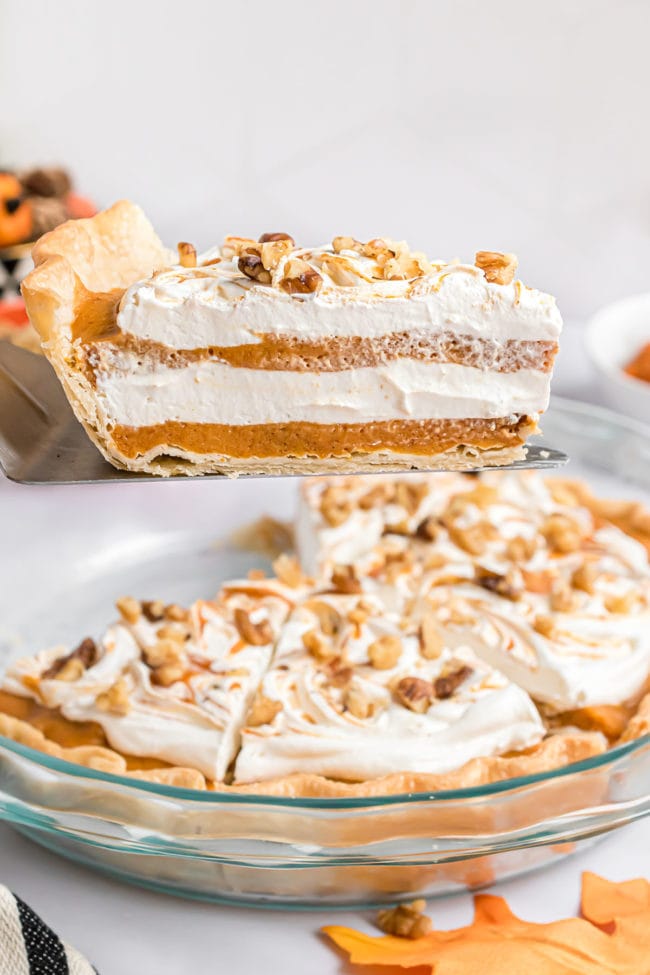 Recipe Notes And Tips
I was so excited when my Grandpa finally shared his "secret" layered walnut pumpkin pie recipe with me a few years after I got married. We tweaked it a bit together, and I didn't share the recipe for a long time. (I kind of enjoyed all the fuss at family gatherings!) Now that I'm sharing, here are some tips that make our coveted family recipe so outstanding.
First things first, always read the entire recipe before starting. It's crucial to gather ingredients, plan your process, and avoid unexpected hiccups, ensuring smoother results.
Successful separation of the yolks from the white is easiest when eggs are cold, so I usually tackle this simple task right off the bat.
You'll want to take the chill off the yolks before mixing up the pumpkin pie mixture.
Because I make the pumpkin gelatin base with the egg yolks several hours ahead or the day before, the egg whites need to be refrigerated until the chiffon mixture has thickened.
Don't skip softening the gelatin in cold water; it's crucial for swelling the granules and activating the gelling process.
How To Get The Best Egg White Volume:
Always start with a very clean mixing bowl and beaters! Grease is not your friend to get the best volume out of your egg whites.
Only beat egg whites without any trace of yolk.
Use a smaller, deeper mixing bowl for 3 or less whites.
Allow 20-30 minutes for egg whites to warm to room temp.
Add sugar slowly and only after the whites become foamy.
Make sure the first tablespoon of sugar is dissolved before adding the next tablespoon.
DYK: Egg whites can aerate up to 8x their original volume, but cold egg whites will not whip as high as room-temperature egg whites.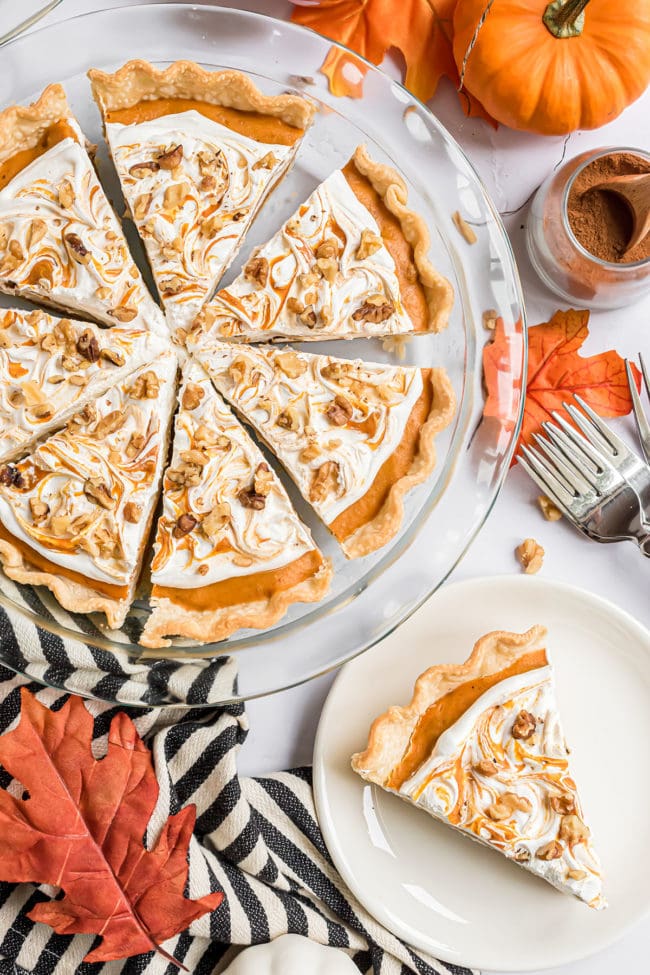 How To Store This Pie
Store the chiffon pumpkin pie with walnuts in an airtight container or covered with plastic wrap in the refrigerator. It can last for up to 3-4 days, maintaining its freshness and flavor.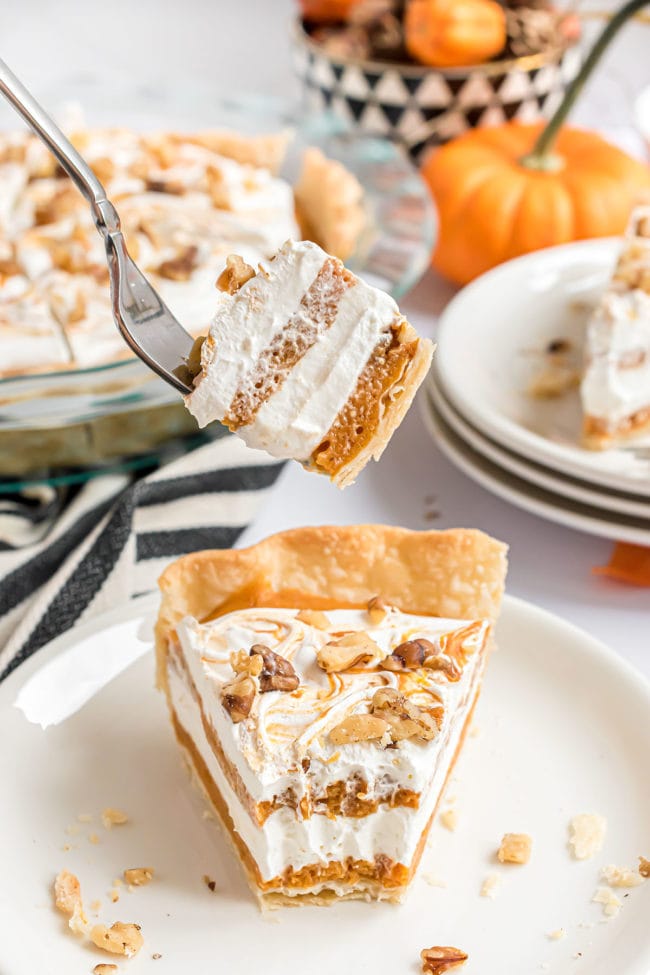 FAQs
Why do you "soften" gelatin?
Gelatin must be softened and separated by soaking it in cold water until the granules absorb water and swell (1-2 minutes). Once the gelatin is softened, it needs to be heated and stirred until it dissolves completely for the perfect effect in your recipe. This two-step process keeps the gelatin from clumping and forming into lumps, so it dissolves evenly in food.
Can you use whipped cream in place of CoolWhip?
Yes, stabilized whipped cream can be used instead of Cool Whip. The textures and flavors differ slightly, but whipped cream can provide a fresh and natural option if you aren't a fan of frozen whipped toppings.

Make stabilized whipped cream topping: Beat 2 cups heavy whipping cream, 1 tablespoon of cornstarch, and ½ cup powdered sugar with an electric mixer until stiff and fluffy.
What is the difference between chiffon and meringue?
Chiffon and meringue are both light and airy elements of desserts made with whipped egg whites.

Chiffon is created by incorporating whipped egg whites into a batter, while meringue is a sweet, airy mixture of whipped egg whites and sugar used as a topping or in various baked goods.

Which is better for blind baking pie crust, parchment or foil?
Parchment paper tends to work out best over aluminum foil for blind baking because it is porous and allows air circulation for browning. (This helps prevent pie crusts from getting soggy.)

Baking parchment is also less likely to stick to the pie crust, but if foil is your choice, you can always spray it with cooking spray to alleviate that problem.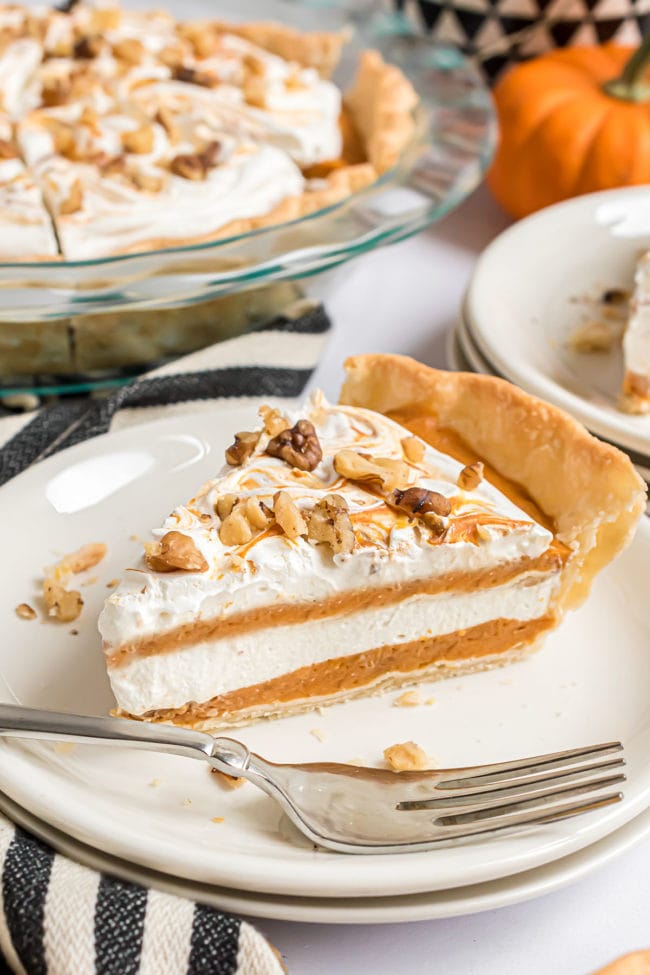 Recipe Variations
Our legacy chiffon pumpkin dessert is fought over around here for a reason. However, for you guys, you can tweak this pumpkin chiffon pie in a few ways that suit your family's taste, like stabilized whipped cream over a frozen whipped topping, with or without nuts, or the type of crust you might like:
Gingersnap Cookie Crust
Graham Cracker Crust (Popular)
Vanilla Wafer Crust
Oat Crust
Nut Crust
Gluten-Free Crust
Shortbread Crust
Pecan Sandies Cookie Crust and sub the walnuts with pecan pieces.
Fair Warning: One bite of My Grandpa's Coveted Pumpkin Chiffon Pie Recipe, and you may never want regular pumpkin pie again!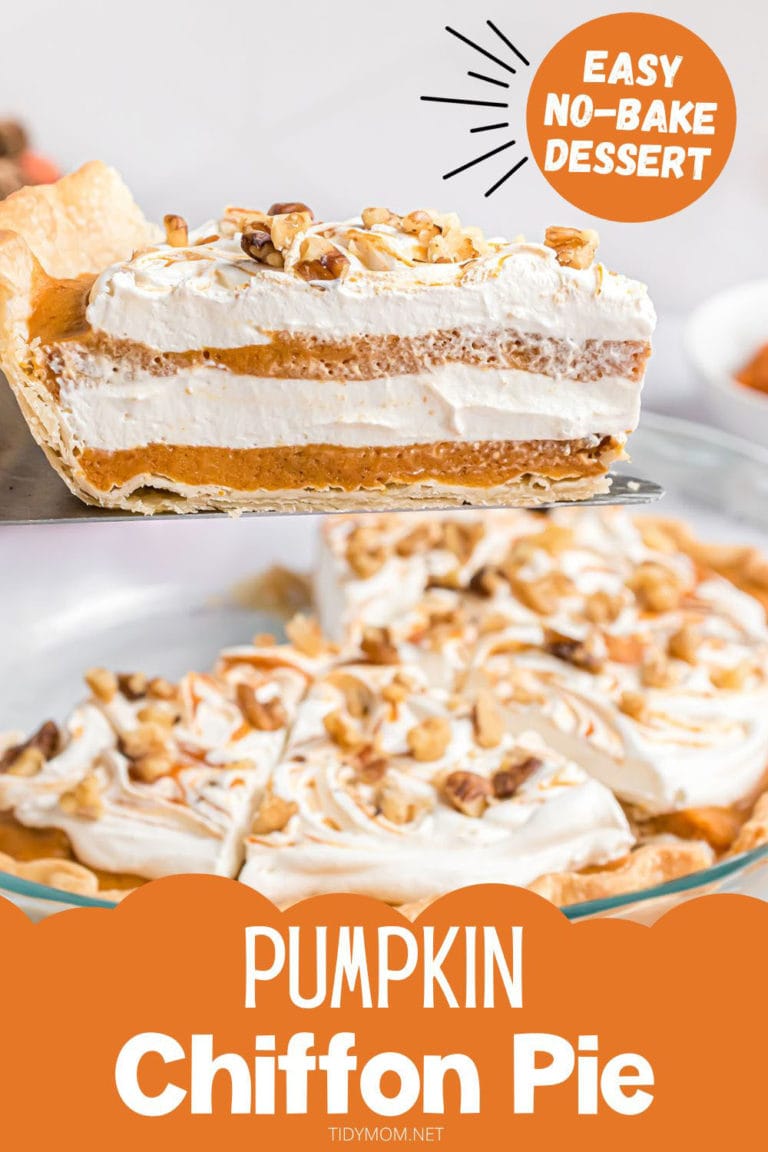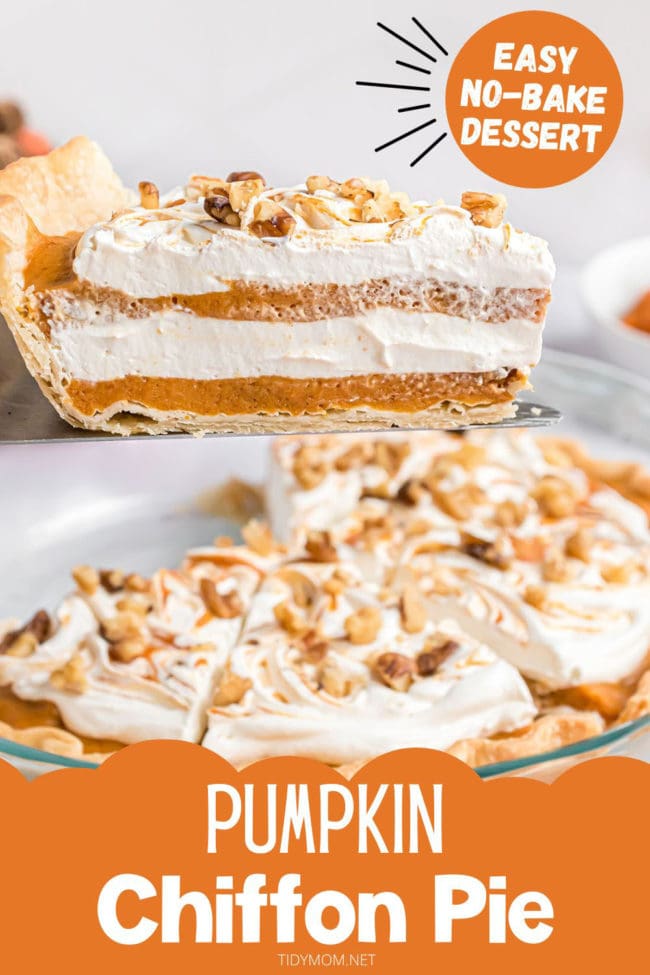 Like This Recipe?
I'd love to hear what you think! Leave a review below and let me know how you liked the recipe!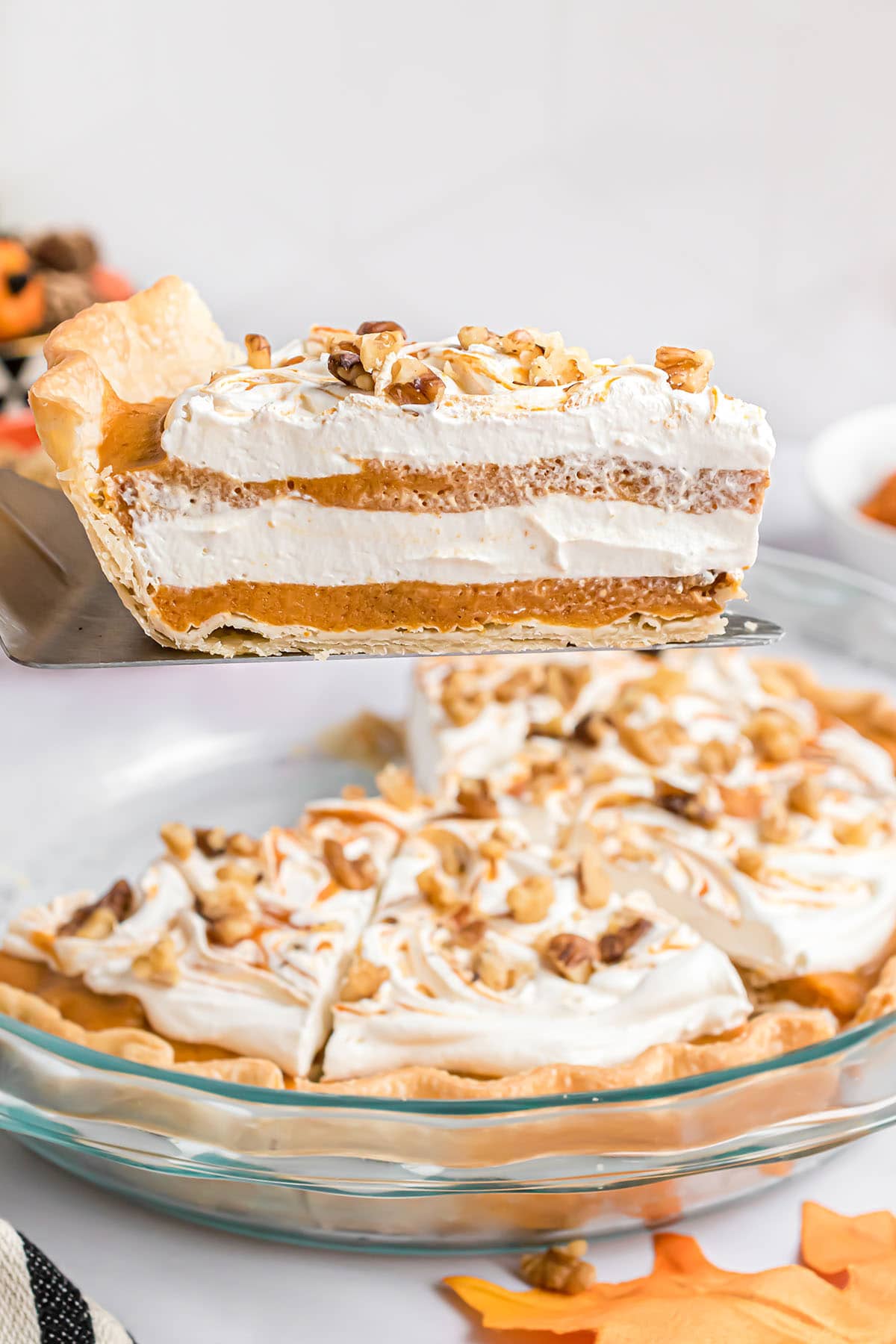 Easy Pumpkin Chiffon Pie
Yield: 2 (8 or 9-inch) pies - 12 servings
Prep Time: 15 minutes
Cook Time: 10 minutes
Minimum Chill Time: 4 hours
Total Time: 4 hours 25 minutes
This EASY recipe is not your ordinary pumpkin pie, it's a light and fluffy, scrumptious, cold creamy pumpkin dessert! A perfect alternative to regular pumpkin pie for Thanksgiving or Christmas dessert.
Ingredients
1 envelope unflavored gelatin
1/4 cup cold water
1 (30 ounce) can Pumpkin Pie Mix (NOT solid pumpkin)
1 (5 ounce) can evaporated milk
3 large eggs (you will use 2 yolks, and 3 whites)
1/2 teaspoon vanilla extract
2 tablespoons sugar
1 1/2 (8 ounce) tubs thawed COOL WHIP Whipped Topping
1 cup walnuts, chopped
pie crust for 2 pies (use refrigerated pie crust, or make your own pie crust)
Instructions
Place and press pie crusts in 8 or 9-inch glass* pie pan. Generously prick the sides and bottom of the crust with a fork before baking. Bake according to box or recipe.
For Filling: Soften gelatin in water in saucepan.
Add pumpkin pie mix, 2 egg yolks and milk to saucepan. Heat until boiling, stirring constantly with wooden spoon.
Reduce to low heat, continue stirring for another 5 minutes.
Remove from heat, add vanilla, and allow mixture to cool. Once cooled, chill in refrigerator several hours or overnight** until thick.
Beat 3 egg whites to soft peaks adding 2 tablespoons of sugar one at a time until stiff peaks form.
Fold egg whites into chilled pumpkin mixture.
Fold in 3/4 of your walnuts.
Layer Pies: Evenly divide half of the pumpkin mixture into the two baked and cooled pie shells. Set the remaining mixture aside.
Using a rubber spatula, spread half of a tub of Cool Whip over the pumpkin filling in each pie.
Spread remaining pumpkin mixture, to layer over Cool Whip in each pie with rubber spatula.
Dollop several spoonfuls of remaining Cool Whip on top of each pie, then take a knife and swirl them slightly into the filling.
Garnish with remaining chopped walnuts.
Chill until ready to serve.
Notes
*Use a glass or dull-metal pie pan. Shiny metal or disposable aluminum pans reflect heat and prevent pie crusts from browning. Dark pans may cause crusts to brown too much.
** I often make the filling up to this point the night before, and leave it to chill overnight (and place the egg whites in the refrigerator as well). Then the next day, I bake my pie crusts and finish making the pies.
Be sure to watch the recipe video below to see how easy it is to make this pie!
Nutrition Information:
Yield: 12
Serving Size: 1
Amount Per Serving:
Calories: 240
Total Fat: 14g
Saturated Fat: 3g
Trans Fat: 0g
Unsaturated Fat: 10g
Cholesterol: 47mg
Sodium: 171mg
Carbohydrates: 24g
Fiber: 3g
Sugar: 7g
Protein: 5g
Nutrition information is estimated based on the ingredients and cooking instructions as described in each recipe and is intended to be used for informational purposes only. Please note that nutrition details may vary based on methods of preparation, origin, and freshness of ingredients used and are just estimates. We encourage, especially if these numbers are important to you, to calculate these on your own for most accurate results.
Originally posted in November 2009. UPDATED October 2023. We spiffed up this post with more information and new photos.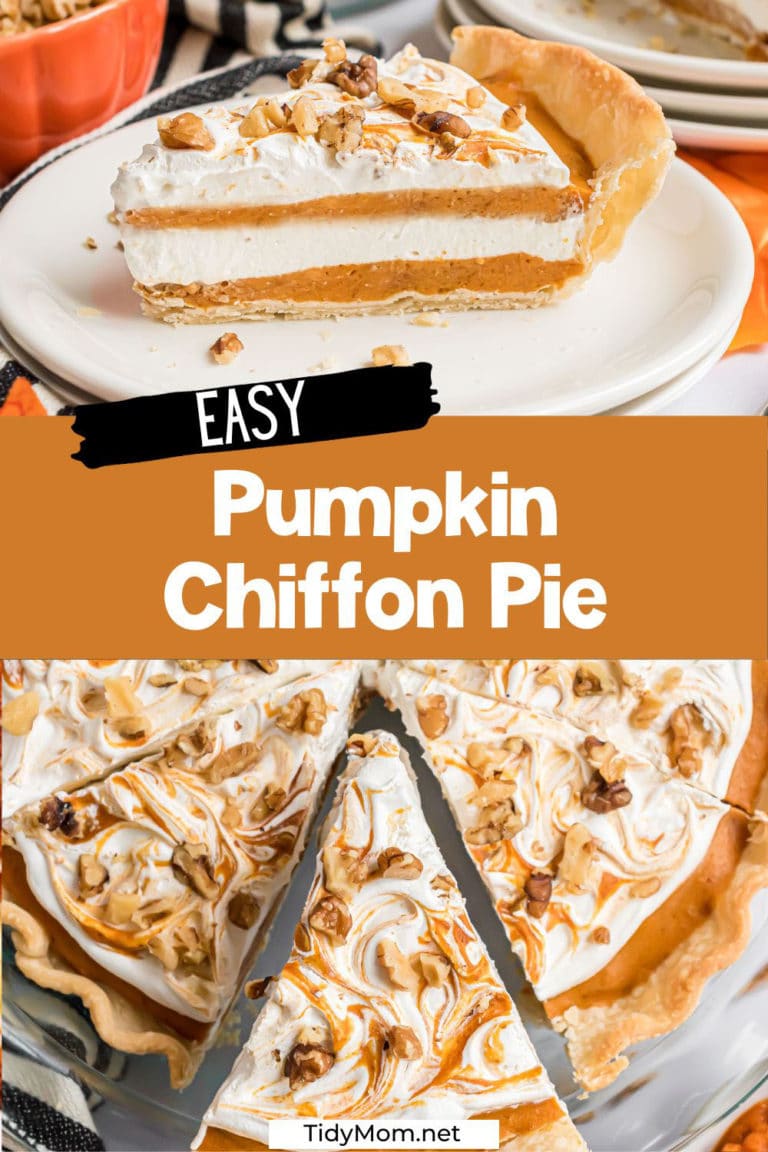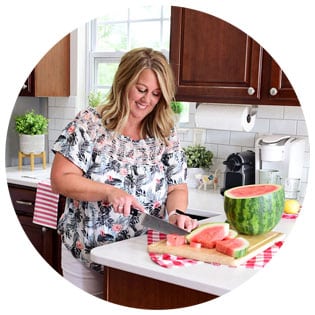 Hi there, I'm Cheryl!
As a wife, mom, and caffeine enthusiast, my journey has taken me from bustling mornings with my family to sharing delicious recipes, home care tips, and heartfelt decorating insights with wonderful readers like you. My love for baking, photography, and tidiness shines through every post I craft. Dive into my world and discover the art of homemaking, one tidy moment at a time. Read more...
Tidymom is a participant in the amazon services llc associates program, an affiliate advertising program designed to provide a means for sites to earn advertising fees by advertising and linking to Amazon.com.
Please respect my work, recipes and photographs. If you do use a recipe in your own writing, please give proper credit and link back to the original post.