Best Baked Sweet Potato (Time-Saving Tip)
This post may contain Amazon or other affiliate links. As an Amazon associate, I earn from qualifying purchases.
Discover the time-saving trick to the best baked sweet potatoes – cut in half and roasted in as little as 30 minutes. With caramelized edges and a fluffy interior, this quick and easy method delivers a perfectly cooked sweet potato in no time.
Sweet potatoes are a classic and versatile tuber that can be enjoyed in more ways than casseroles. Try these unique ways to add them to you're recipe repertoire: Cranberry Walnut Sweet Potato Bites, Sweet Potato Bread Pudding, Mashed Sweet Potatoes, and Roasted Brussels Sprouts & Sweet Potato Wild Rice.
Be sure to sign up for my email… to get new recipes and ideas in your inbox!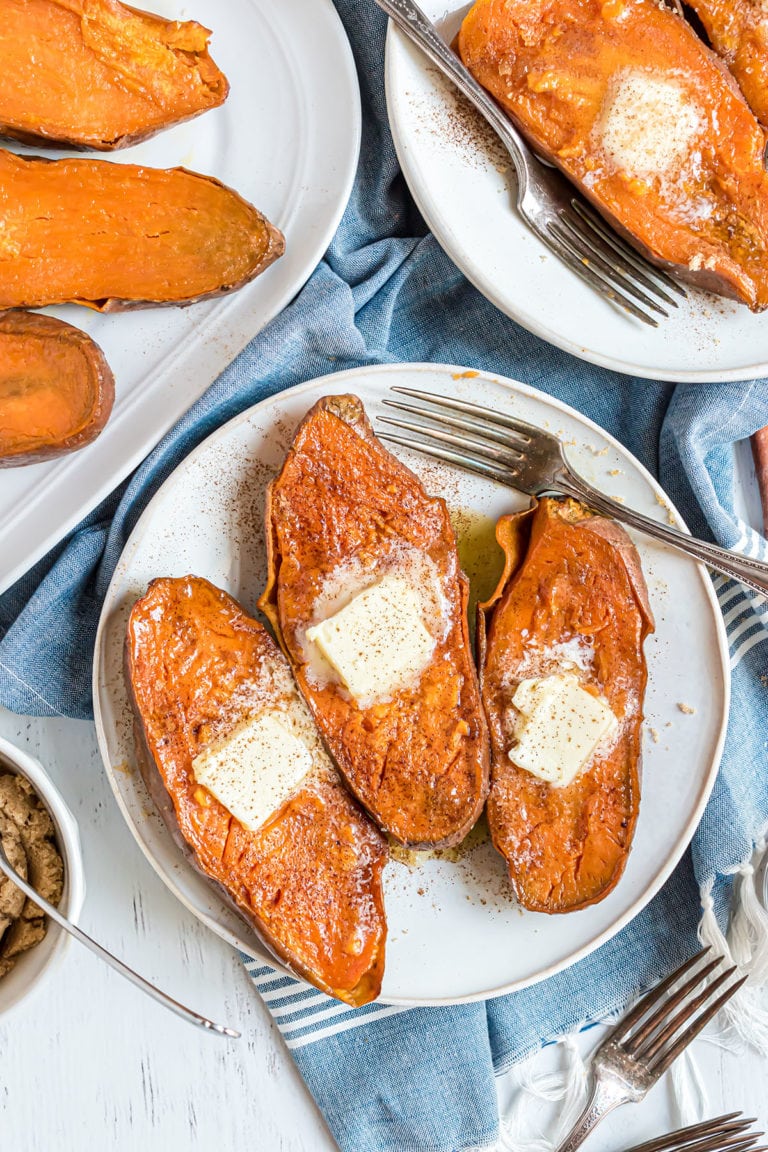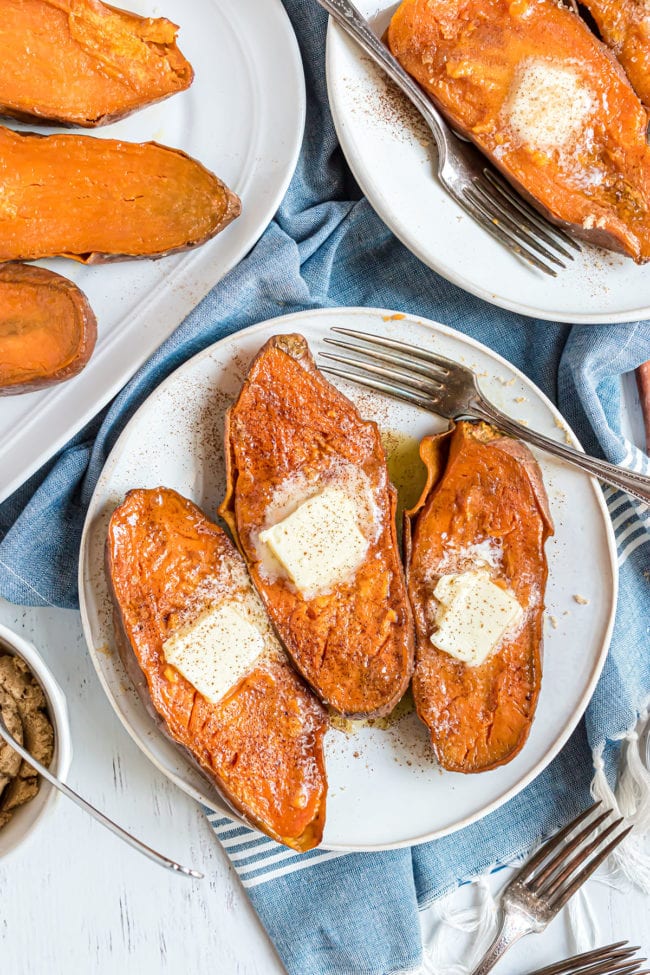 Why You'll Love Quick Baked Sweet Potatoes
Great taste is only one of many reasons to love them.
Time-Saving Delight: These potato halves are ready in a fraction of the time, making them a perfect choice for busy weeknight dinners.
Tender and Flavorful: Despite the shorter cooking time, they still turn out tender and bursting with that delicious flavor.
Versatile for Any Meal: Whether it's a weeknight dinner, lunch entree, or a holiday feast, these potatoes are an excellent addition to any meal.
Meal Prep Friendly: Bake a batch in advance, store them in the fridge, and reheat for quick meals throughout the week.
Customizable Seasoning: Experiment with a variety of seasonings to create a taste that suits your palate, from savory to sweet and everything in between.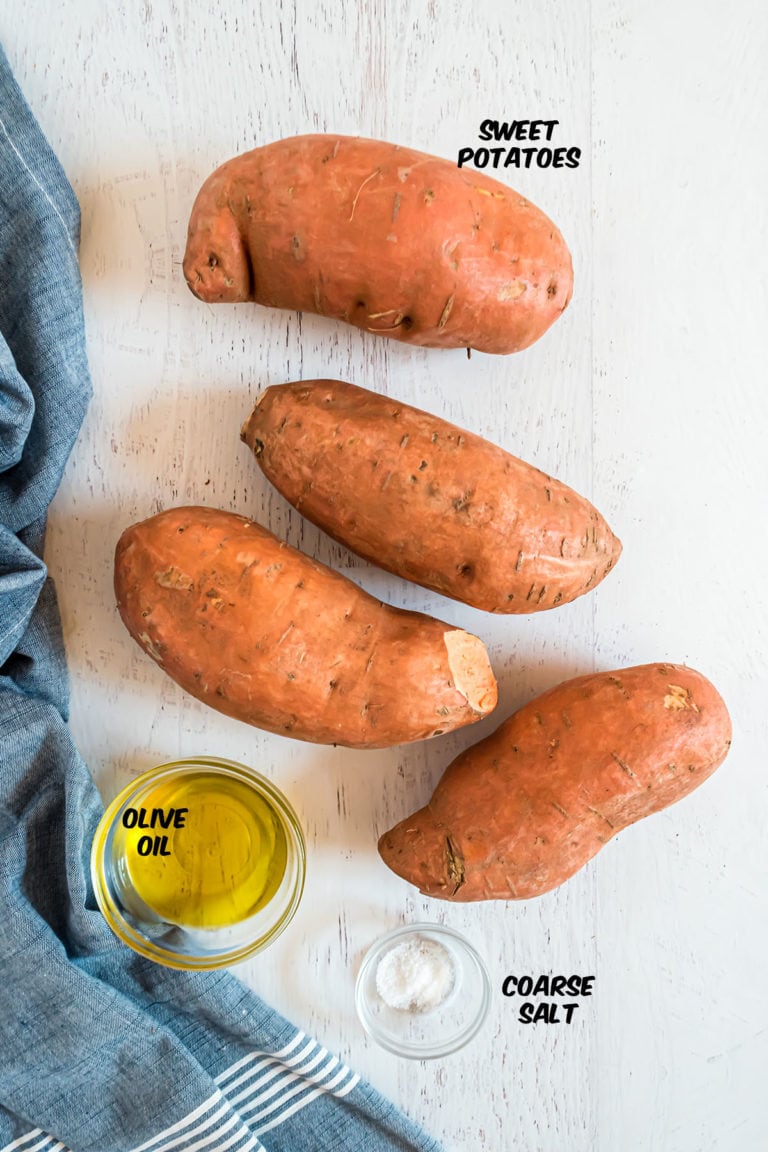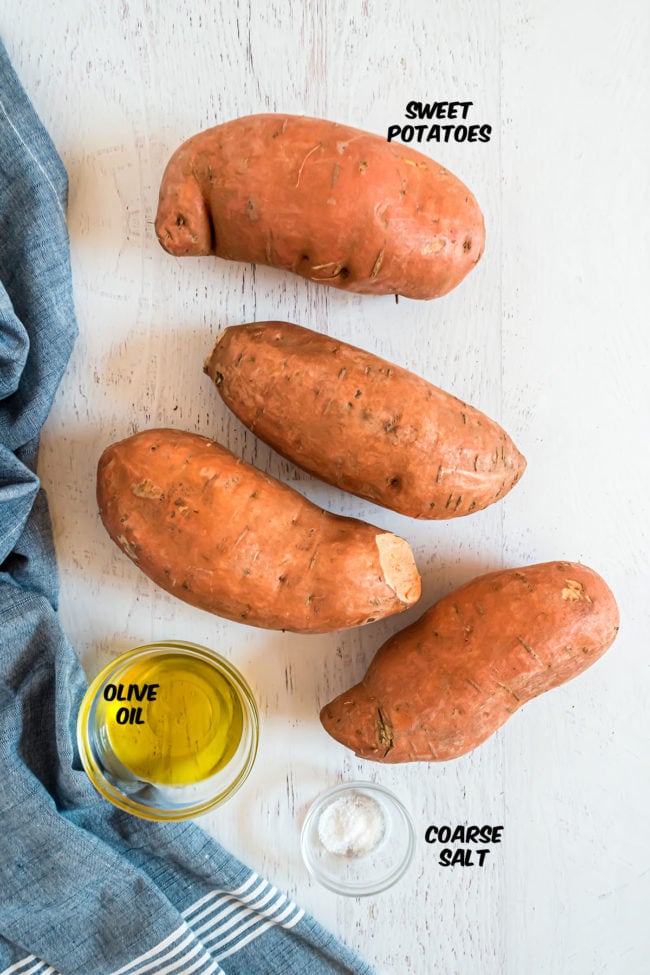 What You'll Need
It only takes three simple ingredients to make this delectable side dish.
For specific amounts, please refer to the printable recipe card at the bottom of the post.
Sweet Potatoes – medium-sized and scrubbed clean. Choose firm, sweet potatoes of similar size to ensure even cooking.
Olive Oil – Use regular olive oil if you have it over extra virgin. It has a higher smoke point and a more neutral flavor to coat potatoes for crisper skin and caramelization.
Coarse salt – (kosher salt or sea salt) Sprinkle on oiled skins for seasoning and added taste.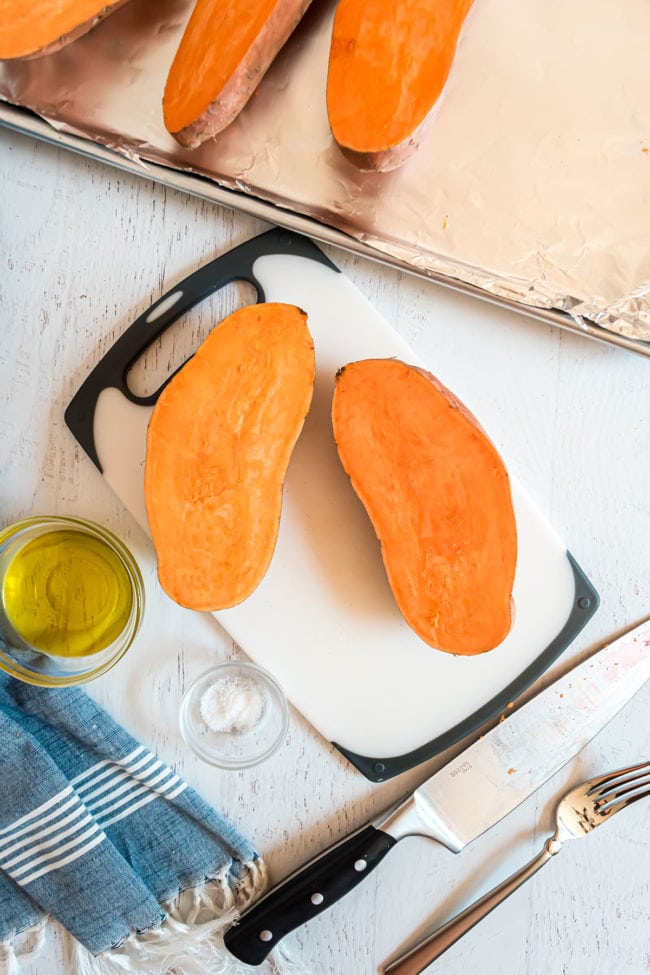 This post may contain affiliate links. Please read my disclosure policy here.
How To Quickly Cook Sweet Potatoes
It doesn't have to take an hour or more to make this popular side dish. Grab a sheet pan, aluminum foil, a fork, and a sharp knife. Preheat the oven to 400° F and learn how to cook a sweet potato in about half an hour.
When you are baking, you'll want to use the full recipe at the bottom of the page.
Pierce skins with a fork, cut in half lengthwise, brush flesh and skins with oil, and season with salt.
Place halved potatoes, flesh side down (skin side up), on a foil-lined baking sheet.
Bake for 30-35 minutes or until they are fork tender.
Flip the flesh side up for the last 5 minutes for a caramelized top.
Serve warm with your favorite toppings. (We like a little butter, brown sugar, and cinnamon.)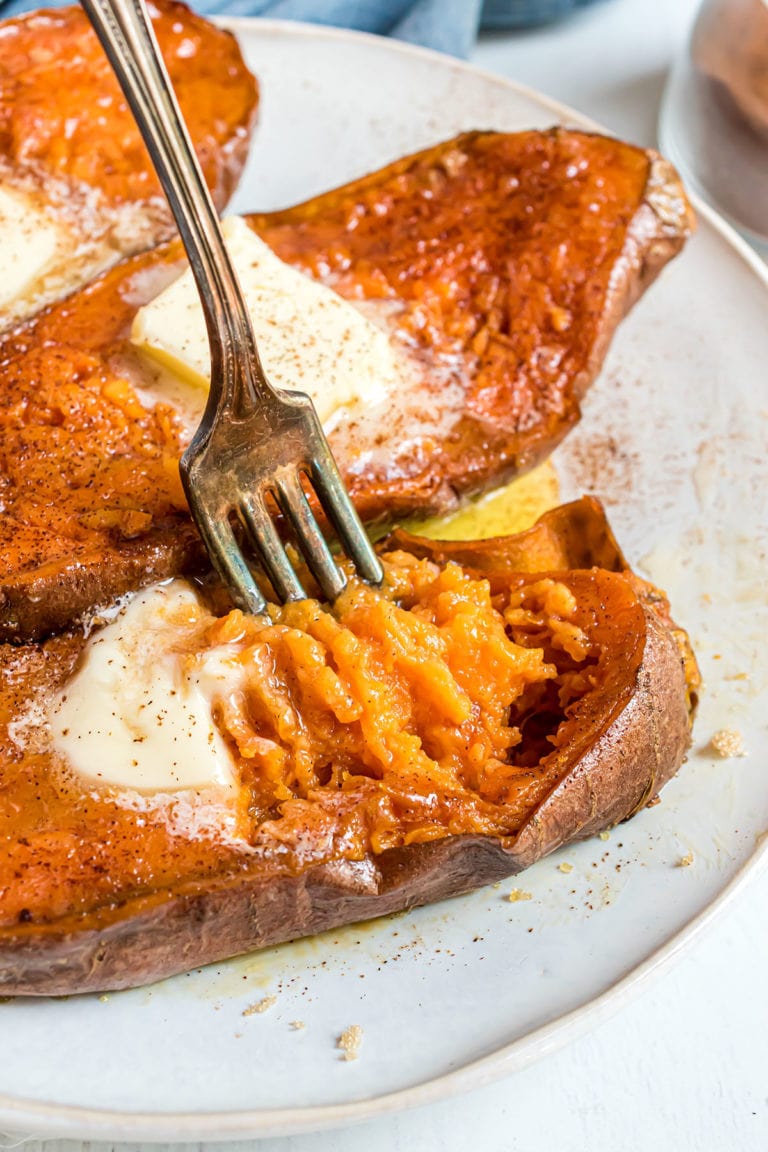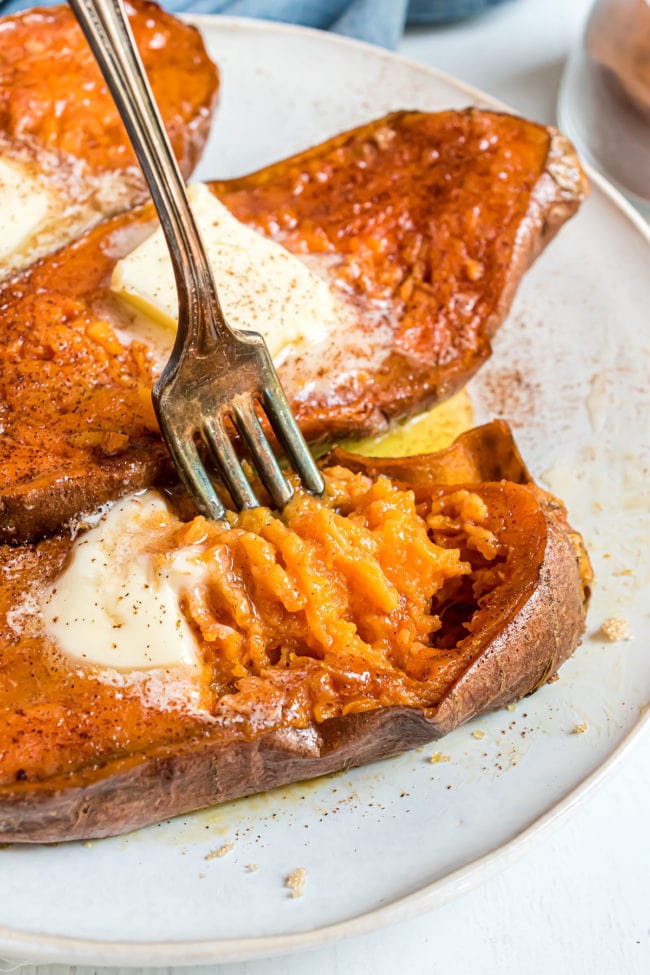 Baked Sweet Potato Notes And Tips
Cutting the potatoes in half is the "time-saving secret" to faster-baked sweet potatoes.
Try to select potatoes that are similar in size and width to ensure even cooking.
When picking them out at the store, choose firm ones without soft spots or blemishes.
Thoroughly wash and scrub off gritty dirt before cooking.
Discard any potatoes with soft/mushy spots with a musty or moldy smell.
For the best caramelization, line your pan with aluminum foil, not parchment paper.
Kitchen Tip
Raw sweet potatoes can last anywhere from 3-5 weeks when stored properly in a cool, dark, and well-ventilated place, such as a pantry or cellar. If refrigerated, they may last up to 2 months, but their texture might be affected after extended storage. Note: Storing raw sweet potatoes in the freezer is not advised, as they will spoil faster. Cooked sweet potatoes, however, can be stored in the freezer.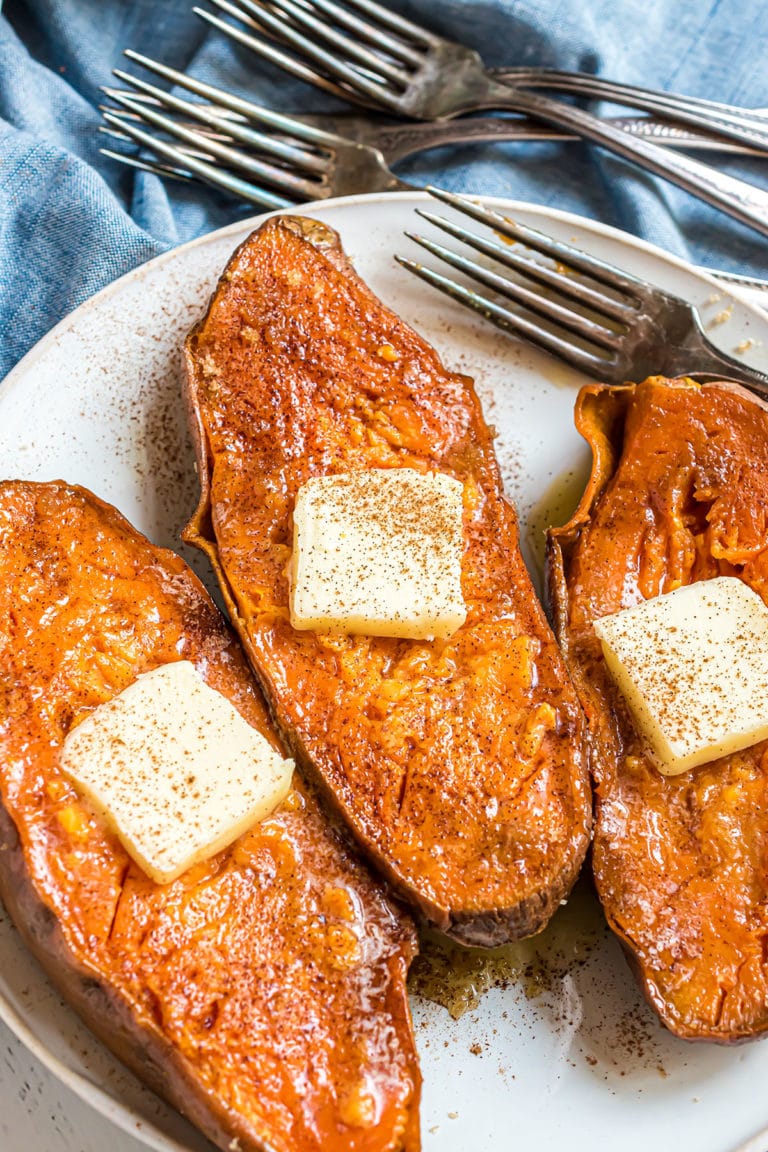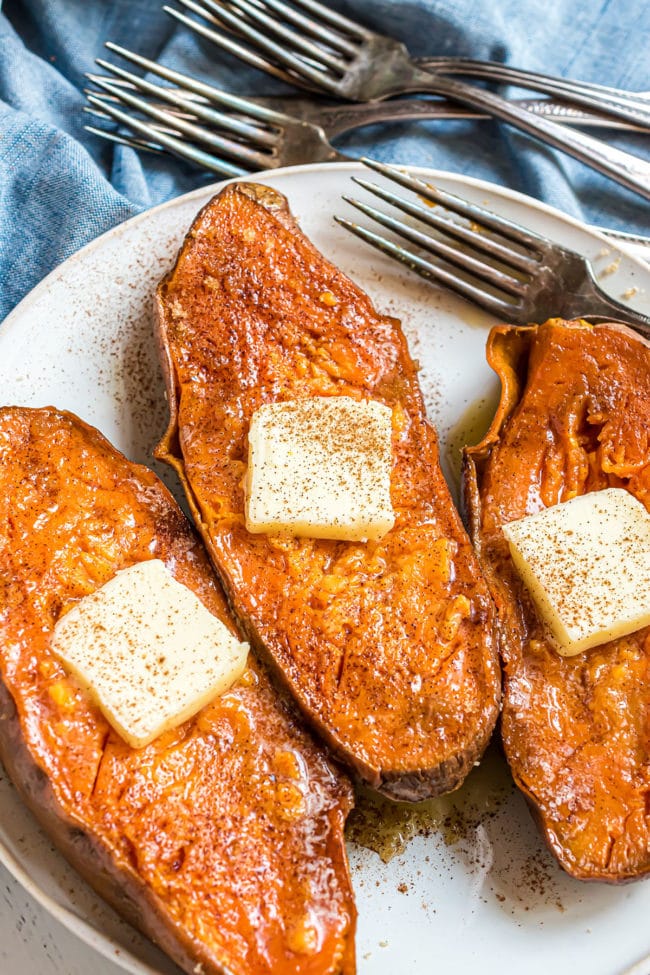 Storage For Baked Sweet Potatoes
Refrigerate/Leftovers
Leftovers can be stored in an airtight container in the refrigerator for up to 4 days.
Freeze
While it's possible to freeze baked sweet potatoes, the texture can change when thawed. Wrap them tightly in plastic wrap, then aluminum foil before freezing; consume them within 2-3 months.
To reheat, simply place them in a preheated oven at 350°F for 10-15 minutes or until hot.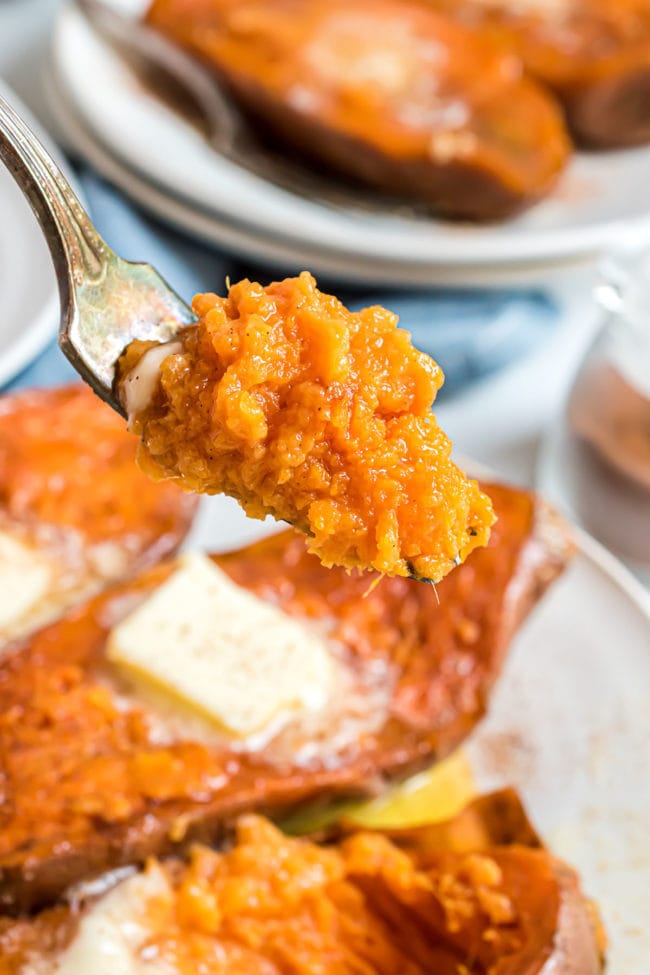 FAQs
What's the secret to fast-baking sweet potatoes?
The secret to quickly baking sweet potatoes is to cut them in half. Halves will cook much faster than whole potatoes. This method can reduce the baking time by half or more, making for a quicker and still tender result.
Can I prepare baked sweet potatoes in advance for quick meals?
Absolutely! You can bake sweet potatoes ahead of time and store them in the refrigerator. Reheat in the microwave, oven, or even use them in various recipes for quick meals.
Can you eat sweet potato skins?
Yes, you can eat the skin. Crispy, salty, sweet potato skins are a crackly treat all on their own. Just be sure to wash and scrub them well to remove any dirt before baking.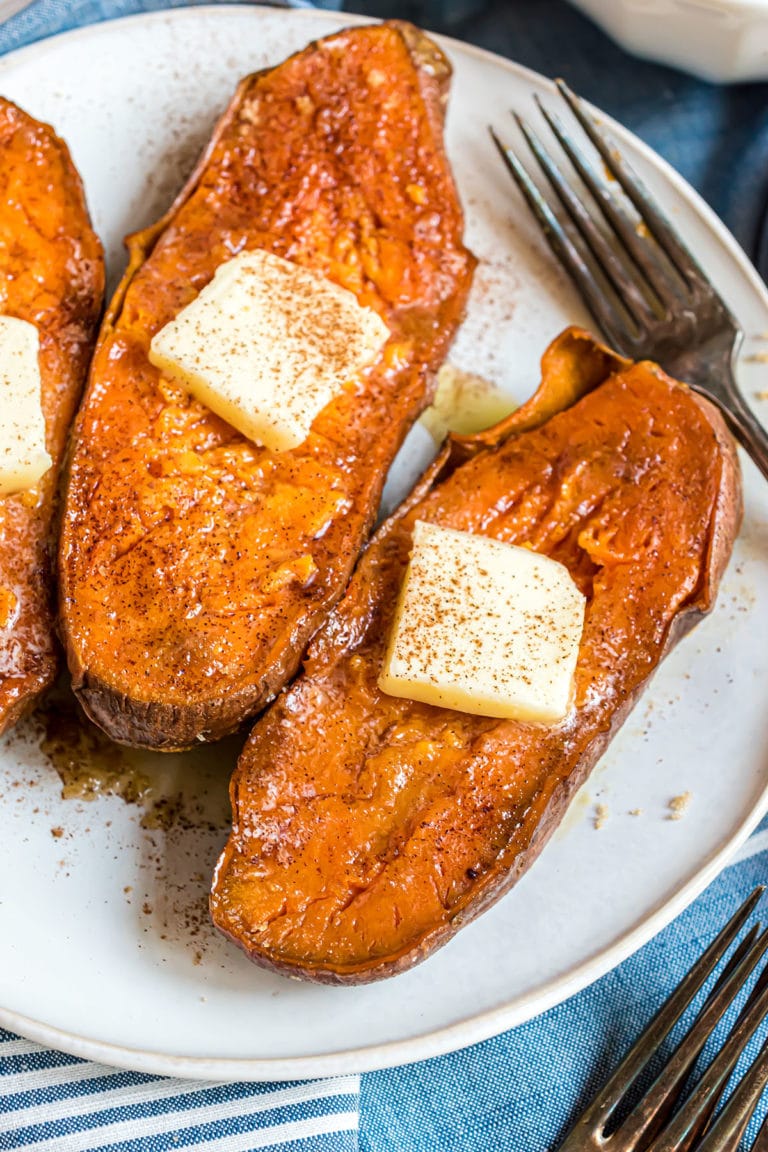 Baked Sweet Potato Flavor Variations
Simple Salt and Pepper: A classic combination that enhances the natural sweetness of the potato.
Cinnamon and Brown Sugar: A sweet and comforting option, perfect for dessert-like sweet potatoes.
Garlic and Herbs: A savory twist with garlic powder, rosemary, thyme, or your favorite herbs.
Maple Syrup and Pecans: A delightful blend of sweet and crunchy, great for a fall-inspired side dish.
Cayenne and Paprika: For a spicy kick, try a blend of cayenne pepper, paprika, and a touch of salt.
Honey and Cinnamon: A sweet and aromatic seasoning that complements the potato's natural sweetness.
Tahini and Lemon: A creamy and tangy combination, perfect for a Mediterranean-inspired dish.
Chili Powder and Lime: For a zesty, Southwestern flavor, try chili powder, lime zest, and a sprinkle of salt.
Classic Holiday Touch: add a pat of butter, a dash of cinnamon or pumpkin pie spice, and mini marshmallows on top and broil until it's golden brown.
Feeling Fruity? Top roasted sweet potatoes with cooked diced apples, cranberries, and a drizzle of honey for a fruity delight.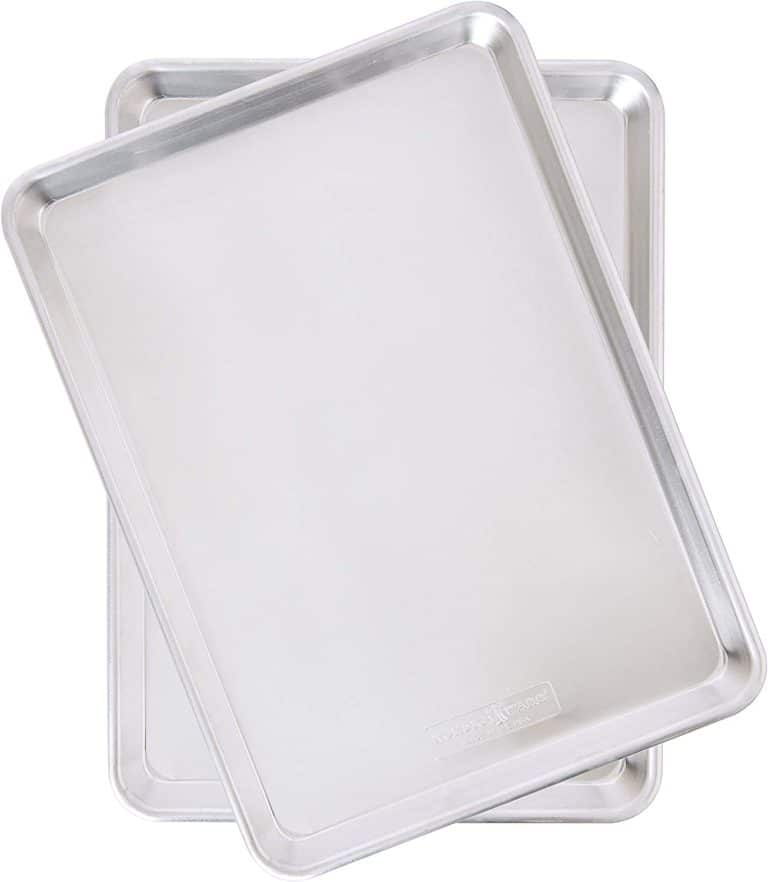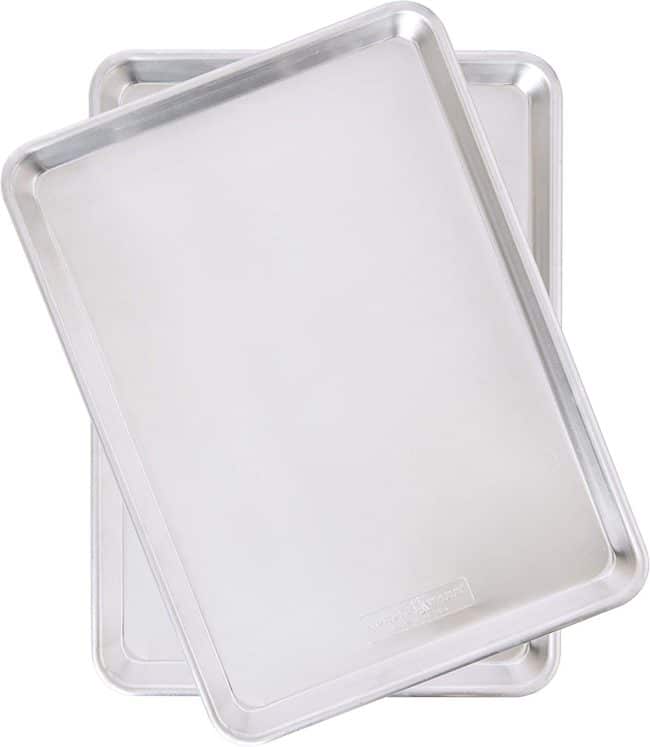 Featured Product Aluminum Half Sheet Pans
These are my favorite sheet pans! They will never rust for a lifetime of durability. Perfect for sweet or savory baking; from cookies to sheet pan dinners, this is the pan you'll reach for.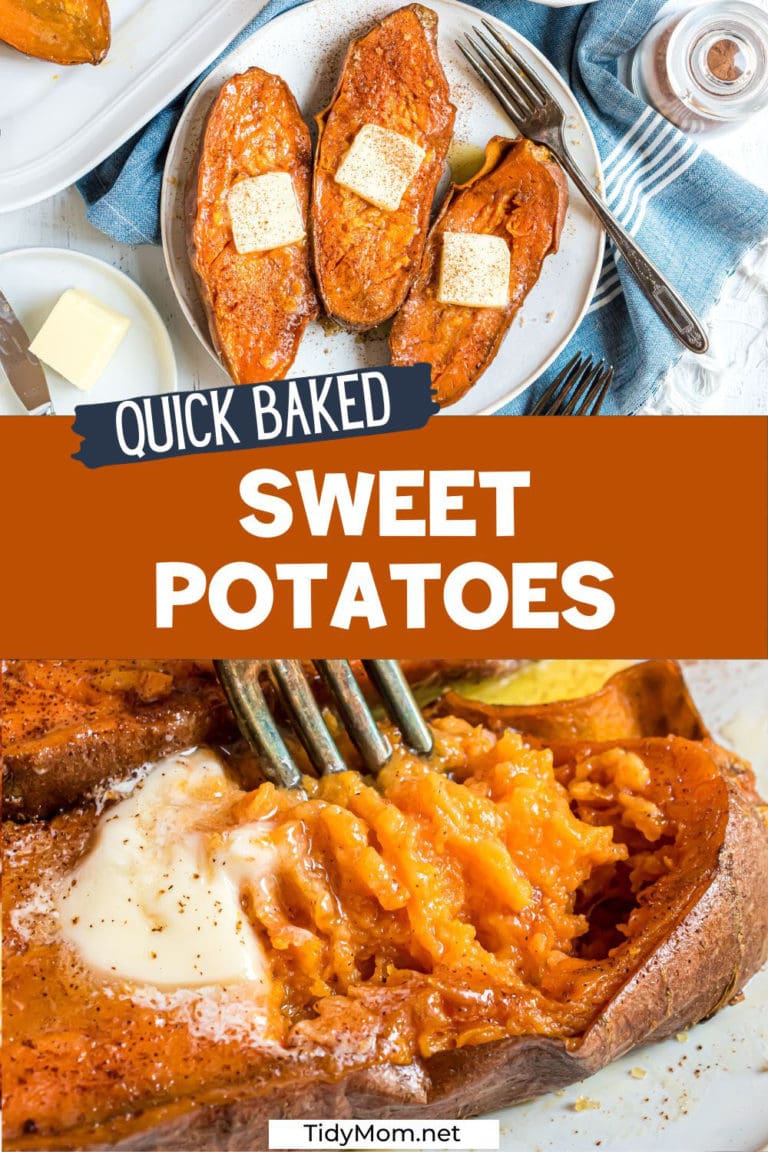 Like This Recipe?
I'd love to hear what you think! Leave a review below and let me know how you liked the recipe!
The Best Baked Sweet Potatoes
Yield: 4-8 servings
Prep Time: 5 minutes
Cook Time: 30 minutes
Total Time: 35 minutes
Discover the time-saving trick to the best baked sweet potatoes – cut in half and roasted in as little as 30 minutes. With caramelized edges and a fluffy interior, this quick and easy method delivers a perfectly cooked sweet potato in no time.
Ingredients
4 medium sweet potatoes, scrubbed clean
2 Tablespoons olive oil
Coarse salt (kosher salt or sea salt)
Instructions
Preheat oven to 400° F. Line a baking sheet with aluminum foil.
Use a fork to poke a few holes in each potato and carefully cut in half lengthwise with a sharp knife. Place potatoes on prepared baking sheet.
Rub the sweet potatoes on both sides with olive oil and sprinkle each side with a pinch of salt. Position the sweet potatoes flesh side down on the baking sheet and bake on the center rack in the oven for 30-35 minutes, or until the sweet potatoes are fork tender. (I like to flip them over, flesh side up for the last 5 minutes).
Potatoes will be slightly carmelized and brown on top, serve warm with your favorite toppings. (we like a little butter, brown sugar and cinnamon)
Notes
Try to get similar sized sweet potatoes
When choosing a sweet potato at the store, look for firm ones without soft spots or blemishes. Avoid any with a musty or moldy smell.
Line your pan with aluminum foil (not parchment) for the best carmelized results.
Nutrition Information:
Yield: 8
Serving Size: 1
Amount Per Serving:
Calories: 81
Total Fat: 3g
Saturated Fat: 1g
Trans Fat: 0g
Unsaturated Fat: 3g
Cholesterol: 0mg
Sodium: 93mg
Carbohydrates: 12g
Fiber: 2g
Sugar: 4g
Protein: 1g
Nutrition information is estimated based on the ingredients and cooking instructions as described in each recipe and is intended to be used for informational purposes only. Please note that nutrition details may vary based on methods of preparation, origin, and freshness of ingredients used and are just estimates. We encourage, especially if these numbers are important to you, to calculate these on your own for most accurate results.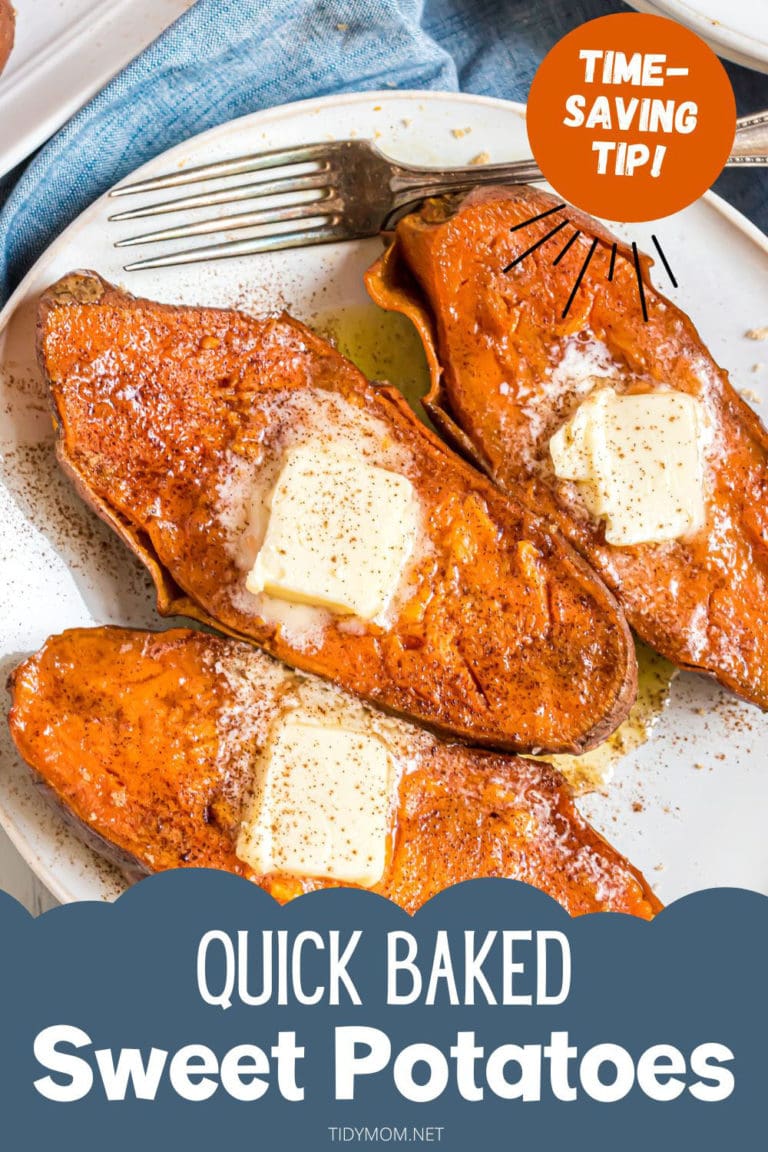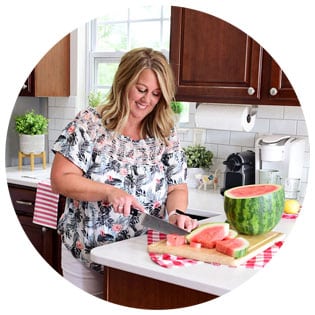 Hi there, I'm Cheryl!
As a wife, mom, and caffeine enthusiast, my journey has taken me from bustling mornings with my family to sharing delicious recipes, home care tips, and heartfelt decorating insights with wonderful readers like you. My love for baking, photography, and tidiness shines through every post I craft. Dive into my world and discover the art of homemaking, one tidy moment at a time. Read more...
Tidymom is a participant in the amazon services llc associates program, an affiliate advertising program designed to provide a means for sites to earn advertising fees by advertising and linking to Amazon.com.
Please respect my work, recipes and photographs. If you do use a recipe in your own writing, please give proper credit and link back to the original post.