Sweet Potato Bread Pudding with Marshmallow Topping
This post may contain Amazon or other affiliate links. As an Amazon associate, I earn from qualifying purchases.
Grandma's old-fashioned bread pudding gets a holiday twist with this Sweet Potato Bread Pudding recipe. It has everything you love about the classic Thanksgiving dish, sweet potato casserole, including the marshmallow topping.
We love sweet potatoes no matter how you fix them like Roasted Sweet Potatoes with Cinnamon Pecan Crunch and Cranberry Walnut Sweet Potato Rounds.
Be sure to sign up for my email… to get new recipes and ideas in your inbox!
Click HERE to save recipe to Pinterest!
Sweet Potato Bread Pudding With Marshmallow Topping
Have a loaf of stale bread you're about to throw out? Well, stop right now because I'm about to show you have you can turn stale bread into the dessert of your dreams!
This sweet potato bread pudding is like nothing you've seen at the Thanksgiving dessert table before. It has all of your favorite parts of the classic sweet potato casserole but in a whole new and better way.
Trust me when I say you're going to want to save plenty of room for dessert if this dish is around.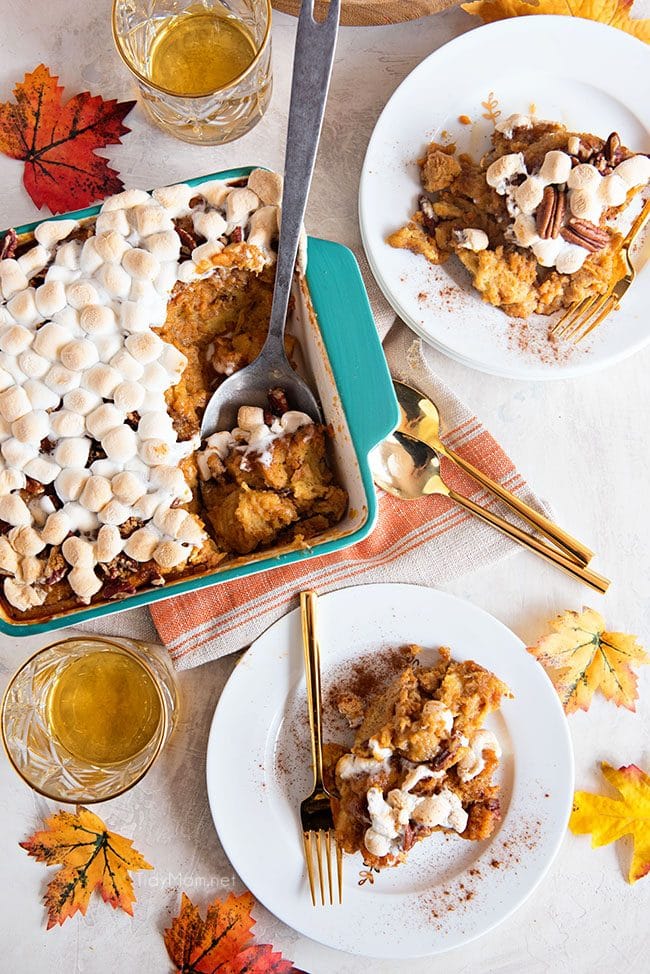 What Is Bread Pudding?
Bread pudding is described a bread-based dessert made with stale bread and milk or cream. It generally contains eggs, a form of fat such as oil, butter, and a variety of other ingredients.
You might find ingredients like sugar, syrup, honey, dried fruit, nuts, as well as spices such as cinnamon, nutmeg, or vanilla in a lot of bread pudding recipes.
What makes the dish really good is that the bread is soaked in the liquids, mixed with the other ingredients, and baked. The dish is typically served as a dessert.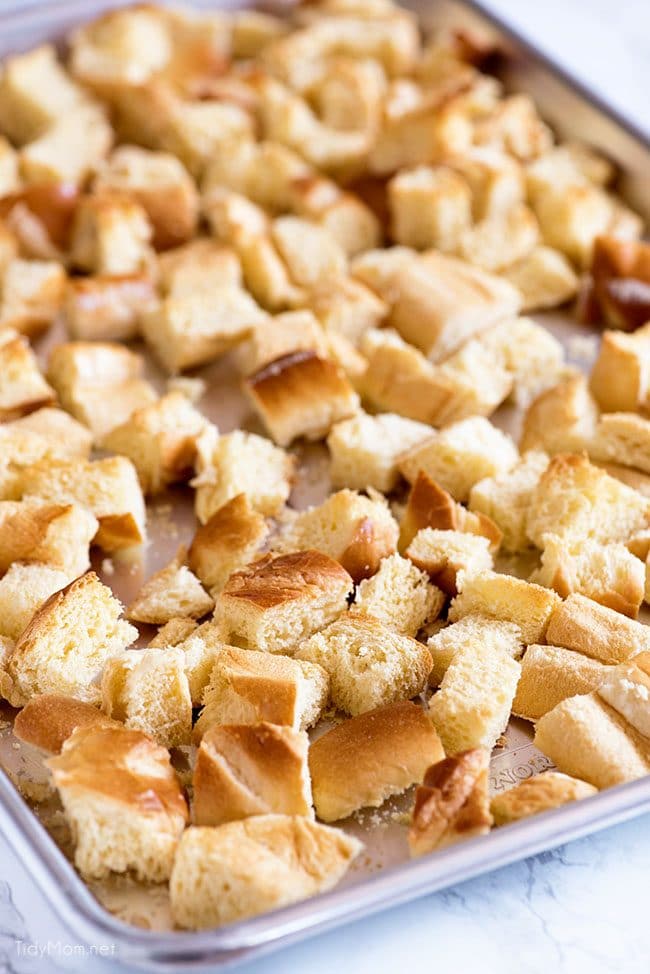 How To Make Sweet Potato Bread Pudding
(full printable recipe at end of post)
You know I love a good easy recipe. The easier it is, the more appealing it sounds to me. So I love how simple and easy it is to make a bread pudding this amazing!
You just have to add sweet potatoes to a bowl and mash. Then add the remaining ingredients and whisk together. Pour the mixture over the bread cubes and allow to soak. Lastly, place the baking dish with bread pudding on a sheet pan and bake.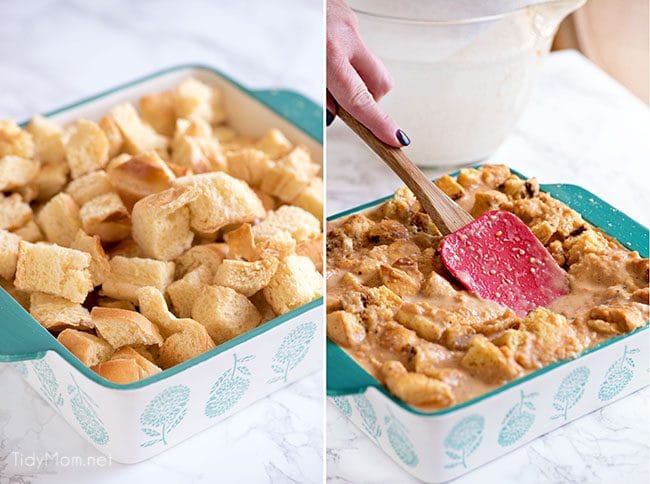 Tips and Tricks For The Best Bread Pudding
Use day-old bread: Bread pudding is best made with day-old bread that is starting to get hard. This is because you want most of the moisture gone, and for the bread to be stiff.
No worries though, if you have fresh bread you can cut up the loaf and put it in the oven for 8-10 minutes and you'll be good to go!
Soak the bread: It's very important that you don't skip letting the bread soak. This allows the mixture to really get incorporated with the bread. Without this step, you'll have a pretty bland and uninteresting bread pudding. The longer you can let it soak the better the flavor will be.
Closely watch the marshmallows: Marshmallows make an amazing topping especially when lightly toasted, but things can go wrong quickly if you aren't paying attention.
As soon as you put the marshmallows in the oven be sure to watch them carefully the whole time, or you might end up with an oven on fire, and no one wants that disaster.
Mix It Up With Different Toppings
Butter Pecan Crunch
5 tablespoons unsalted butter, melted
2/3 cup light brown sugar, packed
1/2 cup all-purpose flour
1/4 teaspoon salt
1 cup pecan halves
In a small bowl using a fork or your hands, combine the brown sugar, flour, salt, and toss with a fork or your fingers until moist crumbs form. Toss in the pecans until well combined and sprinkle mixture over the bread pudding before placing it in the oven.
Coconut Pecan Topping
1 cup coconut
1⁄3 cup brown sugar
1 cup chopped pecans
1⁄3 cup flour
1⁄3 cup melted butter
Combine the coconut, brown sugar, pecans, and flower, then mix in the melted butter until thoroughly incorporated. Sprinkle mixture over the bread pudding prior to placing it in the oven.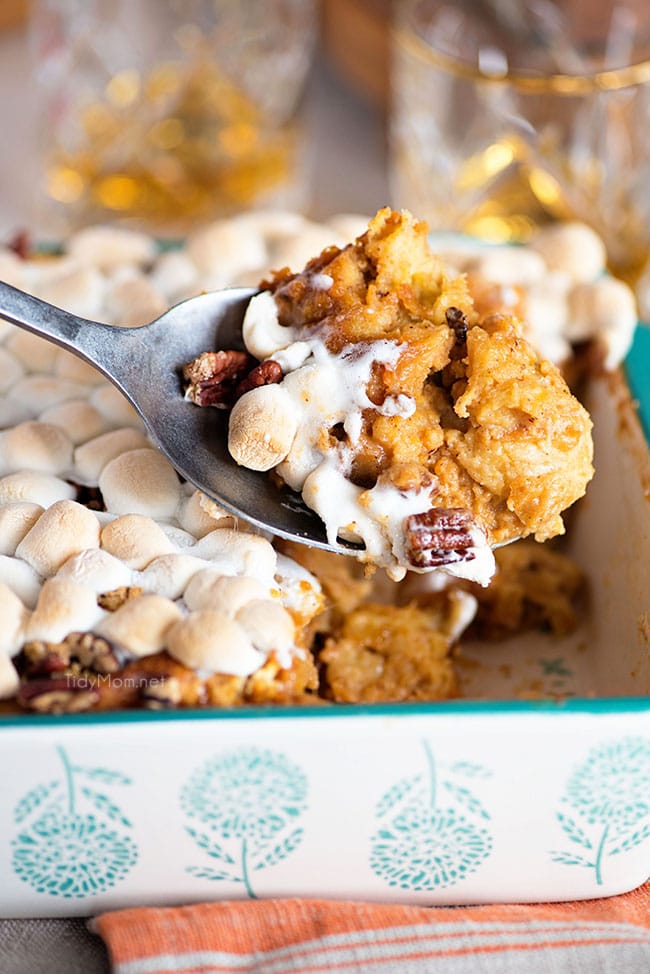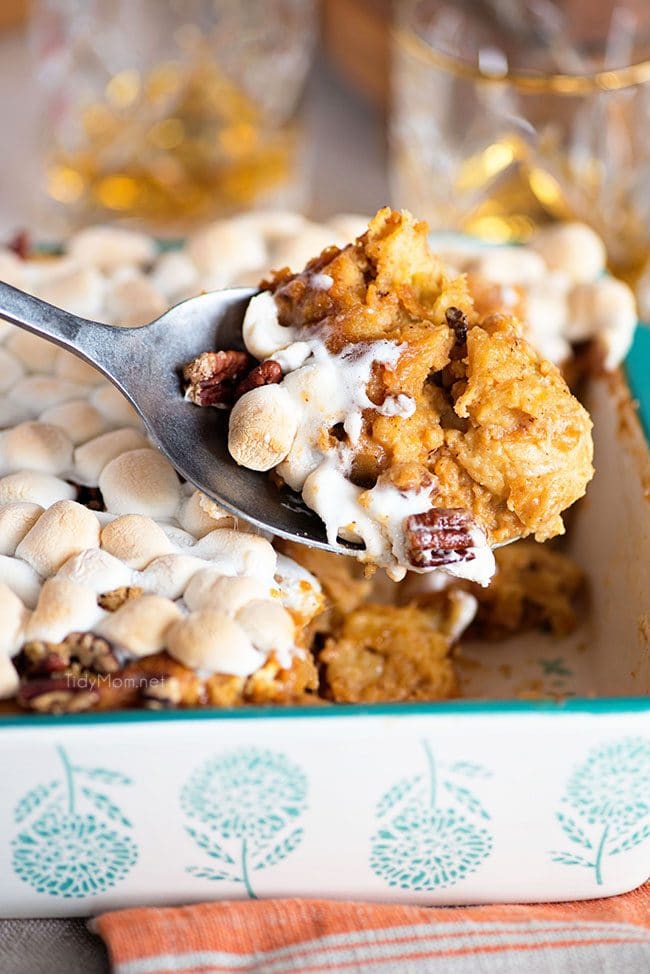 Serving Up Sweet Potato Bread Pudding
When you have a dessert this appetizing, it's almost too hard to wait for all the way until it's time for dessert to break it out! Trust me I won't judge you if you sneak a couple bites before the main course is served. The wait for dessert is made a lot easier if you have a whole meal of heavenly dishes waiting for you in the main course.
I think my dream Thanksgiving dinner would be Butternut Squash Gouda Cheese Dip to start. Followed by turkey main event with a side of Slow Cooker Stuffing with Artichokes and Pecans, and Maple-Braised Butternut Squash. Then a nice big glass of Cranberry Mulled Ale and a heaping serving of sweet potato bread pudding to top off the night.
Can you even imagine a Thanksgiving more dreamy than that? I'm seriously drooling right now just thinking about it.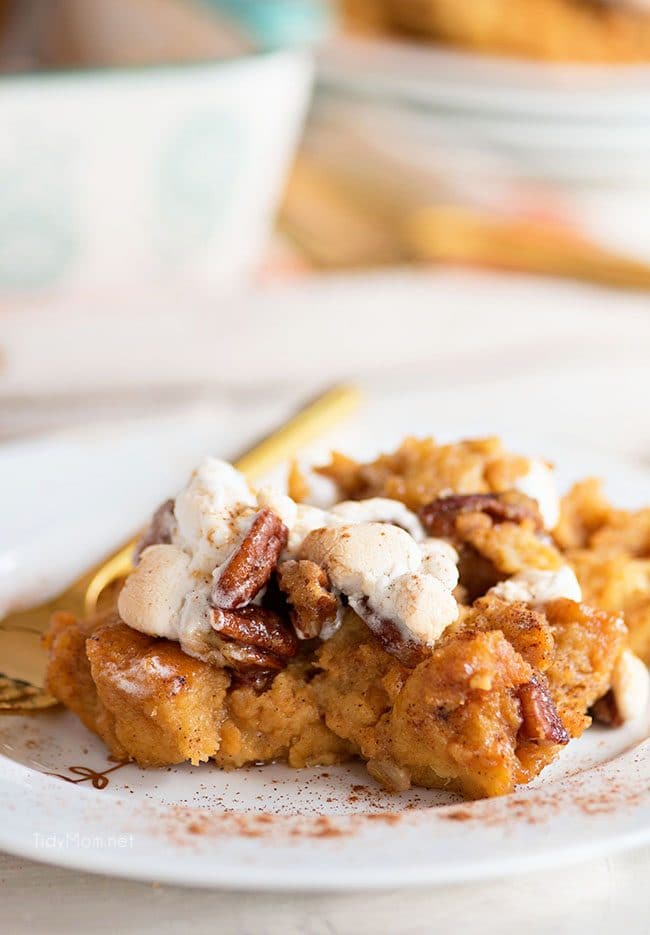 More Amazing Thanksgiving Desserts!
Chocolate Peanut Butter Pie Layers of graham cracker, peanut butter filling, and chocolate. It's a chocolate and peanut butter lover's dream come true!
Turtle Pumpkin Ice Cream Cake A seasonal celebration Ice Cream Dessert that doubles as a Thanksgiving Dessert.
Apple Butter Pumpkin Pie a delicious combination of flavors and texture that just screams "fall" with apple and pumpkin, in a heavenly spiced custard pie.
Cranberry Trifle Soft cake layered with sweet-tart cranberries and homemade custard. This beautiful dessert is perfect for any time of year!
Chocolate Pecan Pie Bars Everything you love about pecan pie, along with a layer of chocolate, transformed into an easy to eat bar to pick up and enjoy.
Apple Cider Cupcakes Moist and flavorful recipe made from scratch with Brown Sugar Cinnamon Buttercream Frosting make for a mouthwatering fall dessert!
Like this Sweet Potato Bread Pudding with Marshmallow Topping Recipe? Pin It!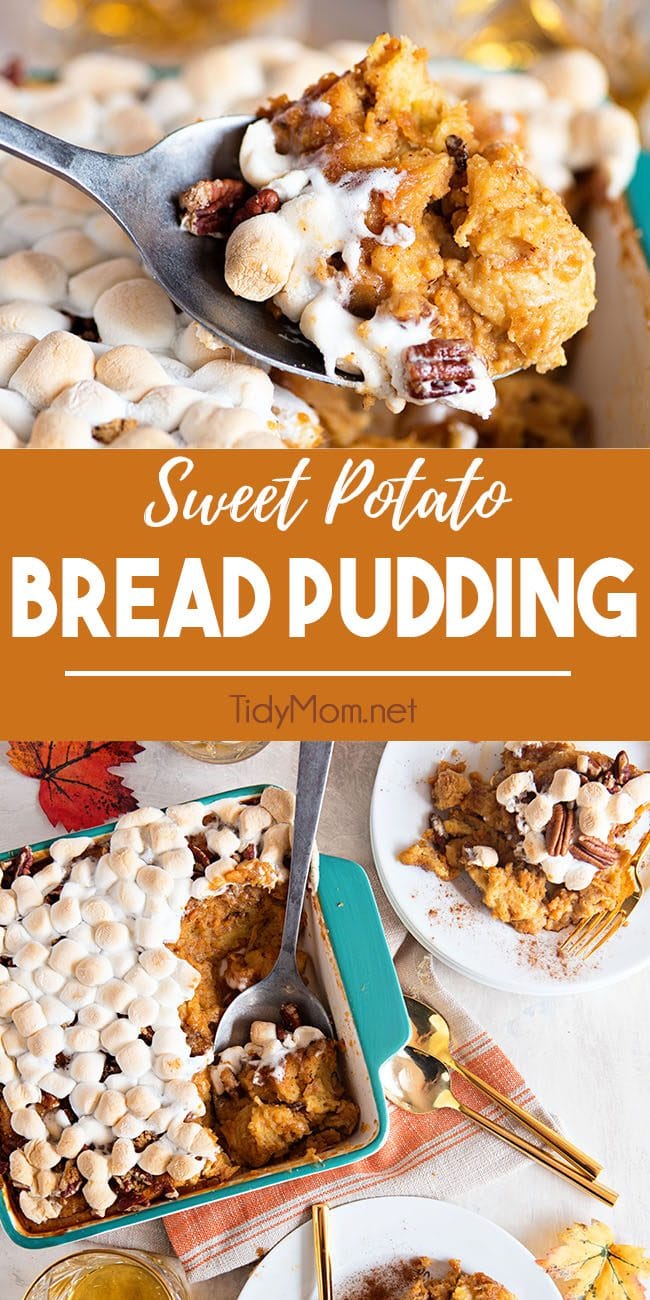 A Sweet Potato Bread Pudding You'll Love!
It's time to ditch the typical pumpkin pie you bring every year to Thanksgiving and wow your friends and family with a pan full of sweet potato bread pudding. I can't wait to hear how much you love it!
I created a fun little group on facebook and I'd love for you to join in! It's a place where you can share YOUR favorite recipes, home tips, creative ideas and ask questions and see what's new with TidyMom! If you'd like to check it out, you can request to join HERE. Be sure to follow me on Instagram and tag #tidymom so I can see all the wonderful TidyMom recipes YOU make and tips YOU use!
Connect with TidyMom! Facebook | Twitter | Google+ | Pinterest | Instagram
Sign up to receive an email in your inbox for each new recipe: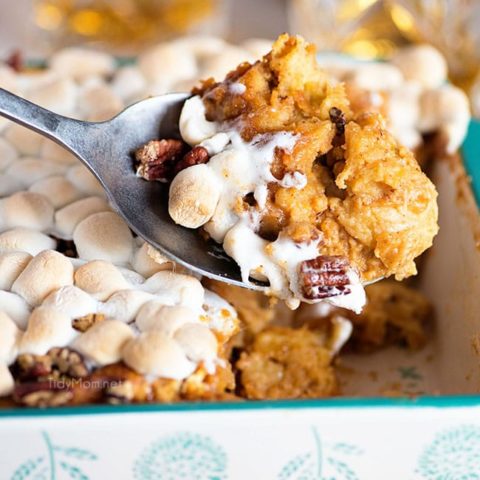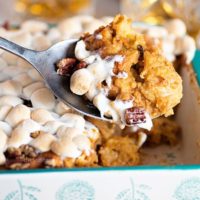 Sweet Potato Bread Pudding with Marshmallow Topping
Yield: 9 servings
Prep Time: 15 minutes
Cook Time: 50 minutes
Resting Time: 30 minutes
Total Time: 1 hour 35 minutes
Grandma's old-fashioned bread pudding gets a holiday twist with this Sweet Potato Bread Pudding recipe. It has everything you love about the classic Thanksgiving dish, sweet potato casserole, including the marshmallow topping.
Ingredients
1 (one pound) loaf of day-old Brioche, cut into 1 inch cubes*
4 tablespoons butter
1 (40 ounce) can yams (cut sweet potatoes), drained
1 cup heavy cream
1 cup milk
4 eggs beaten
1/2 cup brown sugar
1/4 cup maple syrup
1 teaspoon pumpkin pie spice
for topping:
1/4 cup brown sugar
1/2 cup chopped pecans
2 cups miniature marshmallows
Instructions
Place the bread cubes in a greased 9 x 9 x 3 baking dish.
In a small saucepan melt butter over medium-high heat until golden and caramelized (about 5 minutes)Drizzle browned butter over bread pieces.
Add drained sweet potatoes to a large bowl and mash using a fork or electric mixer. Add the remaining ingredients (except toppings) and whisk together until well blended.
Pour the mixture over the bread cubes. Allow bread to soak for at least 30 minutes.
Heat oven to 350° F. Place baking dish with bread pudding on a sheet pan and bake for 30 minutes.
Remove dish from oven and sprinkle with brown sugar and pecans. Place back in the oven for an additional 10 minutes.
Remove dish from oven again, and top with marshmallows and place back in the oven for another 10 minutes or until marshmallows are melted and toasted, watching closely so they don't burn.
All it to cool for 20 minutes before serving. Serve warm.
Notes
If your bread is still fresh, you can cut it into 1-inch cubes and place them on a baking sheet, and bake at 350°F for 8-10 minutes, stirring occasionally, until the bread is dried out.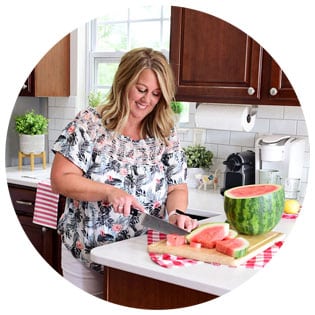 Hi there, I'm Cheryl!
As a wife, mom, and caffeine enthusiast, my journey has taken me from bustling mornings with my family to sharing delicious recipes, home care tips, and heartfelt decorating insights with wonderful readers like you. My love for baking, photography, and tidiness shines through every post I craft. Dive into my world and discover the art of homemaking, one tidy moment at a time. Read more...
Tidymom is a participant in the amazon services llc associates program, an affiliate advertising program designed to provide a means for sites to earn advertising fees by advertising and linking to Amazon.com.
Please respect my work, recipes and photographs. If you do use a recipe in your own writing, please give proper credit and link back to the original post.