Chocolate Pecan Pie Bars
in memory of Joan Hayes | Chocolate Chocolate & More
This Gooey Chocolate Pecan Pie Bars recipe just might replace the pie altogether.  Everything you love about pecan pie, along with a layer of chocolate, transformed into an easy to eat bar to pick up and enjoy.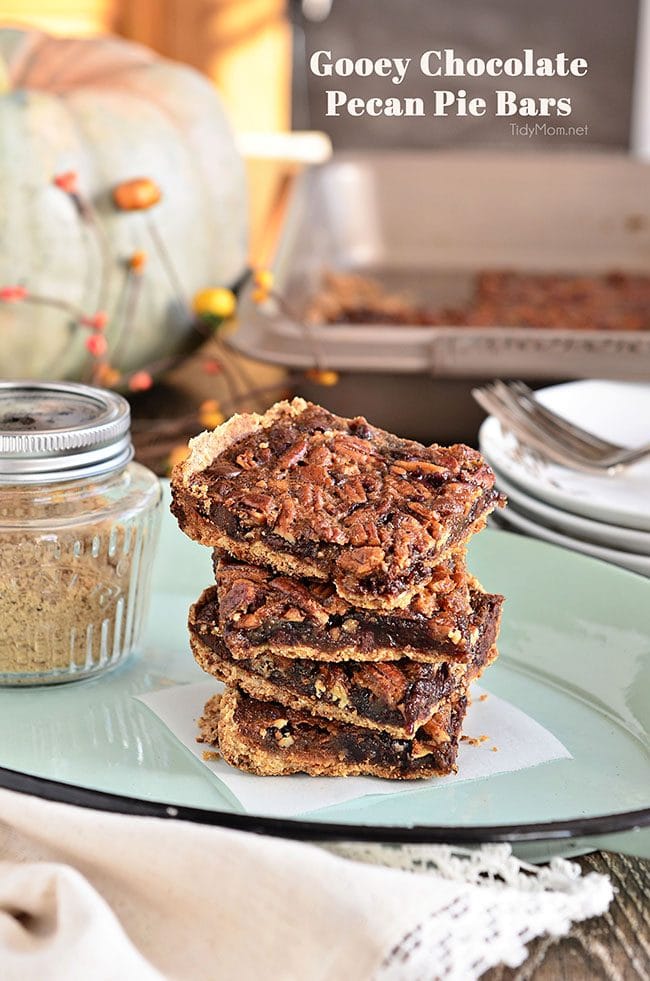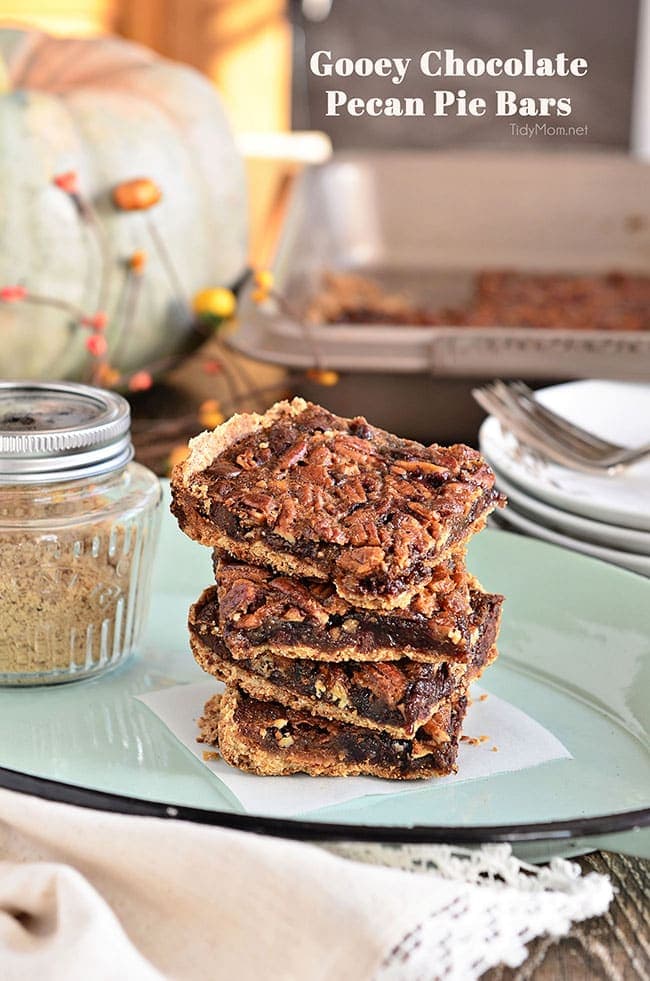 The past 2 weeks as been filled with so much emotion.  It started off on such a high, I spent 4 glorious days at Lake Tahoe with 10 other bloggers. My friend Lori of Recipe Girl organized a blogger retreat, at the Tunnel Creek Lodge, on the old Ponderosa Ranch.  We cooked together, danced in the kitchen, snapped chatted and talked a lot about blogging and learning from one another.  I came back rejuvenated and feeling so lucky about the friendships I've made through blogging.  When I started blogging 8 years ago, I didn't really know anyone blogging…….now almost everyone I know is BECAUSE of blogging.  We cheer each other on, share and learn together, and most importantly we support each other.
Last week, that need support came in a big way when the food blogging community lost one of our own.  A dear friend, Joan Hayes, of Chocolate Chocolate and More passed away suddenly, in her sleep, last Thursday from a heart attack. She went to bed feeling nauseous (which is one of the signs of heart attacks in women) and never woke up. Joan had just turned 49 years old and left behind three children.  You guys……I was (still am) in shock and disbelief! ;(
Today is National Chocolate Day, and it's only fitting that many of us are celebrating Joan's life, by sharing her incredibly loved site and a chocolate recipe with you today.  Follow (and feel free to use) #ChocolateforJoan and #ChocolateEveryDamnDay on social media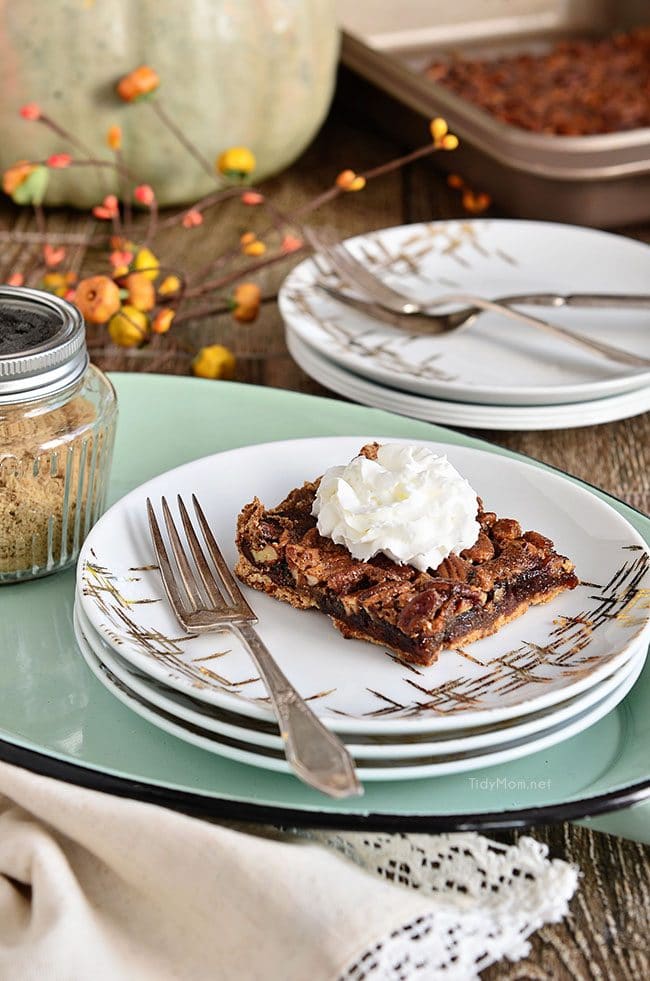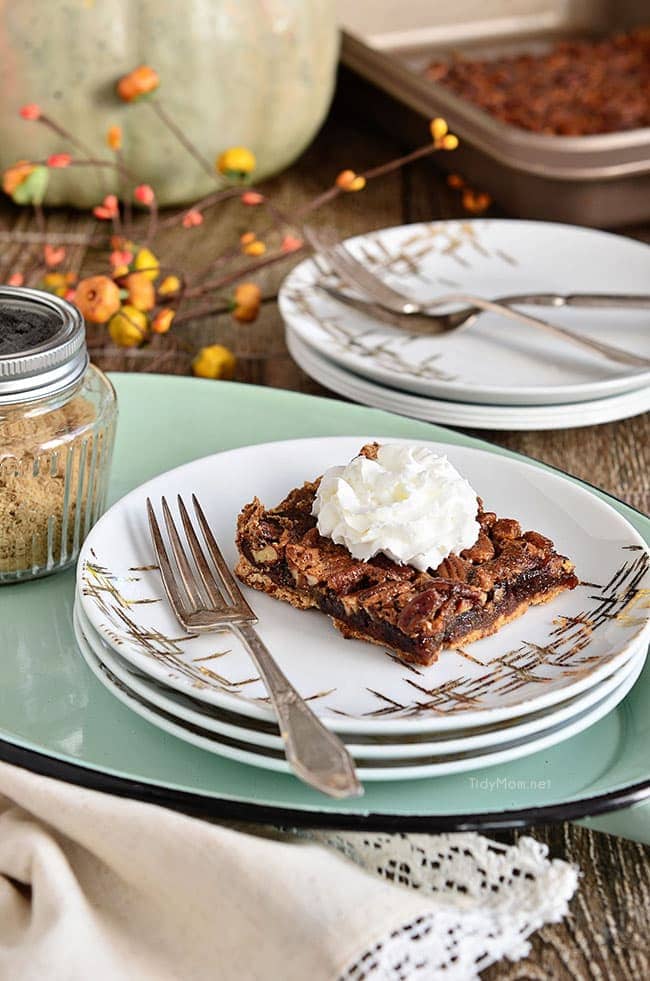 Joan, was greatly loved in the blogging community.  She shared freely, taught, guided, laughed and loved!  Joan was a giver… she gave of herself, her time, her knowledge and her love.  She was a lady with a big heart, a kind soul and a dear friend. She is going to be dearly missed by so many and is leaving a BIG hole in the food blogging community.
I don't remember when we first connected online, but Joan was everyone's cheerleader.  I do remember the first time we met in person, she was sitting at a table filled with several chocolate desserts…..of course to share with everyone at the table.  She asked my daughter and I to join them, and passed the chocolate our way!
….I'll forever remember swimming with the dolphins with her on our cruise earlier this year.  She came along with my daughter and I and we spent the day just the three of us on Anguilla and St. Marteen.
I'm so glad we had that week to get to know each other even better! Thanks for believing in me and for all of your advice, Joan.  I hope you're enjoying all the chocolate you want in heaven!!
Her family and friends are in shock and disbelief that someone as full of life as she could pass so quickly with so little warning. Please learn the signs of heart attack in women (they are different than for men), especially if you have risk factors like family history of heart disease or smoking.  Shortness of breath, jaw pain, back pain, and stomach pain are all heart attack symptoms. Know your risk, know the signs. Only you know if something you're feeling is not normal.
My fellow food bloggers and I are determined to help keep Joan's blog alive, not just to honor her memory but as a way to keep an income source going to her children. If you are looking for mostly scratch dessert recipes that are simple and delicious check out her Facebook Page and Chocolate Chocolate and More site.
In Chocolate, we trust. AMEN!
In Joan's memory and in honor of National Chocolate Day, I'm sharing a great recipe for your holiday dessert table…… Chocolate Pecan Pie Bars, inspired by Joan's recipe for Gooey Chocolate Pecan Pie Bars
Want more great recipes like this? Follow my TidyMom Easy Recipes Pinterest Board
**Making this recipe?  Take a picture and share it on Instagram! Make sure to tag it #TidyMom so we can see what you're creating in the kitchen!
LIKE IT? PIN IT!


If you are looking for ways to help Joan's family, please visit her blog, Facebook page, Pinterest, Twitter and Instagram.