Roasted Sweet Potatoes with Cinnamon Pecan Crunch
This cinnamon infused sweet potato recipe with a pecan-pie-inspired topping highlights all the wonderful flavors of the holiday season! Roasted Sweet Potatoes with Cinnamon Pecan Crunch will be the first thing to disappear from the table.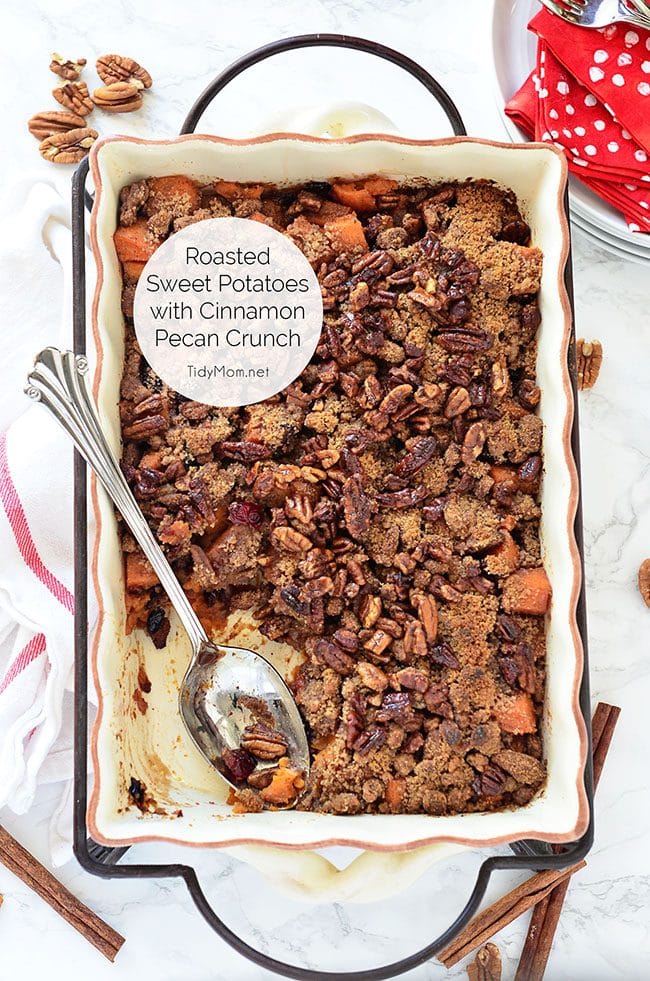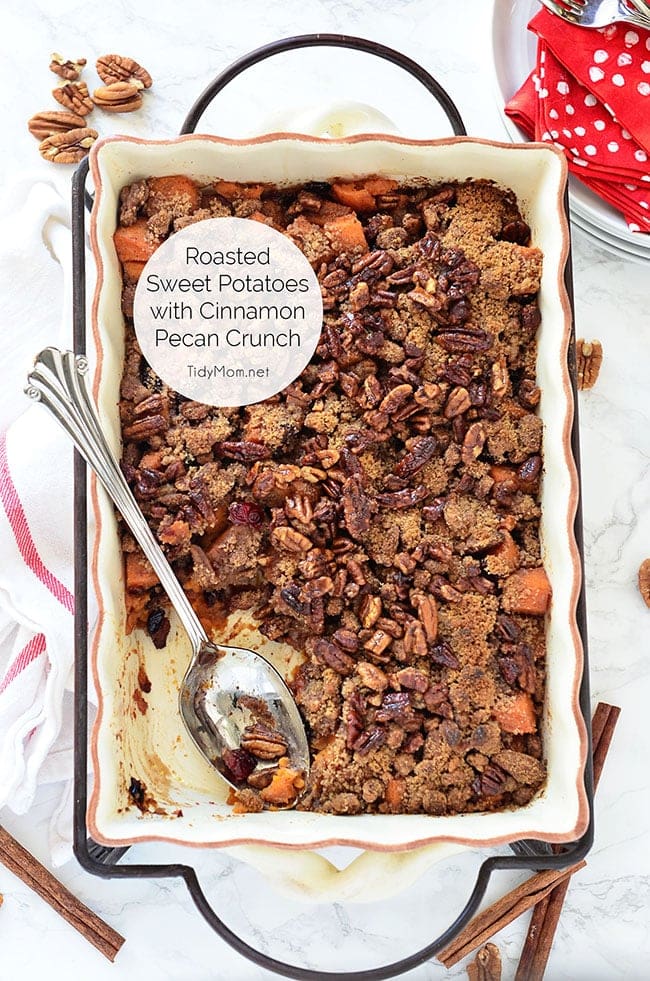 When I was growing up, I didn't really care for sweet potatoes, unless they were covered in marshmallow.  Even then, I think I really ate them for the killer toasted marshmallows on top, that showed up on our dinner table every Thanksgiving.  It wasn't until I had my own family that my real love for sweet potatoes (not marshmallows) began to grow.
Most of us still love and crave the cinnamon and sugary classic side-dish, but when you add a pecan-pie-inspired topping, it brings a festive twist to classic sweet potato casserole…….and I promise, no one will ever miss the marshmallows. 😉
If you're still working on your holiday menu, you're going to want to save room for Roasted Sweet Potatoes with Cinnamon Pecan Crunch.  It's sure to be a family favorite
Prep time is only about 15-20 minutes……..grab your apron and let's get started.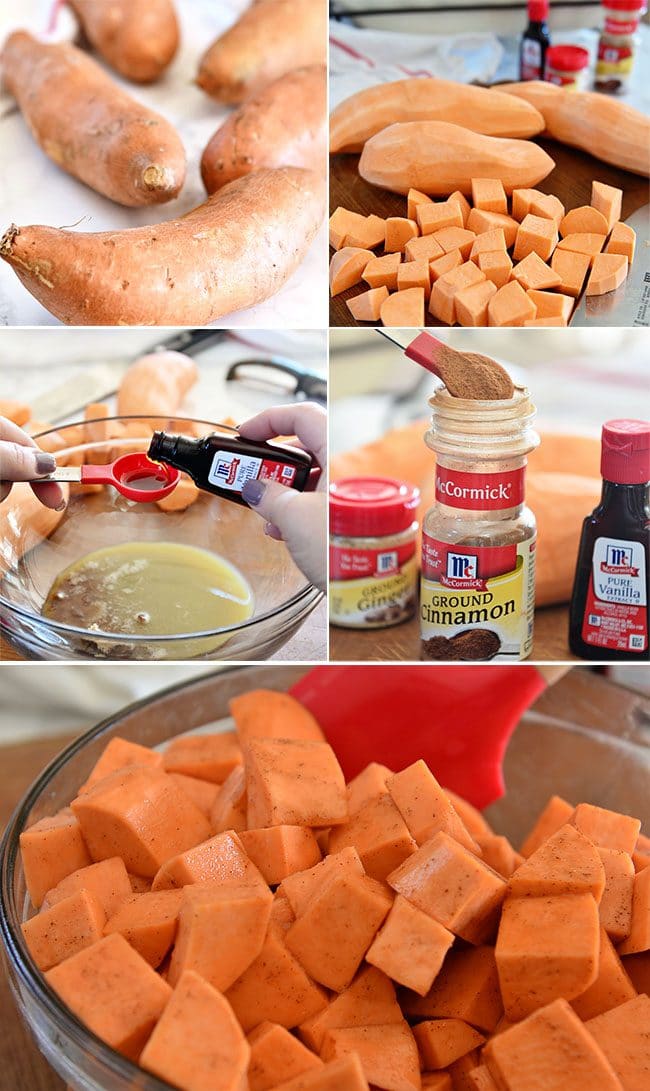 Simply toss 3 pounds of peeled and cut vibrant sweet potatoes with McCormick Vanilla Extract, McCormick Ground Cinnamon, McCormick Ground Ginger and a touch of brown sugar and orange juice.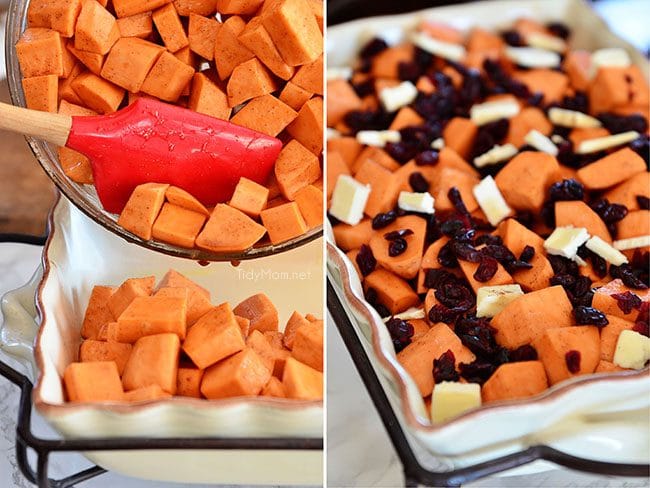 Spoon seasoned sweet potatoes into a 9×13 baking dish and sprinkle with ruby red dried cranberries, dot with butter, cover with foil and place in a 400°F oven for 30 minutes.
While potatoes are baking, prepare the maple cinnamon pecans and cinnamon pecan crunch topping that will leave your guests wanting more. Place the pecans in a small bowl and toss with maple syrup and McCormick Ground Cinnamon until well coated.
In a medium bowl, mix flour, remaining brown sugar and cinnamon and ginger in medium bowl. Cut in butter with a fork until coarse crumbs form.  Stir in most of the maple cinnamon pecans (save some to add to top after baking).
Remove potatoes from the oven, gently stir, then add cinnamon pecan crunch topping, return the dish to the oven, uncovered, for 20-25 minutes, until sweet potatoes are tender and topping is lightly brown.
Remove Roasted Sweet Potatoes with Cinnamon Pecan Crunch from the oven, sprinkle with remaining maple and cinnamon pecans and enjoy!
Like many sweet potato casseroles, Roasted Sweet Potatoes with Cinnamon Pecan Crunch could almost pass as a dessert….. a sweet potato crisp if you will.  I love the unexpected sweet and tart addition the cranberries give it, I think it's even more delicious and worthy of being on the holiday menu as the all-too-famous puffed marshmallow bombed sweet potato casserole.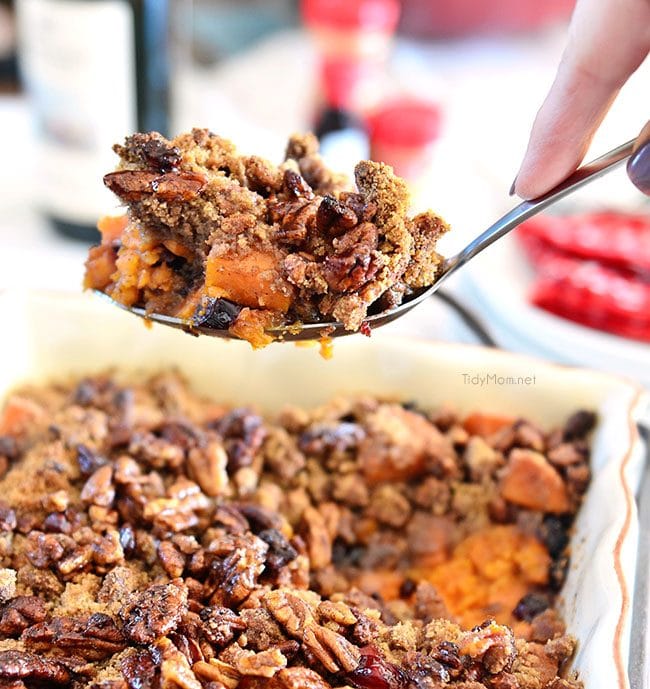 Though this recipe is special enough for Thanksgiving or any holiday, it's easy enough for any meal anytime.
LIKE IT? PIN IT!


Want more great recipes like this? Follow my TidyMom Easy Recipes Pinterest Board
Save your holiday for boring food. Check out McCormick for more of American Homemade recipes and flavors!

Disclaimer: I have been baking and cooking with McCormick in my home for 30 years.  I'm super excited to have a working partnership with them.  As always, all opinions and views are all my own.