Slow Cooker Stuffing with Artichokes and Toasted Pecans
Free up the oven and stove this holiday season with Slow Cooker Stuffing made with artichokes, mushrooms, and toasted pecans.
Raise your hand if you think that the stuffing is the best part of Thanksgiving dinner?!! Serve this incredible slow cooker stuffing alongside a delicious roasted turkey, savory mashed potatoes and gravy, sweet potato casserole, green beans, fresh cranberry sauce, garlic dinner rolls and pumpkin pie for an unbelievable Thanksgiving dinner.
Be sure to sign up for my email… to get new recipes and ideas in your inbox!
SAVE this recipe to Pinterest!
Easy Slow Cooker Stuffing
Let's face it, stuffing (or some call it dressing because it's not stuffed inside the bird) is not the prettiest dish on the table. But the amazing taste and flavors can't be beat, so who cares what it looks like. 😉
This slow cooker stuffing rewards you with a ton of flavor! 3 hours on low heat (plus 1/2 hour on high) is all it takes, and the stuffing comes out with perfect texture, a soft, moist center, and deliciously crisp edges that my family loves. Because let's be honest, no one wants soggy, mushy stuffing.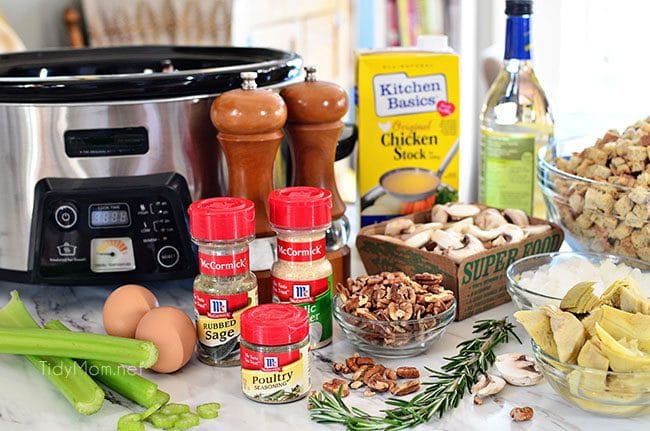 Let's take a look at the cast of characters for Slow Cooker Stuffing:
Bread – Stuffing is loaded with cubes of extra-dry bread. If you have time, get a loaf of French or Italian bread, and dry your own bread cubes. Or if you are trying to save time, you can pick up store-bought bread cubes, which is what I did here.
Veggies – Like traditional stuffing, I used celery and onions, but also added artichokes and mushrooms all sautéed in a little butter.
Liquids – Chicken Stock and white cooking wine keep this stuffing moist while adding the perfect flavors.
Seasoning – The right seasonings can make or break a stuffing recipe. Plenty of savory flavors are a must! Highly aromatic and fragrant McCormick Rubbed Sage , Poultry Seasoning, Garlic Powder along with salt and pepper make for the best stuffing recipe around. It doesn't take long to get one whiff of this slow cooker stuffing and I'm instantly transported to Thanksgiving with my mom in the kitchen.
A few eggs bind it all together and toasted pecans add a delightful crunch.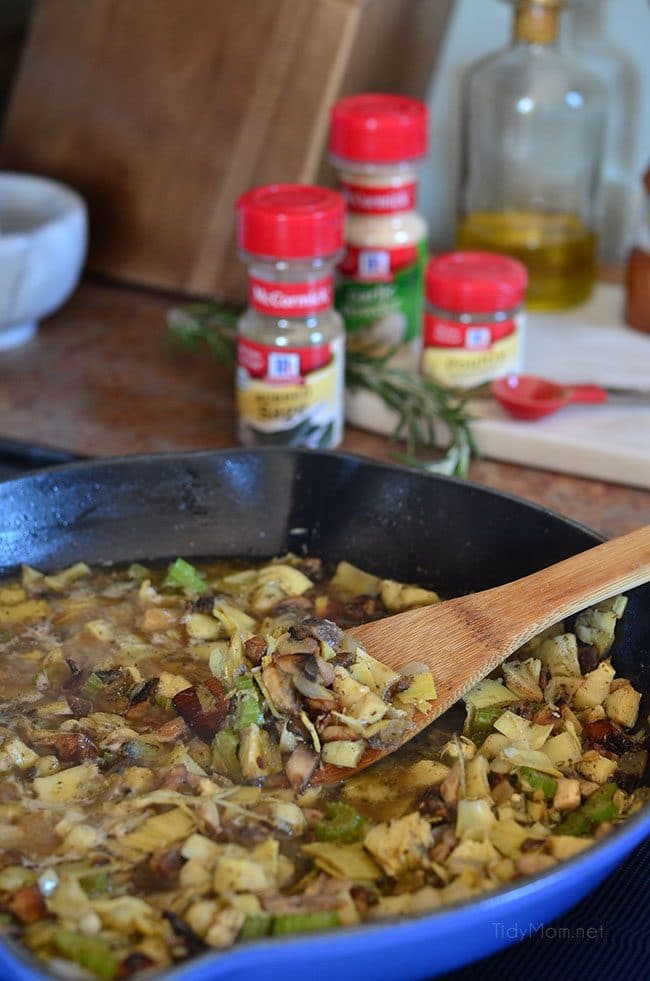 Seasoned vegetables, cooked in white wine with artichoke hearts and mushrooms, make a delicious flavor combination for this slow cooker stuffing.
Once the aromatic vegetables and toasted pecans are tossed with the dried bread, it's time for the "liquid gold". Whisk a few eggs with a full-flavored, rich, hearty stock, like McCormick's Kitchen Basics® Chicken Stock and pour over seasoned bread cubes.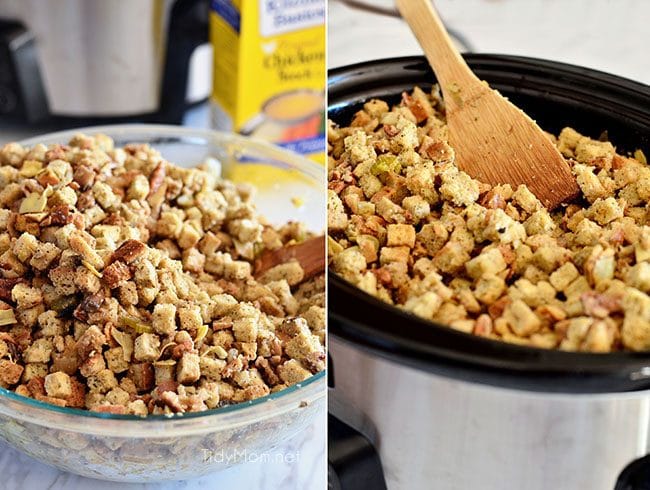 You want the dried bread to be moist, but not swimming in liquid, otherwise, it will end up soggy – the bread should hold it's shape. Transfer stuffing to a slow cooker that's been lightly greased with cooking spray.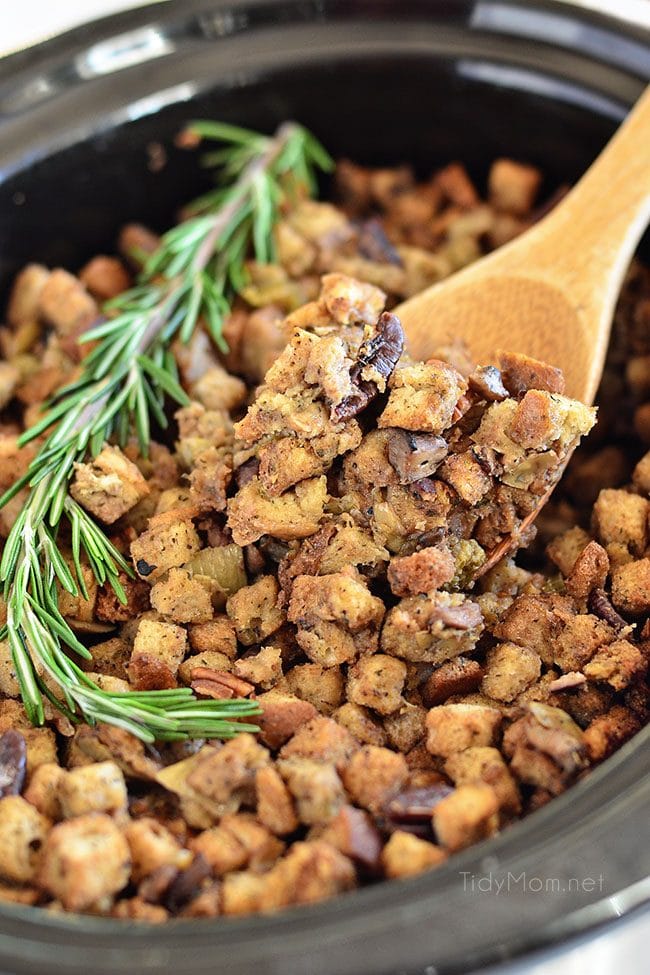 Cook for about 30 minutes on high heat, then on low heat for 3-4 hours, until crisp around the edges.
Worried about the coveted crunchy, toasted layer? With slow cooker stuffing, you'll find that layer across the bottom and all around the sides of the slow-cooker. While the center is packed with well-soaked, soft pieces infused with flavor from the aromatic, woodsy seasonings.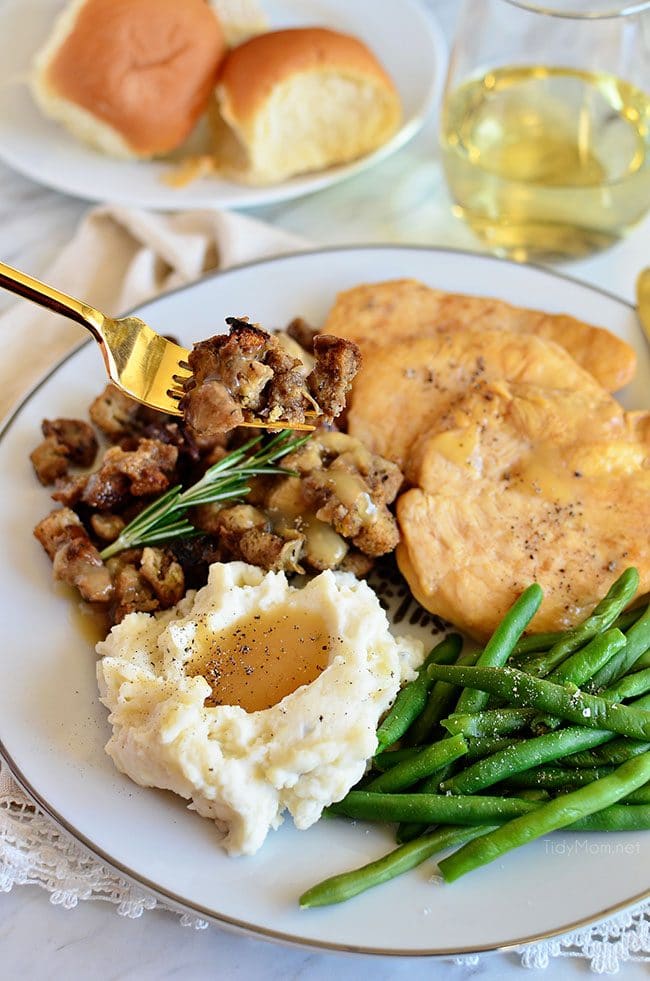 Like This Easy Slow Cooker Stuffing Recipe? Pin It!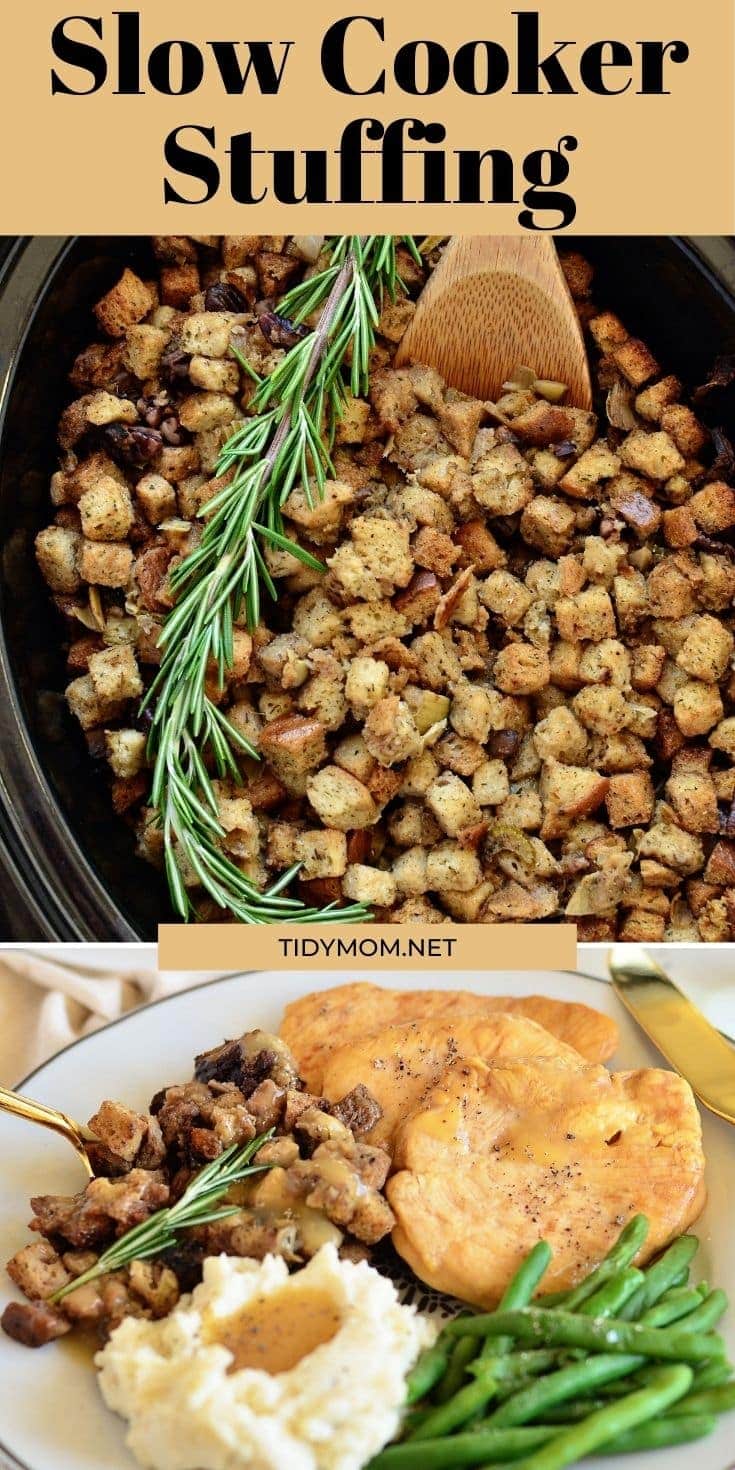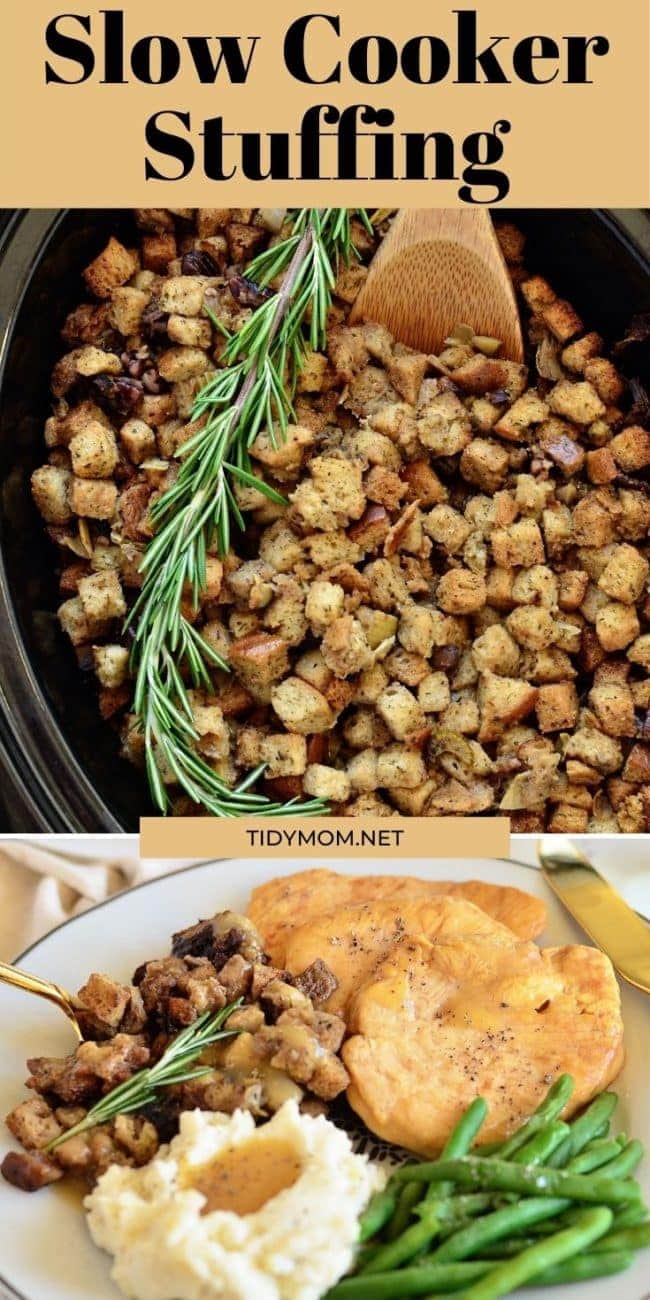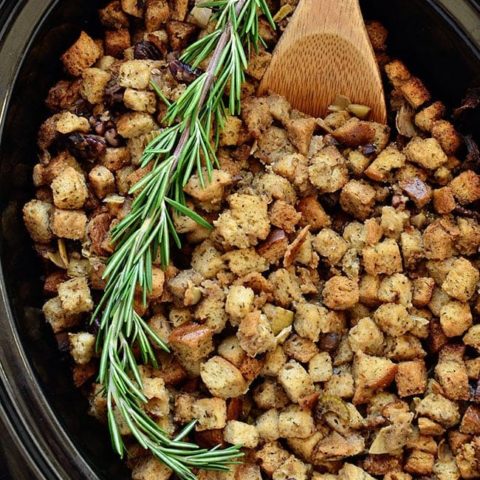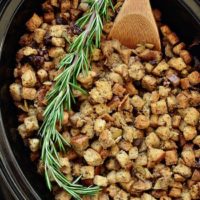 Slow Cooker Stuffing with Artichokes and Toasted Pecans
Yield: 10-12 servings
Prep Time: 20 minutes
Cook Time: 3 hours 30 minutes
Total Time: 3 hours 50 minutes
Free up the oven and stove this holiday season with Slow Cooker Stuffing made with artichokes, mushrooms, and toasted pecans.
Ingredients
4 tablespoons butter
1 yellow onion, diced
2-3 stalks celery, diced
8 ounces sliced mushrooms, chopped
1 (14 oz.) can artichoke hearts (not marinated), drained and chopped
1 cup white cooking wine
2 large eggs
salt and pepper to taste
12-15 cups dried unseasoned bread cubes (store bought, or homemade)
1/2 cup toasted pecans*, chopped
Instructions
Melt butter in a large skillet. Sauté onions, celery and mushrooms over high heat for 5-6 minutes. Stir in artichokes, poultry seasoning, sage and garlic powder; add cooking wine. Cook 5 minutes more, then remove from heat.
Beat the eggs with 2 cups of chicken stock, salt, pepper. In a large bowl, fold together the bread cubes with the cooked vegetables and pecans. Drizzle egg-broth mixture and gently toss. Add in more chicken stock as needed to moisten bread (the bread should hold it's shape, you don't want it soaked or stuffing will be soggy).
Spray a slow cooker with non-stick cooking spray then spoon bread cube mixture into slow cooker. Cover and cook on high heat 30 minutes then reduce heat to low and cook 3 1/2 -5 hours, until crisp around the edges.. Serve warm.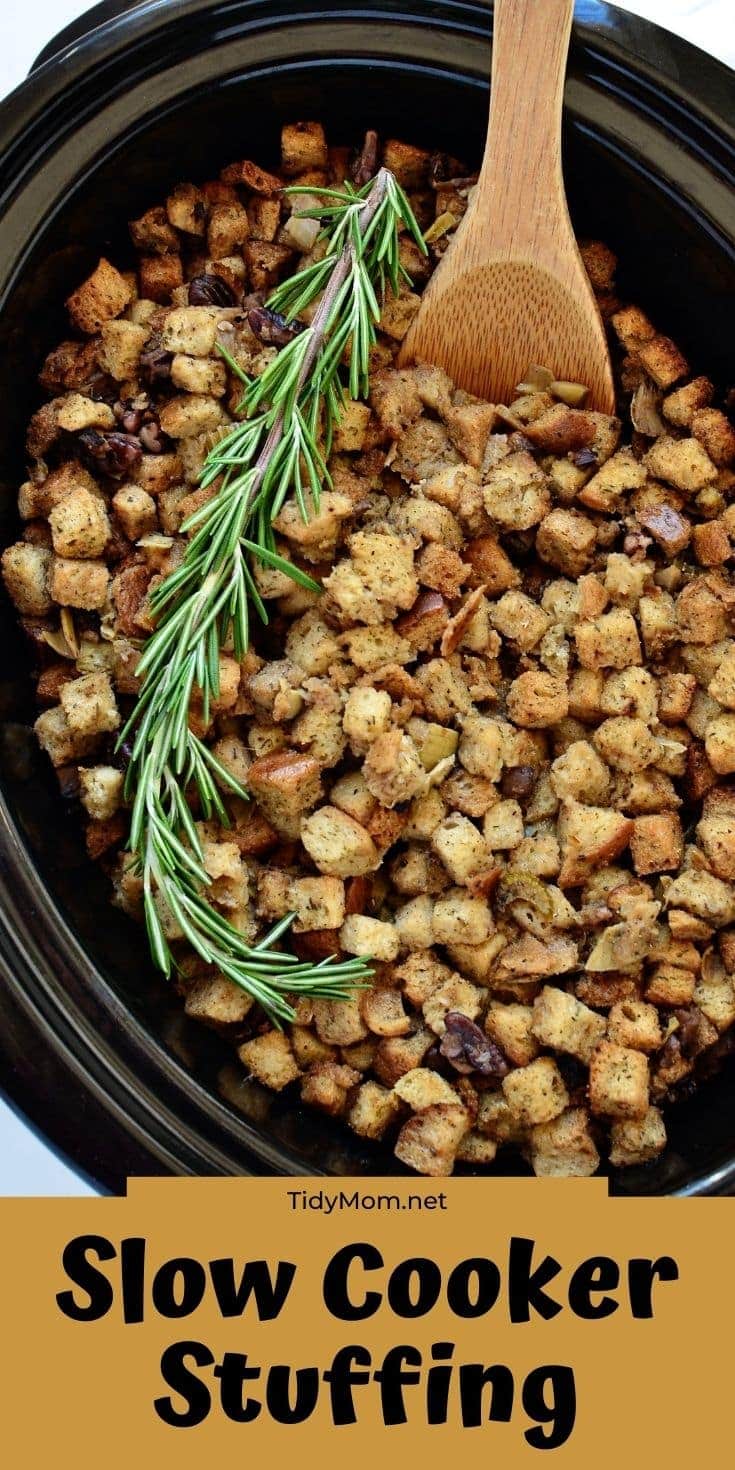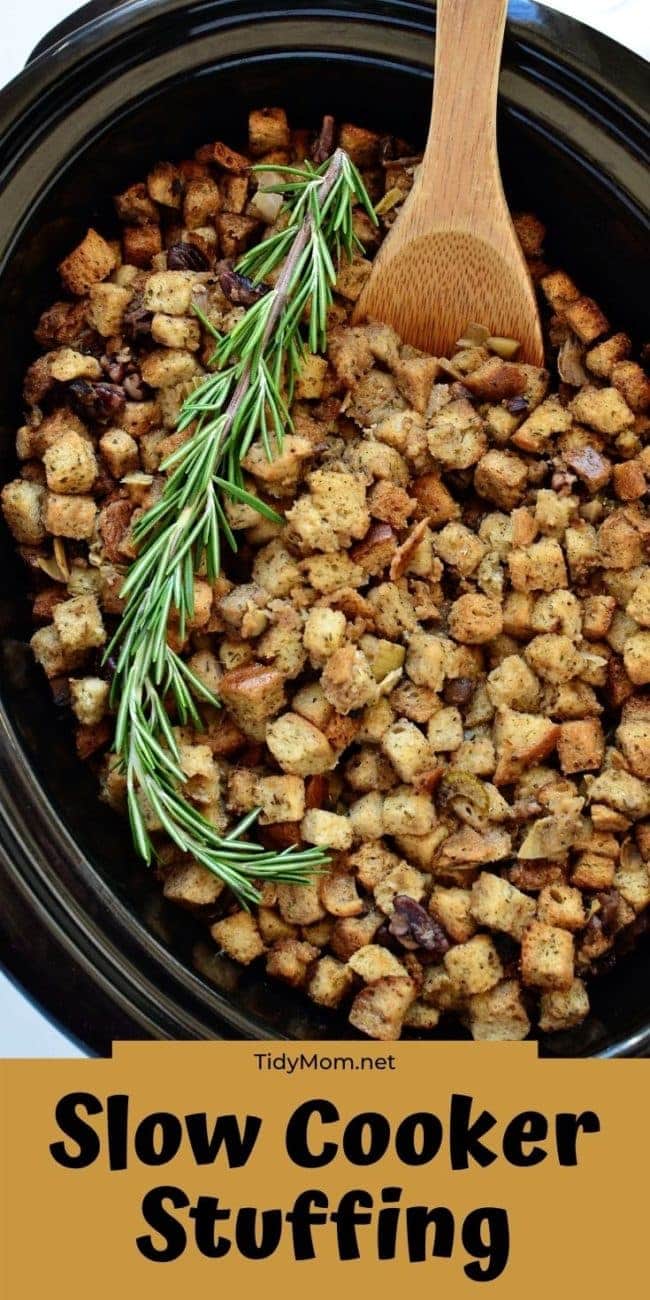 Disclaimer: I have been baking and cooking with McCormick in my home for 30 years. I'm super excited to have a working partnership with them. As always, all opinions and views are all my own. Thank you for supporting sponsors that allow me to create new content for TidyMom.
Tidymom is a participant in the amazon services llc associates program, an affiliate advertising program designed to provide a means for sites to earn advertising fees by advertising and linking to Amazon.com.
Please respect my work, recipes and photographs. If you do use a recipe in your own writing, please give proper credit and link back to the original post.