How to Toast Pecans
Take ordinary pecans to extraordinary.  The best way to toast pecans for extra flavor and healthy snacking or holiday baking.
I have something really easy yet delicious for you today!  Holiday baking is just around the corner and you may find recipes that require toasted pecans.  I was making an amazing side dish yesterday (will share soon) that called for toasted pecans, so I thought it would be the perfect time to share this little tip.
If you haven't ever toasted pecans, you're in for a treat!  They fill your home with the most delicious aroma and baking them, adds a delightful bit of crunchiness to them.
You can just pop them in the oven to toast them……..but you know the saying "everything's better with a little butter" ?  Well that certainly applies here!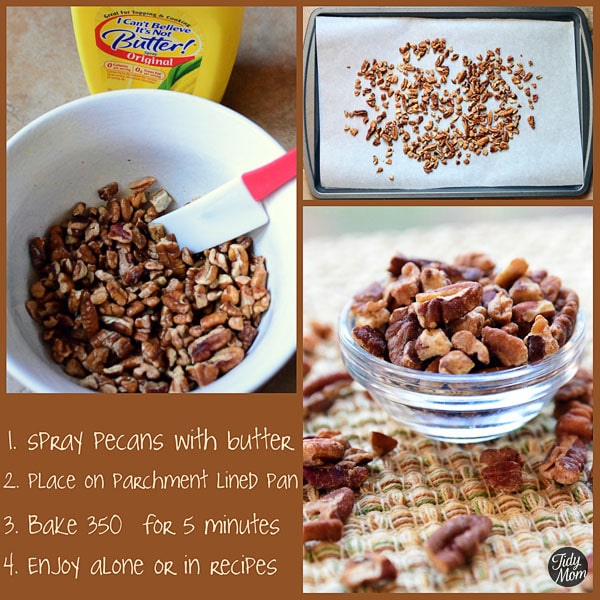 You can melt a little butter and pour over pecans, or I like to just give them a few sprays with I Can't Believe It's Not Butter, and stir them up a little to coat.
Then, my friends, you have turned ordinary pecans into extraordinary pecans!!  Delicious right out of the bowl or in your favorite recipes!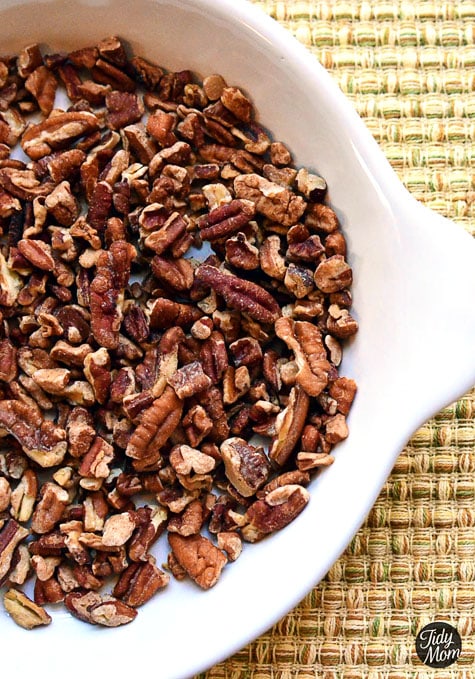 just in case you want to print it up……..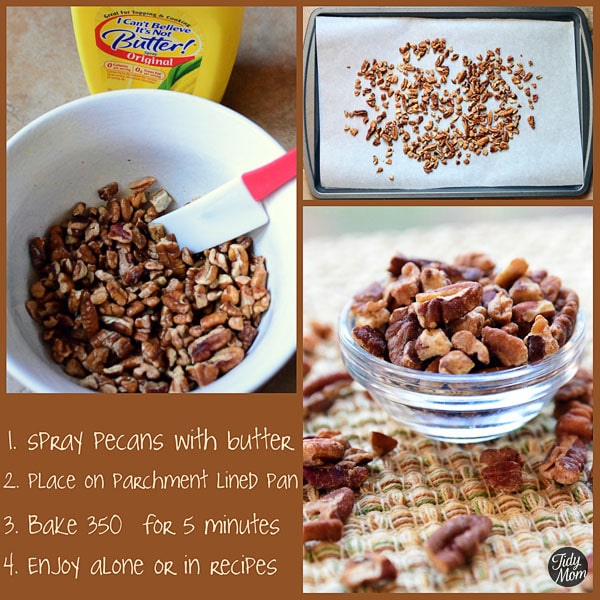 Summary: Ordinary pecans go to extraordinary when toasted for extra flavor
Ingredients
1 cup pecans (chopped or whole)
1 tablespoon butter, melted (or 5-6 sprays of spray butter)
Instructions
Preheat oven to 350°
Line baking sheet with parchment paper
Place pecans in small bowl and toss with butter until even coated.
Bake in center of oven for 5-8 minutes.
Cool before using/eating.
https://tidymom.net/2011/toasted-pecans-recipe/
Copyright© 2009-2013 TidyMom.Net
So lets hear it…..do you say PEE-can or Pa-con?
I'm linking up with these parties.......please visit them!Made by You Monday, Mouthwatering Monday, Get Your Craft on , Weekend Wrap Up Party, Pity Party