Easy Pumpkin Pie
Everyone can make homemade pumpkin pie! With a rich, spiced pumpkin filling this easy pumpkin pie recipe is packed with flavor. Use a homemade or store-bought crust, mix the filling and bake. It's that easy! Don't forget fresh whipped cream on top! Thanksgiving pie never looked this good or so easy!
If you're looking for more than the fall classic pumpkin pie recipe for your Thanksgiving table you might like my Grandpa's Layered Walnut Pumpkin Pie, Upside-Down Apple Pecan Pie, or Chocolate Covered Pretzel Pie.
Be sure to sign up for my email… to get new recipes and ideas in your inbox!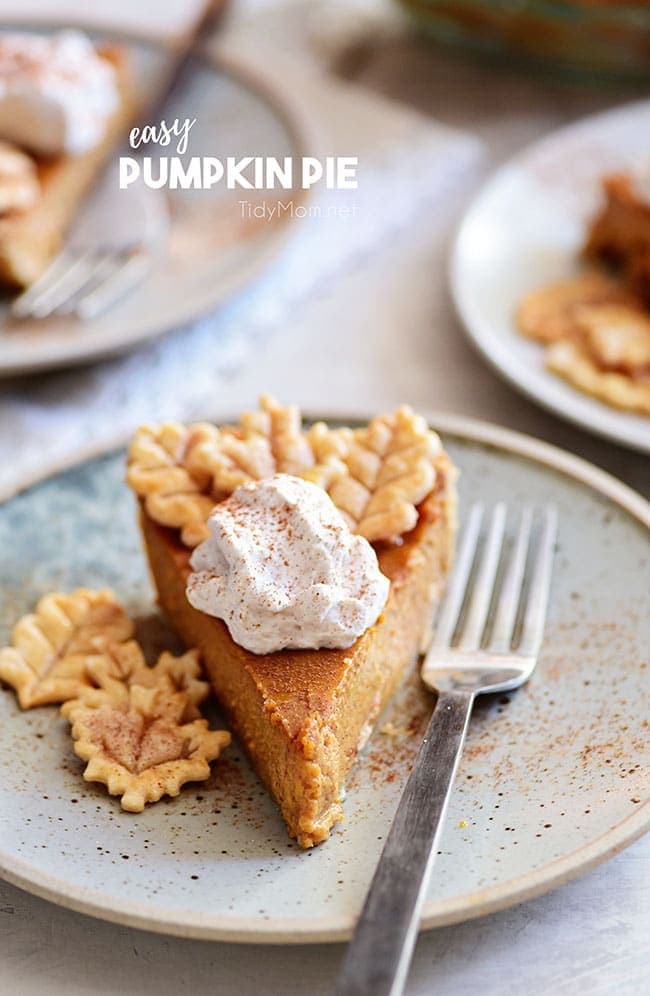 Click HERE to save recipe to Pinterest!
Easy Pumpkin Pie
What would Thanksgiving be without a pumpkin pie? Don't let Thanksgiving come and go without saving room for at least one or two slices of the perfect pumpkin pie.
You'll love the ease of making this pumpkin pie that doesn't require blind baking the crust, no cooking the filling on the stovetop, you can even skip making a homemade pie crust. Grab a frozen deep-dish pie crust, whip together the filling and in no time you'll have the best pumpkin pie ever.
This recipe is perfect for Thanksgiving and the holiday season, but when it's this easy to make, why not make it year-round too? Save this recipe now, and break it out when you find yourself missing the taste of fall!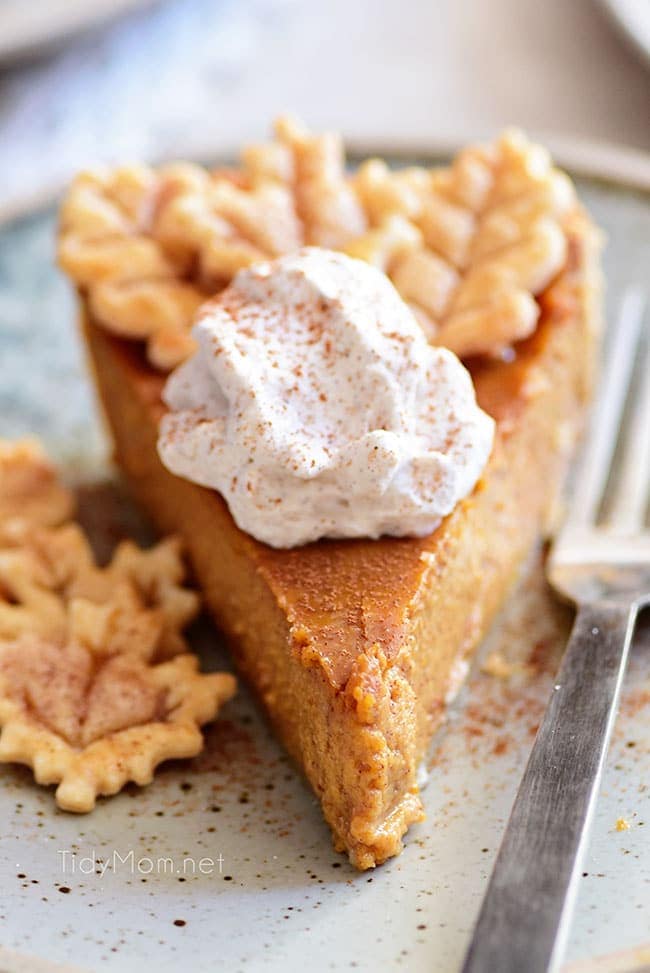 What Do I Need To Make An Easy Pumpkin Pie?
It doesn' take a lot to make the best homemade pumpkin pie, so don't bother fighting over the last premade pie at the store, and make this one instead! Just add these few ingredients to your list and you'll be ready to get baking.
Large eggs
Pure pumpkin
Evaporated milk
Sweetened condensed milk
Pumpkin pie spice mix
Vanilla extract
Salt
Ground black pepper
Deep-dish pie crust
optional- pie crust cookies
What Is Pumpkin Pie Spice?
Guess What? There's no pumpkin in pumpkin spice! Pumpkin pie spice is just a perfect blend of warm spices that come together to make that magical spiced flavor we all love in every pumpkin dessert, specifically pumpkin pie.
While you can use it to flavor your pumpkin spice latte, pies, and other baked goods, you can also add it to pumpkin chili, sprinkle it over roasted butternut squash, spice up some whipped cream, or mix it into ice cream or yogurt— it's such versatile spice blend which is why we see pumpkin spice "everything".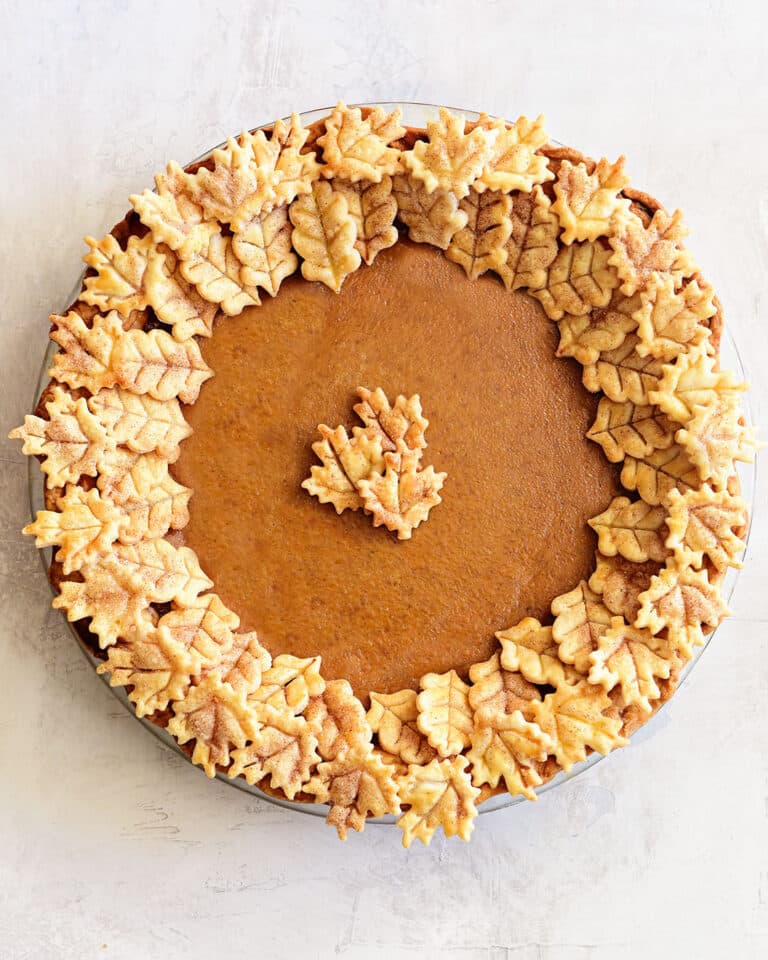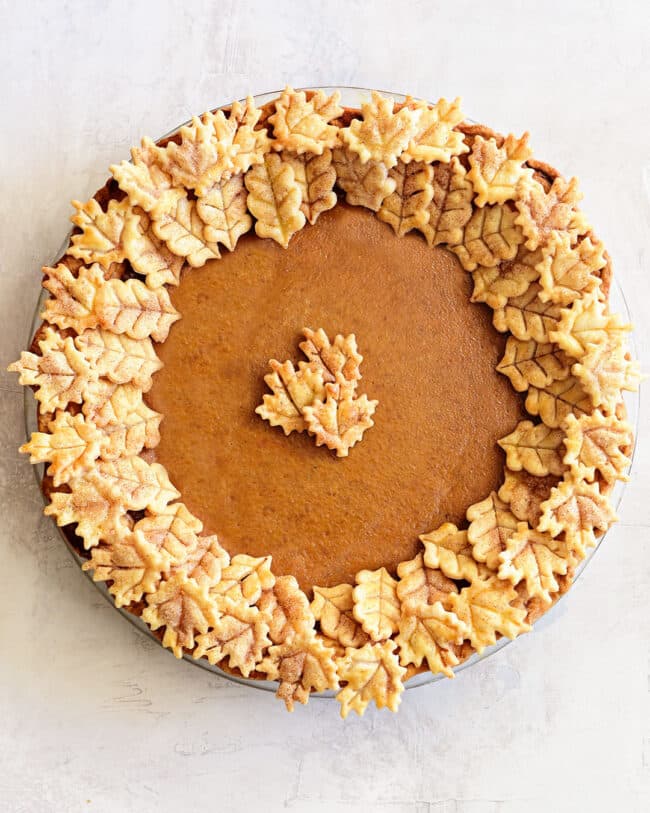 How To Tell When Pumpkin Pie Is Done
The most terrifying part of making pies is figuring out when they are ready to come out of the oven. You don't want a runny pie or a burnt crust, so it's important that you take the pumpkin pie out at just the right moment.
You will know your pumpkin pie is done when a knife tip is inserted in the center and comes out wet but relatively clean. The center should be just barely jiggly and there will be just a few cracks in the filling. Don't worry the cracks can be easily covered with a little bit of whipped cream!
Do I Need To Blind Bake The Pumpkin Pie Crust?
Put your pie crust weights away for this one, because there is no need to blind bake the crust. You will simply pour your filling into your unbaked pie crust and pop the whole thing in the oven. Both the filling and the crust will bake at the same rate, to make the whole process easy as can be.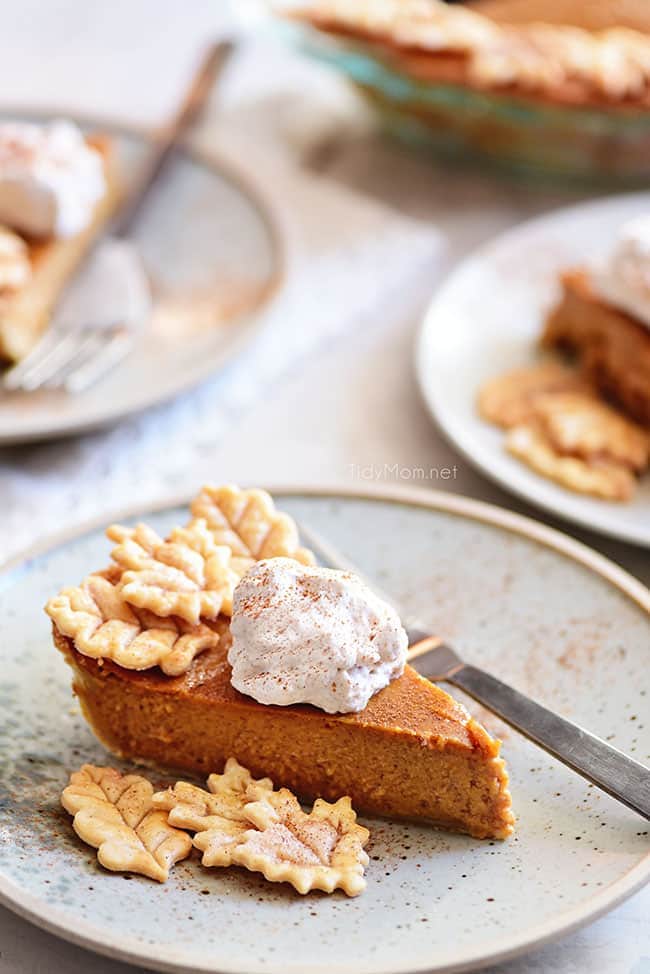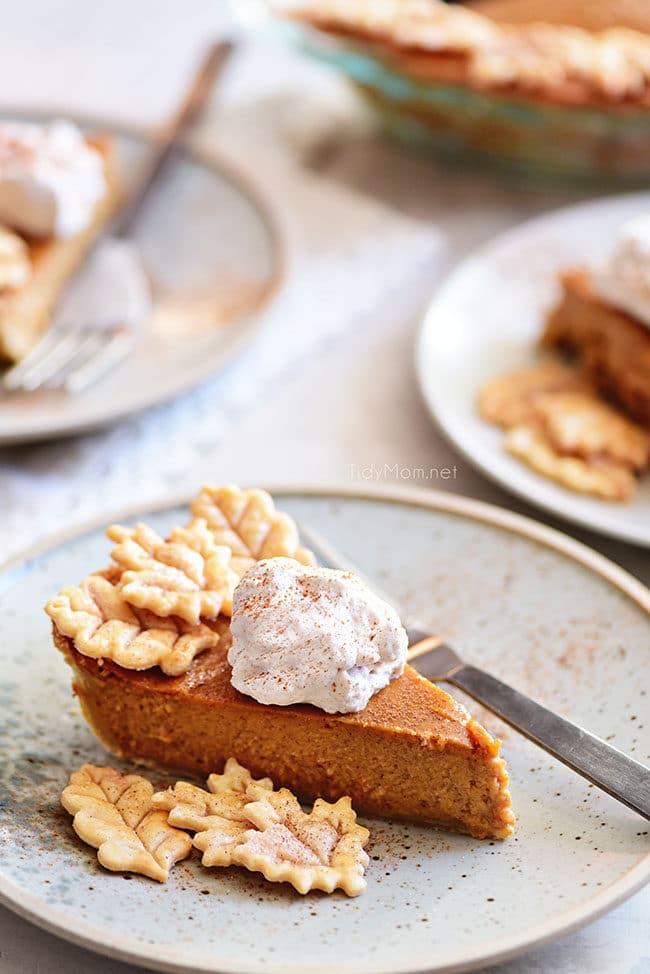 How To Decorate A Pumpkin Pie
To make my pumpkin pie stand out on the dessert table, I love decorating it with some cute little pie crust cookies. They can be made quickly with some refrigerated pie crust, and leaf-shaped cutouts. To make them yourself, be sure to check out the full recipe for pie crust cookies, here.
Once you have your pie crust cookies prepared, place them on your baked and cooled pumpkin pie and serve!
To take it a step further, you can also add some homemade cinnamon whipped cream to the top of the pie and really wow everyone.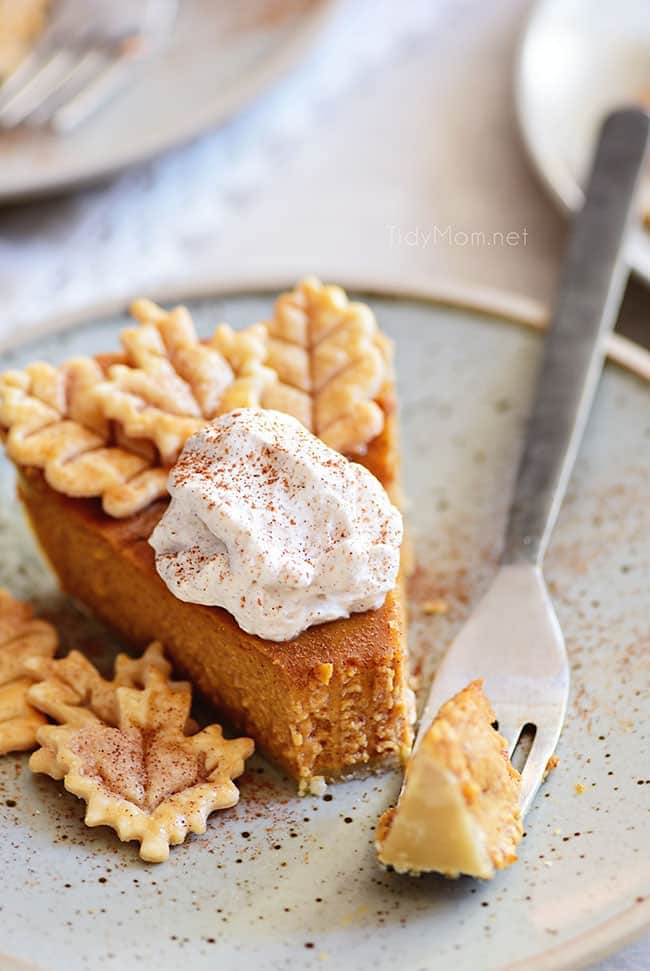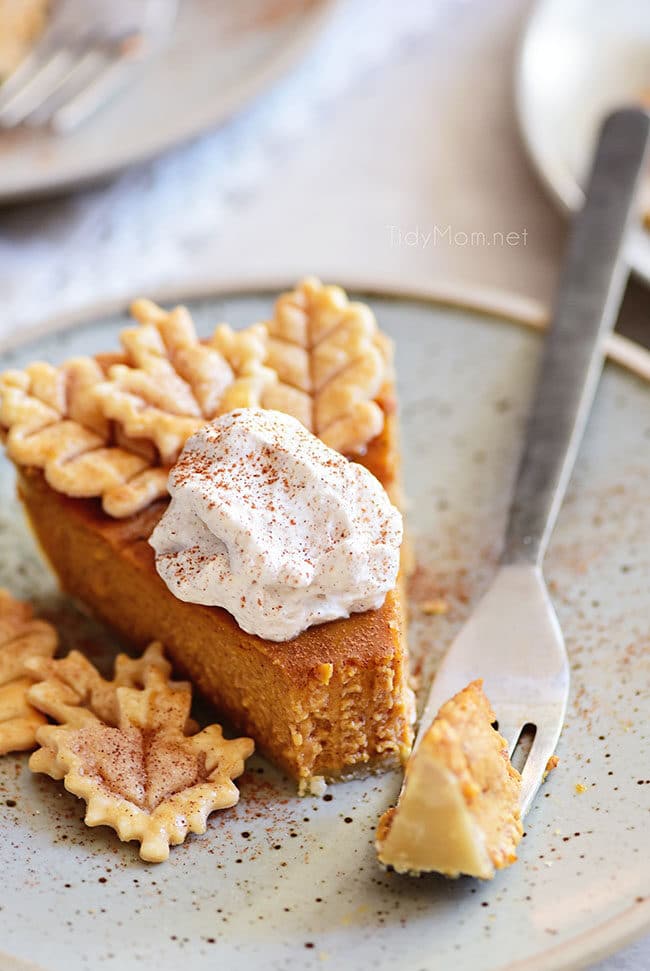 Tips For Making The Best Homemade Pumpkin Pie
Check the freshness of your spices – While spices don't necessarily spoil or "go bad" they do lose their potency over time. So if you only have spices that are covered in dust and are from 5 years ago, I suggest grabbing new ones or you'll end up with a bland pie.
Buy the crust – No one said a good pie can't come from a store-bought crust if you really love making a homemade crust great! But don't feel ashamed to grab a frozen deep-dish crust at the store, it will still taste amazing!
Cool it completely – To get those perfectly cut slices, make sure to let the pie cool completely before cutting into it. If it's too warm the filling might spill out and create a giant mess of your pie.
Read through the recipe slowly – The best way to make sure any recipe comes out perfect is to take your time and read carefully. We have all been there when you're in a rush and you skim then end up missing a step or ingredient, so take your time.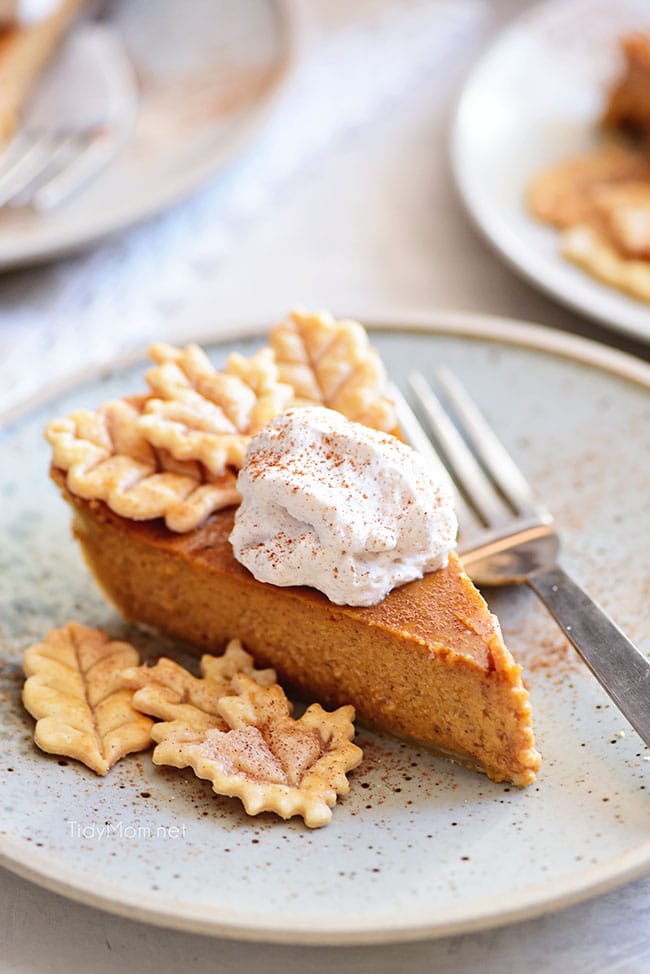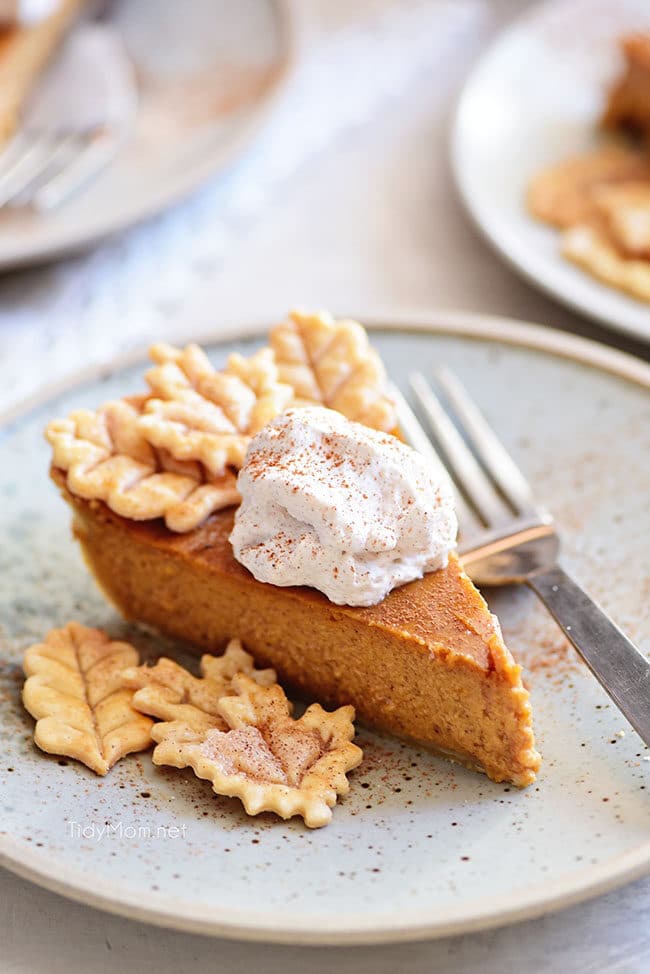 How To Store Homemade Pumpkin Pie
When serving at Thanksgiving or any other event you might go to this season, it's fine to let the pie sit on the counter at room temperature for a few hours. Once you are done serving, the Thanksgiving pie will need to be loosely covered and stored in the refrigerator.
You can also separate the pie into slices and store them in an airtight container.
How Long Does Pumpkin Pie Keep?
Homemade pumpkin pie is amazing leftover, so if you're lucking enough to get away with a few extra slices don't just throw them away. When stored properly it will last up to three to four days.
Don't Forget To Check Out These Amazing Pie Recipes
Apple Butter Pumpkin Pie With Streusel Topping – A delicious combination of flavors and texture that just screams "fall" with apple and pumpkin, in a heavenly spiced custard pie.
Inside Out Mini Pumpkin Pies – This fall dessert has all of the flavor and texture of a delicious pumpkin pie with the crust baked right in!
Chocolate Pecan Pie Bars – Everything you love about pecan pie, along with a layer of chocolate, transformed into an easy to eat bar to pick up and enjoy.
Chocolate Peanut Butter Pie – Dessert doesn't get any better than this pie with layers of graham cracker, peanut butter filling, and chocolate. It's a chocolate and peanut butter lover's dream come true!
Peanut Butter Oatmeal Cookie Pie – Do not deny yourself the pleasure of an oatmeal cookie pie! This rugged pie travels well and will remind you of a big fat peanut butter oatmeal cookie!
Like This Homemade Pumpkin Pie Recipe? Pin It!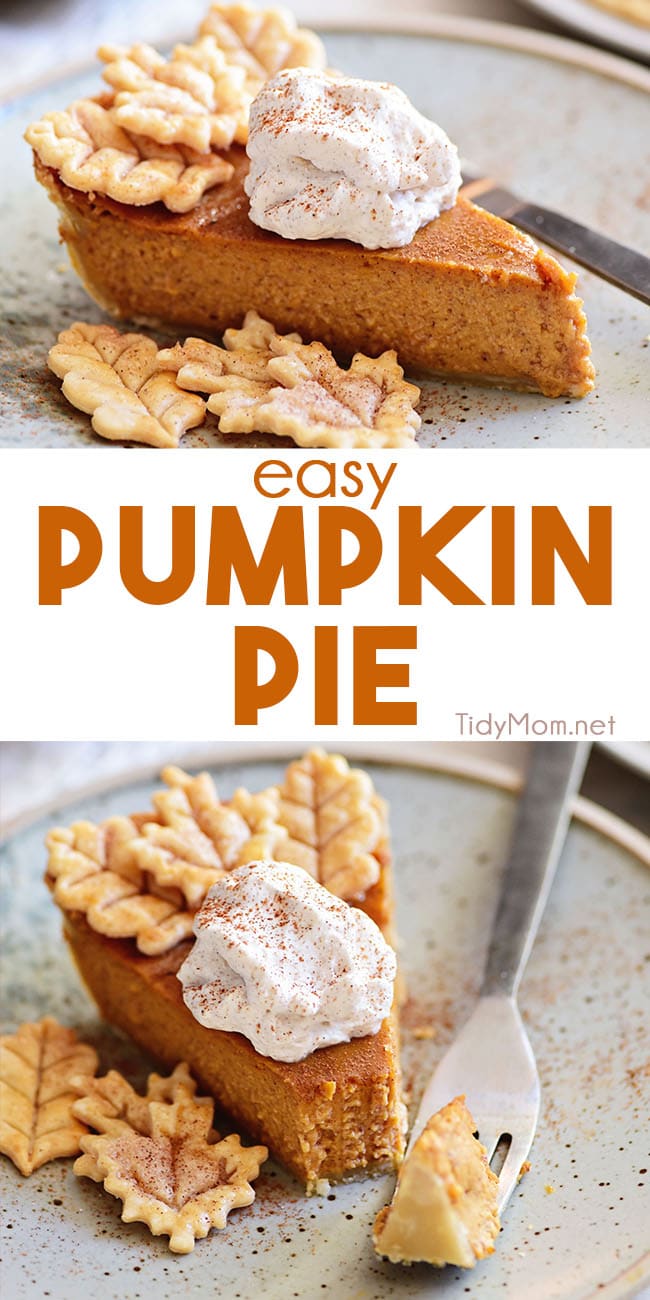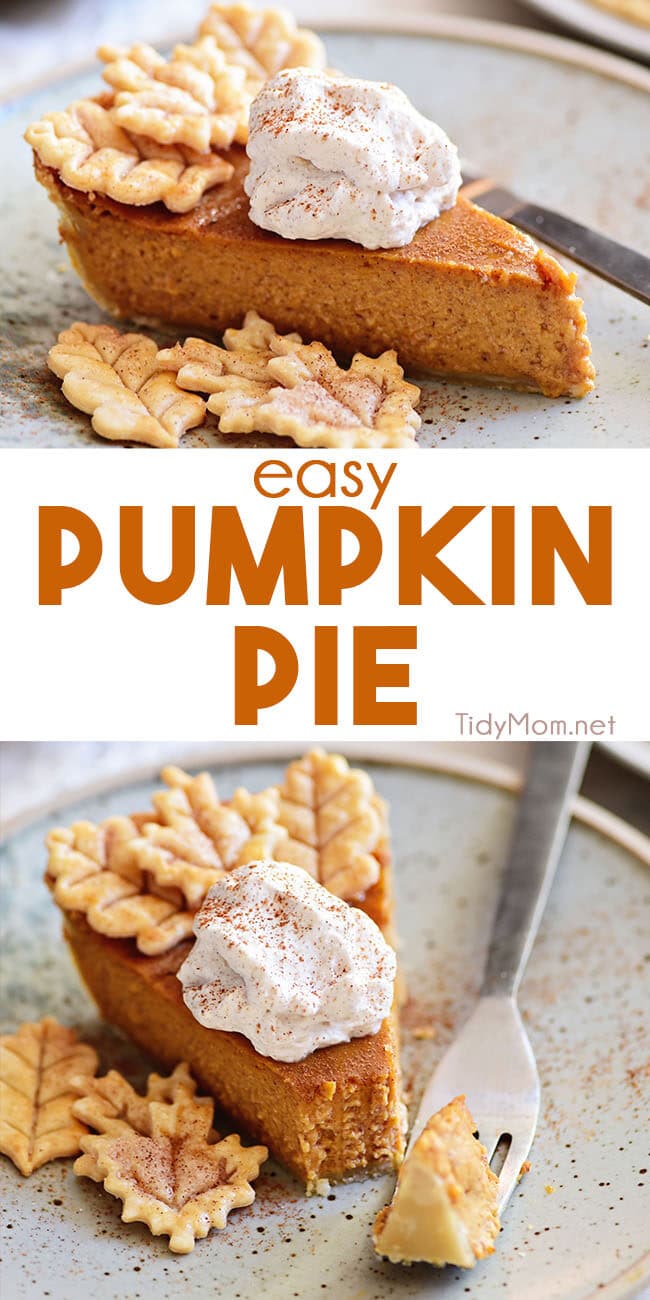 This post may contain affiliate links. Please read my disclosure policy here.
Tools used to make this easy pumpkin pie
This classic pie dish is the perfect size to make any deep-dish pie. It's a classic dish that I could never go without!
When gathering your ingredients make sure to get canned pure pumpkin NOT pumpkin pie filling! To make sure you don't mix them up, you can grab my go-to canned pumpkin here!
I love making my own vanilla as a cheaper way to make sure I always have plenty of vanilla on hand.
Follow Along On Social Media
If you're looking for even more inspiration check out the fun little group I created on Facebook, I'd love for you to join in! It's a place where you can share YOUR favorite recipes, home tips, creative ideas and ask questions and see what's new with TidyMom! If you'd like to check it out, you can request to join HERE.
Be sure to follow me on Instagram and tag #tidymom so I can see all the wonderful TidyMom recipes YOU make and tips YOU use!
Connect with TidyMom!
Facebook | Twitter | Pinterest | Instagram
Sign up to receive an email in your inbox for each new recipe: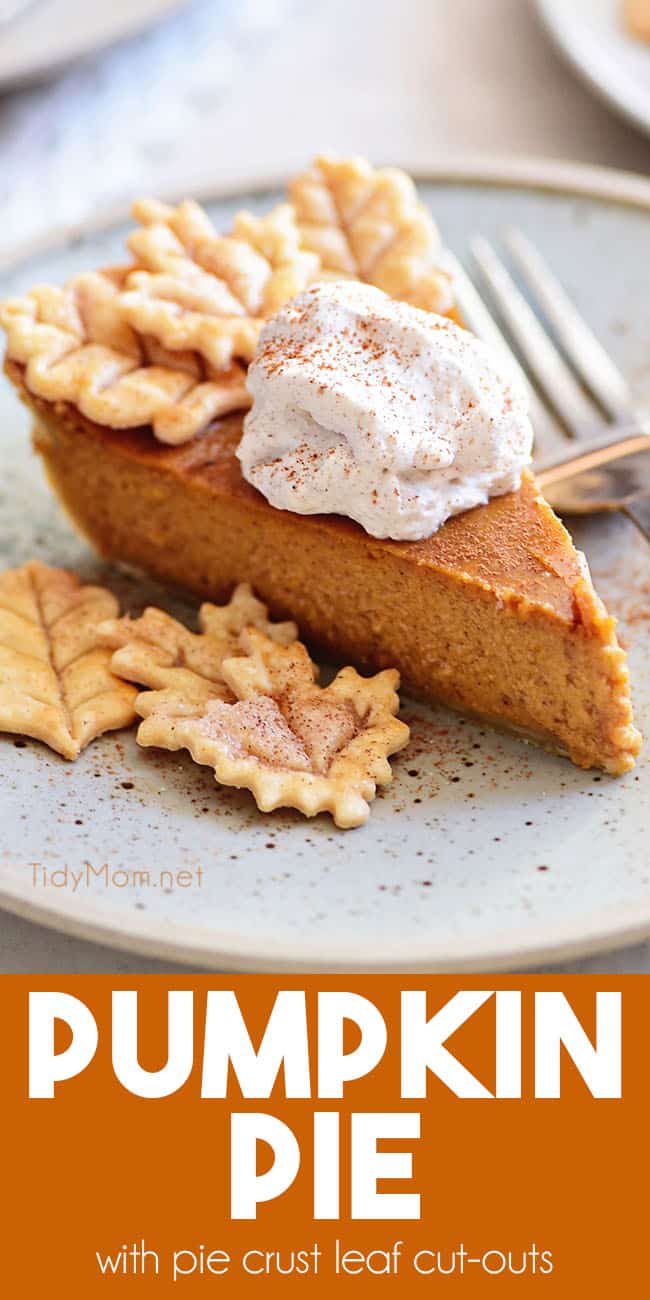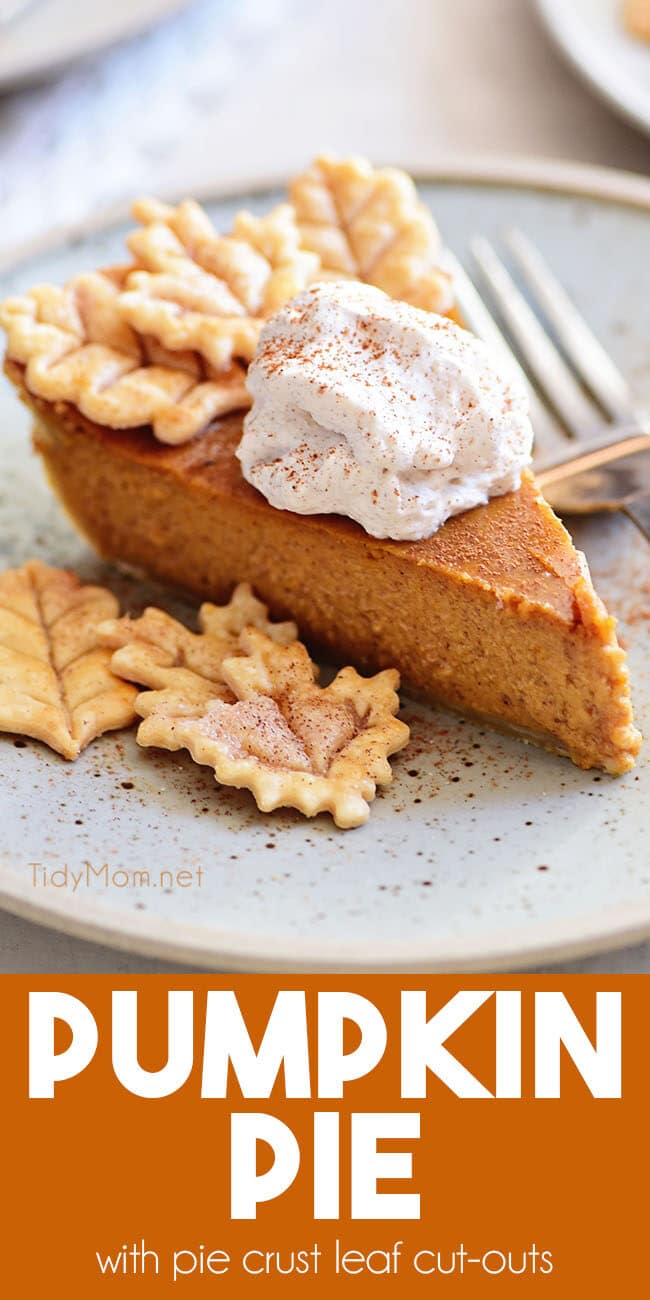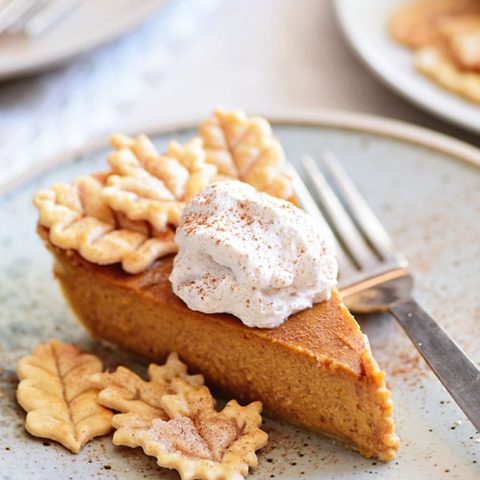 Easy Pumpkin Pie
Yield: 1 deep-dish pie (8-10 servings)

Prep Time: 10 minutes

Cook Time: 1 hour 15 minutes

Cooling Time: 2 hours

Total Time: 3 hours 25 minutes

This is our favorite homemade pumpkin pie recipe! With a rich, spiced pumpkin filling this easy pumpkin pie from scratch is packed with flavor. Thanksgiving pie never looked this good or so easy!
Ingredients
2 large eggs
1 (15 ounce) can pure pumpkin
1 cup evaporated milk
1 (14 ounce) can sweetened condensed milk
2 teaspoons pumpkin pie spice mix
1/2 teaspoon vanilla extract
1/2 teaspoon salt
1/8 teaspoon ground black pepper
1 unbaked deep-dish pie crust (you can make your own pie crust recipe, or use a frozen, unthawed deep-dish premade crust)
optional- pie crust cookies
Instructions
Preheat oven to 425° F. If making your pie crust; roll out the pie crust and transfer it to a 9-inch deep-dish pie pan. Crimp the edges. Refrigerate for 30 minutes while the oven heats.
In a large bowl, whisk eggs and pumpkin until well combined. Add both milks, vanilla, pumpkin pie spice, salt, and pepper. Mix until everything is well blended.
Place the unbaked pie crust on a parchment-lined baking sheet. Carefully pour the pie filling into the pie crust and transfer the baking sheet with the pie to the oven. Bake for 15 minutes, then reduce the oven temperature to 350°F; bake for another 45-60 minutes or until knife inserted near center comes out clean. The center should be just barely jiggly. Check the pie every 15 minutes or so and cover the crust with a pie crust shield or aluminum foil if the crust becomes golden brown.
Let the pie cool on a rack for 2 hours before serving (it will continue to set as it cools).
If desired, arrange pie crust cookies around the edge of the cooled pie or serve with each slice. Garnish with cinnamon whipped cream or refrigerate, loosely covered until ready to serve..\
Notes
I made and baked the pie crust cookie cut-outs and simply decorated my baked pie with them. I found this to be much easier than baking them onto the pie.
Pumpkin pie can be baked a day or two ahead; cool completely then wrap tightly in plastic wrap and refrigerate until ready to serve.
Leftovers can be stored in the refrigerator for up to 4 days. Cover loosely with aluminum foil or plastic wrap.
Recommended Products
As an Amazon Associate and member of other affiliate programs, I earn from qualifying purchases.