Homemade Fresh Cranberry Sauce Recipe
Impress your guest with homemade Fresh Cranberry Sauce. The mixture of fresh cranberries, blueberries, and raspberries and a hint of spice will quickly become a traditional must-have for your next holiday dinner.
Serve any leftovers on Bacon Pancakes for breakfast, on a Turkey Apple and Cheddar Sandwich or with goat cheese on Sweet Potato Rounds for a savory sweet snack!
Be sure to sign up for my email… to get new recipes and ideas in your inbox!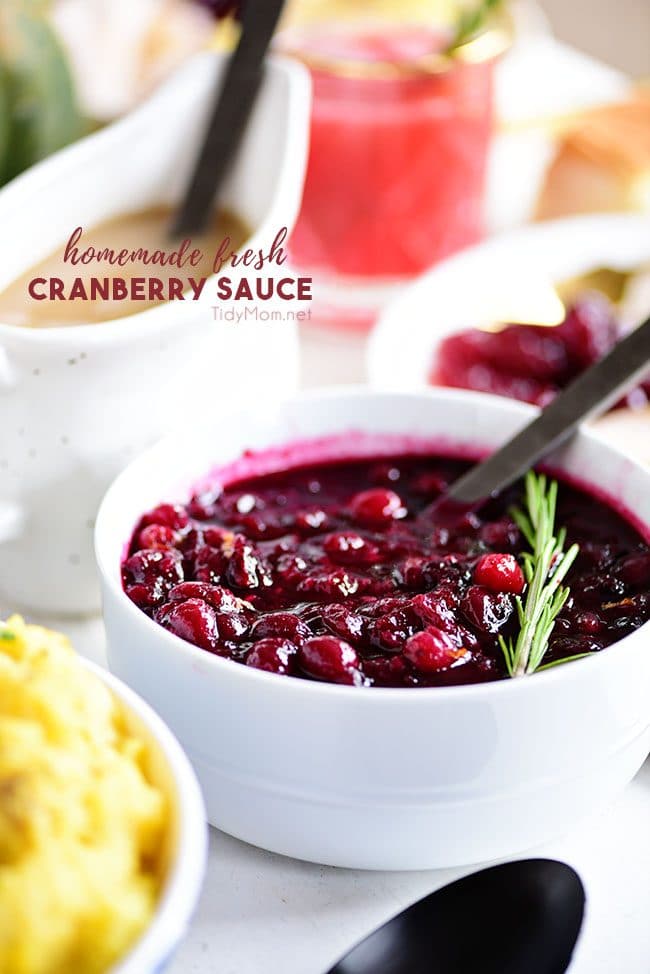 Click HERE to save recipe to Pinterest!
Homemade Fresh Cranberry Sauce Recipe
Who's mentally and physically prepared for all of the Thanksgiving prep craziness that's about to commence in a few short weeks? Oh, no hands? Shocking!
Don't get me wrong I love Thanksgiving as much as the next person, maybe even more. With that being said though, I don't think I have ever once felt actually prepared for that crazy day of baking.
So, if any of you are like me and are just now scrambling to put together some Thanksgiving recipe lists, I have the perfect thing for you! Homemade fresh cranberry sauce that will put canned cranberry sauce in the trash.
In just a short amount of time, this berry trio performs a magic trick in the saucepan and transforms into this thick irresistibly sweet, and perfectly tart sauce that will blow you away. Now, who's ready to wow any crowd with this quick, effortless, and addicting cranberry sauce? Let's get started!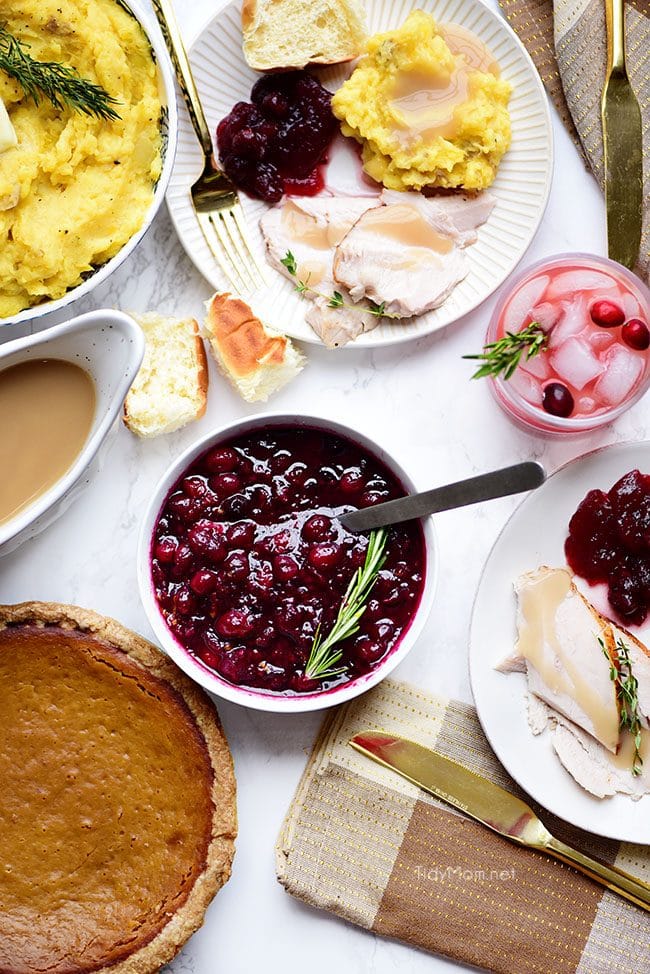 How To Make Homemade Cranberry Sauce
(full printable recipe at end of post)
I used to hate hate hate cranberry sauce because the only thing I had ever been exposed to was that questionably edible canned gelatin version that makes its way onto everyone's Thanksgiving table. Yuck! It wasn't until I discovered homemade cranberry sauce that I realized how amazing it could be.
Believe me when I tell you that you haven't lived until you've had fresh cranberry sauce, and what's even better is that it's so easy anyone can make it!
You just have to combine all of the berries in a medium saucepan. Add sugar, wine, orange juice, zest, and spices and bring to a boil. Then reduce the heat until sauce begins to thicken and remove from heat to cool.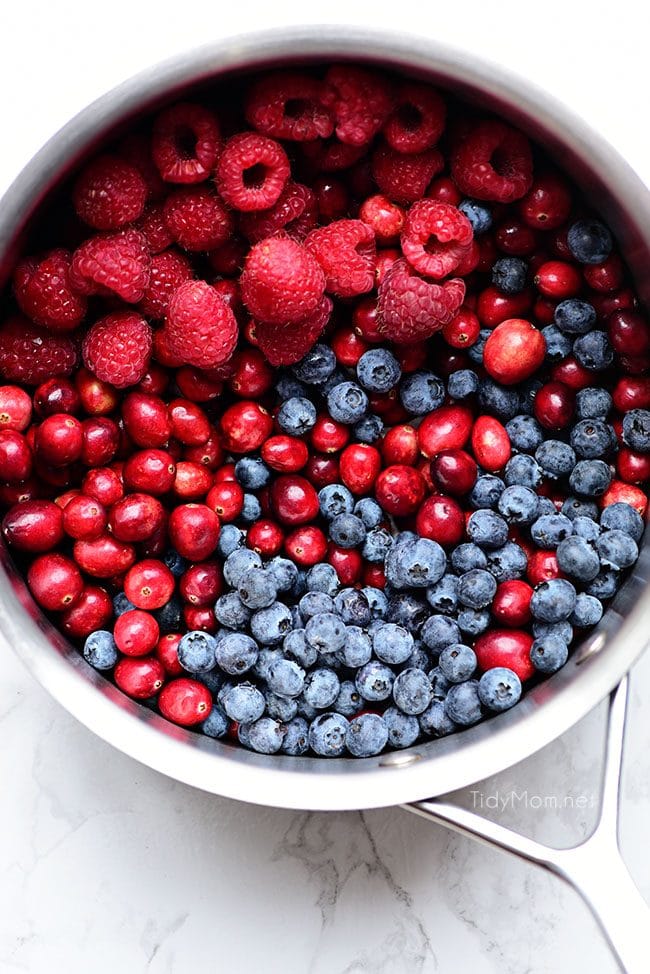 Tricks For Fool-Proof Fresh Cranberry Sauce
Make it Ahead of Time: This recipe is best when the mixture gets to sit for a while. You can get away with just the minimum 3 hours of chill time needed to let the cranberry sauce thicken, but for best results, I recommend making it at least one day in advance.
Use Fresh or Frozen: I tend to use a mixture of both depending on what I can find at the grocery store at the time. Obviously, if you can easily find all fresh ingredients I highly suggest going that route.
I'm just here to let you know that It's not the end of the world if you can only find frozen berries. Just let them completely thaw before getting started and you'll be good to go!
Watch For the Berries To Burst: The one thing that makes this recipe a little tricky is that there aren't a lot of set times for how long things are going to take. It's a lot of judgment calls and eyeballing it.
One way to know for sure you're ready to move on to the next step is to watch and see when the berries begin to burst. They kind of act as your own personal built-in kitchen timer.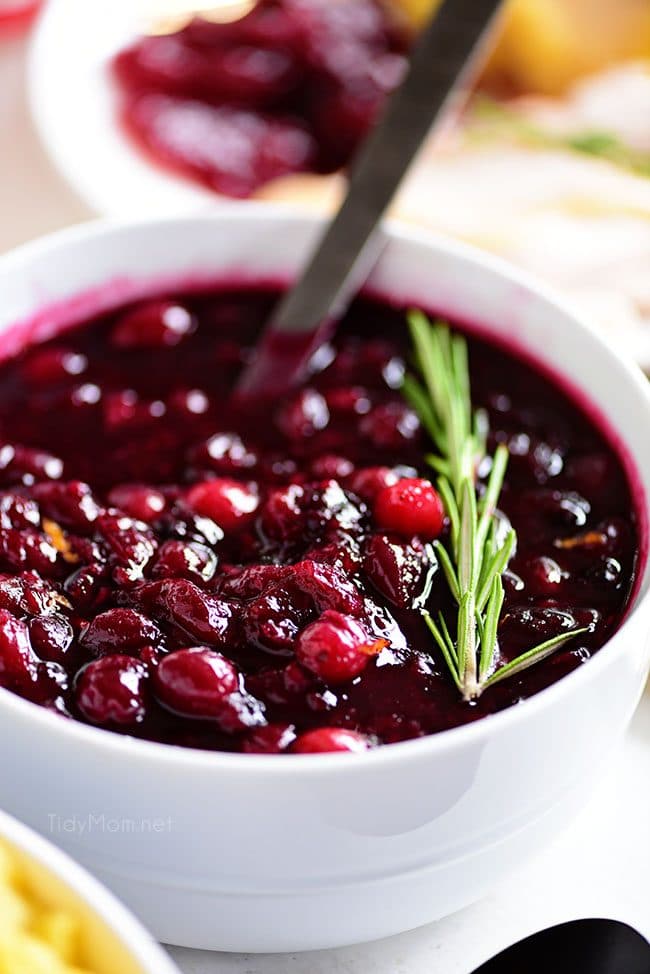 I Made The Fresh Cranberry Sauce, But Now What?
Do You Serve Cranberry Sauce Hot or Cold? First things first, you do not want to serve it hot. It will turn into a thin runny mess. You do have two other option though. Serve it right out of the fridge for a firmer consistency, or at room temperature for more of a sauce consistency.
How Long Does Cranberry Sauce Keep? To maximize the shelf life of homemade cranberry sauce, refrigerate in covered glass or plastic container. The sauce will keep for about 10 to 14 days.
In the Freezer: Pack homemade cranberry sauce in an airtight container or freezer-safe plastic bag to prevent freezer burn. For best results, use the frozen cranberry sauce within a couple of months, and defrost in the refrigerator overnight.
What Do You Serve with Cranberry Sauce? The possibilities are endless when serving this cranberry sauce. My personal favorite way to eat it is by scooping a little bit on top of my turkey at Thanksgiving. Talk about yum!
You can also put it on crackers, use it in a sandwich, just secretly eat spoons full of it when no one is looking, or serve it on the side of your plate to mix an match as you please. All great options in my opinion.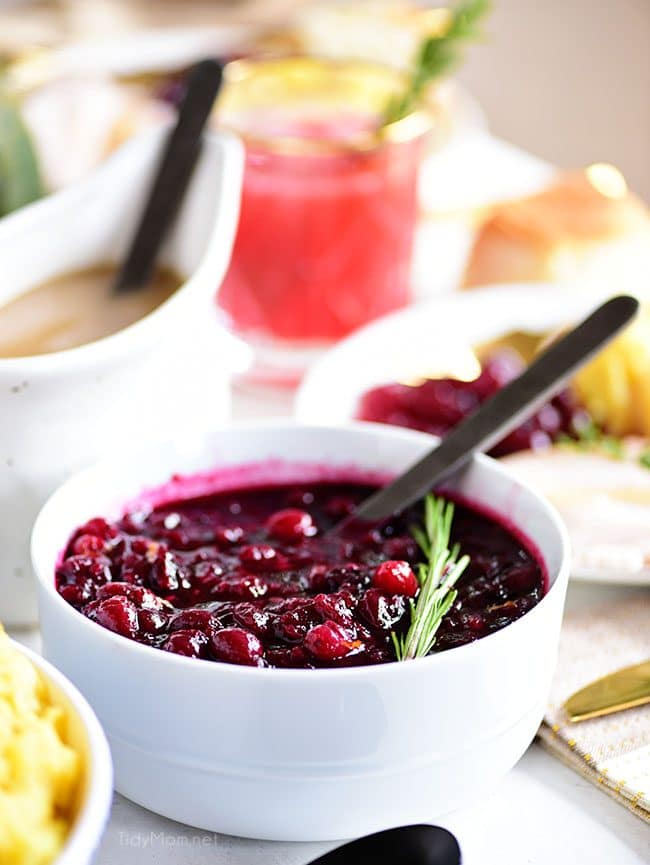 Very Berry Recipes To Keep The Holidays Merry
Apple Berry Hand Pies Forget the plates and forks, hand pies are the best way to enjoy pie. Refrigerated crust and a pie press make this pie simple and quick.
Cranberry Moscow Mule The perfect holiday cocktail! Thanksgiving and Christmas with the family just got a little easier.
Mixed Berry Breakfast Pizza Impossible to resist, toasted flatbread crust, rich orange mascarpone layer, and glossy berry topping.
Chocolate Berry Muffins A moist decadent muffin full of mixed berries and chocolate makes these Chocolate Berry Muffins perfect for breakfast or brunch!
Turkey Cranberry Toppers This recipe transforms leftovers into the star of the show when you top buttery Ritz Crackers with melted swiss cheese, turkey and cranberry sauce.
Cranberry Bliss Bars A must-make recipe. These are white- chocolate cranberry blondies that are very reminiscent of Starbuck's Cranberry Bliss Bars.
Like This Homemade Cranberry Sauce Recipe? Pin It!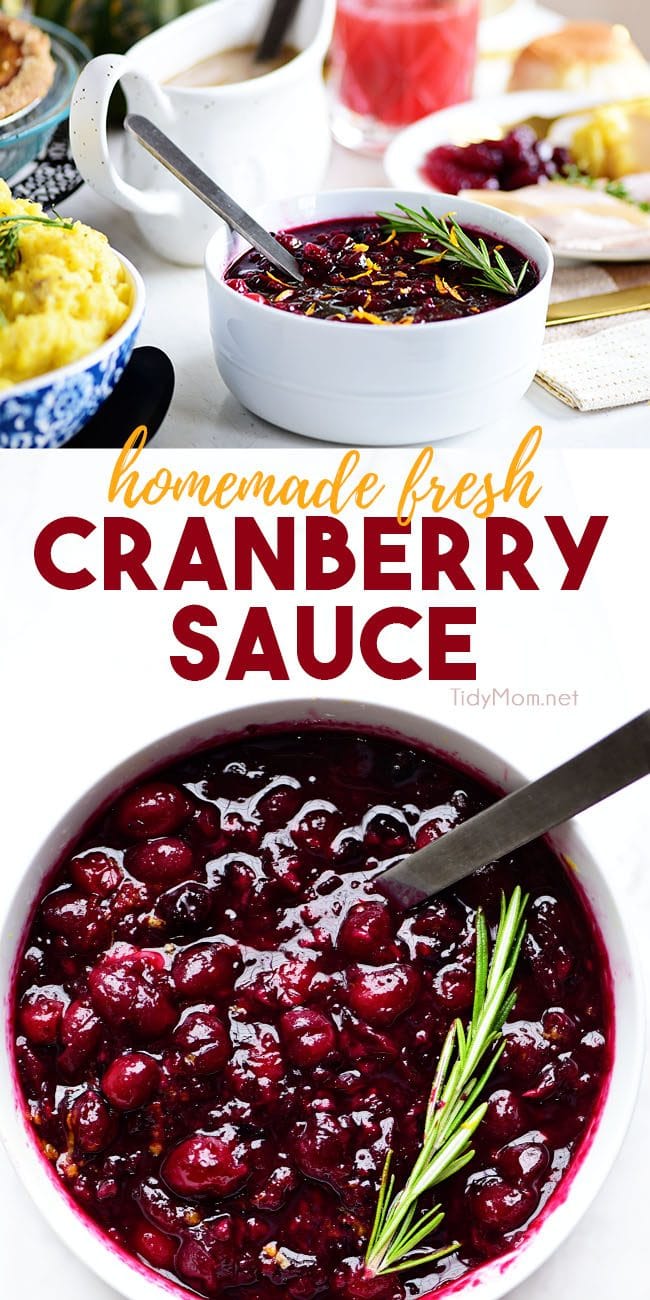 The Best Homemade Cranberry Sauce Ever
This Thanksgiving don't let the cranberry sauce get neglected and end up with the dreaded canned sauce. Take on the task and make this incredibly easy and delicious dish! Trust me, everyone will thank you for it!
If you try this recipe let me know what you think! Leave a comment below, rate it, share it on social media, or take a picture and tag @tidymom on Instagram!
I created a fun little group on facebook and I'd love for you to join in! It's a place where you can share YOUR favorite recipes, home tips, creative ideas and ask questions and see what's new with TidyMom! If you'd like to check it out, you can request to join HERE. Be sure to follow me on Instagram and tag #tidymom so I can see all the wonderful TidyMom recipes YOU make and tips YOU use!
Connect with TidyMom! Facebook | Twitter | Google+ | Pinterest | Instagram
Sign up to receive an email in your inbox for each new recipe: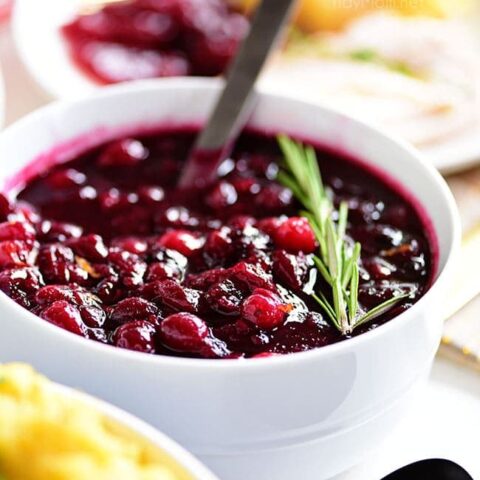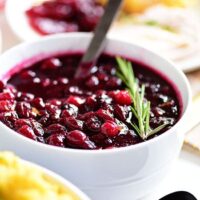 Homemade Fresh Cranberry Sauce
Yield: about 3 cups
Cook Time: 10 minutes
Additional Time: 3 hours
Total Time: 3 hours 10 minutes
Impress your guest with Fresh Cranberry Sauce. The mix of fresh cranberries, blueberries, and raspberries with a hint of spice will quickly become a tradition.
Ingredients
1 (12 ounce) bag cranberries
3/4 cup (4.4 ounce container) blueberries
1 cup (6 ounce container) raspberries
3/4 cup granulated sugar
1/2 cup dry red wine (I use Pinot Noir)
3/4 cup orange juice
1 teaspoon orange zest
1/4 teaspoon cinnamon
1/8 teaspoon nutmeg
Instructions
Combine all of the berries in a medium saucepan. Add sugar, wine, orange juice, zest, and spices; stir to combine and bring to a boil over medium-high heat.
Reduce heat to low and continue cooking until cranberries burst and break down and the sauce begins to thicken.
Remove from heat to cool. Transfer cooled sauce to a bowl, cover and refrigerate until well chilled, at least 2 hours. The sauce will thicken as it cools.
Best if made at least a day or two before serving.

Tidymom is a participant in the amazon services llc associates program, an affiliate advertising program designed to provide a means for sites to earn advertising fees by advertising and linking to Amazon.com.
Please respect my work, recipes and photographs. If you do use a recipe in your own writing, please give proper credit and link back to the original post.