Easy Christmas Drop Sugar Cookies With Sanding Sugar
Simple and classic — these Christmas Drop Sugar Cookies are soft, thick, and chewy cookies rolled in bright green and red sanding sugar. They are simple to make and look adorable and festive, making them the perfect sweet treat to welcome Christmas.
If you enjoy Christmas cookies, as much as we do, you'll want to check out our Classic Spritz Cookies, Soft-Baked Christmas Sprinkle Cookies, and my favorite, Russian Tea Cakes.
Be sure to sign up for my email… to get new recipes and ideas in your inbox!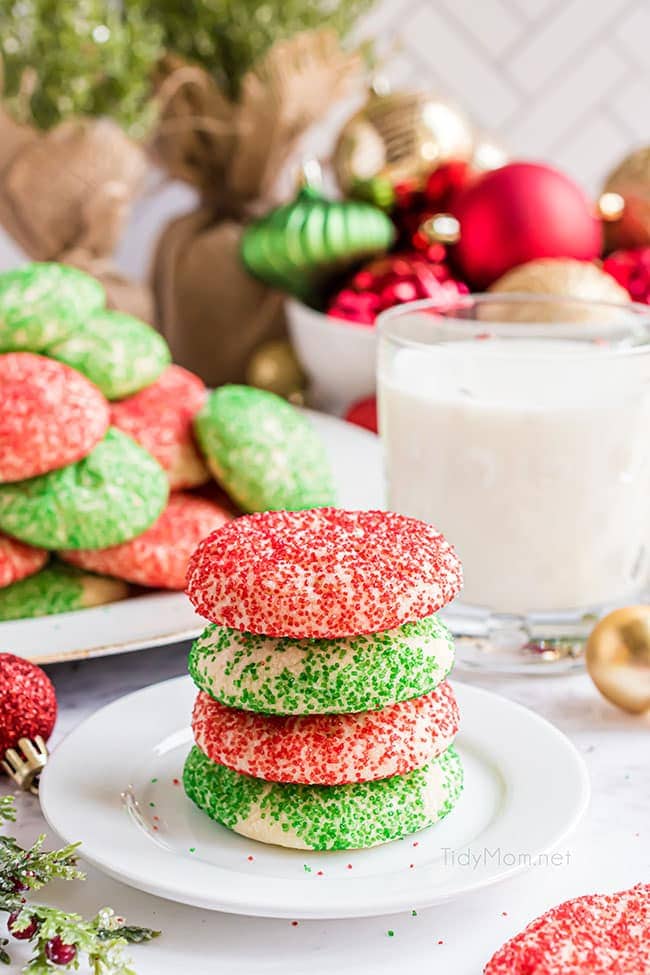 It's the holiday season and that can only mean one thing: it's cookie time! Every year, I try to make a variety of cookies for my friends and family. This year is no different.
One of my favorite festive treats are these easy Christmas drop sugar cookies with sanding sugar. These little guys have a sugar cookie dough base and are rolled in red and green sanding sugar- they're so tasty you'll want to keep some on hand all winter long!
You can whip up a batch of Christmas drop sugar cookies in no time at all, they taste great, and they're perfect for gifting. holiday cookie trays or bringing them along to holiday parties.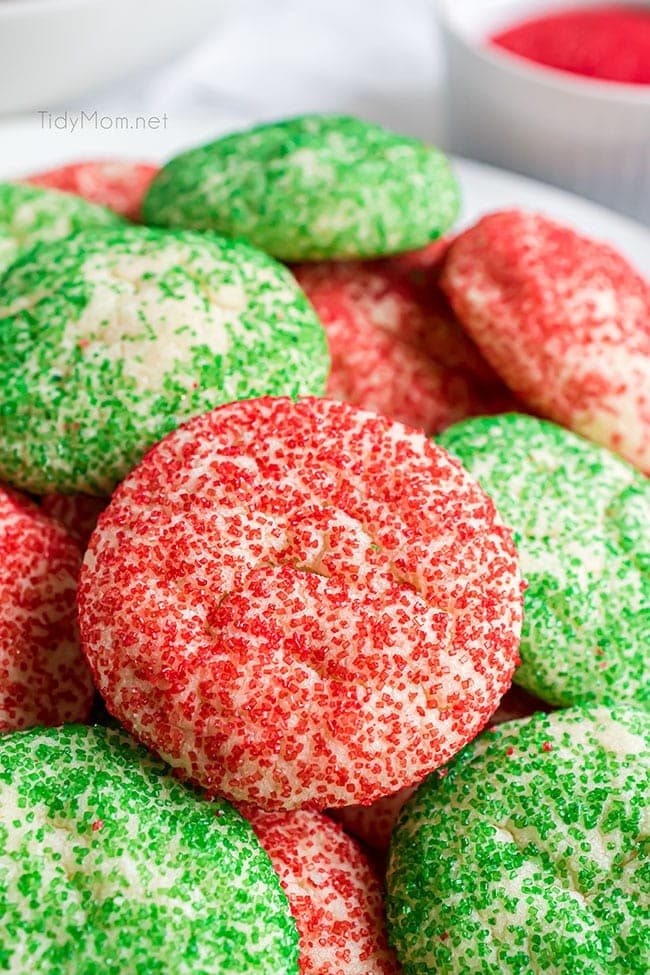 Why You'll Love Christmas Drop Cookies
Cookie Sparkles: These Christmas drop cookies are colorful and sparkly. Kids and adults alike will surely love how beautiful these sugar cookies are. They look sweet and tasty and will be the star of your Christmas cookie tray.
Excellent Contrast: The sprinkles not only add a festive touch to the cookies, but it also gives them a great crunch on the outside that contrasts beautifully with the soft and chewy texture of the sugar cookies
Easy-Peasy Recipe: The ingredients of this Christmas drop sugar cookie are kitchen staples (except for the sanding sugar). The recipe's baking instructions are easy to follow. You don't have to be a pro baker to have Christmas Drop Sugar Cookies on your dessert plates.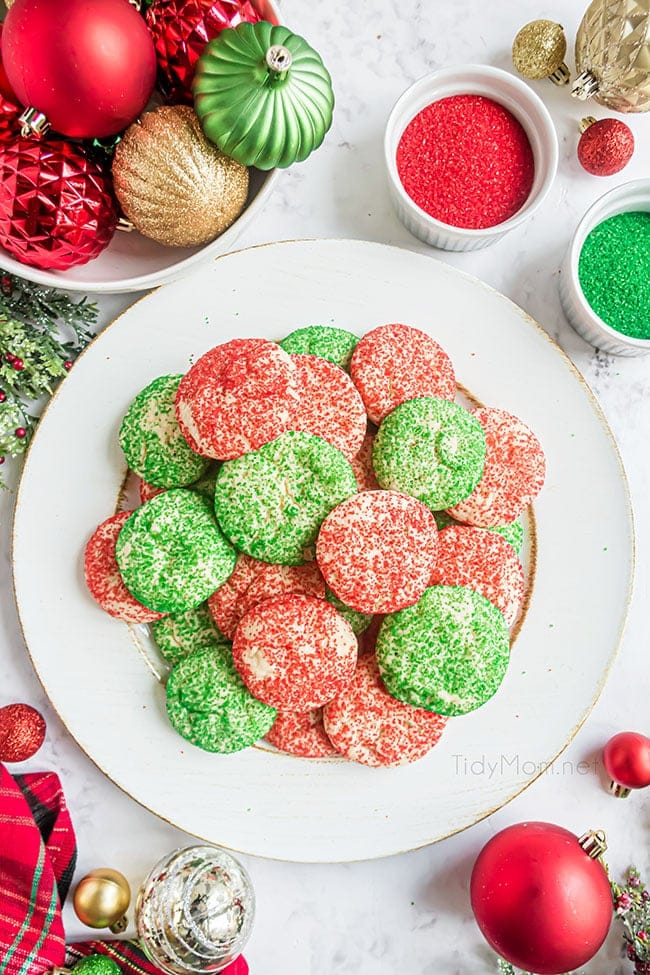 Equipment Needed To Make Christmas Drop Cookies
This post may contain affiliate links. Please read my disclosure policy here.
Measuring Cups (dry and wet ingredients)
Measuring Spoons
Two small bowls
Electric mixer
Large mixing bowl
Refrigerator
Baking sheets – I love these pans. I have 5 of them and use them for everything from baking cookies to roasting veggies.
Parchment paper or silicone baking mats. I use these pre-cut parchment sheets. Such a time saver.
Oven
Cooling rack
Spatula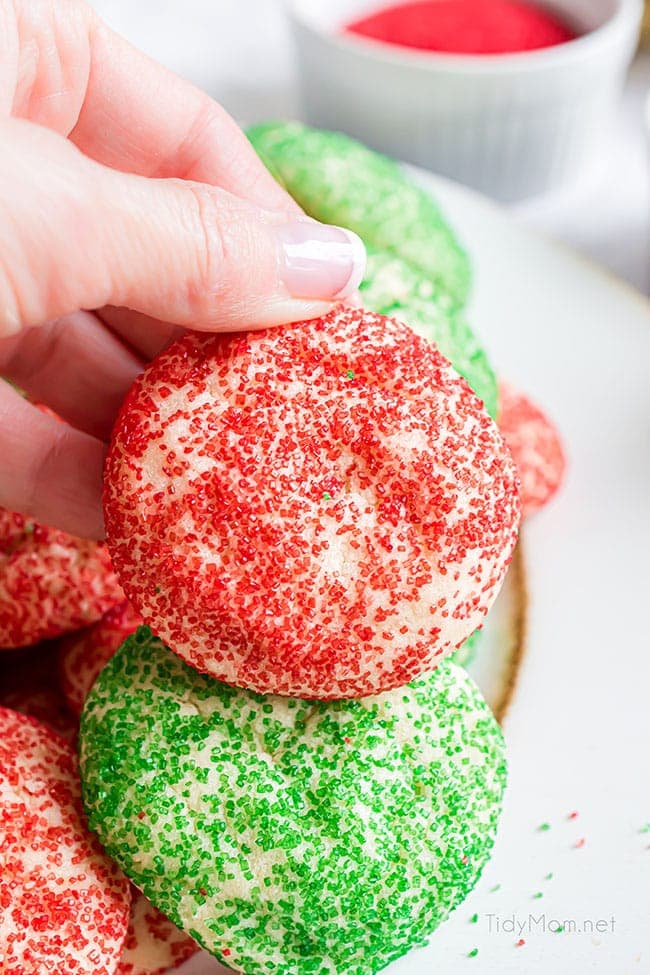 Ingredients You Need To Make This Christmas Drop Cookies Recipe
unsalted butter, softened – Room temp butter is still cool to the touch, yet your finger should be able to make an indent in the butter without sinking.
granulated sugar
powdered sugar
canola oil
eggs, room temperature
vanilla extract – for best flavor make sure you are using pure extract (not imitation)
baking soda – check to make sure your baking soda is fresh
cream of tartar – a leavening agent, it also assures that your cookies will be light and fluffy.
salt
all-purpose flour – Measure flour correctly. Spoon the flour into a dry measuring cup to measure it correctly. Don't use the measuring cup to scoop the flour, you'll use more flour than you should.
red and green sanding sugar (for rolling/decorating) – Sanding sugar or decorating sugar can be found with sprinkles in the baking aisle.
How to Make Christmas Drop Sugar Cookies With Sanding Sugar
(full printable recipe at the end of this post)
Cream butter and sugars with an electric mixer until fluffy. Add oil, eggs, and vanilla, mix thoroughly.
Add dry ingredients (per full recipe below).
Chill dough then roll the cookie dough into balls and roll in sanding sugar.
Bake for 9-11 minutes until slightly golden.
Storage
Cookies can be kept at room temperature for up to 7 days if they are placed in an airtight container.
Storage Tips:
Place your Christmas sugar cookies away from direct sunlight and heat.
Store sugar cookies in a cool closet or pantry to ensure optimal shelf life.
Layer your Christmas drop sugar cookies between sheets of wax paper or parchment paper to keep them from sticking together.
Store your sugar cookies in small portions and store them in airtight containers.
Tips
Warm Hands: Immediately after forming the cookie dough into balls, roll them through the sanding sugar. The warmth from your palms heats the surface of the cookie dough, allowing the sanding sugar to stick to the dough.
More flour, Dry Cookies: In order to precisely measure all-purpose flour, use a spoon and sweep method. Whisk the flour with a fork. Spoon the flour into a dry measuring cup to measure it correctly. Use the back of a knife to level the measuring cup. Don't use the measuring cup to scoop the flour, you'll use more flour than you should.
The Middle: Baking cookies on the middle oven rack, one sheet at a time, will yield the best results.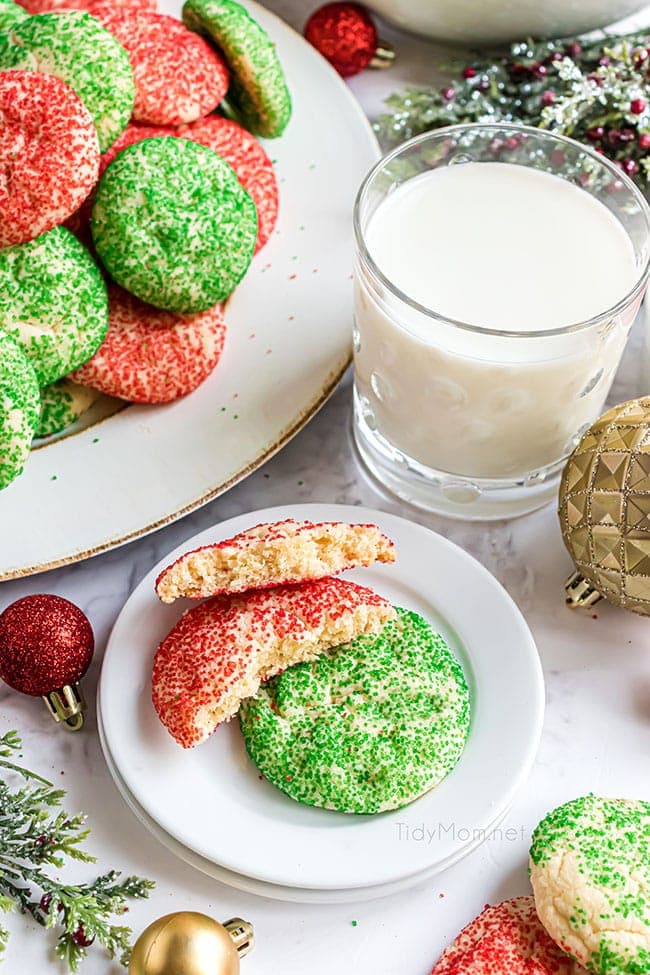 Substitutions and Variations
Almond: A splash of almond extract will make these cookies extra flavorful.
Zesty Sugar Cookies: To add a distinct citrus flavor to your cookie, you may want to add one tablespoon of finely grated lemon zest and one tablespoon of fresh lemon juice to the cookie mixture.
Change Color: Enjoy drop sugar cookies all year. Simply change the color of sanding sugar for the season or event.
Easy Drop Christmas Cookies FAQs
Why did my drop sugar cookies go flat?
If you pulled your sugar cookies out of the oven to find them flat as a pancake, somewhere along the mixing process something went amiss. There are several reasons a sugar cookie may end up flat. Overly soft butter (or even the use of margarine) can cause issues. Out of date cream of tartar or baking soda and inaccurate measuring, just to name a few. It's important to follow this recipe to a T if you want to make the best Christmas drop cookies. Always make sure your ingredients are fresh.
Can you freeze drop cookie dough?
Yes, you can. This drop cookie dough is ideal for freezing for later use. You can freeze the cookie dough for up to 3 months. For a quick and easy bake after freezing, make sure that you have formed the cookie dough into balls before freezing them.
Can I use frosting rather than sanding sugar?
Yes, you can use a stiff buttercream or cheese cream frosting on these sugar cookies. You can also use royal icing to decorate them!
Can I make the cookie dough in advance?
Yes, you can. Preparation of this dough can be done up to 5 days ahead of time. Refrigerate in an airtight container to preserve freshness.
Where can I buy sanding sugar?
You can buy sanding sugar at a local grocery store or at a supermarket. You can even make your own by getting a coarse grain sugar and adding a few drops of food coloring, and mixing until you reach the desired color!
Like This Christmas Drop Cookies Recipe? Pin It!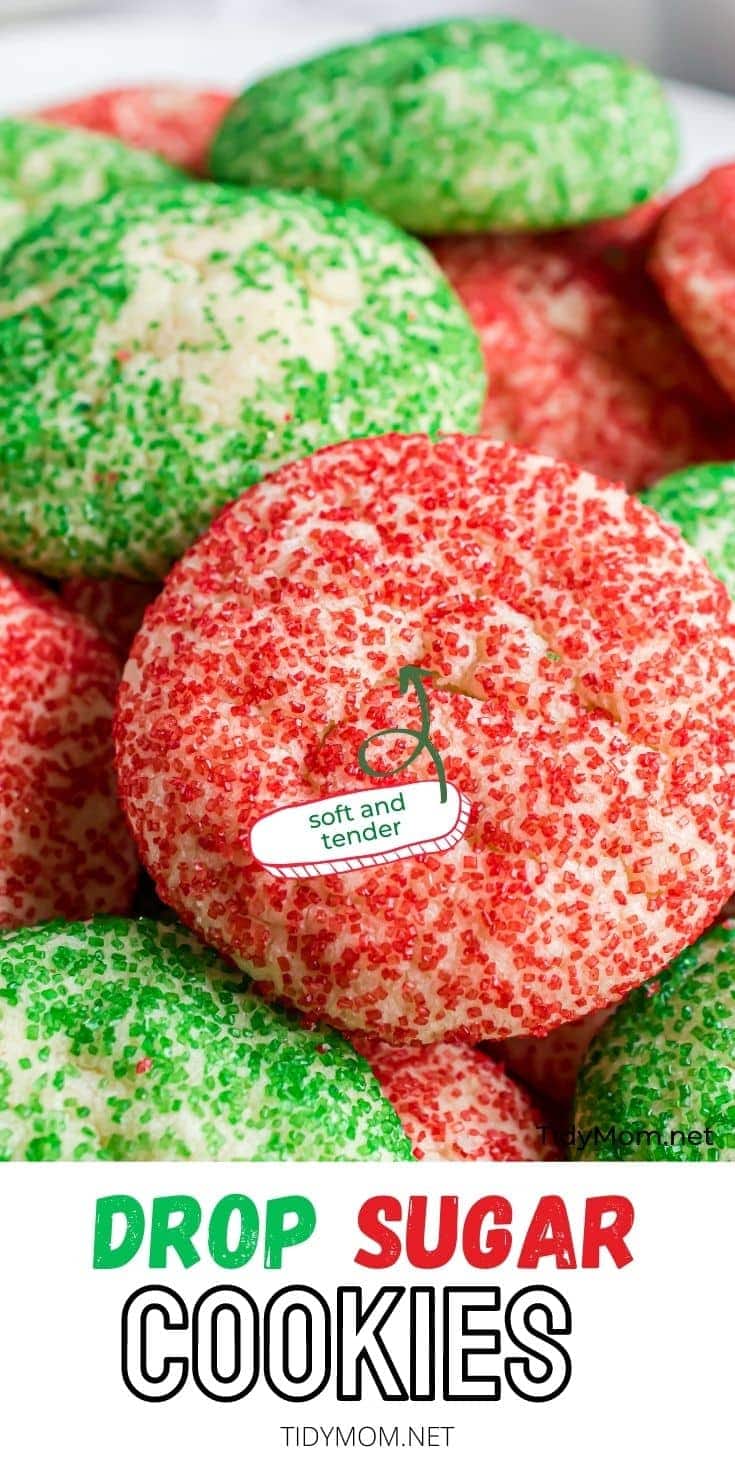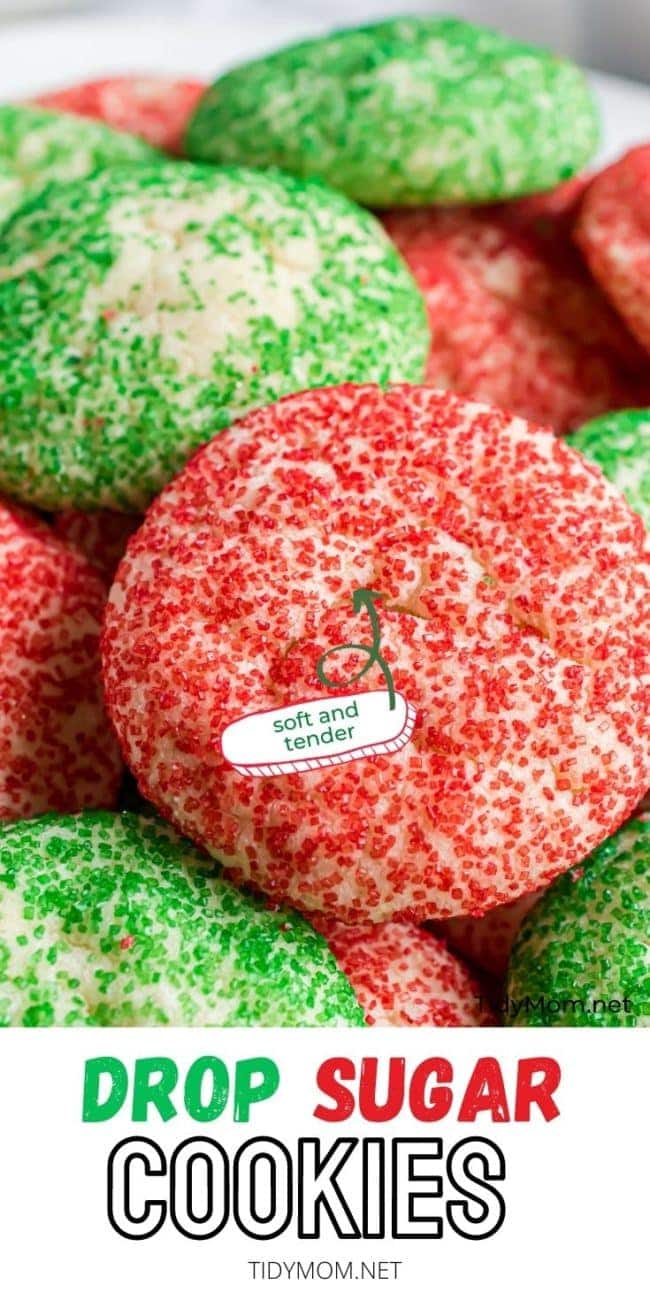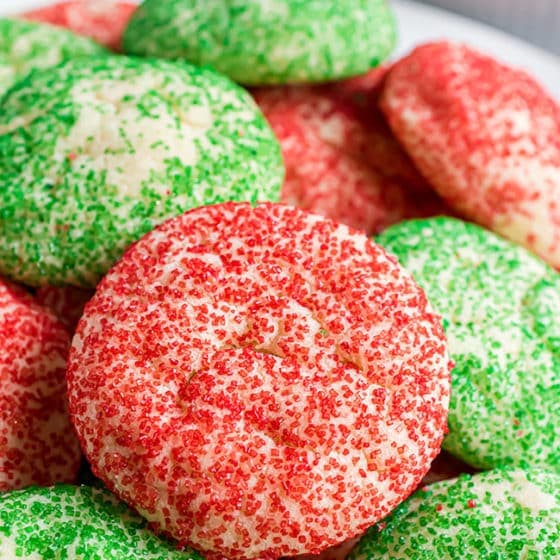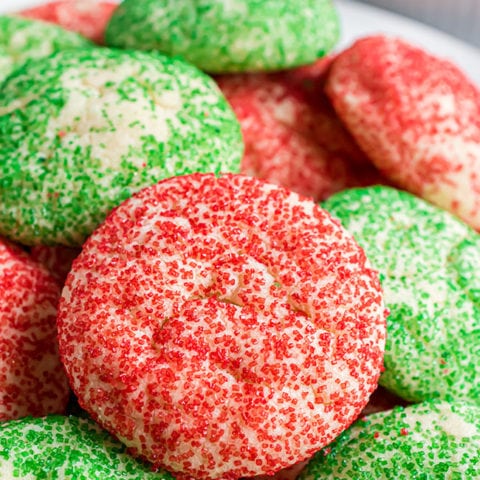 Christmas Drop Cookies
Yield: 4 dozen
Prep Time: 15 minutes
Cook Time: 9 minutes
Chill Time: 30 minutes
Total Time: 15 minutes
Vibrant green and red sanding sugar make these CHRISTMAS DROP SUGAR COOKIES stand out from the crowd! They're easy to make and perfect for the holidays!
Ingredients
1 cup unsalted butter (2 sticks), softened
1 cup granulated sugar
1 cup powdered sugar
1 cup canola oil
2 large eggs, room temperature
1 teaspoon vanilla extract
1 teaspoon baking soda
1 teaspoon cream of tartar
1/2 teaspoon salt
5 cups all-purpose flour
red and green sanding sugar* (for rolling/decorating)
Instructions
Using a large bowl and an electric mixer on medium-high, cream butter, granulated sugar, and powdered sugar together until fully, about 1 minute.
Add in the oil, eggs, and vanilla and continue mixing until smooth, then mix in baking soda, cream of tartar, and salt. Slowly add flour and mix on low until dough forms.
Chill dough in the refrigerator for about 30 minutes.
Preheat oven to 350° F and line baking sheets with parchment paper or silicone baking mats.
Place sanding sugar in 2 small bowls (one for green, one for red). Scoop out 2 tablespoon portions of dough and roll into balls. Roll cookie dough balls in sanding sugar and place 3-inches apart on prepared baking sheets.
Bake for 9-11 minutes, just until the bottoms are slightly golden (do not overbake). Let cool a few minutes on the pan, then transfer to a wire rack to cool completely.
Notes
*Sanding sugar or decorating sugar can be found with sprinkles in the baking aisle.
Store in an airtight container on the counter for up to one week.
Recommended Products
As an Amazon Associate and member of other affiliate programs, I earn from qualifying purchases.
Nutrition Information:
Yield: 48
Serving Size: 1
Amount Per Serving:
Calories: 150
Total Fat: 9g
Saturated Fat: 3g
Trans Fat: 0g
Unsaturated Fat: 6g
Cholesterol: 18mg
Sodium: 52mg
Carbohydrates: 17g
Fiber: 0g
Sugar: 7g
Protein: 2g
Nutrition information is estimated based on the ingredients and cooking instructions as described in each recipe and is intended to be used for informational purposes only. Please note that nutrition details may vary based on methods of preparation, origin, and freshness of ingredients used.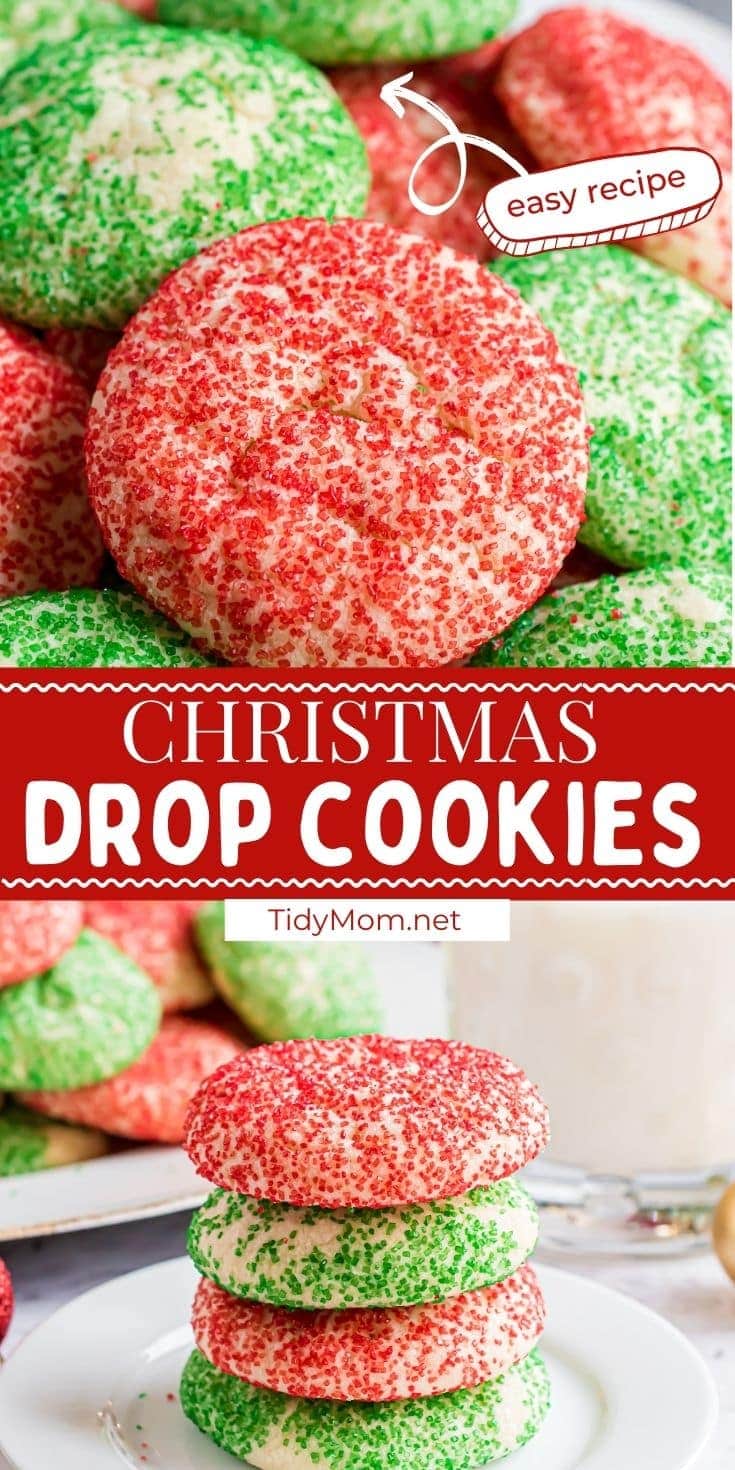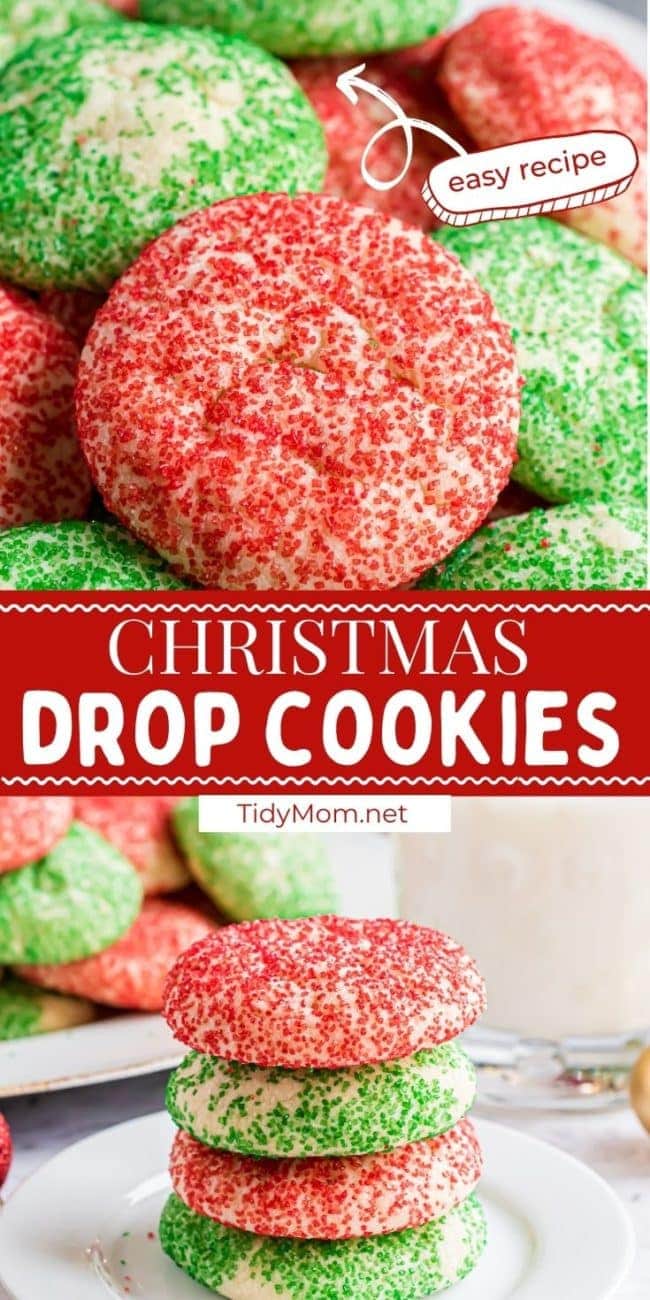 Tidymom is a participant in the amazon services llc associates program, an affiliate advertising program designed to provide a means for sites to earn advertising fees by advertising and linking to Amazon.com.
Please respect my work, recipes and photographs. If you do use a recipe in your own writing, please give proper credit and link back to the original post.