Soft-Baked Christmas Sprinkle Cookies
Soft-Baked Christmas Sprinkle Cookies have all the deliciousness of a vanilla pudding cookie packed with Christmas sprinkles. These cookies are the epitome of all your favorite holiday flavors wrapped up in a single Christmas treat, perfect for parties, cookies exchanges, or even Santa's cookie plate.
Our oven is busy over here while we're gearing up for Christmas cookie baking season with more pudding cookies like Pistachio Cookies with Dark Chocolate and Cookies and Cream Oreo Pudding Cookies.
Be sure to sign up for my email… to get new recipes and ideas in your inbox!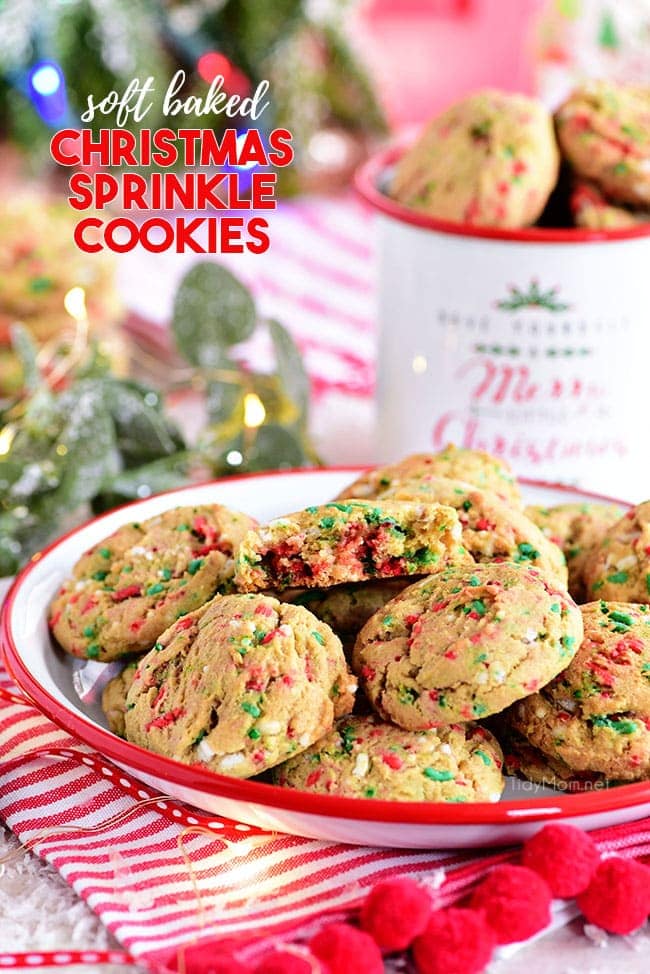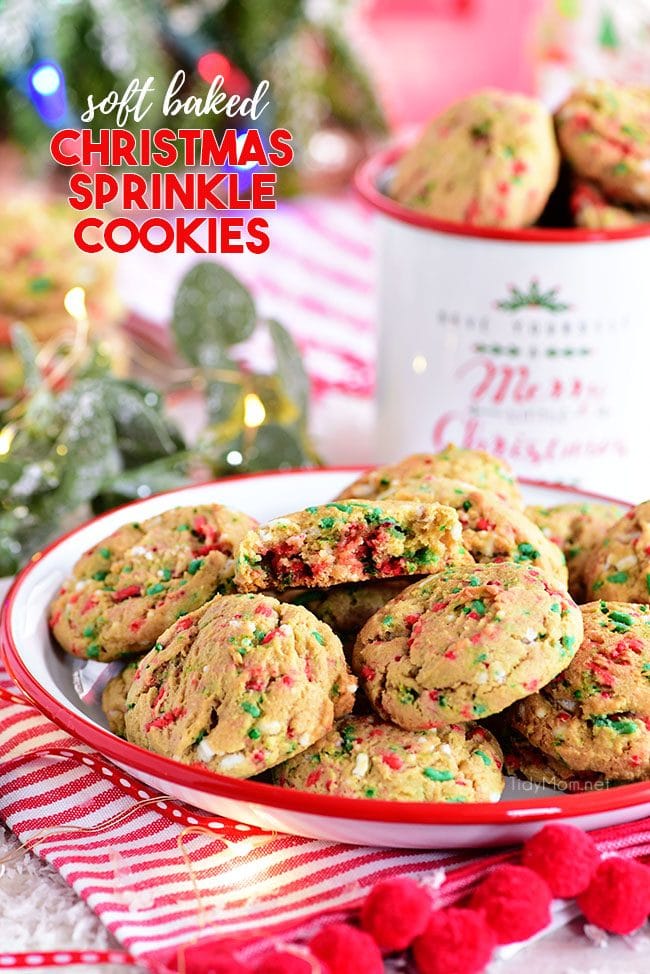 Click HERE to save recipe to Pinterest!
Soft-Baked Christmas Sprinkle Cookies
Do you know what time it is?! It's Christmas cookie baking season! This is arguably my favorite time of the year and I couldn't be more excited! I have a recipe for you that's even going to make Saint Nick say goodbye all his old Christmas Eve favorites.
These soft-baked Christmas sprinkle cookies are where it's at, especially since there's no rolling or cookie cutting required! Does it get any better than that? Oh wait it does, you'll love the rich hint of almond extract complemented by a sweet a subtle vanilla flavor that leaves this cookie making a big impression on your heart, and your taste buds.
From the moment they come of the oven to the time you take the last bite of the final cookie, they will never lose their soft chewy texture. Every time you eat one you'll think it came right out of the oven!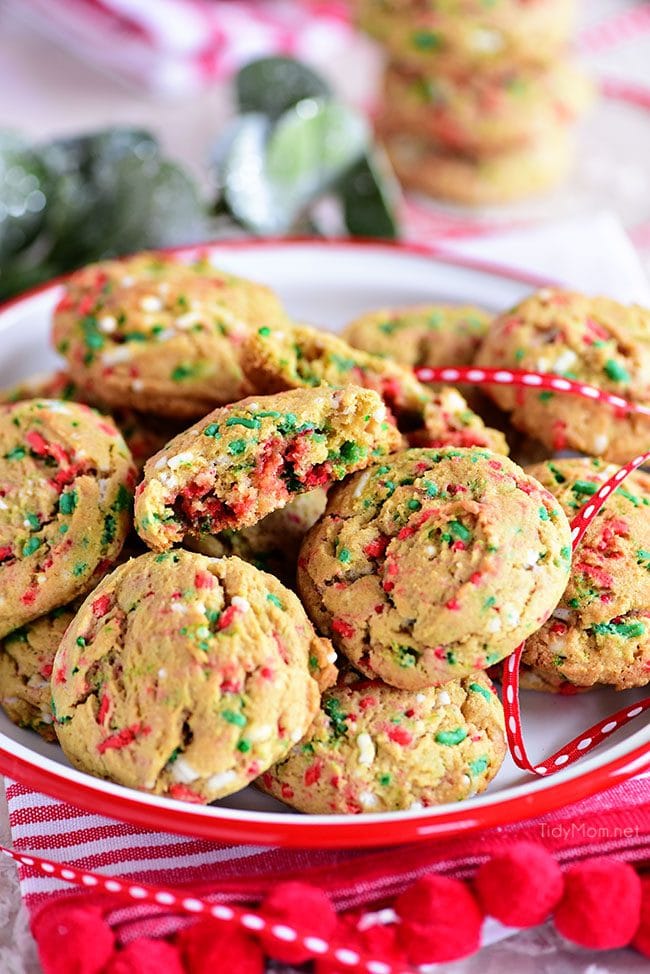 How To Make Christmas Sprinkle Cookies
(Full recipe at the end of the post)
It's that time of year where if you're anything like me you feel like your kitchen has turned into a cookie factory. Sprinkles spilled here, splattered powdered sugar there. It can be chaos if all your recipes are a little outside of your skill range.
Over the last few years, I've come to really appreciate the simple recipes in life. Less mess, less hassle, with all the same great results! I love the ease of baking these Christmas sprinkle cookies, and they are definitely going to be my new go-to cookie from now on.
I just have to cream the butter and sugars and add pudding mix, eggs, additional egg yolk, vanilla, and almond extract and continue to beat on medium speed. Then in a separate bowl, simply whisk together flour, baking soda, and salt. Slowly add the dry ingredients to the wet ingredients and combine. Fold sprinkles into the batter and there you have your dough all ready to be made into cookies!
Reminder: These cookies are soft bake so make sure not to overbake or you will not end up with the ever soft and chewy texture you want. I would err on the side of underdone if you aren't sure. If you decide you would rather have a crunchy cookie then you can add a few minutes to the cook time harden them up.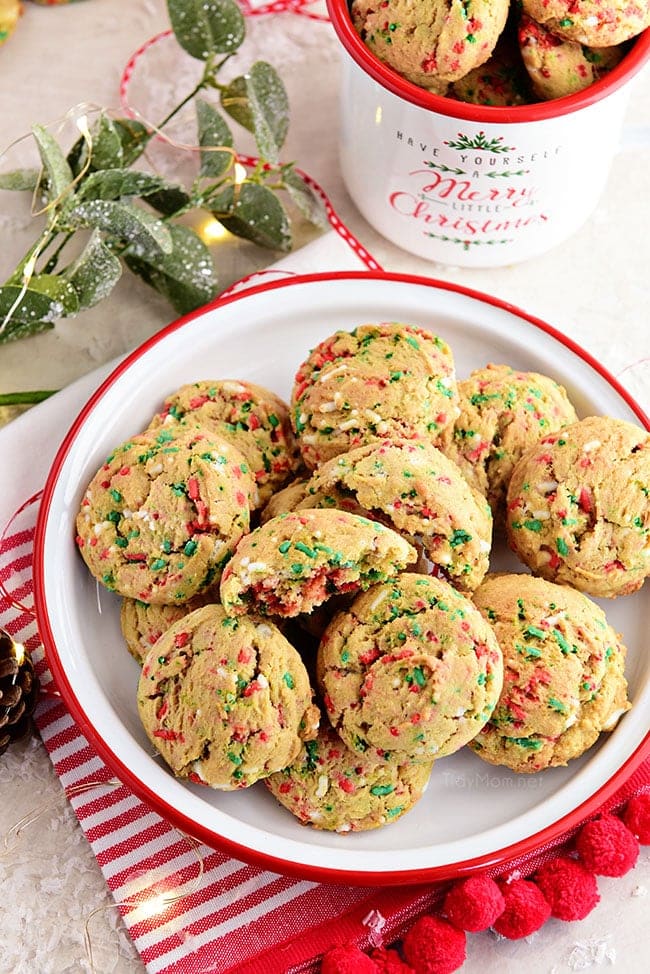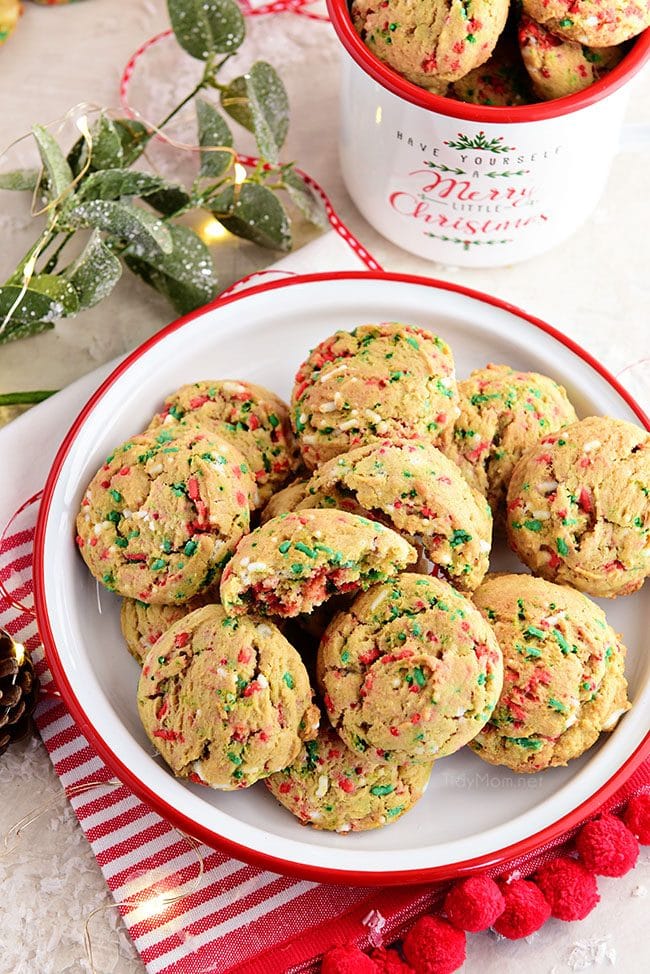 Christmas Sprinkle Cookies aren't just for Christmas!
The name might fool you on this one, but these are cookies that can be made and enjoyed ALL year long! Why should Christmas be the only one who gets these cookies? I think it would just be unfair to only indulge in your new favorite cookie obsession once a year.
To remove the Christmas spirit from these cookies just replace the Christmas sprinkles with any sprinkles you'd like! You can make these festive for Easter, Halloween, St. Patricks Day, or any other holiday you can think of by getting creative with your sprinkle choice.
Think sprinkles are a little boring? You could also try adding chocolate chips instead of sprinkles for an extra special twist that surely won't disappoint. I would suggest about 1/4-1/2 cup of chocolate chips if you want to try it that way!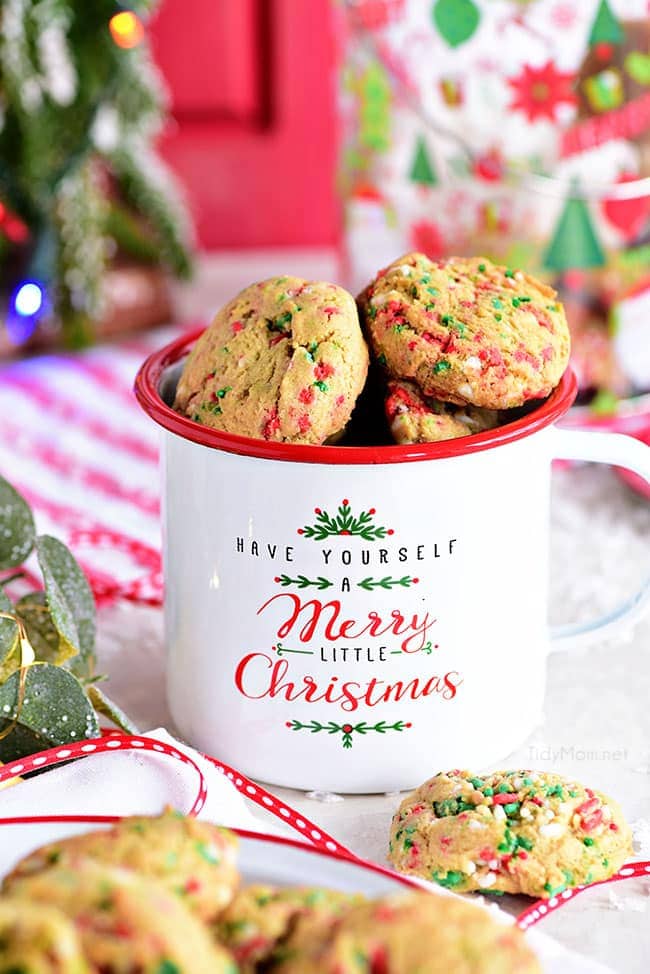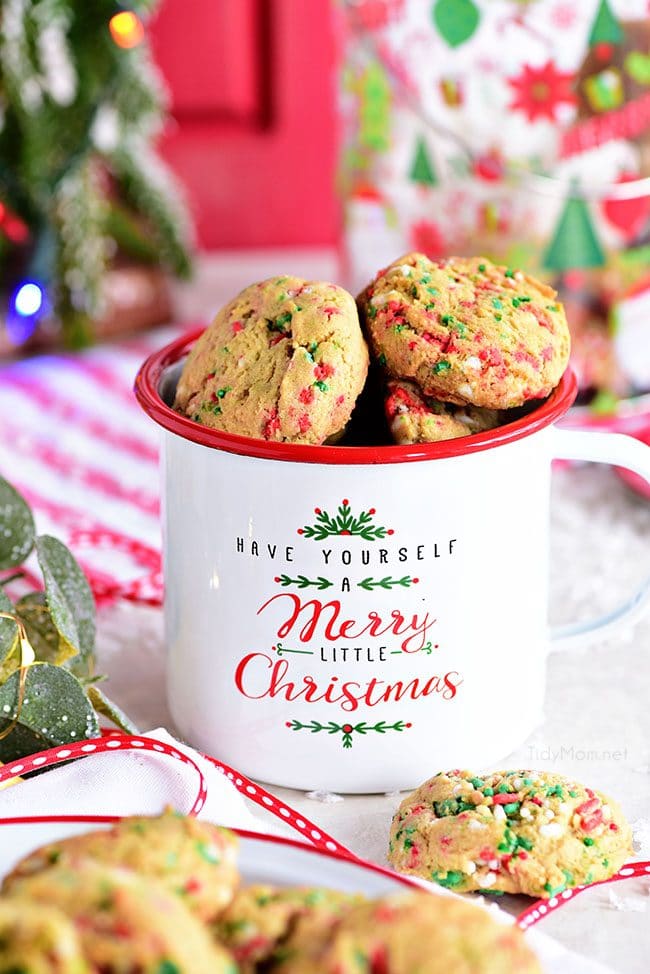 Get The Perfect Christmas Sprinkle Cookies Every Time
Do not over mix the ingredients: There's nothing worse than overmixed dead cookie dough. When mixing every ingredient only mix until combined then stop. Try not to just walk away from the mixer, always keep an eye on your dough.
Pay special attention to the creaming of the butter and sugar. Overcreaming will ruin the texture of the cookie, and no one wants that. If you're not sure how to properly cream your butter and sugar check out these helpful tips that will guide you through it!
Use instant pudding mix: The pudding mix aisle can be confusing. They all look the same and its often hard to differentiate. With that being said, you need to be extra careful when picking out the pudding for this recipe.
It's crucial that you get instant pudding mix NOT cook and serve. We will only be using the powder mix, not actually making pudding and cook and serve mix will not work at all.
Make sure your ingredients are room temperature: You always want the eggs and butter to be at room temperature for the best tasting cookies. To get the eggs room temperature either leave them on the counter for an hour or so or soak them in warm water for a few minutes.
To soften the butter either place it in the microwave and choose the soften butter setting, or leave it on the counter for several hours.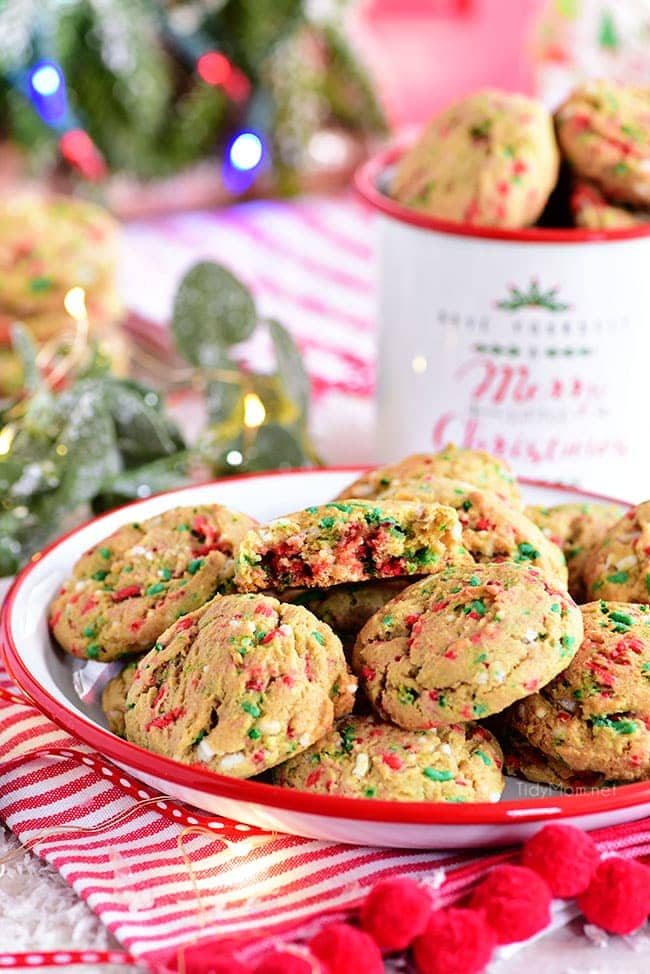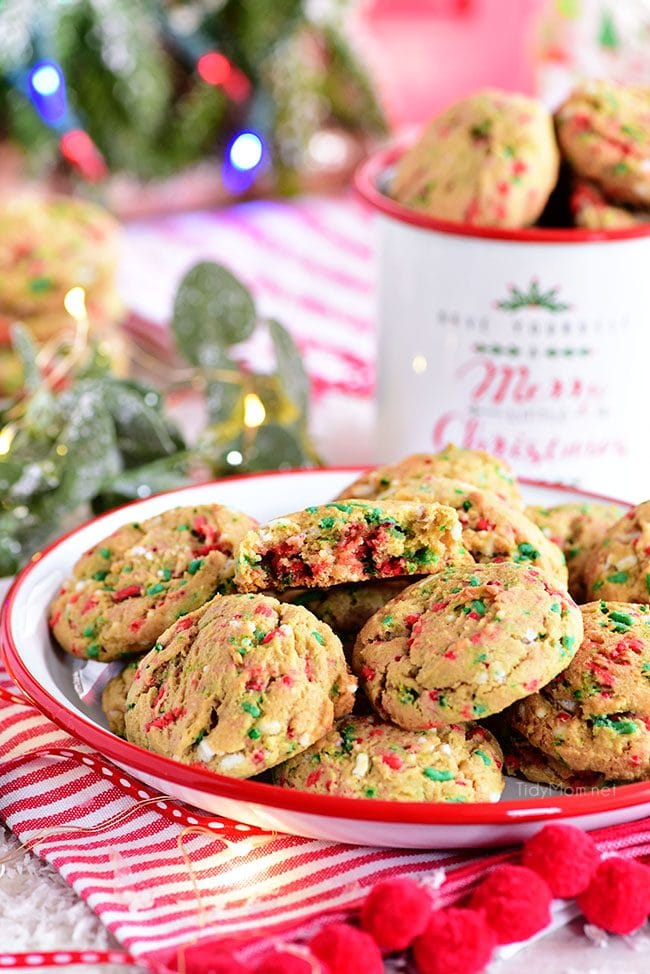 Your One Stop Shop For Cookie Questions!
Do I have to chill the dough? Yes! do not forget this step. Chilling the dough allows the flavors to enhance in the mixture, and the firmer dough will help the cookies from spreading as they bake.
They will only need about an hour to chill, but you can also chill longer or overnight as well. If you chill the dough longer, you will want to bring the dough close to room temp when ready to scoop so it's easier to handle.
How do the cookies stay soft? No, it's not some crazy magic that makes these cookies stay perfectly soft. There are actually a couple factors that give these cookies that extra delightful texture.
First is the extra egg yolk added into the batter. The single yolk gives the mixture extra moisture allowing for a chewy texture
Then, the addition of the pudding mix increases flavor while keeping cookies soft.
How long will the cookies keep? This will depend on how you store the cookies. If kept in an airtight container at room temperature, the cookies will last about 2-3 weeks. You do not need to keep them in the refrigerator, but if you prefer a cold cookie, go right ahead. Being refrigerated will not prolong the life of the cookies
If properly stored, you can freeze these cookies for around 2-3 months before they start to get freezer burnt.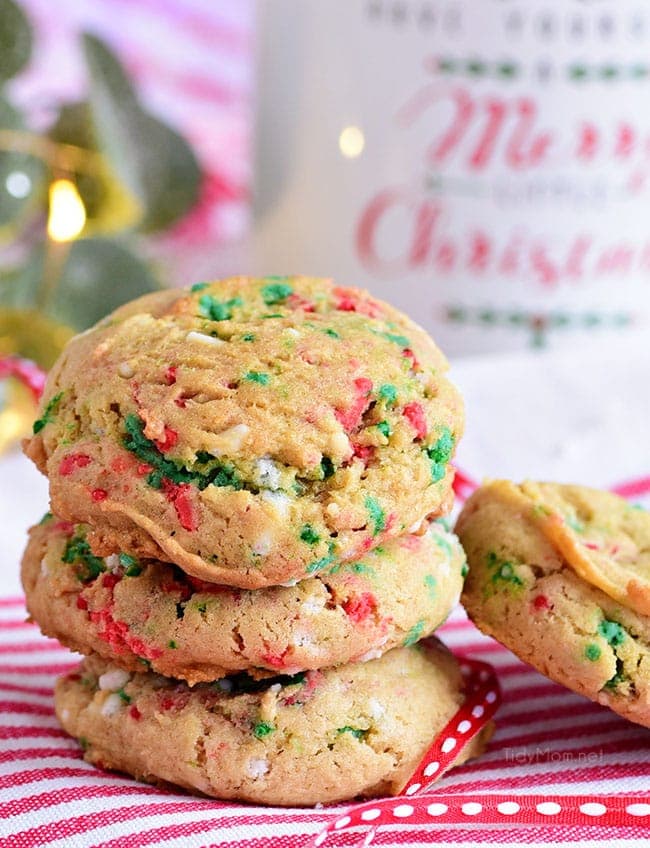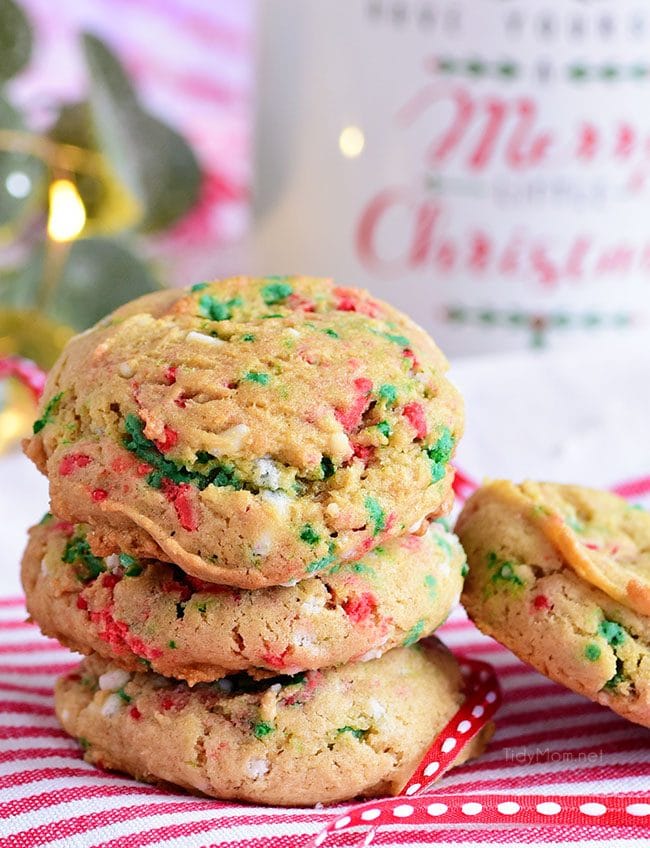 More Christmas Cookies Even Santa Will Love
Peppermint Surprise Crinkle Cookies These super soft chocolate cookies hold a peppermint surprise in the center that no one will be able to resist!
Christmas Meltaway Cookies Make these Christmas Meltaway Cookies for your family and friends. So easy to make with very simple ingredients. These cookies make fantastic edible gifts that both kids and adults love.
Red Velvet Gooey Butter Cookies This holiday gooey butter cookie hit starts with a boxed cake mix, making them so simple you'll have no excuse not to make them!
Hot Chocolate Cookie Cups Made with ready to bake sugar cookie dough and pudding cups! They make a fun holiday dessert and are perfect for Christmas parties, cookie exchanges or just to put a smile on someone's face!
Easy Holiday Rum Balls A tender, pecan-filled truffle like treat that is for adults only. Made with dark rum, they are a delicious way to spread holiday cheer.
Christmas Peanut Butter Cookies A dip in chocolate and some festive sprinkles turn year-round favorite peanut butter cookies into a delicious Christmas treat.
Like This Christmas Sprinkle Cookies Recipe? Pin It!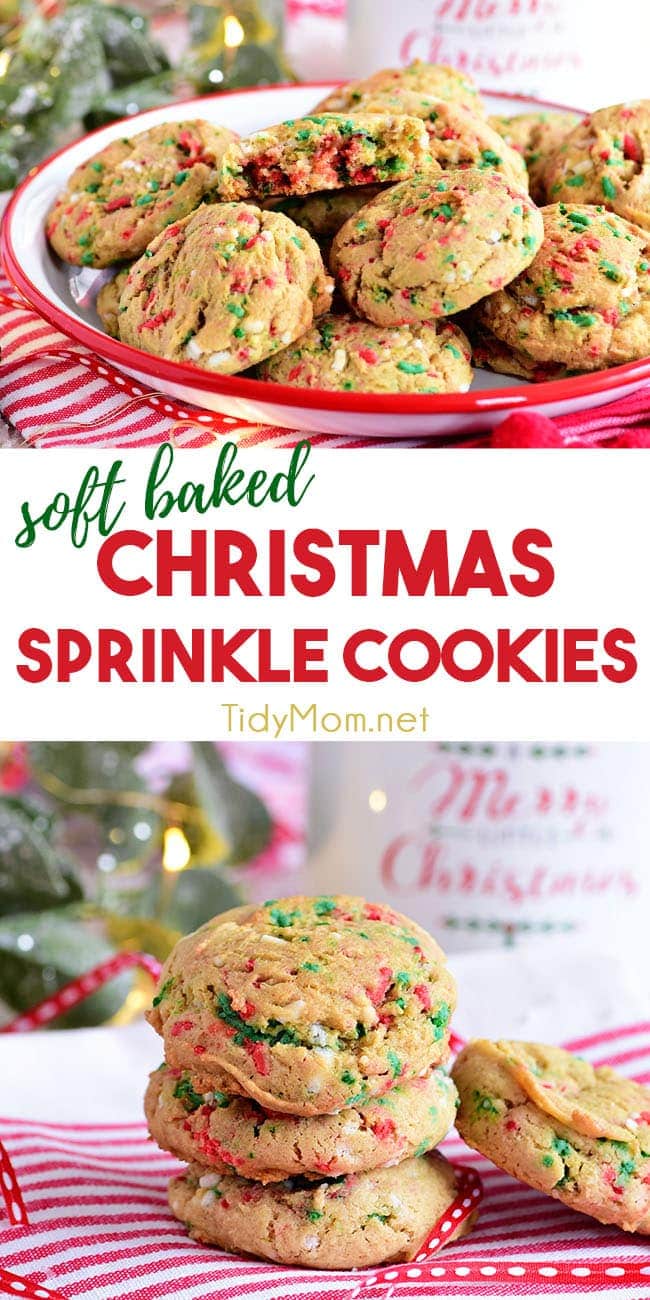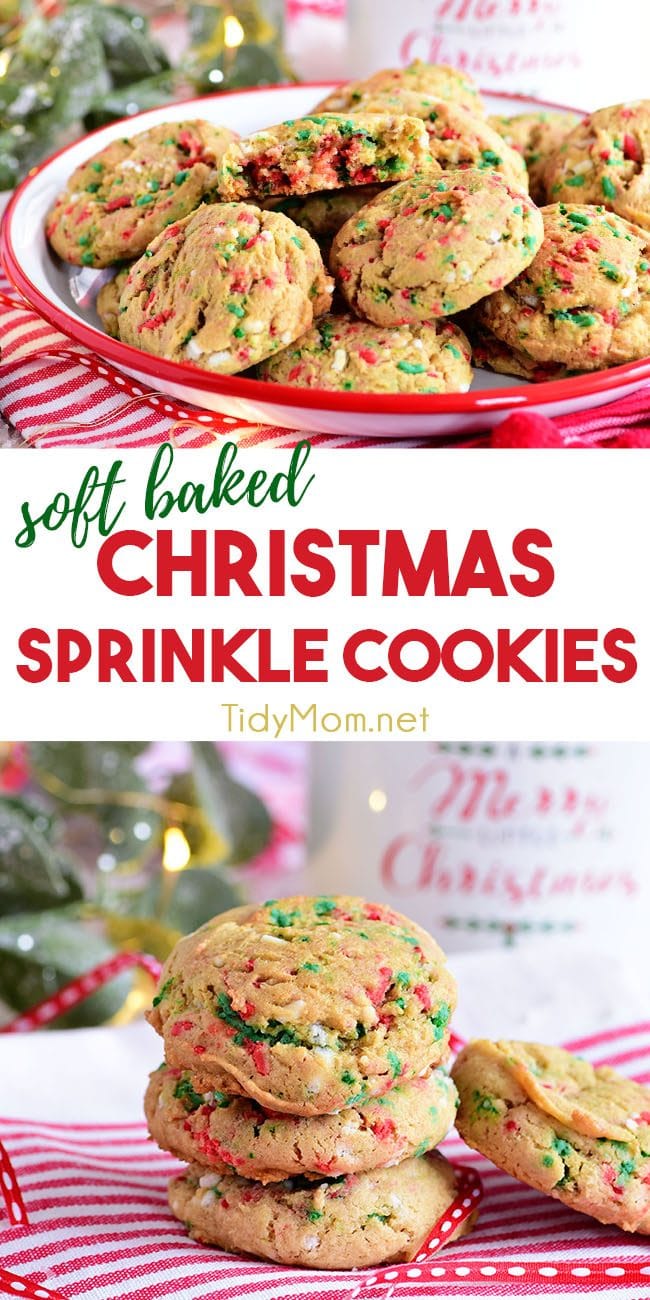 No Time To Waste – Get Baking Now!
Every bite of these cookies is like a little piece of heaven! Every moment you live without trying them will be a moment you've missed out on life-changing sweetness. So, there's no need to wait any further! Whip up a batch and don't forget to tell me how much you loved them!
I created a fun little group on facebook and I'd love for you to join in! It's a place where you can share YOUR favorite recipes, home tips, creative ideas and ask questions and see what's new with TidyMom! If you'd like to check it out, you can request to join HERE. Be sure to follow me on Instagram and tag #tidymom so I can see all the wonderful TidyMom recipes YOU make and tips YOU use!
Connect with TidyMom! Facebook | Twitter | Google+ | Pinterest | Instagram
Sign up to receive an email in your inbox for each new recipe: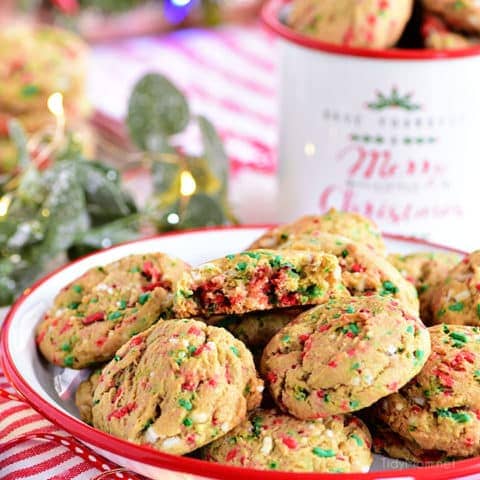 Soft-Baked Christmas Sprinkle Cookies
Yield: 36

Prep Time: 15 minutes

Cook Time: 13 minutes

Chill Time: 1 hour

Total Time: 1 hour 28 minutes

Soft-Baked Christmas Sprinkle Cookies have all the deliciousness of a vanilla pudding cookie packed with Christmas sprinkles.
Ingredients
1/2 cup butter, room temperature
1/4 cup granulated sugar
3/4 cup brown sugar
1 (3.4 ounce) package Instant Vanilla Pudding mix
2 large eggs, room temperature
1 additional egg yolk, room temperature
1/2 teaspoon almond extract
2 ½ cups all-purpose flour
1 teaspoon baking soda
1/2 teaspoon salt
Instructions
Using an electric mixer and a large bowl, cream butter and sugars until light and fluffy. Add pudding mix, eggs, additional egg yolk, vanilla and almond extract and continue beating on medium speed for about one minute.
In a separate bowl, whisk together flour, baking soda and salt. Slowly add dry ingredients to wet ingredients mixing just until well combined.
Fold sprinkles into batter.
Cover cookie dough with plastic wrap and chill for an at least one hour. (If you chill longer you will want to bring dough to room temperature before next step so it's easier to handle).
Preheat oven to 350° F and line baking sheets with parchment paper or silicon mat.
Using a cookie scoop, scoop out about 1½ tablespoons of cookie dough about two inches apart onto lined baking sheet.
Bake cookies for 13-15 minutes. Cool on the pan for a few minutes before transferring to a cooling rack.