Salted Caramel Cheesecake with Chocolate Ganache
This post may contain Amazon or other affiliate links. As an Amazon associate, I earn from qualifying purchases.
Caramel fans will be in heaven with this Salted Caramel Cheesecake Recipe topped with a sticky caramel sauce, chocolate ganache and a sprinkle of sea salt.

Last Wednesday, July 10, was kind of an important day. In our house, we call it………..Allison Day! aka Allison's Birthday.
Birthdays aren't usually too much of a big deal around here, unless you are Allison, and every birthday is celebrated for several days, that include a Birthday banner, going out to eat, travel, Cardinal games, ghost hunts, lots of presents and of course………dessert of her choice.
This year she wanted cheesecake and not just any cheesecake. It needed to be a silky smooth salted caramel cheesecake, but it had to have chocolate in it as well. We decided to make it with an Oreo cookie crust and add a layer of chocolate ganache to the top!
LET'S MAKE A SALTED CARAMEL CHEESECAKE
Don't let the word cheesecake scare you…….it's really pretty simple to make, just needs to sit overnight. So make it at least a day ahead, and be prepared to finish it up the second day.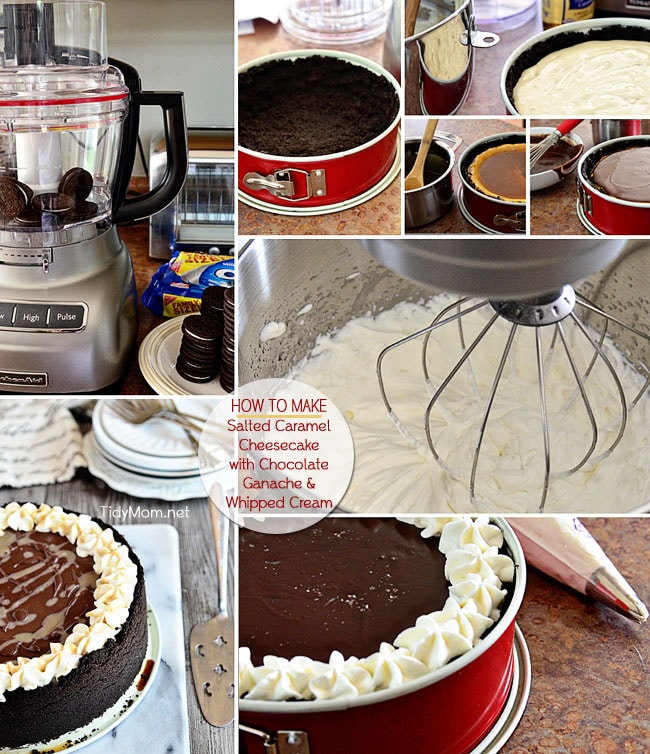 The full recipe is at the end of this post. It's going to look long, but I want to break it down for you to show you it's really not that bad. Yes, I made the caramel sauce but it was super easy, as was the chocolate ganache and even the whipped cream. You will need a springform pan, and a pastry bag with a 1M tip if you want to pipe the whipped cream like I did.
1. Crush Oreos using a food processor
2. Press into springform pan
3. Use an electric mixer to blend cheesecake filling.
4. Pour filling into crust, bake, cool, then refrigerate overnight.
5. Make caramel sauce and pour over cheesecake, and cool.
6. Make chocolate ganache and pour over caramel.
7. Top with homemade whip cream. Refrigerate until ready to serve.
It's SOOOO worth all the steps!! I promise!
But you might have to make your own because Allison isn't sharing!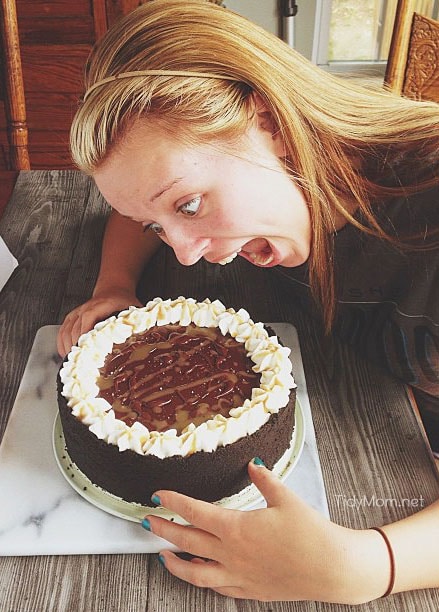 She cracks me up! She makes us laugh all the time! It's hard to believe that this time next year we will be packing things up to send her away to college, and we will become empty nesters during the school year 🙁 I need to freeze time………quickly!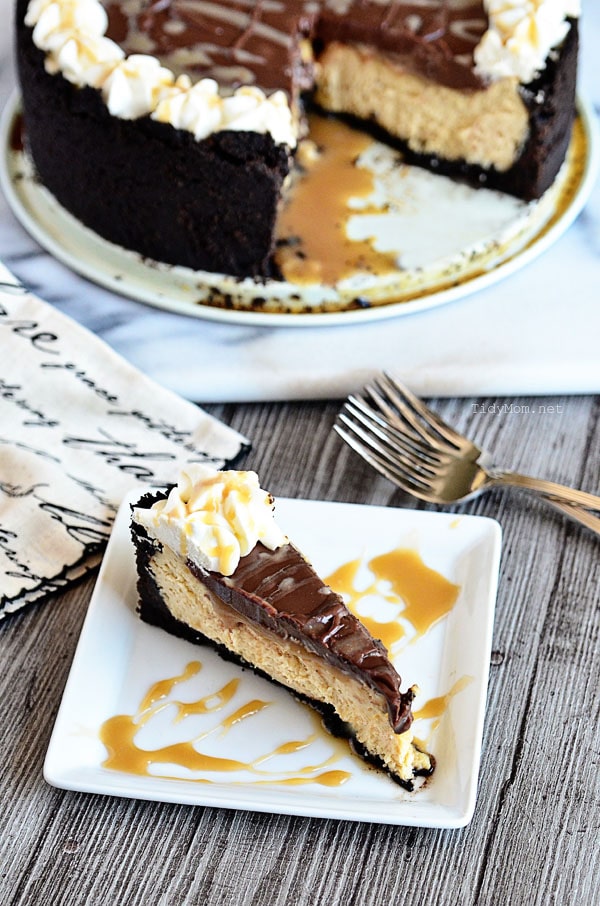 Ok, so I suppose you want the Salted Caramel Cheesecake Recipe, grab your apron and let's go!
**NOTE: this recipe really needs two days, as it's best when chilled overnight.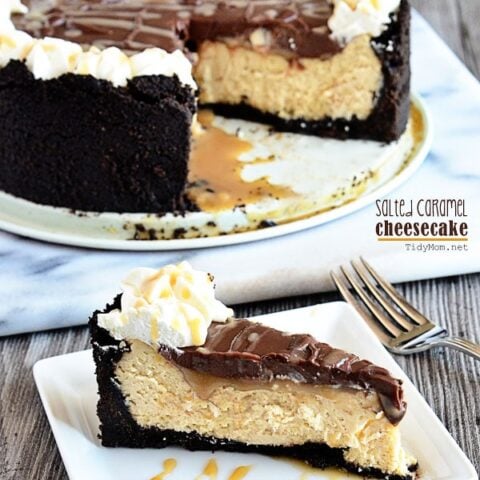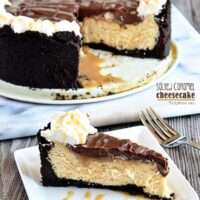 Salted Caramel Cheesecake
Yield: 16 servings
Prep Time: 1 hour
Cook Time: 1 hour 10 minutes
Chill Time: 9 hours
Total Time: 11 hours 10 minutes
A creamy caramel cheesecake recipe topped with caramel sauce and chocolate ganache and a sprinkle of sea salt
Ingredients
For the crust:
1 Family Size Pkg Oreo cookies, finely processed into crumbs (about 45 cookies)
7 tbsp. salted butter, melted and cooled
Salted Caramel Cheesecake Filling:
3-(8 oz) packages cream cheese, softened
1 cup packed brown sugar
3 eggs
3/4 cup heavy whipping cream
1/4 cup caramel-flavored coffee syrup (I used Torani )
For Caramel Sauce:
1/2 cup butter
1 1/4 cups packed brown sugar
2 tablespoons caramel-flavored coffee syrup (I used Torani )
1/2 cup heavy whipping cream
1 1/2 teaspoons flaked sea salt
For Chocolate Ganache:
1 cup Semi-Sweet Chocolate
1 cup heavy whipping cream
For Stable Whipped Cream
1/4 cup cold water
1 teaspoon unflavored gelatin
1½ cups heavy whipping cream
2 tablespoons granulated sugar
Instructions
To Make the Oreo Cookie Crust:Grease a 9-inch springform pan. Combine crushed Oreos and melted butter until all of the crumbs are moistened. Press into bottom and up the sides of springform pan. Place in freezer while you prepare filling.To Make Salted Caramel Cheesecake Filling:
Heat oven to 300° F
In the bowl of a stand mixer fitted with the paddle attachment, beat the cream cheese and 1 cup brown sugar on medium speed until smooth. Beat in eggs, one at a time, just until blended. Add 3/4 cup whipping cream and 1/4 cup coffee syrup; beat until blended. Pour filling over crust.
Bake at 300°F 1 hour 10 minutes to 1 hour 20 minutes or until the edge of cheesecake is set at least 2 inches from the edge of pan but the center of cheesecake still jiggles slightly. Turn oven off; open door 4 inches. Let cheesecake remain in the oven 30 minutes. Run small metal spatula around edge of pan to loosen cheesecake. Cool in pan on cooling rack 30 minutes. Wrap tightly in plastic wrap and refrigerate at least 6 hours or overnight.
Day 2-For Caramel Sauce:
In 2-quart saucepan, melt 1/2 cup butter over medium heat. Add 1 1/4 cups brown sugar and 2 tablespoons coffee syrup. Heat to boiling; cook and stir 1 minute until sugar dissolves. Stir in 1/2 cup whipping cream; return to boiling.
Remove from heat. Cool 20 minutes.
For Chocolate Ganache:
Combine the heavy cream and the chocolate in a medium-sized microwave-safe bowl. Heat it in the microwave on high for two minutes. Whisk, then place it back in the microwave for another 30 seconds and whisk. Repeat in 30 seconds intervals until the chocolate is completely melted and you can incorporate it fully into the cream.
Let cool about 5-10 minutes (until it's still pourable, but no longer hot)
For Stable Whipped Cream
Place 1/4 cup of cold water in a small saucepan, then sprinkle with 1 teaspoon of unflavored gelatin. Let the gelatin soften and absorb all of the water (about 5 minutes).
Place pan over low heat and stir until gelatin dissolves. Let it cool off the heat while you complete the next step.
In the bowl of a stand mixer fitted with the whisk attachment, beat 1½ cups cream and 2 tablespoons sugar until soft peaks form. Slowly pour in warm dissolved gelatin and mix until soft peaks reform. You won't get stiff peaks, but this whipped cream will be perfect for pipping on top of cheesecake, pies and other desserts.
To Assemble Cheesecake:
Remove Cheesecake from the refrigerator. Pour the salted caramel sauce on top of the cheesecake (use as much as you want, then store the rest to use when serving cheesecake or for ice cream topping). Put back in the fridge while you prepare the ganache.
Once the ganache is made and cooled, remove the cake from the fridge and pour ganache on top of the caramel layer. Put back in the fridge while you make whipped cream.
Place whipped cream in pastry bag fitted with 1M tip, remove cake from fridge and pipe whipped cream on out edge of cheesecake.
Drizzle top of cake with caramel sauce and sprinkle with flaked sea salt. Cover and store in the refrigerator until ready to serve.
To Serve:
Run a small metal spatula around edge of springform pan; carefully remove side of the pan. Cut cheesecake into slices. You can drizzle slices with more caramel sauce if you'd like.
Cover and refrigerate any remaining cheesecake.
What's your favorite Birthday Dessert?
10 More cheesecake recipes:
Cheesecake Minis with Strawberry Balsamic Mint Topping
Traditional Cheesecake with Raspberry Sauce
Peanut Butter-Finger Mini Cheesecakes
Lemon Cheesecake with Fresh Berries
Chocolate Chip Cookie Dough Cheesecake Bars
Want more great recipes like this? Follow my TidyMom Easy Recipes Pinterest Board
Follow Cheryl Sousan | Tidymom.net's board TidyMom.net easy recipes on Pinterest.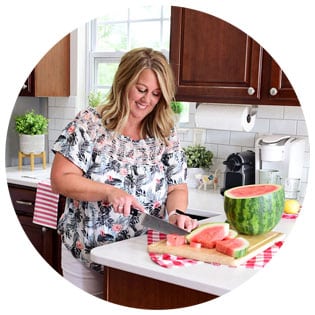 Hi there, I'm Cheryl!
As a wife, mom, and caffeine enthusiast, my journey has taken me from bustling mornings with my family to sharing delicious recipes, home care tips, and heartfelt decorating insights with wonderful readers like you. My love for baking, photography, and tidiness shines through every post I craft. Dive into my world and discover the art of homemaking, one tidy moment at a time. Read more...
Tidymom is a participant in the amazon services llc associates program, an affiliate advertising program designed to provide a means for sites to earn advertising fees by advertising and linking to Amazon.com.
Please respect my work, recipes and photographs. If you do use a recipe in your own writing, please give proper credit and link back to the original post.