Chocolate Fudge Cookies {VIDEO}
aka lava cookies
Chocolate Fudge Cookies have everything you love about warm, gooey lava cake in a cookie! Decadent chocolate cookies with gooey hot fudge inside are just what chocolate lovers everywhere have been looking for.
There's nothing better than a freshly baked Homemade Cookie, whether you're making a classic like Chocolate Chip Cookies, Easy Cake Mix Cookies, or a holiday favorite like Spritz Cookies.
Be sure to sign up for my email… to get new recipes and ideas in your inbox!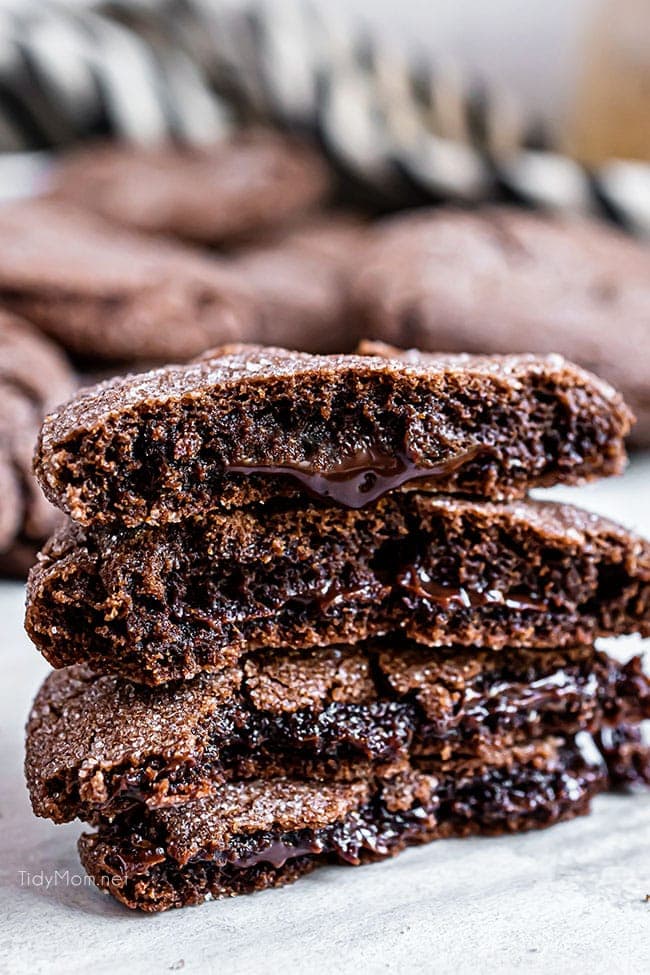 Why We Love Chocolate Fudge Cookies
I've always been a fan of Chocolate Lava Cake. There's something about the soft chocolate cake holding the warm, gooey fudge filling that's just too tempting. I'm also a big fan of cookies. That's how I knew chocolate lava cookies would be a winner at our house!
These chocolate fudge cookies ooze with hot fudge in every bite. I can't even keep a batch longer than a day! They deliver big time in the chocolate department and are a favorite on holiday cookie trays too.
Here's Why You're Going To Love Them :
Easy to make with simple steps
Simple ingredients
Filled with hot fudge
Soft and chewy with a gooey center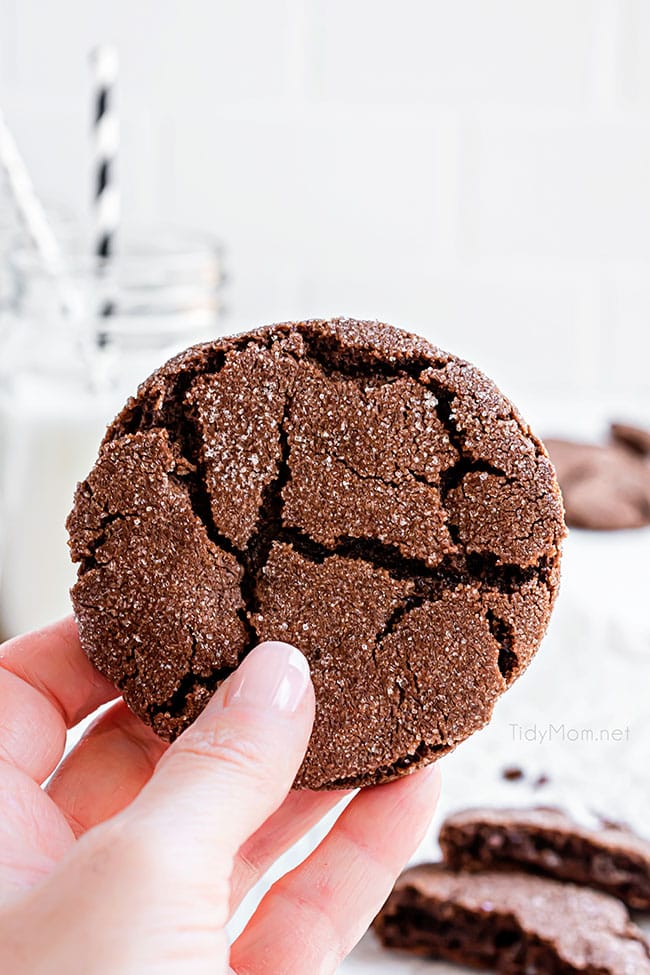 What Are Chocolate Fudge Cookies?
Chocolate fudge cookies combine your favorite cookies with delicious, gooey hot fudge. It's a cookie that is prepared with fudge, has the flavor, consistency, or texture of a chocolate cookie. They are a treat all in their own category.
For a fudge cookie to get its gooey goodness in this recipe, you'll use already prepared hot fudge sauce. It takes the prep work of making homemade fudge out of this recipe so that you can make these cookies quick.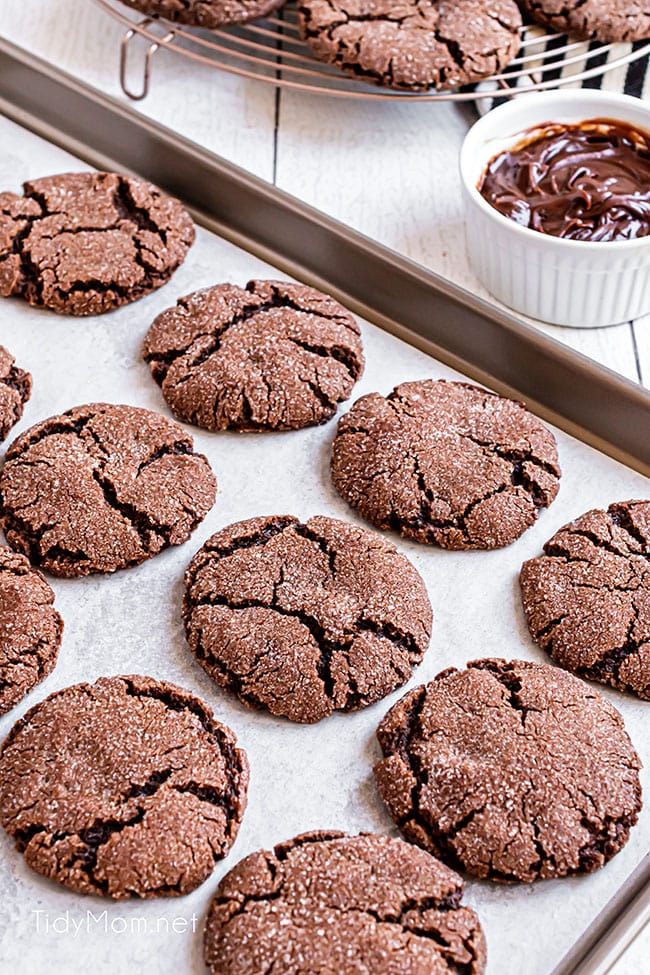 Chocolate Fudge Cookie Ingredients
When it comes to baking, I like recipes that taste as if they came from a bakery and use everyday ingredients. And, that's just what you get with these chocolate fudge cookies!
Shortening– Shortening gives your cookies a tender, flaky texture.
Brown sugar– When measuring your brown sugar, you want the cup to be packed. So use the measuring cup to scoop it and then pat it down with your palm.
Eggs– If you already have eggs, make sure they are still good. Place them in water and if they sink they are still safe to eat.
Vanilla extract– Vanilla and chocolate actually complement each other very well. I love using homemade vanilla extract, but store-bought works great too.
Baking soda– Baking soda is a leavening agent that makes your cookies tender and fluffy. Double-check that your baking soda is fresh before starting these cookies.
Cocoa powder– You will want unsweetened cocoa powder since you are adding other sugars to your cookies.
All-purpose Flour – It's what gives the cookies structure.
Hot fudge sauce– You can't have fudge cookies without a jar of hot fudge sauce! Feel free to use your favorite jarred hot fudge sauce.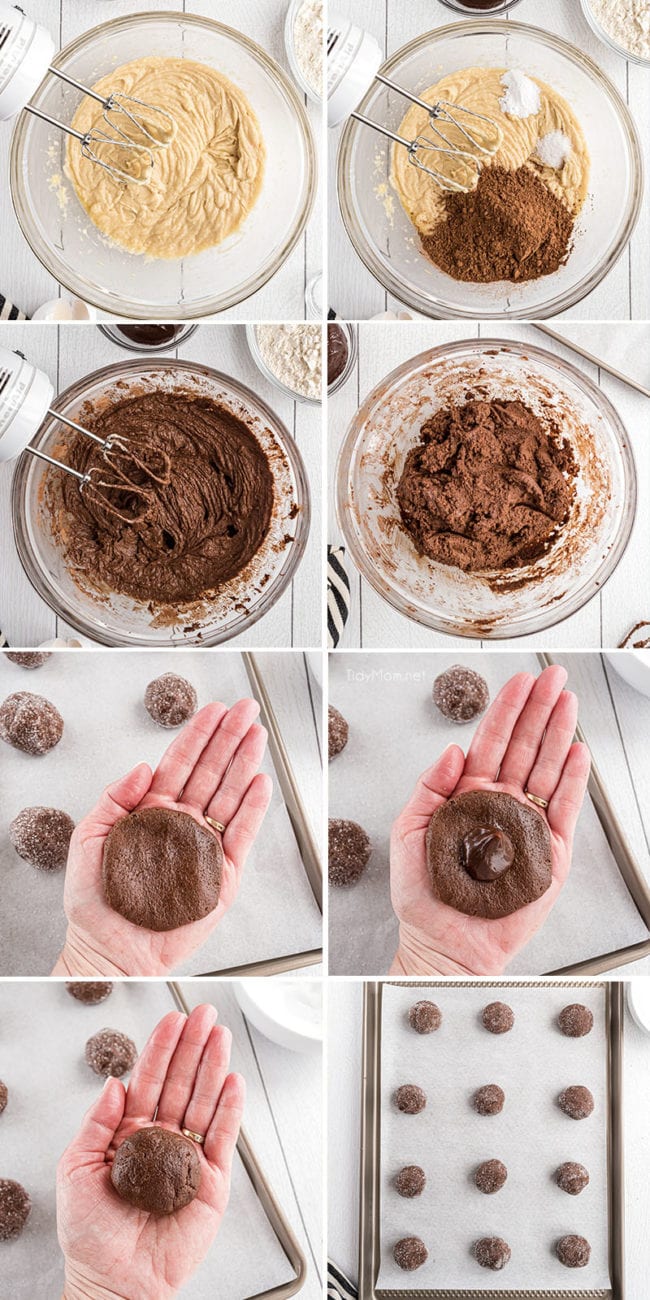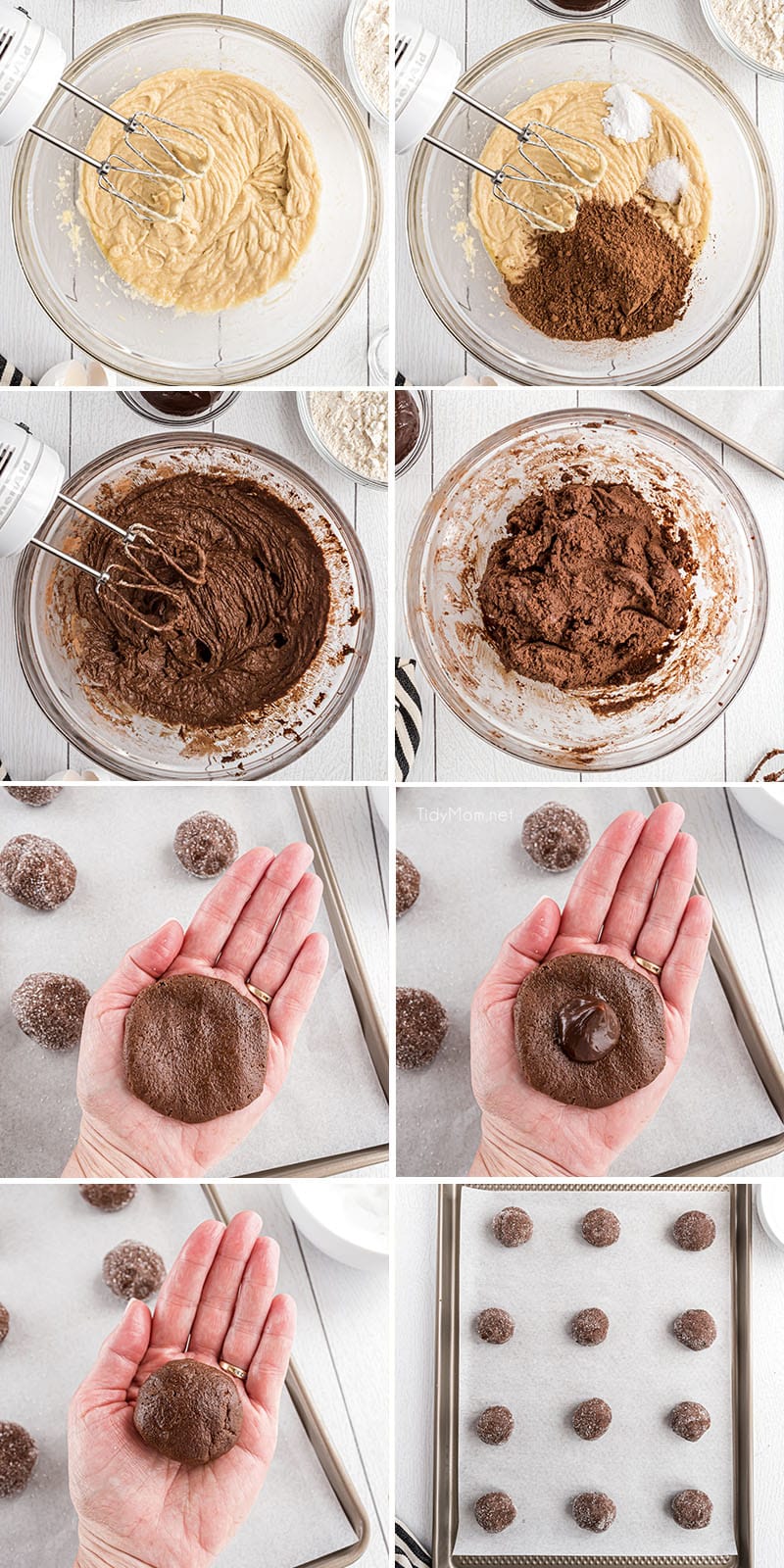 How to Make Chocolate Fudge Cookies
(full printable recipe at the end of this post)
Preheat and prep: First, preheat your oven to 400℉ and line a cookie sheet with parchment paper, and set it aside.
Cream shortening and sugars: Cream your shortening and sugars together using an electric mixer. Then, add your eggs, vanilla, and water. Mix until smooth.
Add dry ingredients: Add your salt, baking soda, and cocoa powder to the other ingredients and mix well. Add in your flour last mixing on medium speed until combined.
Divide your dough: Once you have your dough, divide it into 24 even pieces.
Add the hot fudge: Flatten each piece of the cookie dough in the palm of your hand like a disc. Then, place hot fudge in the middle of the dough. Wrap the dough around it rolling it into a ball.
Roll in sugar: Roll the cookie dough balls in sugar and place them on your cookie sheet.
Bake: Place the cookie dough balls in the oven for 6 to 8 minutes.
Cool: As tempting as it will be to enjoy one of these fudgy cookies immediately, let them cool for 1-2 minutes on the baking sheet before transferring them to a wire cooling rack.
Serve and Enjoy!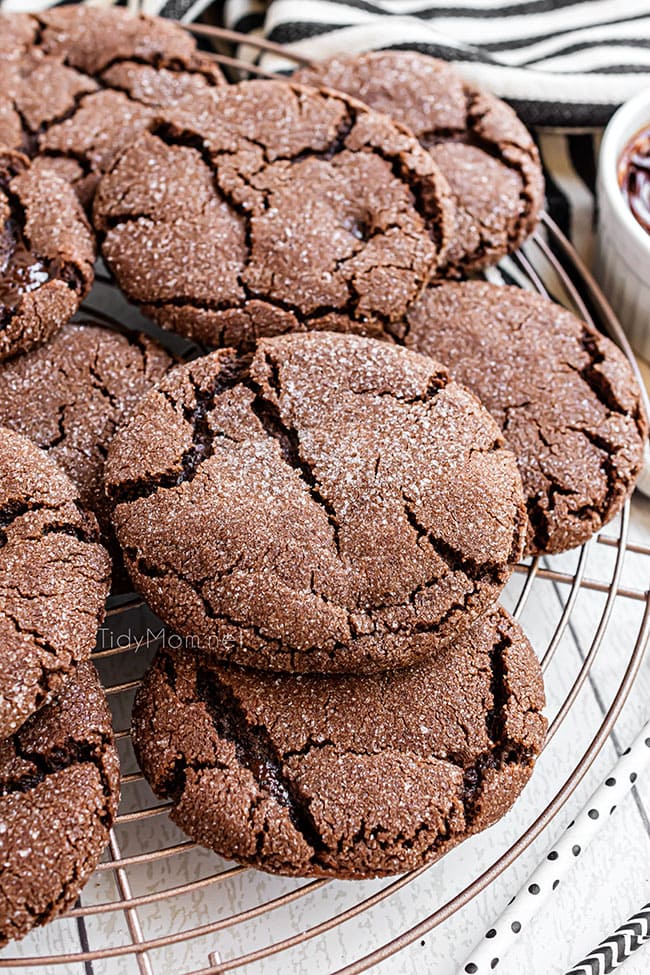 Tip For Dividing Dough Evenly
Divide the dough into halves, then each half into thirds. Now divide each third into four equal-sized pieces (they don't have to be exact, but try to make them as close as possible).
You now have dough pieces for 24 cookies that are approximately the same size!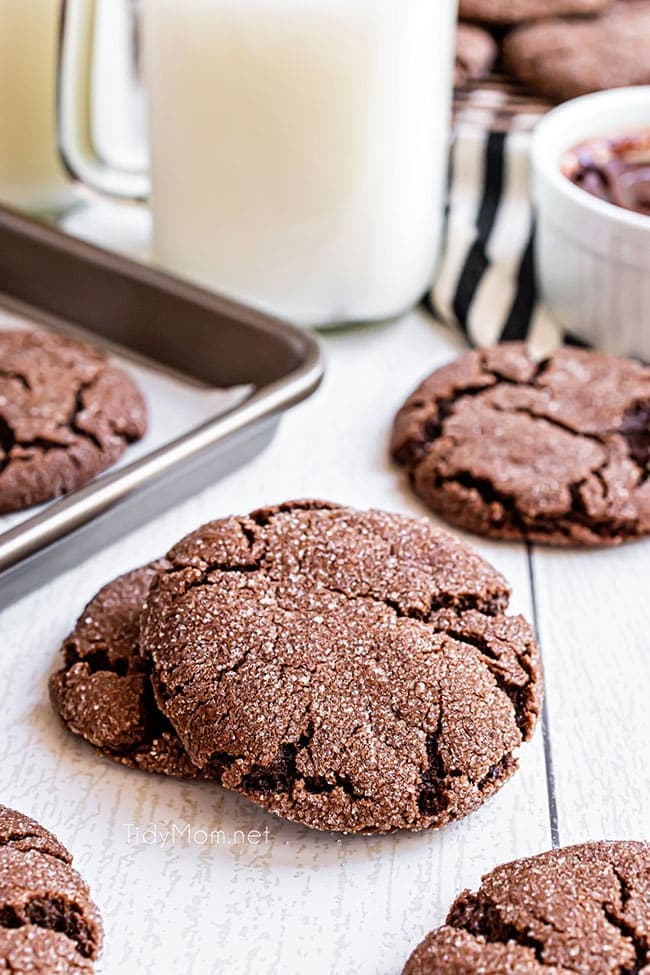 Chocolate Fudge Cookie FAQs
Can I use butter instead of shortening?
Yes, you can use butter instead of shortening. In baking, butter can be used interchangeably with shortening. Just note: Shortening will produce cookies that rise a little higher, holds their shape during baking, and a texture that is softer or lighter than cookies made with butter.
Can I use homemade fudge sauce?
Absolutely! If you want to make your own fudge sauce, The Pioneer Woman has an epic Hot Fudge Sauce Recipe.
What's the difference between cocoa powder and Dutch-processed cocoa?
Always stick with what the recipe calls for when it comes to cocoa. Using the wrong cocoa can result in flat cookies or bitter tastes. Baked goods that are made with cocoa powder are lighter or more of a reddish-brown. Dutch processed cocoa is a dark, almost black hue. This is because Dutch-processed cocoa has had its acidity neutralized whereas regular cocoa has not.
What kitchen tools do I need for these cookies?
For this recipe, you will need to make sure you have measuring cups, measuring spoons, 1 large mixing bowl, an electric mixer, and 2 cookie sheets.
What's the best way to store chocolate fudge cookies?
This depends on how long you want them to last. Homemade fudge cookies can be stored in an airtight container at room temperature for about a week. You can also store them in the refrigerator for two months.
Pro Tips for Delicious Fudge Cookies
Check your cookies: When your cookies start to slightly crack on top, they are done. Check your cookies after 6 minutes.
Space out the cookie dough: You don't want your cookies to bake into each other. Be sure to space them about 2 inches apart for best results. You can fit about 12 cookies per cookie sheet.
These Chocolate Lava Cookies are pretty incredible all on their own, but be sure to try them warm (place one cookie in the microwave for 10 seconds) with vanilla ice cream on top!!!
Don't over cream: When creaming your shortening and sugars, stop mixing when it is light and fluffy. Otherwise, it will become soupy.
Like This Chocolate Fudge Cookies Recipe? Pin It!
It's like a mini chocolate lava cake but has a little crunch around the edges. You'll want to be sure to save this cookie recipe!
Chocolate nirvana!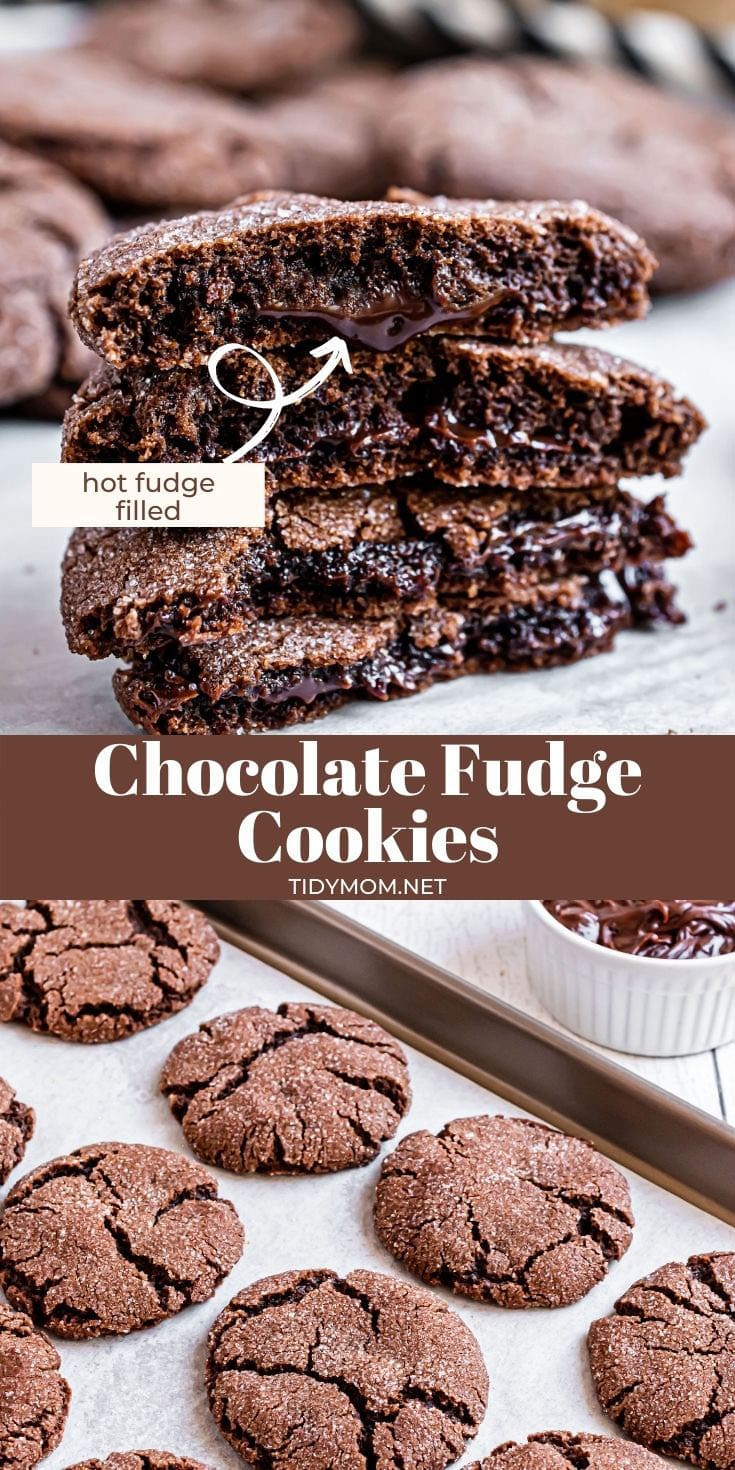 Follow Along On Social Media
If you're looking for even more inspiration check out the fun little group I created on Facebook, I'd love for you to join in! It's a place where you can share YOUR favorite recipes, home tips, creative ideas and ask questions and see what's new with TidyMom! If you'd like to check it out, you can request to join HERE.
Be sure to follow me on Instagram and tag #tidymom so I can see all the wonderful TidyMom recipes YOU make and tips YOU use!
Connect with TidyMom! Facebook | Twitter | Pinterest | Instagram
Sign up to receive an email in your inbox for each new recipe:
Originally posted in June 2016. UPDATED September 2021. We spiffed up this post with more info and better pictures! No changes to the original recipe.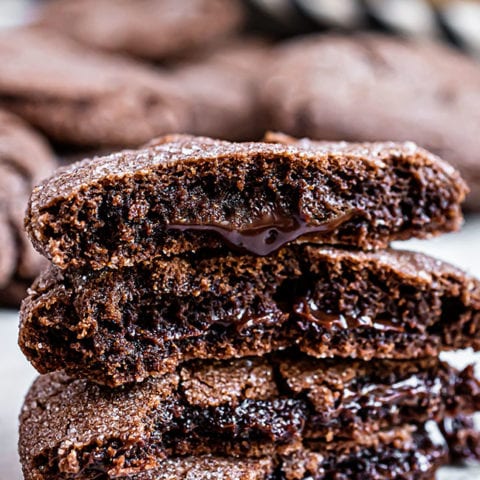 Chocolate Fudge Cookies
These chocolate fudge cookies are a soft decadent cookie stuffed with hot fudge sauce. Every bite oozes with chocolate lava.
Ingredients
1 cup shortening (I use Crisco)
1 cup sugar + 1/4 cup for rolling
½ cup brown sugar, packed
2 eggs
1 teaspoon vanilla extract
1 tablespoon water
1 teaspoon salt
1 teaspoon baking soda
⅔ cup unsweetened cocoa powder
2 cups flour
jarred hot fudge sauce (about 6 oz.)
Instructions
Preheat oven to 400 degrees F. Line cookie pan with parchment paper or silicone liners and set aside.
Using the bowl of an electric mixer, cream shortening and sugars. Add eggs, vanilla, and water and beat until smooth.
Add salt, baking soda, and cocoa powder and mix well. Add flour and mix on medium low just until combined.
Divide the dough into 24 pieces that are roughly equal in size.
Place a piece of cookie dough in the palm of your hand and flatten it out like a thick disc . Place a little hot fudge (about 1/2 teaspoon) in the middle of the dough and wrap the dough around it, rolling it into a ball to seal it.
Place 1/4 cup of sugar in a small bowl. Roll the cookie ball in sugar and place on parchment lined baking sheet. Repeat with remaining dough, spacing it out on the cookie sheets. we used a half sheet pan and were able to get 12 cookies on one pan.
Bake 6-8 minutes or until the cookies are set and start to slightly crack on top slightly. Let cool on the baking sheet for 1-2 minutes before transferring to a cooling rack. Enjoy!
Notes
recipe adapted from Jen's Favorite Cookies
Recommended Products
As an Amazon Associate and member of other affiliate programs, I earn from qualifying purchases.
Nutrition Information:
Yield:

24
Serving Size:

1
Amount Per Serving:
Calories:

183
Total Fat:

9g
Saturated Fat:

4g
Trans Fat:

0g
Unsaturated Fat:

5g
Cholesterol:

20mg
Sodium:

153mg
Carbohydrates:

22g
Fiber:

1g
Sugar:

13g
Protein:

2g
Nutrition information is estimated based on the ingredients and cooking instructions as described in each recipe and is intended to be used for informational purposes only. Please note that nutrition details may vary based on methods of preparation, origin, and freshness of ingredients used.