Apple Pie Crepes Recipe
Apple Crepes are the perfect addition to your fall recipe list. Thin French pancakes filled with a gooey caramel apple compote and toasted cinnamon pecans make for an amazing combo for breakfast or dessert. Top them with vanilla yogurt for breakfast or vanilla ice cream for dessert crepes that everyone will be talking about! Apple pie crepes make the perfect treat any time of the day.
We love apple recipes like Apple Pie Bars with Crumb Topping, Apple Spice Muffins, and even Apple Cheddar Pork Burgers on the grill.
Be sure to sign up for my email… to get new recipes and ideas in your inbox!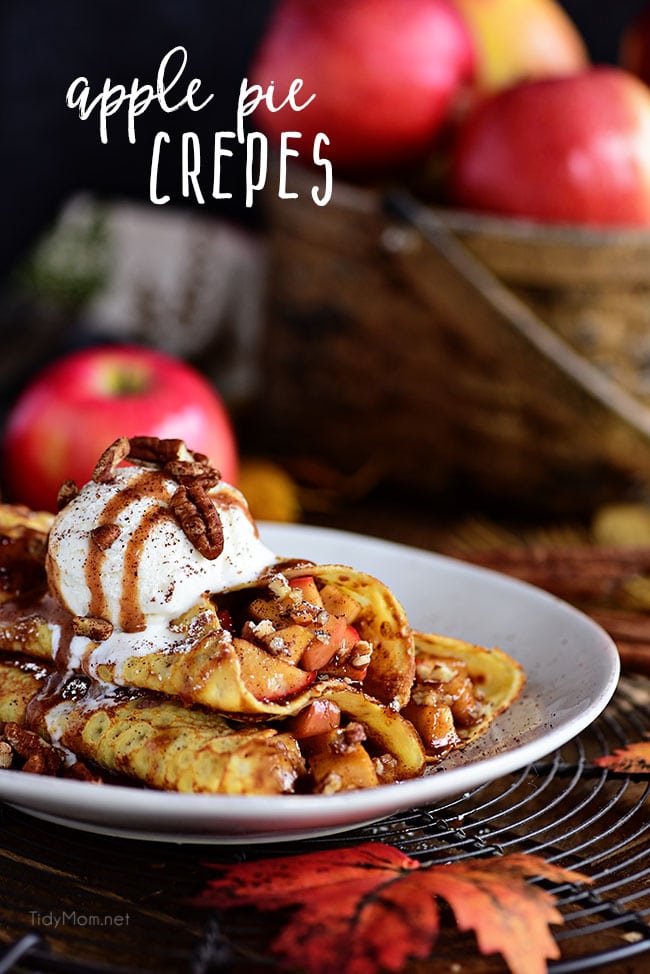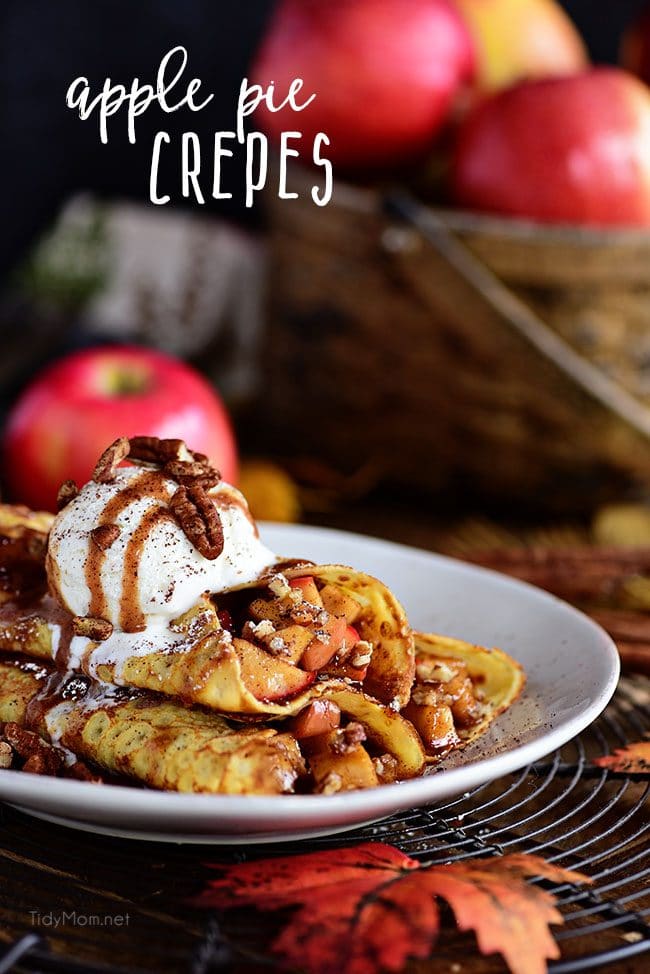 Click HERE to save recipe to Pinterest!
Apple Pie Crepes
Hold on to your pumpkin spice lattes because this crepe recipe is like nothing you've had before!
Apple pie is at the top of the list of my all-time favorite foods, with crepes following right behind it. Since we all know two is better than one, it seemed like a no-brainer to combine two of my favorite things! My family enjoyed them for breakfast, a midday snack, and after-dinner dessert. I think it's safe to say we've had our fix of an apple a day lately.
Disclaimer: The flavors and aroma of apple crepes might keep you running back for more and more, and I can not be held responsible for your new uncontrollable cravings and addiction that stems from this recipe. Okay fine, maybe I can take a little bit of the blame 😉
Speaking of fabulous fall recipes……I have teamed up with some incredibly talented blogger friends this week for Tastes of the Season Fall Breakfast Recipes. I have linked up to all of the delicious recipes towards the end of this post. Be sure to visit each one for even more fall-inspired breakfast recipes.
What is a Crepe?
A crepe is in this weird area somewhere between a pancake and an omelet, crepes are made from a thin egg-rich batter that is cooked into a large, thin pancake on the stovetop.
It's typically filled with various toppings and spreads and rolled into a burrito-like shape. They are enjoyed as a savory or sweet treat, depending on what filling is chosen.
The crepe originated in France and is still considered a staple food in the European country. It has since made its way to national recognition and can be found in different forms all over the world.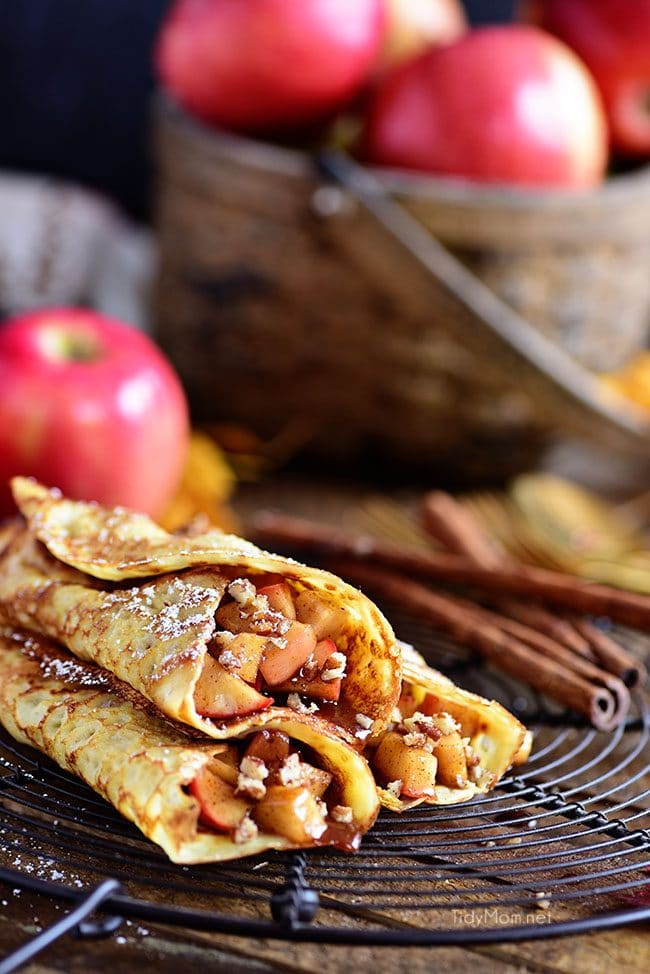 How to Make the Perfect Apple Crepes
The secret to perfect crepes is to combine all of your liquid ingredients in a blender and pulse until foamy, then add flour and pulse until smooth. It's the best way to really make sure all of the ingredients are well combined.
You won't want to skip the blender and just use a mixer, they won't come out the same! Once you have the batter mixed let it sit in the refrigerator for about an hour.
After the 1 hour is up you can begin to make the crepes in a medium-sized skillet. Once all your crepes are ready its time for the fun part! Fill them with all of your favorite ingredients and enjoy! In no time you'll have the best apple pie crepes of your life!
(full printable recipe at the end of this post)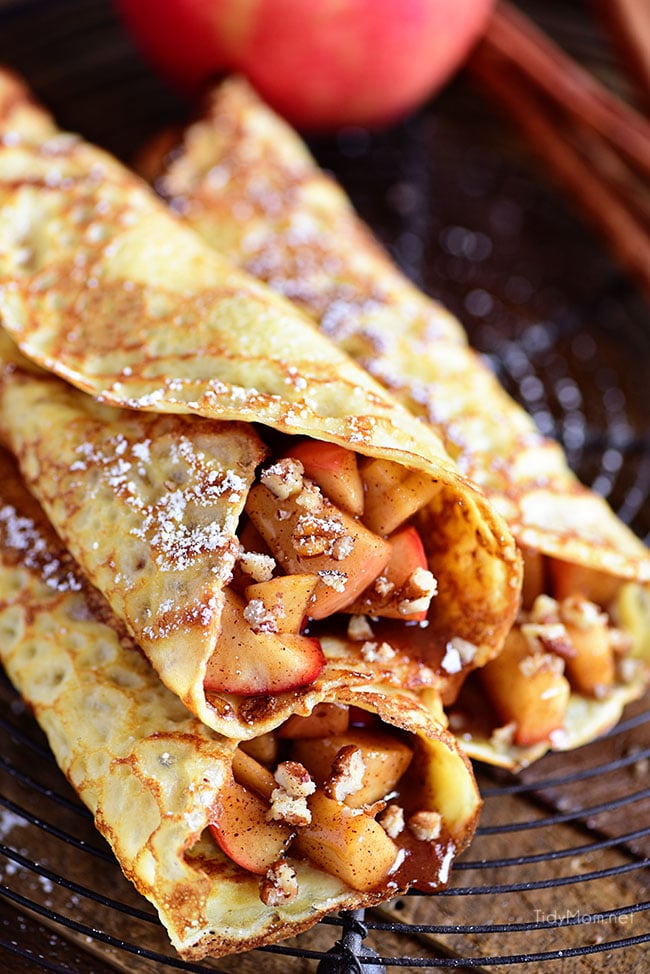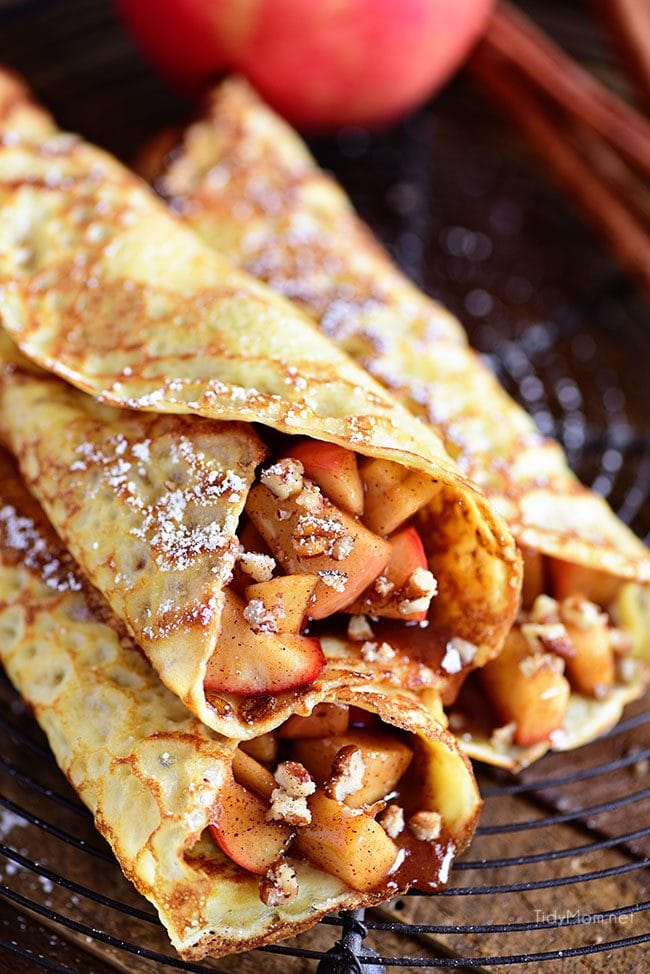 Tips and Tricks to Avoid A Crepe Disaster
Don't Be Afraid to Throw the First Few Out: Crepes are just like pancakes when it comes to the cooking process. It's going to take a little bit for you to get used to handling such a thin batter. So, don't be discouraged if the first couple are a disaster. Just set them to the side, or throw them out and keep trying. It will get so much easier!
Keep Your Eyes On The Skillet: Since the batter is so thin, they can go from golden brown to burnt in seconds. Once you pour the batter, set your timer and keep an eye on your batter just in case. Also remember that once you've made a few, and the skillet gets warmed up, the cooking time will be quicker.
Avoid Stacking The Crepes While Still Warm: This might sound redundant by now, but once again these dessert crepes are thin, which means you have to be careful when handling them. If you stack them like a pancake, they will stick together and rip apart. No one wants a ruined stack of crepes, so avoid stacking them at all costs.
Keep Them Warm In The Oven: If you're afraid of the crepes getting cold while you make the rest of the batch, then set your oven to a low temperature (not any higher than 250 degrees) place the crepes on a baking sheet, and keep adding more as you make them. If you need to stack them, be sure to put a piece of parchment paper between each crepe.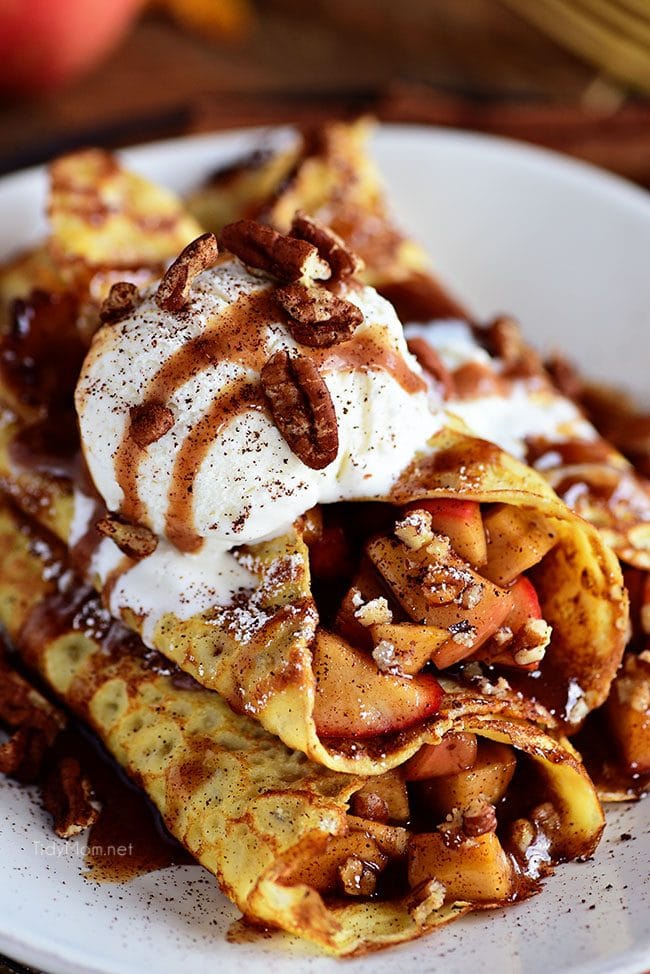 The Best Toppings for Your Apple Crepes
Toppings just make everything better, right? For me, when it comes to toppings, the more the merrier! There are so many different things you can put on top of these apple pie crepes to wow your taste buds!
My personal favorite is a scoop of vanilla ice cream, a little extra sauce from the apple compote, and a sprinkle of cinnamon. Talk about heaven on a spoon! It makes for the most amazing dessert crepe that anyone will love!
If you want to keep it less indulgent, to be served for breakfast or brunch, I suggest topping with vanilla yogurt, a few toasted pecans, apple pie spice, and maybe a drizzle of caramel! With a spread like that, your dish with be the talk of brunch in no time!
Apple Crepes – A Deliciously Customizable Treat
What's the best part about making crepes? Well, for me its how much you can customize each one! If any of you have picky eaters out there, you know making one thing everyone will like seems impossible sometimes.
With that in mind, I set up all of the ingredients to make this exact recipe, but also let my family have free will to create their own concoctions. We discovered that adding a little Nutella under the apple compote takes this apple crepe recipe to a whole new level! It's also just as good without the pecans, and with a little extra ice cream on top!
So what I'm trying to say here is to have fun with this recipe and really make it your own! If you find a new combination you absolutely love, don't forget to share it in the comments! I'd love to see what you guys try at home!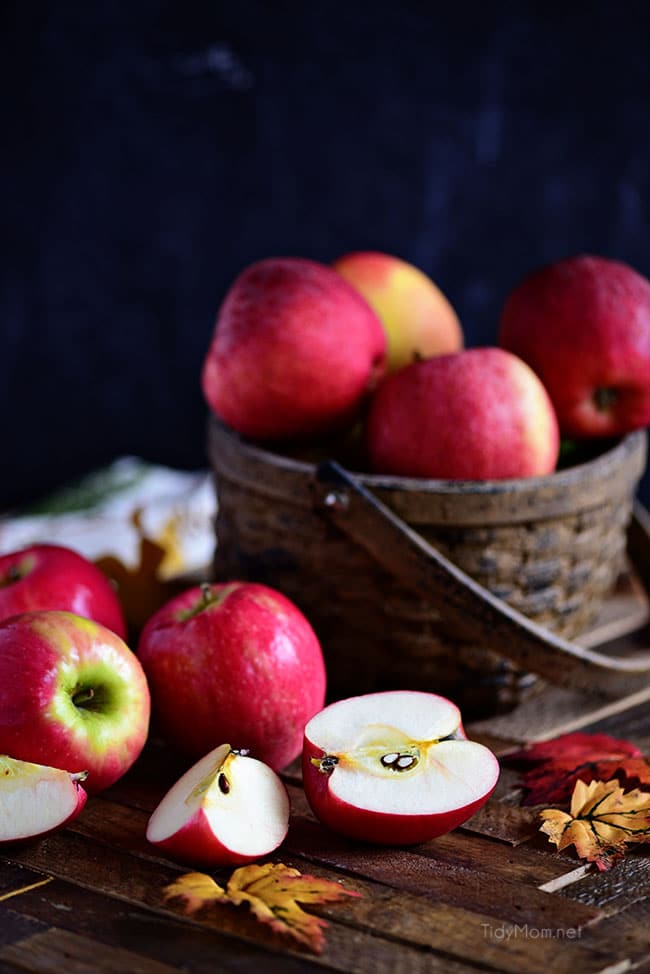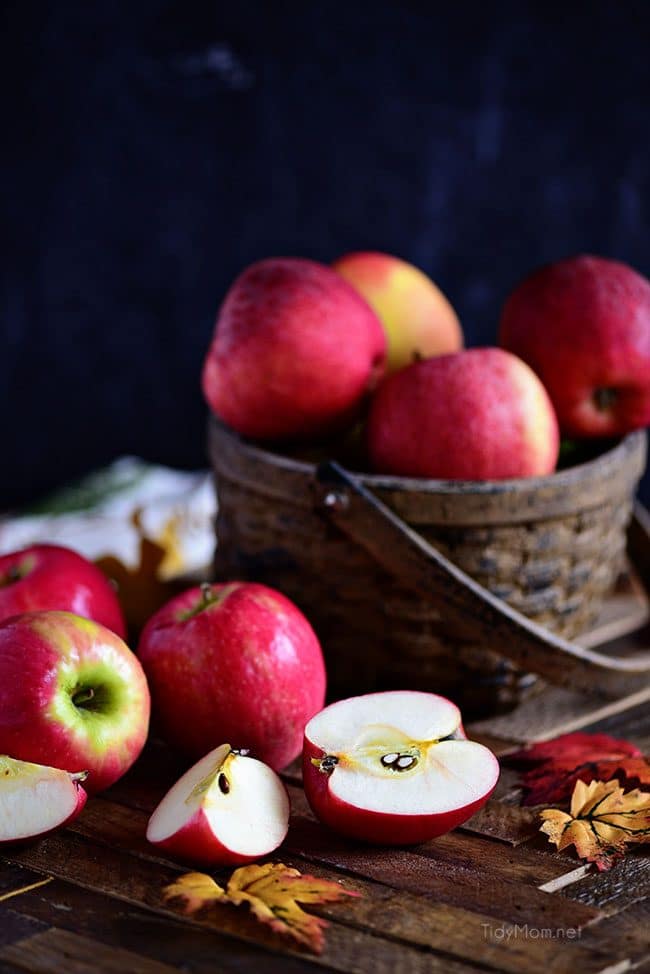 SEE THE RECIPE CARD BELOW FOR DETAILS ON HOW TO MAKE APPLE CREPES. ENJOY!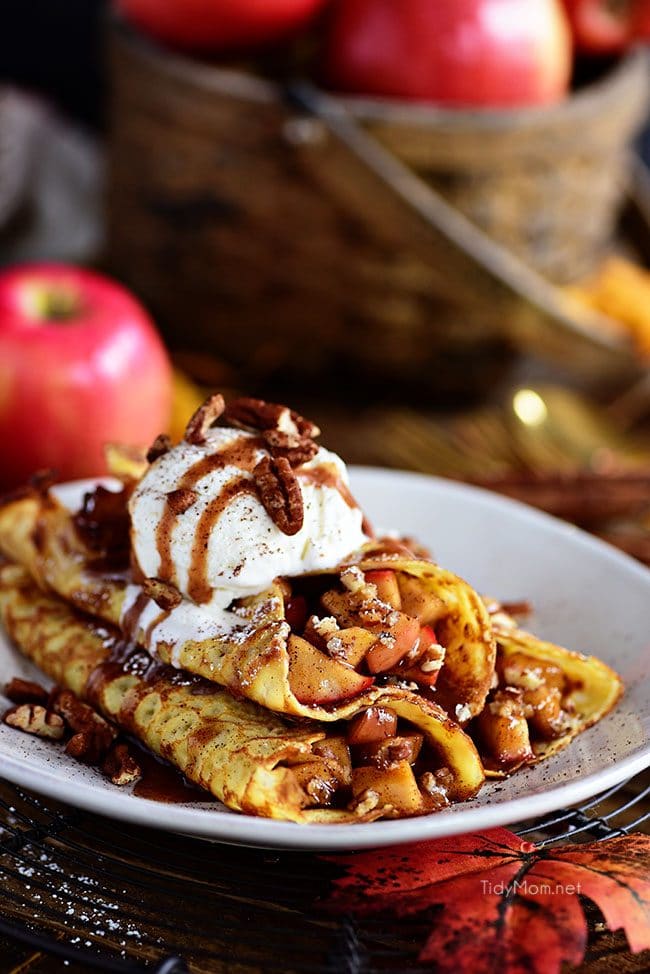 For more delicious fall breakfast recipes be sure to visit my blogger friends below. Enjoy!
Tastes Of The Season Fall Breakfast Recipes: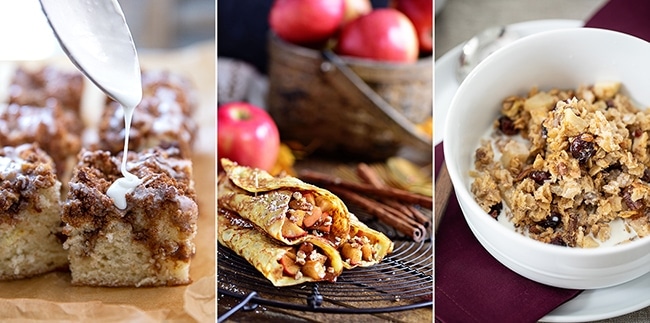 Delicious Coffee Cake by Ella Claire & Co. | Apple Pie Crepes by TidyMom | Apple Cranberry Baked Oatmeal by Inspired by Charm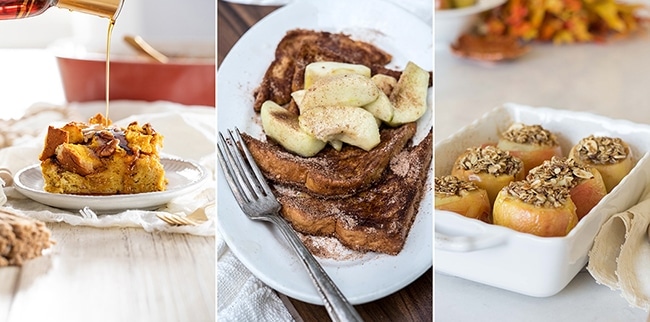 Baked Pumpkin Maple French Toast by Freutcake | Cinnamon Apple French Toast by anderson + grant | Granola Brunch Baked Apples by Handmade Farmhouse
Like this Apple Crepes Recipe? Pin It!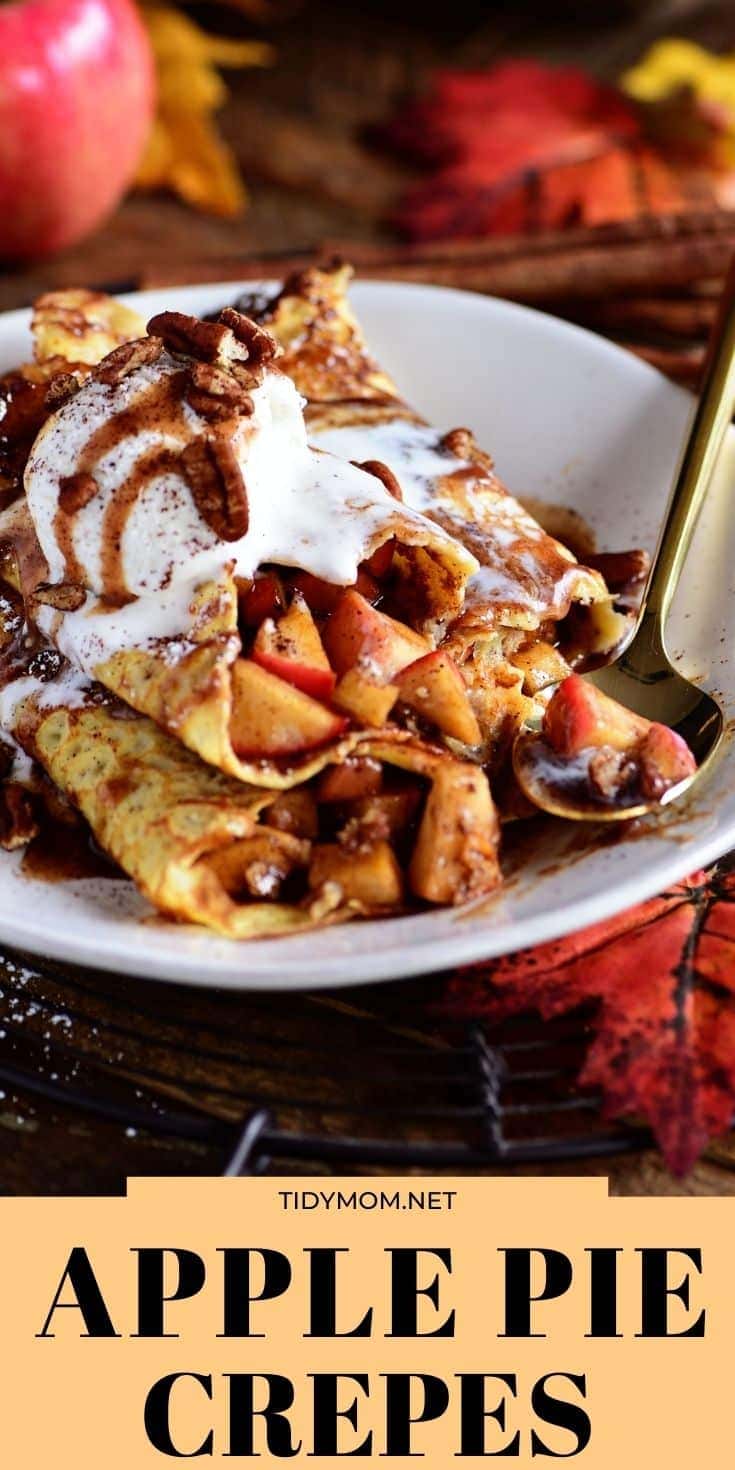 I created a fun little group on facebook and I'd love for you to join in! It's a place where you can share YOUR favorite recipes, home tips, creative ideas and ask questions and see what's new with TidyMom! If you'd like to check it out, you can request to join HERE. Be sure to follow me on Instagram and tag #tidymom so I can see all the wonderful TidyMom recipes YOU make and tips YOU use!
Connect with TidyMom! Facebook|Twitter|Pinterest|Instagram
Sign up to receive an email in your inbox for each new recipe: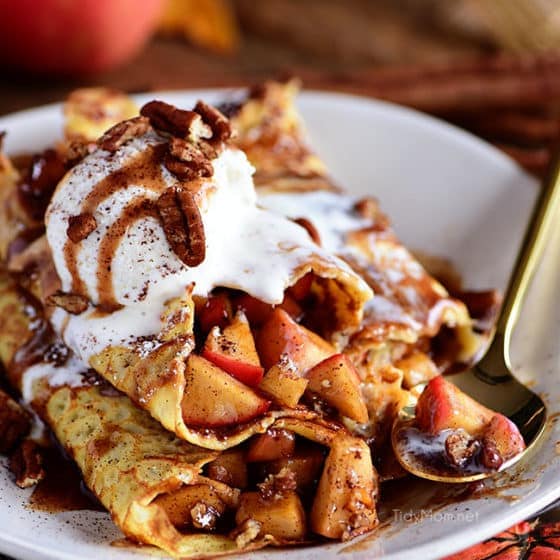 Apple Pie Crepes
Yield: 12 crepes
Cook Time: 30 minutes
Additional Time: 1 hour
Total Time: 1 hour 30 minutes
This Apple Crepes recipe is perfect for fall. The thin French pancakes are filled with a gooey caramel apple compote with toasted cinnamon pecans. These apple pie crepes make the perfect treat any time of the day. Top them with vanilla ice cream for dessert crepes that everyone will be talking about!
Ingredients
Crepes
2 whole large eggs
1 egg yolk
1 cup milk
1/2 cup water
3 Tablespoons butter, melted
1 teaspoon sugar
pinch salt
1 cup all-purpose flour
extra butter to cook with
Apple Pie Filling
3 cups apples diced (about 3-4 apples)  -I use pink lady or granny smith
2 teaspoons apple pie spice
6 tablespoons butter
6 tablespoons brown sugar
Topping
vanilla ice cream or yogurt
Instructions
Combine 2 whole eggs + 1 egg yolk, milk, water, melted butter, sugar, salt, and vanilla in a blender and pulse until foamy. Add flour and pulse until smooth. Let the batter sit for about an hour.
Add diced apple and apple pie spice to a medium bowl. Stir to combine and set aside.
Prepare apple pie filling: Using a medium-size saucepan over medium heat, melt butter. Add brown sugar to melted butter and stir until the sugar has dissolved. Add spiced apples to the pan and let the mixture simmer for at least 15-20 minutes or until apples are soft. Once apples are soft keep warm on very low heat.
Make crepes: After the batter sits for one hour, heat a small (6 or 8 inch) non-stick pan. Add butter to coat. Pour 2 tablespoons of batter into the center of the pan and swirl to spread evenly. Cook until the top loses its gloss, about 1-2 minutes (the bottom should be golden and the crepe should be loose in the pan) and flip. Cook the other side for about 15-30 seconds and then slide out onto a plate. Repeat with the remaining batter.
Keep crepes warm in a 250° F oven with strips of parchment paper in between each crepe.
Prepare crepes by spreading apple filling down the center of the crepe and sprinkle with cinnamon toasted pecans. Fold each side of the crepe over the filling and plate.
Top with vanilla ice cream or yogurt and drizzle with a little of the caramel sauce from the apple filling. Top with pecans and a sprinkle of cinnamon.
Recommended Products
As an Amazon Associate and member of other affiliate programs, I earn from qualifying purchases.
Nutrition Information:
Yield: 12
Serving Size: 1
Amount Per Serving:
Calories: 226
Total Fat: 13g
Saturated Fat: 8g
Trans Fat: 0g
Unsaturated Fat: 4g
Cholesterol: 78mg
Sodium: 123mg
Carbohydrates: 25g
Fiber: 2g
Sugar: 14g
Protein: 4g
Nutrition information is estimated based on the ingredients and cooking instructions as described in each recipe and is intended to be used for informational purposes only. Please note that nutrition details may vary based on methods of preparation, origin, and freshness of ingredients used.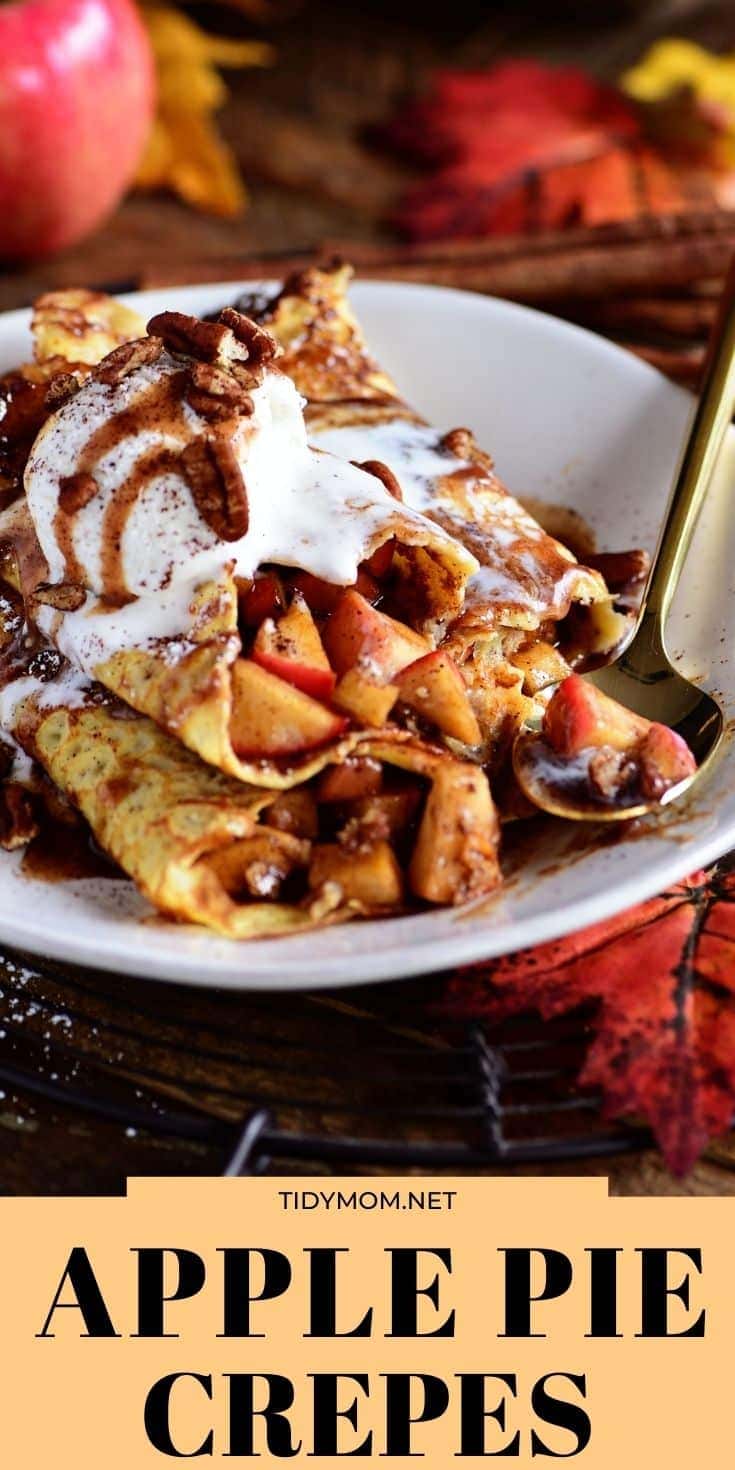 Tidymom is a participant in the amazon services llc associates program, an affiliate advertising program designed to provide a means for sites to earn advertising fees by advertising and linking to Amazon.com.
Please respect my work, recipes and photographs. If you do use a recipe in your own writing, please give proper credit and link back to the original post.