Fall Salad Recipe With Butternut Squash
Savory sweet autumn favorites in a salad! Velvety roasted butternut squash with vibrant greens, juicy apples, crunchy pepitas, and tangy Pecorino cheese. Drizzled with maple dijon dressing, it's a fall salad recipe that will definitely survive the winter!
Summer is slowly giving way to crisp air, changing leaves, and, best of all, fantastic fall recipes! It's time to pull out some of our favorites like Butternut Squash Smoked Gouda Cheese Dip, Pumpkin Snickerdoodle Cookies, Maple Braised Butternut Squash, and de-lightful Apple Cider Bourbon Cocktail. (I know, right?!)
Be sure to sign up for my email… to get new recipes and ideas in your inbox!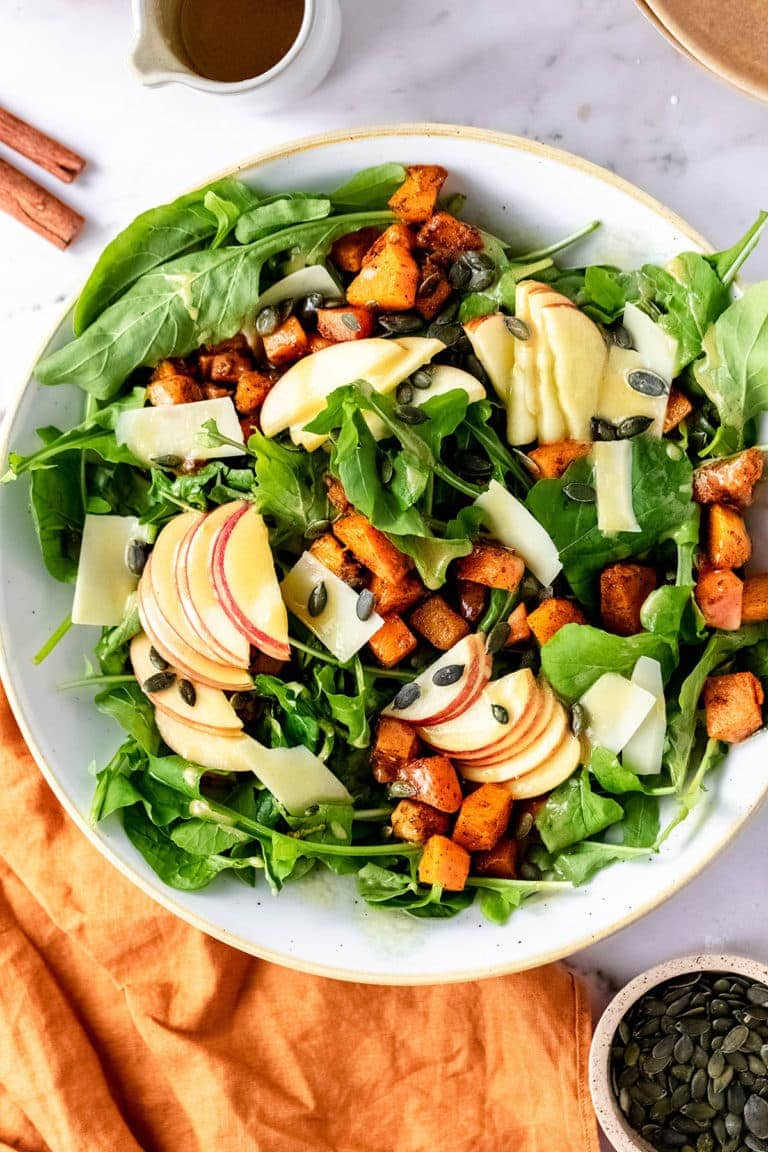 I've noticed about twice a year that my "favorite" season seems to change. A long cold winter? I can't wait for warmer days, and I love summer! Then, a sweltering summer, and I am all about loving fall and not just for the weather! From pumpkin recipes to hearty soups and roasted butternut squash, I love the ability to use autumn fruits and vegetables in nutritious fall salad recipes!
Why We Love Butternut Squash Salad
This fall salad recipe comes with its own perfectly balanced sweet and savory maple dijon vinaigrette recipe! It's da bomb!
You can't beat this butternut squash salad for a healthy and satisfying fall lunch idea.
Add roasted chicken or crispy pork medallions to make fall harvest salad a meal.
Easy to throw together when you make extra roasted butternut squash on hand!
Pre-packaged or frozen butternut squash cubes get this fall harvest salad with maple vinaigrette on the table in no time.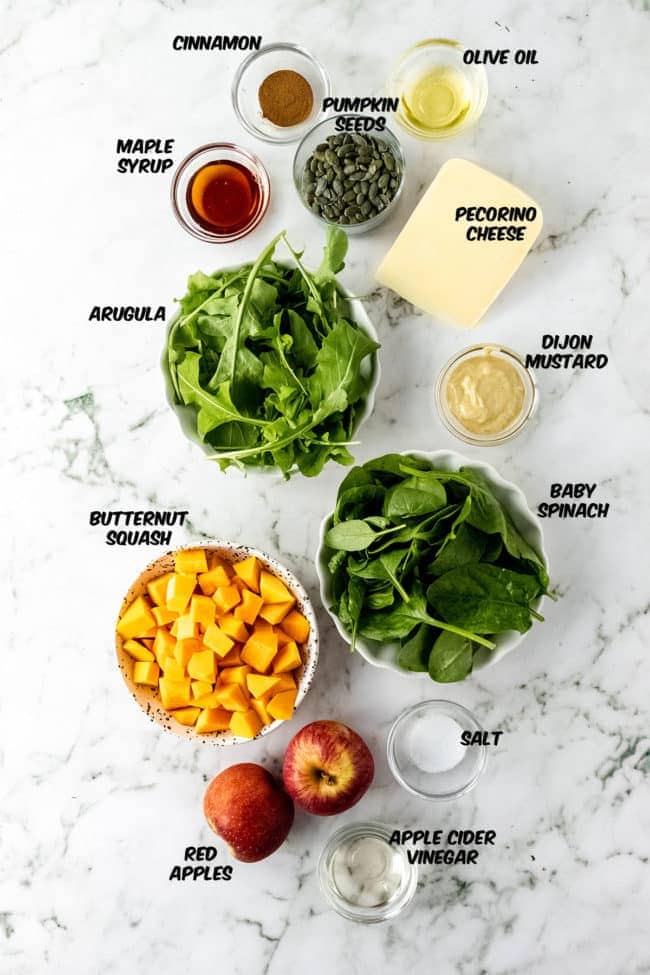 Fall Harvest Salad Ingredients
Butternut Squash – peeled and cubed into perfect fall salad-sized bites for baking squash.
Olive Oil – save the EVOO for the maple dijon mustard salad dressing, and use pure or light olive oil if you have it for roasting butternut squash.
Ground Cinnamon – warm smokey wood notes officially associated as a fall harvest spice.
Salt – use sea salt whenever possible.
Baby Spinach – small, delicate leaves that have a mild pleasant taste in a harvest salad recipe.
Arugula – a peppery, subtly spicey, edible leaf that is bright and contrasting to the sweeter ingredients in butternut salad.
Red Apples – cored and sliced thin or cut into chunks, your preference. Choose the kind you like best.
Pumpkin Seeds – Pepita seeds are Styrian (oil seed) pumpkins with green oval-shaped, hulless seeds.
Shaved Pecorino Cheese – is a hard, salty cheese similar to Parmesan in consistency but with a sharp, tangy grassy flavor from sheep's milk. Parmesan has a nutty, almost fruity taste in comparison, made from cow's milk and aged much longer.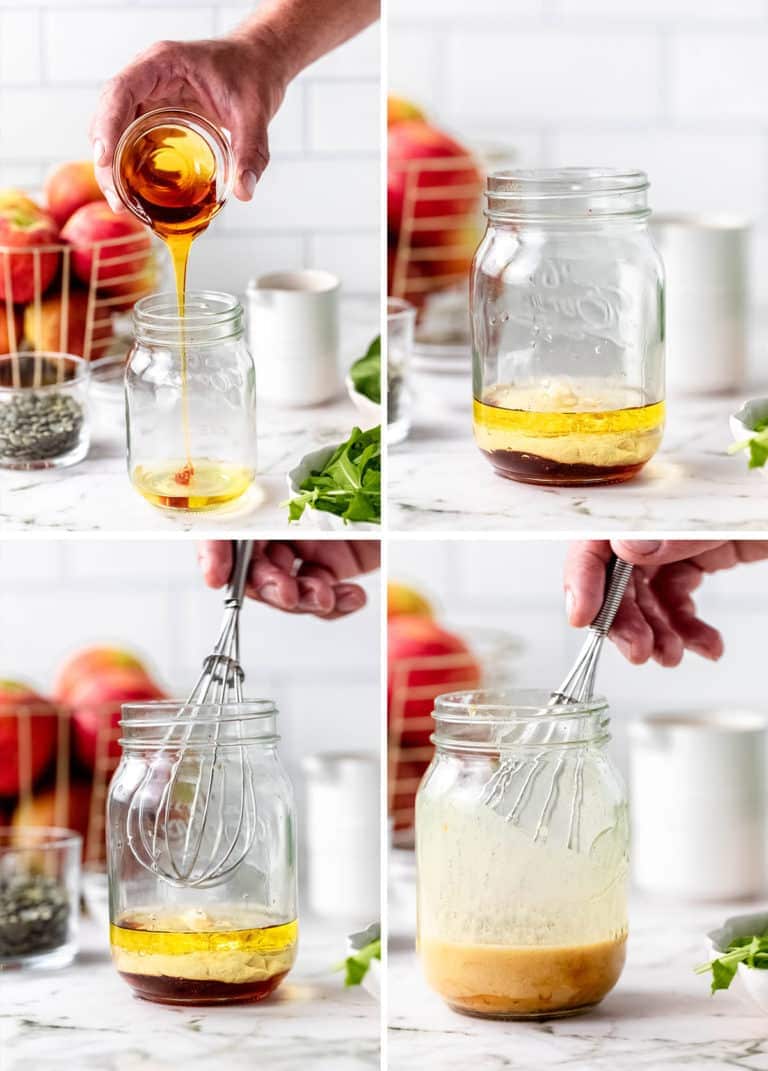 Maple Dijon Dressing
Whisk together:
Dijon Mustard
Maple Syrup
Apple Cider Vinegar
Olive Oil
Salt & Pepper
You can make maple dijon mustard in advance and refrigerate it.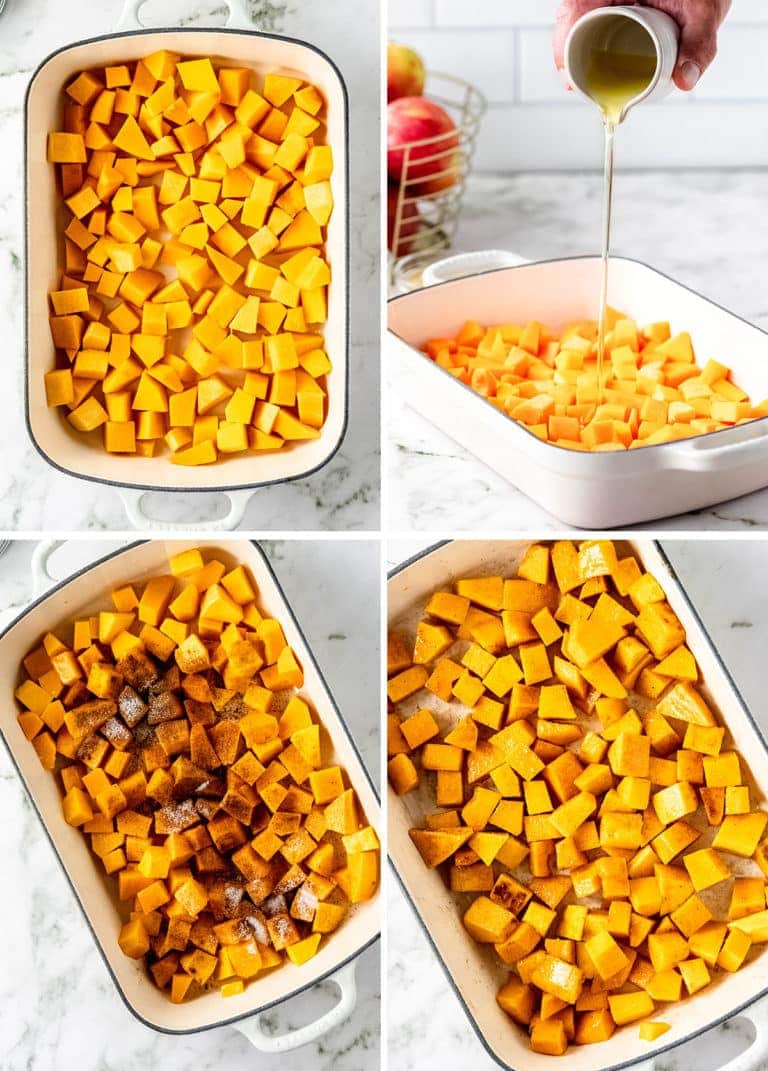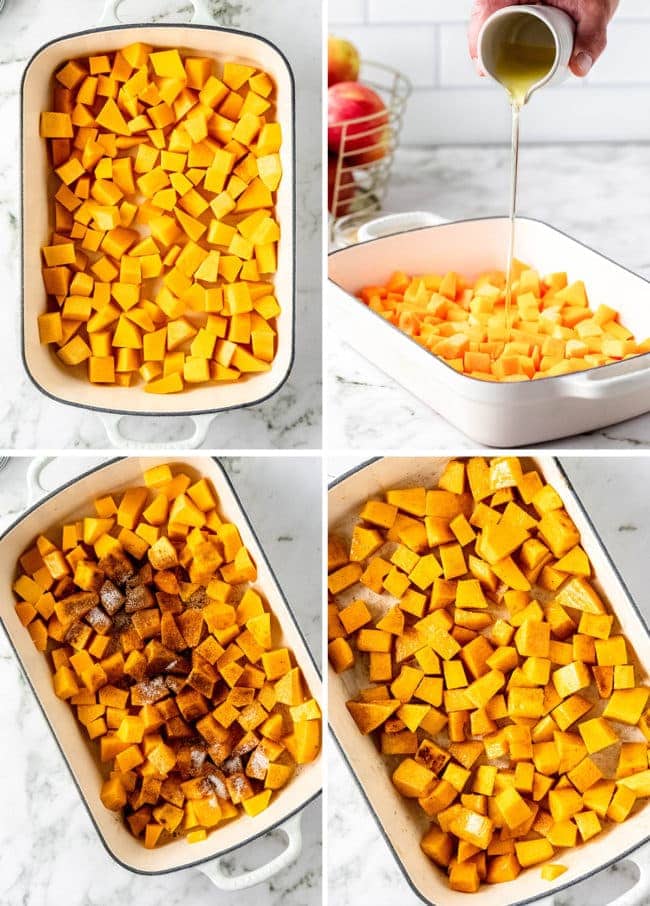 How To Make Fall Salad Recipe With Butternut Squash
(full printable recipe at the end of this post)
All you need to make a butternut squash salad is a roasting dish or sheet pan, a large salad bowl, and 30 minutes for a mouthwatering fall harvest salad!
Combine and coat butternut squash with olive oil, cinnamon, and salt in a roasting dish and bake for 20-25 minutes.
Remove from oven and allow to cool.
Layer the greens in a large bowl, then arrange apples and pumpkin seeds.
Top with the cooled butternut squash and garnish with Pecorino cheese.
Serve with maple dijon mustard dressing.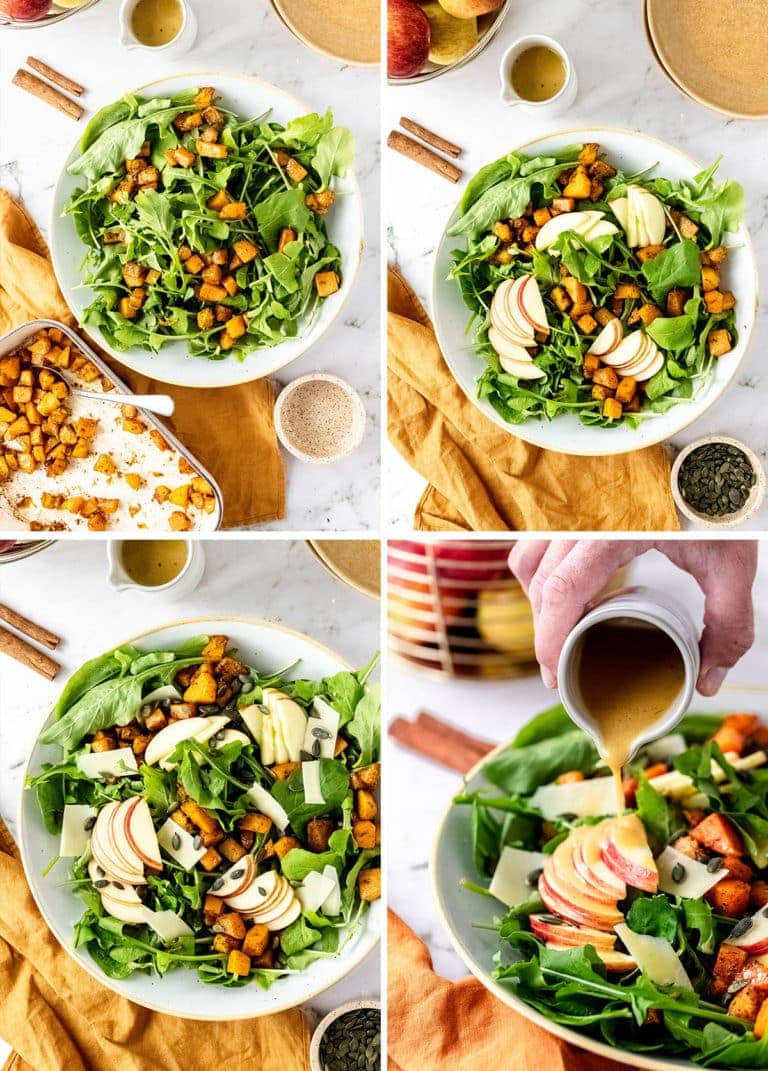 Fall Butternut Squash Salad Recipe Notes
Whole butternut squash can be stored for several months. Keep a few on hand, so you can throw together a delicious fall salad or butternut squash recipe whenever needed.
Buy cut pre-packaged or frozen butternut squash to save the prep work.
Make a double batch of maple mustard dressing, store in a jar, and refrigerate for several days.
Maple vinaigrette is great for any fall salad recipe or used as a marinade for chicken and pork!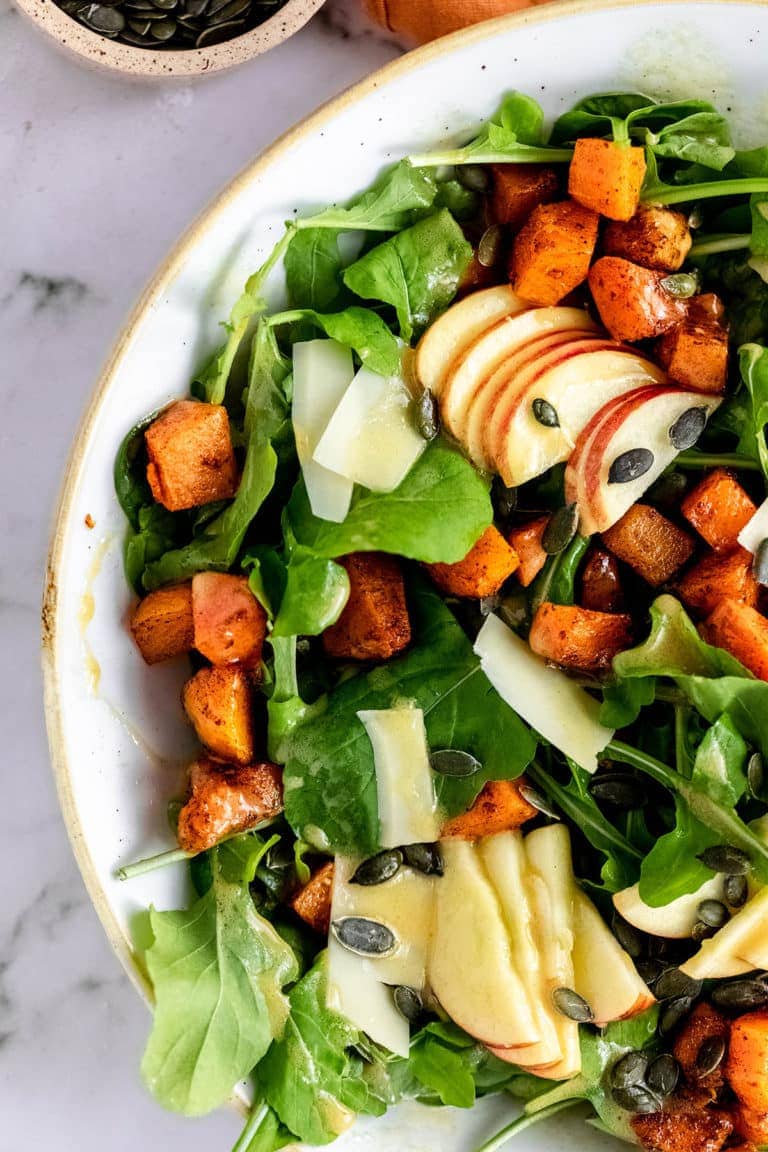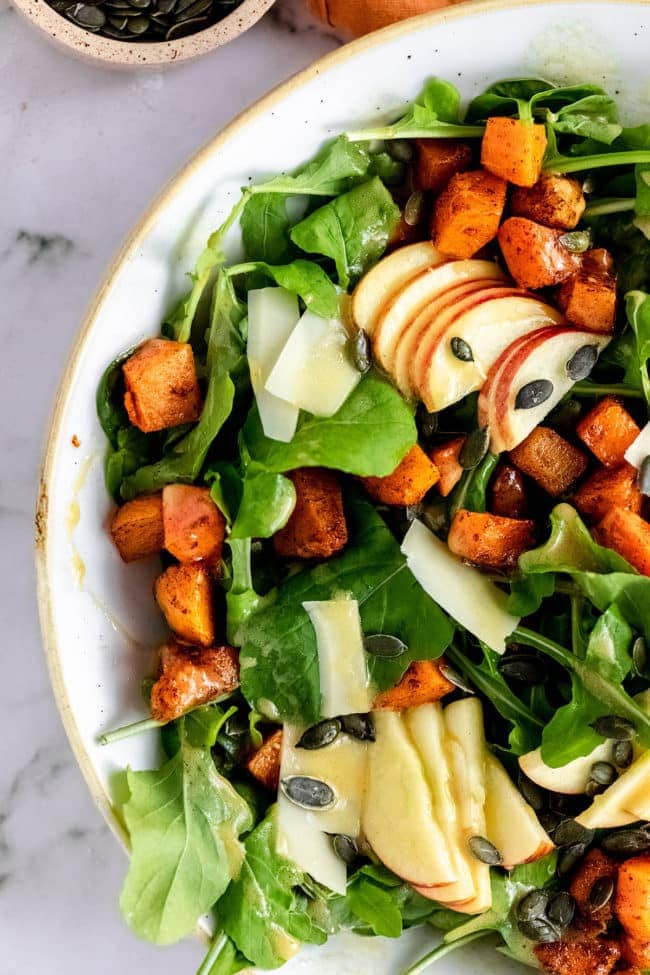 Fall Harvest Salad Recipe Substitutions & Additions
This may be shocking, but there is a rumor that some people think cinnamon just "isn't their cup of tea." And I think arugula is like cilantro; most people either love it or dislike it intensely.*
No need to panic; I've got some great substitutions for the fall harvest salad, so no one puts a kibosh on this delicious butternut fall salad for you!
Mild Lettuces: (Available year-round)
Iceberg
Leaf
Butter
Romaine
More Pungent Greens: (In season in Fall)
Belgium Endive
Dandelions
Kale
Radicchio
Swiss Chard
Salad Savoy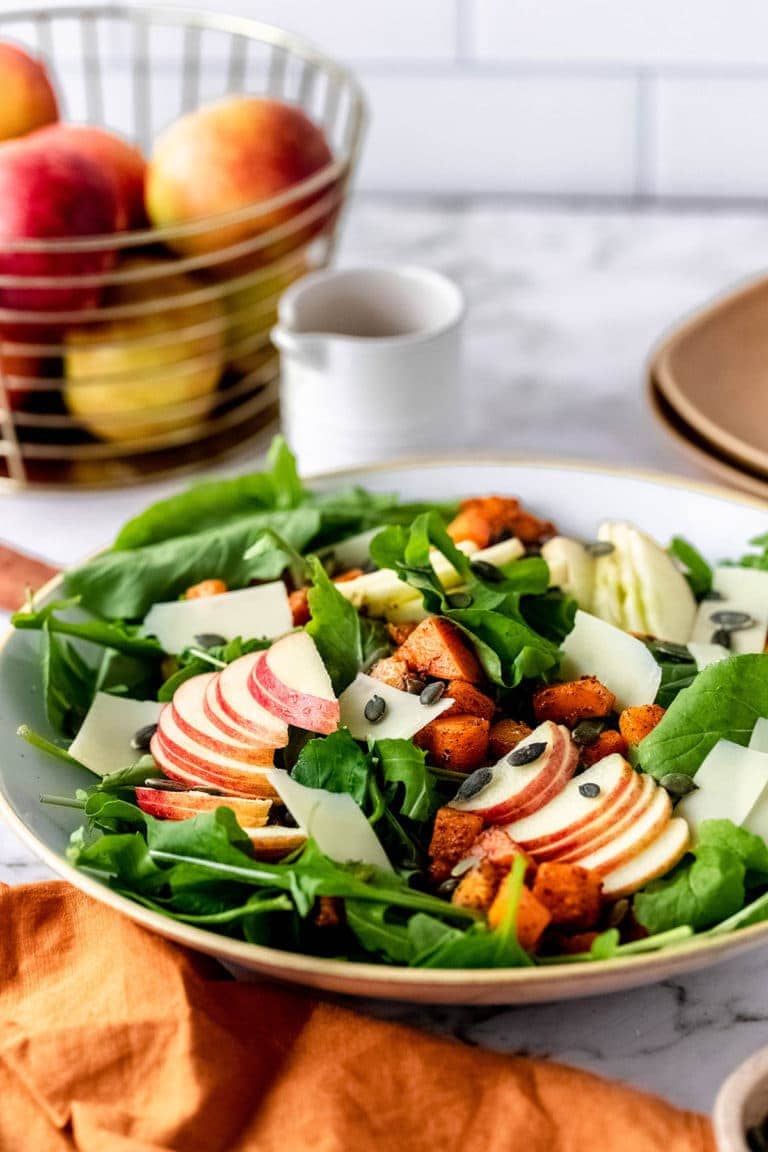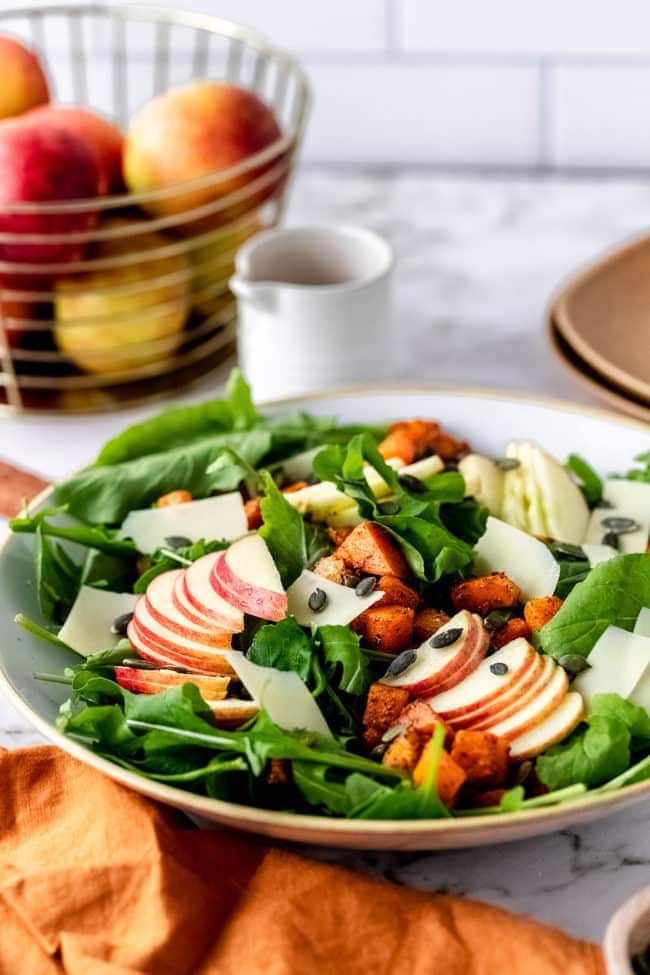 Cinnamon is uniquely spicey and sweet and always complements butternut squash, except if you aren't a cinnamon fan! It can be replaced with spice(s) that are palate pleasing and mesh well with maple dijon dressing. Here are a few options for you to consider: garlic, thyme, sage, and rosemary.
Use any apples you enjoy, although tougher-skinned apples like McIntosh, Red Delicious, or Lodi's might need to be peeled for a harvest salad.
Not down with apples? Soft-skinned pears are delectable substitutes!
Parmesan is easily switched out for Pecorino cheese. Just an FYI, Parm is less salty than Pecorino at a 1:1 exchange. A soft, salty cheese like crumbled feta or blue cheese will fix your fall salad recipe right up too!
No pumpkin seeds to be found? Add any tree nuts on hand and consider toasting or glazing them.
Bacon pieces or roasted chicken breast bolster up a fall salad lunch idea right into dinner!
Throw in some cut asparagus spears (blanched or raw) or yummy roasted Brussels sprouts.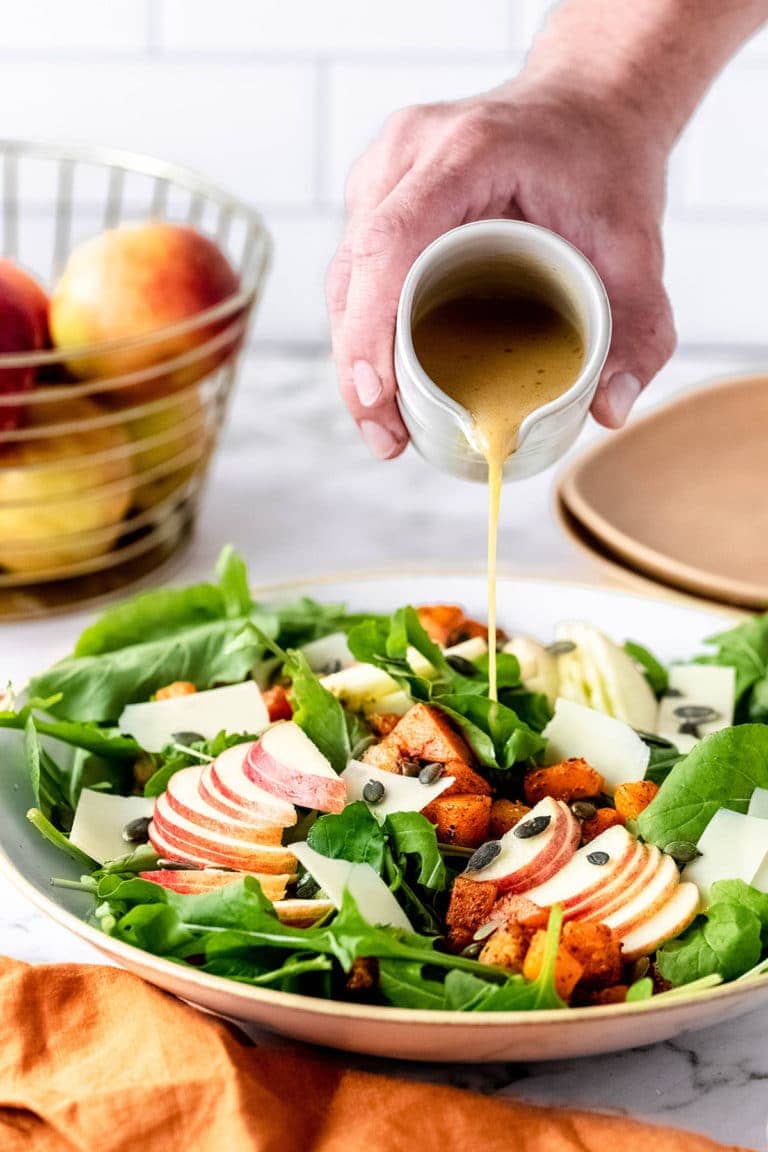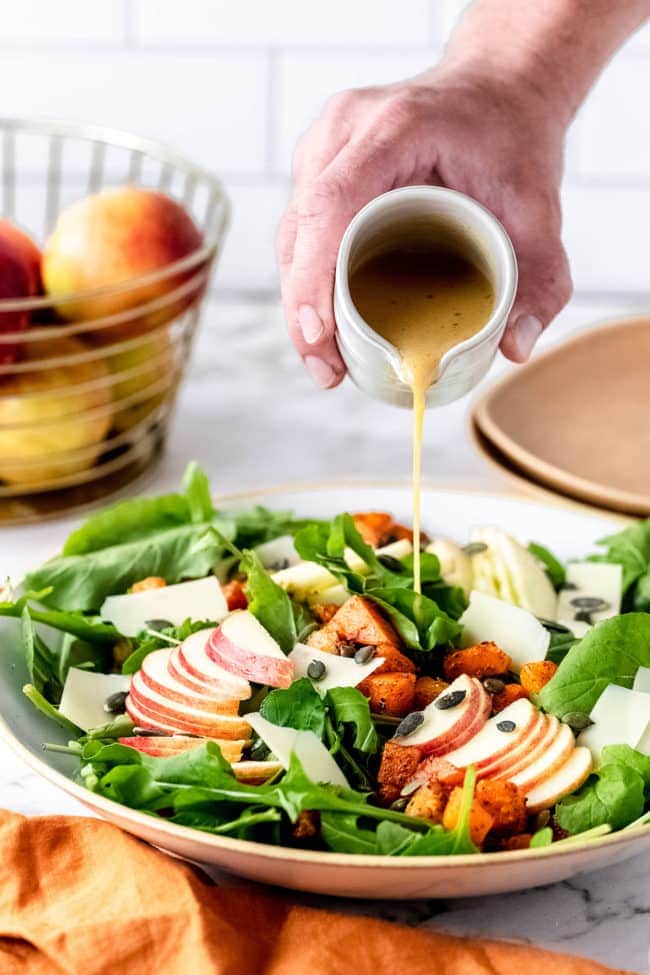 Serving Suggestions
Harvest salad is an excellent partner to Creamy Chicken & Wild Rice Soup for a weeknight soup and salad!
On its own, serve this fall salad recipe with Easy Pull Apart Garlic Bread or Dilly Cheese Bread.
Butter pecan cookies would be ideal for serving with a fall salad lunch. The instructions to glaze nuts for this butternut squash salad recipe are also part of the Butter Pecan Cookies recipe. An Easy Broccoli Cheddar Quiche or Tomato & Basil Pasta Frittata makes a great combo with a harvest salad for luncheons or brunch.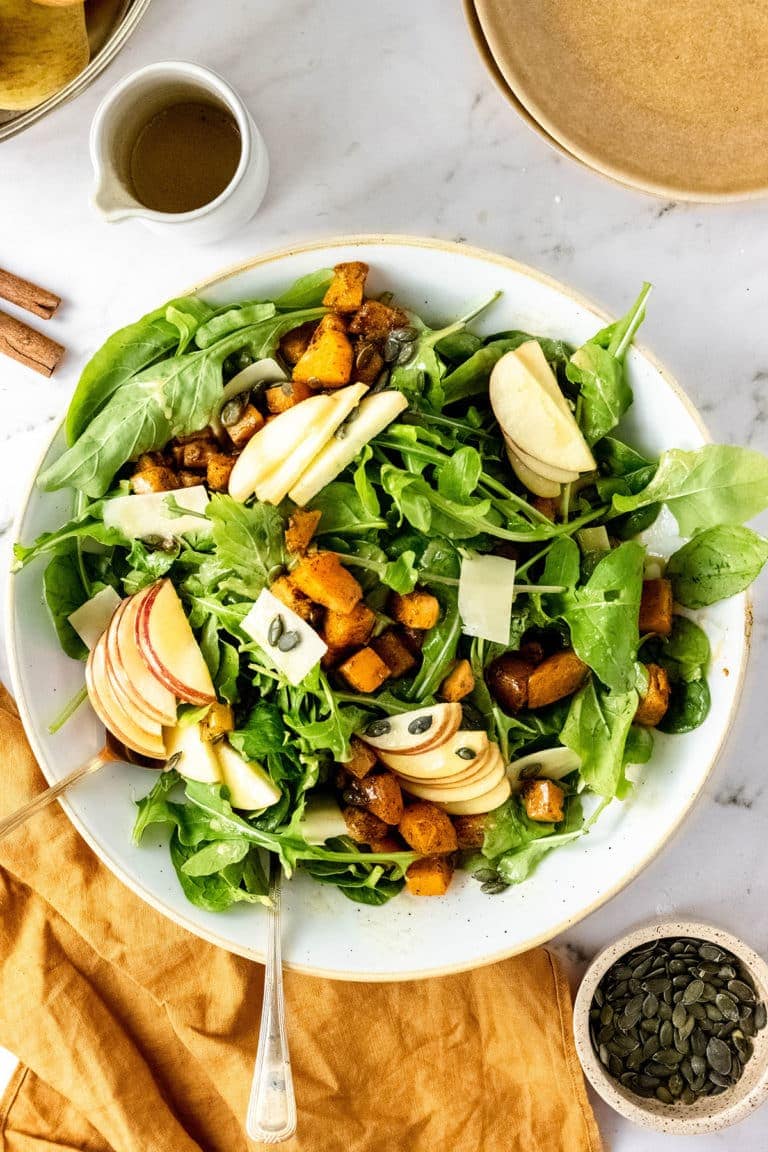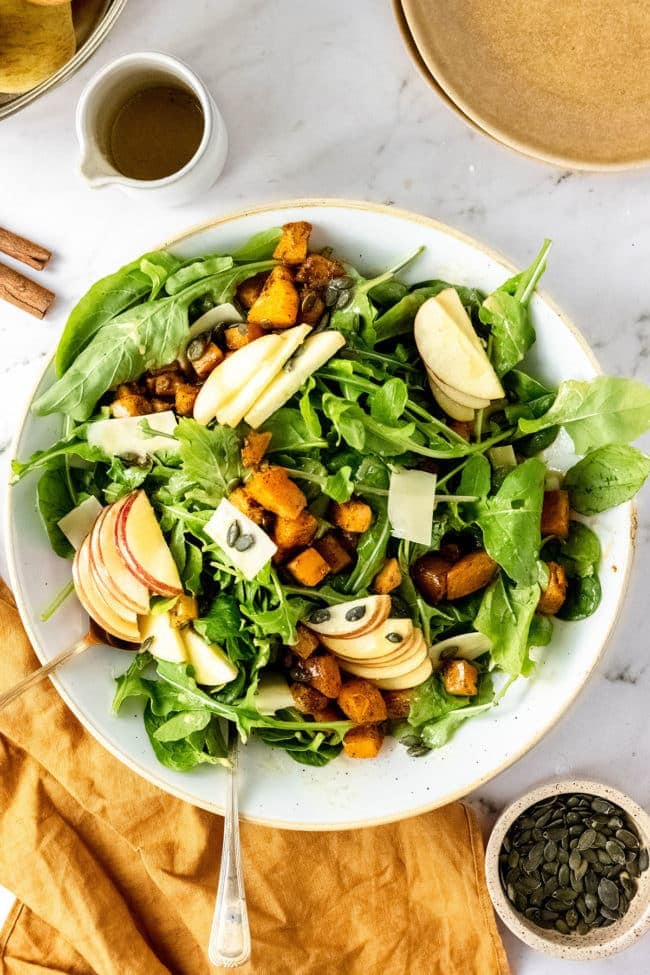 Butternut Squash Salad FAQs
What are pepitas?
Pepitas are hulless roasted pumpkin seeds, either salted or unsalted. Pepitas don't come from a "Jack-o-lantern" pumpkin but from a Styrian, oil seed pumpkin grown for the tasty morsels and pumpkin seed oil.
Do you cut the skin off butternut squash?
Yes, prepping whole butternut squash for fall salad recipes should be peeled before roasting. Roasted butternut squash skin tends to be chewy, and the texture is jarring in a salad.
Can you eat butternut squash raw?
Yes! Raw butternut squash is edible. If you'd like to use raw butternut squash in your fall salad recipe, try using a vegetable spiralizer, peeler, or grater to shave it into thin strands or ribbons. If the squash isn't as young or tender as you'd like, go ahead and sprinkle with a little salt or toss with a bit of the maple mustard dressing.
Is the skin edible on a butternut squash?
Yes! Give it a good wipe-down first. If you harvested your own butternut squash, bought one freshly picked from a farmers market, or trust your grocer when he says it is very fresh and tender, the skin is quite good roasted. If you are making soup, there is no need to peel the skin. It will blend right up with the flesh.
Like This Recipe? Pin It!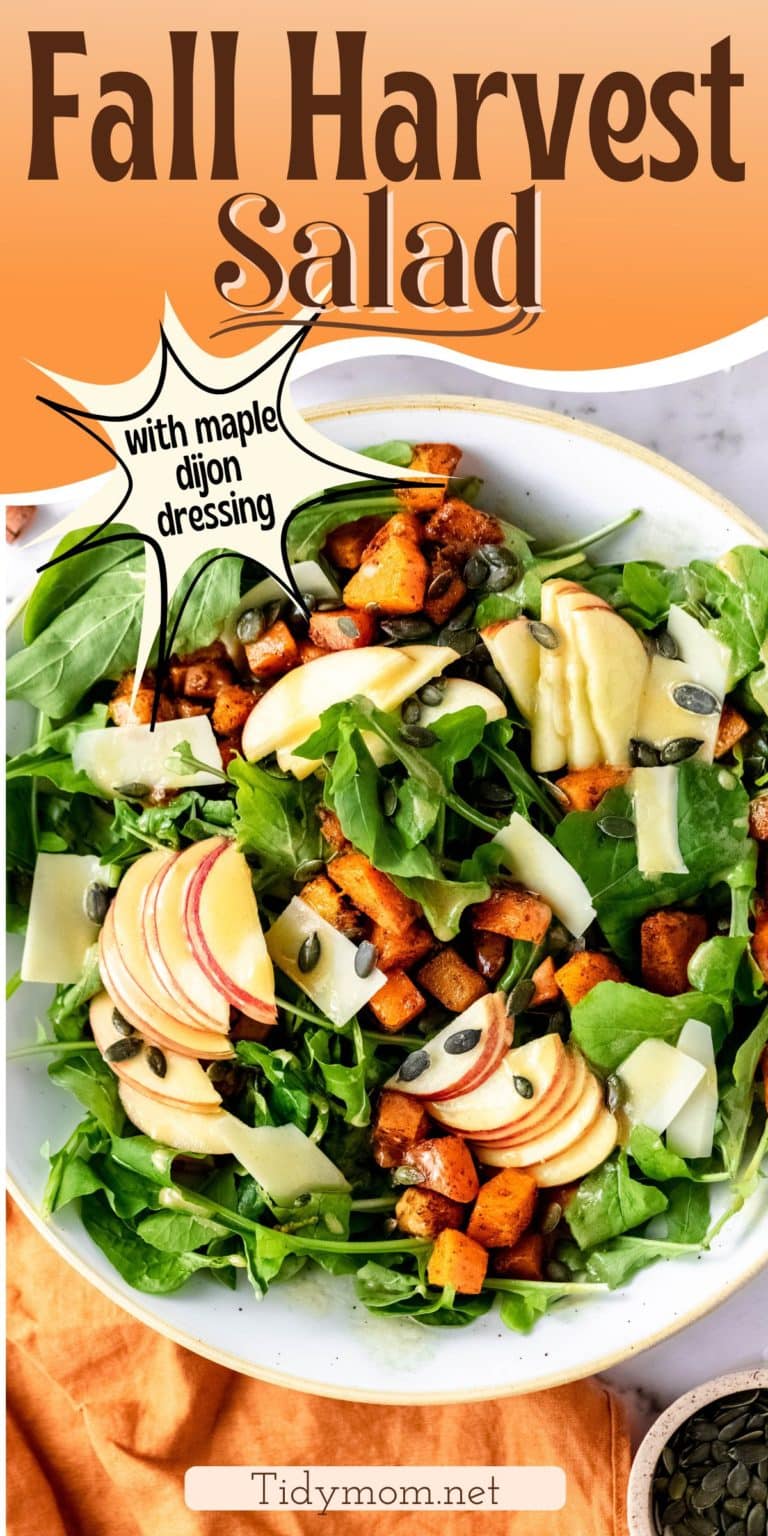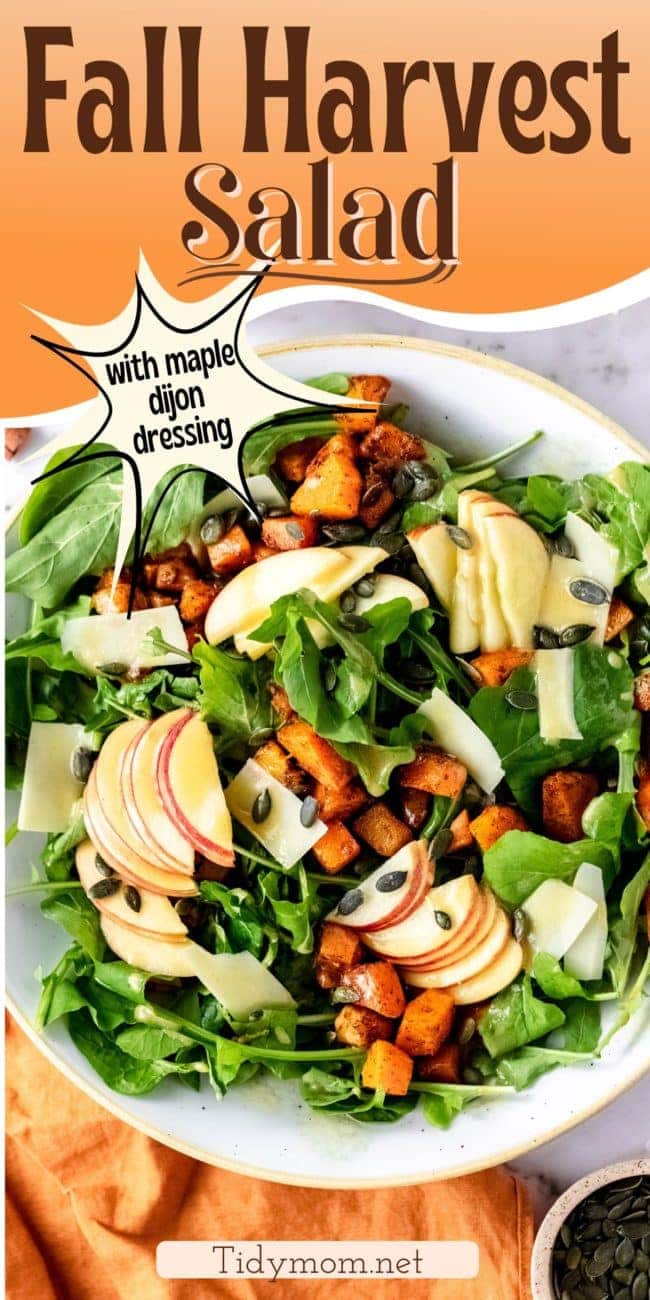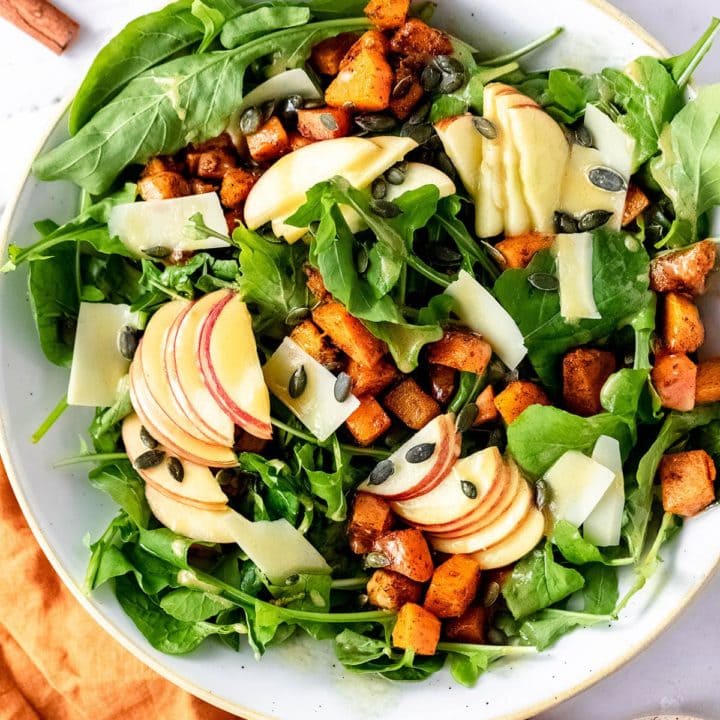 Fall Salad Recipe With Butternut Squash
Yield: 2 large salads or 4 side salads
Prep Time: 10 minutes
Cook Time: 20 minutes
Total Time: 30 minutes
Ingredients
2 cups butternut squash, peeled and cubed
1 tablespoon olive oil
1 teaspoon ground cinnamon
1/2 teaspoon salt
2 cups baby spinach
2 cups arugula
2 red apples, cored and sliced
4 tablespoon pumpkin seeds
1/4 cup shaved pecorino cheese (or Parmesan)
Dressing
2 tablespoons dijon mustard
2 tablespoons maple syrup
1 tablespoons apple cider vinegar
1/4 cup olive oil
Salt & pepper too taste
Instructions
Preheat the oven to 425° F.
Add the butternut squash, olive oil, cinnamon, and salt to a roasting dish (or sheet pan) and toss to combine and coat the butternut squash.
Bake the butternut squash for 20-25 minutes or until the vegetables are tender. Remove from oven and allow to cool.
In a large salad bowl, layer the remaining ingredients, starting with the baby spinach and arugula.
Then add the remaining ingredients and top with the cooled butternut squash and cheese.
Dressing:
Whisk all of the ingredients for the dressing using a small whisk, fork, or shake in a jar to combine all the ingredients.
Serve with fall harvest salad or store in the refrigerator.
Recommended Products
As an Amazon Associate and member of other affiliate programs, I earn from qualifying purchases.
Nutrition Information:
Yield: 4
Serving Size: 1
Amount Per Serving:
Calories: 314
Total Fat: 20g
Saturated Fat: 3g
Trans Fat: 0g
Unsaturated Fat: 16g
Cholesterol: 5mg
Sodium: 635mg
Carbohydrates: 34g
Fiber: 7g
Sugar: 18g
Protein: 5g
Nutrition information is estimated based on the ingredients and cooking instructions as described in each recipe and is intended to be used for informational purposes only. Please note that nutrition details may vary based on methods of preparation, origin, and freshness of ingredients used and are just estimates. We encourage, especially if these numbers are important to you, to calculate these on your own for most accurate results.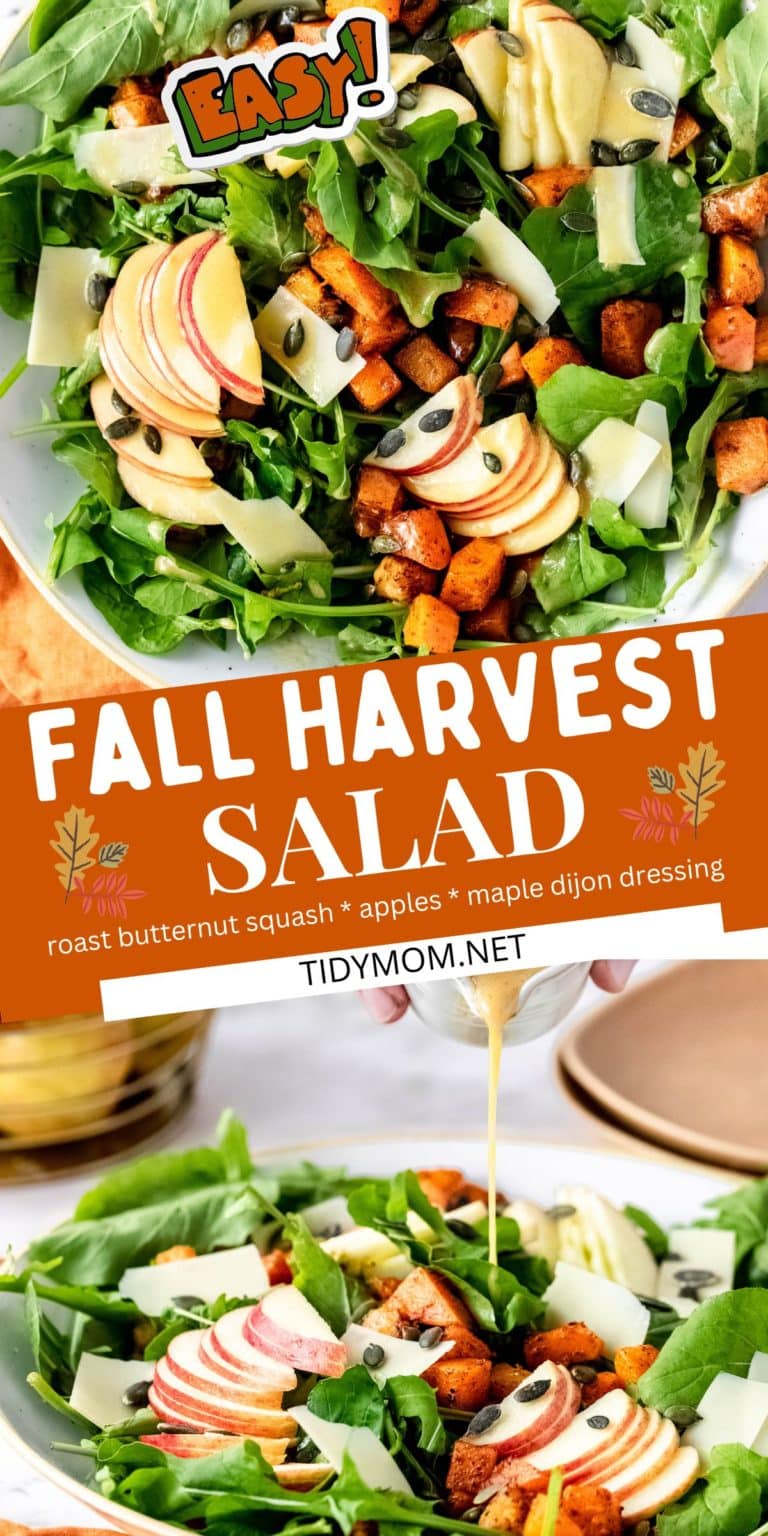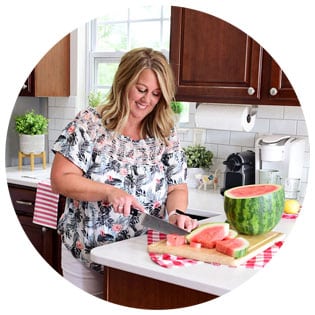 Hi there, I'm Cheryl!
As a wife, mom, and caffeine enthusiast, my journey has taken me from bustling mornings with my family to sharing delicious recipes, home care tips, and heartfelt decorating insights with wonderful readers like you. My love for baking, photography, and tidiness shines through every post I craft. Dive into my world and discover the art of homemaking, one tidy moment at a time. Read more...
Tidymom is a participant in the amazon services llc associates program, an affiliate advertising program designed to provide a means for sites to earn advertising fees by advertising and linking to Amazon.com.
Please respect my work, recipes and photographs. If you do use a recipe in your own writing, please give proper credit and link back to the original post.