The Best Chicken Waldorf Salad
Waldorf Salad – satisfyingly crunchy, tangy, and sweet. A classic creamy chicken salad mix made with celery, apples, nuts, and a hefty dose of history. "Old Stuff" never tasted so good!
Chicken Waldorf salad can easily be a meal all on its own alongside Homemade Artisan Bread. It's also a great addition to any holiday meal. Make an Apricot Honey Glazed Ham with a side of Oven Roasted Parmesan Asparagus, Make-Ahead Mashed Potatoes, and Pull-Apart Garlic Rolls to serve with this Waldorf Salad. Holiday meal is done! Don't forget some dessert too!
Be sure to sign up for my email… to get new recipes and ideas in your inbox!
What Is Waldorf Salad?
The Waldorf salad is a delicious side dish that has a lofty reputation, but it sure began with humble ingredients: only mayonnaise, apples, and celery. These three classic Waldorf salad ingredients are the foundation for a bonanza of flavor-packed Waldorf salad recipes!
The addition of seedless grapes and toasty walnut/pecan notes only enhance the creamy, tart, sweet, and addictively satisfying crunch of Waldorf salad! It's love at first bite!
Waldorf salad is one of the easiest fruit salads and is great to make for holiday meals, potlucks, BBQs, weekend get-togethers, and dinner any night that you're looking for something simple and tasty.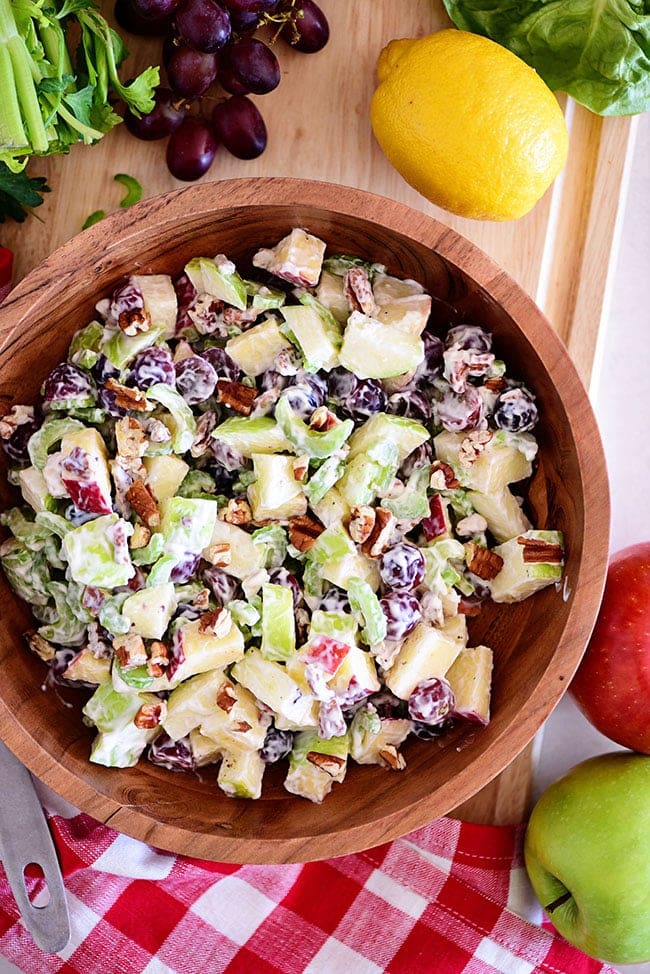 Why You'll Love This Chicken Waldorf Salad Recipe
I know this sounds funny, but Waldorf salad eats as good as it tastes! The taste and textures make this Waldorf recipe a pleasurable nosh for any occasion!
Creamy, refreshing, and delicious in a few easy steps: Prep, whisk, and mix. Chill and serve!
Depending on which side of the fence you stand, some cooks love making this chicken Waldorf salad a day ahead. "The flavors marry well when mixed and chilled overnight."
On the other side of that pesky fence, "the best Waldorf salad recipe is wonderfully easy to throw together and is served the day it is prepared."
Ooh, I should tell you that chicken Waldorf salad makes excellent wraps and sandwiches too! Try using whole wheat tortillas, lettuce leaves, or croissants for a fresh twist on lunch!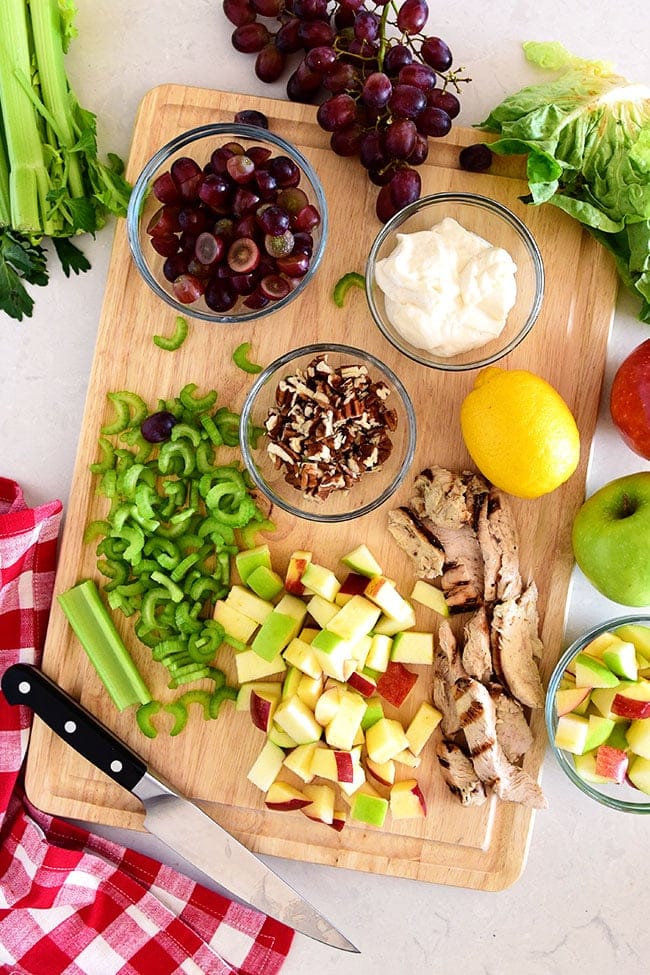 Waldorf Salad Ingredients With Chicken & Apples
(full printable recipe at the end of this post)
If you like a salad loaded with protein and fiber but low in saturated fat, cholesterol, and salt, then this Waldorf salad recipe is right up your alley!
Mayonnaise – We Prefer Miracle Whip with it's tangy zip, sweetness, and secret blend of spices.
Lemon Juice – fresh is always best! Be sure to zest the lemon before juicing and freeze it to save for another recipe. (Like incredible Lemon Brownies w/Lemon Glaze, they are the bomb!)
Kosher Salt & Ground Black Pepper – to taste.
Apples, Cored, And Chopped – (Red, Green, Or Both) The crispness of the apples is the make or break for chicken Waldorf salad recipes. Avoid using only sweet apples because you need that touch of acidity from green apples for the optimum flavor profile.
Seedless Red Grapes – or 1/4 cup dried cranberries or raisins. You can use any grape you like but wash and allow to dry before halving.
Celery, Thinly Sliced – use crisp green stalks, de-string if necessary.
Chopped Pecans Or Walnuts – the best nuts are toasted nuts! The few extra minutes are worth it for both taste and texture.
Lettuce Leaves – I prefer Boston or romaine.
Ground Cinnamon Or Nutmeg – just a dash for added flavor
Cooked And Chopped Chicken Breast – (optional ingredient) this is a great way to use leftover or rotisserie chicken.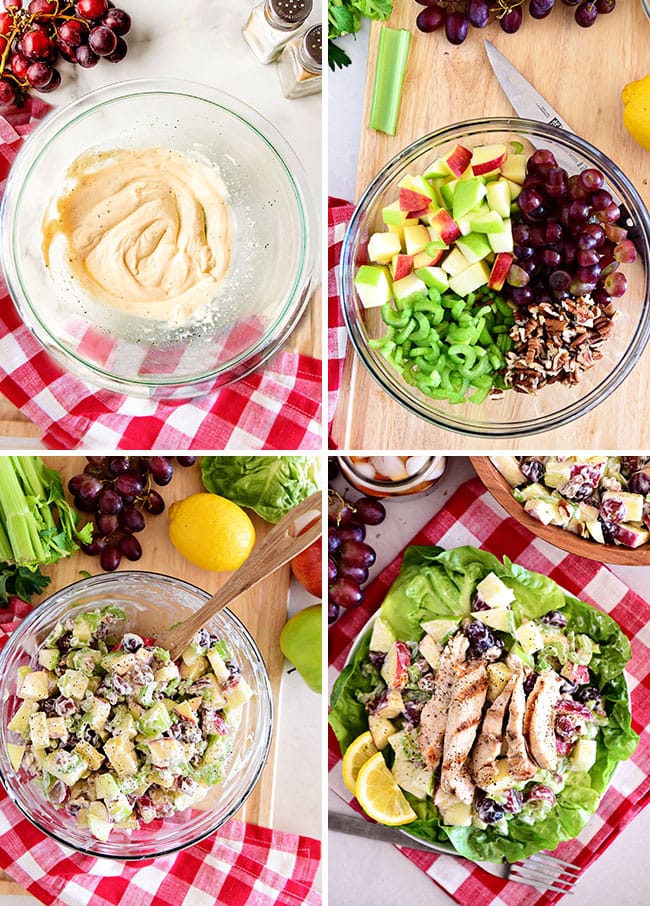 This Is How To Make The Best Waldorf Salad
Once you've sliced and diced your apples, grapes, and celery, you're ready to go! All you need is a whisk and a mixing bowl.
Whisk the mayo, yogurt, lemon juice, salt, and pepper for the Waldorf salad dressing. Add the rest of the ingredients except the nuts, and toss until the mixture is well coated. Chill well, mix in nuts or sprinkle on top right before you're ready to set out. Serve on lettuce leaves.
* My take is this salad is best prepared the day you are serving, but I've also been known to make a batch to keep in the fridge all week for my lunch. Toss the apples in a little extra lemon juice if you're prepping ahead.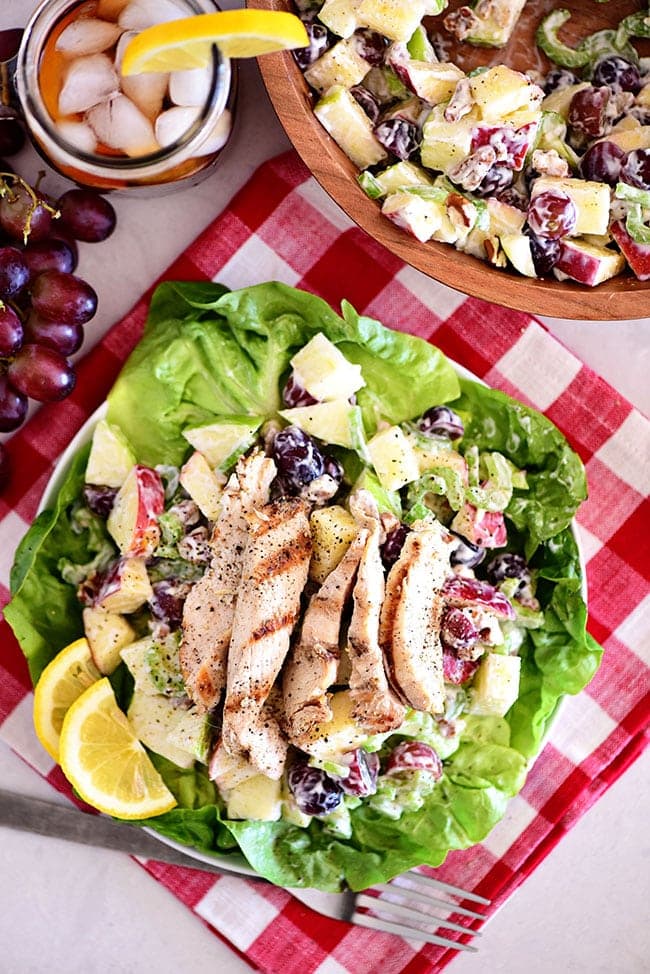 Notes & Variations On Waldorf Salad Ingredients
Although I may be partial because I think this is the best chicken Waldorf salad recipe, you may prefer a healthier dressing. Omit the mayo and use Greek yogurt instead. You can also play around with half mayo + half yogurt or even sour cream. A subtle pinch of mustard powder will level it all out!
A few other ingredient variations for Waldorf salad recipes:
Pineapple
Diced Carrots
Plumped Raisins
Pears
Shredded Kale
Dash of Dijon Mustard
Lemon or Orange Zest
Diced Cucumbers (I recommend sweating them first!)
If you aren't sure what the sweating/salting process is, check out the FAQ section in my fantabulous Creamy Cucumber Salad Recipe!
I have to note that as much as apples are the quintessential ingredient for Waldorf salad, celery has long been considered a non-negotiable component! If your celery seems overly stringy, peel it before slicing, but I don't recommend leaving it out.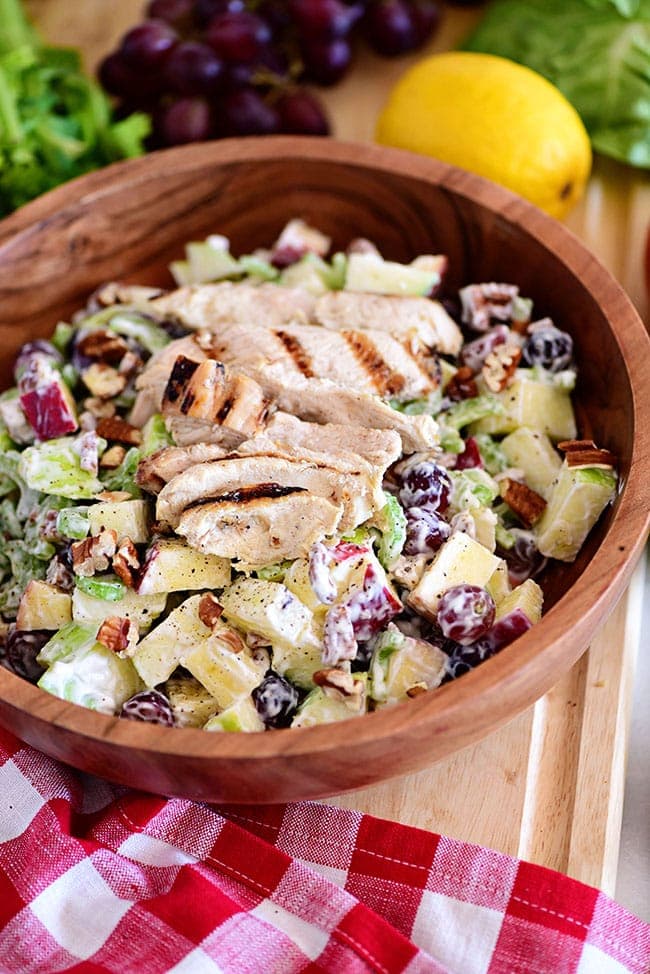 Notes For Apple Waldorf Salad
Besides the non-negotiable celery component, apples are the "it" factor in Waldorf salad ingredients. I like to use red and green for the apples = 1 Honey Crisp + 1 Granny Smith. The two create a nice balance of sweet and tart, and the peels add a nice contrast of color to Waldorf salad.
* First, squeeze a little lemon juice over chopped apples and mix well if you're making Waldorf salad a day ahead or not serving right away. This will help to keep them from turning brown.
* Be sure to include at least one tart (acidic) apple in your Waldorf salad.
* If you just can't handle the truth, I mean, a Granny Smith apple, try a Braeburn or a Jersey Mac. Both varieties have great acidity to offset the sweetness and umami in Waldorf chicken salad.
* Avoid Red Delicious apples as they are known to be soft and mealy with bitter skin.
* About those nuts! The original Waldorf salad ingredients soon morphed slightly into the traditional Waldorf salad recipe with the addition of walnuts. Toasting the nut of your choice brings out the warmth and fuller flavors via the oils. For each bite's texture and poppin' flavor, I like to add the toasted pecans right before serving.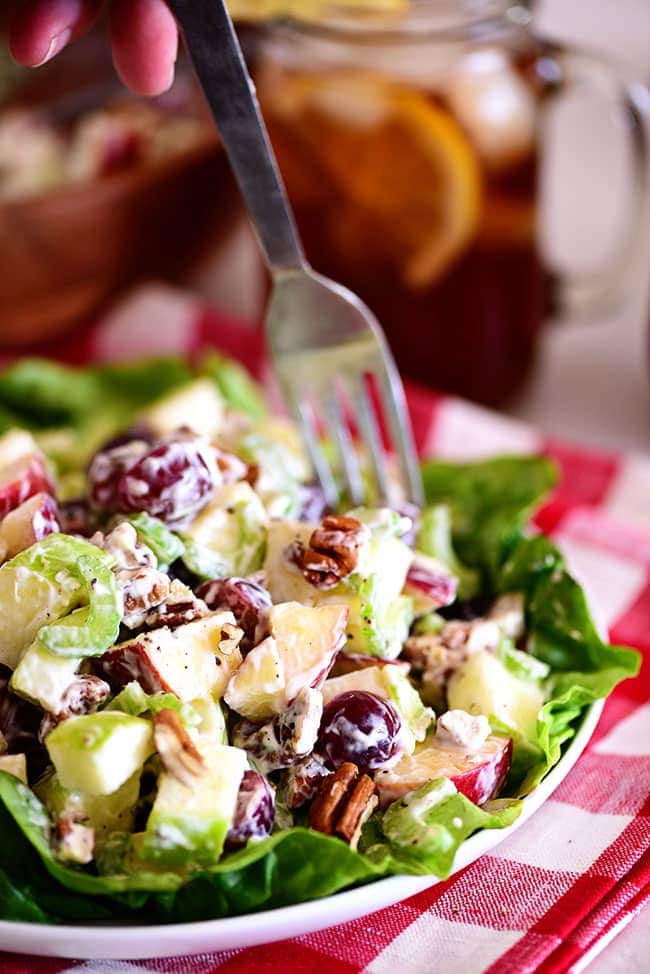 How To Keep Waldorf Chicken Salad Fresh!
If you do make ahead, cover tightly and refrigerate. I'd even suggest allowing the cling wrap to adhere to the Waldorf salad by gently pressing it directly onto the surface inside the bowl.
Leftover Waldorf apple salad (without the lettuce) can be stored in the refrigerator in an airtight container for up to 5 days. The grapes and celery can release water overnight, but this is easily fixed by giving it a good stir.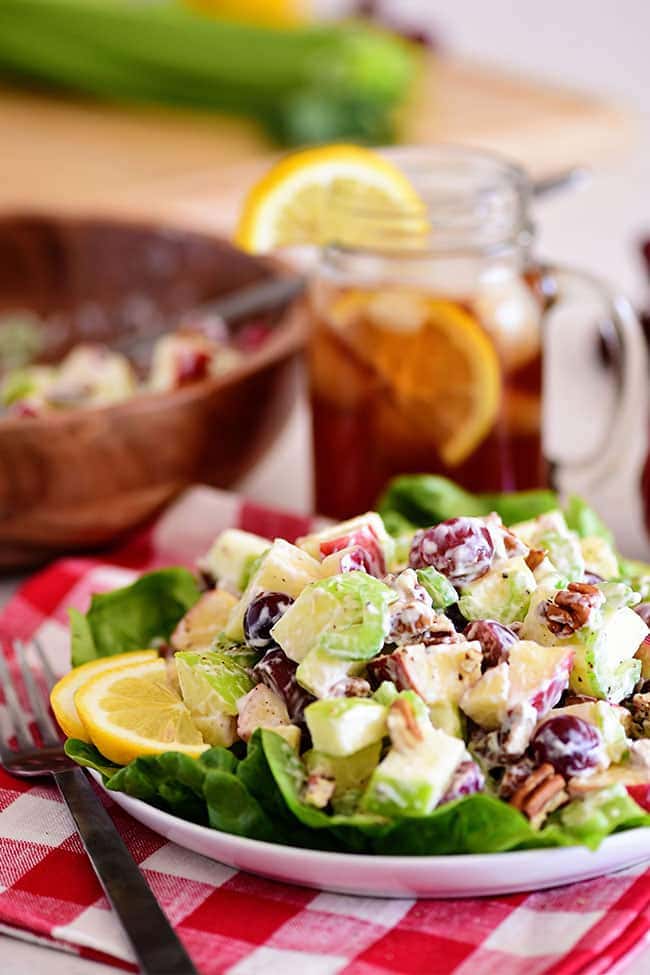 Chicken Waldorf Salad FAQs
I've scoped out many websites on chicken Waldorf salad recipes and still can't decide one way over another when it comes down to making ahead or not. Which side of the fence is the right one? The debate continues…
Why is it called Waldorf Salad?
There was a fusty old hotel (no one thought it was fusty at the time) called the Waldorf-Astoria that hosted a charity concert for the St. Mary's Children's Hospital in 1896. The hotel was actually quite high-brow in its heyday. The maître d', Oscar Tschirky, created the mayo, apple, and celery mix for the event to high acclaim. Thus, the name "Waldorf Salad" stuck.
What is in Waldorf salad dressing?
Mayonnaise is the original base for an apple Waldorf salad. Later Waldorf salad recipes included lemon juice to brighten and seasoning with salt and pepper. The more modern versions can consist of sugar or honey, while health-conscious Waldorf salad ingredients will have yogurt or sour cream.
Like This Chicken Waldorf Salad Recipe? Pin It!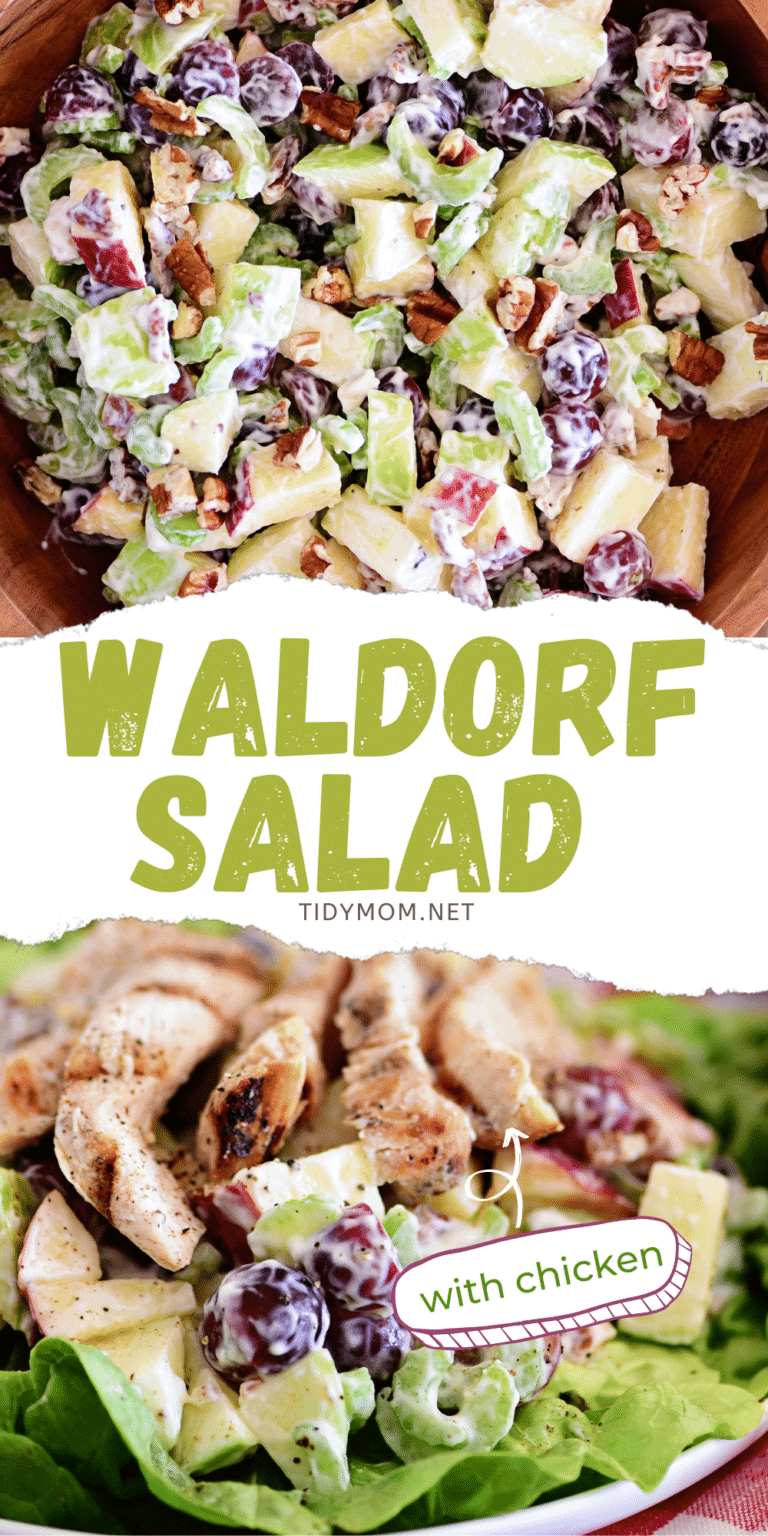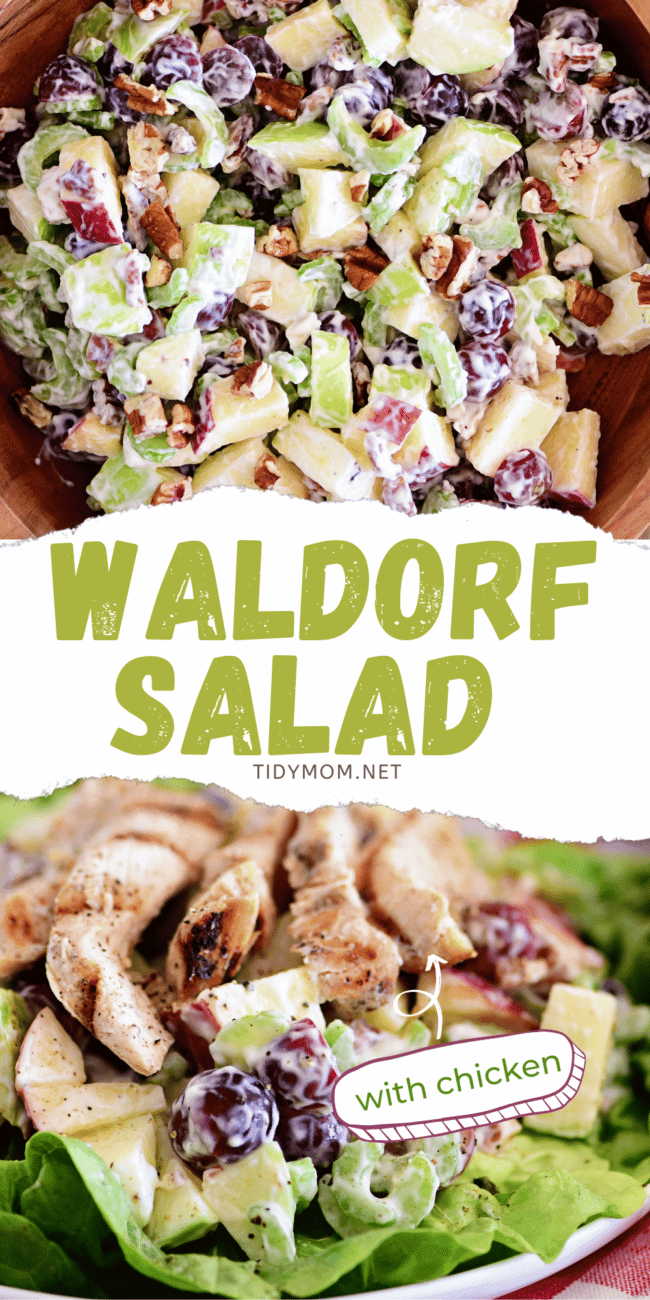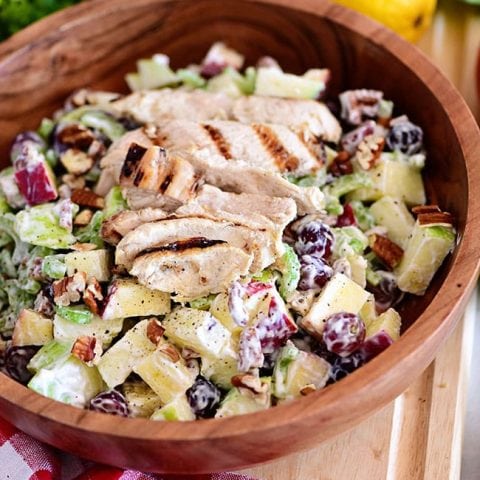 Waldorf Salad
Yield: 4-6 servings
Prep Time: 10 minutes
Chill Time: 1 hour
Total Time: 1 hour 10 minutes
A classic creamy chicken salad mix made with celery, apples, grapes and nuts! Waldorf salad is a great addition to any holiday table or a meal all on its own. PRINTABLE RECIPE at TidyMom.net
Ingredients
1/2 cup Mayonnaise ( we prefer Miracle Whip)
1 tablespoon lemon juice
1/4 teaspoon kosher salt
pinch of ground black pepper
2 apples, cored and chopped (red, green or both
1 cup halved seedless red grapes (1/4 cup dried cranberries)
2-3 ribs celery, thinly sliced
1 cup chopped pecans or walnuts
sprinkle of nutmeg
1-2 cups cooked and chopped chicken breast (optional)
lettuce (optional) I prefer Boston or Romaine
Instructions
In a large bowl whisk the mayo, yogurt, lemon juice, salt, and pepper.
Add, chopped apples, grapes (or cranberries), sliced celery, nuts, and chicken (if using) to the bowl with the dressing. Toss to coat.
Serve chilled over lettuce.
Notes
For the apples I like to use red and green = 1 honey crisp + 1 Granny Smith. I leave the skin on for color.
Toast nuts for more flavor if you have time.
This salad is best prepared the day you are serving.
For a healthier dressing, omit the mayo and use 1/2 cup plain Greek yogurt (or mix half mayo + half yogurt)
If you're not serving right away, squeeze a little lemon juice over apples to keep them from turning brown.
Leftover salad (without the lettuce) can be stored in the refrigerator in an airtight container for up to 5 days.
Recommended Products
As an Amazon Associate and member of other affiliate programs, I earn from qualifying purchases.
Nutrition Information:
Yield: 6
Serving Size: 1
Amount Per Serving:
Calories: 338
Total Fat: 28g
Saturated Fat: 4g
Trans Fat: 0g
Unsaturated Fat: 23g
Cholesterol: 28mg
Sodium: 188mg
Carbohydrates: 16g
Fiber: 3g
Sugar: 11g
Protein: 9g
Nutrition information is estimated based on the ingredients and cooking instructions as described in each recipe and is intended to be used for informational purposes only. Please note that nutrition details may vary based on methods of preparation, origin, and freshness of ingredients used and are just estimates. We encourage, especially if these numbers are important to you, to calculate these on your own for most accurate results.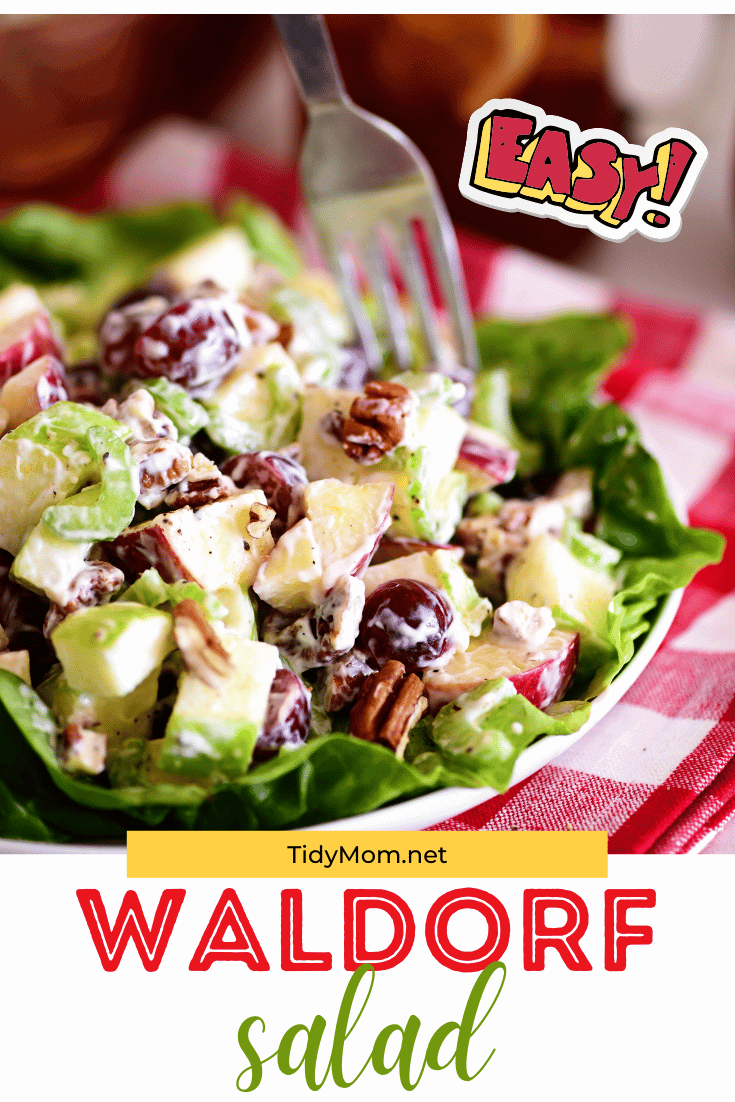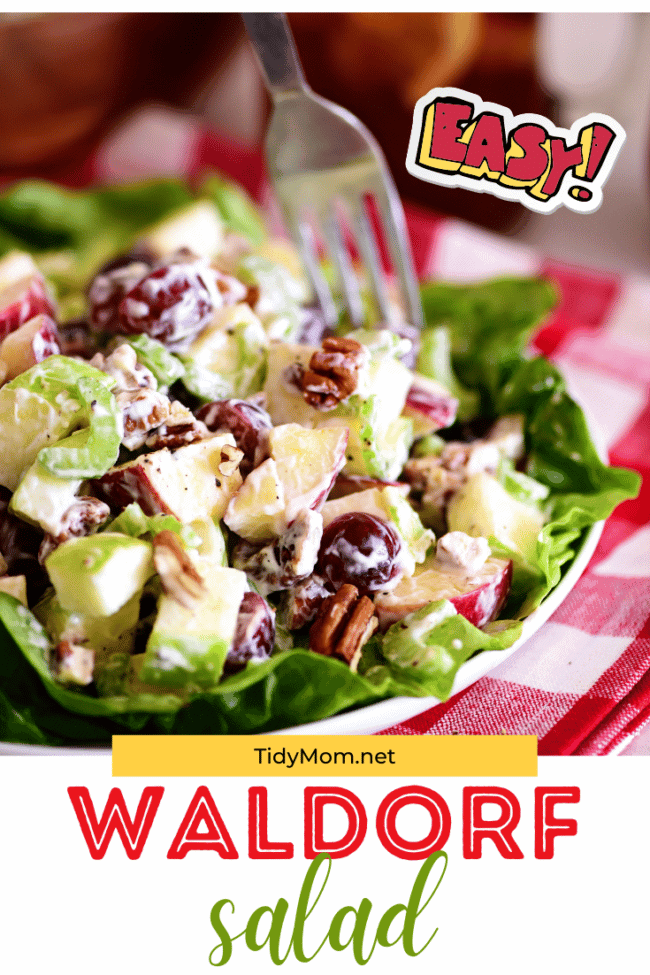 Tidymom is a participant in the amazon services llc associates program, an affiliate advertising program designed to provide a means for sites to earn advertising fees by advertising and linking to Amazon.com.
Please respect my work, recipes and photographs. If you do use a recipe in your own writing, please give proper credit and link back to the original post.