Easy Pecan Pie Cobbler Recipe (Hot Water Cobbler)
This post may contain Amazon or other affiliate links. As an Amazon associate, I earn from qualifying purchases.
Calling pecan pie lovers! This fuss-free Pecan Pie Cobbler has a buttery pecan brown sugar filling topped with golden hot sugar crust. The hot water trick creates an old-fashioned delight that wows every time!
Pecans bring a buttery, nutty crunch to many delectable treats! Like our irresistible Roasted Sweet Potatoes W/Cinnamon Pecan Crunch, classic Glazed Butter Pecan Cookies, decadent Chocolate Pecan Pie Bars, and party-perfect Pecan Tassies (mini pie bites).
Be sure to sign up for my email… to get new recipes and ideas in your inbox!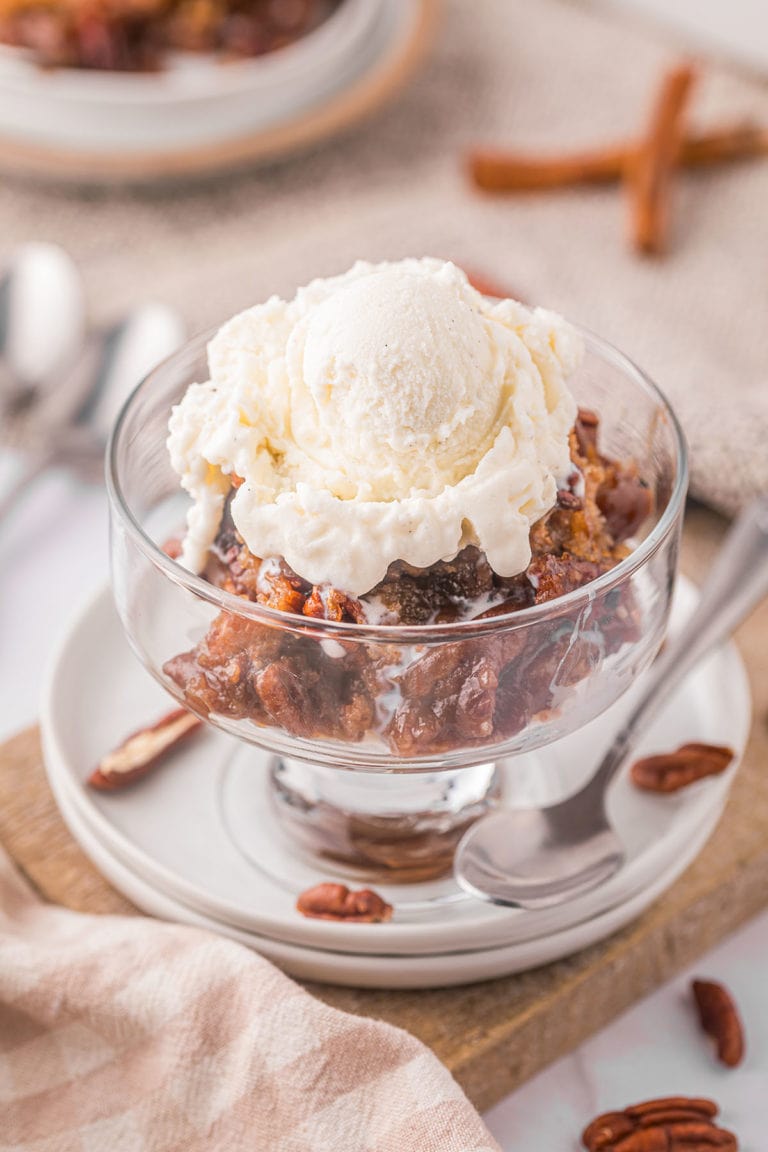 Why You'll Love Pecan Pie Hot Water Cobbler!
Pecan pie cobbler is a delicious and easy-to-make dessert that combines the best of both worlds: the gooey, sweet pecan filling of a classic pecan pie with a buttery cobbler crust. Here are a few reasons why you'll thank me for sharing!
It's convenient: Only 10 minutes of prep and this pecan pie cobbler recipe is ready to eat in less than an hour. (Great for when you're short on time!)
It's unique: This pecan dessert is a "hot water cobbler" that results in a light and fluffy crust with a gooey and delicious filling.
It's easy to make: Layer the ingredients in a pan and bake. No fuss, no stirring, and no pie crust; a dump cobbler recipe makes its own!
It's delicious: Pecan pie cobbler is a gooey, sweet caramel-y treat, with buttery pecans throughout and a crunchy pecan topping.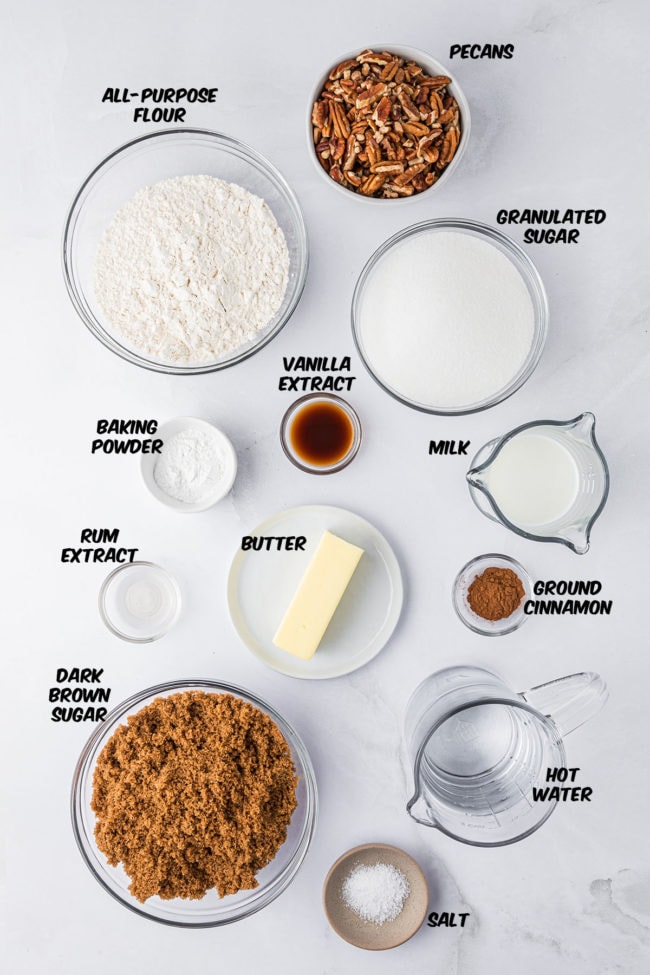 What You'll Need
This easy dump cobbler recipe is great for enjoying your favorite pecan pie flavors without all the fuss. With these simple pantry ingredients, you will have a delicious and gooey pecan cobbler ready in under an hour. And the special ingredient is–a drum roll, please.–hot water!
For specific amounts, please refer to the printable recipe card at the bottom of the post.
Butter
Pecans – sweet and buttery with a distinct, rich flavor that adds a delightful crunch.
All-Purpose Flour – For accuracy measuring; Fluff and spoon flour into a measuring cup, leveling with the back of a knife blade
Baking Powder – Fresh baking powder ensures the cobbler batter rises and crisps evenly.
Ground Cinnamon – warm, woodsy flavor to complement the pecan flavor.
Salt
White Granulated Sugar
Whole Milk
Vanilla Extract – elevates the overall flavor of pecan pie cobbler with sweet, fragrant vanilla.
Rum Extract – has a rich and concentrated rum flavor that can enhance the sweetness and nuttiness of pecans.
Dark Brown Sugar – firmly packed in a measuring cup. Adds a rich, caramel-like sweetness to the cobbler with toasty notes and deeper color.
Very Hot Water – The water must be very hot to create the hot sugar crust and the steam needed for the pecan pie cobbler to bake correctly.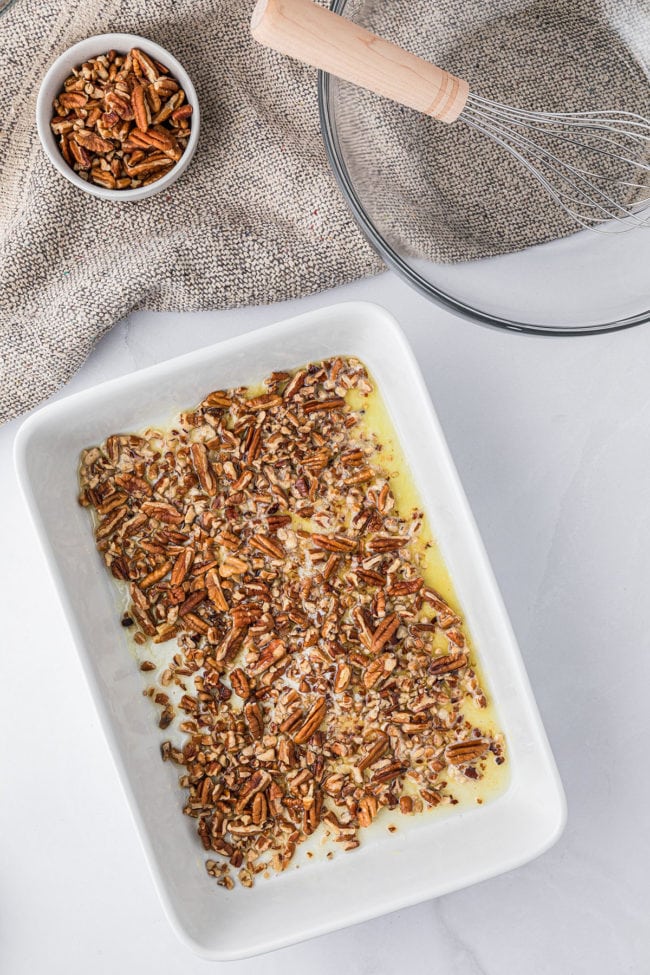 This post may contain affiliate links. Please read my disclosure policy here.
How To Make An Easy Pecan Pie Cobbler
I'll warn you upfront: this pecan cobbler recipe is so wonderfully tasty and simple to prepare that you will want to make it a lot. Start by melting the butter in a 9X13-inch baking dish while the oven is heating.
When you are baking, you'll want to use the full recipe at the bottom of the page.
Sprinkle pecans over the melted butter.
In a mixing bowl whisk flour, baking powder, cinnamon, salt, sugar, milk, and extracts just until combined. Do not overmix.
Pour the batter over butter and pecans; DO NOT MIX.
Sprinkle brown sugar and remaining pecans evenly over the base. DO NOT STIR.
Pour the hot water carefully over the mixture; DO NOT STIR.
Bake until golden brown; cool 15 – 20 minutes and serve while it's still warm.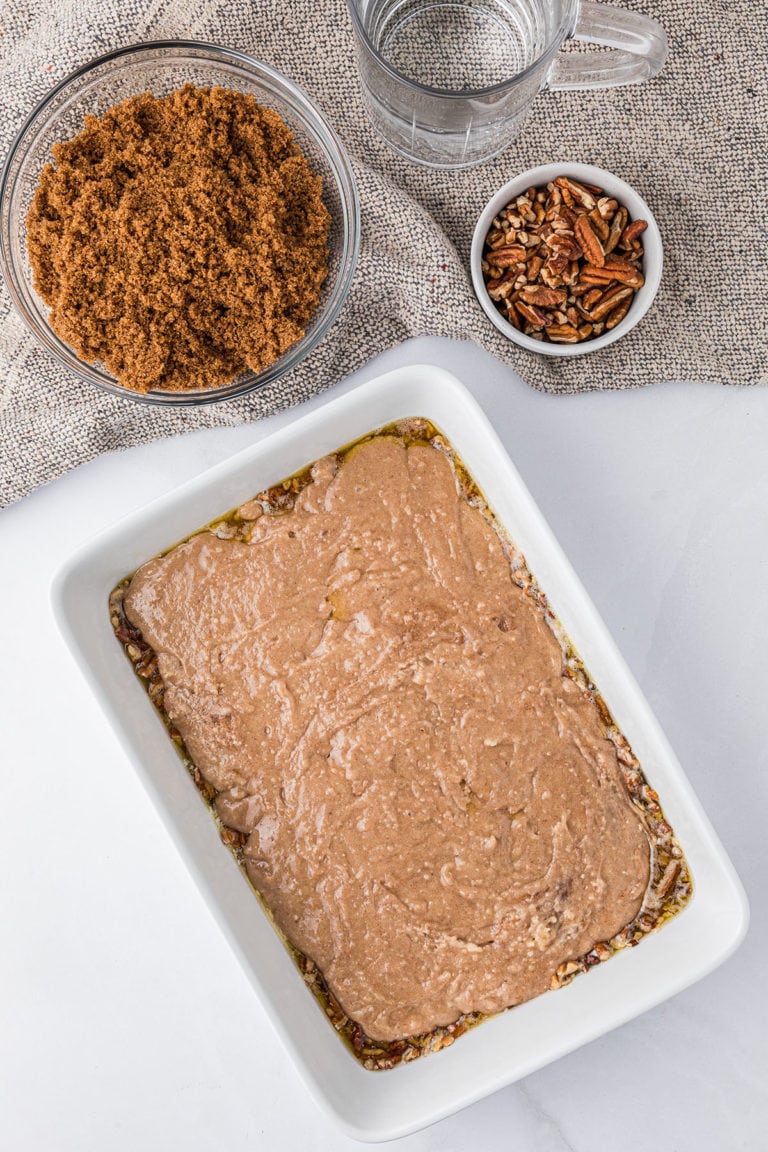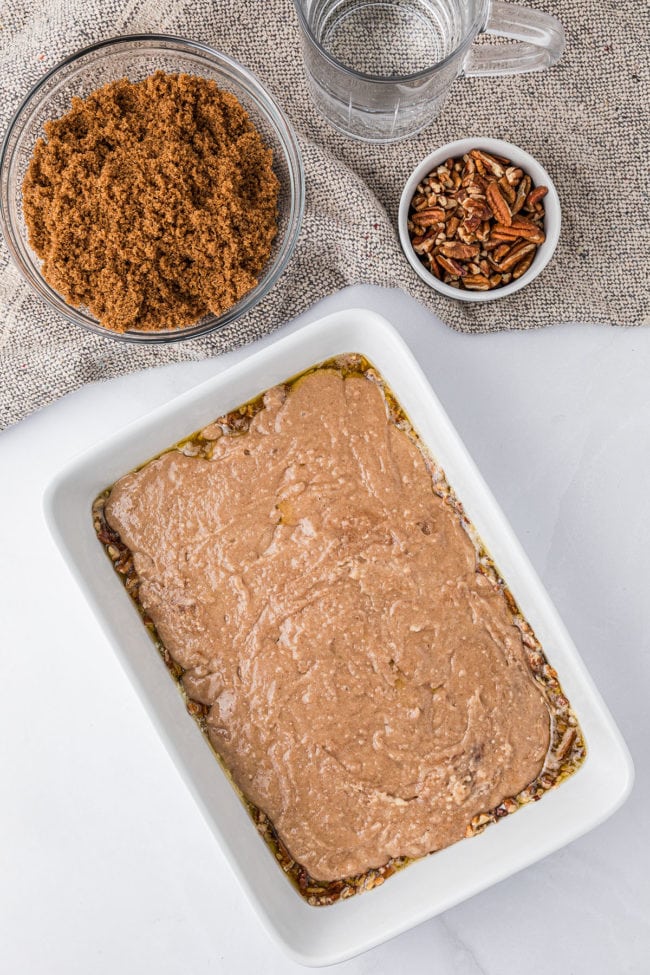 Recipe Notes And Tips
Follow the recipe: Read the instructions first; you don't want to stir when layering.
Check your pecans: Make sure they are good to use. Pecans can become stale or rancid, with a rubbery texture and bitter taste.
Toast fresh pecans: Toasting them before adding them to the cobbler will deepen their flavor and give them a nice crunch.
Layer evenly: The cobbler batter is evenly spread in the baking dish to guarantee uniform baking and a consistent texture throughout.
Make it hot: When poured over the top layer of brown sugar and pecans, the water must be very hot to get a crackly hot sugar crust.
Prevent excess browning: If the cobbler starts to brown too quickly, tent it with foil to prevent over-browning and ensure even cooking.
Don't overbake: Pecan pie cobbler is done when the crust is golden brown, and the pecan filling is bubbly.
Let it rest: Allow the hot cobbler to rest for a few minutes to let the gooey pecan pie filling set up a bit, making it easier to handle when serving.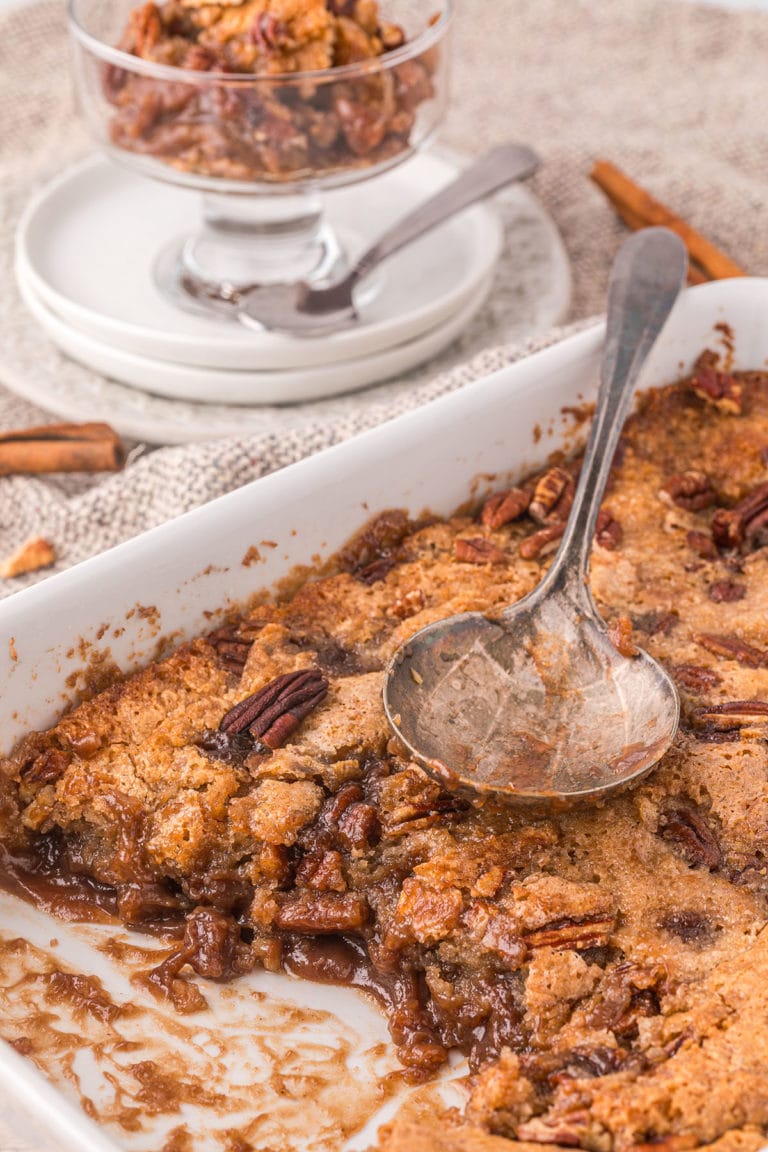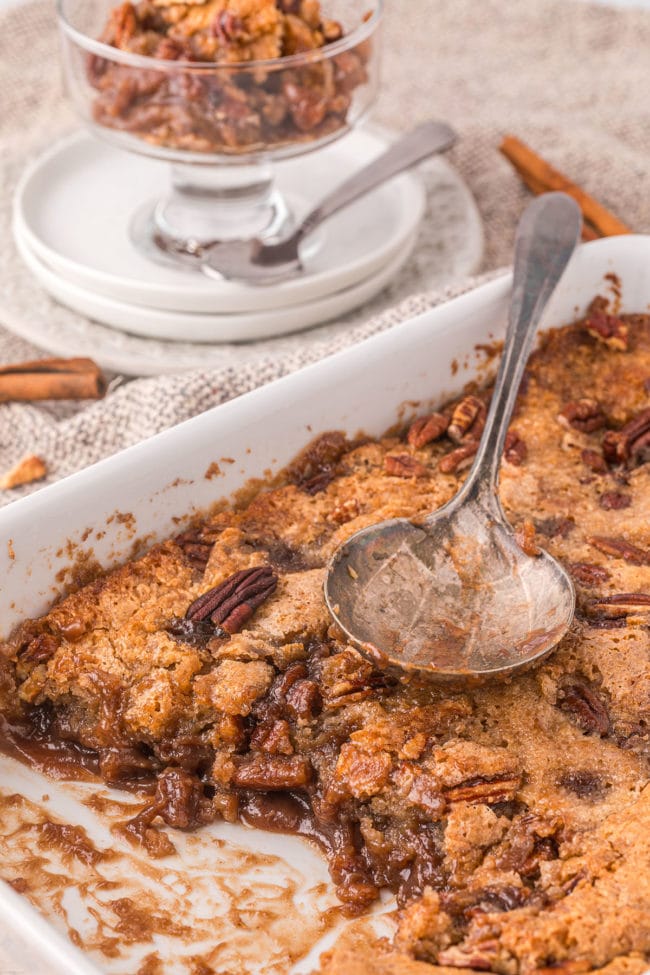 How To Store This Cobbler
Cool your cobbler completely before covering or putting it in an airtight container.
Refrigerate/Leftovers
Store leftover pecan cobbler in the fridge for up to 3 days.
Freeze
Once the cobbler is cooled and tightly covered with plastic wrap or foil, store in the freezer for up to 2 months. For the best protection, place wrapped cobbler in a freezer-safe container or zip-top bag. Thaw it several hours in the refrigerator or overnight before reheating.
Reheat – Cover thawed pecan pie cobbler and bake at 350ºF until warmed through. (See FAQs if cobbler seems dry.)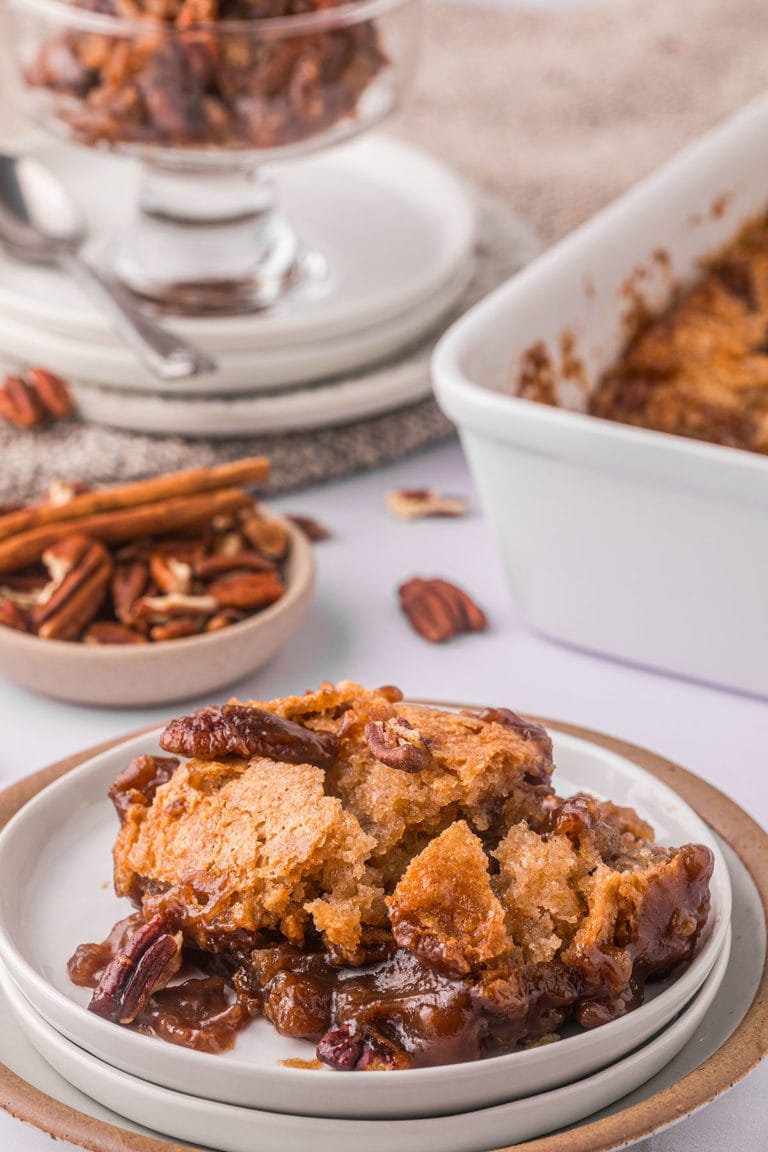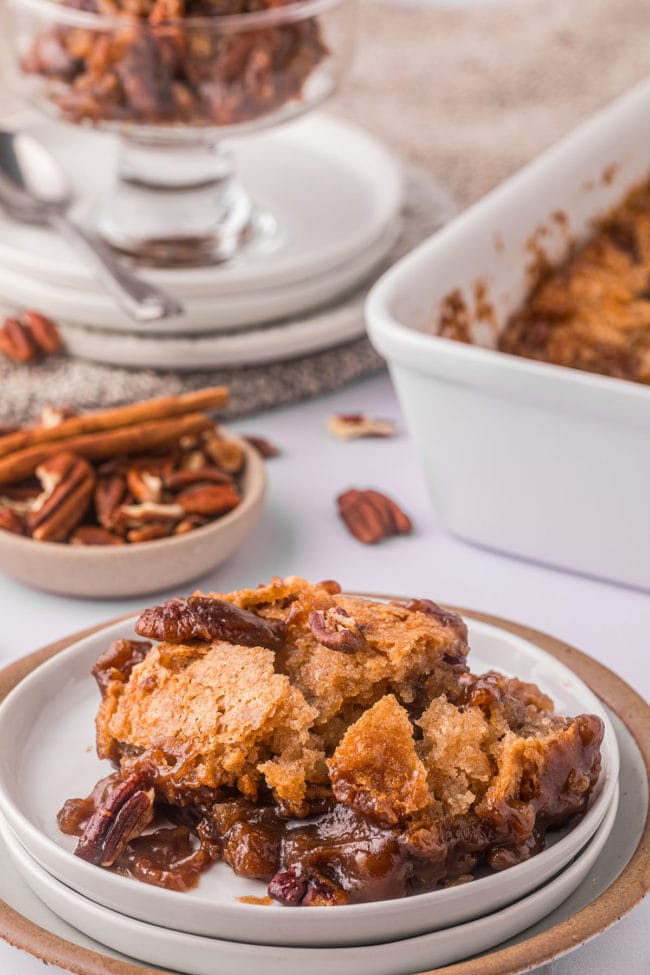 Recipe FAQs
What is a hot water cobbler?
A hot water cobbler is a dessert where a sweet batter is spread over a layer of fruit or nuts, and hot water is poured on top before baking. The hot water creates a rich syrup that blends with the other ingredients during baking, resulting in a deliciously moist and flavorful dessert with a crisp, hot sugar crust with a soft cake texture underneath.
What can I do if my pecan cobbler gets too dry?
When reheating a cobbler that seems too dry but still tastes fantastic, try butter pats or sprinkling water over it and cover with foil as it bakes. Another delicious alternative is to heat whipping cream or half and half and drizzle over the cobbler. The old standbys never fail: whipped cream or ice cream over warmed cobbler is yummy!
Can you use rum instead of rum extract in baking?
Sometimes! According to McCormick For Chefs,
"McCormick Culinary Imitation Rum Extract as an exceptional substitute for rum in recipes; 2 tablespoons of rum extract equals 1 tablespoon of dark rum and 1 tablespoon of rum extract equals 5 tablespoons of light rum."
You can see the ratio differences are significant when you are substituting for light rum. Too much or too little liquid can throw off the outcome of baking recipes. Always check the manufacturer's website to make sure.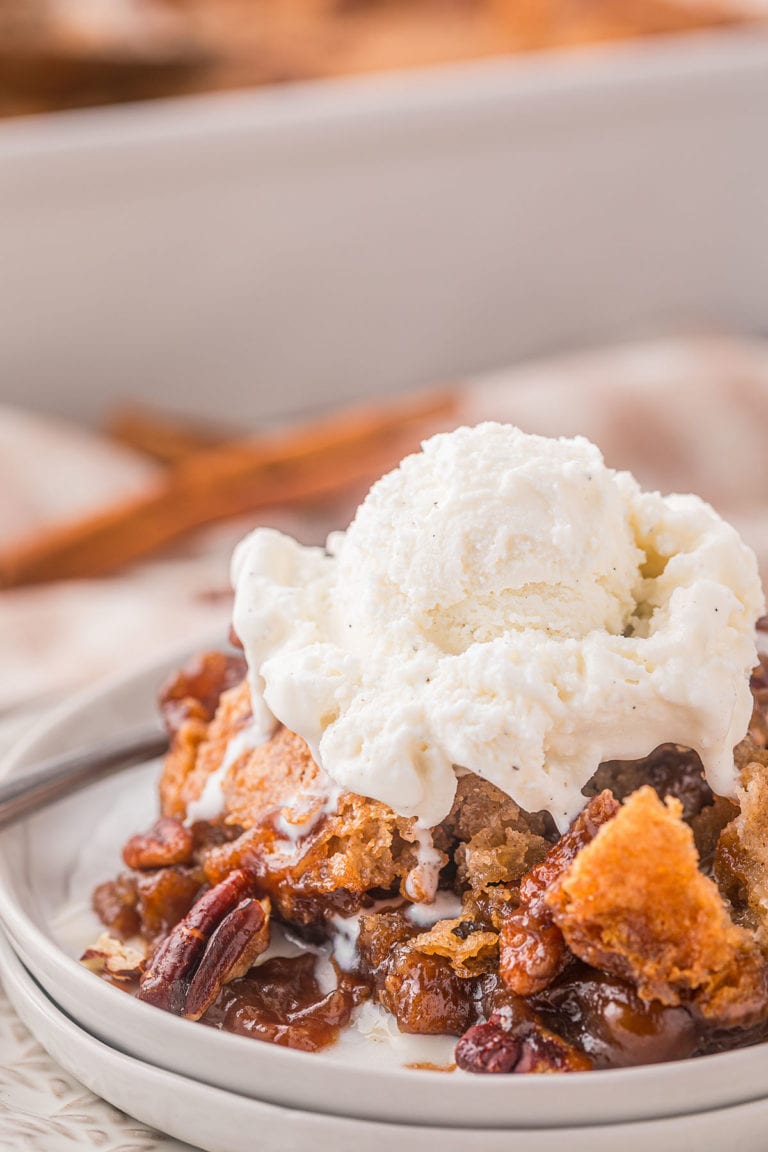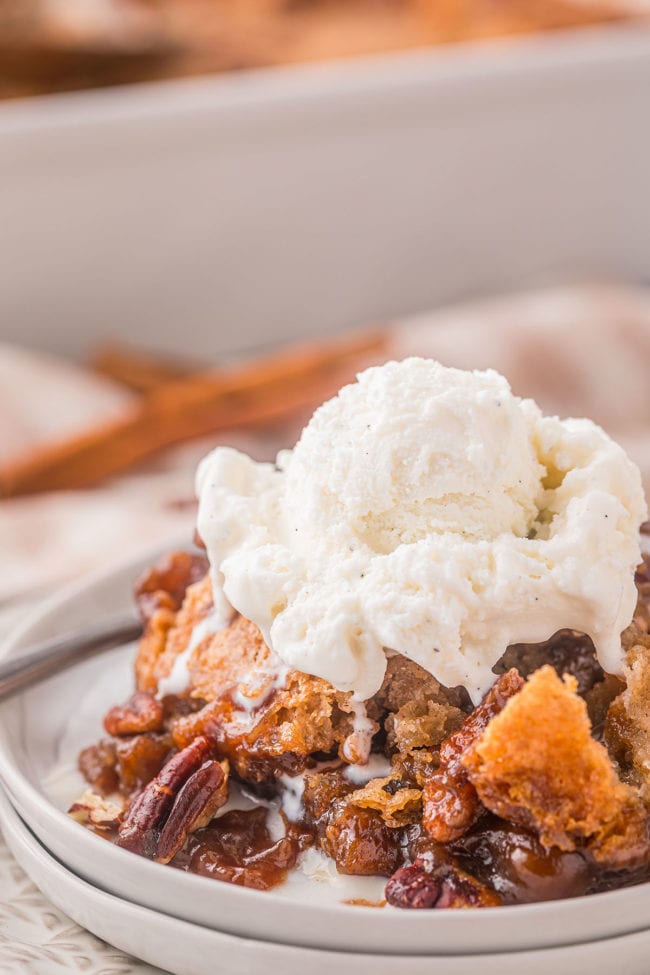 Serving Suggestions
A La Mode: Serve warm pecan pie cobbler with a scoop of vanilla ice cream for a delightful contrast of hot and cold.
Whipped Cream: Top each serving with a dollop of freshly whipped cream (or cinnamon whipped cream) for an extra layer of indulgence.
Drizzle of Caramel Sauce: Enhance the sweetness with a drizzle of caramel sauce over the cobbler.
Dusting of Powdered Sugar: A light dusting of powdered sugar can provide an elegant finishing touch.
Pair with Bourbon: For an adult twist, pair your pecan pie cobbler with a glass of bourbon, a bourbon apple cider cocktail, or an Espresso Martini.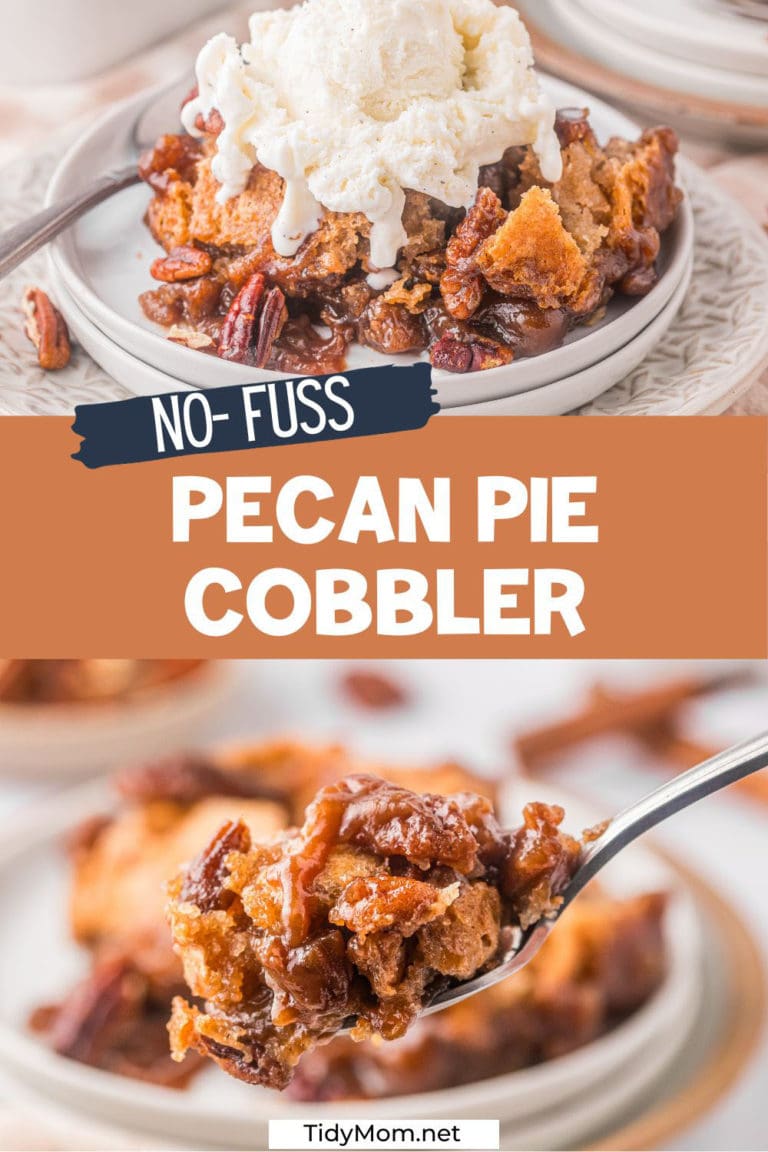 Like This Recipe?
I'd love to hear what you think! Leave a review below and let me know how you liked the recipe!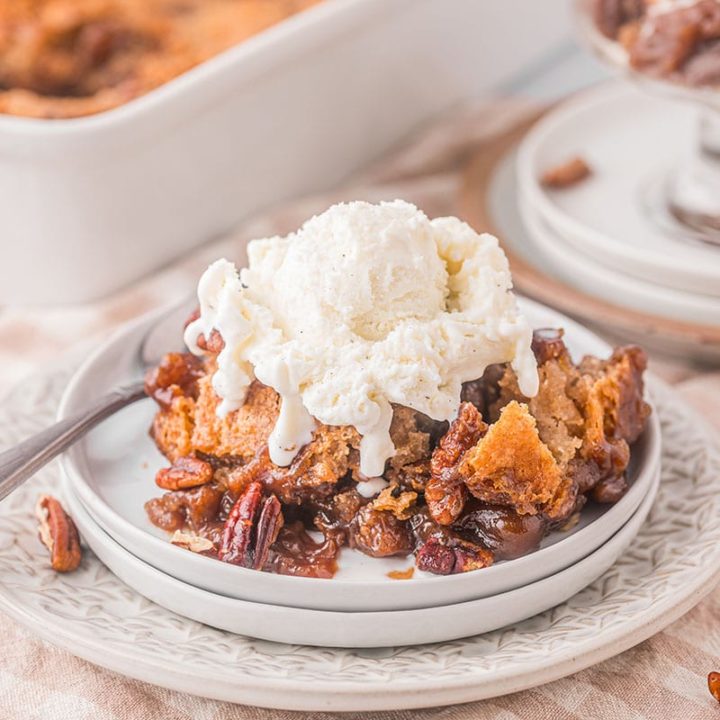 Easy Pecan Pie Cobbler
Yield: 10 servings
Prep Time: 5 minutes
Bake Time: 30 minutes
Total Time: 35 minutes
This fuss-free Pecan Pie Cobbler has a buttery pecan brown sugar filling topped with a golden hot sugar crust. The hot water trick creates an old-fashioned delight that wows every time!
Ingredients
6 tablespoon butter
1 ½ cup pecans, divided
1 ½ cups all-purpose flour
3 teaspoons baking powder
1 teaspoon ground cinnamon
½ teaspoon salt
1 ½ cups granulated sugar
⅔ cup whole milk
2 teaspoons vanilla extract
1 teaspoon rum extract (optional)
1 ½ cups firmly packed dark brown sugar
1 ½ cup very water hot
Instructions
Preheat your oven to 350° F with a rack positioned in the center of the oven.
While the oven preheats, put the butter in a 9×13-inch baking dish or casserole and pop the dish in the oven to melt the butter (about 5 minutes).
Once the butter is melted, remove the dish from the oven, make sure the butter covers the bottom, and sprinkle 1 cup of pecans over the butter.
In a large mixing bowl, whisk flour, baking powder, cinnamon, salt, sugar, milk, and extracts just until combined. Be careful not to overmix the batter.
Pour the batter over the butter and pecans, DO NOT MIX.
Sprinkle brown sugar and remaining ½ cup of pecans evenly over the batter, DO NOT STIR.
Carefully pour the hot water over the mixture, DO NOT STIR.
Bake in preheated oven for 30 to 35 minutes or until golden brown.
Transfer the dish to a cooling rack and let cool for about 15 -20 minutes before serving.
Serve warm (it's great with vanilla ice cream or whipped cream) and enjoy!
Notes
You can use 1 ½ cup self-rising flour if you'd prefer - just omit the AP flour, baking powder and salt.
You can coarsely chop your pecans or leave them whole.
This dessert is best served warm.
Leftovers should be refrigerated. Cool completely, then cover and store in the refrigerator for up to 3 days.Reheat the cobbler, cover and bake at 350ºF in the oven until warmed through.
To freeze, cool the cobbler completely, then tightly cover with plastic wrap or aluminum foil, and place in an airtight container or zip-top bag and store in the freezer for up to 2 months. Let thaw overnight in the refrigerator before reheating.
Nutrition Information:
Yield: 10
Serving Size: 1
Amount Per Serving:
Calories: 472
Total Fat: 19g
Saturated Fat: 6g
Trans Fat: 0g
Unsaturated Fat: 12g
Cholesterol: 20mg
Sodium: 324mg
Carbohydrates: 75g
Fiber: 2g
Sugar: 58g
Protein: 4g
Nutrition information is estimated based on the ingredients and cooking instructions as described in each recipe and is intended to be used for informational purposes only. Please note that nutrition details may vary based on methods of preparation, origin, and freshness of ingredients used and are just estimates. We encourage, especially if these numbers are important to you, to calculate these on your own for most accurate results.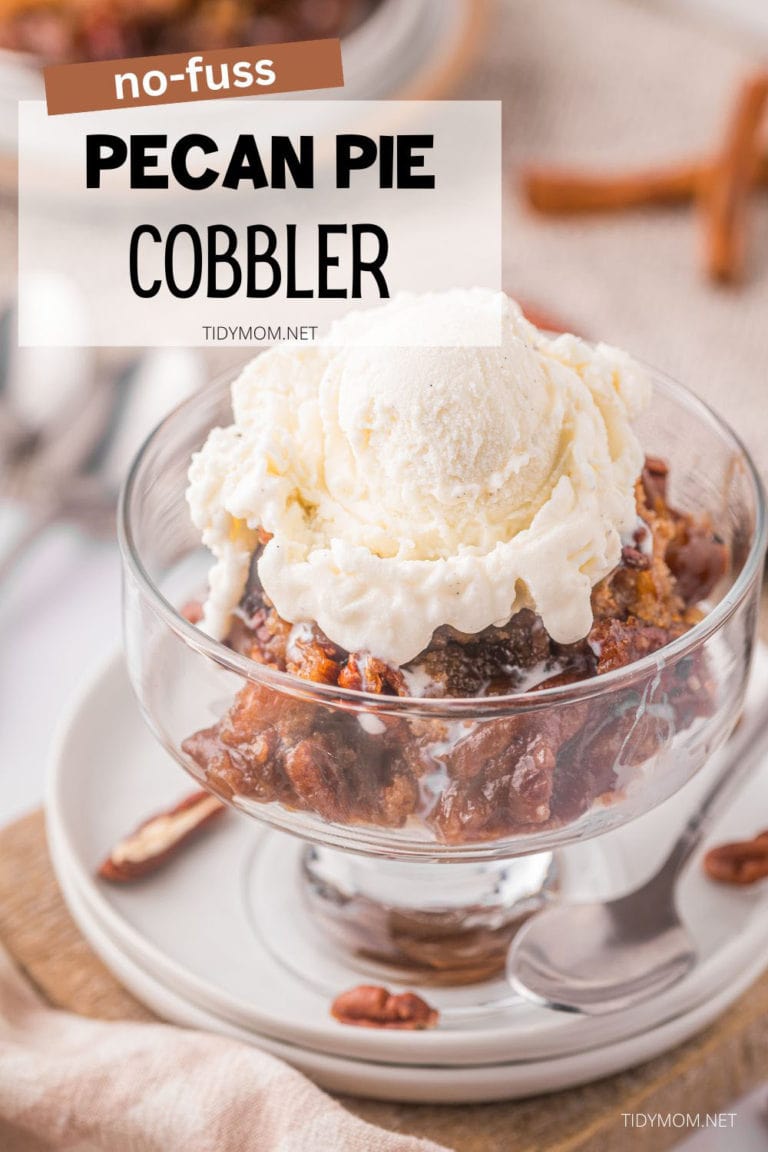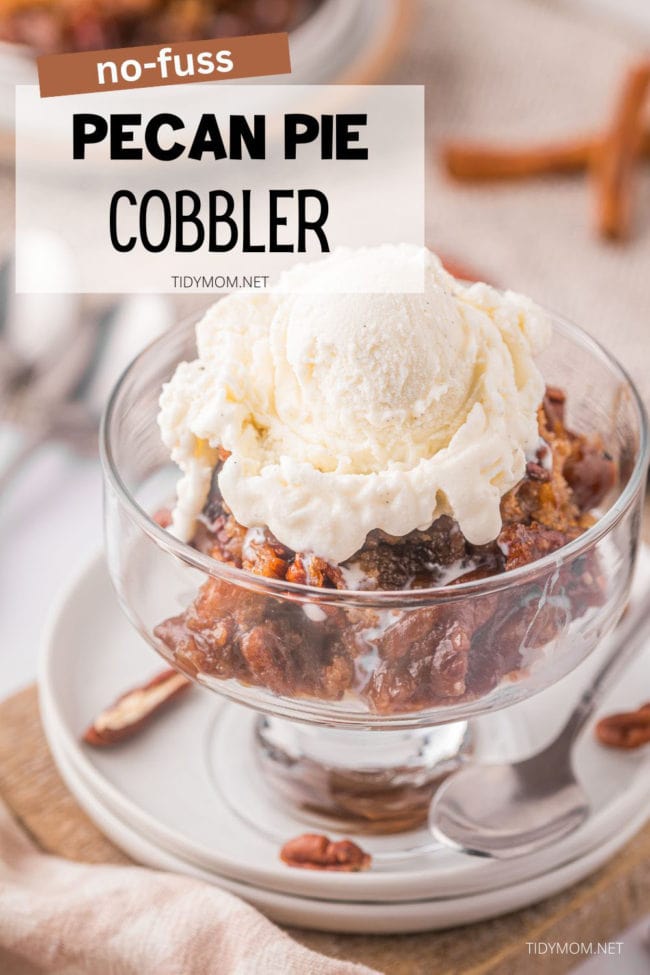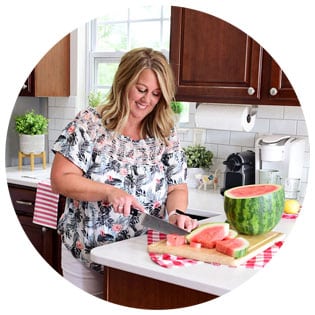 Hi there, I'm Cheryl!
As a wife, mom, and caffeine enthusiast, my journey has taken me from bustling mornings with my family to sharing delicious recipes, home care tips, and heartfelt decorating insights with wonderful readers like you. My love for baking, photography, and tidiness shines through every post I craft. Dive into my world and discover the art of homemaking, one tidy moment at a time. Read more...
Tidymom is a participant in the amazon services llc associates program, an affiliate advertising program designed to provide a means for sites to earn advertising fees by advertising and linking to Amazon.com.
Please respect my work, recipes and photographs. If you do use a recipe in your own writing, please give proper credit and link back to the original post.