Chocolate Covered Strawberry Cupcakes
Are you getting tired of my Valentine's Day food posts yet? LOL
I just couldn't help my self, I've been inspired to make so many things this year, that's why I had to spread them all out and start early.
If you are a fan of chocolate covered strawberries then you are going to love these cupcakes, especially for Valentines Day
If you want to make your Sweetheart a cupcake
that is going to knock them off their feet
……..this is it!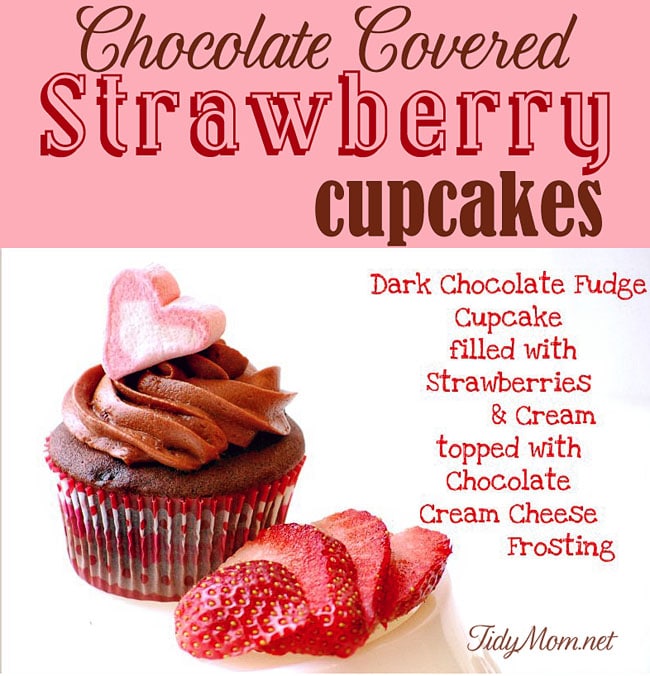 Seriously, one of the BEST cupcakes I've ever had!
The cupcakes are a rich, moist, and delicious dark chocolate fudge, filled with fluffy strawberry whipped cream and topped with a rich chocolate cream cheese frosting! Reminds me of a chocolate covered strawberry!
Chocolate & Strawberry Cupcakes
Ingredients
Chocolate Fudge Cupcake

3 Large Eggs
1/2 cup melted butter (butter not margarine)
1 cup water

Strawberry Whipped Cream (filling)

1 cup heavy whipping cream
1/3 cup sugar
1 tsp vanilla
5-6 T. chopped/processed strawberries

Chocolate Cream Cheese Frosting (from Glorious Treats)

½ cup butter, at room temperature
8 oz. cream cheese, at room temperature
1 teaspoon vanilla
½ cup unsweetened cocoa
4 cups powdered confectioners sugar
1-4 Tablespoons heavy whipping cream
Instructions
Chocolate Fudge Cupcake

Preheat oven to 350
Mix on low until blended, then mix on high for 2 mins.
Pour into paper lined cupcake pans.
Bake for 20 min.

Strawberry Whipped Cream (filling)

Chop strawberries in blender (I used my Magic Bullet) just until they look thick and "liquidy". I used really large strawberries and it took 4 to make 5-6 Tablespoons.
Beat whipping cream, and vanilla until it starts to thicken.
Mix in sugar.
Fold in strawberries.
*Place butter in a large mixing bowl and blend slightly. Add cream cheese and blend until combined, about 30 seconds.
*Add the cocoa powder( before adding the sugar, so it gets fully incorporated into the butter and cream cheese.)
*Add vanilla extract and powdered sugar and blend on low speed until combined. Increase to medium speed and beat until it begins to get fluffy.
*Slowly add the heavy cream, a little bit at a time until desired consistency is met. (Don't add too much if you want the frosting to stay in place when piped on cupcakes.)
*Beat until fluffy, about 1 minute.
*Use at once or keep refrigerated. (This frosting will keep well in the refrigerator for several days, but you may need to re-beat it for the best texture.)

Directions for Chocolate Fudge Cupcakes with Strawberries & Cream filling topped with Chocolate Frosting

Bake cupcakes and cool completely
Cut out a small section in the center of the cupcake (save in bowl)
add strawberry whipped cream to the hole
replace the tops (just do the best you can – or you could just leave them off)
pipe chocolate frosting on top of cupcake with 1M tip.
Notes
I also did some cupcakes the reverse…….I filled the cupcakes with the Chocolate Frosting and topped with the Strawberry Whipped Cream.
https://tidymom.net/chocolate-strawberry-cupcakes/
Copyright© 2009-2013 TidyMom.Net
The strawberry whipped cream was delicious on top as well, if you want to skip the chocolate cream cheese frosting.
Doesn't this just say ……………….
Bite me?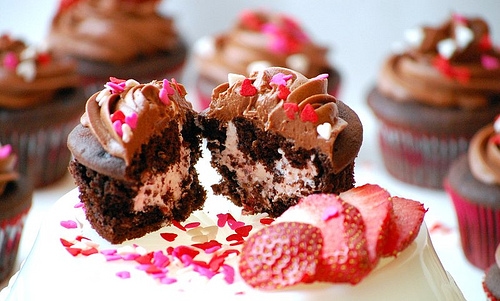 So what are your Valentines Day plans?

Do you go out? Do make a special treat or dinner?