Oatmeal Chocolate Drizzle Cookies
Delicious oat cookies enhanced by drizzling chocolate. You've got to give these a try if you're looking for a good oatmeal cookie – they're a new favorite here!
Some times…….you just need a cookie.
I don't know if it's the change in the weather or what, but I have not been in much of a baking mood lately, and my family has been complaining noticed. So, Friday night I was sitting at the table, living vicariously through my friends on Instagram, when the mood finally struck me to make some cookies!
I'm not sure if it was all of Kristen's talk about cake, or Maria's homemade biscuits, or Lori and Jessica's gallivanting in wine country with Kendall Jackson but whatever it was, it sparked a flame at 7 pm (I rarely bake in the evening) and I pulled out this recipe I've been wanting to try for Oatmeal Drizzle cookies.
They were quick, easy and delicious! I actually left them out on the table overnight so the chocolate would dry/harden a bit, and I thought they were even better the next morning!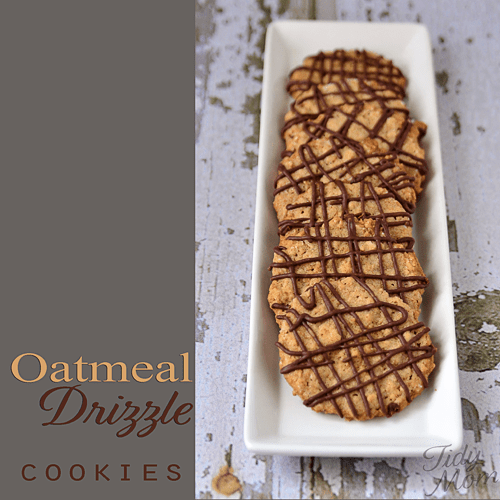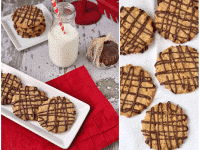 Oatmeal Chocolate Drizzle Cookies
Yield: 2 dozen

Prep Time: 20 minutes

Cook Time: 12 minutes

Total Time: 32 minutes

Delicious oat cookies enhanced by drizzling chocolate.
Ingredients
1 cup firmly packed brown sugar
1 cup butter, softened
1/4 cup water
2 1/2 cups uncooked old-fashioned rolled or quick-cooking oats
1 1/4 cups all-purpose flour
1 teaspoon ground cinnamon
1/2 teaspoon baking soda
1/4 teaspoon salt
Chocolate Drizzle
1 cup powdered sugar
3 tablespoons unsweetened cocoa
1 tablespoon butter, softened
3 tablespoons milk
Instructions
Heat oven to 350°F. Line cookie sheets with parchment paper.
In a large bowl, combine brown sugar and 1 cup butter and beat at medium speed, scraping the bowl often, until creamy. Add water; continue beating until well mixed. Reduce speed to low; add oats, flour, cinnamon, baking soda and salt. Beat until well mixed.
Using a cookie dough scoop (or by hand) shape dough into 1 1/2-inch balls. (dough will be sticky.) Place 2 inches apart onto prepared cookie sheets. Using the bottom of glass, greased and dipped in sugar, flatten cookies to 2-inch diameter. (you will need to dip glass in sugar for each cookie, grease as needed)
Bake for 12 to 15 minutes or until lightly browned. Let stand 1 minute on cookie sheets; remove to wire cooling rack. Cool completely.
Combine all drizzle ingredients except milk in small mixer bowl. Beat at low speed, scraping the bowl often and gradually adding milk until drizzling consistency.
Drizzle over cooled cookies.
Notes
Variations: Try with and with out chocolate drizzle.

Note: You can use a spoon to drizzle over cookies, or a decorator bag with a #3 tip.

Don't you just want to grab a handful with a glass of milk?
These oatmeal cookies turned out slightly chewy and slightly crunchy, just perfect in my book. I'm planning on making another batch soon, to send to a friend (I couldn't send a cookie I've never tried before, right?) You've got to give these a try if you're looking for a good oatmeal cookie – they're a new favorite here!