S'mores Cookies with Homemade Chewy Graham Cookies
Take a homemade chewy graham cookie, top it with toasted marshmallow and crown it with a drizzle of chocolate and you have S'mores Cookies.  A fun twist on the classic campfire treat.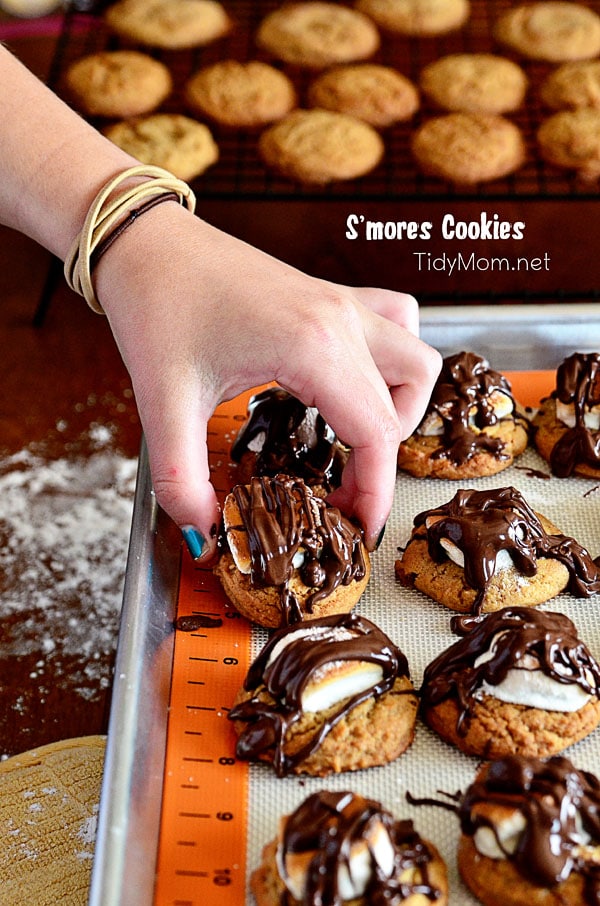 S'Mores Cookies Are Sure to Be a Favorite
I can usually judge how good a recipe is, by how long it lasts in my house.
These cookies did not last long!  I actually got the "is this all you made" look from each family member.
Because it's summer, and all I can think about it oozy marshmallow and melty chocolate, for gourmet s'mores.  Because you don't always have time to build a fire, I thought Jen's Chewy Graham Cookies would be the perfect base for a S'Mores Cookies.
Just like the mini s'more pies, no fire is needed for this s'mores treat!!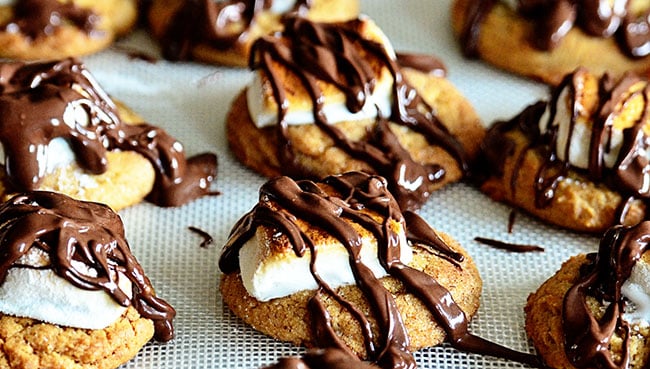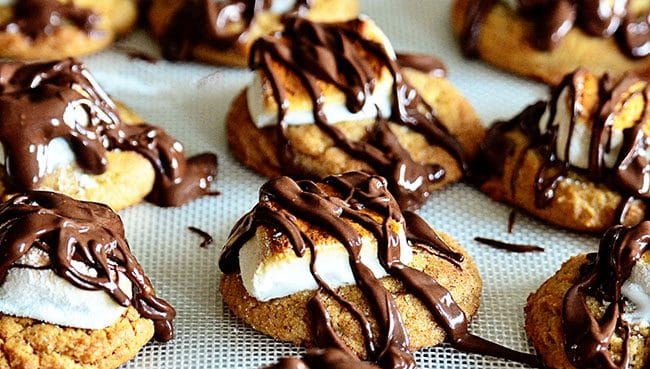 S'more's Cookies are kind of genius. I'm sure most of you have enjoyed s'more around a fire before, so you can just imagine what the hype about these cookies is for.
The classic toasted marshmallow paired with a chocolate bar sandwiched between two crunchy graham crackers. It lends itself perfectly to a delicious cookie recipe.
Let's take a look at how I did it……….
How to make S'mores Cookies
Watch my video to see how easy they are to make! (full printable recipe below)
click to see more of my recipe videos
S'mores Cookies…what more do you need in life??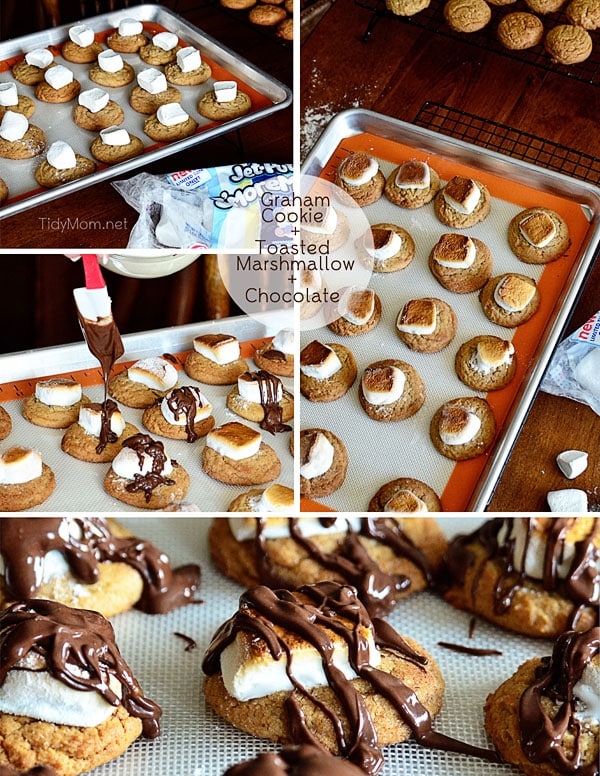 This post may contain affiliate links. Please read my disclosure policy here.
Bake a batch of Chewy Graham Cookies, from My Kitchen Addiction
Cut up marshmallows and place on top of baked cookies (I used the Jet-Puffed S'mores Marshmallows because they are flat}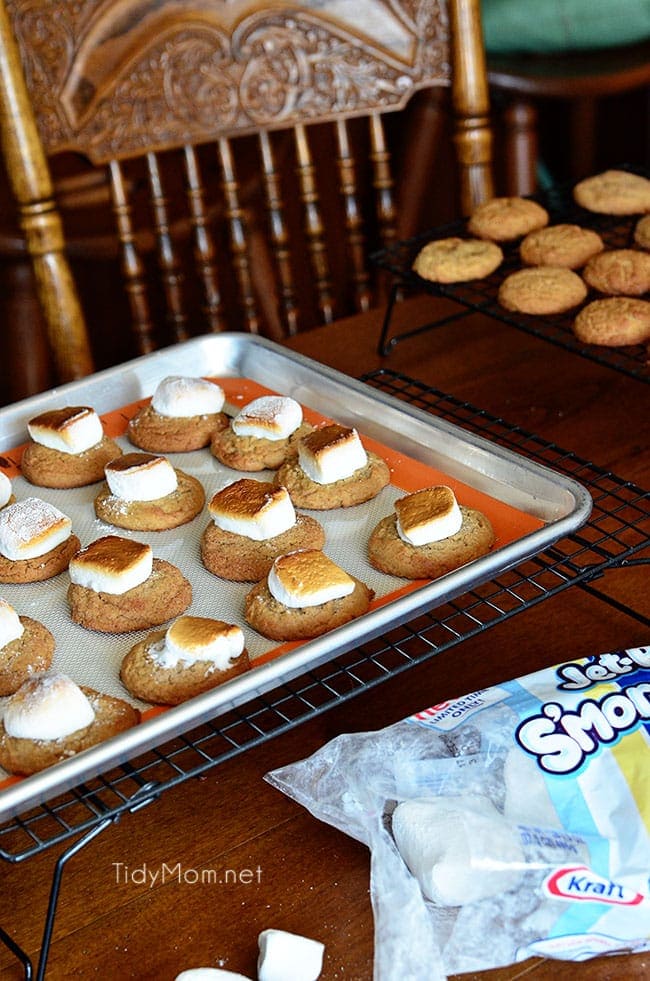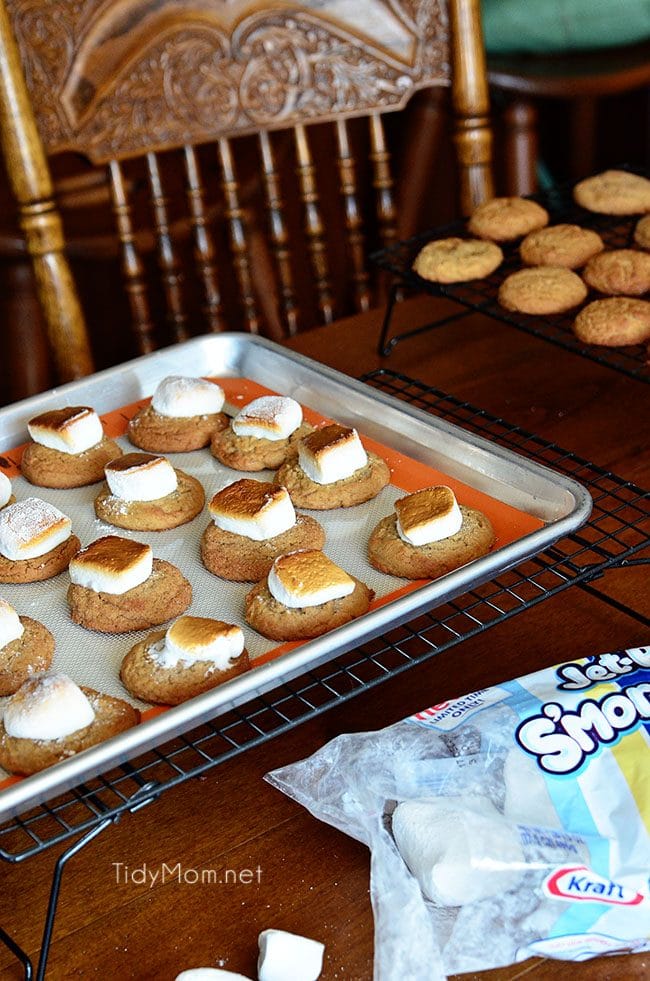 Put marshmallow topped cookies back in the oven on broil and watch closely (should only take 1-2 mins to get brown) seriously, don't take your eyes off them, once they start to brown, they will burn very quickly.
Melt about a cup of chocolate chips with a tablespoon of shortening in the microwave, and drizzle over the cookies using a spoon
Enjoy!………they are especially good warm 😉
S'mores Cookies Essentials
I recommend the following items for making these s'mores cookies.
Jet-Puffed S'mores Marshmallows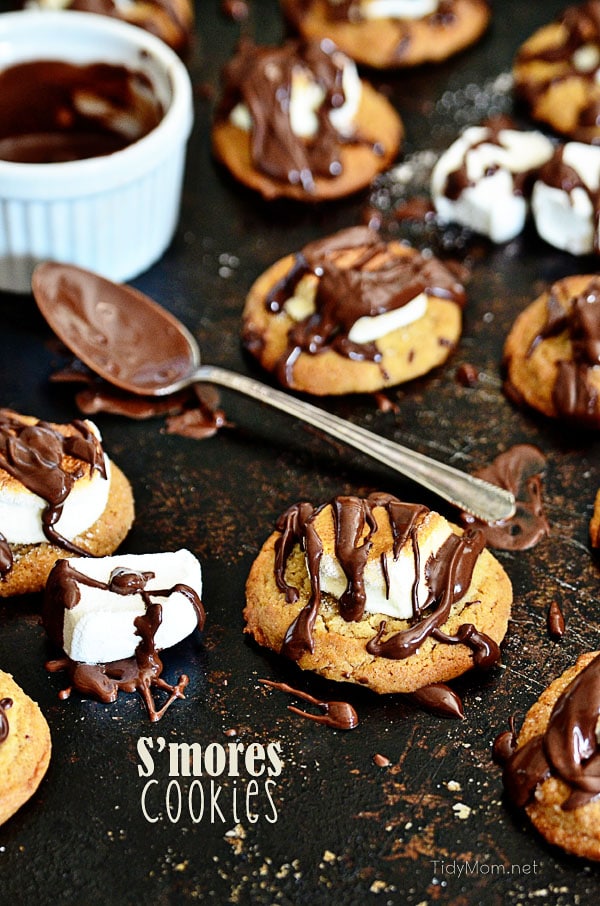 The gooey marshmallow, the melty chocolate, the chewy graham cookies……….it doesn't get much better, this is one delicious cookie!!
Warning…… I'm not responsible for sticky fingers after eating these S'mores Cookies!
Like this S'mores Cookies Recipe?  Pin it!
SEE THE RECIPE CARD BELOW FOR ALL THE DETAILS ON HOW TO MAKE S'MORES COOKIES! ENJOY.
If it's EASY S'Mores Recipes you crave, check out these favorites:
S'mores Rice Krispies Treats Pinwheels Recipe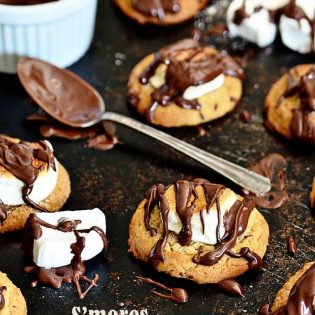 S'mores Cookies with Homemade Chewy Graham Cookies
Ingredients:
Directions:
** you can bake the cookies ahead of time, and top with marshmallow and chocolate before serving.
Making this recipe? Share it with us on Instagram using the hashtag #TidyMom so we can see what you're creating in the kitchen!
Want more great recipes like this? Follow my TidyMom Easy Recipes Pinterest Board