Easy Oven S'mores Dip Recipe
Five minutes is all you need to whip up our oven-baked S'mores Dip. Gooey marshmallows and melted chocolate, perfect for dipping with graham crackers—no campfire needed!
Dip lovers know you don't need a special occasion for a fantastic party dip. Check out our other irresistible creations, like our Chilled Crab Dip, Creamy Chorizo Cheese Dip, Chilled Spinach Dip, or Hot Spinach Artichoke Dip.
Be sure to sign up for my email… to get new recipes and ideas in your inbox!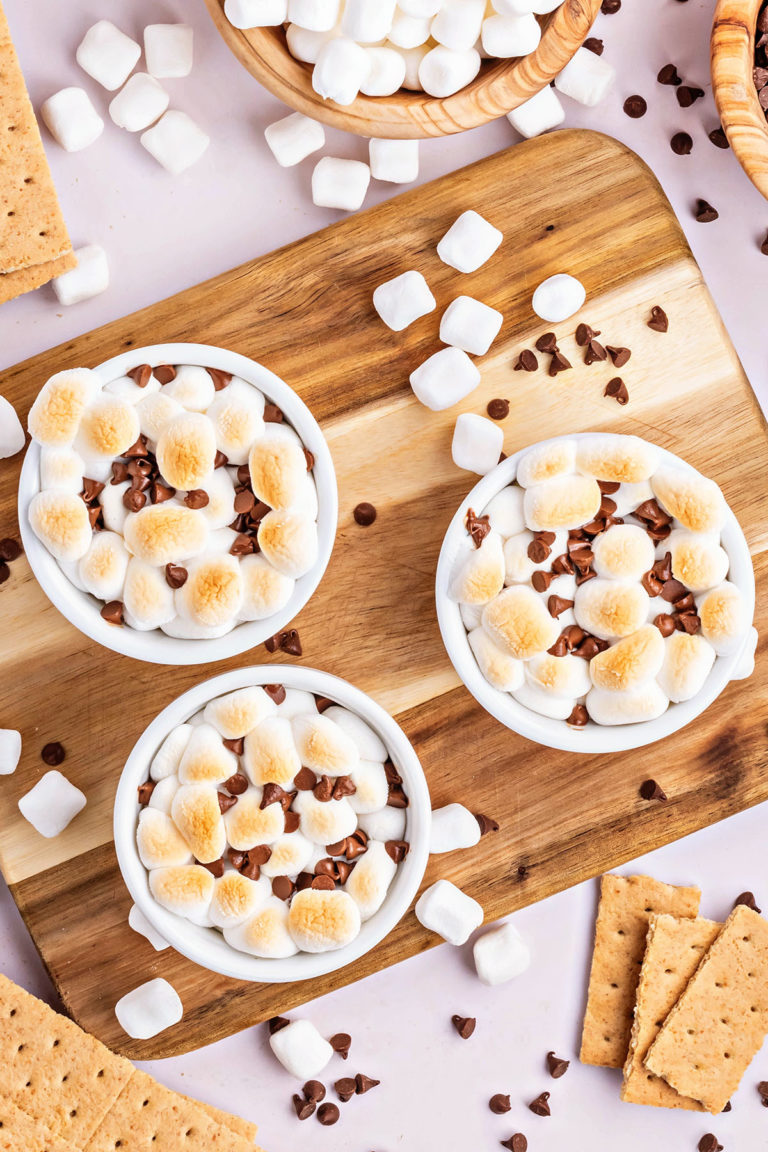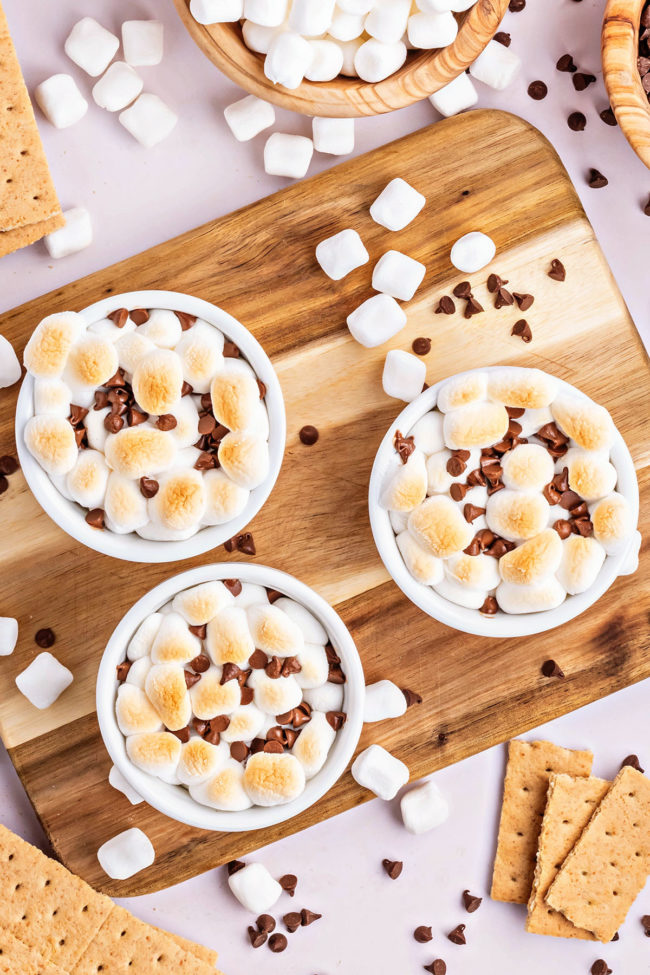 Why We Love Roasted Marshmallow S'mores Dip
S'mores Dip is a delicious and easy-to-make take on the classic marshmallow campfire dessert (without a fire hazard).
No Campfire Needed: Enjoy the classic s'mores flavor anytime, without the need for a campfire or fire pit.
Easy Preparation: Five minutes and 3 ingredients is all you need. Making this dessert perfect for last-minute gatherings or sweet cravings.
Sweet Gooey Bliss: Revel in the irresistible gooeyness of marshmallows and rich melted chocolate, perfectly paired with crispy graham crackers.
Versatile Crowd-Pleaser: Ideal for parties, family nights, or a cozy treat for two, this dip is sure to satisfy everyone's sweet tooth.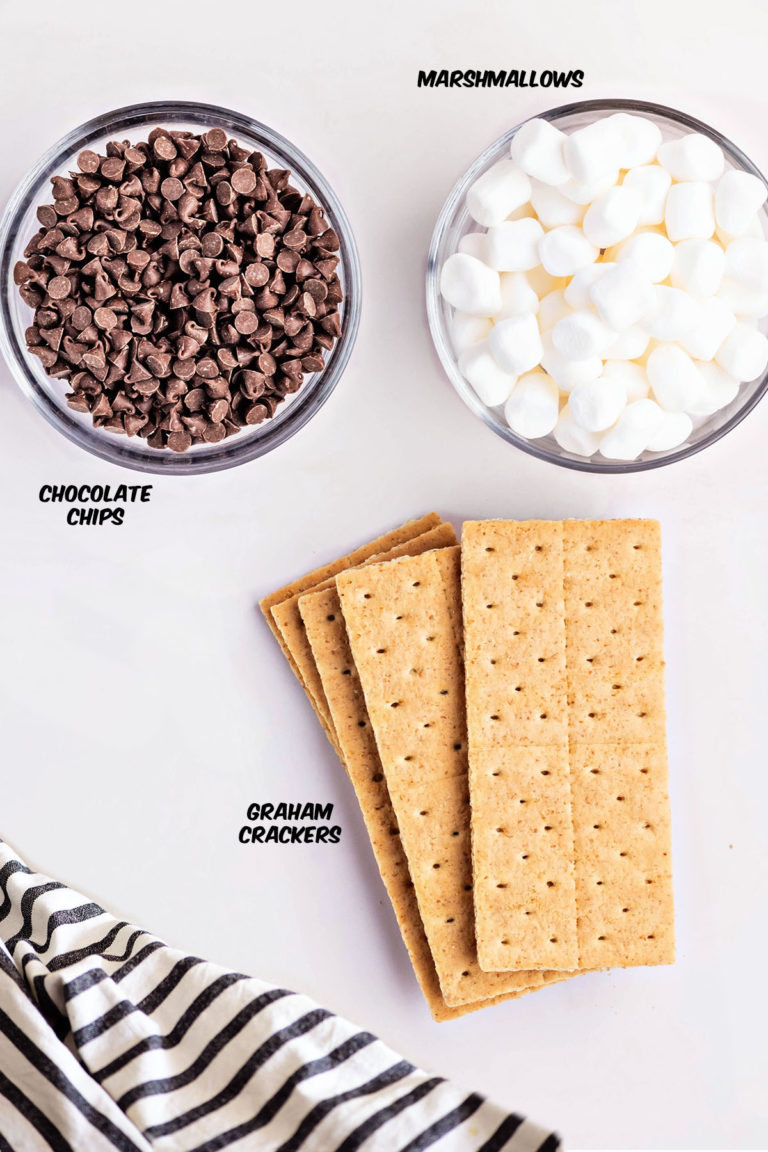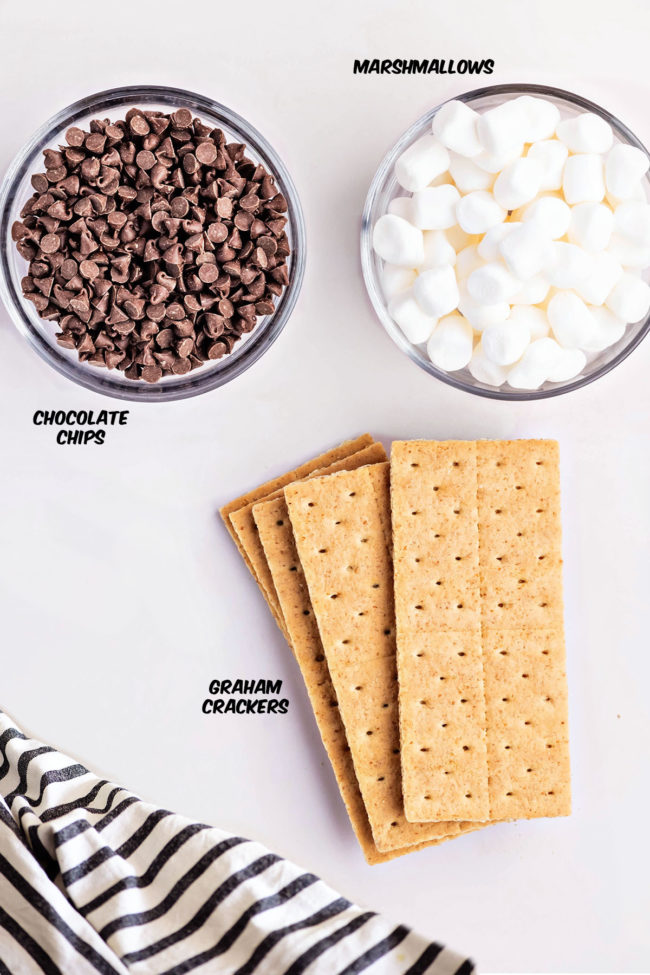 Ingredients Needed For S'mores Dip
For specific amounts, please refer to the printable recipe card at the bottom of the post.
Chocolate Chips – Choose your rich, melty favorite: milk chocolate, semi-sweet, or dark chocolate chips.
Mini marshmallows – the smaller little puffs of spongy sweetness make a delightful golden bumpy blanket across the top of individual s'mores dip.
Graham Cracker Sheets – The crisp cookie is the traditional flavor in a s'more, with the perfect taste, crunch, and strength for dipping.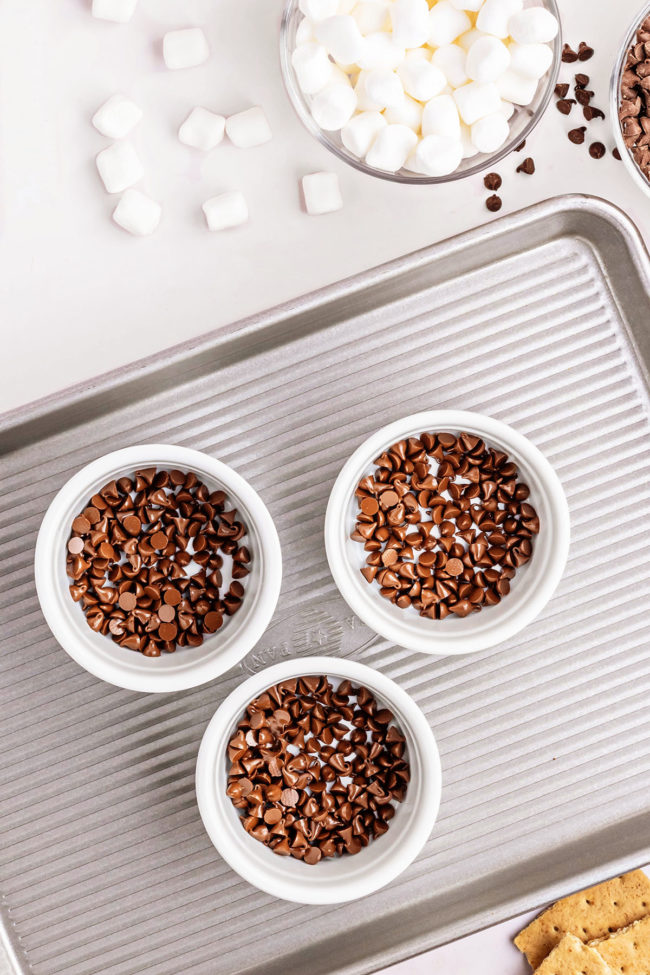 This post may contain affiliate links. Please read my disclosure policy here.
How To Make S'mores Dip In The Oven
This dessert recipe is so simple, yet so divine! The only tool you'll need is small oven-safe ramekins or mini cast iron skillets to make and serve the single-serve dips. Select three 8 oz ramekins, 6 oz ramekins, or 1-2 cast iron skillet depending on their size. (*see more bakeware options below)
When you are baking, you'll want to use the full recipe at the bottom of the page.
Heat the oven and place ramekins on a baking sheet. (This makes transferring them in and out of the oven easier.)
Melt half of the chocolate chips in ramekins in the oven.
Cover melted chocolate with marshmallows and sprinkle with remaining chips.
Bake s'mores dip until the marshmallows are puffy and golden brown.
Cool for 5 minutes and serve warm with graham crackers.
Bakeware Serving Options
Elevate your five-minute-to-fantastic marshmallow chocolate dip with creative or themed bakeware serving options: double batch, or individual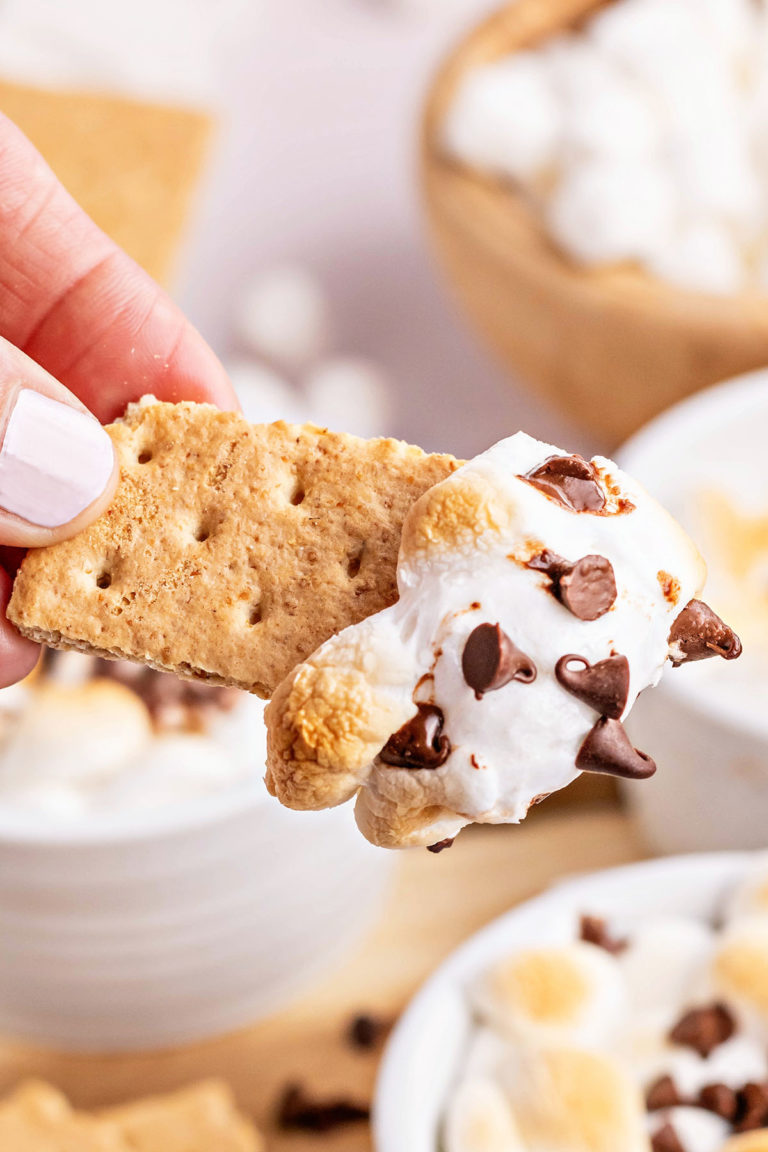 Recipe Notes And Tips
Use a baking sheet with a lip (not a cookie sheet) under s'mores ramekins to steadily and safely transfer the dip in and out of the oven.
Mini-sized chips will melt and smooth more easily in a s'mores dip recipe than regular or chunk-style chocolate chips. Increase the melting time, but avoid overheating.
Regular-sized marshmallows can work just as well if you don't have mini marshmallows; just cut them in half or quarter into smaller pieces.
You can broil the s'mores for the final step by placing the ramekins on the 2nd rack for 1-2 minutes. (Watch closely so the marshmallows don't burn).
If you can't make friends with your broiler, use a kitchen torch to get that quintessential campfire s'mores-like char.
When serving melty campfire s'mores in a cast iron skillet, use a silicon handle cover to protect little hands and enthusiastic s'mores lovers!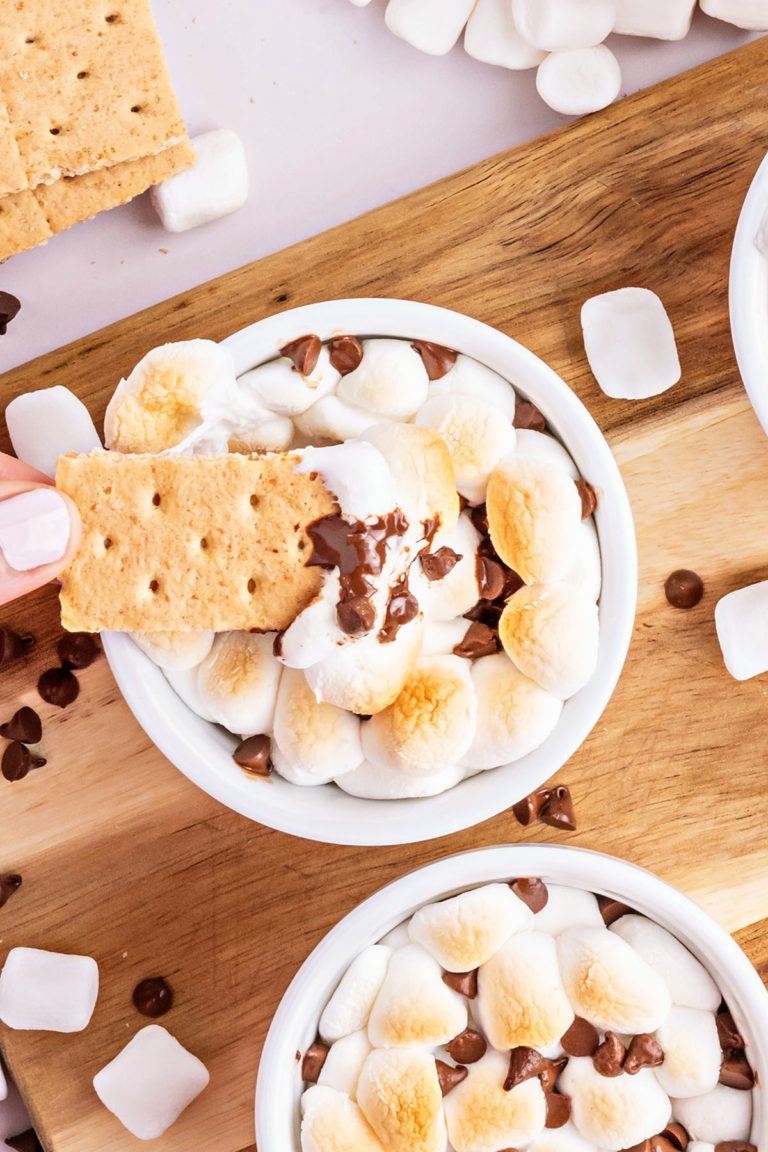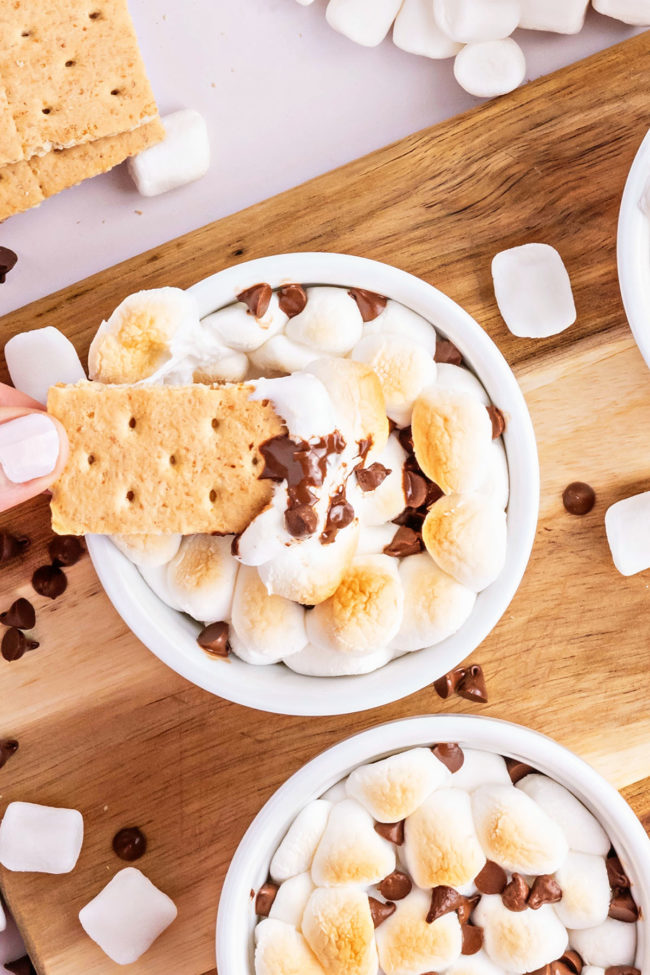 Storage
You can store leftover s'mores with plastic wrap or aluminum foil placed tightly on top at room temperature for up to 3 days.
Freeze
Storing s'mores dip in the freezer isn't always recommended, but cover tightly since there's only chocolate and marshmallow in the dip. Make sure to completely thaw, and there is no condensation when reheating, as the moisture will cause the chocolate to seize.
Reheat
You can reheat s'mores ramekins in the microwave, oven, or air fryer. If chilled, wait until the dip is room temp, then low and slow heat to avoid burning or scorching.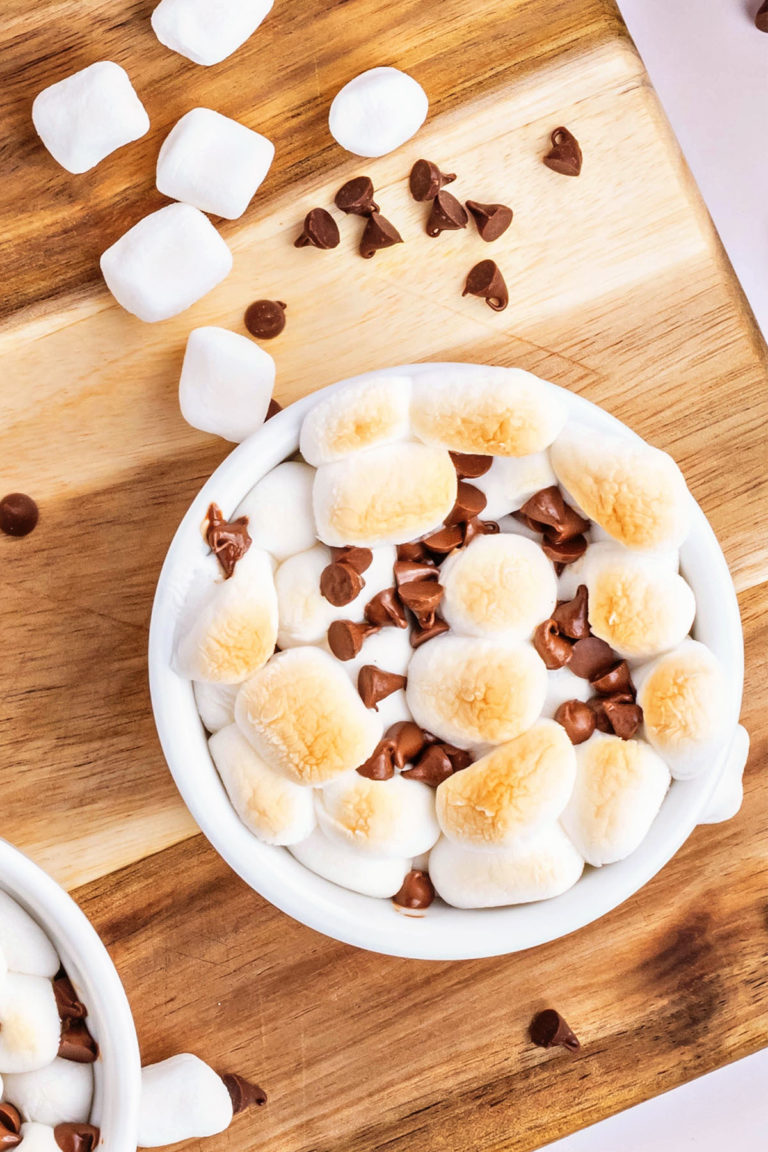 FAQs
Why is it called a S'more
A s'more is called so because it's a contraction of the phrase "Some more," reflecting the irresistible desire for another of these delicious treats after enjoying one.
How do I prevent my marshmallows from burning in the oven?
It's much easier to prevent marshmallows from burning by placing s'mores dip ramekins on the second shelf away from the broiler. You have a better view of how quickly the marshmallows toast and more control.
What else besides graham crackers can I use for S'more Dip?
Get creative with dippers like cinnamon sugar tortilla chips, cubed Hawaiian Sweet Rolls, chunks of fruit, or yogurt-covered pretzels. Biscoff cookies, Teddy Grahams, vanilla wafers, or "Nutter-Butter" sandwich cookies are also fun.
Can you use different flavored baking chips instead of chocolate chips?
Yes, you can use any type of chocolate chip you like: semi-sweet, milk, or dark chocolate chips. When feeling whimsical, use mint chocolate, expresso, peanut butter, white chocolate, or butterscotch chips. Check the label of baking chips that don't contain cocoa butter to ensure they will melt. Or just go with actual candy melts or almond bark if you need a specific color or flavor.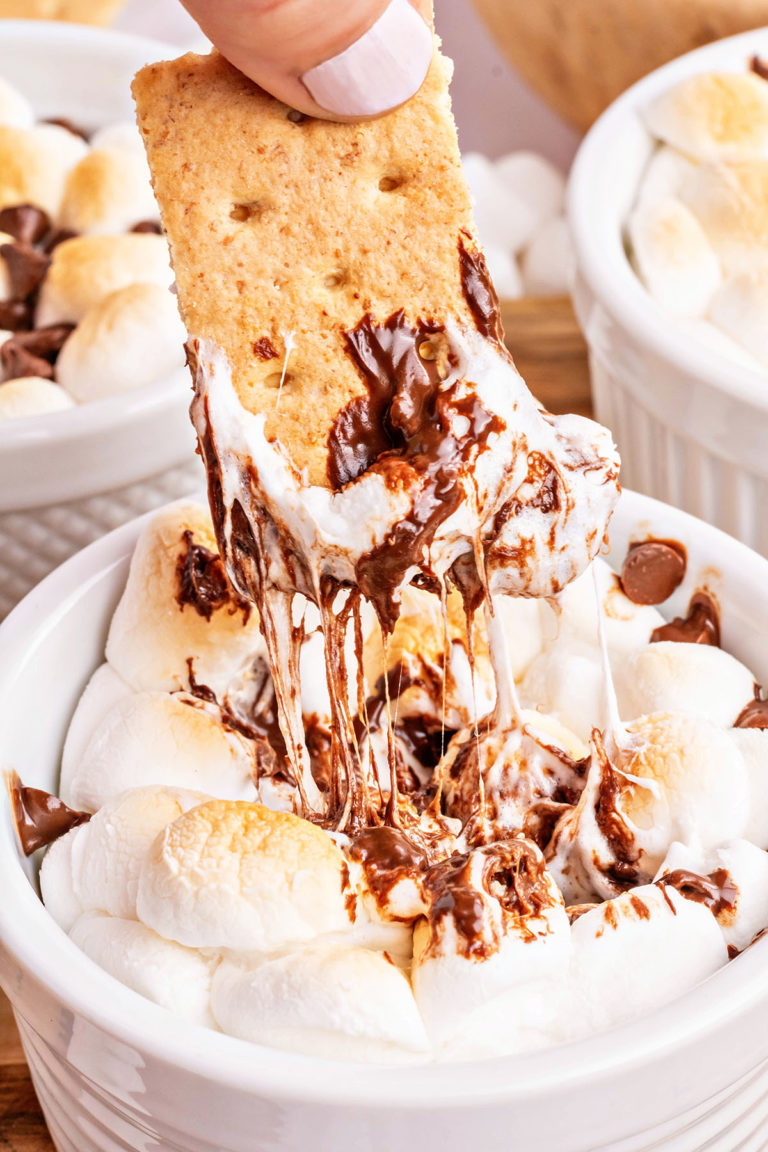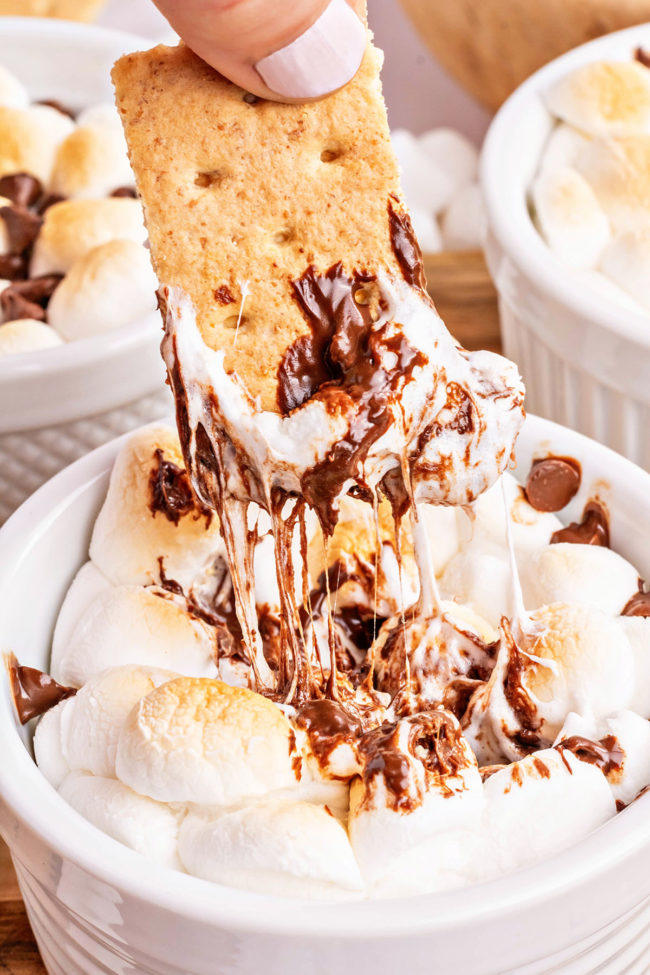 Serving Suggestions
S'mores is a gooey, melted chocolate and marshmallow dip, enjoyed with more than its fair share of finger-licking. Keep a pack of wet wipes available, especially for littles.
S'morgashboard – Load up a lazy susan with various dipping options for a festive family get-together or birthday party:
Sliced Apples, Fresh Strawberries, Kiwi Slices
Vanilla Wafers, Shortbread Cookies, Animal Crackers
Pretzel Thins, Ritz Crackers, Rice Cakes
S'more Sistas from Other Mistas Time – Congregate in the kitchen during girl's night for create-your-own s'mores dip with an array of baking/chocolate chip flavors (white chocolate, butterscotch, mint, etc.) and various crushed cookie or nut toppings. Don't forget a nice red that pairs well with chocolate!
Shhh, S'mores Secrets – Warm leftover s'mores dip and spread on waffles, pancakes, or cream cheese bagels. This dessert dip is also great over ice cream or spooned into the bottom of a waffle cone for a fun surprise.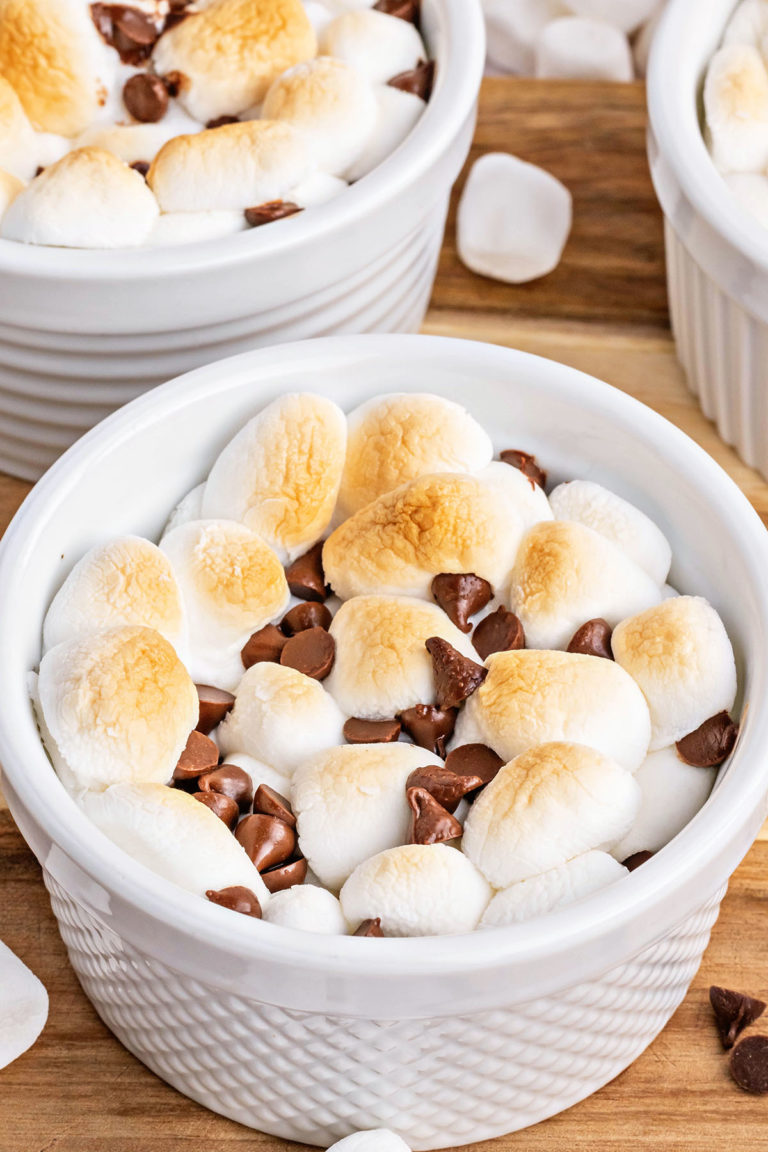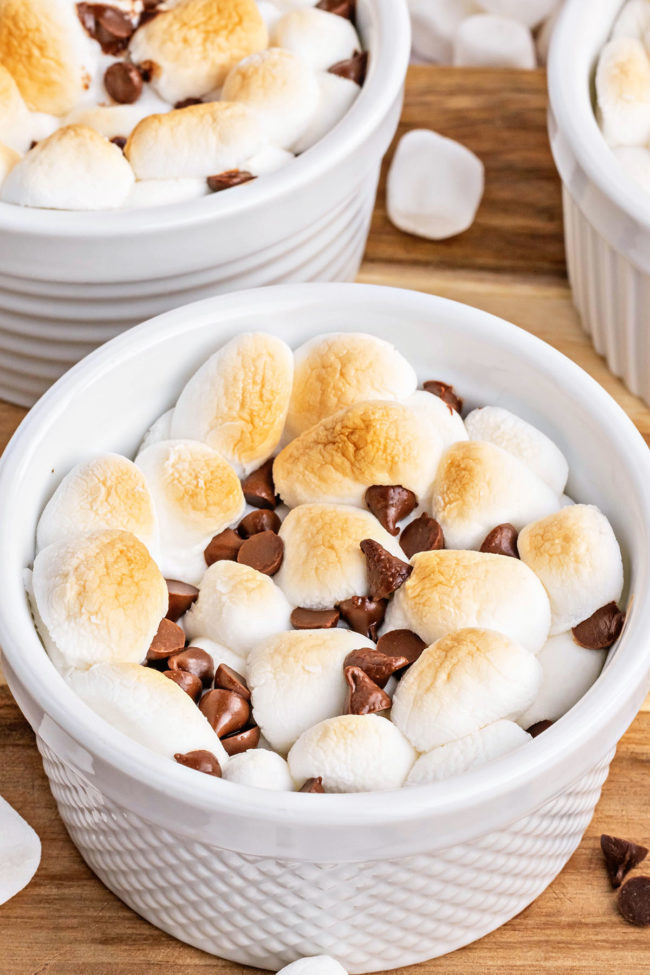 Baking Options
This creamy, dreamy s'mores dip recipe can be made in the air fryer or microwave for added convenience.
Remember, when making this dessert dip in the microwave oven, the marshmallows won't have the pretty golden brown tops, but they will be just as delightfully gooey sweet.
Heat in 10-second increments so the melty chocolate won't scorch or seize and the marshmallows don't puff up and run out over the bowl.
Air fryer s'mores dip is easy, uses less energy, and doesn't create extra heat in warmer weather. (This dip is the bomb any time of the year!!) Use the same time and temperatures from the oven s'mores dip recipe.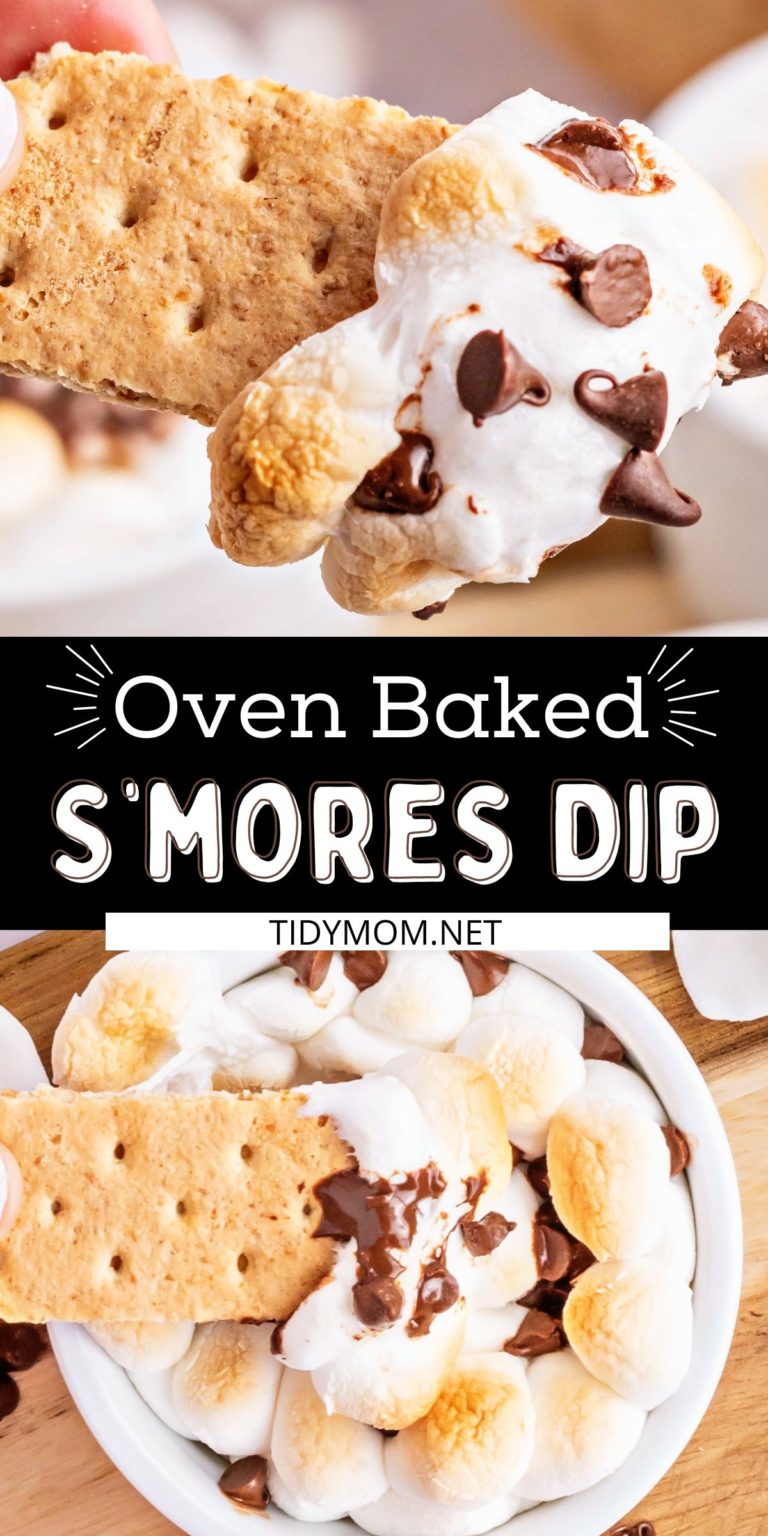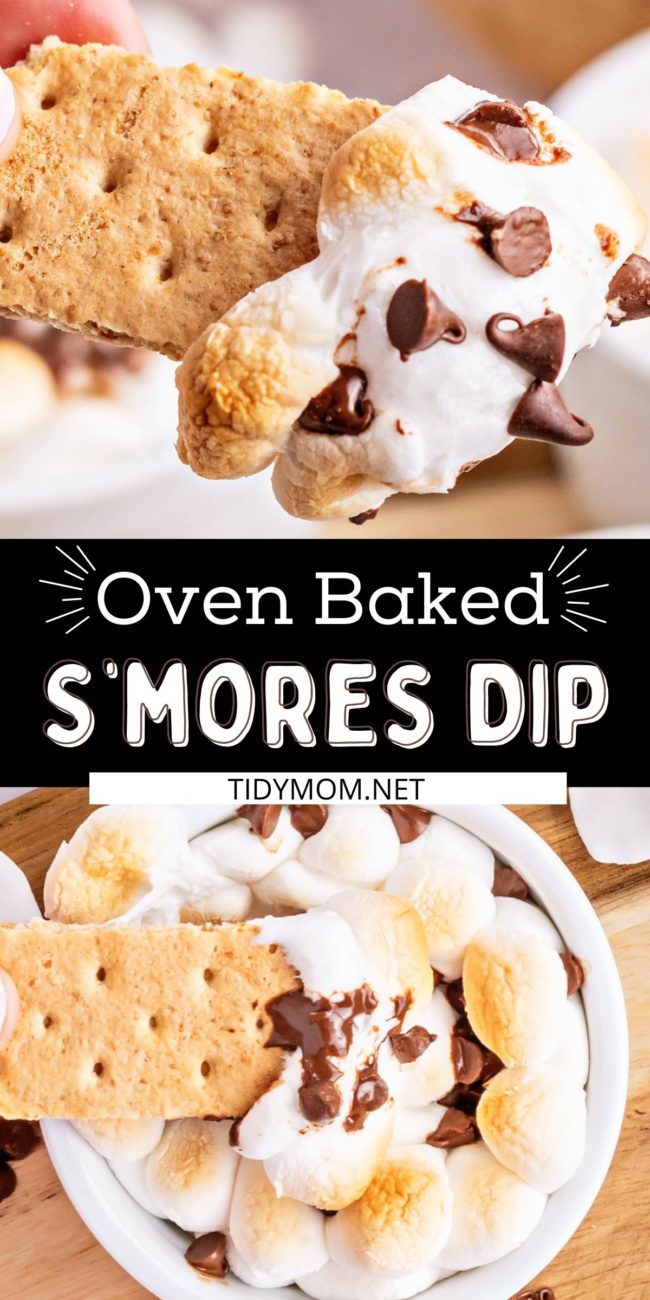 Like This Recipe?
I'd love to hear what you think! Leave a review below and let me know how you liked the recipe!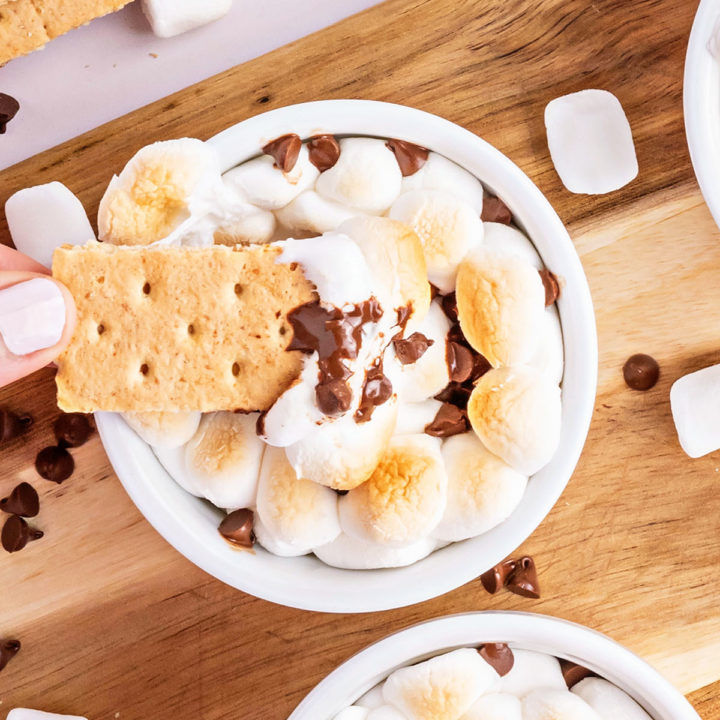 Oven Baked S'mores Dip
Yield: 3 (6- 8) ounce servings
Prep Time: 1 minute
Cook Time: 5 minutes
Total Time: 6 minutes
Ingredients
¾ cup mini semi-sweet or milk chocolate chips, divided
2 ¼ cups mini marshmallows
6 graham cracker sheets for dipping
Instructions
Heat the oven to 400° F. Place ramekins on a baking sheet (this will make it easier to transfer them in and out of the oven.
Add 2 tablespoons of mini chocolate chips to each ramekin. Place on the center rack in the oven for 2-3 minutes or until the chocolate chips are melted.
Remove from the oven and top the melted chocolate with ¾ cup of marshmallows in each dish and sprinkle with 2 tablespoons of chocolate chips per ramekin.
Return to the oven for another 3-5 minutes or until the marshmallows are puffy and golden brown. Alternatively, you can place the ramekins on the second rack of the oven and broil for 1-2 minutes. (watch closely so the marshmallows don't burn).
Remove from the oven cool for 5 minutes and serve warm with graham crackers.
Notes
You can store the leftovers with plastic wrap or aluminum foil placed tightly on top at room temperature for up to 3 days. You can reheat the ramekin in the microwave, oven, or air fryer.
Serving suggestions: graham crackers, vanilla wafers, pretzels, Ritz crackers, animal crackers, fresh strawberries.
This s'mores dip can be made in the air fryer or even the microwave. If you make this in the microwave the marshmallows won't have the pretty golden brown tops. When using the microwave heat it up in 10-second increments so the chocolate doesn't burn and the marshmallows don't overflow the bowl. Use the air fryer to make these s'mores - it's easy and doesn't heat up the whole kitchen.
You can make this s'mores dip in individual ramekins, a small cast iron skillet, a large cast iron skillet, or any baking dish of your choice. Simply adjust the ingredients to the number you are serving.
Nutrition Information:
Yield: 3
Serving Size: 1
Amount Per Serving:
Calories: 548
Total Fat: 20g
Saturated Fat: 11g
Trans Fat: 0g
Unsaturated Fat: 7g
Cholesterol: 13mg
Sodium: 212mg
Carbohydrates: 87g
Fiber: 3g
Sugar: 58g
Protein: 7g
Nutrition information is estimated based on the ingredients and cooking instructions as described in each recipe and is intended to be used for informational purposes only. Please note that nutrition details may vary based on methods of preparation, origin, and freshness of ingredients used and are just estimates. We encourage, especially if these numbers are important to you, to calculate these on your own for most accurate results.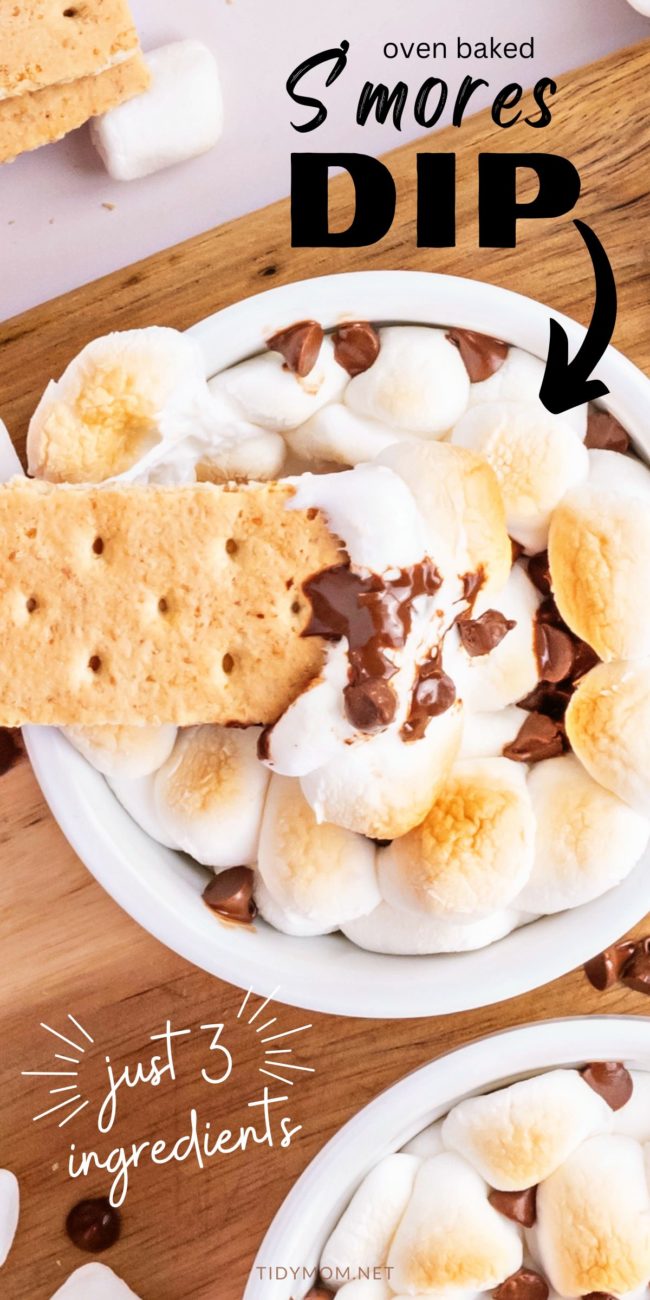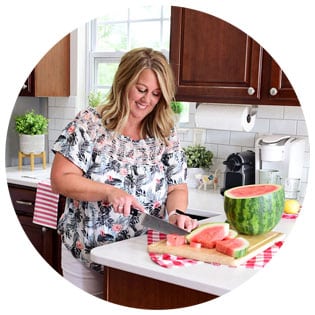 Hi there, I'm Cheryl!
As a wife, mom, and caffeine enthusiast, my journey has taken me from bustling mornings with my family to sharing delicious recipes, home care tips, and heartfelt decorating insights with wonderful readers like you. My love for baking, photography, and tidiness shines through every post I craft. Dive into my world and discover the art of homemaking, one tidy moment at a time. Read more...
Tidymom is a participant in the amazon services llc associates program, an affiliate advertising program designed to provide a means for sites to earn advertising fees by advertising and linking to Amazon.com.
Please respect my work, recipes and photographs. If you do use a recipe in your own writing, please give proper credit and link back to the original post.