Gourmet S'mores Party
Need a fun easy party idea this summer? How about a Gourmet S'Mores Party? Summer is the perfect time to light up the fire pit and roast up s'mores. There's something nostalgic about roasting a marshmallow and sandwiching it between two graham crackers, stacked with a chocolate bar. I thoroughly enjoy conventional s'mores but have you ever tried some a bit fancier?

S'mores are a big part of summer, and a can be a fun "memory maker" activity. There is something so enticing about standing around a bonfire roasting marshmallows, laughing and enjoying family and friends.
A s'mores bar is pretty easy to set up, and the ingredient list is can be basic or super gourmet depending on your ingredients and budget.
I set up our gourmet s'mores bar with: four flavors of marshmallows, 5 types of chocolates, 3 delicious spreads and 3 types of crackers to create unlimited flavor combinations for your own gourmet s'mores!
I'm excited to be partnering with Coca-Cola again, this time to show you this fun Share A Coke party idea!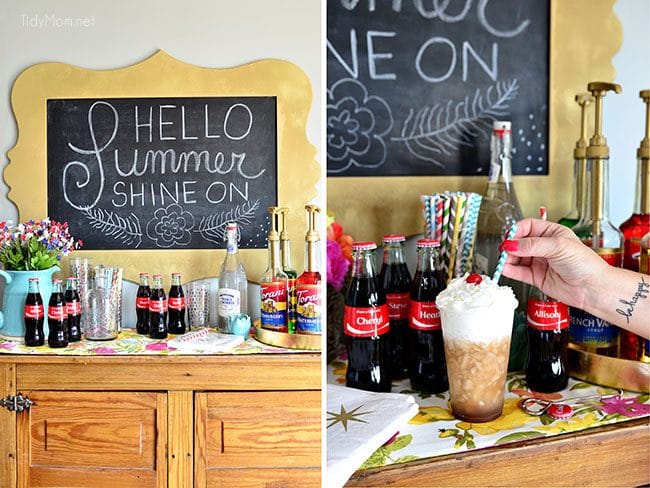 We've had a strange summer so far in St. Louis, up until last week, it had been full of rain….record breaking rain. We were anxious to enjoy the outdoors a bit! Since it was so hot, we started off inside with DIY flavored Coca-Cola Soda Bar, to cool off from the summer heat.
The adorable personalized Share a Coke glass bottles were perfect for the soda bar. I always have the tray of syrups out that we used last year for an Italian Soda Bar, this time we used Cocoa-Cola, with the flavored syrups, such as French Vanilla, Lime or Coconut, and crushed ice. Topped with whipped cream, a cherry, and a fun straw it's a great way to kick off a party! Everyone loved creating their own flavors……..my favorite was Coke with 2 pumps of coconut and one pump of lime. When the whipped cream starts to melt it becomes a creamy frosty treat.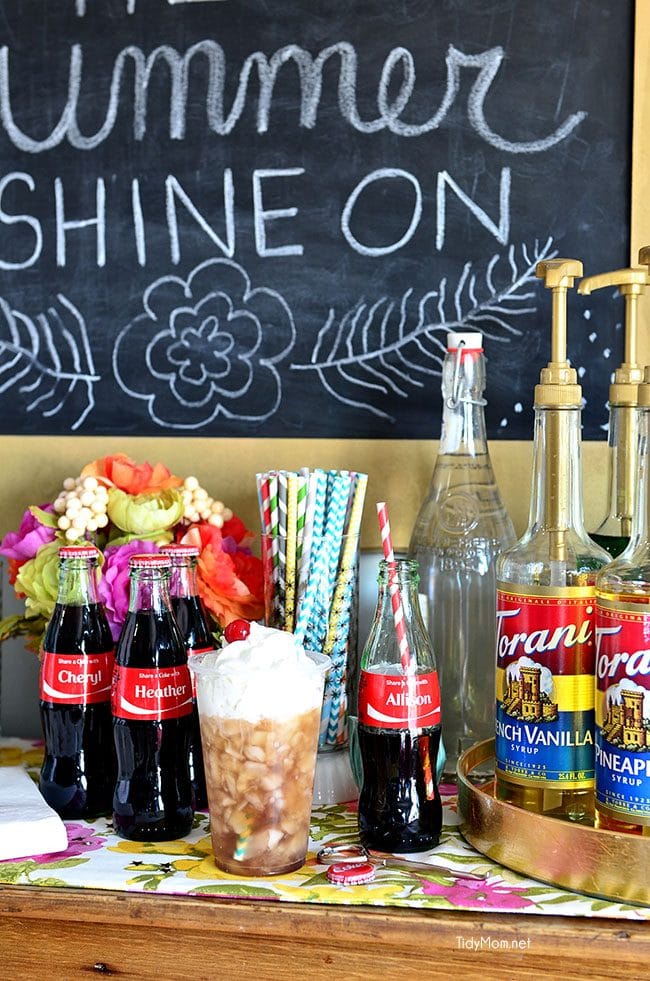 Once the sun started to get a little lower, we moved outside around the fire pit and I set up the s'mores party bar.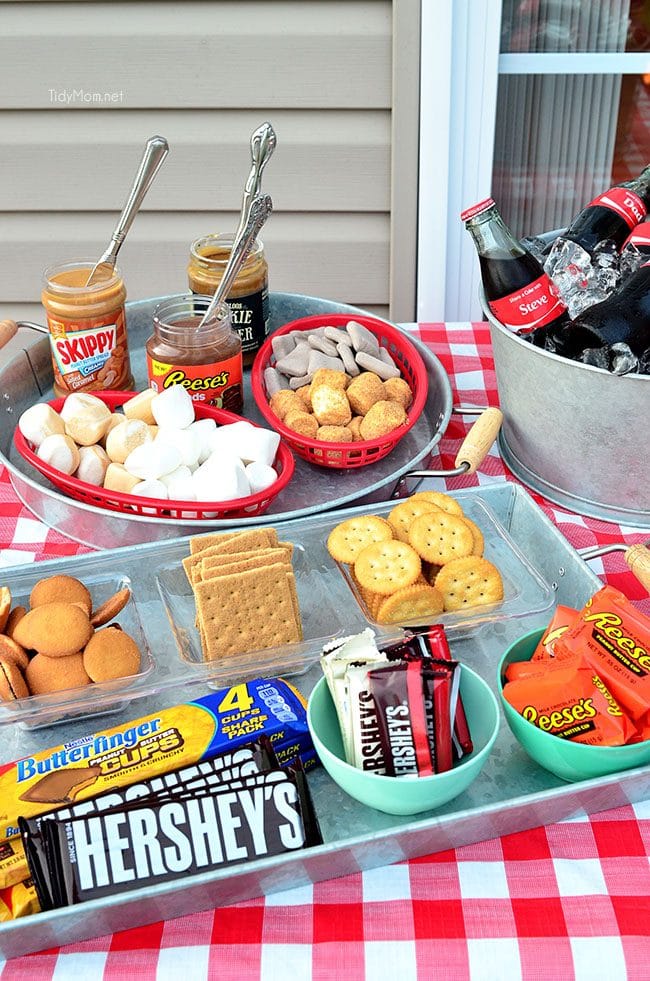 S'mores Party Bar
MARSHMALLOWS: chocolate marshmallows, coconut marshmallows, caramel vanilla marshmallows, and traditional marshmallows
CHOCOLATES: peanut butter cups, Butterfinger cups, milk chocolate, dark chocolate and cookies, and cream chocolate
SPREADS: salted caramel peanut butter, chocolate peanut butter, cookie butter
CRACKERS: graham crackers, butter crackers, and vanilla wafer cookies
S'mores Party Supplies
skewers
plates
knives
serving trays and bowls
wet wipes
trash can
Some of our Gourmet S'mores Creations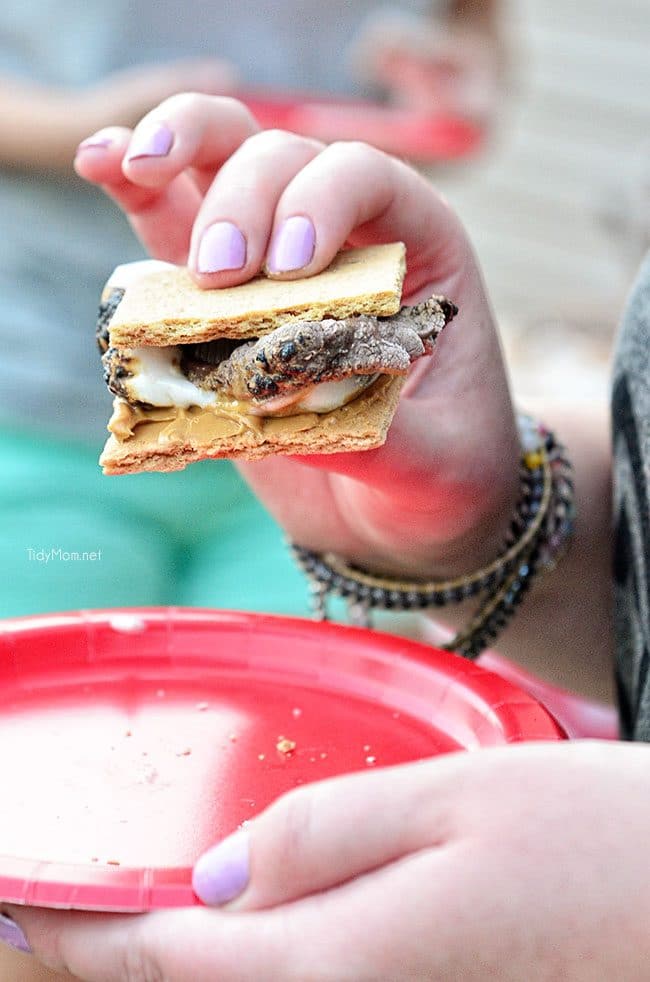 Chocolate marshmallow + traditional marshmallow, both toasted. On graham crackers, with salted caramel peanut butter and a peanut butter cup.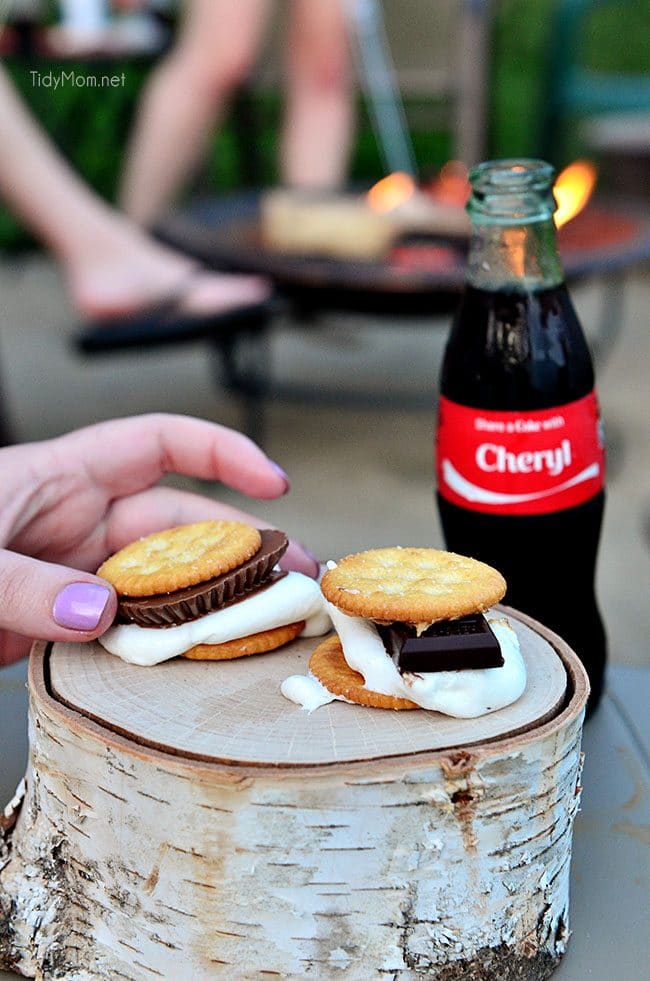 Have you tried a s'mores on the butter cracker?! The sweet and salty butter goodness was a HUGE favorite! I think everyone decided they like them better than the graham crackers.
butter cracker + Butterfinger cup + caramel vanilla marshmallow
butter cracker + dark chocolate+ traditional marshmallow + peanut butter
butter cracker + cookies and cream chocolate bar + chocolate marshmallow
butter cracker + coconut marshmallow + dark chocolate + cookie butter
There were many more – people were eating them faster than I could take pictures……the possibilities are endless!
Don't forget to set out a few containers of wet wipes…….s'more are messy!!
I never got a chance to try a s'mores on a cookie. Maybe next time we'll have all cookie s'mores! I can only imagine a s'mores on a homemade chocolate chip cookie.
Ice cold Coca-Cola glass bottles were the perfect refreshment for the sticky sweet treat and warm evening.
UPDATE: Summer Sweepstakes has ended
PIN IT TO SAVE IT FOR LATER!


Click the image below for more Coca-Cola Ideas: Recipes, crafts, and entertaining!

Disclaimer: This is a sponsored post written by me on behalf of Coca-Cola "Share a Coke" 2.0. This prize was provided by The Coca-Cola Company. The Coca-Cola Company is not a sponsor, administrator or connected in any other way with this sweepstakes.
Tidymom is a participant in the amazon services llc associates program, an affiliate advertising program designed to provide a means for sites to earn advertising fees by advertising and linking to Amazon.com.
Please respect my work, recipes and photographs. If you do use a recipe in your own writing, please give proper credit and link back to the original post.