In 1999 my wonderful, funny, sweet, loving sister-in-law, was diagnosed with breast cancer.   In June 2000 the whole family walked with her to support her fight at the St. Louis Race for the Cure. By March 2001 at 49 years old, Bobbie lost her battle with breast cancer. Every year since our family continues to walk in her memory.
I recently found out about another campaign that is raising significant awareness and funds to fight breast cancer.   The Company Store is teaming up with the Avon Foundation for Women and the Avon Walk for Breast Cancer through the Comfort Crusade! Together they are going to raise money that will help advance access to quality breast health care, research towards prevention and understanding metastatic breast cancer, and ultimately… find a cure!!
Since its launch in 2003, the Avon Walk for Breast Cancer has raised more than $500 million through the dedication of more than 192,000 participating women and men from across the country.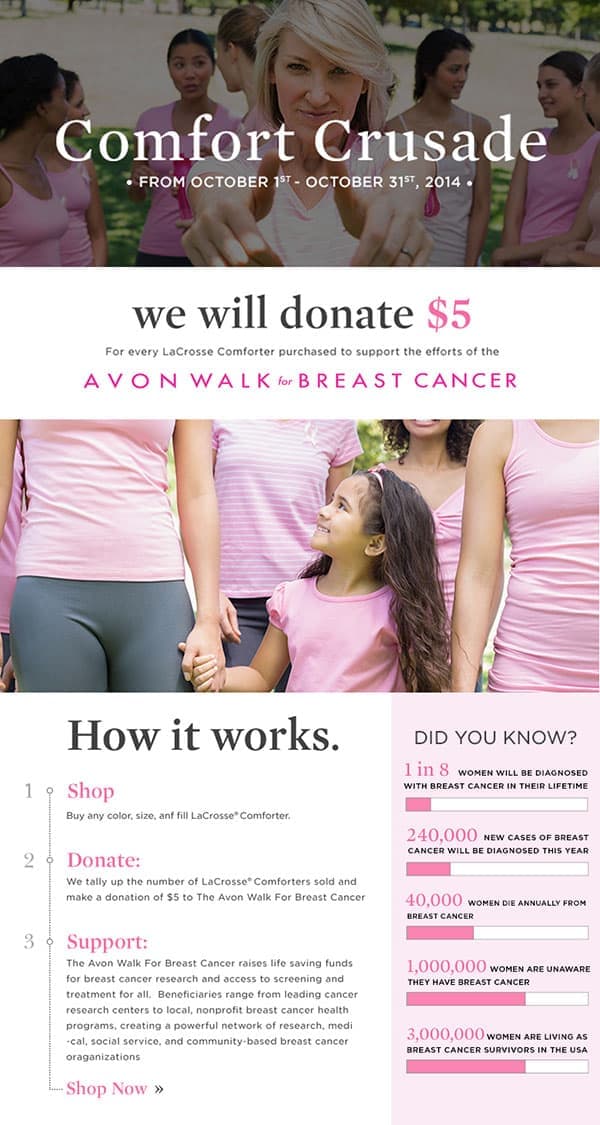 CLICK HERE TO LEARN MORE ABOUT THE COMFORT CRUSADE
During the month of October, The Company Store, famous for top quality, US-crafted bedding and home décor, is extending comfort by stepping in and donating $5 to the Avon Walk for every LaCrosse Comforter purchased. Just in time for the cool nights we are starting to have.  Down comforters are so great at keeping you warm and cozy. And The Company Store's are high quality, long-lasting comforters, that last for years. The LaCrosse Comforter has been providing comfort and warmth to customers for over 100 years
{click to continue}