Garbanzo beans, shredded chicken, feta cheese, tomatoes, and cucumbers are rolled in tortillas for a quick Greek-inspired lunch.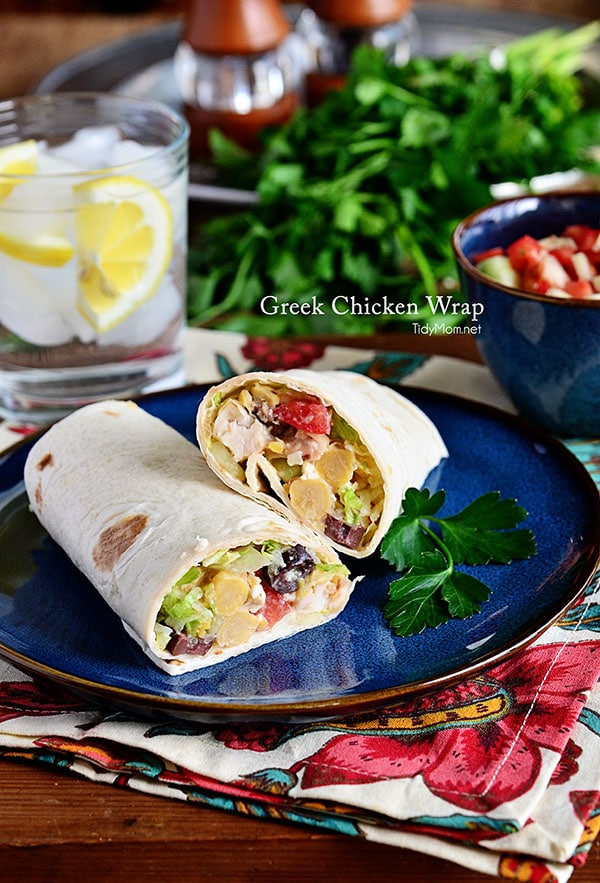 Well, I survived my birthday weekend, and the time change!  How is it I turn another year older and almost instantly lose an hour? …..I'd be all for that if I lost a few years lol
We have a lot going on here in the next few months.  Our oldest bought her first house and closes in 2 weeks, so I've been helping her pack her apartment.  We will help her move the weekend of March 22, then a few days later I'm headed to San Francisco to visit with the great people at Stitch Fix.  Allison is coming with me since we both look forward to our monthly Stitch Fix boxes!  It's going to be fun seeing all the behind the scenes action with the stylist to the warehouse where they pack and ship the clothes!  A week after we return is Allison's senior prom!  She's on the prom committee so we will be busy that week setting up the gym and baking some sweet treats.  
A few weeks later I will head to Salt Lake City to speak on a panel about Pinterest at the SNAP conference!!  Let me know if you'll be there!  when I get home from that trip, graduation is just around the corner and we will be throwing a graduation party.  Where does the time go?!  
So quick, simple, filling lunch and dinner ideas have been on my mind lately.  {click to continue}