These decadent Chocolate Peppermint Crinkle Cookies have just the perfect hint of mint tucked inside beautiful snowy white layer of powdered sugar crackled against a bed of dark Ghirardelli chocolate using a brownie mix as a shortcut to crinkle cookie perfection.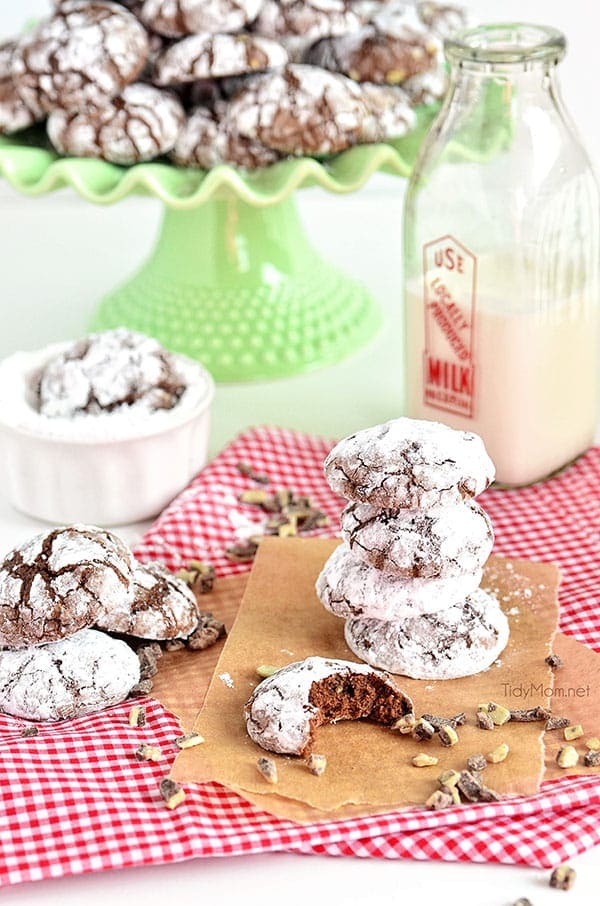 click to Pin this recipe
I want to enjoy this holiday season, not add more stress.  So finding a shortcut to a favorite holiday cookie leaves me more time I can spend with friends and family.
Last week after a long day, Allison reminded me that she needed cookies for a holiday party at school.  So we started digging thru the pantry to see what we had that could be whipped up with minimal effort, when we spied a chocolate crinkle cookie recipe on the side of a boxed brownie mix!  
Since this is the season for peppermint, we decided a few additions could take this easy cookie recipe to Holiday Cookie tray favorite!  And no one would be the wiser that this soft and gooey on the inside and crisp on the outside peppermint crinkle cookie started with a boxed brownie mix. {click to continue}