Buffalo Chicken Pizza + Baking Steel
Homemade pizza is easy, cheap, and fun!  While you can never go wrong with traditional cheese or pepperoni, Buffalo Chicken Pizza is one that never disappoints!  You can cook your own chicken (or use a rotisserie chicken), shred and simmer in your favorite buffalo sauce for this recipe, but if you plan ahead, you can make a batch of Slow Cooker Creamy Ranch Buffalo Chicken for the ultimate Buffalo Chicken Pizza recipe!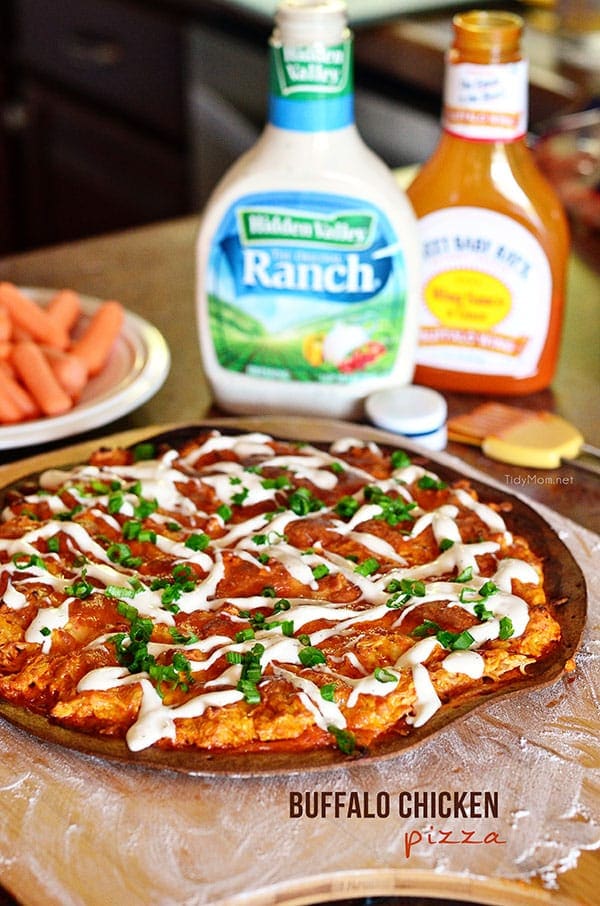 How To Make The Best Buffalo Chicken Pizza At Home with a Pizza Steel
As much as my family loves to grill pizza outside on the grill (using flour tortillas), we have never had a lot of luck making a good pizza in the oven. So often the crust will turn out limp or even soggy, even when I use my pizza stone. I actually made this pizza a few months ago when I saw it on Scattered Thoughts of a Crafty Mom .
While we LOVED the idea and the flavor, my pizza was soggy.  Why does this happen?  Simply put, home ovens just can't get as hot as a commercial or stone pizza oven. A high temperature (yielding a quick cook time) gives pizza that beautiful, crispy crust we all crave.
Fast forward to a few weeks ago when I discovered the Baking Steel.  When it comes to creating that perfect crust at home, the Baking Steel is what you need for making pizza at home! Why? The Baking Steel is similar to a baking stone, by storing heat energy and conducting it into the bottom of the pizza yielding a faster bake, a crisper crust and better flavor. The difference is that the steel has superior heat capacity and conductivity, making it all the better at delivering the kind of crisp, well-browned crust that you used to only be able to get from commercial pizza ovens.  Read more about the science behind the baking steel — you'll be sold like I was.
The awesome people behind the Baking Steel noticed my interest when I pinned it, and asked if I would like to give it a try. Uh, yes please!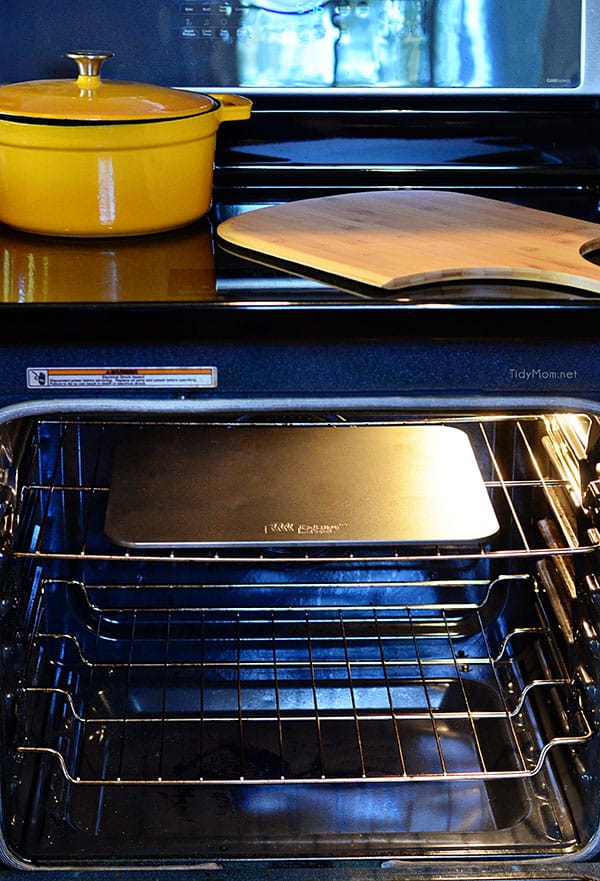 I have to be honest here and tell you, I have never made homemade pizza crust, but now that I have seen what the Baking Steel can do, I can't wait to make our own crust next time.
For our first trial run with the Baking Steel, I knew right away we wanted to give that Buffalo Chicken Pizza another go, using a store bought (mulit grain) crust like we did the first time.  I figured this would be the perfect experiment to see if the steel really makes a difference.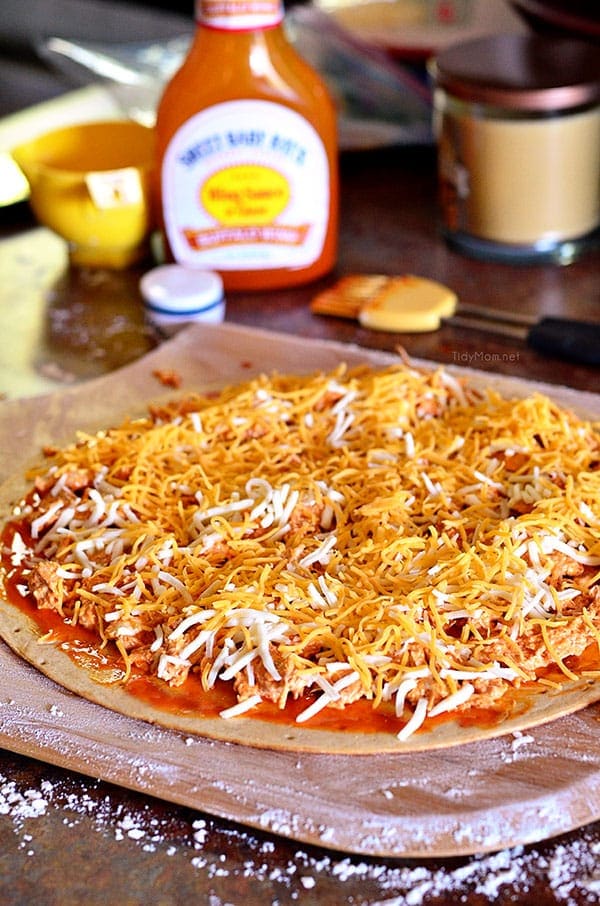 Let's Make Buffalo Chicken Pizza
I cooked a batch of Slow Cooker Creamy Ranch Buffalo Chicken (full recipe at end of post) in my Nesco Roaster for about 6 hours, then we were ready to make our pizza that evening.  When cooking a pizza at home in the oven you will want to use a pizza peel to transfer your pizza onto the steel.
I lightly floured the peel, before laying the crust out.  Next I spread a small amount of  buffalo sauce over the crust, we like both Franks and Sweet Baby Rays, but I find the Sweet Baby Rays to be a little less "hot" and tend to use it in recipes that call for a lot of buffalo sauce, to keep the "hotness" level more tolerable for everyone (it's still hot and full of fabulous flavor). Next, I topped the sauce with the creamy ranch buffalo chicken and lots of shredded cheese (we used provel, mozzarella and colby jack)
Then shimmy that baby into the oven onto the baking steel and fire away!
Our Buffalo Chicken pizza came out of the oven with a mottled brown crust and plenty of dark and light spots. Best of all, it was perfectly crisp, just how we like it!  I topped it with ranch dressing and chives and served with celery and carrots.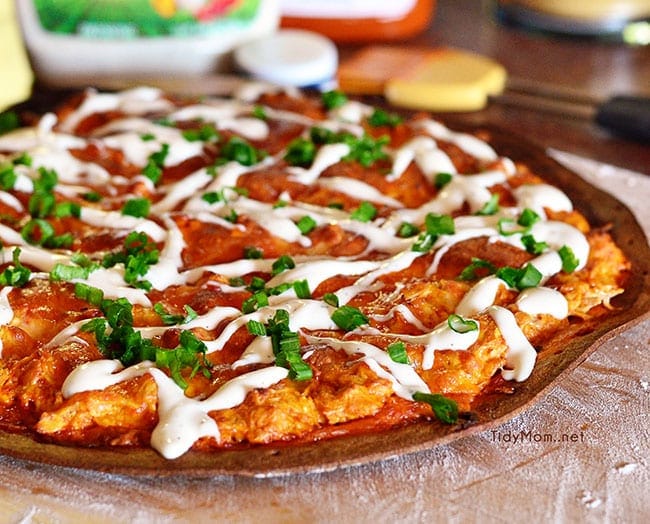 Looks great, doesn't it?
Now, pizza lovers everywhere, can "create the crust you crave" at home! I see a LOT more homemade pizza in our future.
Buffalo Chicken Pizza RECIPE NOTES:
Creamy Ranch Buffalo Chicken in slow-cooker can be made ahead of time and store in the refrigerator until ready to make pizza. Just warm the chicken in the microwave first and add a bit more sauce to the chicken if needed.
If you'd like to make this without using a slow cooker, just heat 2 cups cooked chicken (you could even use a rotisserie chicken) with 2 cups of buffalo sauce and ranch dressing mix until heated thru. Remove sauce from chicken. Shred chicken, then add cream cheese and simmer on low until cheese is softened and can be stirred into chicken. Add buffalo sauce back in a little at a time until moist but not dripping.
This recipe can easily be made in other quantities. Simply use about 1 cup of buffalo sauce and 6 ounces cream cheese per pound of raw chicken to adjust.
Buffalo chicken can then be used on pizza, as a dip or as a wrap with lettuce and more cheese on a tortilla rolled up or any other way you can think to use it!
Buffalo Chicken Pizza with Slow Cooker Creamy Ranch Buffalo Chicken
Yield: 2 pizzas
Prep Time: 15 minutes
Additional Time: 4 hours 15 minutes
Total Time: 4 hours 30 minutes
Homemade pizza is easy, cheap and fun and this recipe for Buffalo Chicken Pizza is one that never disappoints!
Ingredients
For Slow Cooker Creamy Ranch Buffalo Chicken:
1 1/2 pounds Chicken breast
2 cups Buffalo Sauce
12 ounces Cream Cheese
2 teaspoon Ranch dressing seasoning mix
For the Pizza
2 pizza crusts (homemade or store-bought)
2 cups Slow Cooker Creamy Ranch Buffalo Chicken
1 cup Buffalo Sauce
16 ounces shredded cheese (we used a combo of colby jack, mozzarella and provel)
Ranch dressing (optional)
green onions (optional)
Instructions
To make Slow Cooker Creamy Ranch Buffalo Chicken:
Place the chicken breast and 2 cups of buffalo sauce and ranch dressing mix in slow cooker.
Cook on high 4 to 6 hours or low for up to 8 hours.
20 minutes before end of cooking, remove slow cooker lid and using a ladle, remove most of the sauce from chicken and set aside. Place the cream cheese on top of the chicken, replace the lid and cook for another 15-20 minutes on medium.
Remove lid from slow cooker, using 2 forks, shred chicken and stir to combine softened cream cheese. Add some of the reserved buffalo sauce back in to to chicken mixture a little at a time so the buffalo chicken is super moist and juicy, but not dripping.
To Make Pizza:
Place Baking Steel on top rack of your oven. Pre-heat to 500 degrees or on full throttle (Preheat 45 minutes-1 hr is ideal).
Flour your peel (lightly knock the side of the peel over the sink to remove excess flour), and place crust on top. Once the crust is on the peel, hold on to the handle and give it a few shakes. Make sure that the dough/crust moves around.
Evenly distribute about 1/2 cup buffalo sauce on crust leaving about 1 inch around the perimeter.
Spread buffalo chicken over sauce and sprinkle with cheese. (don't want to wait too long between adding your toppings and launching your pizza. The longer you leave the dough/crust on the peel, the higher the chance it will stick).
Shake the peel again, make sure the dough/crust is still moving.
Launch pizza in the oven by touching the peel down at the back of the Baking Steel. Give the peel a slight, but gentle jerk and shuffle the peel out slowly as the pizza settles onto the steel.
Bake until you've reached your desired brownness, I baked ours about 7-8 minutes.
Serve with a drizzle of ranch or blue cheese dressing and diced green onions, if desired.
repeat for 2nd pizza
About the Baking Steel
The heavy-duty Baking Steel is made of recycled steel and is virtually indestructible. It's pre-seasoned with an organic blend of oil so it arrives at your door ready to use. It comes standard at 16 inches X 14 inches, fitting most conventional home ovens, as well as barbecue grill surfaces.
Be sure to check out the Baking Steel Blog for lots pizza recipes, pizza tips and other recipes.
Using, Cleaning & Re-seasoning your Baking Steel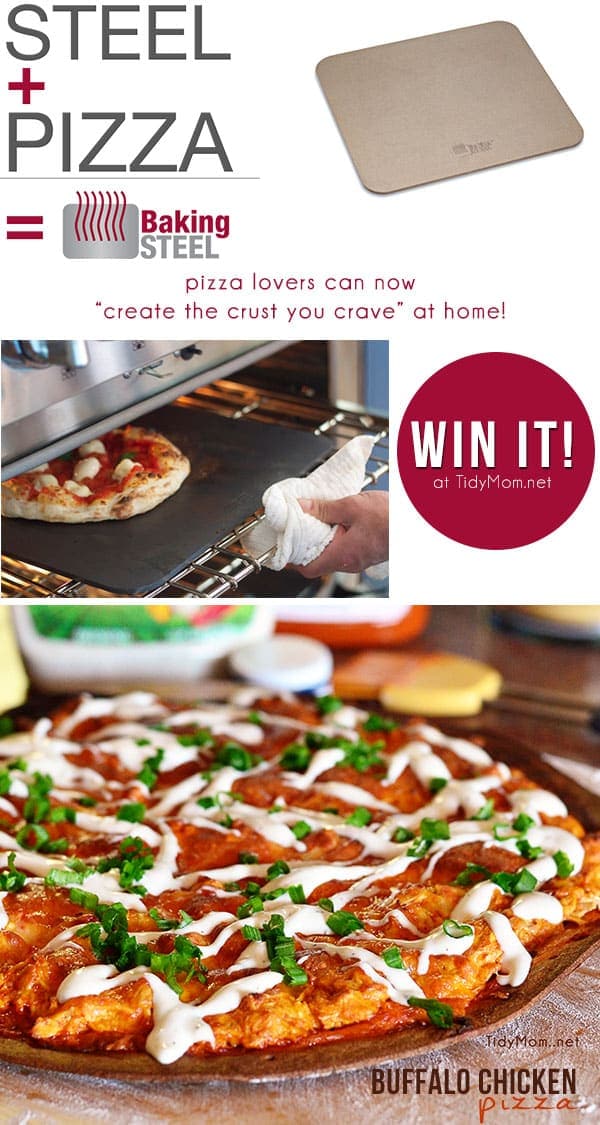 GIVEAWAY HAS ENDED – winner announce in widget below
If you don't see the widget, be patient because it might take a minute to load (especially with Internet Explorer 9). Or you can click here to for the entry form if you have any questions, you can contact me via email


Disclaimer: I have a working relationship with the Baking Steel. All views and opinions are my own. Giveaway provided by the Baking Steel.
Tidymom is a participant in the amazon services llc associates program, an affiliate advertising program designed to provide a means for sites to earn advertising fees by advertising and linking to Amazon.com.
Please respect my work, recipes and photographs. If you do use a recipe in your own writing, please give proper credit and link back to the original post.