Broccoli Cheddar Soup (Panara Copycat Recipe)
Broccoli Cheddar Soup! Rich, creamy, full-bodied cheddar soup loaded with broccoli tickles your taste buds and warms you from the inside out. Save time and the expense for a Panera soup when you create your own delectable broccoli and cheese soup in less than half an hour!
'Tis the season for soup, and we have one for every day of the week! A few of our favorite go-to soup recipes: French Onion Soup, Old Fashioned Beef Vegetable Beef, Easy Roasted Tomato Soup, and phenomenal Lasagna Soup!
Be sure to sign up for my email… to get new recipes and ideas in your inbox!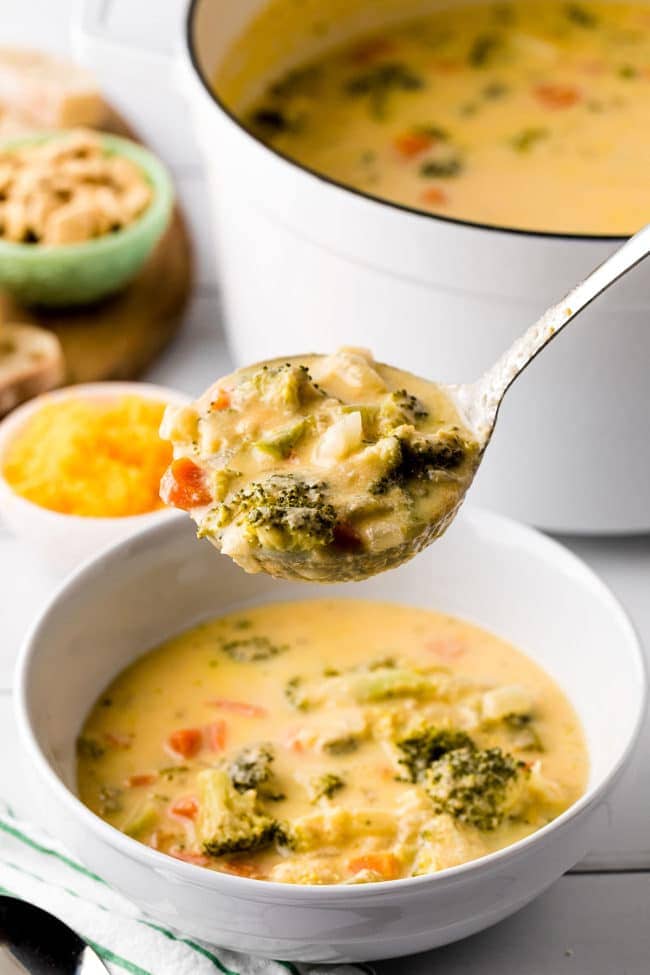 Why Broccoli Cheddar Soup Rocks!
Warm and cozy broccoli cheese soup is just the thing for busy, cold, and blustery winter days! Our routines don't get any shorter just because the daylight does. That's what makes this quick and easy broccoli and cheese soup recipe a dinner dynamo around here! Roll with a simple salad, chewy Italian bread, and a relaxing Cranberry Cosmo hand-crafted with your own Cranberry Infused Vodka!
Dinner or Lunch – cheesy cozy comfort in a bowl
Simple to Make – layered with creamy, complex flavor
Fast and Easy – on the table in less than half an hour
Loaded with Veggies – high in fiber, antioxidants, and nutrients
Save more Time – prep veggies and cheese in advance
Share with Care – broccoli soup recipe is easily doubled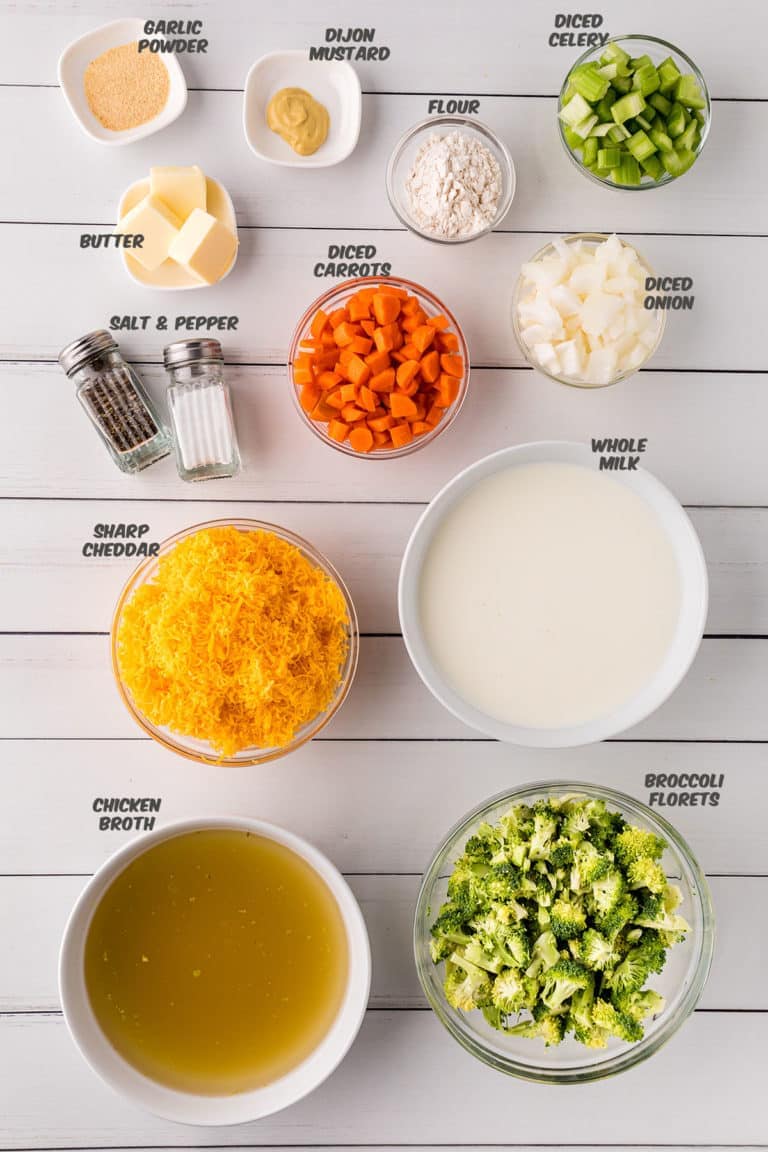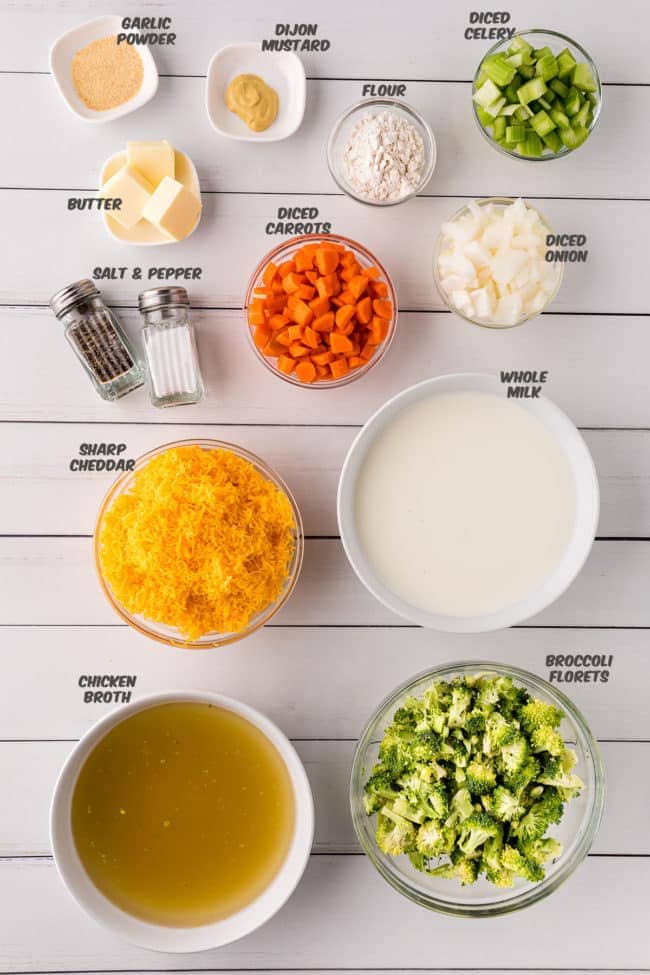 What You Need For Broccoli And Cheese Soup
The beauty of a cheesy broccoli soup that is filling and full of flavor is the simplicity. No crazy ingredients or specialized prep, just dice and shred. (Who needs a Panera when you can make your own homemade broccoli cheese soup in less time than it takes to go pick it up?)
For specific amounts, please refer to the printable recipe card at the bottom of the post.
Mirepoix -Butter, Onion, Celery, and Carrots
Roux Mix – All-purpose Flour, Garlic Powder, Salt & Pepper
Liquids – Whole Milk, Vegetable Or Chicken Broth
Flavor Trio – Dijon Mustard, Sharp Cheddar, and Broccoli Florets
I usually get 1-2 large heads of broccoli for this soup recipe, using only the florets. Remove the stems and chop the crowns very small.
Broccoli Cheddar Soup Ingredient Notes:
The mirepoix is diced for this cheesy broccoli soup recipe. If you prefer, you can prep larger pieces for a chunkier soup or use an immersion blender before adding the cheese and broccoli to have a velvety textured cheesy soup.
Allow the roux mix to cook in and thoroughly blend with the mirepoix to avoid a raw flour aftertaste.
Bring the liquids to room temperature before slowly adding to the roux blend, breaking down any lumps.
Use sharp, freshly grated cheddar cheese to create a rich, intense broccoli cheddar soup flavor.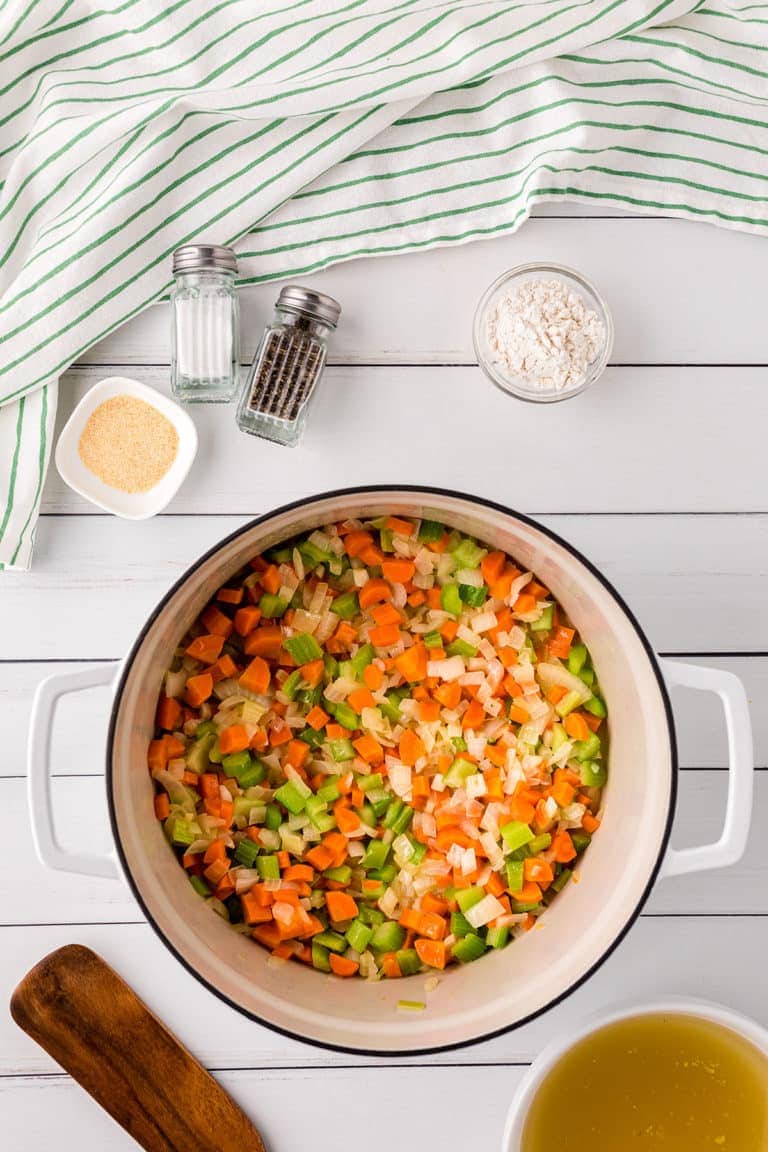 This post may contain affiliate links. Please read my disclosure policy here.
How To Make Better Than Panera Broccoli Cheddar Soup
All you need is a heavy-bottom stock pot or dutch oven, a sharp knife and a good whisk.
When you are baking, you'll want to use the full recipe at the bottom of the page.
Saute the mirepoix in butter
Stir in and cook the roux mix
Simmer and thicken with stock, then milk
Melt in cheese and mustard; add broccoli
Serve homemade broccoli cheddar soup with crusty bread for dipping, crackers, or Homemade Croutons.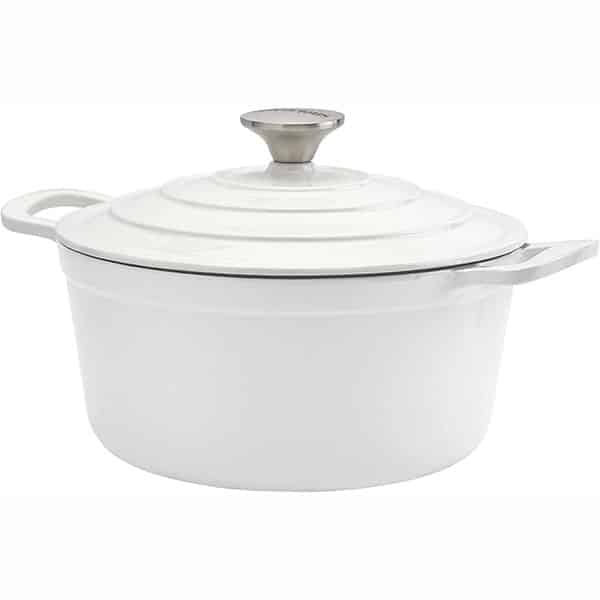 Featured Product White Dutch Oven
Durable cast iron construction delivers superior heat retention and ensures even cooking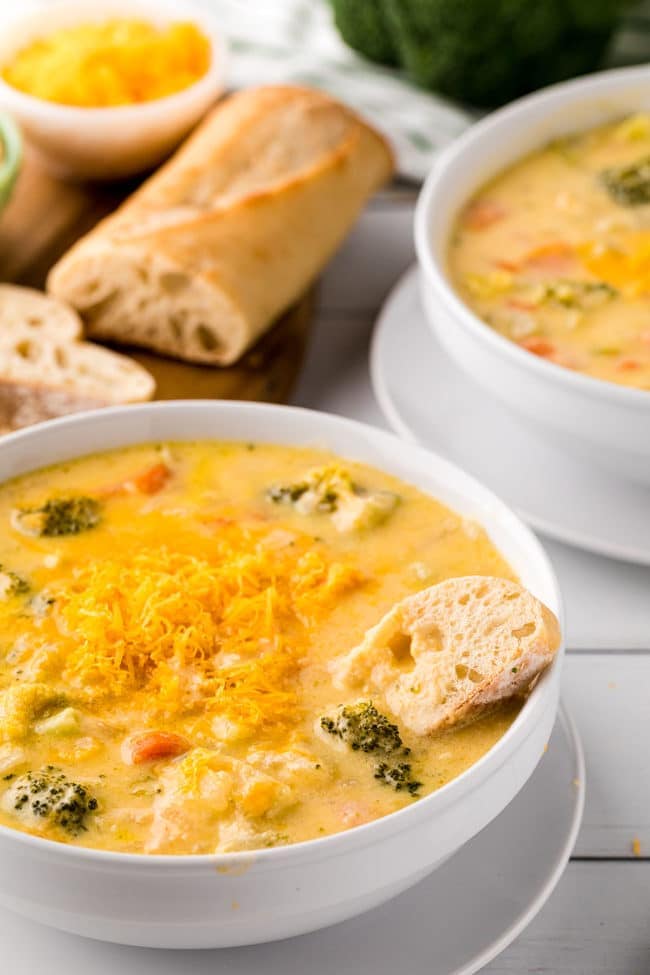 Cheesy Broccoli Soup Recipe Notes/Tips
Keep the heat medium to low when adding dairy to the broccoli soup. Too high heat will cause the cheese to become dehydrated and gritty. (curdled)
For the best texture and flavor in any creamy cheese soup, buy block cheese and grate it at home. Packaged shredded cheese is coated in anti-caking agents and does not melt as nicely as cheese without fillers.
Sharp (aged) cheddar is the preferred cheese for broccoli soup. The longer a cheddar ages, the deeper the flavor from increased "bitter" peptides for that "tangy" sweetness.
To thicken broccoli cheddar soup for dipping or smothering a baked potato, add one teaspoon of cornstarch slurry at a time to reach desired consistency.
Be sure to only use the broccoli crowns; you do not need the stems. Feel free to use more broccoli if you prefer.
Prepare for a busy week by prepping the mirepoix, broccoli, and cheese ahead of time. A terrific time saver.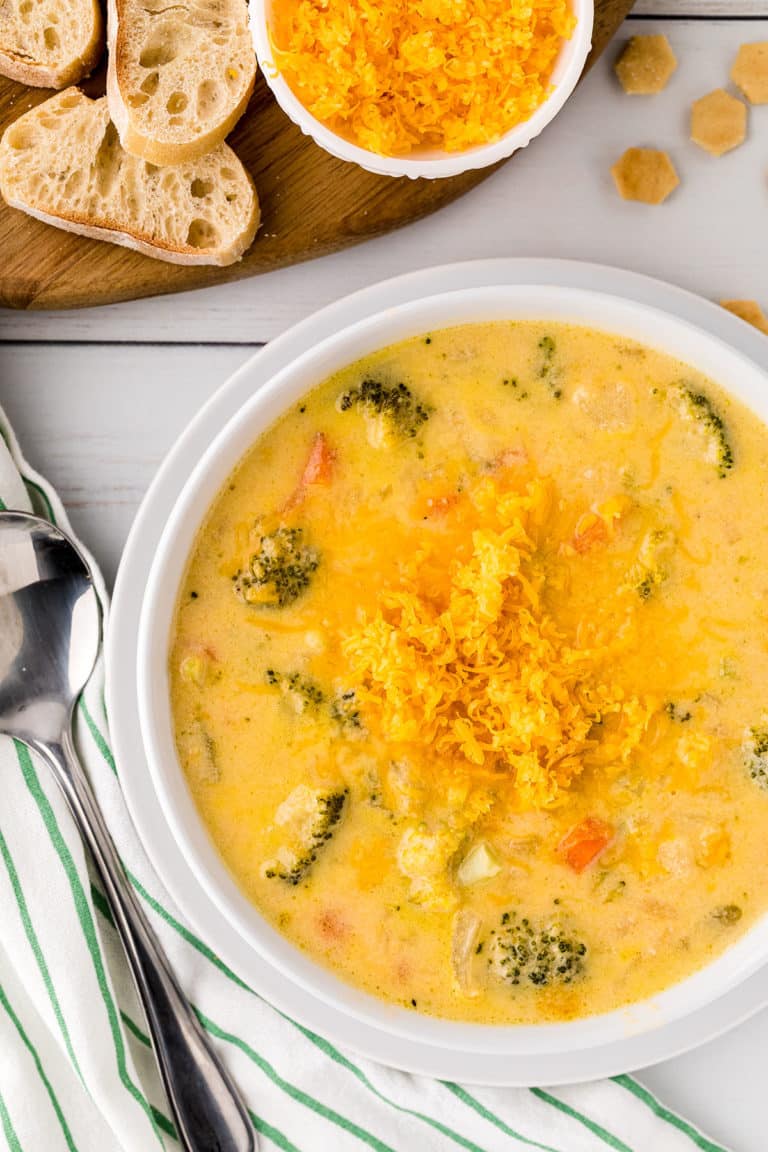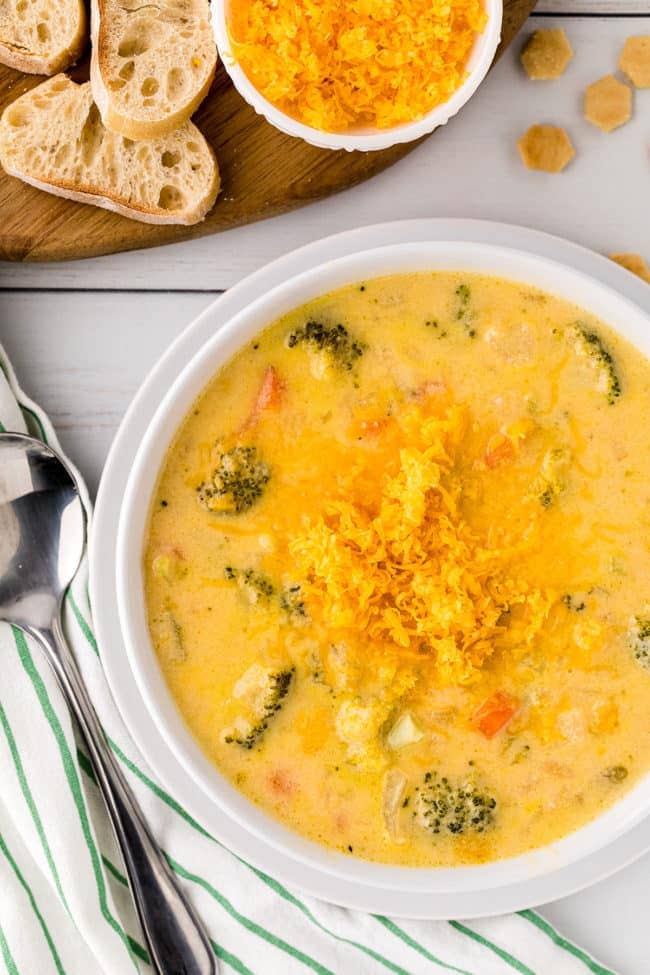 Broccoli And Cheese Soup Recipe FAQs
What makes the broccoli cheese soup separate?
When the heat is too high, the dairy will curdle. This happens when the fat and moisture are released when the cheese proteins tighten up from the heat.
How do I stop the cheese from clumping in broccoli cheddar soup?
First, reduce the soup's heat to a low simmer, or turn off the heat altogether before adding cheese. Next, be sure to sprinkle a small handful evenly over the surface of the hot mixture and stir gently until melted; continue adding one layer at a time.

If you've turned off the heat, return the soup to a gentle simmer once the second or third layer of cheese is melted and incorporated. (The grated cheese will have lowered the temperature of the soup.)

Also, avoid dumping thick pieces or heavy shreds of cheese, and don't rush a good thing by throwing a globbed handful of cheese into your base.

How do you make broccoli and cheese soup thicker?
Depending on your dietary needs, there's more than one option to thicken broccoli cheese soup. As noted above, a cornstarch slurry made with cold water or broth mixed into the heated soup is popular.

If you know you want a thicker soup from the start, increase the flour in the roux by an extra tablespoon, adding a bit more butter if needed.

Broccoli soup can always be thickened by slowly adding and stirring in more grated cheese.

The healthiest way to thicken broccoli cheese soup is to slice the leftover stems into discs and steam them until tender. Drain well, puree in the food processor, then add to the soup.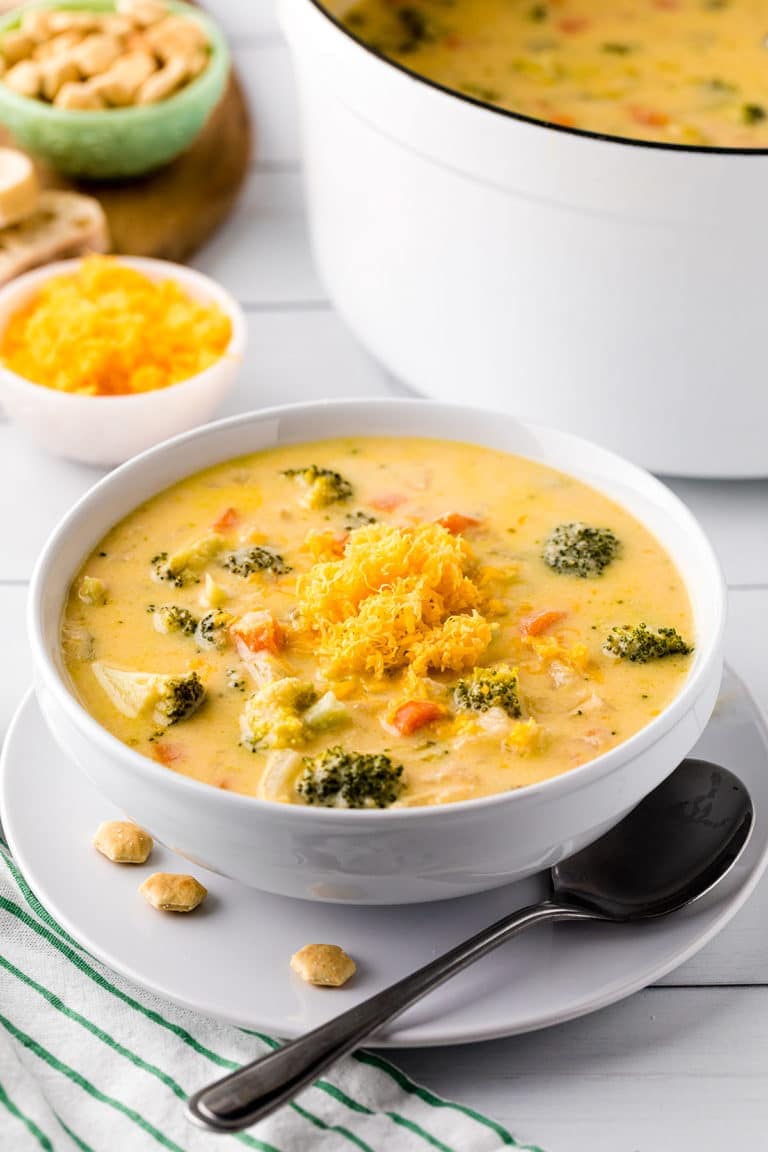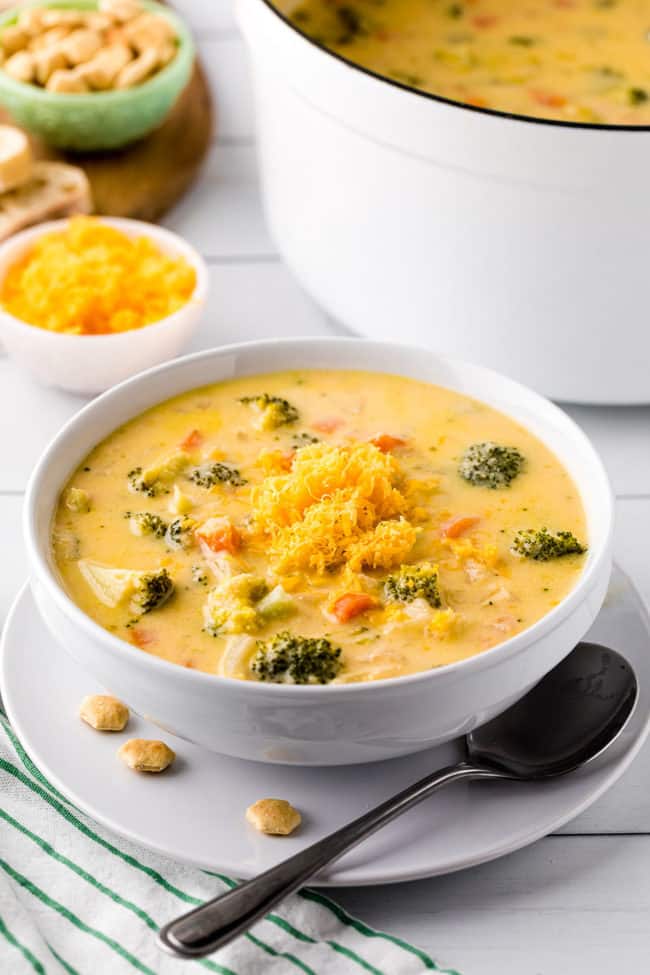 How To Store Broccoli And Cheese Soup
Refrigerate/Leftovers
Leftover broccoli soup can be stored in the refrigerator in an airtight container for 3-4 days. I don't recommend freezing broccoli cheddar soup because the milk and cheese can separate and become gritty.
Reheat the cheese and broccoli soup slowly on the stove or on reduced power in the microwave until heated through. Reheated broccoli soup is great slathered on a baked potato with crispy bacon bits.
Serving Ideas For Cheesy Broccoli Cheddar Soup
It's surprising how versatile broccoli and cheese soup can be for an easy dinner or yummy hot lunch. Easily paired up with crunchy veggies for dipping or serve broccoli soup with one of these options: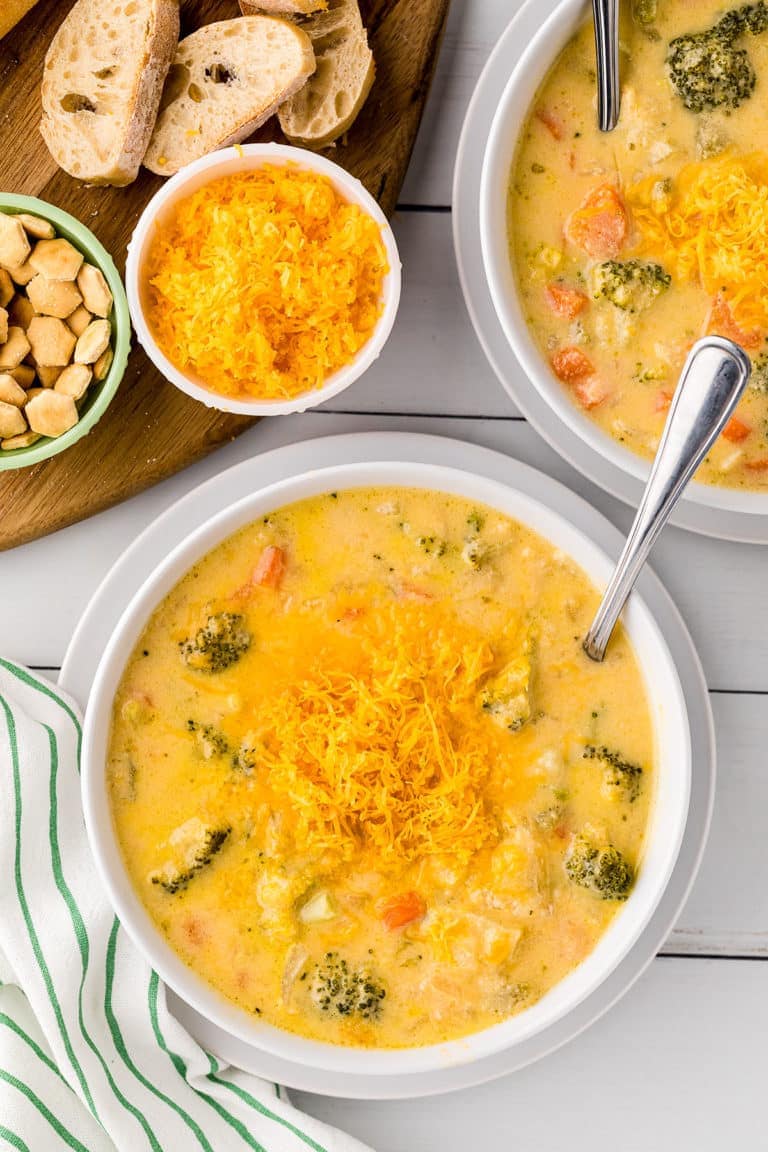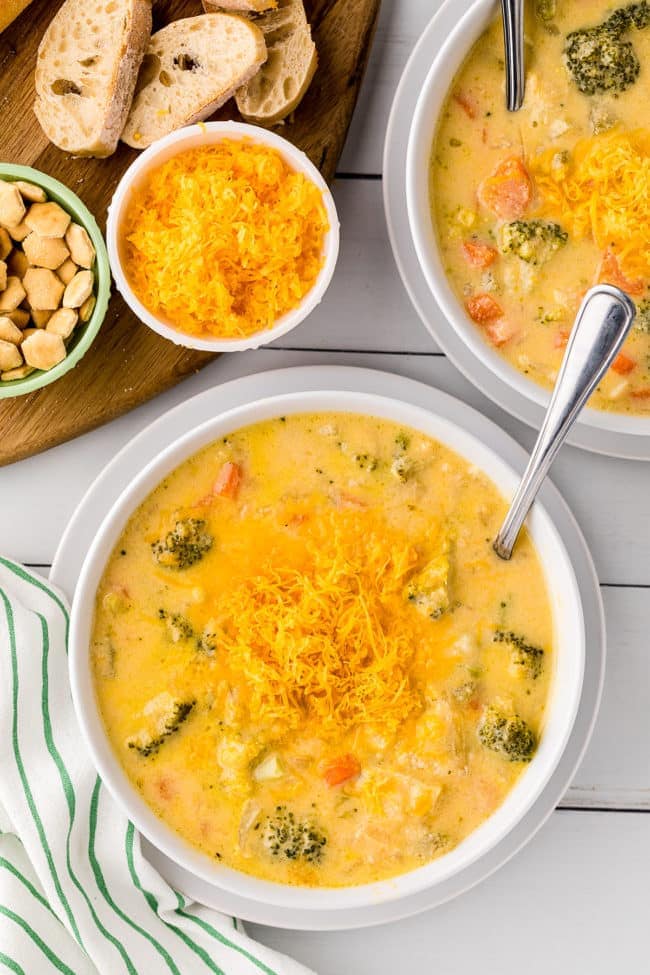 Additions To Homemade Broccoli Cheddar Soup
Panera has nothing on this homemade broccoli cheddar soup recipe! Nothing beats a classic soup recipe made from scratch, where you control the quality and the ingredients. Here are a few additional touches for the non-traditionalists to amp up the broccoli soup ingredients or the presentation!
Tabasco
Cauliflower
Squashes
Shredded Carrots
Leeks
Rotisserie Chicken
Cubed Ham
Bacon bits
Sour cream
Parmesan
Like This Recipe? Pin It!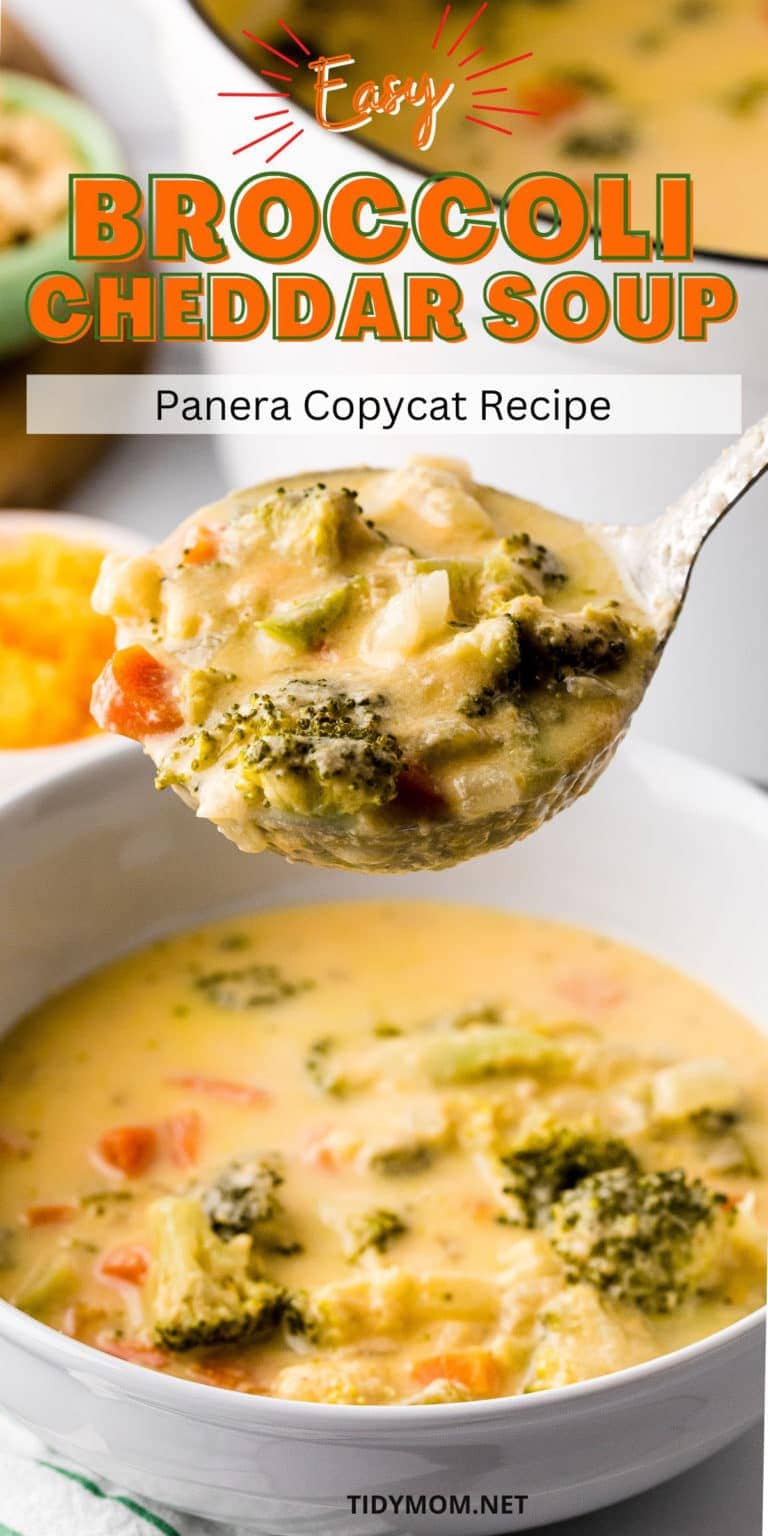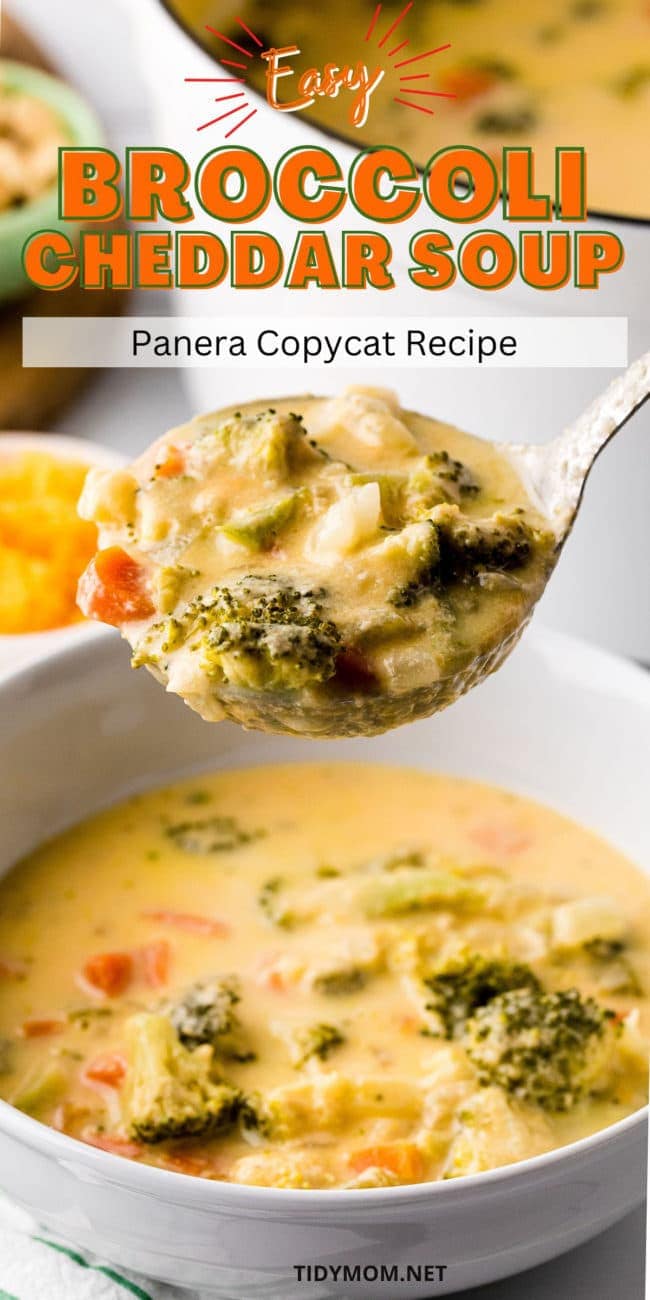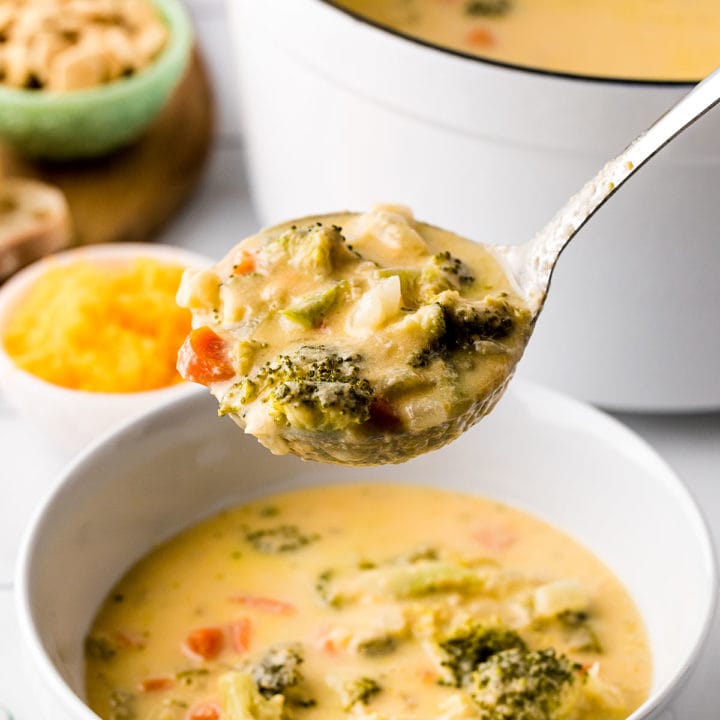 Broccoli Cheddar Soup (Panera Copycat Recipe)
Yield: 8
Prep Time: 5 minutes
Cook Time: 25 minutes
Total Time: 30 minutes
Broccoli Cheddar Soup! Rich, creamy, full-bodied cheddar soup loaded with broccoli warms you from the inside out. Skip Panera and create your own delectable broccoli and cheese soup in less than half an hour!
Ingredients
3 tablespoons butter
1 medium onion, diced
2 large carrots, diced
2 stalks celery, diced
1 teaspoon garlic powder
Salt and pepper to taste
3 tablespoons all-purpose flour
2 cups vegetable or chicken broth
2 cups whole milk
1 teaspoon dijon mustard
8 ounces sharp cheddar, shredded (+ extra for garnish)
3 cups chopped broccoli florets
Instructions
Using a Dutch oven or heavy bottom stock pot melt butter and saute onion, carrots and celery stirring often until vegetables become tender (about 5 minutes).
Stir in the garlic powder, salt and pepper. Sprinkle flour over the vegetables and stir continuously for about 1 minute until vegetables are coated and the flour thickens.
Slowly stir in the vegetable stock and simmer until soup thickens (about 5 minutes). Add milk and stir frequently while soup continues to simmer and thicken.
Turn heat to low and add mustard then stir in shredded cheese ½ cup at a time until all of the cheese is melted. Add broccoli and cook over medium heat for 10 minutes. Remove from heat and keep covered until ready to serve.
Serve with crusty bread for dipping or crackers in soup bowls or bread bowls.
Notes
This soup does not freeze well, so I don't recommend freezing the soup.
Be sure to only use broccoli florets (chopped pretty tiny), you do not need the stems. I usually get 1-2 large heads of broccoli, remove the stems and work with the remaining crowns, chopping pretty small for 3 cups. Feel free to use more broccoli if you prefer.
Sharp cheddar is recommended for the most flavor.
For the best texture and flavor, buy a block of sharp cheddar and grate the cheese at home. Pre-shredded cheese does not melt the same and can be grainy in texture.
Nutrition Information:
Yield: 8
Serving Size: 1
Amount Per Serving:
Calories: 265
Total Fat: 16g
Saturated Fat: 9g
Trans Fat: 0g
Unsaturated Fat: 5g
Cholesterol: 46mg
Sodium: 470mg
Carbohydrates: 19g
Fiber: 5g
Sugar: 7g
Protein: 12g
Nutrition information is estimated based on the ingredients and cooking instructions as described in each recipe and is intended to be used for informational purposes only. Please note that nutrition details may vary based on methods of preparation, origin, and freshness of ingredients used and are just estimates. We encourage, especially if these numbers are important to you, to calculate these on your own for most accurate results.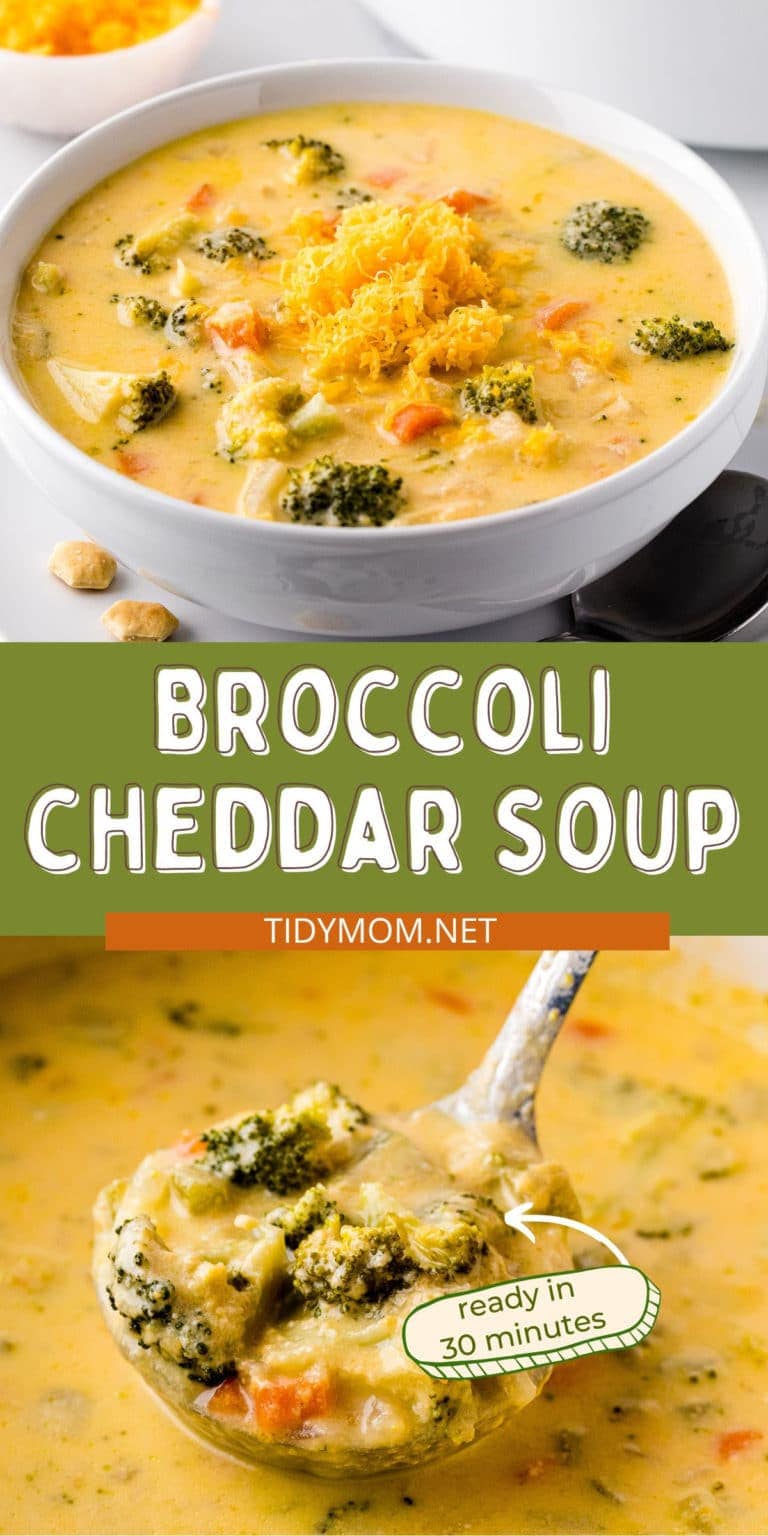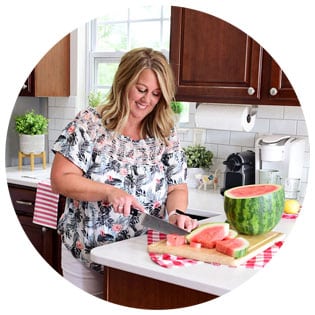 Hi there, I'm Cheryl!
As a wife, mom, and caffeine enthusiast, my journey has taken me from bustling mornings with my family to sharing delicious recipes, home care tips, and heartfelt decorating insights with wonderful readers like you. My love for baking, photography, and tidiness shines through every post I craft. Dive into my world and discover the art of homemaking, one tidy moment at a time. Read more...
Tidymom is a participant in the amazon services llc associates program, an affiliate advertising program designed to provide a means for sites to earn advertising fees by advertising and linking to Amazon.com.
Please respect my work, recipes and photographs. If you do use a recipe in your own writing, please give proper credit and link back to the original post.