Cranberry Cosmo & Rosemary Syrup Recipe (Christmas Cocktail)
This post may contain Amazon or other affiliate links. As an Amazon associate, I earn from qualifying purchases.
Ho! Ho! Happy! This fruity Cranberry Cosmo recipe is handcrafted with cranberry-infused vodka, fresh lime, and homemade rosemary simple syrup. An easy-to-drink and colorful winter cocktail that will keep everyone's spirits bright!
If you're looking for more Christmas Cocktails with flare, you've come to the right place! Don't miss our popular Rudolph's Tipsy Spritzer, creamy sweet Baileys Vanilla Martini, festive Snowflake Peppermint Cocktail, and the sweet and tart Cran-Cherry Rye Whiskey Sour.
Be sure to sign up for my email… to get new recipes and ideas in your inbox!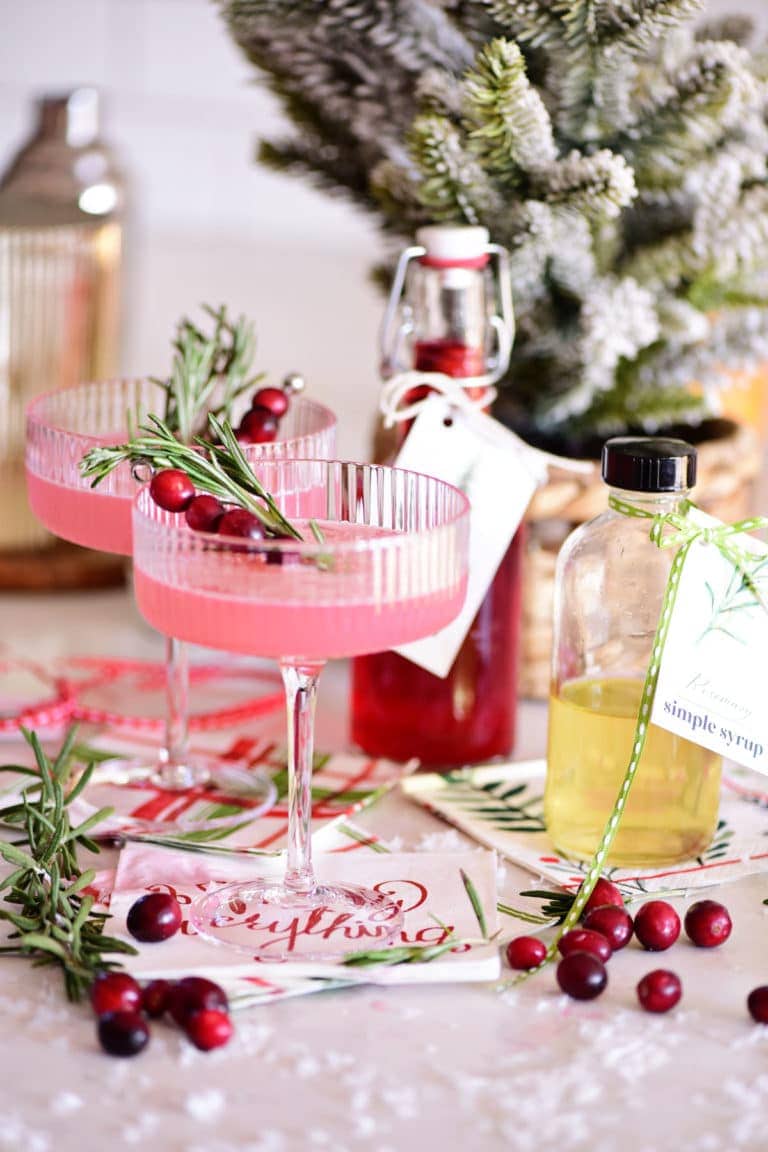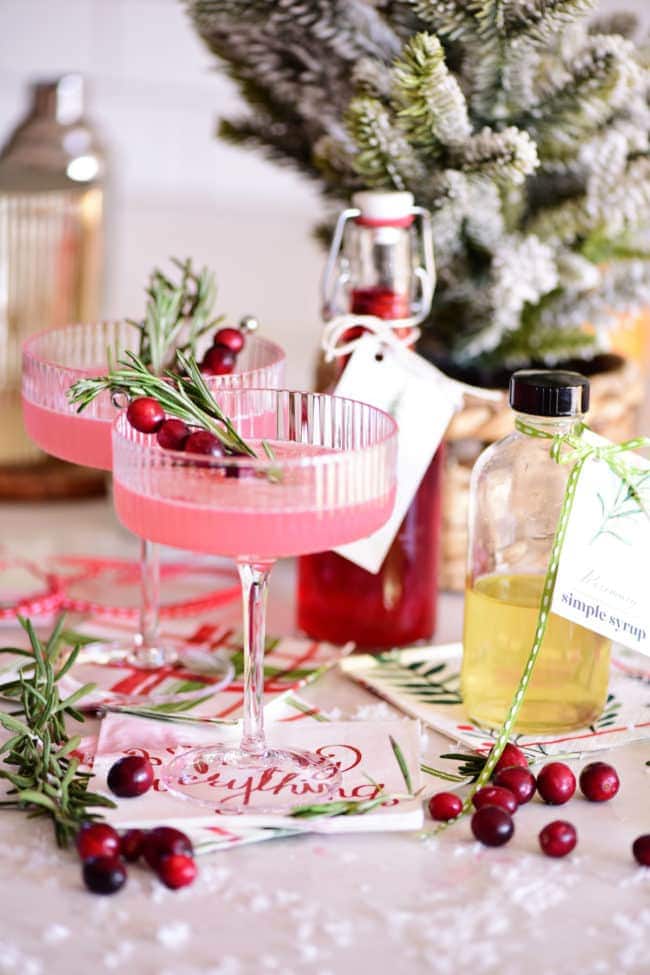 Why A Cranberry Cosmo With Rosemary Syrup Works
Undoubtedly, your handcrafted cosmopolitan cocktail will enchant your family and friends this holiday season! This Christmas cosmo recipe tastes like a sip of winter wonderland; walking is optional.
Quick & Easy: Only three ingredients are needed for a festive cranberry cosmo
Make Ahead: Infuse vodka with fresh cranberries for a week, and make your own rosemary simple syrup and you're ready to serve, just shake, pour and sip.
Timeless: A classic Christmas cocktail to enjoy with your girlfriends.
Made For Easy Entertaining: Easy to make by the glass or the pitcher.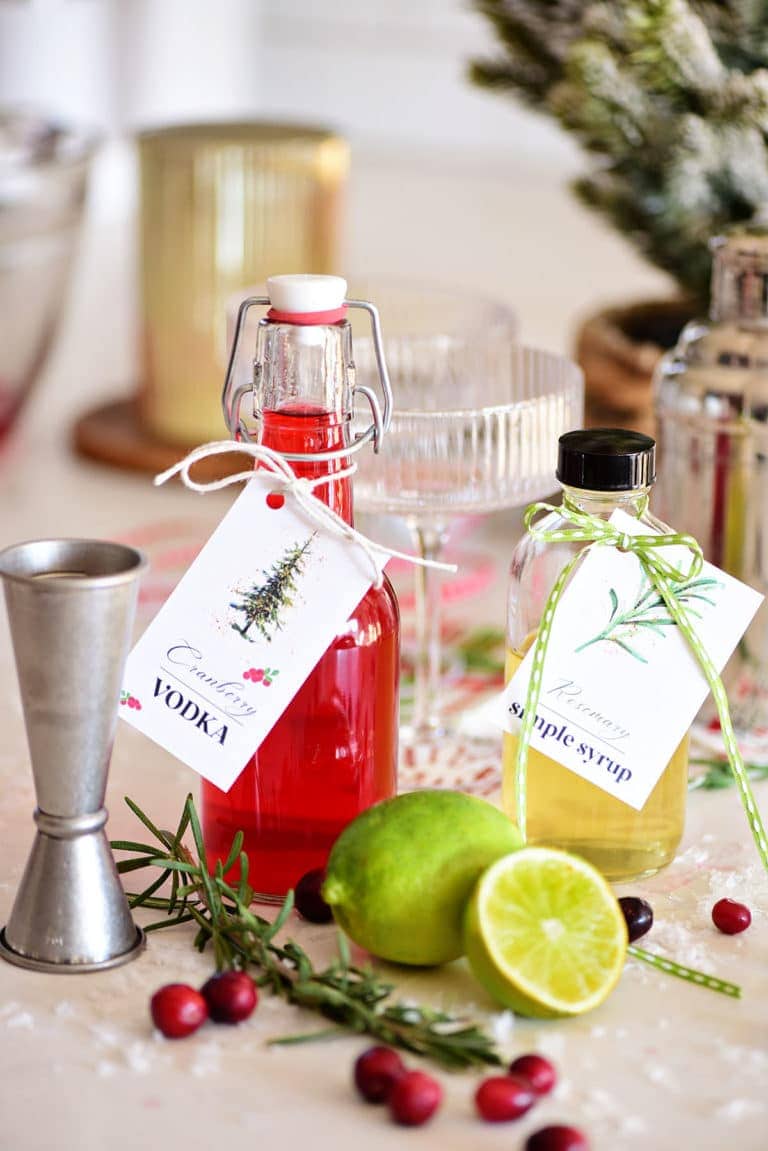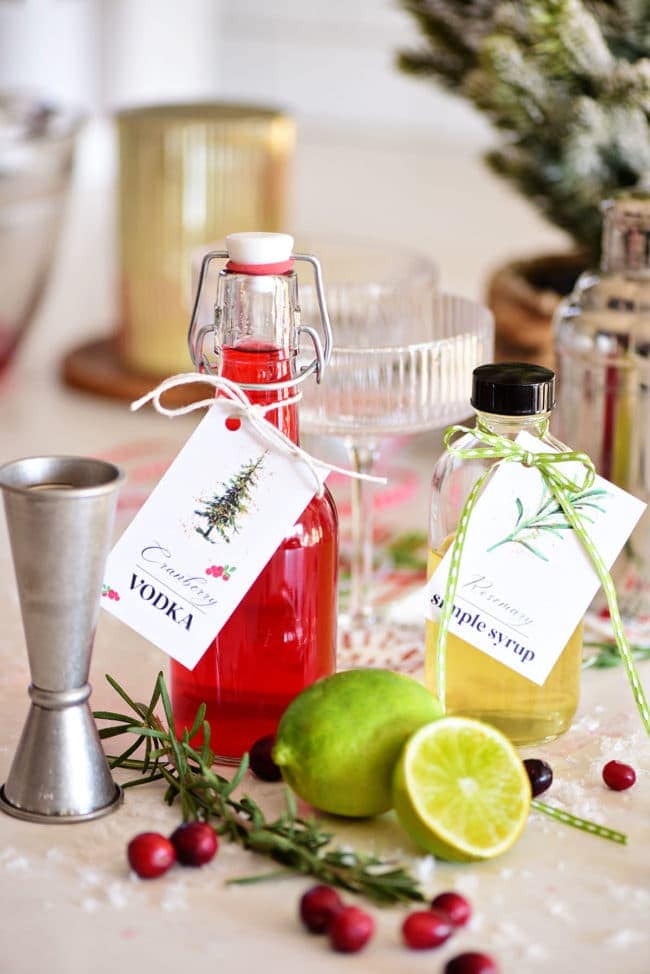 What's In a Cranberry Cosmopolitan
It's the trifecta of perfection! Homemade cranberry-infused vodka and DIY rosemary-infused simple syrup create a fantastic winter cosmo drink.
Cranberry Infused Vodka – make ahead flavored vodka
Lime Juice – freshly squeezed is preferred
Rosemary Infused Simple Syrup – easy recipe below
Ice & Garnish – fresh cranberries and rosemary sprigs
Rosemary Infused Simple Syrup Ingredients
Water
Sugar
Fresh Rosemary Sprigs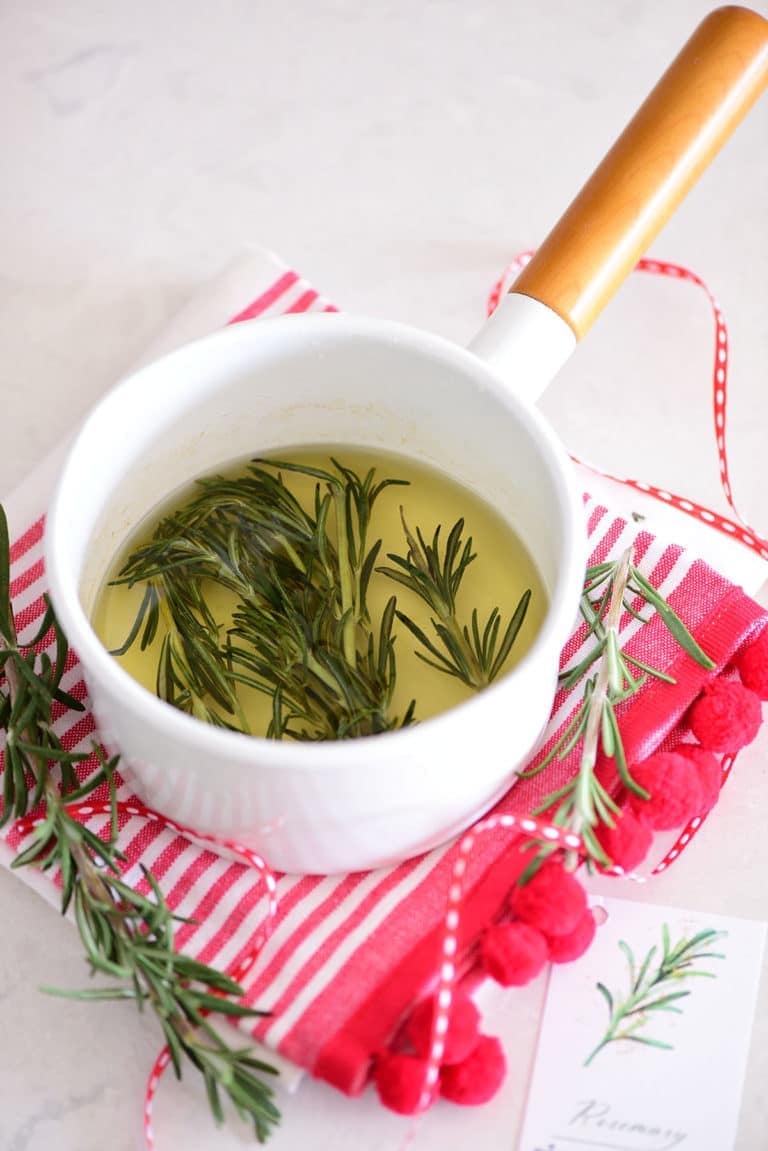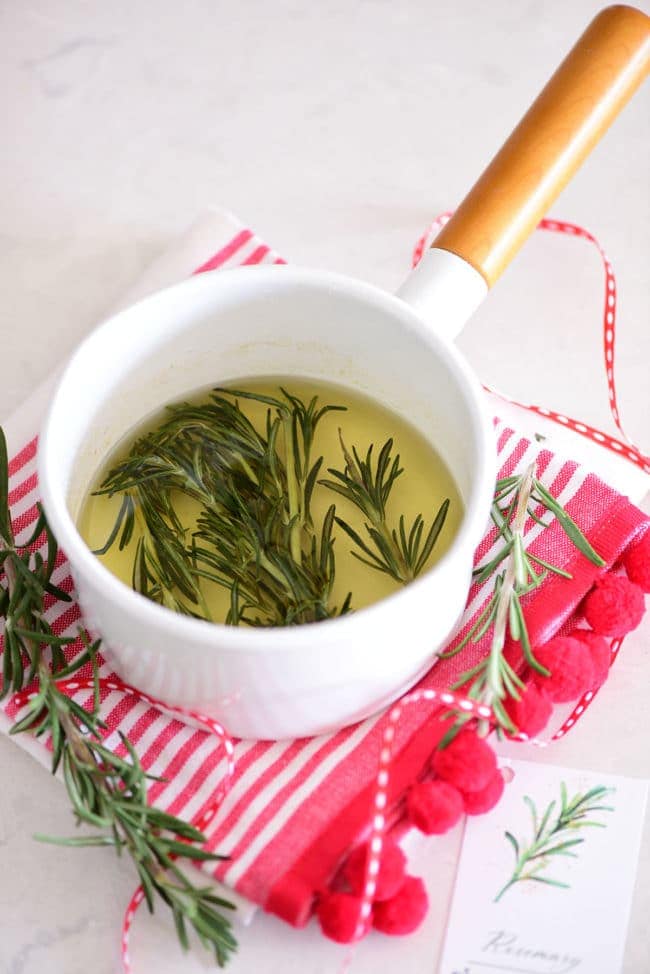 This post may contain affiliate links. Please read my disclosure policy here.
How To Make Rosemary Simple Syrup
A simple three-ingredient, three-step process that creates a rosemary-infused simple syrup. Grab a sauce pan, tongs, and a clean glass jar or bottle that can be sealed tight. 🙂 Let's go!
(full printable recipe at the end of this post)
Stir and dissolve sugar in boiling water, then add fresh rosemary sprigs.
Remove the simple syrup from the heat and steep for 1 hour.
Discard the rosemary and pour the cooled syrup into a glass container.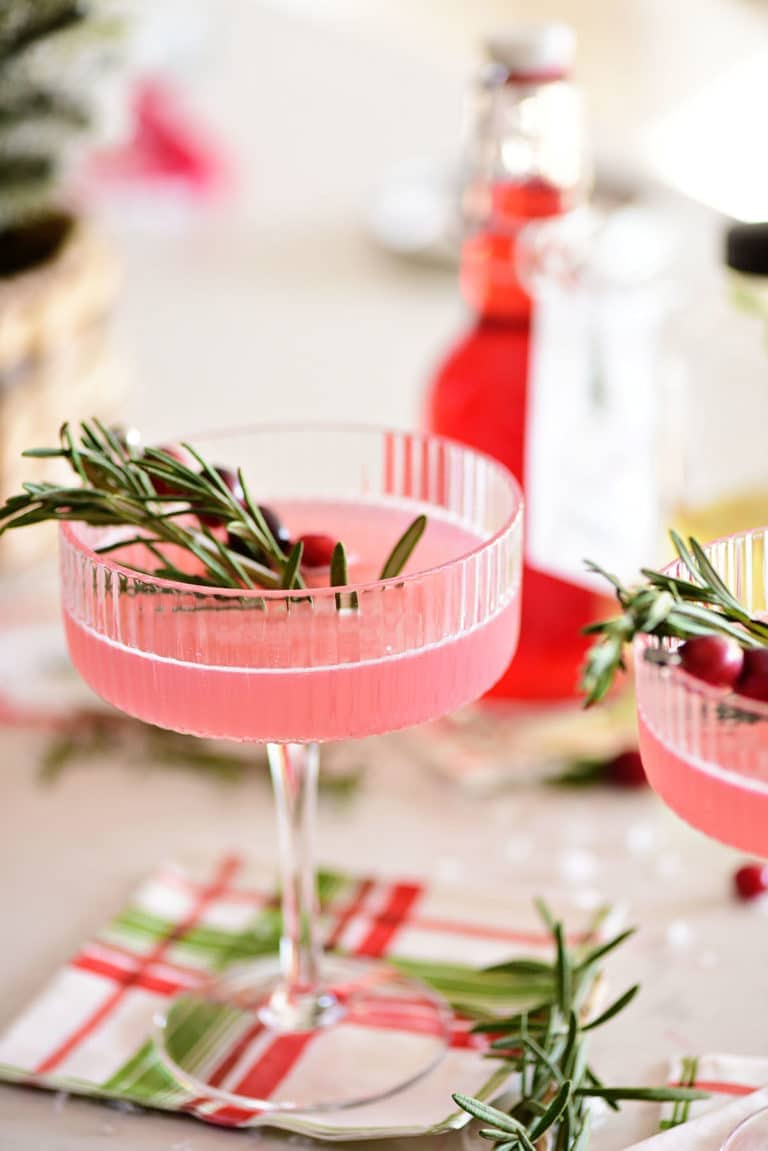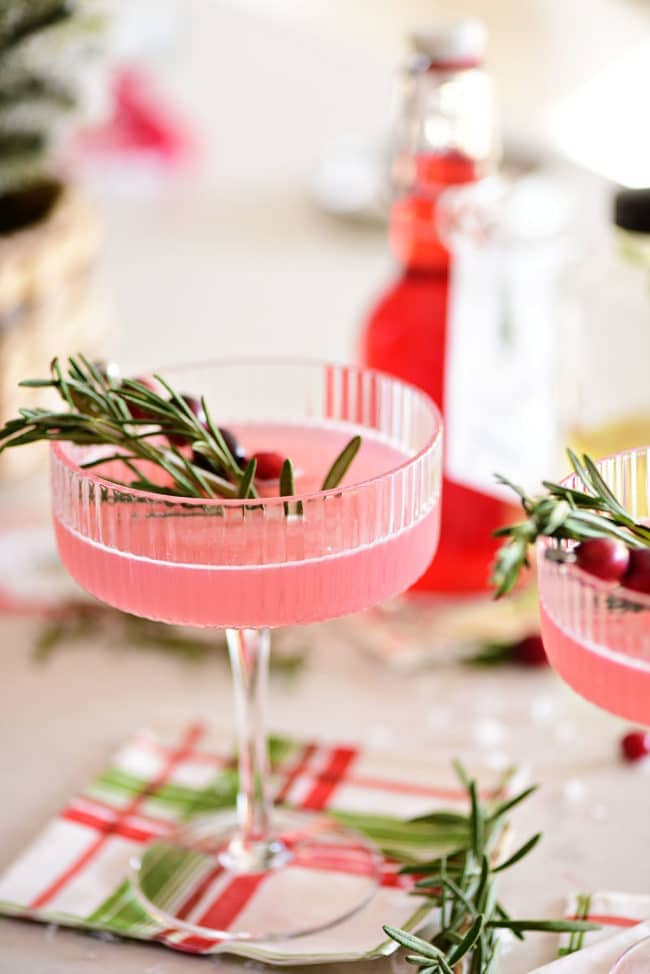 Handcrafting Cranberry Cosmo Cocktails
When you are crafting your cocktail, you'll want to use the full recipe at the bottom of the page.
Three seems to be the magical combo for cranberry Christmas cosmo drinks! All you need is a cocktail shaker, cocktail picks, and some pretty coupe glasses. Or sturdy stemless cosmo glasses for those who like to "rowdie on down!"
Pour cranberry-infused vodka, lime juice, and your homemade simple syrup in a cocktail shaker half-filled with ice.
Shake vigorously for 30 seconds.
Strain your winter cosmo into chilled martini or coupe glasses and garnish with cranberries and rosemary sprig.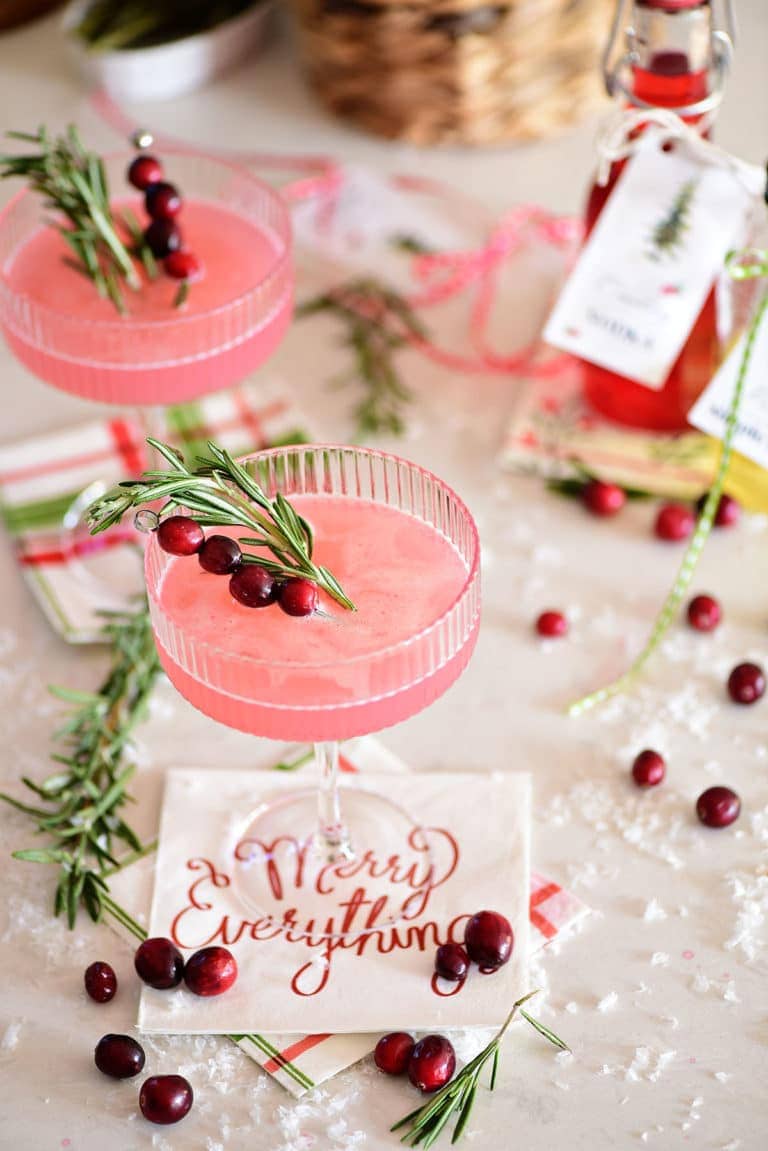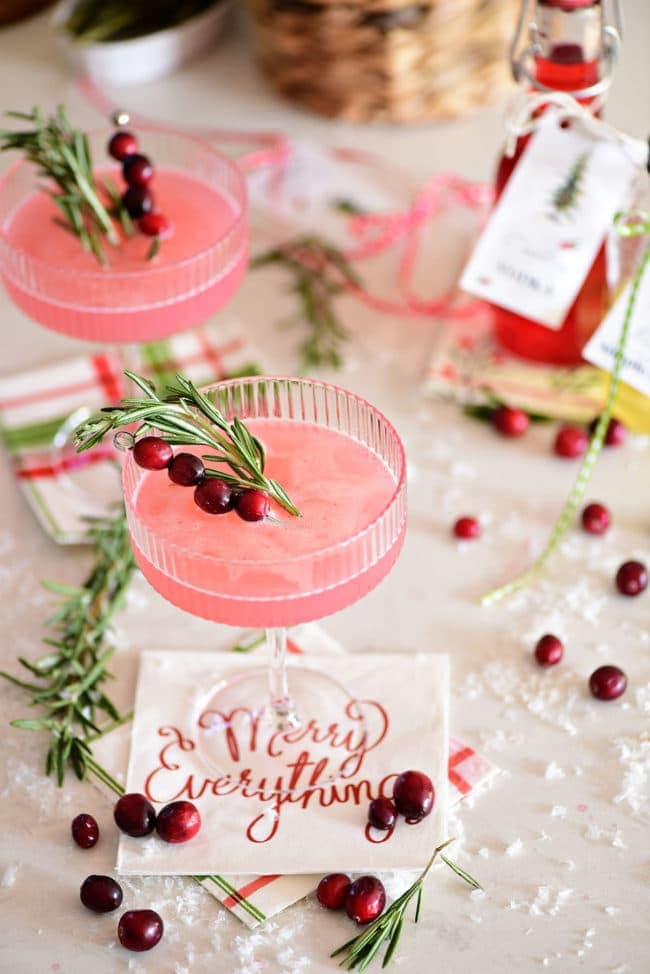 Recipe Notes & Tips
Plan Ahead: First and most important! Homemade cranberry vodka infusion must sit about a week, so plan ahead for this cocktail treat. Rosemary simple syrup needs to steep for an hour and cool down completely.
Chill Your Glassware: When mixing a cocktail that is not served over ice, it's a good idea to serve in a chilled glass. The ideal method is to place the glassware in the freezer for about 30 minutes. Or, you can simply fill the glasses with ice while you prepare the drinks. Just discard the ice when ready to pour the cocktail, like a cranberry cosmopolitan.
Fresh Is Best: Fresh squeezed lime juice is highly recommended over bottled lime juice for cranberry cosmos. Bottled lime juice may contain other ingredients, such as sugar. Which will change the whole tart and sweet ratio.
Cloudy Needs To Go: The simple syrup should keep for about 2 weeks in the fridge. Once the rosemary syrup becomes cloudy, it's got to go. Simple syrup should always be clear; cloudy syrup indicates bacteria are growing, and the syrup isn't safe to consume.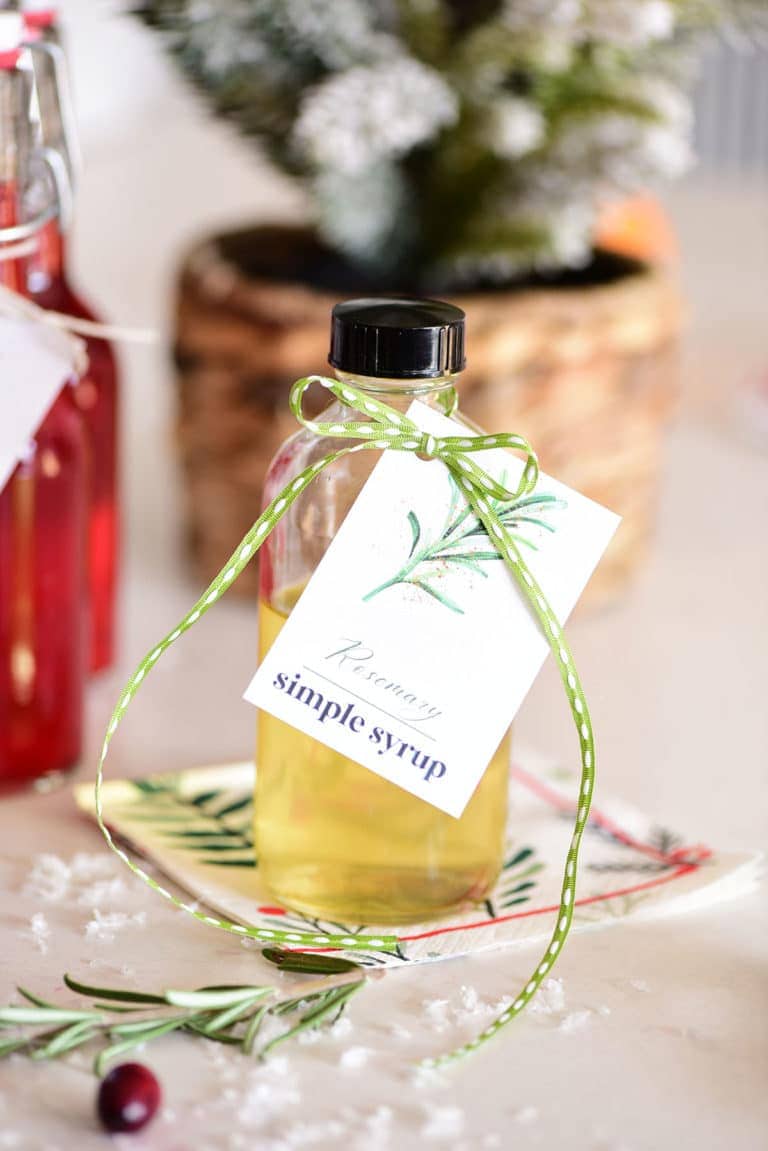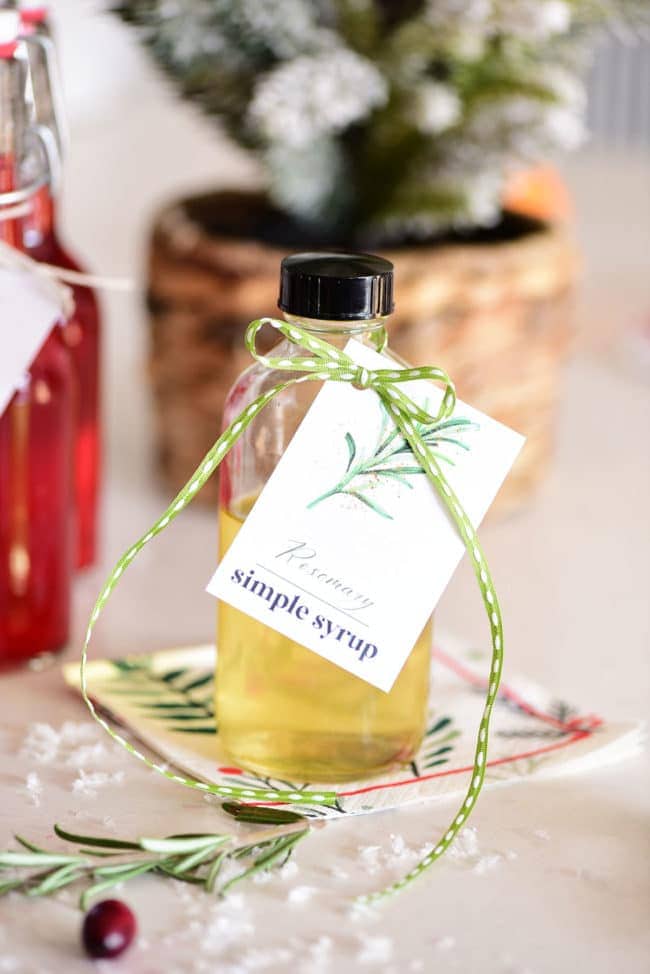 How To Store Rosemary Infused Simple Syrup
Refrigerate
Rosemary-infused simple syrup can keep in the fridge for up to two weeks. It may still be clear, but it gets tired out, and the flavor deteriorates. Refrigerated or not, toss as soon as it starts to turn cloudy.
Freeze
Easy, peasy! A great solution if your simple syrup doesn't get used up before it starts to go bad. Freeze in an ice cube tray, then dump the cubes into a good freezer bag. Double bag or put the bag in an airtight container if you have room to avoid the frozen rosemary syrup from picking up strong odors/taste.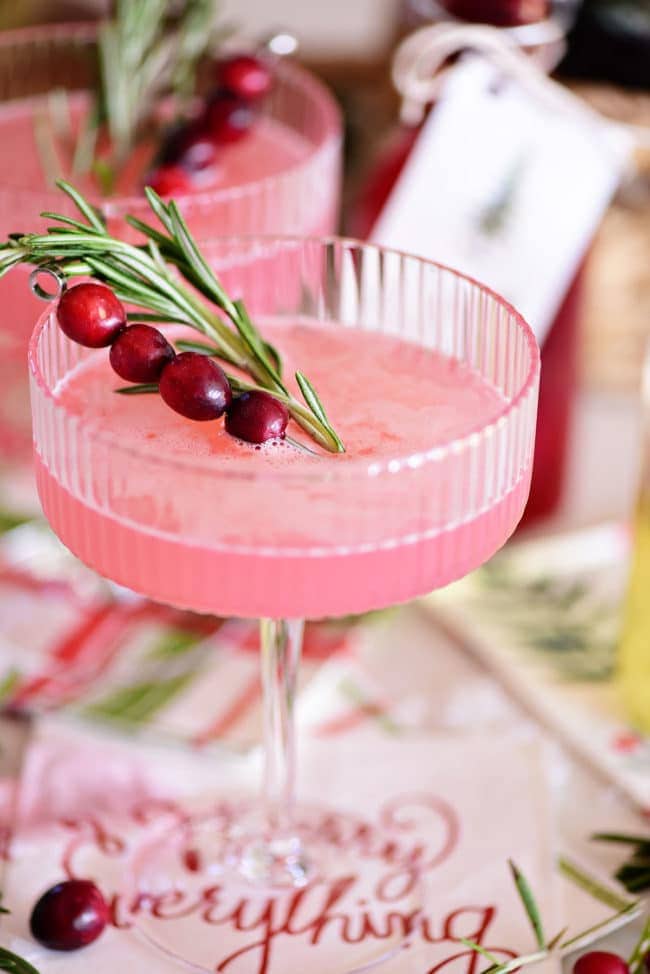 FAQs
What is a cosmo?
A cosmopolitan, aka cosmo, is a cocktail (at its core vodka, sugar, and lime) that was invented in the 1930s. The cosmo gained popularity in the 1990s after it became synonymous with the HBO show Sex and The City.
What is simple syrup?
Simple syrup is a liquid sweetener made of a 1:1 ratio of sugar to water cooked into a syrup.
How long does simple syrup last?
Simple syrup (1:1 ratio of sugar to water) can keep for up to one month before getting cloudy (spoiling); bye-bye. Once you create a simple syrup infusion, adding fruit, herbs, or spices, the shelf life is reduced by half, ~ 2 weeks, like this rosemary syrup.

Do I really need to chill the cocktail glass?
Technically, No. But ideally, Yes! In theory, your cocktail is at its perfect temperature and dilution immediately after shaking it with ice. The point of chilling the glassware is to keep the cocktail it houses at the ideal temperature for as long as possible = the perfect cranberry cosmo.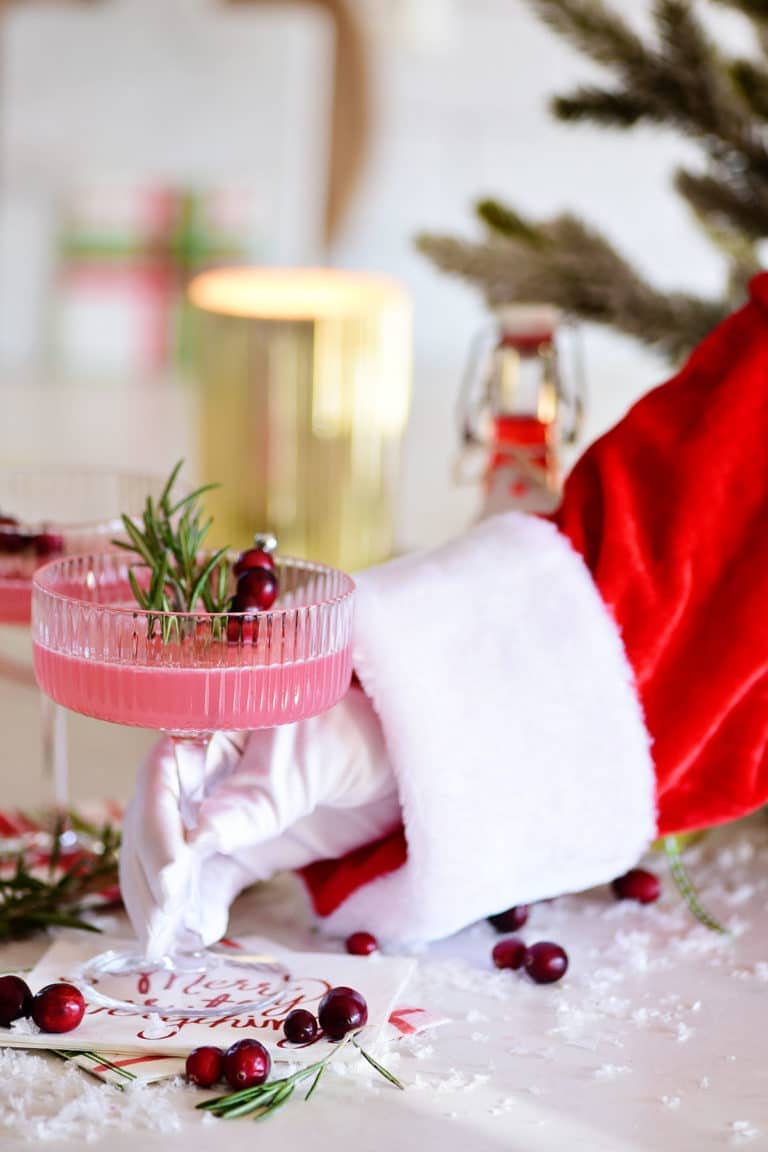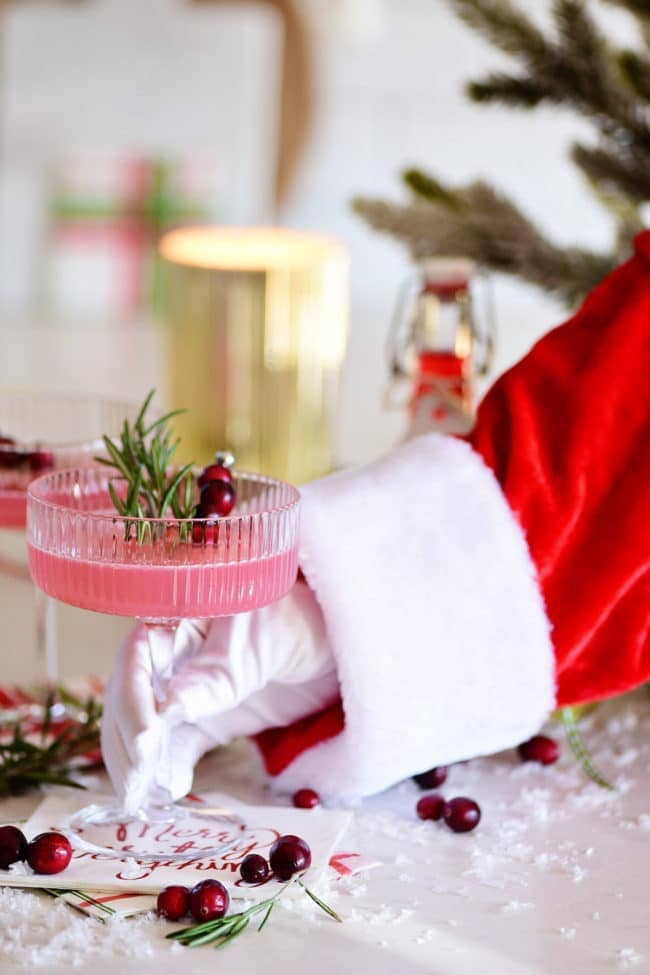 Cranberry Cosmo Recipe Variations
You can buy cranberry vodka if you can't wait until the vodka infusion is done. No judgment if you're just dying to try this fantastic Christmas cosmo. Avoid vodka that has sugar added.
If you try this cosmo recipe with store-bought cranberry vodka, add a touch of orange from a twist or drop of orange bitters. I've found Regans Orange Bitters No. 6 closely mimics the zesty flavor and aroma of a freshly twisted orange peel.
I'm all about the infused vodka, but if you can't swing it, use real cranberry or cranapple juice for your cosmo drink. Unsweetened cranberry juice is the best option to maintain the perfect sweet and tart balance.
Cranberry cosmopolitan too strong? Put an ounce or more of seltzer water in the coupe glass, then pour the cocktail. This helps to incorporate the carbonated water into the drink instead of floating it on top.
You can garnish a winter cosmo with a twist of orange zest instead of fresh cranberries or rosemary sprigs. Cut or peel a strip of orange zest. With the outer peel side down, twist it over the surface of the cocktail to release the citrus oils. Rim the glass with the zest and drop it into the glass
For an intense flavor boost, muddle 1-2 tablespoons of chopped, fresh gingerroot in the shaker (before adding ice and other ingredients). It will strain with ice when pouring out the winter cosmo
Home-Hack Cocktail Shaker
No shaker? No problem! When you find a great recipe like this winter cocktail and want one now, there are simple hacks to be sipping in no time! Here are three (there's that number again!) of the most common items, and you probably have at least one on hand!
Travel Coffee Mug – stainless steel and fully closable are best. Bonus! The hole is usually small enough to do the straining for you.
Blender Bottle – used for protein shakes or smoothies. Hold two (clean) fingers over the opening, or use a small sieve to strain.
Lidded Mason Jar – is my go-to. It's glass, chills well, and I get eyeballs on the cosmo ingredients, so I can see the froth (bubbles).
What Shaker Should I Buy?
Looking for a shaker to add to your home bar? There are two mainstream shakers, the Cobbler Shaker and the bartender-style Boston Shaker. I recommend the Cobbler shaker kit with a built-in strainer, jigger, and a few other tools for home use.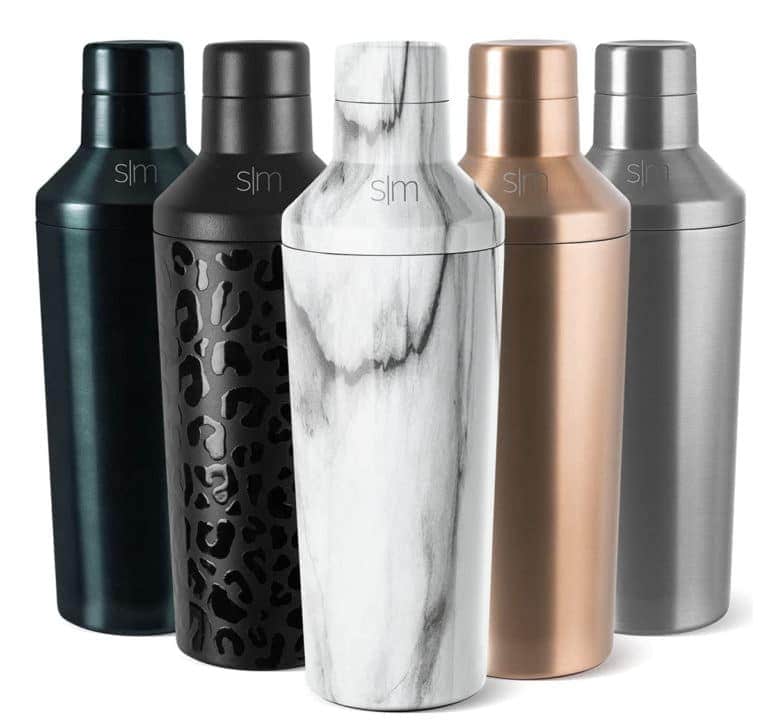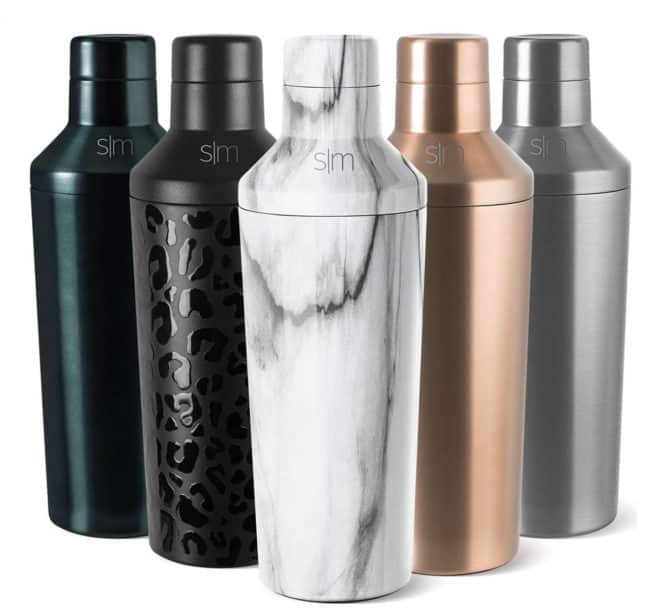 Featured Product Simple Modern Cocktail Shaker
Leakproof twist on lid prevents leaks and has a built-in strainer and jigger with 1/2 and 1 ounce measurement marks.
Like This Recipe? Pin It!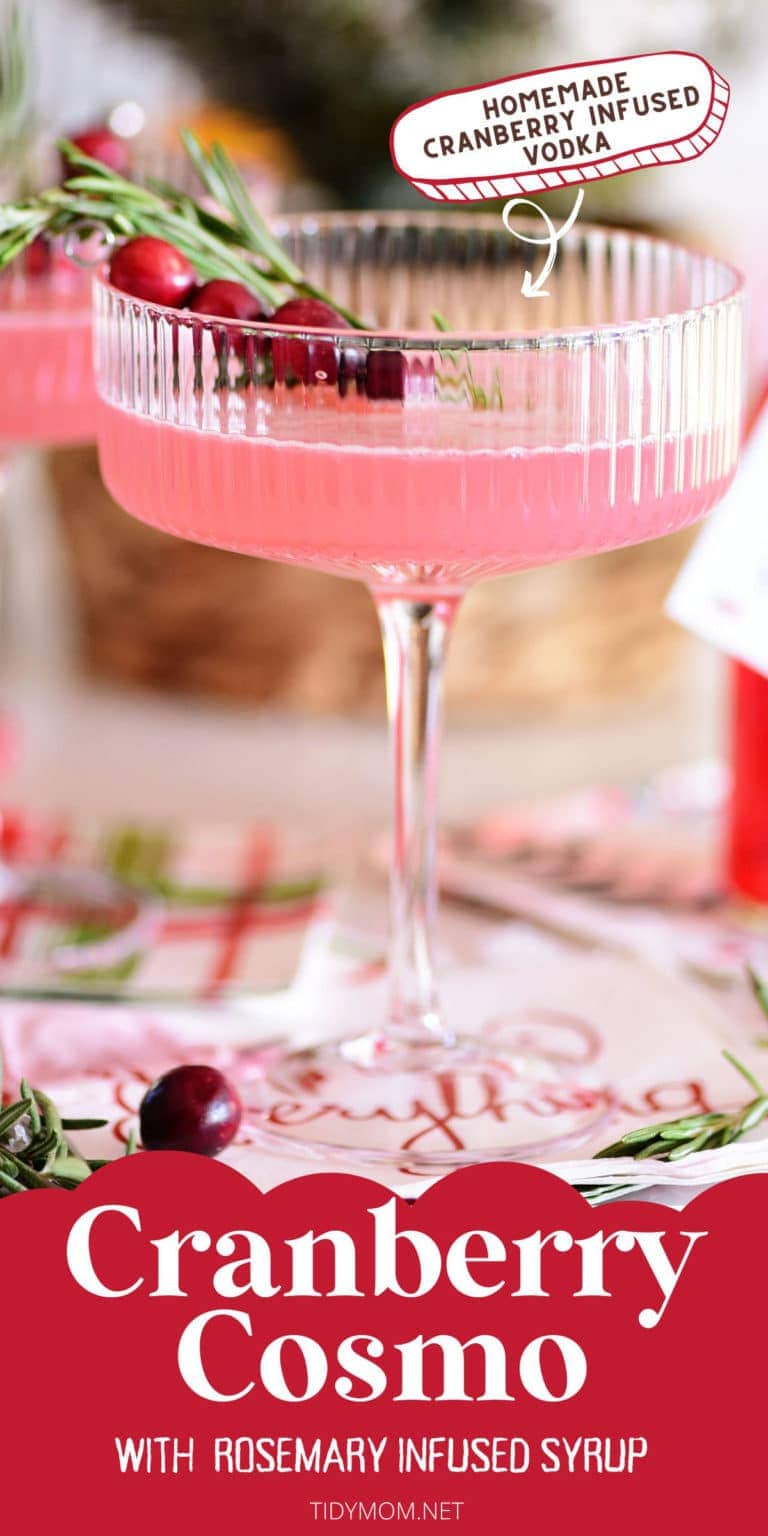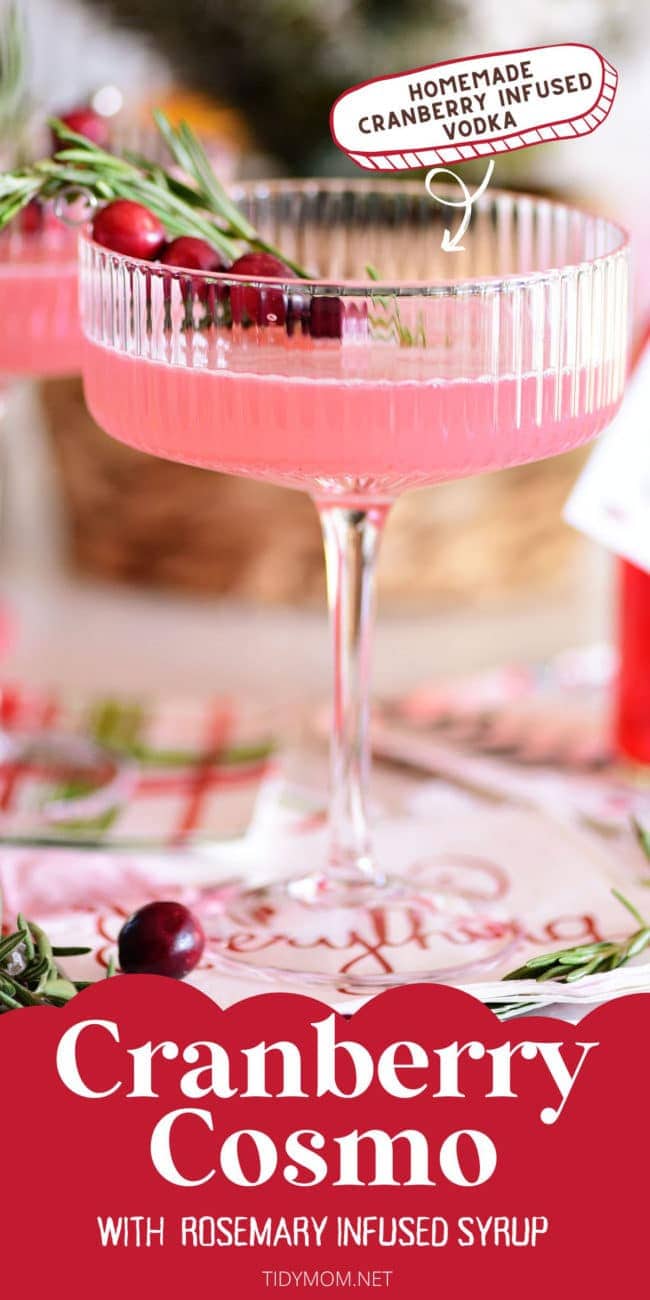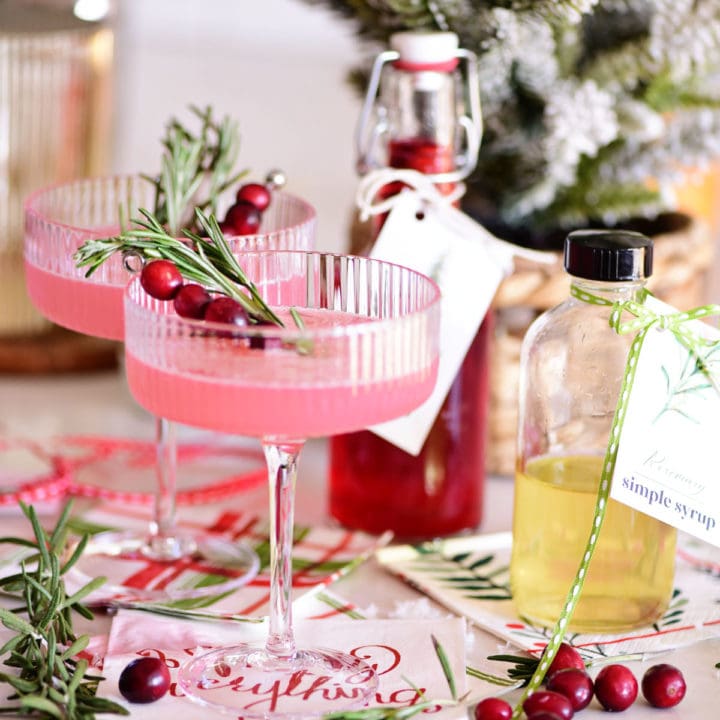 Cranberry Cosmo
Yield: 2 cocktails
Prep Time: 10 minutes
Syrup Cooling Time: 2 hours
Total Time: 2 hours 10 minutes
This fruity Cranberry Cosmo recipe is handcrafted with cranberry-infused vodka, fresh lime, and homemade rosemary simple syrup. An easy-to-drink and colorful winter cocktail that will keep everyone's spirits bright!
Ingredients
4 - 4.5 ounces cranberry infused vodka
2 ounces fresh squeezed lime juice
1.5 ounces rosemary infused simple syrup
ice
6-8 Fresh cranberries and 2 rosemary sprigs for garnish
For Rosemary Infused Simple Syrup
1 cup of water
1 cup sugar
5-6 fresh rosemary sprigs
Instructions
To Make Rosemary Infused Simple Syrup
Bring water to a boil, add sugar and stir to dissolve. Add rosemary sprigs and continue to boil for 1 minute.
Remove from heat and allow to steep for about 1 hour.
Using tongs, remove the rosemary and pour cooled syrup in a glass bottle.
Store in the fridge for up to 2 weeks.
To Make Cranberry Cosmo Cocktails
Chill 2 coupe or martini glasses.
Fill a cocktail shaker half full of ice. Add cranberry vodka, lime juice, and rosemary syrup and shake for 30 seconds.
Pour into chilled glasses and garnish with cranberries and rosemary sprig.
To make a pitcher (4 servings)
1 cup cranberry vodka
4 ounces freshly squeezed lime juice
3 ounces of rosemary simple syrup
Add to a pitcher, stir and refrigerate until chilled. When ready to serve, stir again and pour into chilled glasses and garnish.
Notes
Note cranberry vodka needs to sit about a week, so plan ahead for this cocktail. Simple syrup just needs at least an hour to steep, then cool down completely.
To chill glasses: This is not a required step, but does make for a nice chilled drink. Either set the glasses in the freezer for a little bit or fill the glasses with ice while you squeeze the lime juice and get the garnish ready. Discard the ice before filling glass with the cocktail.
Fresh lime juice is highly recommended over bottled lime juice.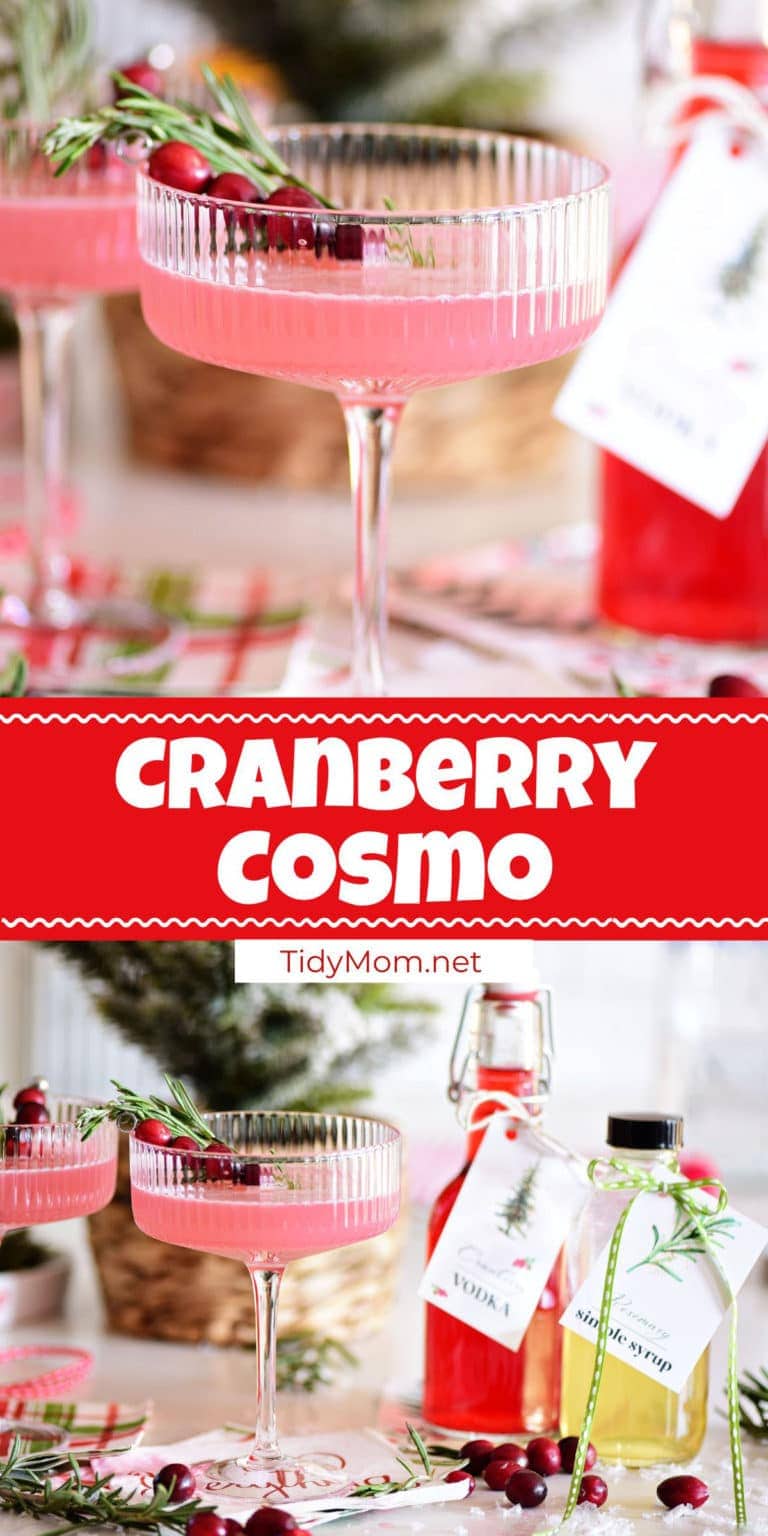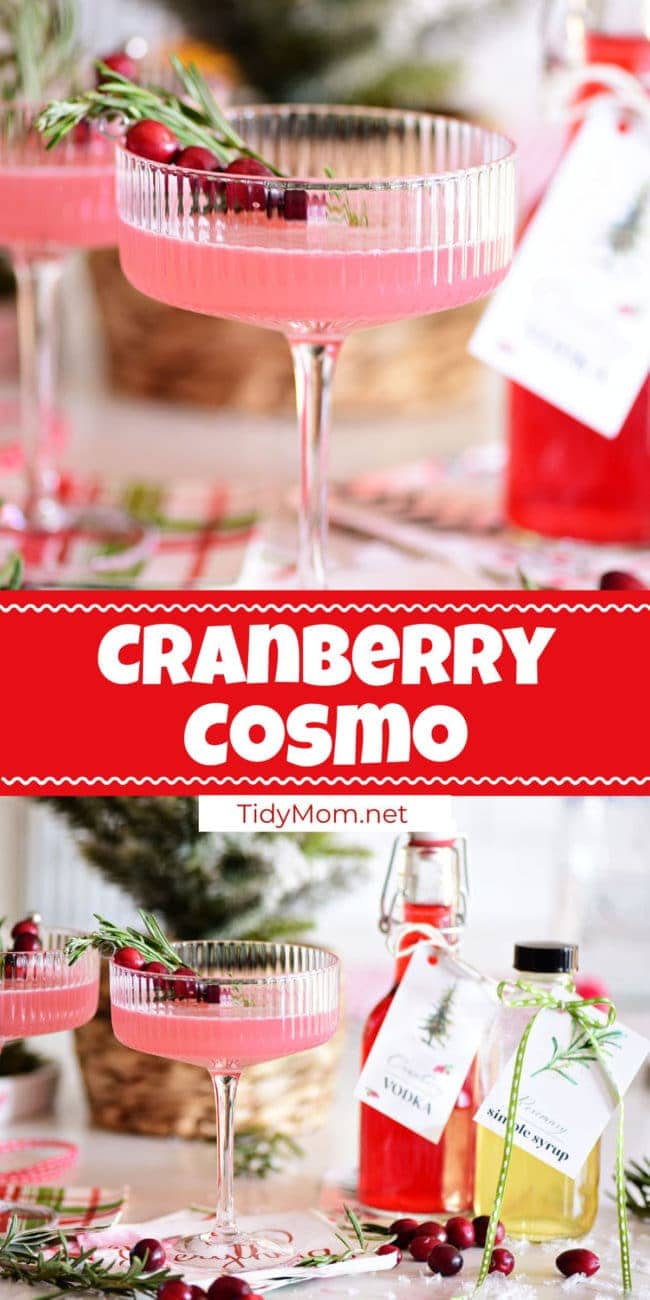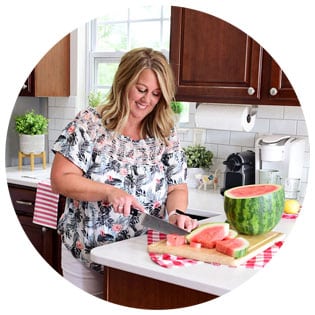 Hi there, I'm Cheryl!
As a wife, mom, and caffeine enthusiast, my journey has taken me from bustling mornings with my family to sharing delicious recipes, home care tips, and heartfelt decorating insights with wonderful readers like you. My love for baking, photography, and tidiness shines through every post I craft. Dive into my world and discover the art of homemaking, one tidy moment at a time. Read more...
Tidymom is a participant in the amazon services llc associates program, an affiliate advertising program designed to provide a means for sites to earn advertising fees by advertising and linking to Amazon.com.
Please respect my work, recipes and photographs. If you do use a recipe in your own writing, please give proper credit and link back to the original post.