Cranberry Orange Biscotti (Easy Christmas Biscotti)
Cranberry Orange Biscotti have a sensational crisp crunchy texture and are loaded with festive holiday flavors. The twice-baked cookies are perfect for dunking in coffee, tea, or hot chocolate. Plus, these Italian cookies store well and last for weeks.
Cranberry orange biscotti is more than just a coffee dipping treat! Try Christmas biscotti with Butterscotch Spike Hot Chocolate, Creamy Bailey's Irish Coffee, Lattes, and even Eggnog Iced Coffee loves a dunking buddy! Do you lean toward traditional Italian biscotti dipping in sweet red dessert wine? Try my German Mulled Wine.
Be sure to sign up for my email… to get new recipes and ideas in your inbox!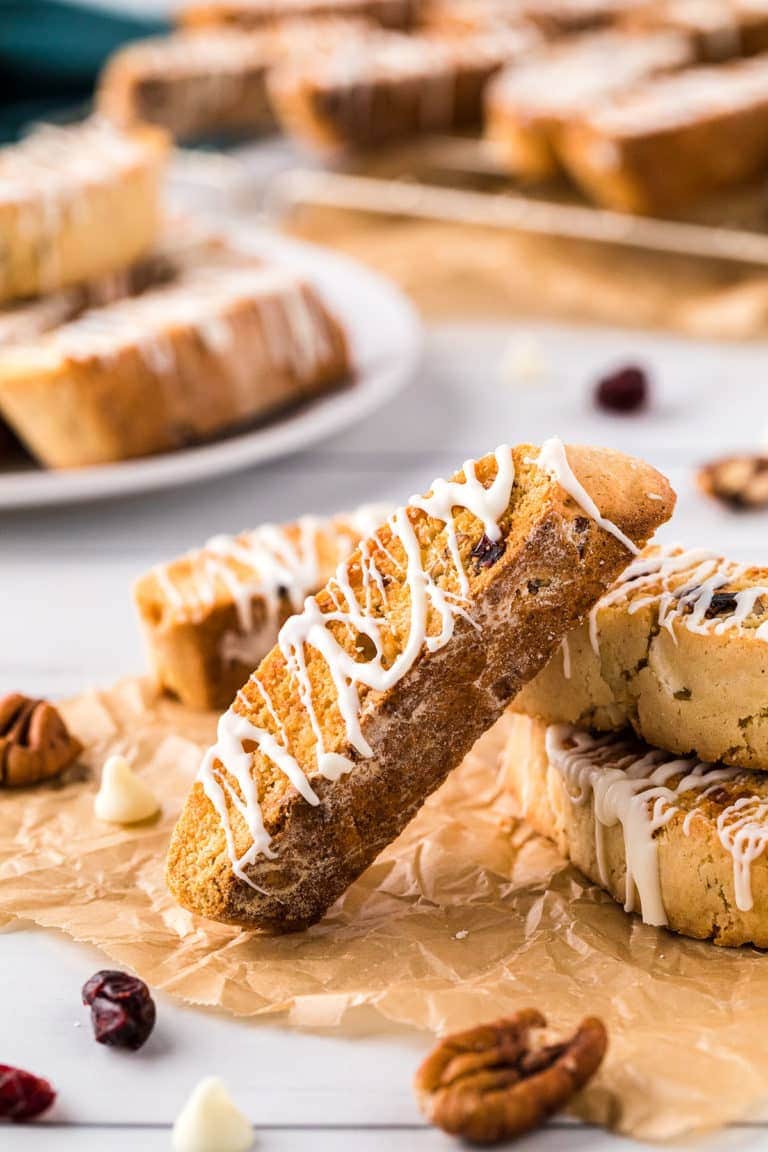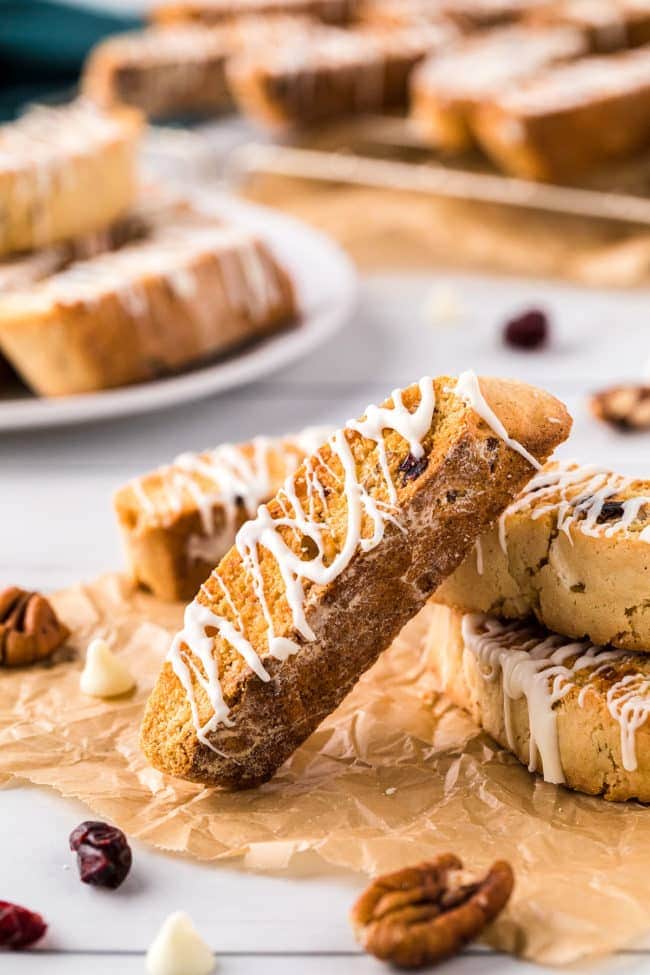 Why Cranberry Orange Biscotti Are Going To Make Your (Holi)-Day!
Making your own homemade cranberry orange biscotti with white chocolate is so satisfying your peeps will wonder at your Cheshire grin!
Classic Italian Treat: A fantastic flavor combination in a not-too-sweet Italian biscuit
Dunking Power: The twice-baked dry texture is superb when dunked in hot (or cold) coffee, latte, or tea.
Great For Gifting: A delicious, light, and crunchy baked treat holds up well for gifting
Make-Ahead: Low-moisture biscotti last longer than fresh-baked cookies
Simple Ingredients: Cranberry orange Christmas biscotti only need a few basic pantry ingredients.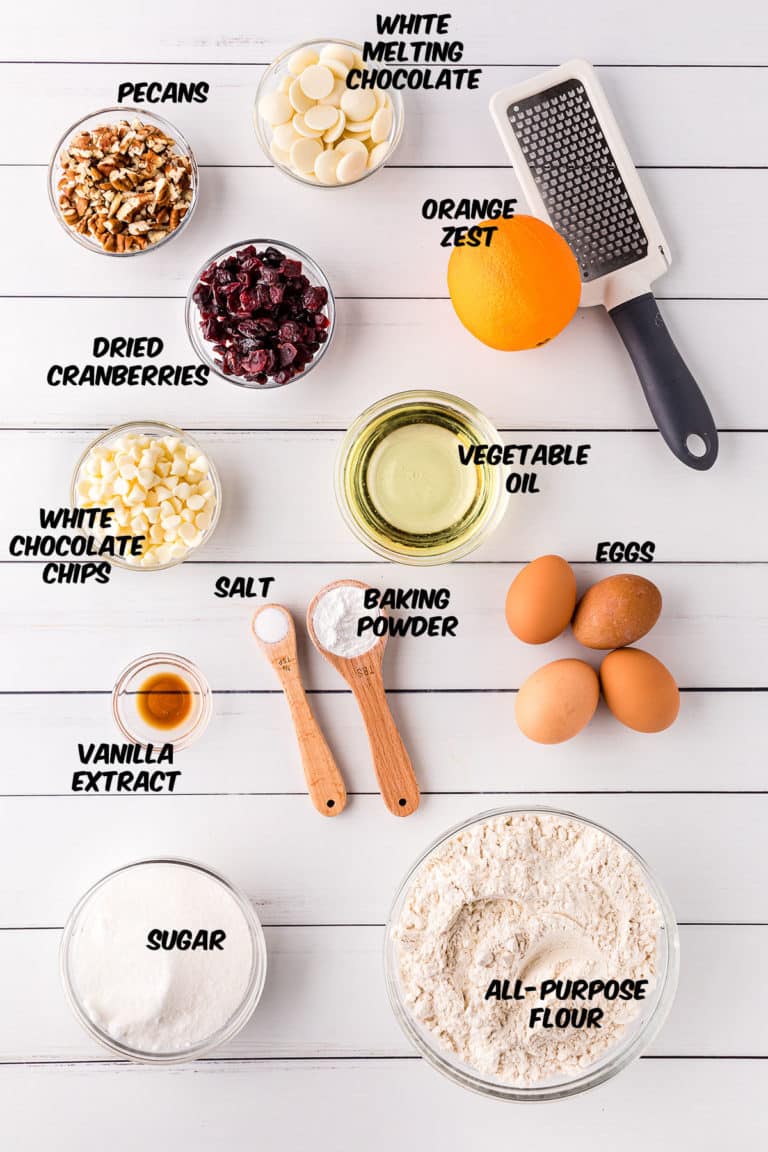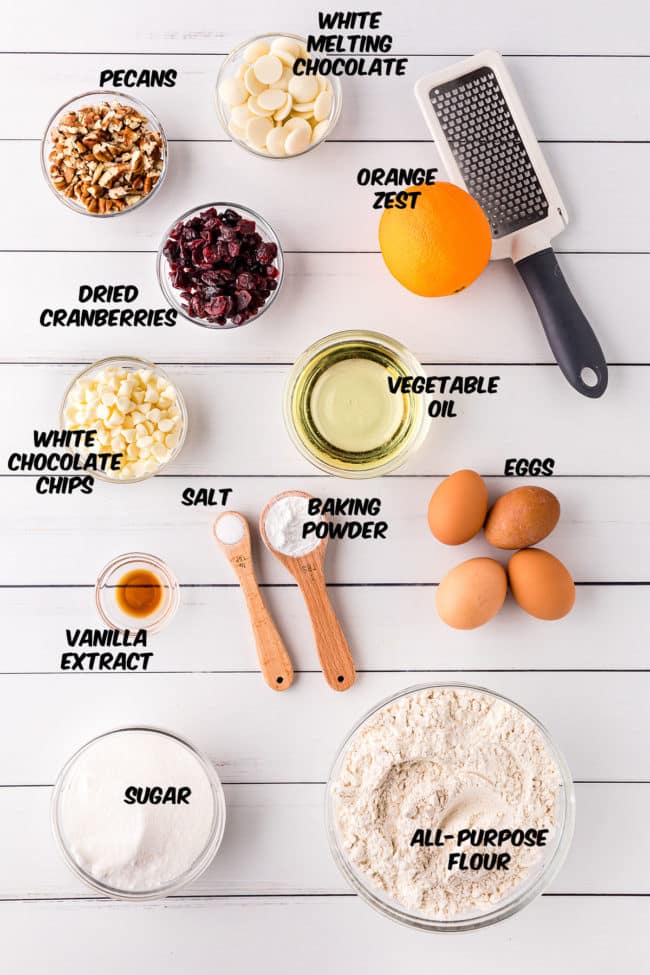 Cranberry Orange Biscotti Ingredients
For specific amounts, please refer to the printable recipe card at the bottom of the post.
Italians call these dry, crunchy, oblong, twice-baked cookies cantucci, known for their sturdy texture to dip in beverages.
Vegetable Oil – contributes to the crunchy biscotti texture and reduces dry crumbles.
Sugar – white granular
Large Eggs – room temperature
Large Orange – zested
Vanilla Extract
Dried Cranberries
White Chocolate Chips
Pecans – chopped
All-Purpose Flour – use the spoon and level method
Baking Powder – check/test for freshness
Salt
Optional: 3 Ounces White Melting Chocolate (See Notes Below Recipe)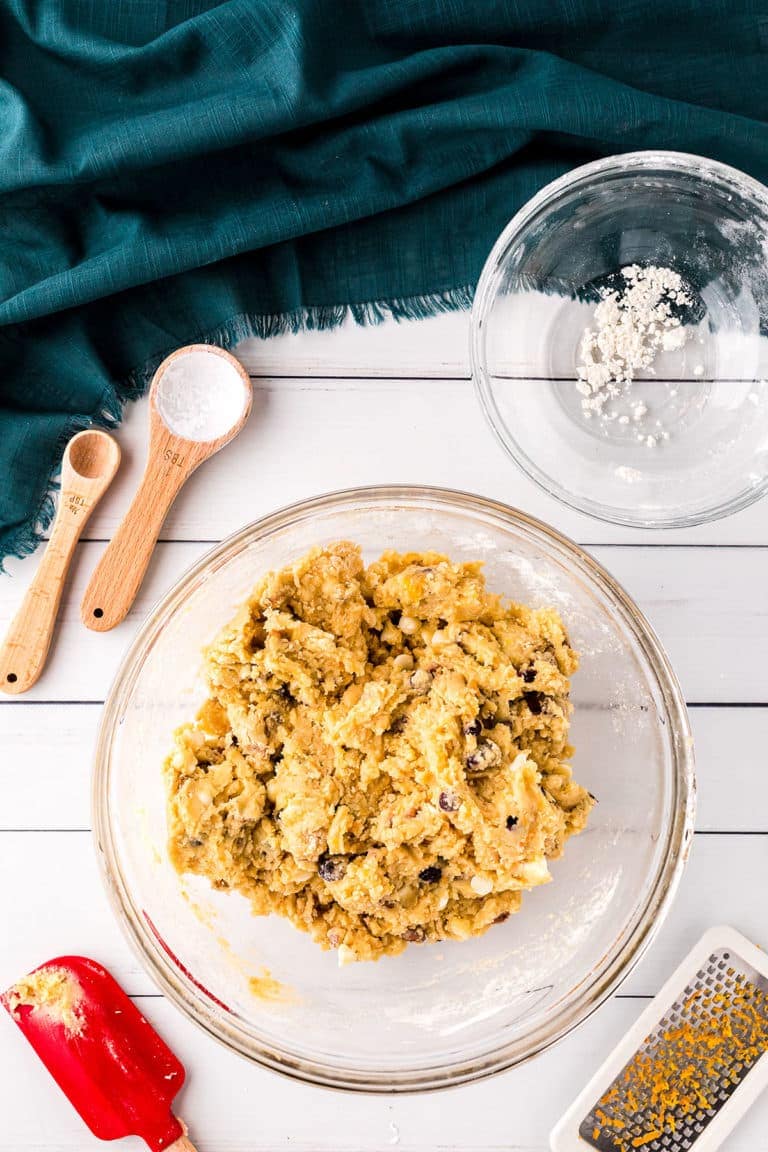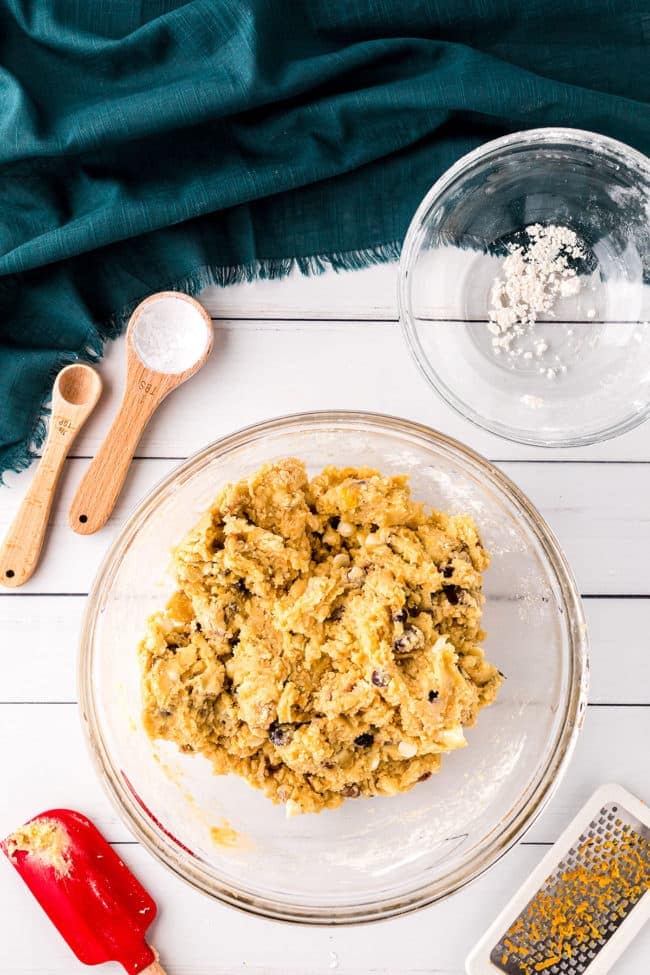 This post may contain affiliate links. Please read my disclosure policy here.
How To Make Easy Cranberry Orange Biscotti
Christmas biscotti recipes can sound a bit intimidating, similar to making a cheesecake recipe the first time. Happily, many seemingly "unaccessible" recipes are ridiculously easy and straightforward. So grab a couple of baking sheets, parchment paper, and a fork, for drizzling.
When you are baking, you'll want to use the full recipe at the bottom of the page.
Prepare the biscotti dough and heat the oven to 350° F.
Divide the dough into thirds and shape it into logs.*
Bake on parchment-lined baking sheets until just firm and lightly browned.
Cut. As soon as the cranberry orange biscotti is cool enough to touch, cut the biscotti log into slices just under an inch.
Bake again until golden brown and cool on wire racks.
Optional: Drizzle with white chocolate or glaze (see below).
Baker's Tip: Biscotti dough can be tacky when shaping. You can flour or wet your hands to prevent sticking, or use a biscotti baking pan as a convenient hack.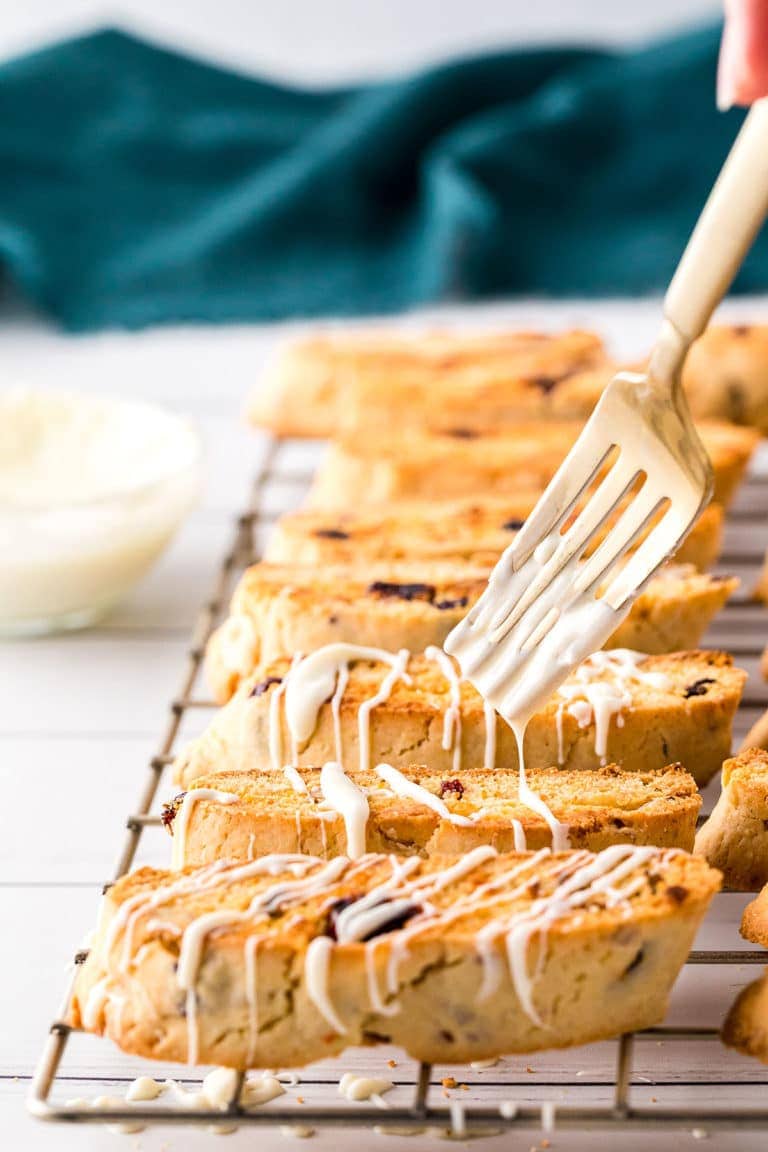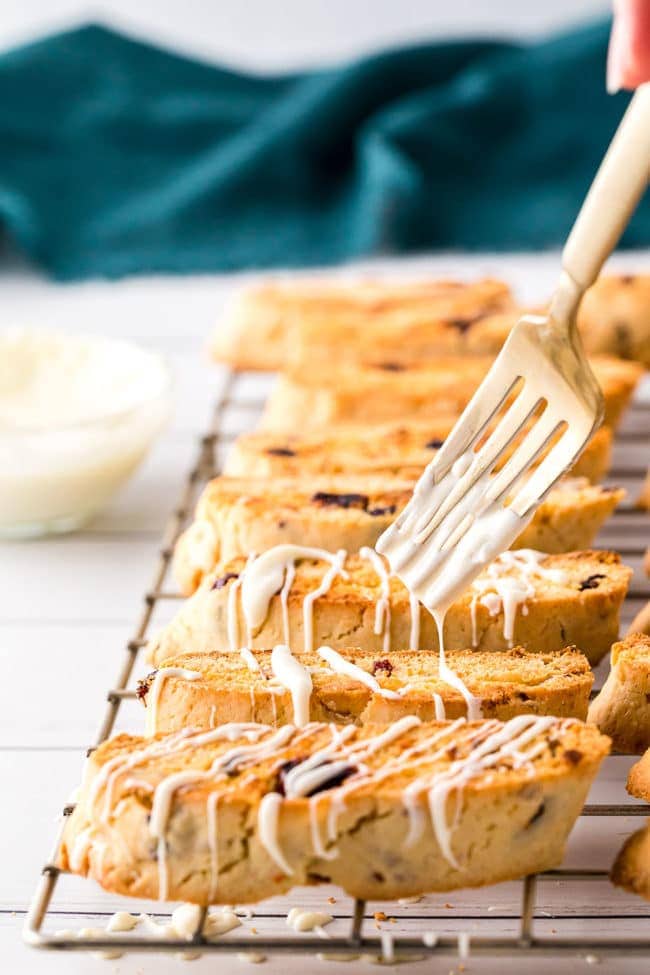 Cranberry Orange Biscotti Drizzles
Yes, yes, I did say optional, but those drizzles of creamy, sweet chocolate add a certain something to Christmas biscotti, especially when gifting. You can always leave half without the drizzle for anyone who prefers less chocolate. (Is that really a thing?) You can also opt for an easy sugar glaze.
Biscotti With White Chocolate Drizzle:
Prepare white melting chocolate according to package directions.
Arrange cooled cranberry biscotti on parchment paper for easy cleanup.
Drizzle white chocolate with a fork over one side of the biscotti.
Store them in an airtight container after the chocolate sets.
Cranberry Biscotti Easy Vanilla Sugar Glaze:
Mix two cups of powdered sugar, 1 tsp of vanilla extra, and 3 tsp milk in a small bowl.
Check the consistency by allowing the glaze to ribbon off the spoon.
Add more powdered sugar if the glaze is too thin, or add milk if it's too thick until you get to the right consistency.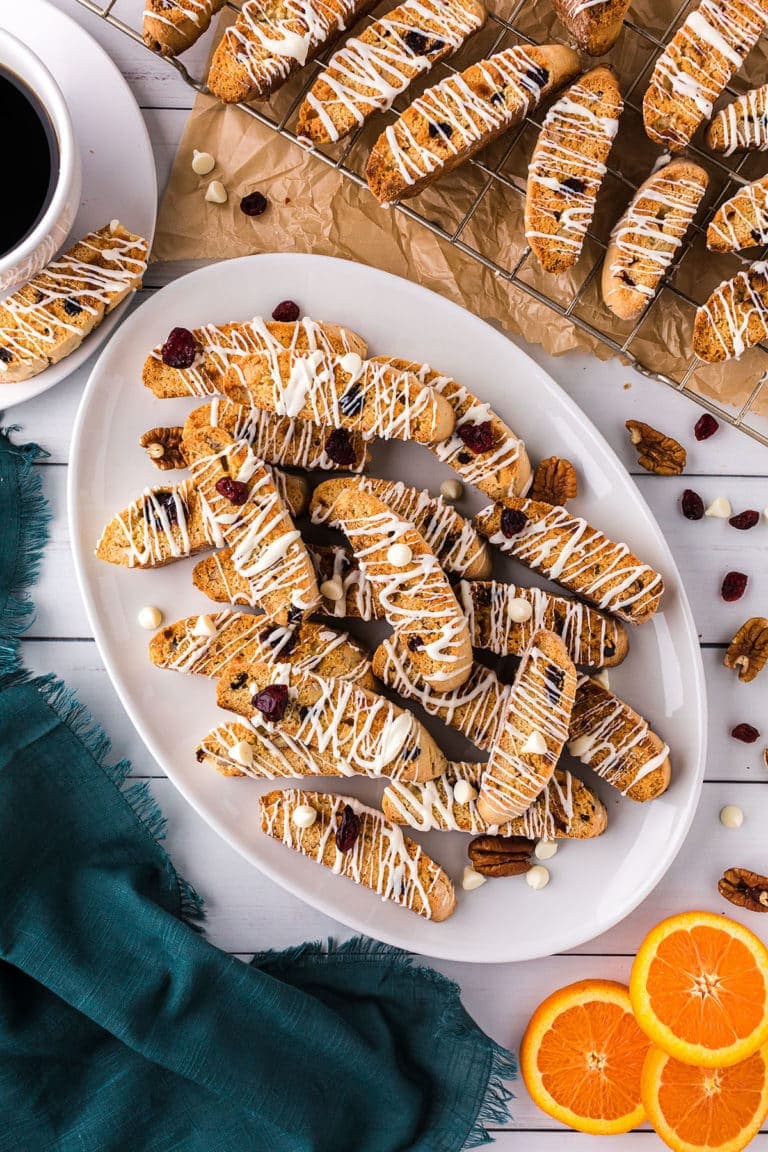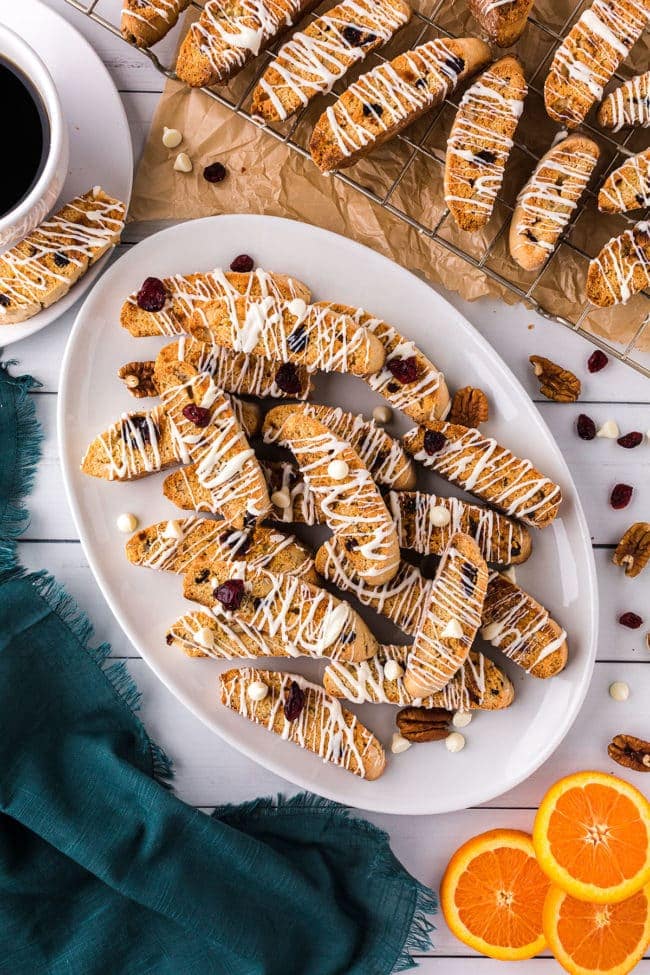 Easy Cranberry Christmas Biscotti Recipe Tips
You want to keep an eye on the biscotti the first time around. Your cranberry orange biscotti logs must be just firm and lightly browned.
Biscotti cookies are ready to slice when cooled to the point you can handle them without burning your fingers. The biscotti will crumble if they are too hot; if they cool too much, they become harder to slice through.
Slice cranberry orange biscotti using a serrated edge knife with as few smooth sawing motions for the best-textured cut.
A crosswise cut makes short biscotti cookies. To make longer cranberry orange biscotti, slice them at an angle. The steeper the angle, the longer the individual slices.
Use melting chocolate (like almond bark) or wafers to drizzle on the biscotti when you can. If you want to work with white chocolate chips, no problem! Although they don't melt well, adding a little shortening to the chips before you melt them resolves the issue for a smoother consistency to drizzle over cranberry biscotti.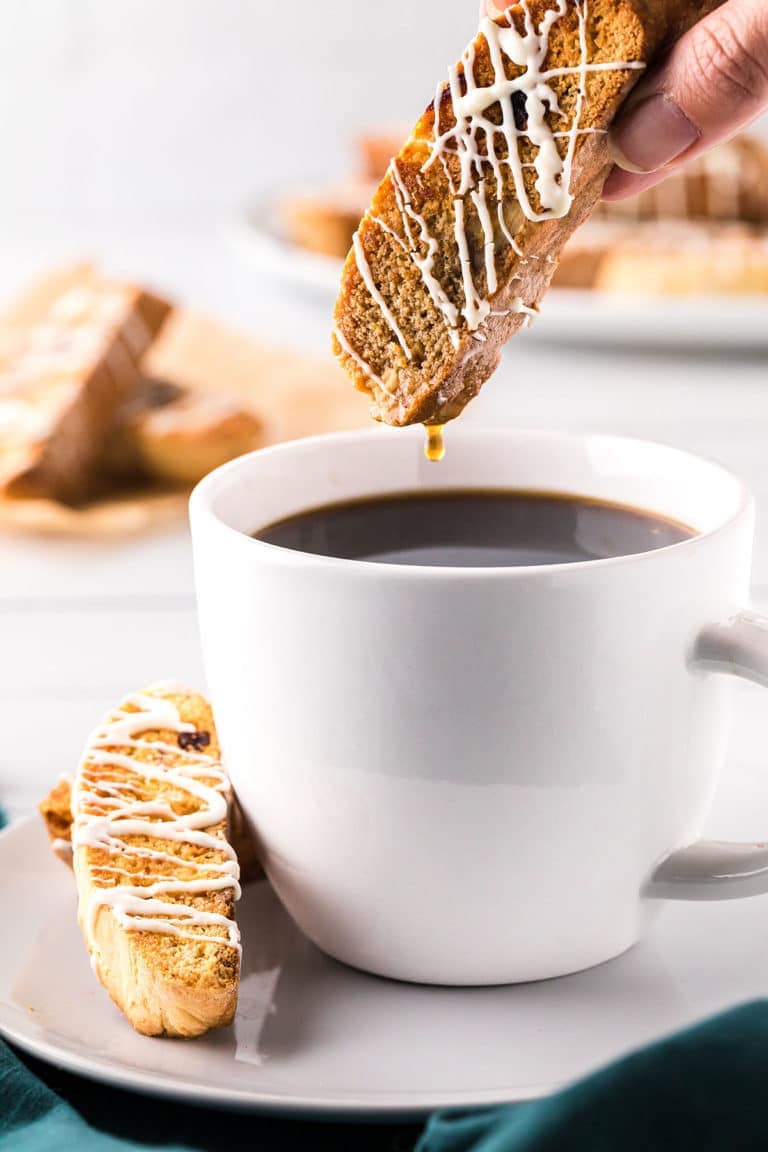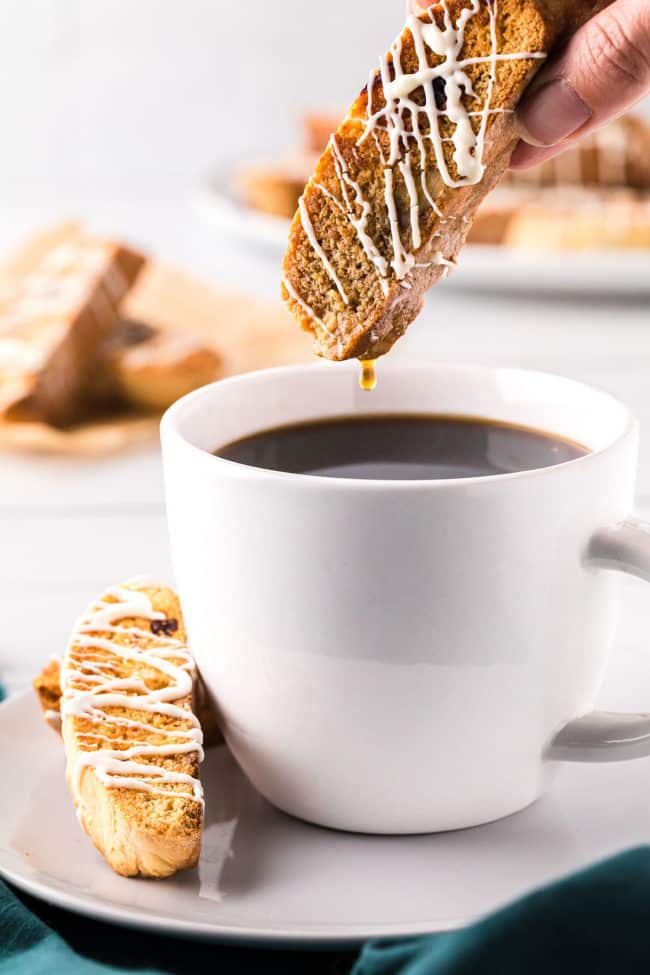 Recipe FAQs
What can I do if my biscotti is soft?
Reheat! Don't even think about tossing that delicious biscotti cookie! I prefer the method where you preheat the oven to 250°F, put the biscotti in, turn it off and leave them until the oven is cool.

Try to stand the cookies up on a parchment-lined baking sheet without overlapping. Immediately eat a couple (haha); replace thoroughly cooled biscotti into an airtight container. Viola! Crunchy biscotti!

Do biscotti harden as they cool?
Yes, as the heat dissipates, the remaining moisture evaporates. Like most baked goods and toasted nuts, the cooling process increases crispness. Since this is the goal for homemade biscotti recipes, you want to store them in an airtight container as soon as they are completely cooled.
How do you keep biscotti crunchy longer?
Airtight glass jars and metal tins work best to keep biscotti crisp longer. If you aren't sure if your container is airtight, a few hacks can help reduce moisture. Try lining the bottom of your container with a paper towel or tying up a tablespoon of baking powder in a coffee filter.
Storing Cranberry Orange Biscotti
Cranberry Christmas biscotti keep nice and crisp for a month when stored in an airtight container due to low moisture. However, biscotti biscuits stored before they are completely cool will soften. Check out the FAQs for a couple of hacks to help keep these twice-baked Italian cookies crisper longer.
Freeze
You can store these twice-baked cookies in the freezer for up to 3 months. Simply lay the Italian cookies on a sheet pan and place in the freezer until frozen. Then transfer to an airtight container.
To thaw frozen biscotti. Remove them from the container and let them sit at room temperature to thaw. If they are not quite as hard as they were before freezing, and do not have a chocolate drizzle or icing you can just bake them for the third time.
Heat the oven to 250° and place the cookies standing up on a sheet pan. Place them in the oven and turn the oven off. When the oven has cooled, remove the cookies and they should be crunchy again.
Mailing/Gifting Hack:
You can use a Foodsaver to vacuum pack Christmas biscotti to send in the mail. Depending on the recipient, you can seal multiples, singles, or the whole lot.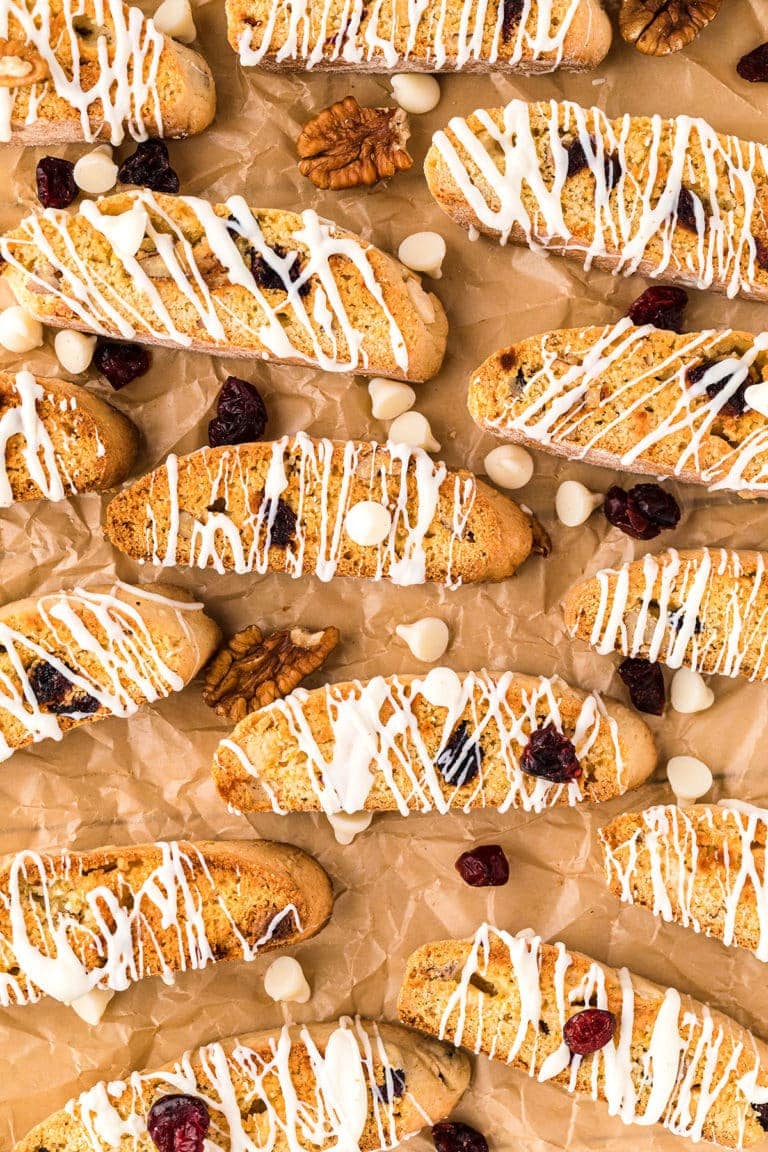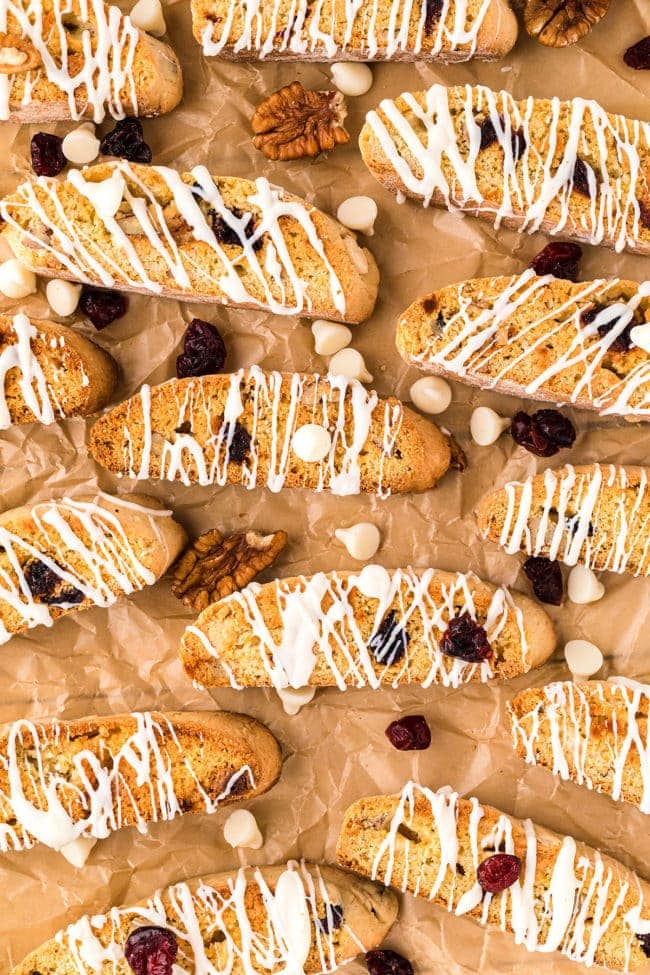 Cranberry Orange Biscotti Variations & Ideas
Cranberry orange biscotti won't discriminate when it comes to adding tree nuts. Green pistachios work well for a Christmas theme and taste great. This biscotti recipe tastes delicious using almonds, walnuts, cashews, and especially macadamia nuts.
Lightly toasted nuts, especially almonds slices, deepen the nutty impact and amp up the flavor of a biscotti recipe. However, those babies must be 100% heat free before mixing into the biscotti dough.
You can opt to use red and green candy melts for a Christmas biscotti theme or blue and white for Hanhaka celebrations.
Use food coloring for the sugar glaze drizzle if you like. Plus, you can substitute vanilla extract or add a complementing flavor to the cranberry orange biscotti drizzle.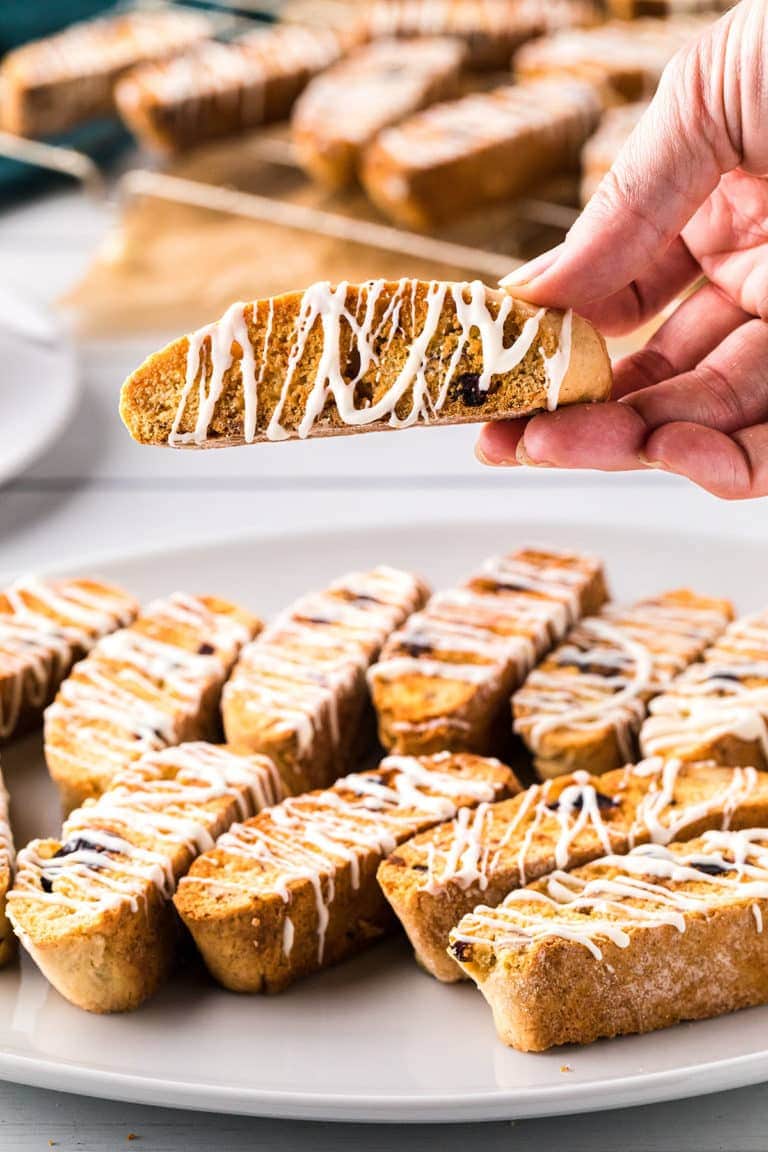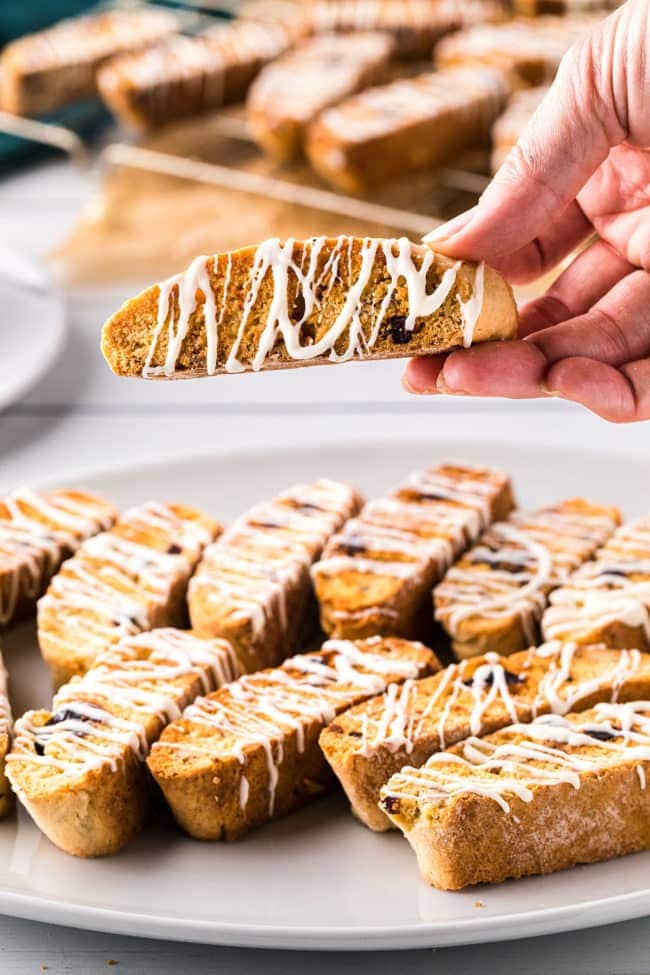 Serving Suggestions
There is more than one way to serve this twice-baked Italian cookie! Once you experience crunchy, satisfying cranberry biscotti, you will be impressed with the various beverages and the ways you can enjoy them.
Go the way of Italia and dip your cranberry biscotti in a rich, sweet red dessert wine.
Orange cranberry biscotti are phenomenal served as a "garnish" to delish homemade Philadelphia-style vanilla bean ice cream or on yogurt.
A two-in-one gorgeous and delicious gift idea presented in a reusable airtight bamboo-lidded glass cookie jar.
Cranberry orange biscotti can be crushed and used as a tasty and unique crumb crust for cheesecake.
Like This Recipe? Pin It!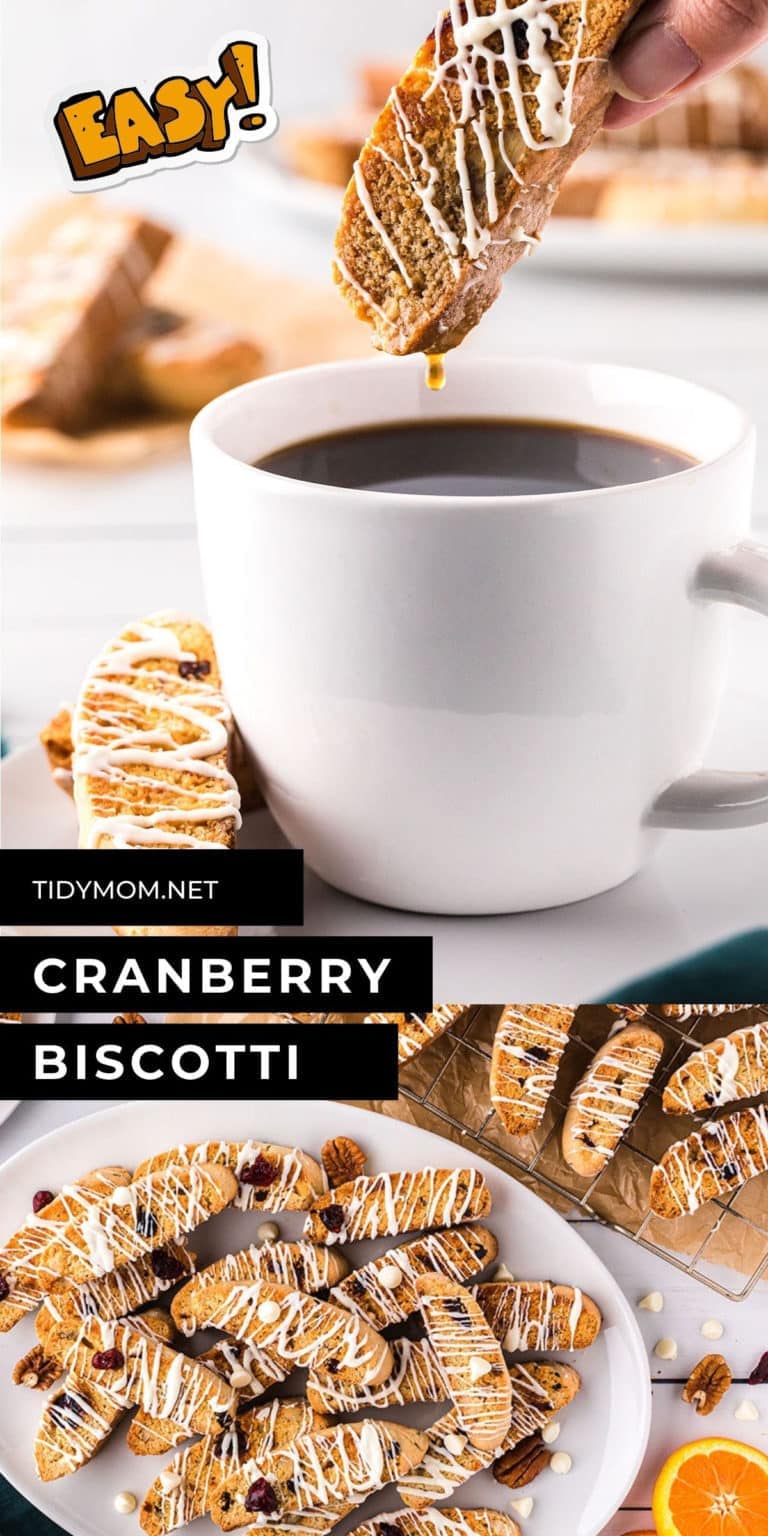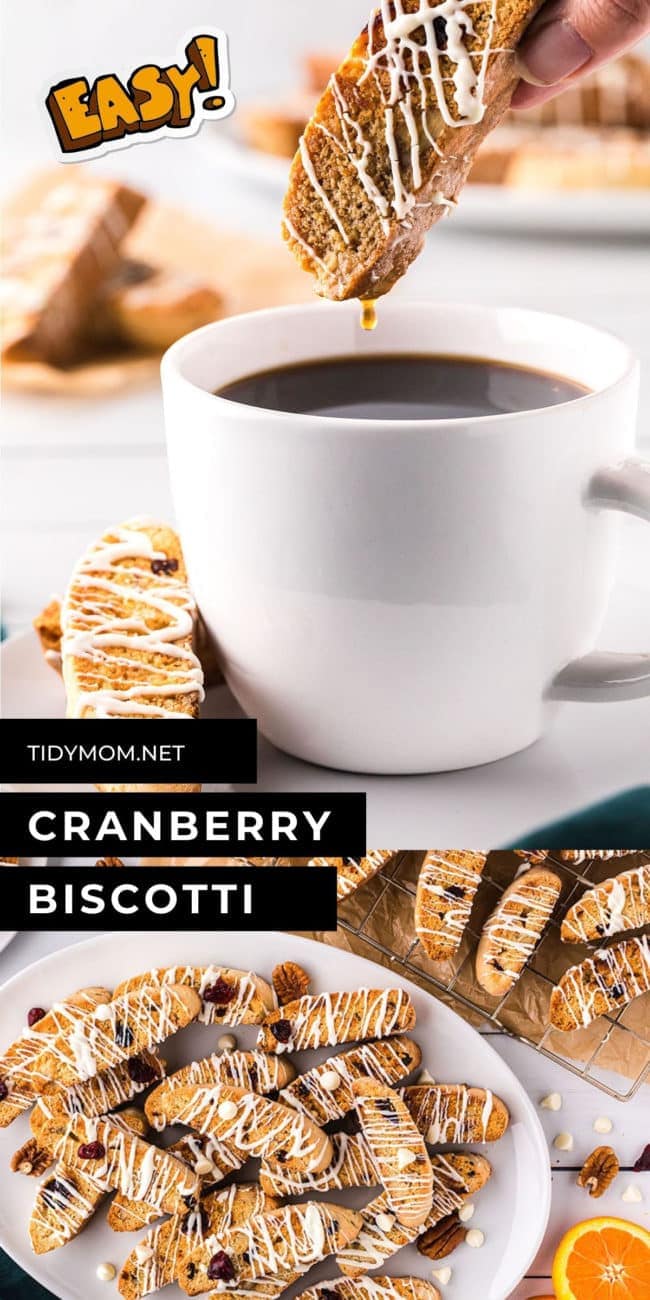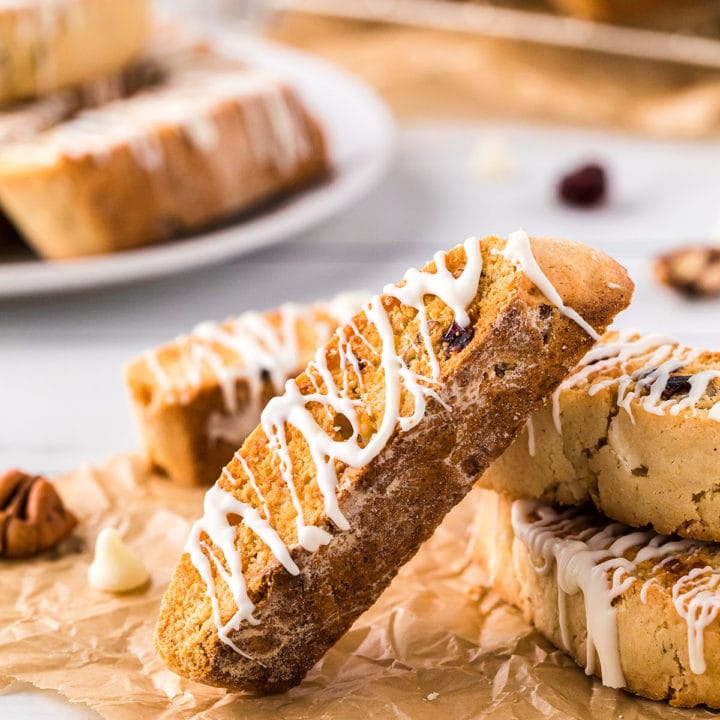 Cranberry Orange Biscotti
Yield: 35-40
Prep Time: 15 minutes
Bake Time: 35 minutes
Total Time: 50 minutes
Cranberry Orange Biscotti have a sensational crisp crunchy texture and are loaded with festive holiday flavors. The twice-baked cookies are perfect for dunking in coffee, tea, or hot chocolate. Plus, these Italian cookies store well and last for weeks.
Ingredients
1 cup sugar
½ cup vegetable oil
4 large eggs, room temperature
1 teaspoon vanilla extract
1 orange zested
½ cup dried cranberries
½ cup white chocolate chips
½ cup chopped pecans
2 ⅔ cups all-purpose flour
1 tablespoon baking powder
½ teaspoon salt
OPTIONAL: 3 ounces white melting chocolate (see notes below recipe)
Instructions
Preheat oven to 350° F. Line two baking sheets with parchment paper and set aside. (do not grease pans)
In a large mixing bowl, whisk the sugar, oil, eggs, vanilla, and orange zest together. Stir in the dried cranberries, white chips, and pecans.
In another bowl combine flour, baking powder, and salt and stir into the wet mixture until combined (do not overmix). Divide the dough into three equal portions.
Shape the dough into 3 logs about 10-inches long. Place on the parchment-lined baking sheets and pat down a little to flatten (you can flour or wet your hands to prevent sticking). Bake until lightly browned, 20-25 minutes. Cool for 5 minutes, they should still be warm to the touch.
Transfer to a cutting board; using a serrated knife slice into cookies a little less than 1-inch thick. Place back on the baking sheets cut side down leaving a little space between them. Bake until golden brown, 15-20 minutes. Remove to wire racks to cool.
Optional drizzle: melt white melting chocolate according to package and drizzle with a fork over one side of the biscotti. (see notes for icing option)
Store in an airtight container.
Notes
You can use melted butter or vegetable oil. Vegetable oil actually helps create just the right crunch so your biscotti isn't too hard, and not so soft it falls apart when you dunk it.
Store completely cooled biscotti in an airtight container on the counter for up to 1 month.
If you are going to drizzle the biscotti with white chocolate, be sure to use melting chocolate or melting wafers. White chocolate chips don't melt that well, but if it's all you have, add a little shortening to the chips before you melt them to help with the consistency of the melted chips.
If you want to make a glaze to drizzle over your biscotti, just add a little powdered sugar, and milk to a small bowl, add about a teaspoon of vanilla extract and stir to combine. Add more powdered sugar if too thin, or more milk if too thick until you get to the right consistency. Drizzle over one side of your biscotti and you'll have biscotti with a delicious glaze!
Nutrition Information:
Yield: 40
Serving Size: 1
Amount Per Serving:
Calories: 120
Total Fat: 6g
Saturated Fat: 1g
Trans Fat: 0g
Unsaturated Fat: 4g
Cholesterol: 20mg
Sodium: 74mg
Carbohydrates: 16g
Fiber: 1g
Sugar: 9g
Protein: 2g
Nutrition information is estimated based on the ingredients and cooking instructions as described in each recipe and is intended to be used for informational purposes only. Please note that nutrition details may vary based on methods of preparation, origin, and freshness of ingredients used and are just estimates. We encourage, especially if these numbers are important to you, to calculate these on your own for most accurate results.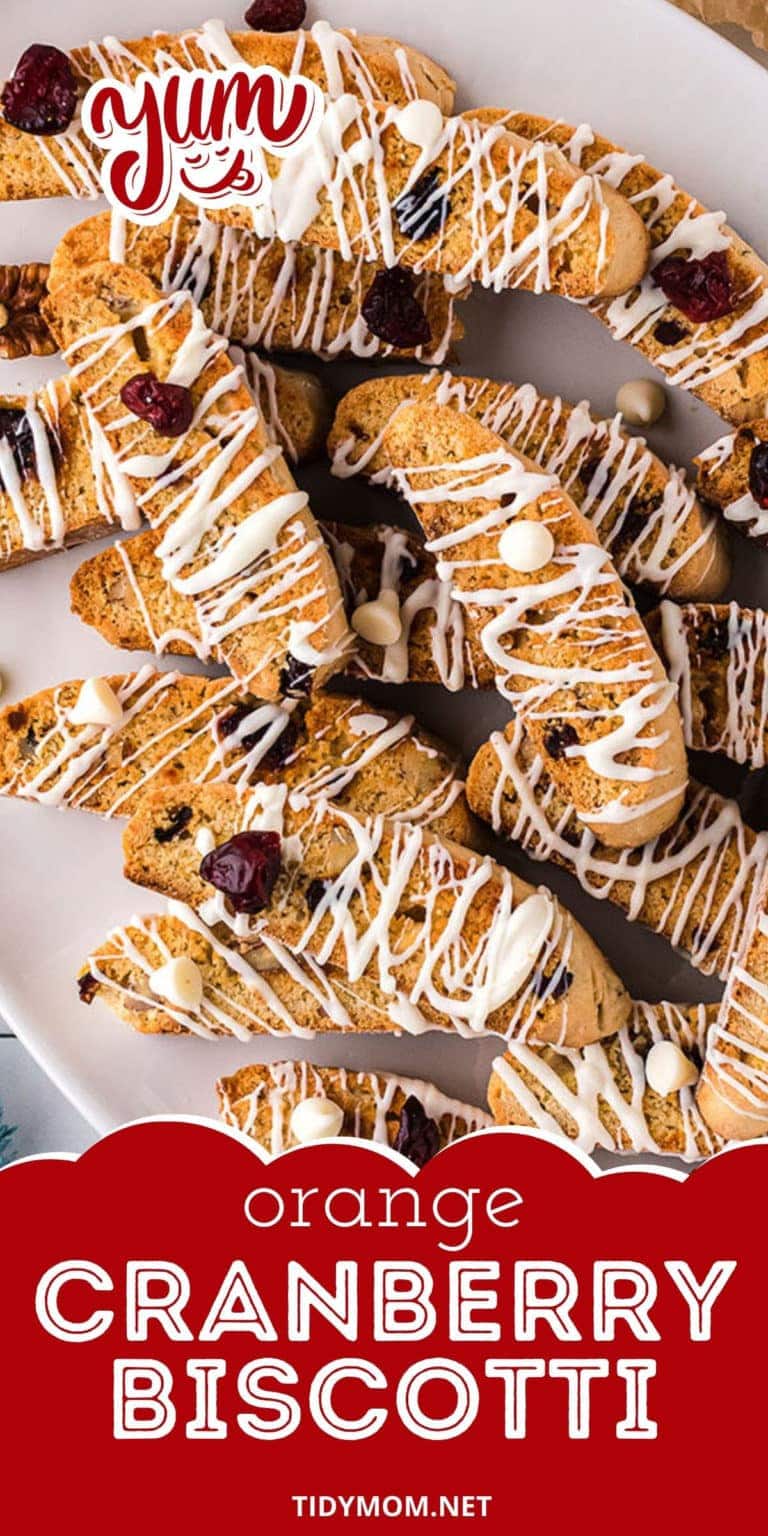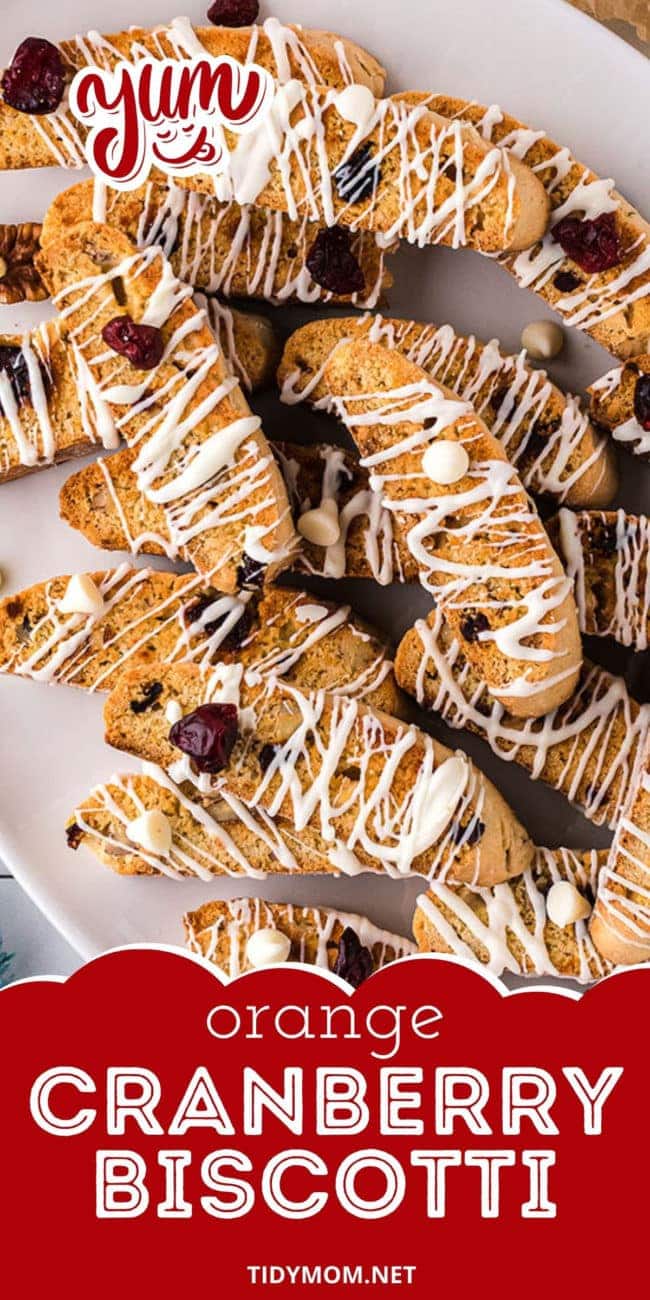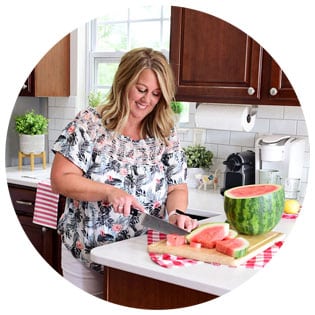 Hi there, I'm Cheryl!
As a wife, mom, and caffeine enthusiast, my journey has taken me from bustling mornings with my family to sharing delicious recipes, home care tips, and heartfelt decorating insights with wonderful readers like you. My love for baking, photography, and tidiness shines through every post I craft. Dive into my world and discover the art of homemaking, one tidy moment at a time. Read more...
Tidymom is a participant in the amazon services llc associates program, an affiliate advertising program designed to provide a means for sites to earn advertising fees by advertising and linking to Amazon.com.
Please respect my work, recipes and photographs. If you do use a recipe in your own writing, please give proper credit and link back to the original post.