Eggnog Cookies Iced with Eggnog Buttercream
Eggnog cookies are a great choice for any holiday cookie exchange. A cookie tray favorite that will stand out because it's a deliciously soft spice cookie infused with eggnog and spiked with rum!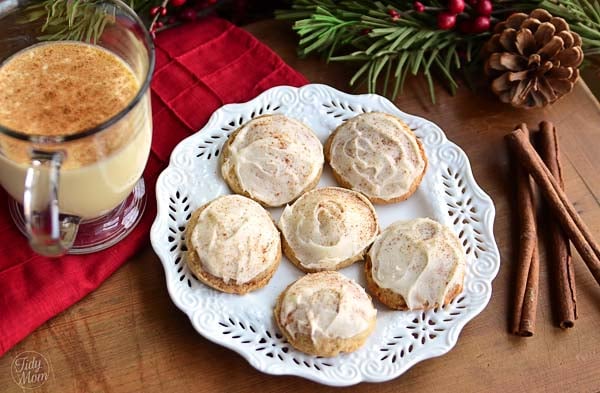 Do you participate in a cookie exchange this time of year? You know how it goes……you go to someone's house, you bring a batch of cookies (say three dozen), then you bring home a mix of three dozen cookies.
While the cookie exchange party can be fun, hanging with friends or family and drinking mulled wine or red velvet hot chocolate, the cookies can be everything from delicious to yuck.
We have certain Christmas holiday cookies we enjoy every year and the idea behind a cookie exchange is a great way to find new cookies. I've brought home some cookies that I just can't eat, no matter how much I dunk them in my coffee.
WHY EGGNOG COOKIES NEED TO BE ON YOUR COOKIE TRAY!
This holiday iced eggnog cookie recipe is sure to be a hit at your next cookie exchange! A soft cookie with buttercream icing, a sprinkle of nutmeg, a little rum (totally optional) all infused with the creamy, rich flavor of eggnog!
Trust me, you'll be thanking me for years to come. I'm always asked to bring my eggnog cookies to a cookie exchange, so I know everyone loves them as much as we do!
While I enjoy eggnog with a little rum, you could certainly leave it out of these eggnog cookies if you want.
Even if you're not a fan of eggnog, I think you'll enjoy these eggnog cookies.  They reminded us of snickerdoodles!
My favorite assortment of cookies includes Cutout Butter Cookies, a classic Chocolate Chip Cookie, Hot Fudge Filled Chocolate Lava Cookies, Russian Tea Cakes, Easy Peanut Butter Gooey Butter Cookies and so much more! I may even make a batch of Christmas Truffles or Peanut Butter and Chocolate Fudge to add to the cookie plates!
Are you a fan of eggnog? I bet you'll love Eggnog Truffles, Eggnog Bread, Eggnog Fudge, or even Eggnog Pie!!
I'd love to hear about your favorite eggnog recipes!
LIKE THIS ICED EGGNOG COOKIES RECIPE? PIN IT!

I created a fun little group on facebook and I'd love for you to join in! It's a place where you can share YOUR favorite recipes, home tips, creative ideas and ask questions and see what's new with TidyMom! If you'd like to check it out, you can request to join HERE. Be sure to follow me on Instagram and tag #tidymom so I can see all the wonderful TidyMom recipes YOU make and tips YOU use!
Connect with TidyMom! Facebook | Twitter | Google+ | Pinterest | Instagram
Sign up to receive an email in your inbox for each new recipe: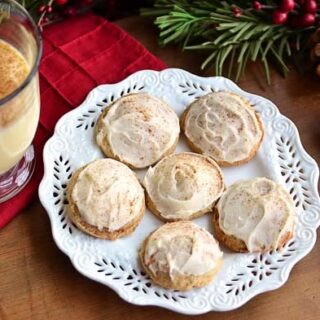 Eggnog Cookies Iced with Eggnog Buttercream
Deliciously soft spice cookie infused with eggnog.
Ingredients
For Eggnog Cookies
2 1/4 cups flour
 1 teaspoon baking powder
 1 scant teaspoon ground nutmeg
 3/4 teaspoon cinnamon
 1 1/4 cups sugar
 3/4 cup butter, slightly softened
 2 egg yolks
 1/2 cup eggnog
 1-2 tablespoons rum
For Eggnog Buttercream
3 cup powdered sugar
 1/4 cup softened butter
 1/3 cup  eggnog (use as much as you need)
 1-2 teaspoons rum
Instructions
Preheat oven to 300 degrees.
Mix flour, baking powder, cinnamon, and nutmeg in a bowl and set aside.
In another mixing bowl, mix sugar and butter together. Add egg yolks and vanilla to the mixture and beat until smooth.
Finally, add eggnog and rum and mix on medium speed until smooth and creamy. Slowly add flour mixture to eggnog/sugar mixture until completely combined, but be careful not to over-mix.
Drop spoonfuls of dough onto a prepared cookie sheet and bake for 20-22 minutes. Remove immediately, sprinkle with cinnamon or nutmeg and move to a cooling rack.
When completely cool, frost with eggnog buttercream.
For Spiked Eggnog Buttercream:In small mixer bowl, beat confectioners' sugar and butter until well blended.
Gradually beat in eggnog and rum until icing is smooth.