How to make delicious easy Lattes at home!
Pumpkin Spice Latte Recipe
We finally got some measurable snow, along with some of the coldest weather St. Louis has seen in 10 years. Temps have been in the single digits with windchills below zero! BRRRR
School was canceled yesterday and again today.
If you follow me on Facebook or Twitter – you probably hear me talk about making yummy lattes at home. So far this year we've been making Pumpkin Spice & Mocha Peppermint and occasionally just vanilla.
I always get asked how me make them……..
With all of this COLD COLD weather, we've been making them almost daily, so I thought I'd snap a few pictures and tell you how we make them!! They're so easy and fun!
There are a few "must haves"…… (affiliates)
First you need one of these babies:

Cocoa Latte Maker! We LOVE this thing! You can find it here Cocoa Latte Maker
Now, the Cocoa Latte Maker comes with a nice little recipe book and we mostly use the Caffe Latte recipe and make a basic Vanilla Latte.—-which is very good!! But we wanted to kick it up a notch and get fun flavors like you can get at Starbucks.
My secret ingredient? Coffee-Mate's Flavored Liquid Creamers!! We've been using Pumpkin Spice (available Nov- Jan) and Mocha Peppermint, – we will try other flavors when we run out of these.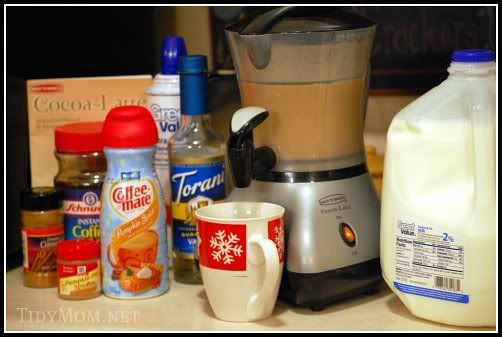 What you need to make lattes at home

Pumpkin Spice Latte Recipe
Ingredients:
Directions:
Add the first 5 ingredients to the *Cocoa Latte Maker and press "ON".
When it turns its self off, dispense into mug and top with whip cream and sprinkle with spices.
*if you don't have a cocoa latte maker: Add first 5 ingredients to a small sauce pan over medium heat. Cook string constantly until just simmering.
Making this recipe? Share it with us on Instagram using the hashtag #TidyMom so we can see what you're creating in the kitchen!
Want more great recipes like this? Follow my TidyMom Easy Recipes Pinterest Board
For your viewing pleasure…………………
I thought I'd share some shots of Cullen in his first snow.


and one of Allison sledding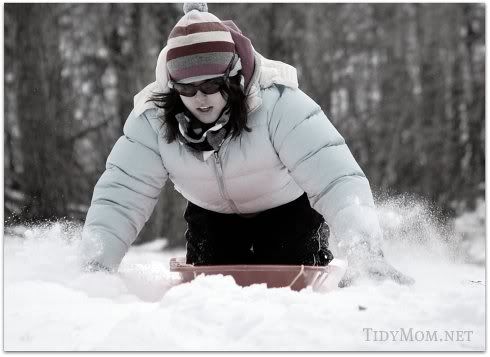 Have a GREAT weekend! and stay WARM if it's cold where you are!