Buffalo Chicken Pizza + Baking Steel
Homemade pizza is easy, cheap, and fun!  While you can never go wrong with traditional cheese or pepperoni, Buffalo Chicken Pizza is one that never disapoints!  You can cook your own chicken (or use a rotisserie chicken), shred and simmer in your favorite buffalo sauce for this recipe, but if you plan ahead, you can make a batch of Slow Cooker Creamy Ranch Buffalo Chicken for the ultimate Buffalo Chicken Pizza recipe!
As much as my family loves to grill pizza outside on the grill (using flour tortillas), we have never had a lot of luck making a good pizza in the oven. So often the crust will turn out limp or even soggy, even when I use my pizza stone. I actually made a this Buffalo Chicken Pizza a few months ago when I saw it on Scattered Thoughts of a Crafty Mom . While we LOVED the idea and the flavor, my pizza was soggy.  Why does this happen?  Simply put, home ovens just can't get as hot as a commercial or stone pizza oven. A high temperature (yielding a quick cook time) gives pizza that beautiful, crispy crust we all crave.
Fast forward to a few weeks ago when I discovered the Baking Steel.  When it comes to creating that perfect crust at home, the Baking Steel is what you need for making pizza at home! Why? The Baking Steel is similar to a baking stone, by storing heat energy and conducting it into the bottom of the pizza yielding a faster bake, a crisper crust and better flavor. The difference is that the steel has superior heat capacity and conductivity, making it all the better at delivering the kind of crisp, well-browned crust that you used to only be able to get from commercial pizza ovens.  Read more about the science behind the baking steel — you'll be sold like I was.
The awesome people behind the Baking Steel noticed my interest when I pinned it, and asked if I would like to give it a try. Uh, yes please!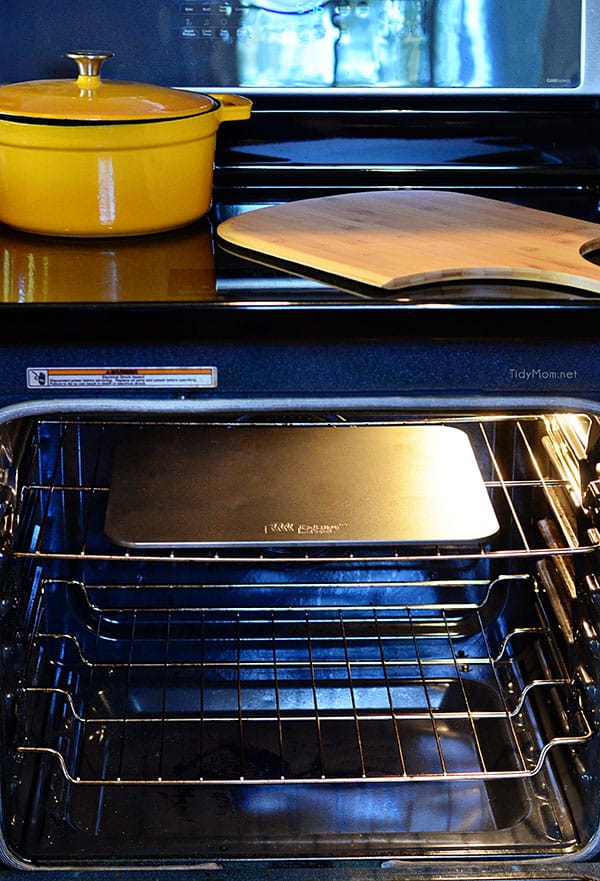 I have to be honest here and tell you, I have never made homemade pizza crust, but now that I have seen what the Baking Steel can do, I can't wait to make our own crust next time. For our first trial run with the Baking Steel, I knew right away we wanted to give that Buffalo Chicken Pizza another go, using a store bought (mulit grain) crust like we did the first time.  I figured this would be the perfect experiment to see if the steel really makes a difference.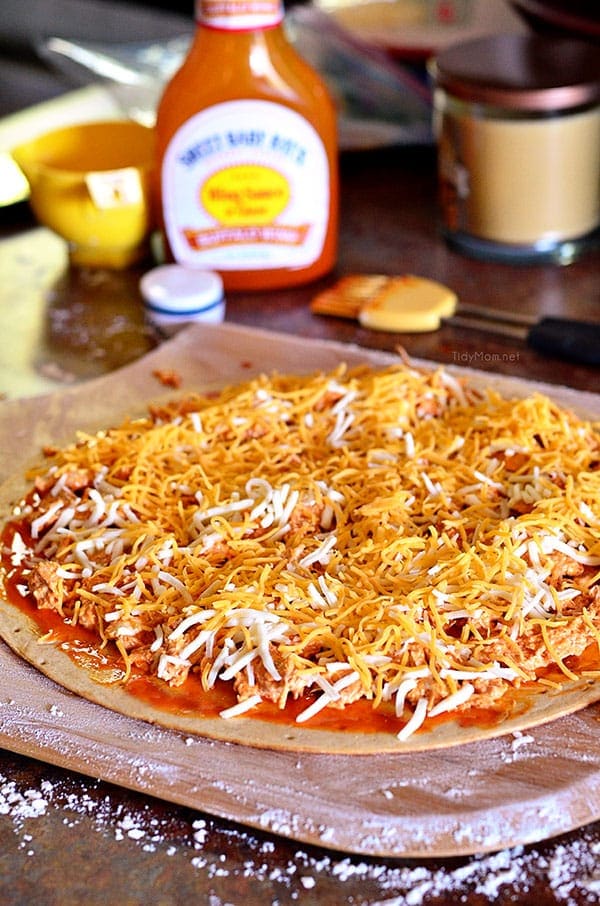 I cooked a batch of Slow Cooker Creamy Ranch Buffalo Chicken (full recipe at end of post) in my Nesco Roaster for about 6 hours, then we were ready to make our pizza that evening.  When cooking a pizza at home in the oven you will want to use a pizza peel to transfer your pizza onto the steel.
I lightly floured the peel, before laying the crust out.  Next I spread a small amount of  buffalo sauce over the crust, we like both Franks and Sweet Baby Rays, but I find the Sweet Baby Rays to be a little less "hot" and tend to use it in recipes that call for a lot of buffalo sauce, to keep the "hotness" level more tolerable for everyone (it's still hot and full of fabulous flavor). Next, I topped the sauce with the creamy ranch buffalo chicken and lots of shredded cheese (we used provel, mozzarella and colby jack)
Then shimmy that baby into the oven onto the baking steel and fire away!
Our Buffalo Chicken pizza came out of the oven with a mottled brown crust and plenty of dark and light spots. Best of all, it was perfectly crisp, just how we like it!  I topped it with ranch dressing and chives and served with celery and carrots.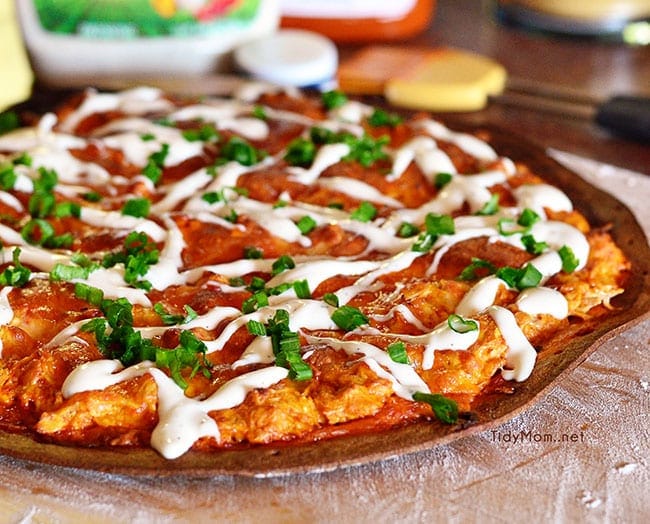 Looks great doesn't it?
Now, pizza lovers everywhere, can "create the crust you crave" at home! I see a LOT more homemade pizza in our future.
About the Baking Steel
The heavy duty Baking Steel is made of recycled steel and is virtually indestructible. It's pre-seasoned with an organic blend of oil so it arrives at your door ready to use. It comes standard at 16 inches X 14 inches, fitting most conventional home ovens, as well as barbecue grill surfaces.
Be sure to check out the Baking Steel Blog for lots pizza recipes, pizza tips and other recipes.
Using, Cleaning & Re-seasoning your Baking Steel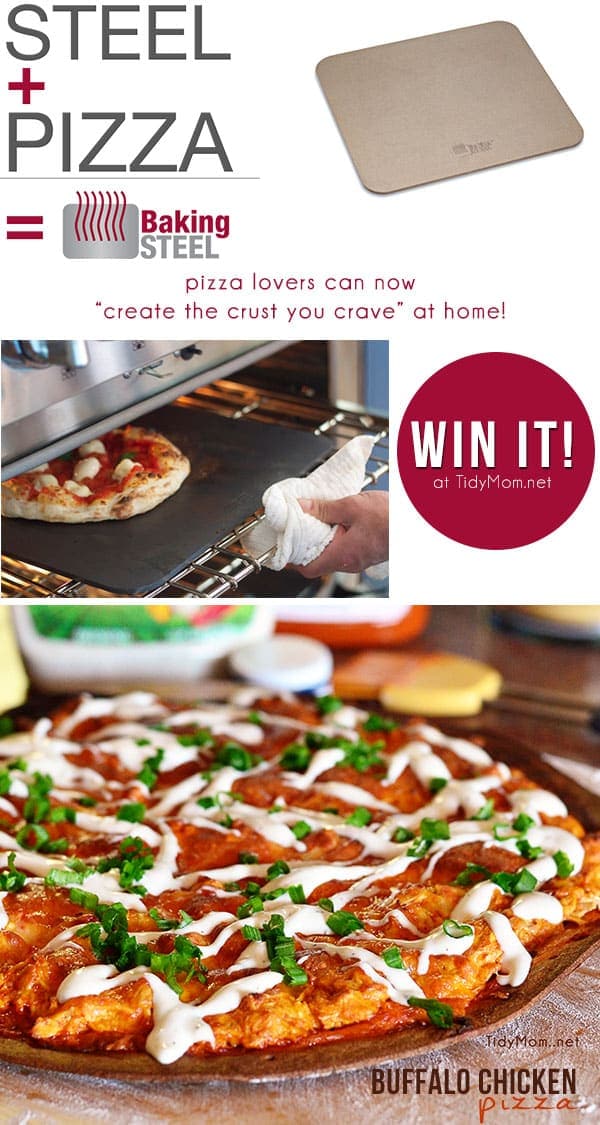 GIVEAWAY HAS ENDED – winner announce in widget below
TO ENTER:
Leave a comment at the end of this post telling me about your favorite pizza
Then simply complete the steps in the giveaway widget below. Personal information will not be shared or used for any kind of mailing list, it's simply used by me to select and contact the winner.
If you don't see the widget, be patient because it might take a minute to load (especially with Internet Explorer 9). Or you can click here to for the entry form if you have any questions, you can contact me via email
 Craving more? Sign up for the TidyMom newsletter to stay on top of what's new right to your inbox! And stay in touch on Facebook, Twitter, Google+ and Pinterest for all of the latest updates


Disclaimer: I have a working relationship with the Baking Steel. All views and opinions are my own. Giveaway provided by the Baking Steel.