Lemon Rosemary Grilled Chicken
I'm sharing a favorite and quick chicken recipe.  By using chicken tenderloins, this Lemon Rosemary Grilled Chicken cooks up on the grill in under 10 minutes!  Mix up the marinade in the morning (or 30 mins before grilling) and toss it on the grill for a quick, easy, healthy and delicious chicken dinner that pairs well with rice, pasta or Bush's Grillin' Beans.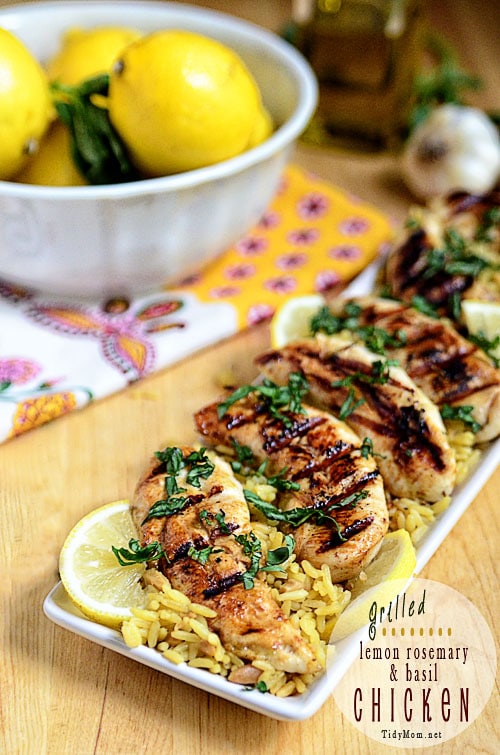 The BEST Grilled Chicken at Home
Don't like to grill chicken outside in the chilly temps?  you can also bake this chicken in the oven, use a grill pan on the cooktop or I love to use my Foreman Grill on the kitchen counter.
GRILLED CHICKEN TIPS:
Use chicken tenderloins, they cook up quick.  If you don't have tenderloins, you can make your own by butterflying a whole breast or pounding it out and cut into strips with a sharp knife.
Marinate or brine ahead of time for grilled chicken that's full of flavor.
Prep your grill.  Make sure the grates are clean and rub a little oil or non-stick grill spray onto the (clean and preheated) grates right before cooking so the chicken doesn't stick.
Do not use high heat.  Cook chicken over medium, indirect heat on the grill.
Close the lid.  Food cooks quicker and evenly when the grill lid is closed.
Use a thermometer. Chicken should be cooked to 165°F, so you should use a meat or instant-read thermometer to check that the chicken is done. Insert the thermometer into the thickest part of the thickest piece. If you don't have a thermometer, simply cut into a thick piece to make sure the juices run clear and that the meat is opaque and not translucent or pink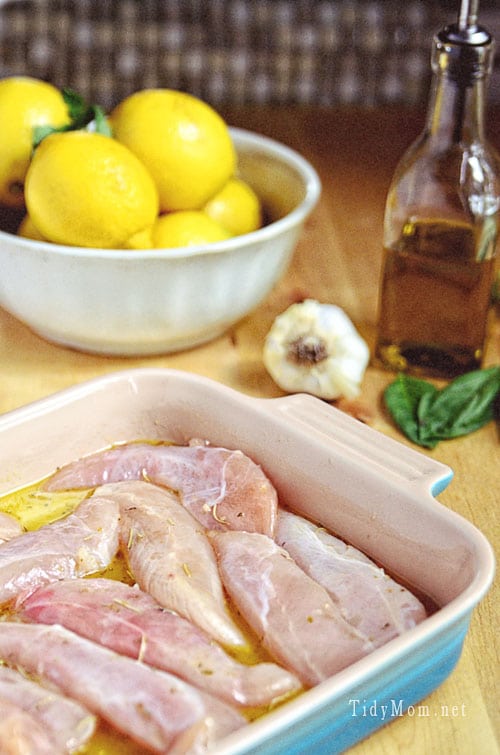 Cooking with olive oil may be one of the most healthy eating habits you can adopt!  Let's see what you've got!
Like this Lemon Rosemary Grilled Chicken Recipe? Pin It!
Want more great recipes like this? Follow my TidyMom Easy Recipes Pinterest Board

Disclaimer: Thank you to The Olive Council's Add Some Life for providing compensation and prizes for #DishonDinner party. The views and opinions expressed on TidyMom are purely my own.