Lemon Rosemary Basil Chicken : Recipe Party #dishondinner
This week I am partnering with the  International Olive Council's Add Some Life  for our first-ever olive oil themed  recipe party called #DishOnDinner.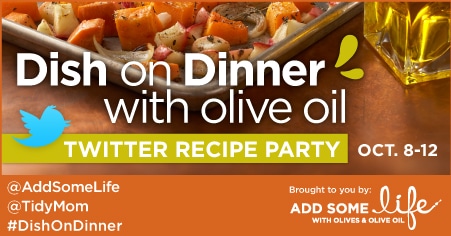 All week we will celebrate cooking with olive oil, the flavors we love this time of year and start thinking about all the cozy fall cooking!  Now thru Friday Oct 12, foodies, bloggers and home cooks are invited to gather online to "dish" on dinner and share their favorite everyday recipes that feature olive oil.
Why dish on dinner with olive oil? 
The International Olive Council's Add Some Life campaign would like to remind us that Olives and Olive oil offer many unique and powerful health-promoting effects. Click here to view the full report.
Studies show that people eating two tablespoons of virgin organic olive oil daily for one week show less oxidation of LDLs and higher levels of antioxidants in their blood.  Olive oil is also known to be gentle on the digestive system, and may even lower your risk of a stroke. Good quality olive oil contains valuable vitamins and nutrients, and it is loaded with antioxidants, which many believe help protect the body from cancer.
So lets dish! How do you use olive oil in your everyday cooking?!  
Here's how it works:
You can share recipes 2 ways for a chance to WIN!
UPDATE:  GIVEAWAY HAS ENDED (winners will be announced soon)
Tweet a link to a recipe or cooking idea that uses olive oil and include the hashtag #DishOnDinner during the week of October 8-12.  By doing so, you will be entered into a drawing for a chance to win one of three premium prize packs.*  We would love for you to follow  @TidyMom & @AddSomeLife  on twitter – tweet as many recipes as you'd like.  The more you tweet, the more you increase your chances of winning!
Leave a comment on this post with a recipe (or link to a recipe) or cooking idea that uses olive oil for another chance to win (you can share up to 3 recipes in the comments)

There will be 3 winners!   Two winners selected from Twitter* and one winner from the comments on this post.  You will have all week to enter, October 8-12, 2012.
*To enter to win, recipe entries must feature olive oil as an ingredient and include the hashtag #DishonDinner.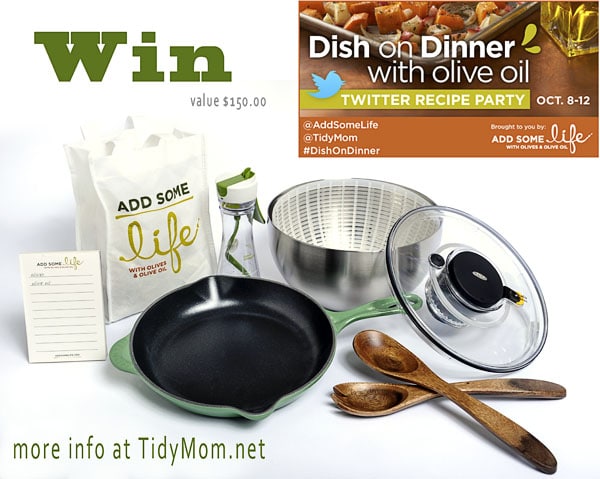 Each prize pack will include an olive-colored 10″ Le Creuset skillet, a salad spinner, a salad dressing emulsifier, a set of wood tongs, an Add Some Life reusable tote bag and an Add Some Life grocery list notepad (
value $150.00
)
I'm sharing a favorite and quick chicken recipe.  By using chicken tenderloins, this Lemon Rosemary Basil chicken cooks up on the grill in under 10 minutes!  Mix up the marinade in the morning (or 30 mins before grilling) and toss it on the grill for a quick, easy, healthy and delicious chicken dinner that pairs well with  rice, pasta or Bush's Grillin' Beans.
Don't like to grill in the chilly temps?  you can also bake this chicken in the oven or I love to use my Foreman Grill on the kitchen counter.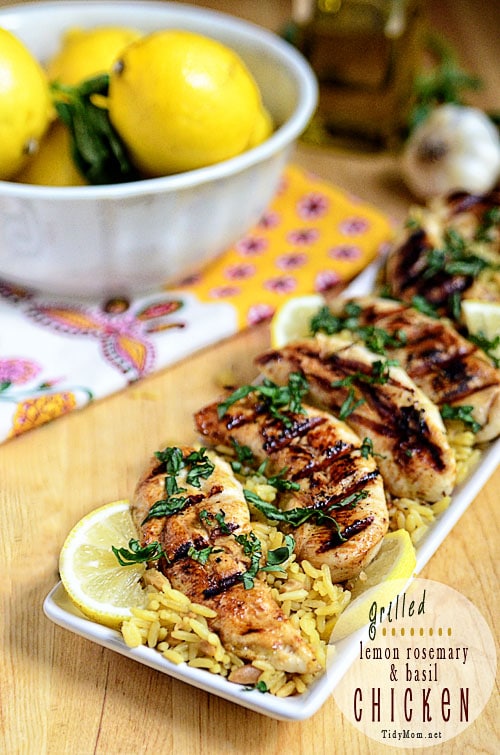 Grilled Lemon Basil Chicken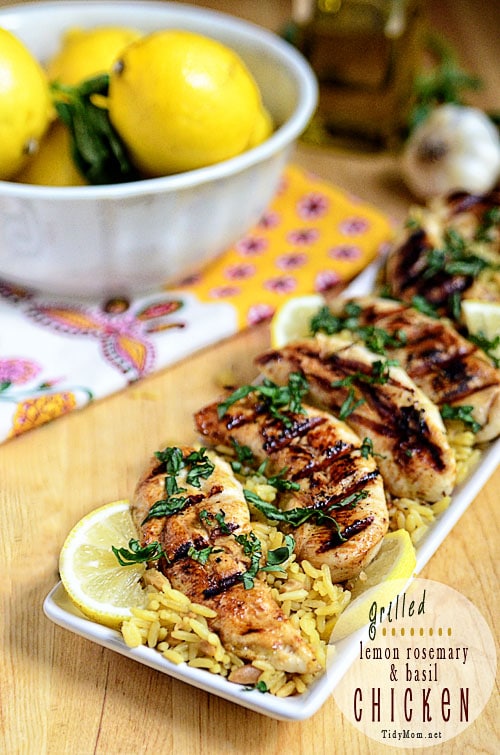 Ingredients
12 Chicken Breast Tenderloins
4 Tablespoons extra virgin olive oil
1/4 cup lemon juice
1/3 cup honey
3 cloves garlic, minced
1/4 teaspoon dried oregano
1/4 teaspoon rosemary
1/4 cup fresh basil
Instructions
Using a small bowl, whisk together olive oil, honey, lemon juice, garlic, oregano and rosemary.
Place tenderloins in dish and pour marinade over chicken, reserving a few tablespoons for basting.
Refrigerate for 30 minutes or up to 6 hours.
Heat grill to medium high indirect heat and add chicken. Cook for 2-3 minutes then flip. Baste with extra marinade and cook an additional 2-3 minutes.
Remove chicken from grill and tent with foil for 3-5 minutes or until ready to serve.
Top with a sprinkle of fresh basil when serving.
Notes
you could also grill with an indoor grill, like a George Foreman Grill. If you'd rather BAKE, place chicken in a 350° F oven for 30 minutes or until done. Baste half way thru or more often.
http://tidymom.net/2012/lemon-rosemary-basil-chicken/
Copyright© 2009-2013 TidyMom.Net
Cooking with olive oil may be one of the most healthy eating habits you can adopt!  Let's see what you've got!  Share your recipes below in the comments and/or on twitter using the hashtag #DishonDinner
Official Rules: No purchase necessary. Open to US residents only . Must be over 18. Giveaway begins on Oct 8, 2012 will end on Oct 12, 2012 at 11:59 pm CST. Prize value approx $150.  The number of eligible entries received determines the odds of winning.  Three winners (2 from twitter 1 from blog comments) with a valid entry will be selected at random. Twitter winners will be notified thru twitter by Oct 15, 2012, blog winner will be notified via email and will have 48 hours to claim their prize or another winner will be selected. TidyMom, and the International Olive Counsil are not responsible for lost or undelivered emails or tweets. Winners will be posted on this blog post by Oct 31, 2012.  VOID WHERE PROHIBITED BY LAW.  By entering this giveaway, you have agreed to these rules.  Giveaway sponsored by Add Some Life | International Olive Counsil .

Disclaimer: Thank you to The Olive Council's Add Some Life for providing compensation and prizes for #DishonDinner party. The views and opinions expressed on TidyMom are purely my own.