Just keeping it real…..easy cookie baking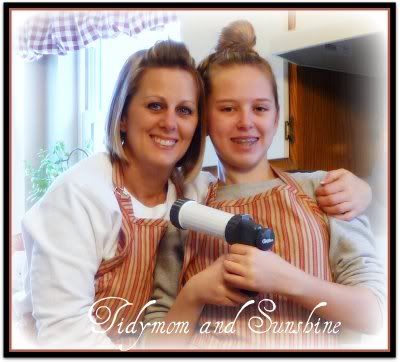 Sunshine
and I have been baking our Christmas goodies this week.
Her favorite to make are the Spritzer cookies – she likes using the cookie press!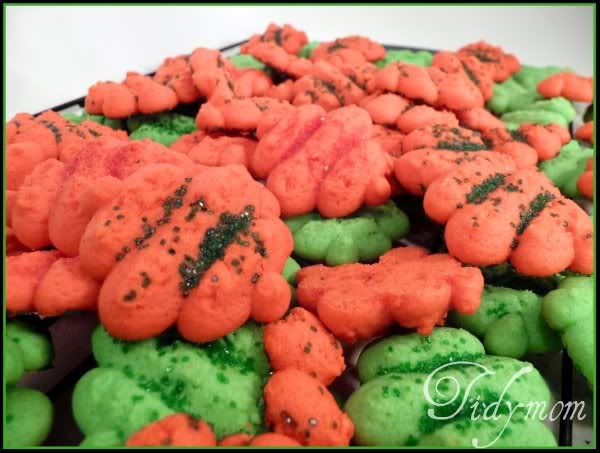 Shortbread Spritzer Cookies Ingredients
3 Sticks butter; softened
1/2 tsp Almond extract
4 c Flour
1 Edd
1 c Sugar
2 Tblsp Milk
1 ts Baking powder
Food coloring (optional)
1 ts Vanilla
Preheat oven to 400 degrees. Cream butter and sugar till fluffy; add flavorings, egg, and milk and stir till well mixed. If you wish to color the dough, add color now and mix well. Sift or mix flour and baking powder together, then add to dough (this is more easily done in two or three parts), mix with hands if necessary. Dough will be very stiff. Push dough into spritzer gun and press shapes onto ungreased cookie sheet. You can press decors into the cookies before baking. Bake at 400 degrees for 6 minutes, no longer! This is a rich cookie but holds its shape well and does not need to be refrigerated before shaping.
*********************************************************************
Want to know my SECRET to my Christmas Cookie baking?
Betty Crocker's Cookie Mixes in a bag!!
These things are awesome! They taste just like you made them from scratch, with out all the work!
I used Sugar Cookie, Gingerbread, Peanut butter and Chocolate Chip.
I highly recommend these (we use them all year!)
**My other short cut- I don't bother icing my sugar cookies, I just use sprinkles.
Just "keeping it real" people! When you have a lot to do in a short period of time, you have to make things more "simple"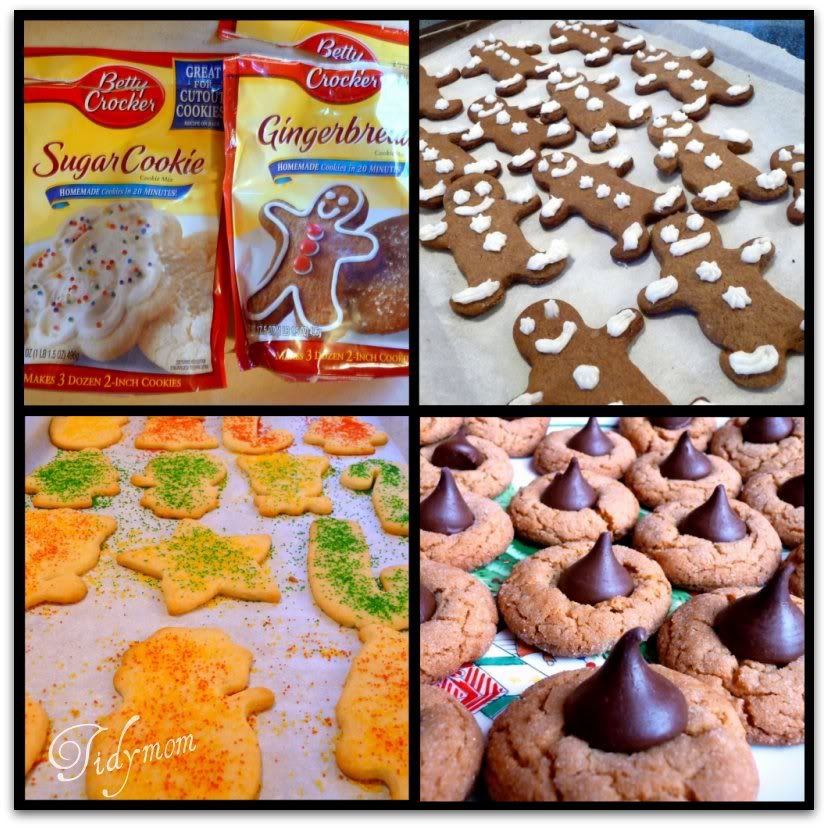 Another
simple treat
I wanted to try this year was
Chocolate Dipped Pretzel Rods!
A
big shout out and thanks
to
Saucy
for
her helpful tips on this!
Thanks for helping a girl out Saucy!!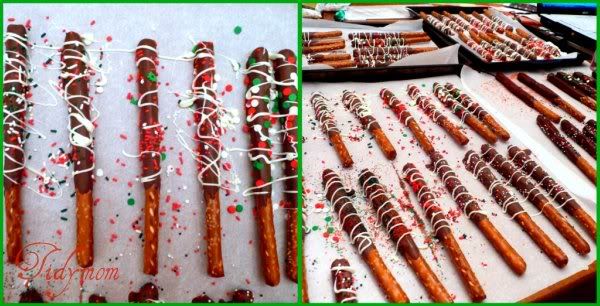 My last tip……
When your all done………..and your kitchen looks like this
The little bottles of
Baileys Minis
make for a
GREAT treat
for all your
hard work
!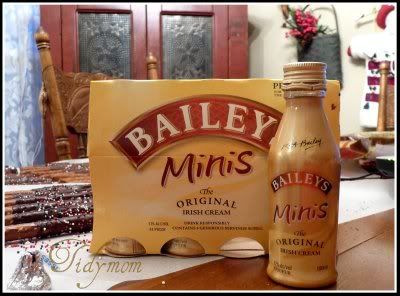 Leave me a comment and let me know what you do to make your holiday baking easier!!