The Best Homemade M&M Cookies
M&M Cookies – a soft chewy cookie with just a slight crispness on the edges. Savor the classic golden vanilla and caramel undertones of this cookie as the perfectly crackly candy coating bursts in your mouth with creamy melty, chocolate flavor.
If you like go-to classic cookie recipes, like these M&M cookies, you're also sure to like The Perfect Snickerdoole Recipe, Easy Cake Mix Cookies, and our favorite Chocolate Chip Cookie Recipe.
Be sure to sign up for my email… to get new recipes and ideas in your inbox!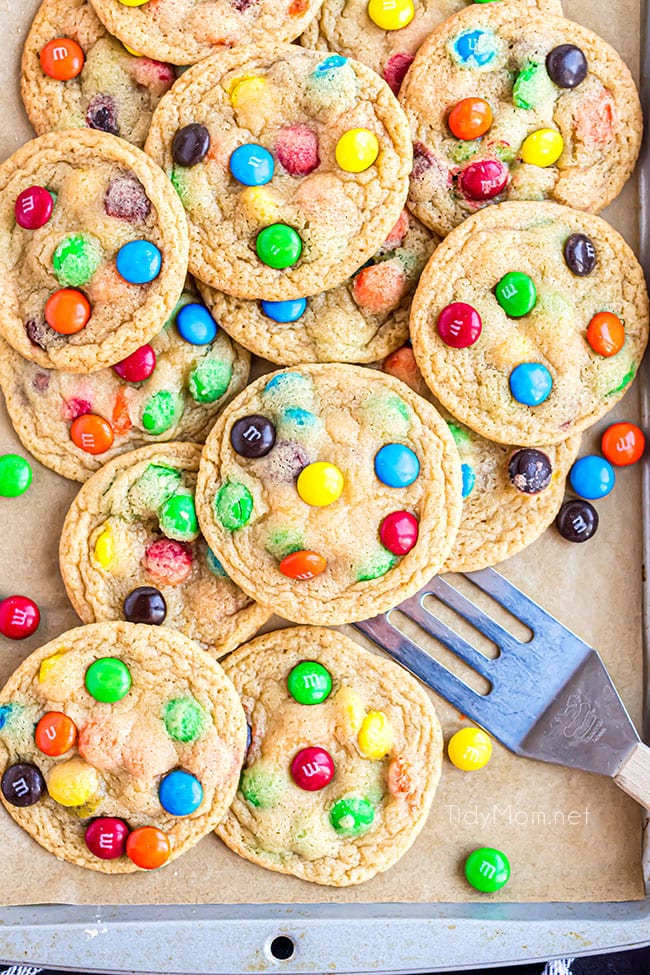 Oh, yeah! Love at first bite…homemade M&M cookies aren't just for the kiddos! The secret to delicious, soft melt in your mouth M&M cookie texture is in the pudding!
This recipe for homemade M&M cookies couldn't get any easier! A combination of pantry staples gives you that ability to bake up a batch of M&M happiness any time company or cravings crash.
While I've focused on the soft, thick, and chewier version of these M&M cookies, how could I not "spread" the M&M cookie happiness to cover everyone? There are a couple notes for the thinner, crispier cookie fan in the tips section.
This easy homemade M&M cookie dough recipe is great for including children. Easy to assemble, refrigerate, shape, and bake; plus color-coordinating M&M for events is a huge bonus.
Why You'll Love Homemade M&M Cookies
Pick your pleasure, soft and thick or thin and crispy with little chocolate bursts of joy.
Kids AND adults will think these are the best M&M cookies!
You can freeze extra M&M cookie dough balls and pop them in the oven at a moment's notice!
Create color-coordinated holiday-themed cookies with M&M's for any occasion!
Ingredients For Tasty M&M Cookies
Unsalted Butter: Adds richness and is the go-to for most baking, and the amount of salt is controlled in the recipe.
All-Purpose Flour, Granulated Sugar & Brown Sugar: The basics for many cookie recipes. Using brown sugar adds an undertone of caramel/molasses flavor and moisture that helps keep the homemade M&M cookies soft. Granulated sugar sweetens and helps the dough spread properly.
Egg:A binder with moisture properties adds structure, color, and leavening, ultimately affecting the texture.
Vanilla Extract: Vanilla provides creamy, sweet, and velvety after-tones for your recipe. Be sure to use pure vanilla extract and not imitation vanilla.
Vanilla Instant Pudding: Pudding is used for its starch content to counteract some gluten that can toughen cookie dough. It also adds sweetness and flavor.
Baking Soda: An acid-reactive ingredient, baking soda performs as a chemical leavening agent that keeps cookies from being little melted discs.
Salt: provides balance to the sweetness of the M&M cookies.
M&M's "In the houuuuse!"- Well, we can't make the best homemade M&M cookies without these colorful little nuggets of chocolaty goodness! Use extra to press onto the cookie when they come out of the oven for over-the-top visual appeal!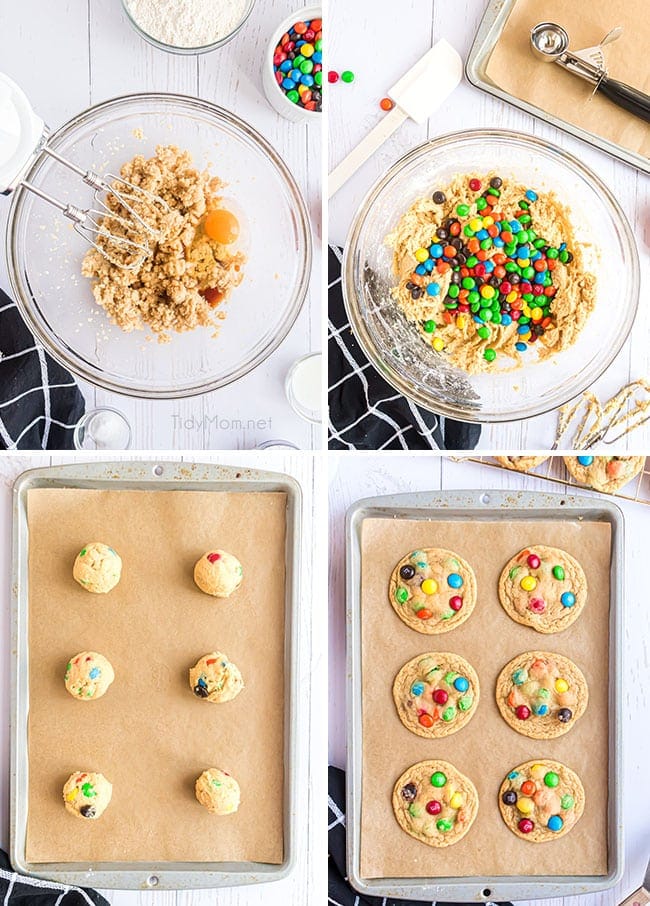 How To Make EASY M&M Cookies
(full printable recipe at the end of this post)
ONE: Mix butter and both sugars until creamy; add vanilla and the egg until well combined.
TWO: Slowly add the remaining dry ingredients except M&M's, mixing well. Add a little milk if needed, then fold in the chocolate pieces.
THREE: Roll out dough balls and place them on a baking sheet lined with parchment paper or a silicone baking mat and refrigerate for half an hour.
FOUR: Bake cookies until the edges are slightly golden. Allow cookies to cool for 5 minutes and gently press M&M's onto cookies.
FIVE: Transfer to a wire rack to cool completely.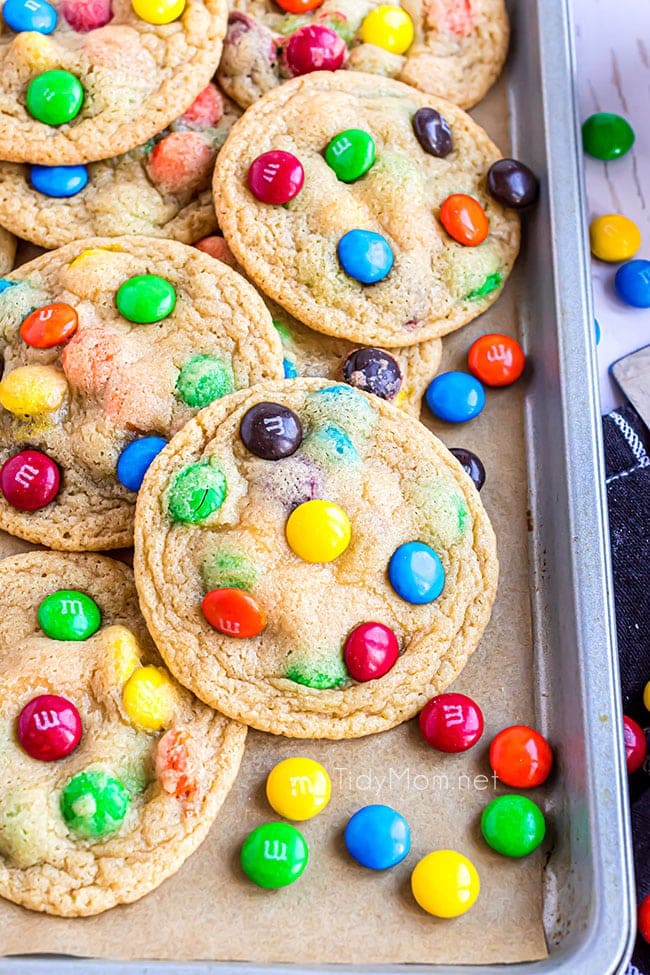 Tips For The Best Homemade M&M Cookies
Always add flour to your measuring cup with a scoop or large spoon, not by digging in the container with the cup; use a straight knife edge to level it off.
When mixing eggs into cookie dough, they should be at room temperature.
Always keep unsalted butter on hand for baking season. It has a fresh butter taste and doesn't affect the salt content of recipes.
Butter should be at "cool" room temp to avoid dough separation and spreading while baking.
For the best M&M cookie result, set aside enough time to chill this cookie dough; you won't be sorry.
Don't worry if the middle of the cookie appears slightly undercooked when the edges are golden brown; remove from the oven as they continue to cook on the baking sheet.
For a crisper cookie, allow baking 1-2 minutes longer until the cookie is golden brown.
When baking frozen cookie dough, allow balls to warm slightly, then bake for an extra minute or until the texture is how you prefer.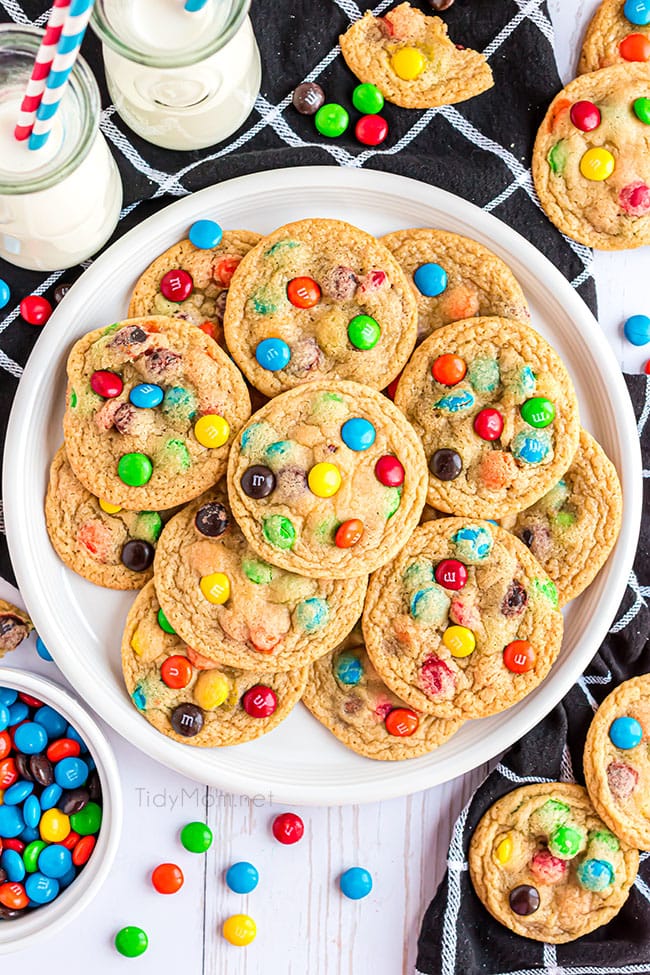 Popular Substitutions & Additions
If you prefer more "bang for each bite," substitute the mini-M&M's, you're sure to get chocolate candy in every delicious morsel!
Peanut, almond, or any larger-sized M&M can be used; just give them a rough chopping first.
Adding an extra egg yolk will do the trick if you really want a chewier cookie.
A popular addition to M&M cookies is chocolate chips. You can add ½ – 1 cup chips or swap at a 1:1 ratio if you prefer less chocolate. (said no one, ever!)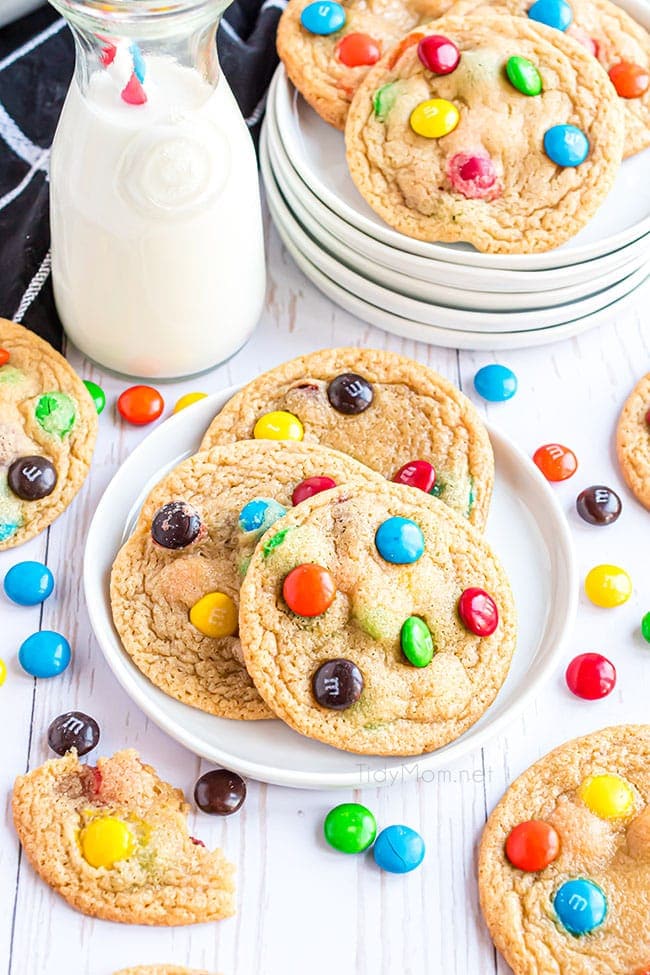 Storing And Freezing M&M Cookies
You can keep tightly sealed cookie dough refrigerated for up to 72 hours, but you will want to set it out to soften a little to make it easier to scoop and roll the cookie dough.
Frozen cookie dough balls freeze for up to 3 months, but don't wait that long to enjoy these scrumptious cookies!
Store in an airtight container on the counter for up to one week.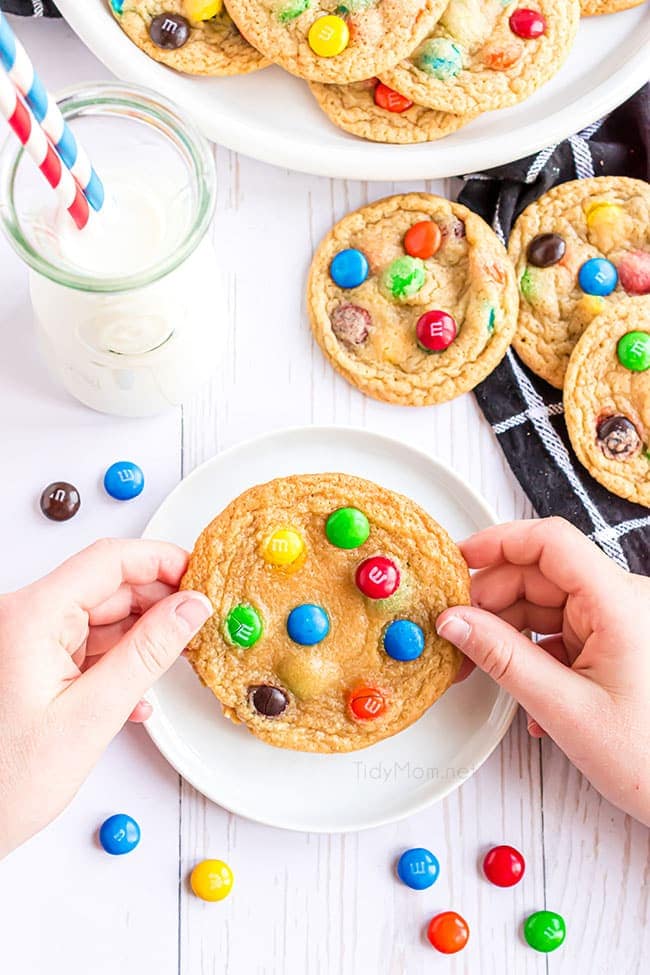 Easy Homemade M&M Cookie FAQs
Can I use salted butter if I don't have unsalted butter?
You can use salted butter but check your salt content and reduce the added salt by ¼ tsp for every ½ cup of butter.
How much salt is in a half cup of salted butter?
The salt content is determined by the brand of butter you buy. Baking professionals typically agree that if your only option is salted butter, reduce salt by ¼ tsp for every ½ cup/stick of butter.
Note: To Be specific, if your butter has 90 mg of butter per tbsp per serving, then ½ cup of butter equals 720mg. (90 x 8) this is equivalent to ⅛ tsp of salt, using a salt weight to volume conversion (density of salt:1.28 g/mL).
HOWEVER, 720 mg of salt is not the same "orange to oranges" comparison of 720 mg of sodium in butter due to chemical composition and reactions.
How can I make homemade M&M cookies extra soft?
Don't overcook! The secret to softer cookies is to slightly undercook.
If your oven runs hotter, don't be afraid to cut a minute or two off the cooking time to adjust for a softer cookie.
Another secret for softer, thicker cookies is cornstarch; in this recipe, it's in the pudding.
Using more brown sugar while reducing granulated sugar results in a moister, softer cookie.
What are good substitutes for eggs in cookies?
There are quite a few, however, unless you or someone else has an allergy, it is suggested you first try the recipe with eggs.
If you're in a pinch, one of these should do for cookies:
Best: Most like eggs for baking flavor and texture, provides leavening:
2 tbsp water, 2 tbsp baking powder, and 1 tbsp vegetable oil
Plant-based commercial egg substitute for baking, Orgran.
Better: Seed Subs do not provide any leavening properties
Mix 1 tbsp ground flaxseeds with t 3 tbsp water, rest for 5 min
Mix 1 tbsp ground chia seeds with 3 tbsp of water, rest for 5 min
Good: Fruit Subs increase density and moisture content
¼ cup applesauce w/pinch of baking powder for leavening
¼ cup mashed banana will definitely flavor your batter, best used in recipes with more robust flavors or enhanced by the banana.
Like This Easy M&M Cookie Recipe? Pin It!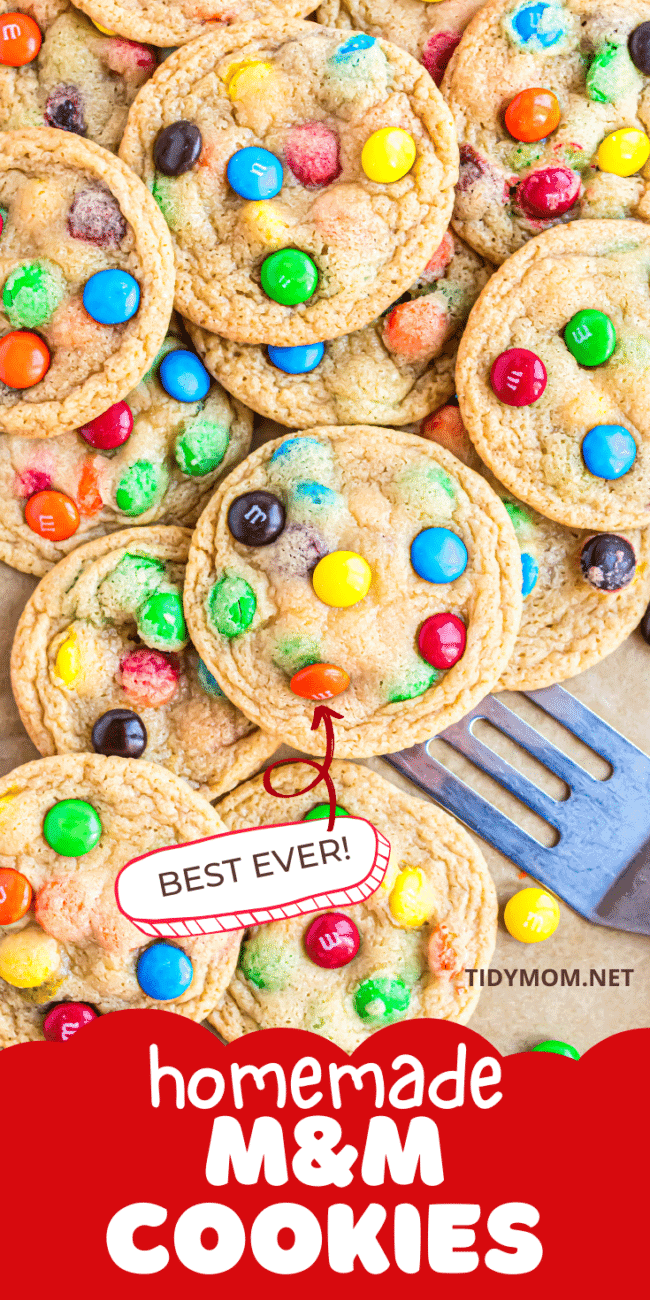 The Best Homemade M&M Cookies
Yield: 24 cookies
Prep Time: 15 minutes
Cook Time: 8 minutes
Chill Time: 30 minutes
Total Time: 53 minutes
A soft and chewy cookie with just a slight crispness on the edges. Savor the classic golden vanilla and caramel undertones of this cookie as the perfectly crackly candy coating bursts in your mouth with creamy melty, chocolate flavor. 
Ingredients
1/2 cup unsalted butter, room temperature
1/2 cup granulated sugar
1/2 cup packed light brown sugar
1 egg, room temperature
2 teaspoon vanilla extract
1½ cups all-purpose flour
3 tablespoons vanilla instant pudding mix
1/2 teaspoon baking soda
1/2 teaspoon salt
1-2 teaspoons milk
1 cup M&M's chocolate candies
(optional) flaky sea salt for sprinkling on cookies
(optional)extra M&M's for pressing on top of cookies
Instructions
Line baking sheets with parchment paper or a silicone baking mat.
Using a large bowl and an electric mixer on medium-high, cream butter, granulated sugar, and brown sugar together until fully, about 1 minute. Add the egg and vanilla and continue mixing until combined.
Slowly add the flour, pudding mix, baking soda, and salt and mix on low until well incorporated. If the mixture seems dry add 1-2 teaspoons of milk. Fold in the M&M's.
Scoop out 2 tablespoon portions of dough and roll into balls and place on prepared baking sheet about 1-2 inches apart. Chill for about 30 minutes in the refrigerator before baking. (see NOTES)
Preheat oven to 350° F. Bake cookies on center rack for 8-10 minutes or until the edges are slightly golden. Remove from the oven and sprinkle with flaky salt if desired.
Allow cookies to cool on the pan for 5 minutes and while still warm gently press a few M&M's on the top of the cookies (to make them look like they are from a bakery). Transfer to a wire rack to cool completely.
Notes
Store in an airtight container on the counter for up to one week.
Chilling the cookie dough is optional, but makes for a better cookie! You can refrigerate the dough in the bowl for up to 72 hours but you will want to set it out to soften a little to make it easier to scoop and roll the cookie dough.
You can use regular size or mini M&M's.
Option: you can also add 1/2-1 cup of chocolate chips if you'd like.
Recommended Products
As an Amazon Associate and member of other affiliate programs, I earn from qualifying purchases.
Nutrition Information:
Yield: 24
Serving Size: 1
Amount Per Serving:
Calories: 174
Total Fat: 7g
Saturated Fat: 4g
Trans Fat: 0g
Unsaturated Fat: 2g
Cholesterol: 20mg
Sodium: 131mg
Carbohydrates: 25g
Fiber: 1g
Sugar: 16g
Protein: 2g
Nutrition information is estimated based on the ingredients and cooking instructions as described in each recipe and is intended to be used for informational purposes only. Please note that nutrition details may vary based on methods of preparation, origin, and freshness of ingredients used.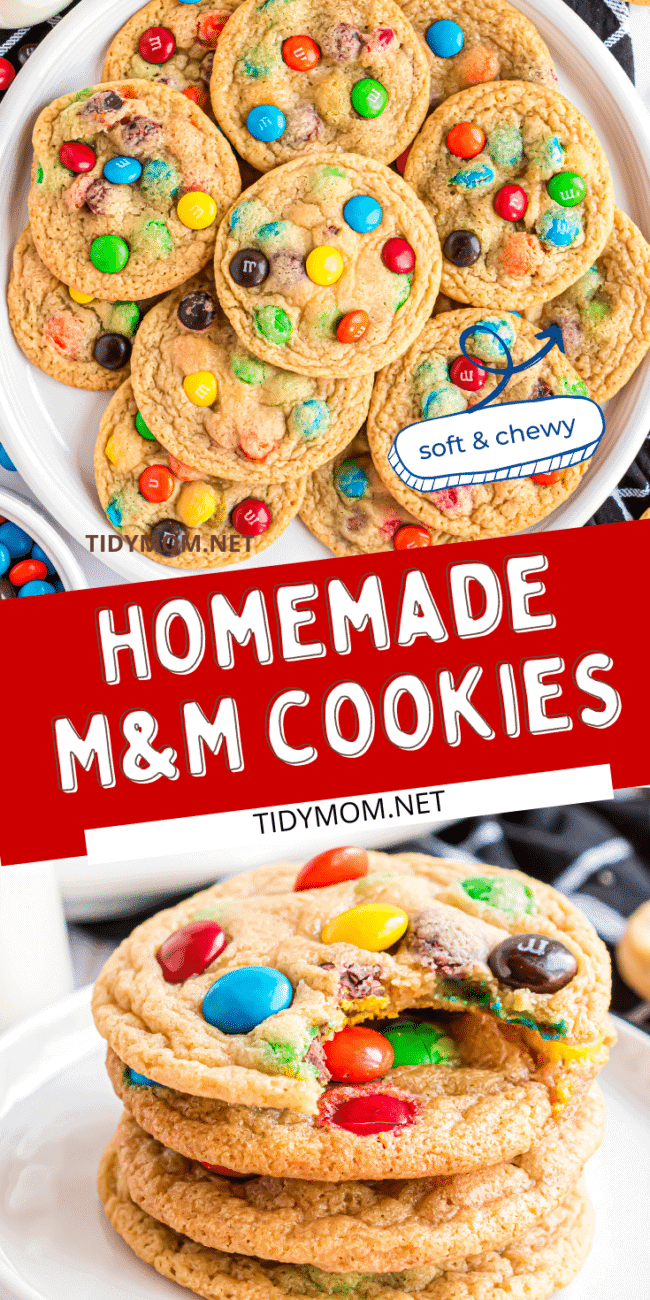 Tidymom is a participant in the amazon services llc associates program, an affiliate advertising program designed to provide a means for sites to earn advertising fees by advertising and linking to Amazon.com.
Please respect my work, recipes and photographs. If you do use a recipe in your own writing, please give proper credit and link back to the original post.