The BEST Homemade Blueberry Pancakes
Don't miss these easy-to-whip-up, soft, and fluffy Homemade Blueberry Pancakes. Filled with fresh berries and bursting with flavor they're always a hit!
It's time to grab your apron and your spatula and get flippin' (pun intended) ready for The Best Homemade Blueberry Pancakes of your life!
If you love pancakes like we do, don't miss our Buttermilk Pumpkin Pancakes, Red Velvet Pancakes, Orange Buttermilk Pancakes and if you're serving a crowd, you'll want to check out our Oven Baked Sheet Pan Pancakes!
Be sure to sign up for my email… to get new recipes and ideas in your inbox!
The Best Homemade Blueberry Pancakes
Pancakes are a staple breakfast food in our house, but that usually means some quick thrown-together pancakes from a box mix. I'm a strong advocate for box mixes because most of the time they are amazing time savers, and are perfect for first-time bakers/cooks.
With that being said, sometimes you get tired of the same old thing because there are only so many ways you can dress up a box mix. So, I decided it was time to shake things up a bit with some amazing homemade blueberry pancakes.
I expected a homemade recipe to be good, but these pancakes blew my expectations out of the water! They were so good that the extras I planned to save were gone by the end of the day! I'm a girl who loves her syrup, but you could even go without on these and they are still just as delicious.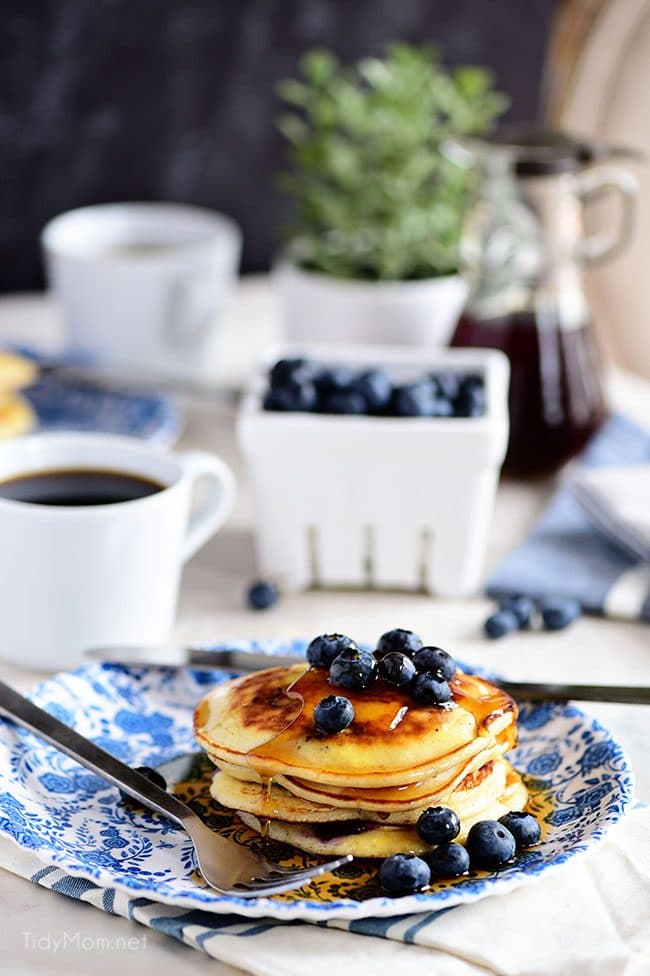 This post may contain affiliate links. Please read my disclosure policy here.
Pancakes vs. Waffles – What's the Difference?
We all know the age-old debate, Pancakes vs waffles. Which is better? How are they different? Don't they come from the same batter? Well here are all of the clarifications regarding pancakes and waffles.
Pancakes are typically a golden brown on the outside, but they're floppy, soft, and spongy, with an interior that looks a lot like cake. On the other hand, waffles have a crisp outside and a light and fluffy inside, much like beignets or funnel cakes.
Waffles get their crisp texture because they are fried, and instead of immersing the batter in a pot of hot oil, you place it in a hot-oil-coated waffle iron.
As for the difference in batters, waffle batter contains a higher percentage of sugar and a bit more fat than pancakes.
Even with all of this knowledge coming to light, I don't think one breakfast item is better than the other, so why not make both? When we aren't making pancakes my family loves this Buttermilk Waffle Recipe and they taste even better when I use these Secrets To Making Perfect Waffles Every Time.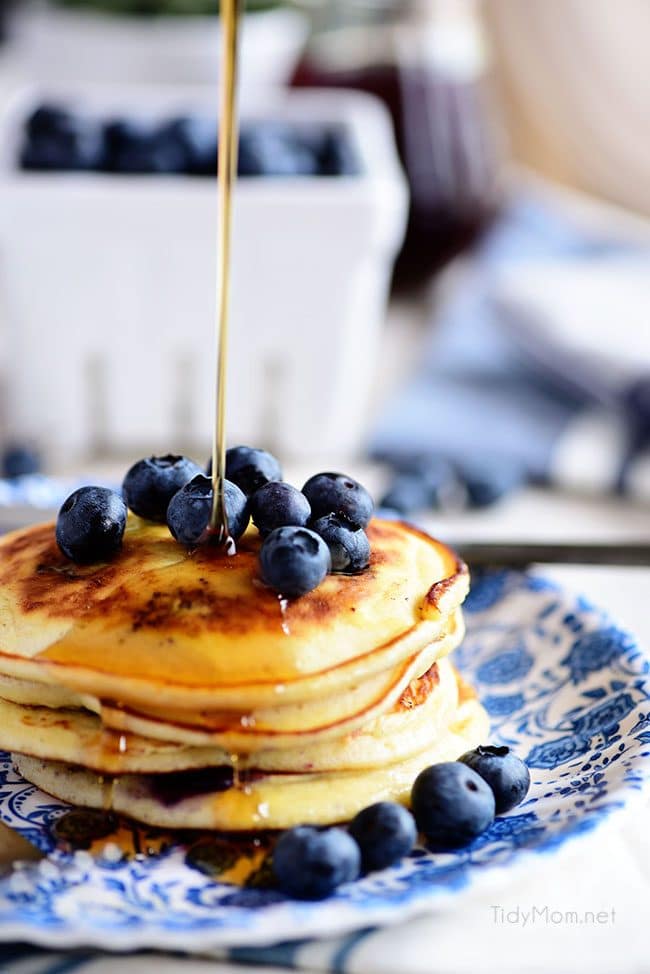 How To Make The Perfect Homemade Blueberry Pancakes
When it comes to pancake batter lumps are your friend! You only need to lightly mix the batter leaving small to medium lumps (no lumps make dense pancakes). To avoid burning the batter, cook on low to medium heat and flip when bubbles appear all over.
It's also important to remember that the second side is going to cook faster, so keep an eye on it and check frequently to achieve that perfect golden brown. Once you're all done top each stack with some fresh berries and your favorite syrup. Enjoy!
Tricks For Diner Quality Homemade Blueberry Pancakes
For the perfect homemade blueberry pancakes every time, here are a few of my favorite tips and tricks I live by:
Don't let the batter sit. If you let the batter sit too long it will change the consistency of the batter and will result in flat pancakes.
Once the pan is heated use a paper towel to apply a very thin coat of oil or butter instead of spraying or pouring directly on the pan.
Don't forget to grease the spatula too, you wouldn't think it makes a difference, but it will make flipping the pancakes so much easier!
No one likes a cold pancake, so heat the oven to 175° F to keep pancakes warm while cooking the rest of the batch. Just have a sheet pan or oven-safe plate ready and keep adding pancakes to the oven as you go.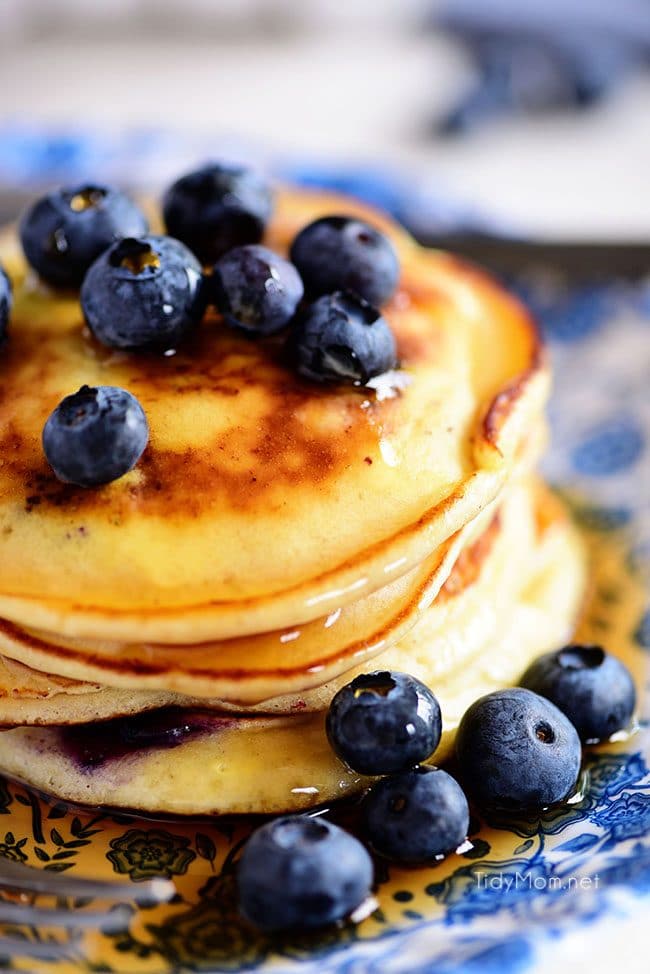 Homemade Pancakes FAQs
What kind of skillet do I need to make pancakes?
It really depends on how many pancakes you plan on making when making the decision on what kind of pan to use. If you're just throwing together a small batch of a couple of pancakes I suggest using a standard large non-stick skillet.
If you're making a larger batch, I highly recommend an electric skillet. This often allows you to make more pancakes at one time and it often gives you a more level surface to work with making it easier for flipping.
When do pancakes go bad?
If you have leftovers from your pancake batch you can store them in the refrigerator for up to five days, and up to two months in the freezer before they go bad.
How Do I freeze Pancakes?
Freezing pancakes is really simple! Stack the remaining pancakes with a square of wax paper in between each pancake. This method makes it so the pancakes won't stick together. Then just place them in a zip-top bag or an airtight container and freeze for up to 5 months. You can also separate the stacks into portion side for easy access.
Can Pancakes Be Reheated?
Of Course! When you're ready to enjoy your leftover homemade blueberry pancakes simply throw them in the microwave for 30 seconds-1 minute(depending on if they're refrigerated or frozen) or throw them in the toaster. The toaster gives them the perfect little crunch and is a great way to make sure you don't get a soggy reheated pancake!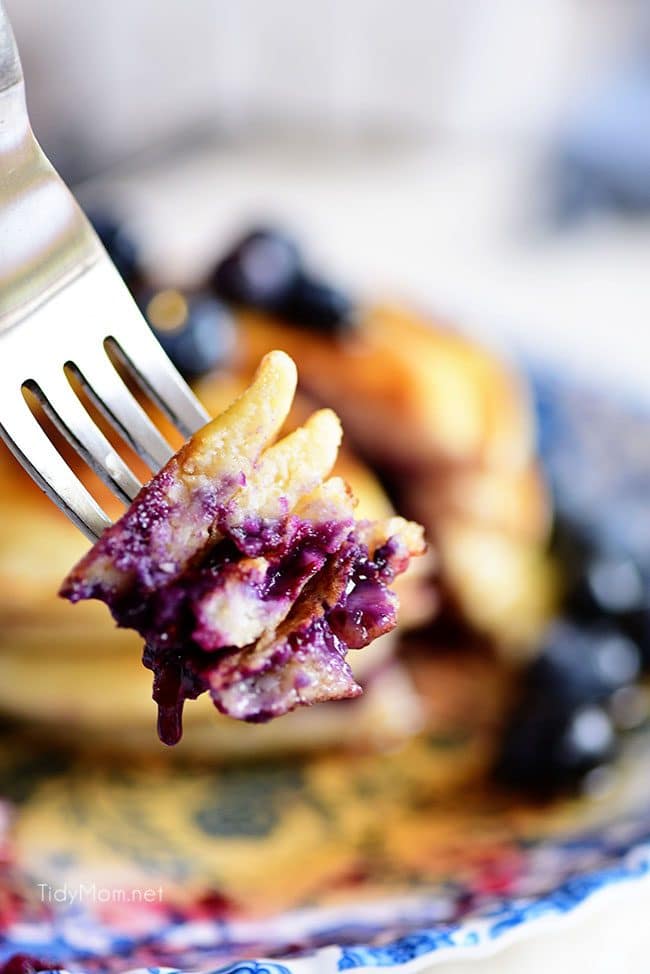 How To Serve Blueberry Pancakes!
If you're wondering what to serve with pancakes – I've got you covered! FYI: Breakfast is my favorite meal of the day!
Scrambled eggs are the classic breakfast items to serve with pancakes.
You can't go wrong with bacon or breakfast sausage for an epic savory breakfast side with blueberry pancakes.
Fritttata or Southwest Egg Cups are easy to make, nutritious, and delicious.
Fruit salad, any fresh and sweet will do perfectly alongside blueberry pancakes.
Fresh orange juice, or take it up a notch and make Homemade Orange Julius. This creamsicle-like drink is perfect to enjoy with any breakfast, especially pancakes!
Like This Recipe for Homemade Blueberry Pancakes? Pin It!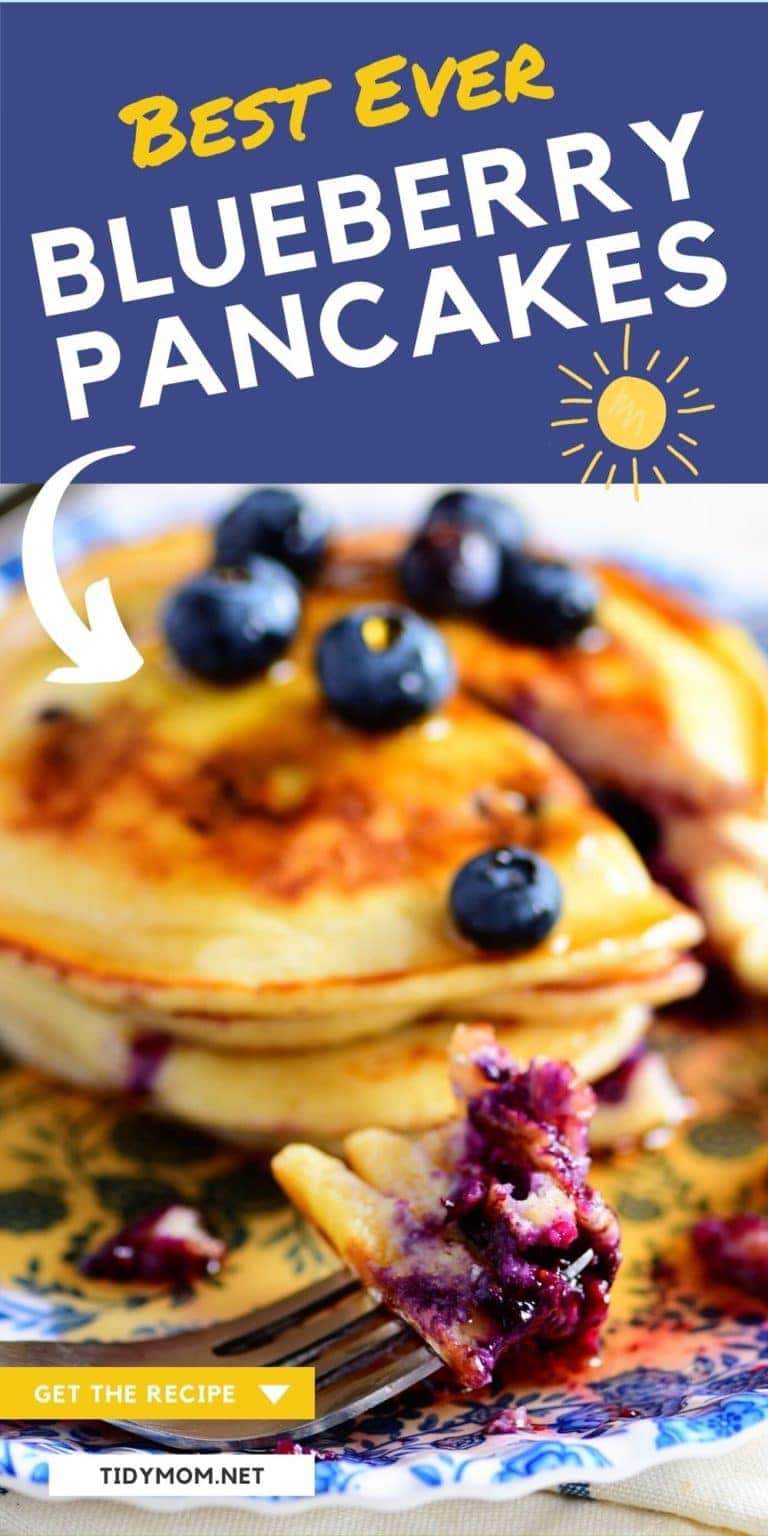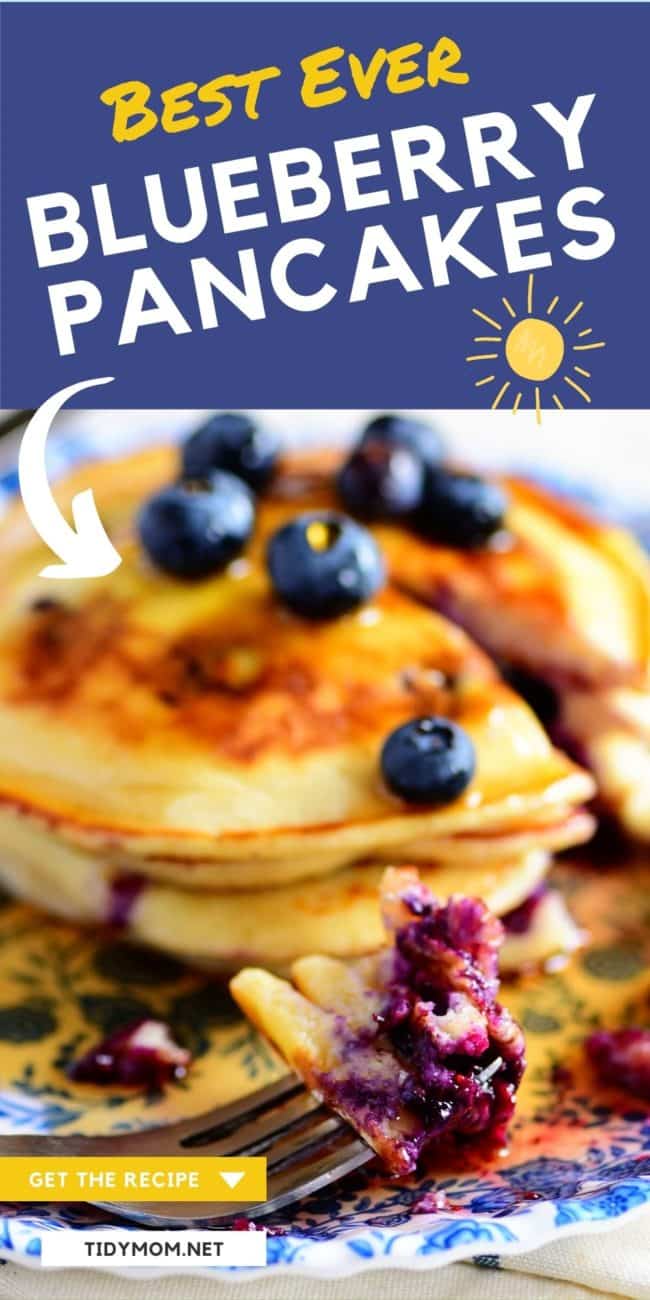 Originally posted in July 2018. UPDATED August 2022. We spiffed up this post with more info and video! No changes to the original recipe.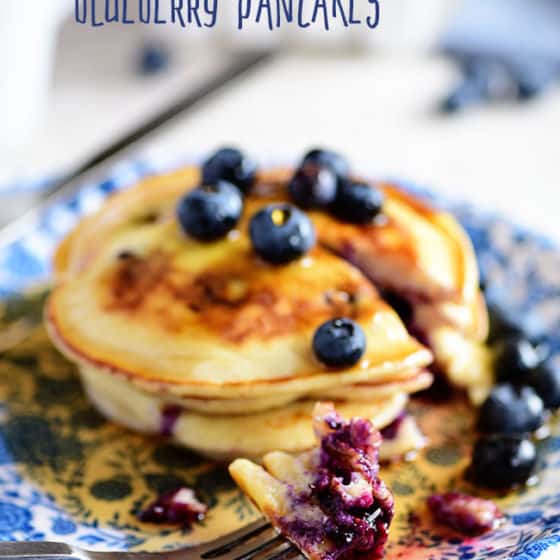 The BEST Homemade Blueberry Pancakes
Yield: 12 pancakes
Prep Time: 10 minutes
Cook Time: 15 minutes
Total Time: 25 minutes
Don't miss these easy to whip up, soft and fluffy Homemade Blueberry Pancakes. Filled with fresh berries and bursting with flavor they're always a hit!
Ingredients
1¼ cups all-purpose flour
2 tablespoons granulated sugar
1 tablespoon baking powder
1/2 teaspoon baking soda
1/2 teaspoon salt
1 egg
1¾ cup buttermilk
1/2 tablespoon butter, melted
1 cup fresh blueberries
Instructions
Using a large bowl and a fork combine flour, sugar, baking powder, baking soda, and salt.
In a small bowl, using a fork beat egg, buttermilk, and vanilla. Pour egg and milk mixture and butter into flour mixture and stir until just combined (batter should be lumpy). Gently fold in 3/4 of blueberries (saving some to put on top of cooked pancakes).
Heat griddle or non-stick skillet to medium heat and grease with oil or butter. Using a 1/4 cup measure for each pancake, pour batter onto hot griddle. After about 1 minute, when bubbles begin to form on the pancake's surface, and the outer edge looks done, flip pancakes over and cook briefly for about 30 seconds on the other side. Keep pancakes warm in 175° oven on a baking sheet until ready to serve (do not cover with foil)
Serve hot with butter, syrup and remaining blueberries.
Recommended Products
As an Amazon Associate and member of other affiliate programs, I earn from qualifying purchases.
Nutrition Information:
Yield: 12
Serving Size: 1
Amount Per Serving:
Calories: 89
Total Fat: 1g
Saturated Fat: 1g
Trans Fat: 0g
Unsaturated Fat: 1g
Cholesterol: 18mg
Sodium: 341mg
Carbohydrates: 16g
Fiber: 1g
Sugar: 5g
Protein: 3g
Nutrition information is estimated based on the ingredients and cooking instructions as described in each recipe and is intended to be used for informational purposes only. Please note that nutrition details may vary based on methods of preparation, origin, and freshness of ingredients used.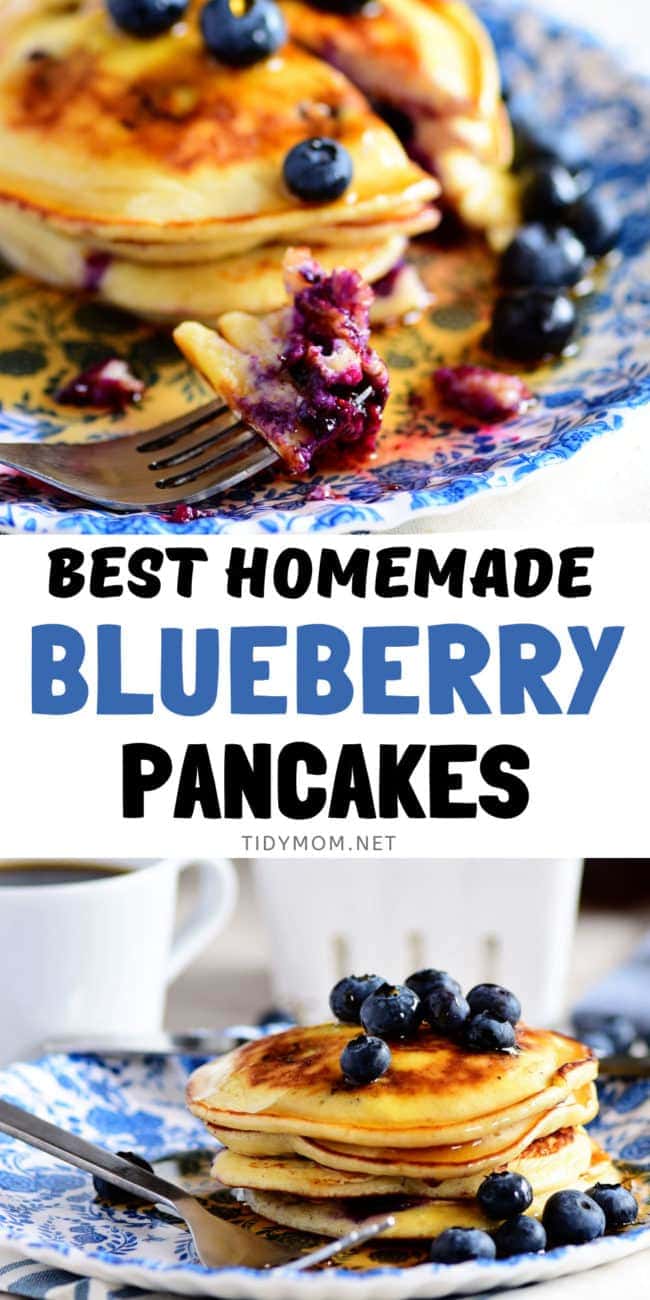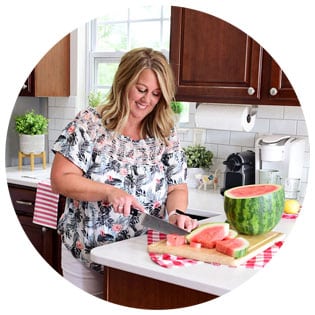 Hi there, I'm Cheryl!
As a wife, mom, and caffeine enthusiast, my journey has taken me from bustling mornings with my family to sharing delicious recipes, home care tips, and heartfelt decorating insights with wonderful readers like you. My love for baking, photography, and tidiness shines through every post I craft. Dive into my world and discover the art of homemaking, one tidy moment at a time. Read more...
Tidymom is a participant in the amazon services llc associates program, an affiliate advertising program designed to provide a means for sites to earn advertising fees by advertising and linking to Amazon.com.
Please respect my work, recipes and photographs. If you do use a recipe in your own writing, please give proper credit and link back to the original post.