Granola Banana Pancake Recipe with Cinnamon Honey Butter
A fluffy Banana Pancake Recipe With Granola Crunch is just the update your weekend breakfast needs. Take a satisfying buttermilk pancake recipe to scrumptious with bananas and granola, and slide right into superb when served with cinnamon honey butter!
It's hard to find a banana recipe our family doesn't like. Here are some of our favorites: copy-cat Homemade Banana Flips, luscious Easy Banana Cake, and moist Peanut Butter Banana Bread, to name a few! Oh, and I'd be remiss if I didn't re-introduce you to a cool and creamy Nutella Banana Milkshake! "Ban-an-appétit!" (See what I did there? Cute, right?)
Be sure to sign up for my email… to get new recipes and ideas in your inbox!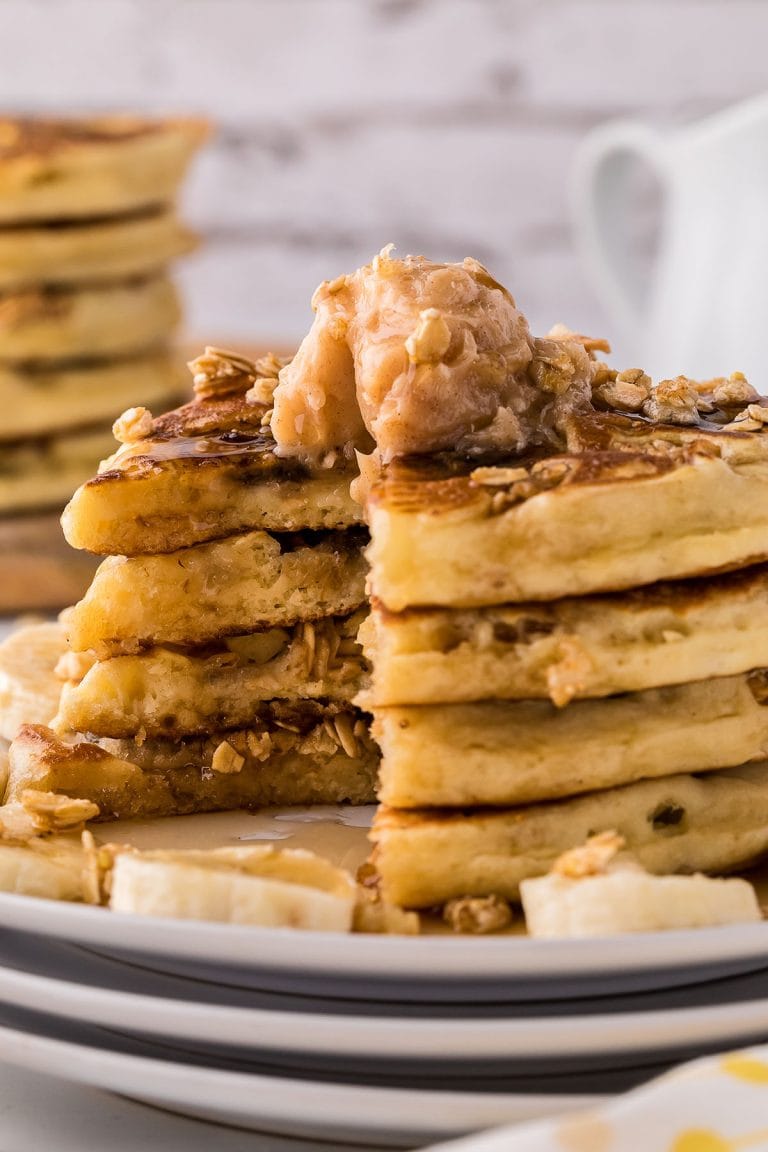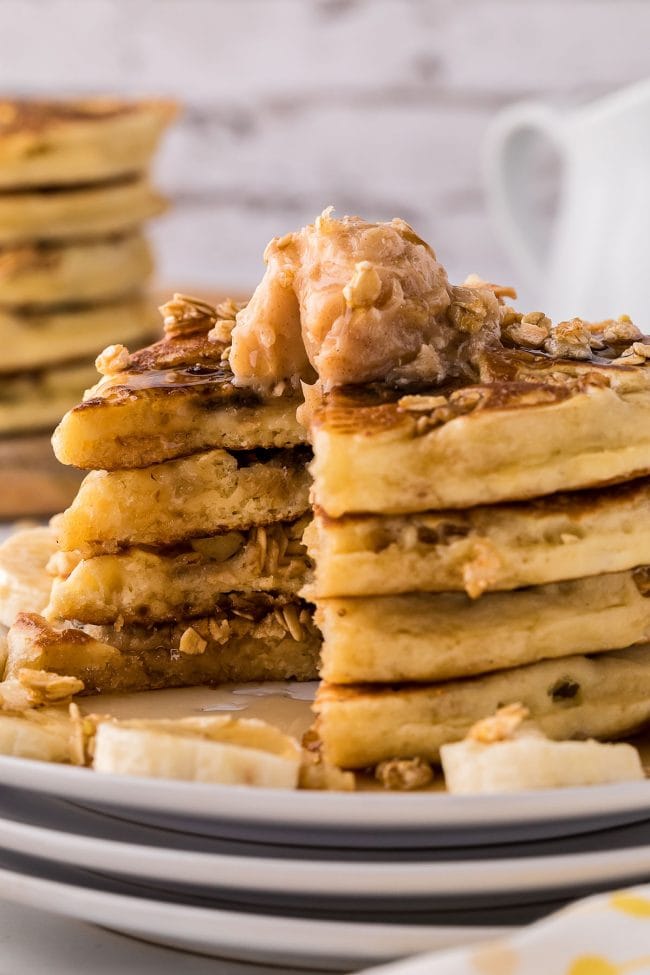 Why We Love Granola Banana Pancakes
Granola pancakes with bananas are the ultimate on a lazy Sunday morning or any day of the week!
Banana pancakes are wonderful for breakfast, brunch, and even an easy dinner!
The satisfying crunchy granola texture balanced with creamy sweet bananas is delicious.
Homemade buttermilk pancake mix uses simple pantry staples
A yummy light and fluffy buttermilk pancake recipe from scratch.
Your favorite granola gives banana pancakes a crunchy, personal flair.
You can make Banana Crunch Granola Pancakes at home! Just like the flap-jacks they serve at First Watch.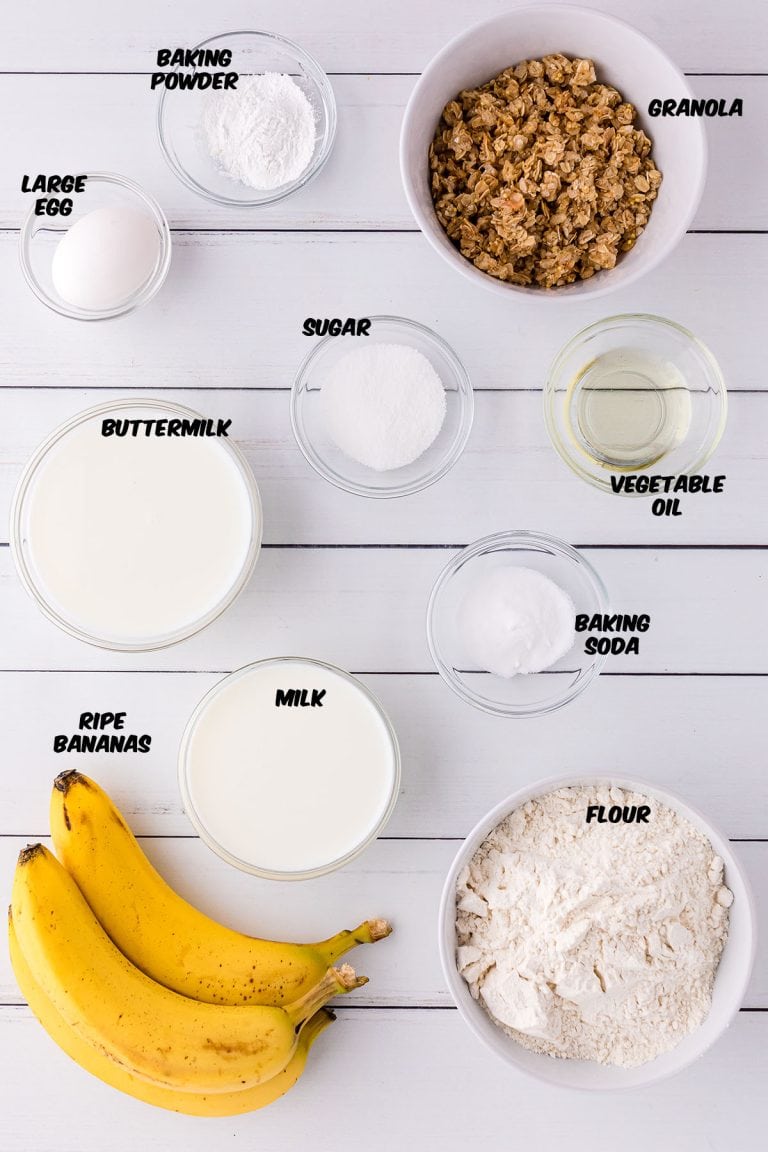 Ingredients For This Homemade Banana Pancake Recipe From Scratch
Can't wait for those fluffy, crunchy, flavor-packed banana pancakes? Me either, but get your ingredients to room temperature, or at the very least, the chill off. Refrigerator cold ingredients mess with the flour's ability to absorb moisture and affect the leavening efficiency when preparing the buttermilk pancake batter for banana pancakes.
For specific amounts, please refer to the printable recipe card at the bottom of the post.
The Wet Stuff For Pancake Batter
Egg – cracking the egg into a shallow bowl will help to bring the temperature up a little quicker.
Milk – if necessary, put it in the microwave on 20% power for a minute or less, stirring every 10 seconds to avoid hot spots.
Buttermilk – gives pancakes a light, moist texture. The acidity activates the baking soda creating air bubbles for lift.
Vegetable Oil – any neutral flavor oil you prefer.
The Dry Stuff For Pancake Batter
Baking Soda – baking soda should be fresh and highly reactive* to an acidic liquid for light, fluffy pancakes.
Baking Powder – on the flip side, the baking powder should react strongly to water when it's fresh.
Sugar – granulated white sugar is called for in this banana pancake recipe.
Flour – is added after the above wet and dry ingredients are incorporated. Use the fluff, spoon, and level method to measure flour. When flour is scooped into a measuring cup, you can end up with 50% or more flour than the recipe tolerates.
The Feature Ingredients
Sliced Bananas – ripe to almost overripe are the best for pancakes with bananas because the starches have converted to sweet, flavorful banana sugars. 🍌
Granola – break up any clumps into small pieces to sprinkle evenly over the pancake batter for a consistent crunchy texture in every bite.
*Baker's Note: Test your baking soda by placing a few tablespoons of vinegar in a small dish and stirring in a teaspoon of baking soda. The mixture should immediately begin to fizz if the baking soda is still active; if there's little to no reaction, it's time to replace it.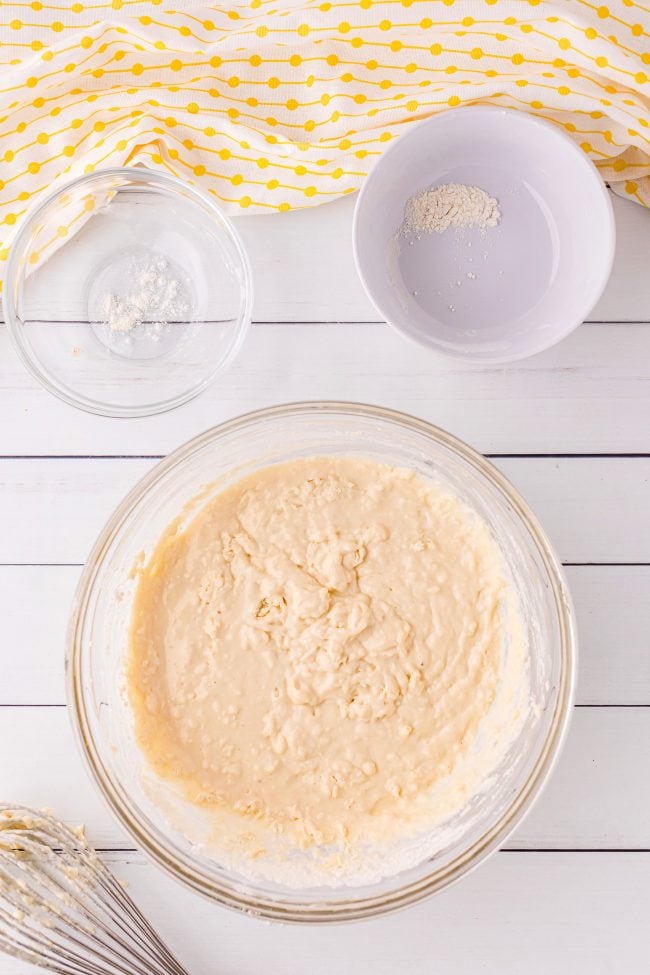 This post may contain affiliate links. Please read my disclosure policy here.
How To Make Granola Banana Pancakes From Scratch
A pancake recipe with bananas from scratch is a piece of "cake!" lol Besides a griddle or skillet with even heat distribution, a crucial tool is a pancake turner or large spatula that can support the granola and banana slices! So grab those along with a couple mixing bowls, a whisk, and a ¼ cup measure, then start serving up smiles made to order!
When you are baking, you'll want to use the full recipe at the bottom of the page.
Mixing: Whisk the wet and dry stuff in separate bowls, then combine well. Slowly add enough flour to create a buttermilk batter that is runny but not watery. Refrain from over-mixing the pancake batter to avoid overworking the gluten. Lumps are A-Okay!
Cooking: Add 1/4 cup batter onto preheated, buttered griddle or skillet without overcrowding. Sprinkle each pancake evenly with granola and top with banana slices. Cook for 1 ½ to 2 minutes, watching for bubbles and matte edges before carefully turning over.
Turning: Use a large pancake turner to fully support your loaded banana granola pancake when flipping; cook the other side for another 1-2 minutes until golden.
EATING! Serve granola banana pancakes from scratch immediately with cinnamon honey butter and maple syrup. Enjoy and bask in the smiles!
Chef's Note: Try this easy pancake hack to keep hot pancakes from sweating (steaming) when piled on one another between batches. Place a wire rack on a baking sheet in the oven and set it on warm, up to 220°F. Transfer crunchy granola banana pancakes to the wire rack until ready to serve.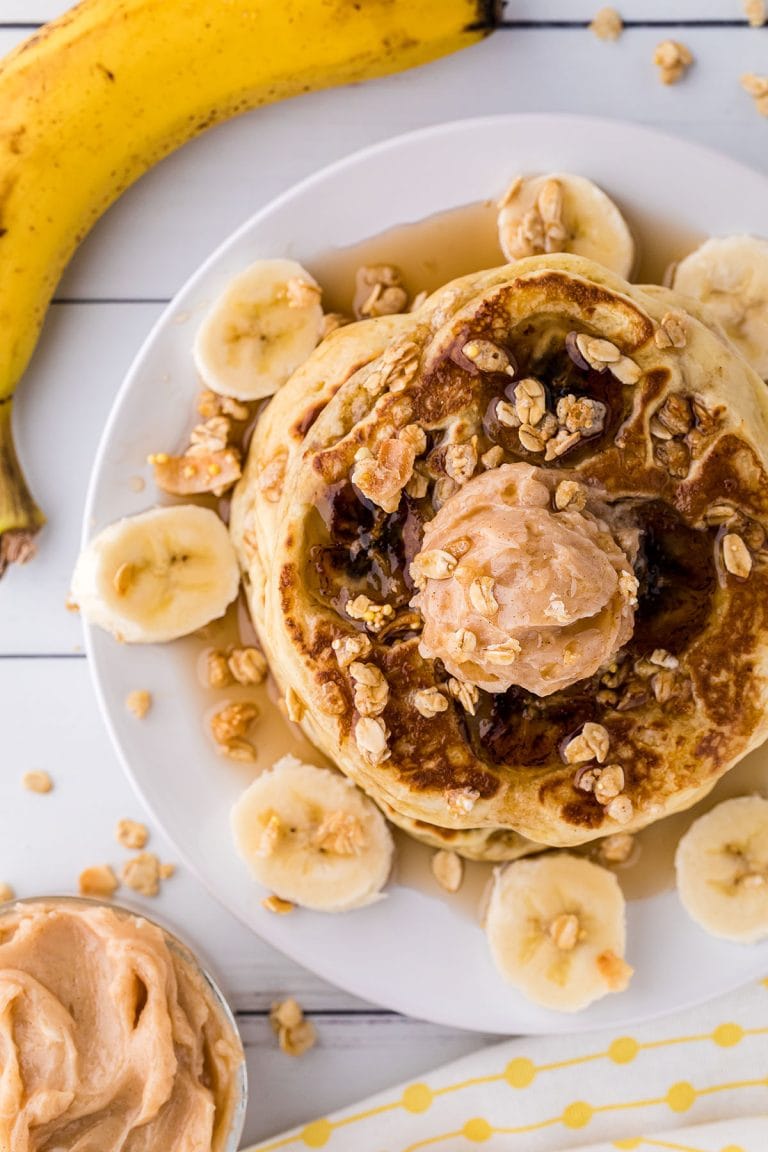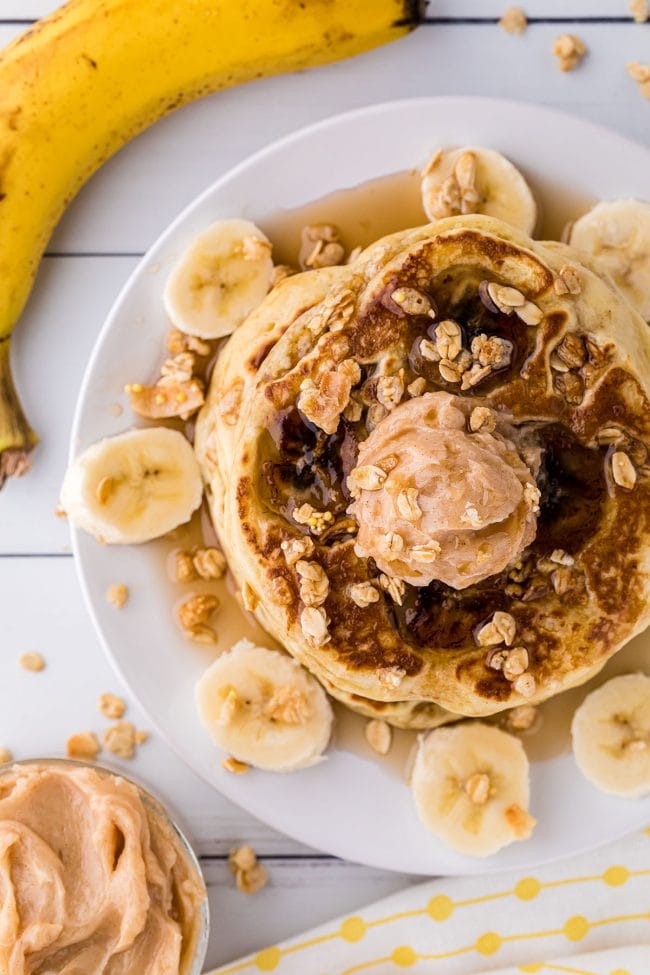 You're Going To Want To Make Homemade Cinnamon Butter!
The ultimate "finishing touch," whether it's breakfast, brunch, or dinner, is to serve granola banana pancakes with sublime cinnamon honey butter oozing over your stack. It's quick and easy to make, so I recommend you don't skip it! You can easily cut the recipe in half:
Whisk honey, butter, powdered sugar, and cinnamon with an electric mixer for 5-7 minutes until smooth and fluffy.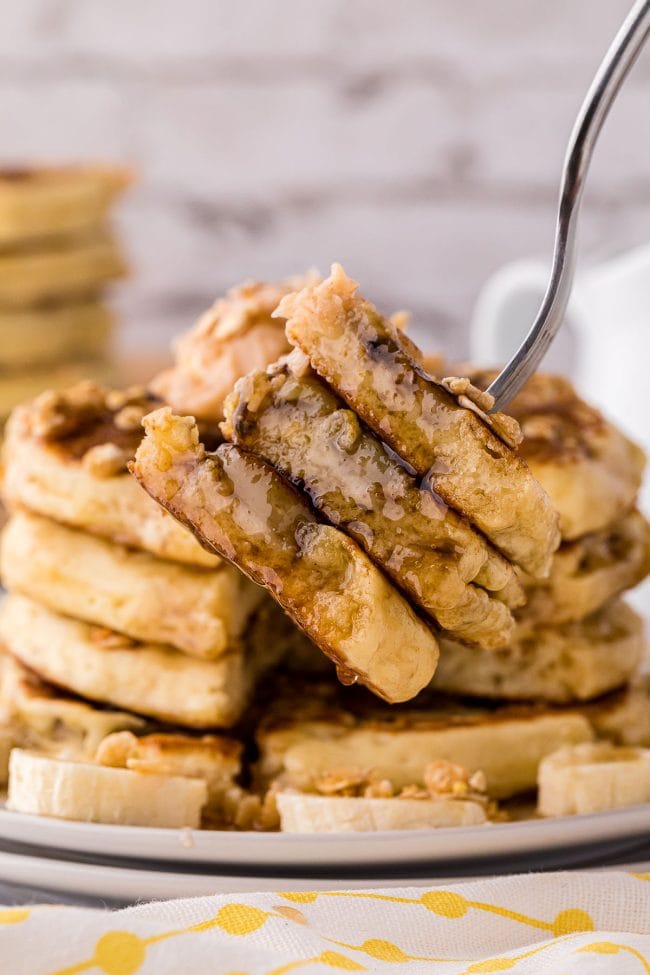 Homemade Banana Pancake Recipe Tips
If you don't have buttermilk on hand, add 1 tablespoon of white vinegar or lemon juice and enough milk to equal one cup, and let it sit for 5-10 minutes. (For other alternatives, see below.)
Any griddle can run hotter or less warm (don't we know it!) than the indicated medium or 350°F setting. Visually monitor your first couple of "test" pancakes, noting the time and color. Adjust your settings accordingly.
Another way to tell if your banana granola pancakes are ready to flip is when the bubbles on the edges start to pop, and the buttermilk batter no longer appears shiny.
It's okay to "take a peek" if you're not sure your pancake is ready to flip by gently lifting the edge with a spatula. If it's ready, slide the spatula far enough under to support the banana granola pancake's heavier top side.
When you make pancakes with bananas, you want a goldilocks slice, firm but not too thick to warm through and not too thin to break up. Mainly, you want a bite that is the right balance of banana for you!
For the best-tasting banana pancakes, scrape stray crumbs or scraps to the side of the griddle or out of the skillet between batches. Wipe any browned butter solids using a clean paper towel, then add a little more butter to your cooking surface.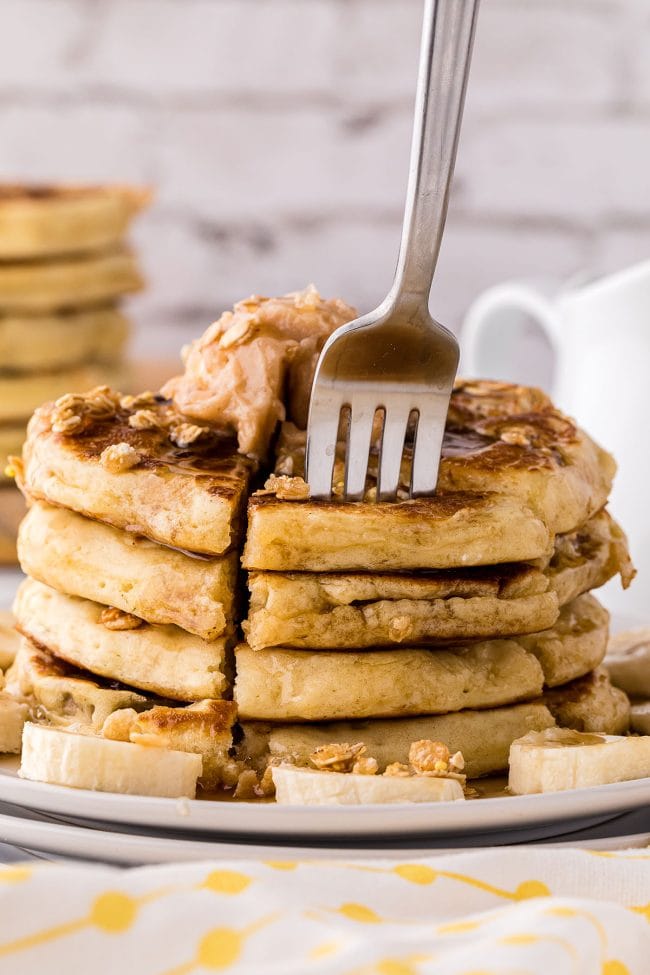 FAQs
What makes pancakes soggy?
Too high heat and too cold batter can both make banana pancakes mushy. They can go hand in hand, especially if the heat is too high; the outside will brown or burn without enough time to properly heat up the batter inside. Even if the heat is at the correct temperature, a cold batter will take much longer to heat throughout, causing the same issue.
Is a pancake turner with cutouts better than one without cutouts?
Cutouts in a pancake turner help remove liquid and keep food crisp. A heat-resistant silicone or nylon flat turner with no cutouts is the best option for cooking pancakes. Look for a sturdy, easy-to-hold handle and a sleek edge that smoothly slides under foods.
How can I make fluffy, better-tasting pancakes?
Only flip your pancakes once! Flipping pancakes too often or too soon will make them deflate, which means you will lose the fluffy texture.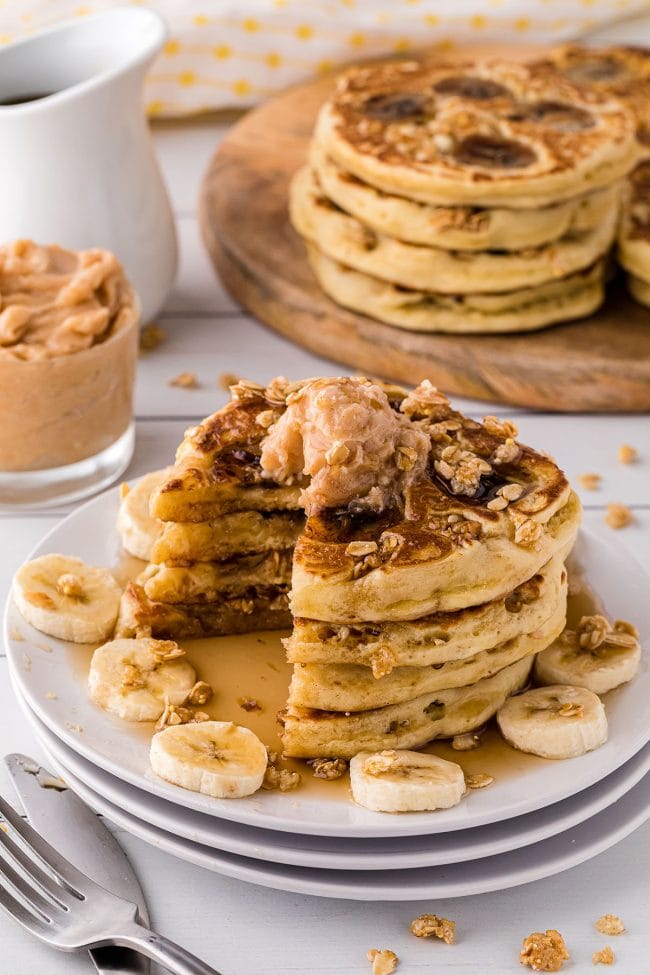 How To Store Banana Granola Pancakes
Refrigerate/Leftovers
Once the pancakes are completely cooled place them in an airtight container with wax paper between them in the refrigerator for up to 3 days.
Freeze
Allow the pancakes to cool completely, then stack them with sheets of wax paper between each pancake. Wrap securely in a moisture-proof airtight freezer bag, then place in another bag (double-wrapped) for up to 5 months.
Reheat
Separate, then microwave to reheat, or toss them in the toaster oven to make sure you don't get a soggy reheated pancake!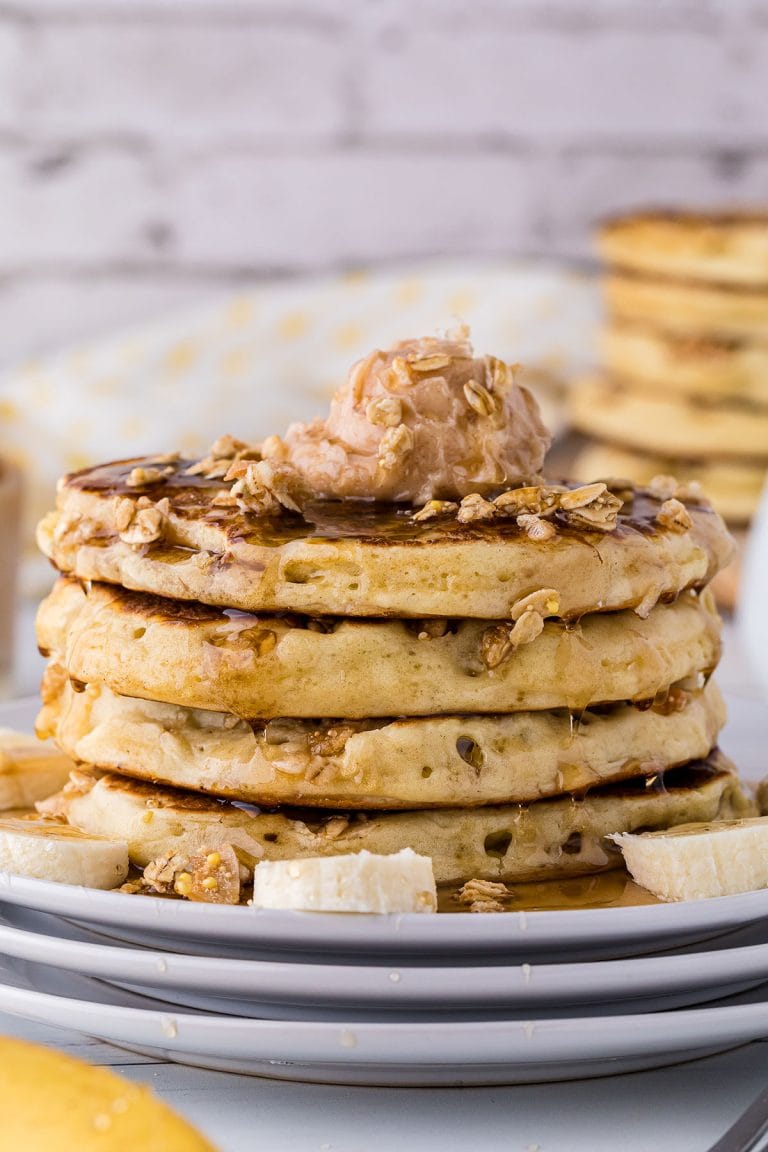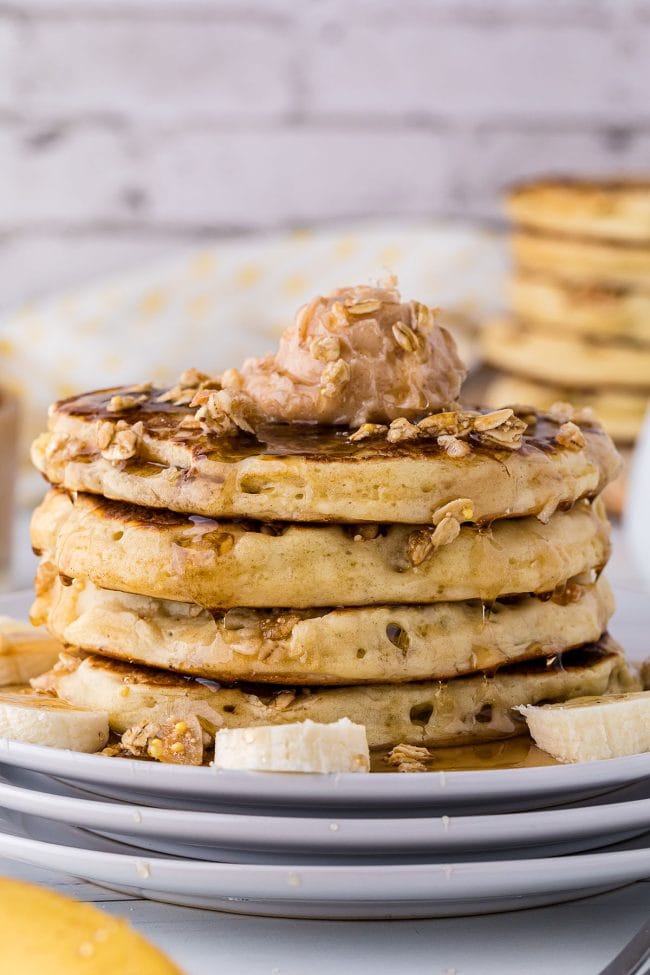 Serving Suggestions
Granola pancakes with bananas can easily stand on their own as a meal. If you find yourself dealing with a hangry posse, here are a couple of extras to fill up grumbling tummies:
This granola banana pancake recipe was destined to be paired with maple syrup, cinnamon honey butter, and a dollop of Cinnamon Whipped Cream. Hello…scrumptious!
You can't go wrong with classic bacon, egg, and homefries (that would be grits to us southern folks) with buttermilk pancakes.
"Foster" more flavor by topping banana pancakes with a caramel drizzle, glazed or toasted pecans, and a rosette of whipped cream. Treat everyone with a Caramel Drizzle Frappuccinos while you're at it.
Fresh berries, a fruit compote, or Strawberry Freezer Jam will add brightness and enhance your crunchy granola pancakes.
Like This Recipe? Pin It!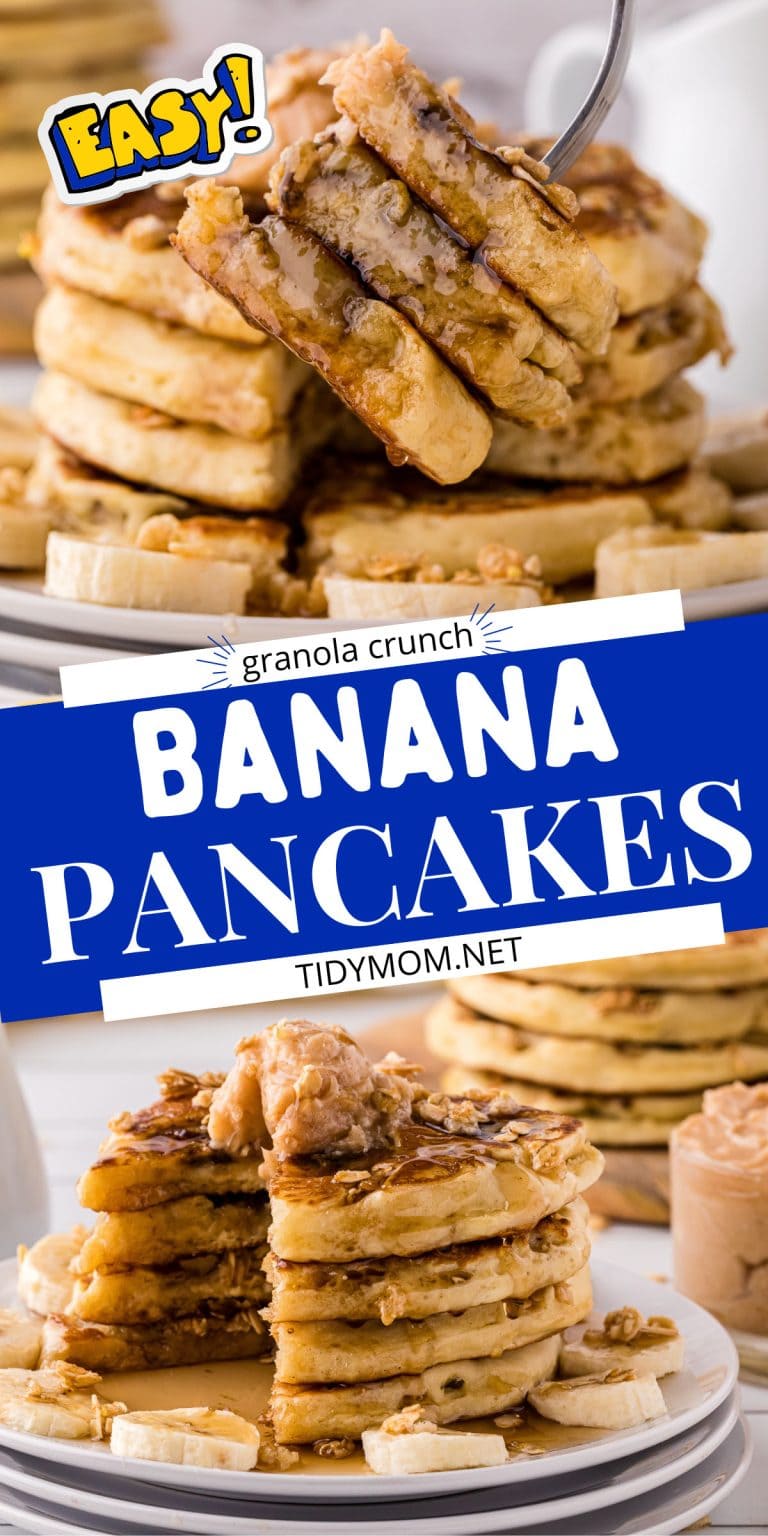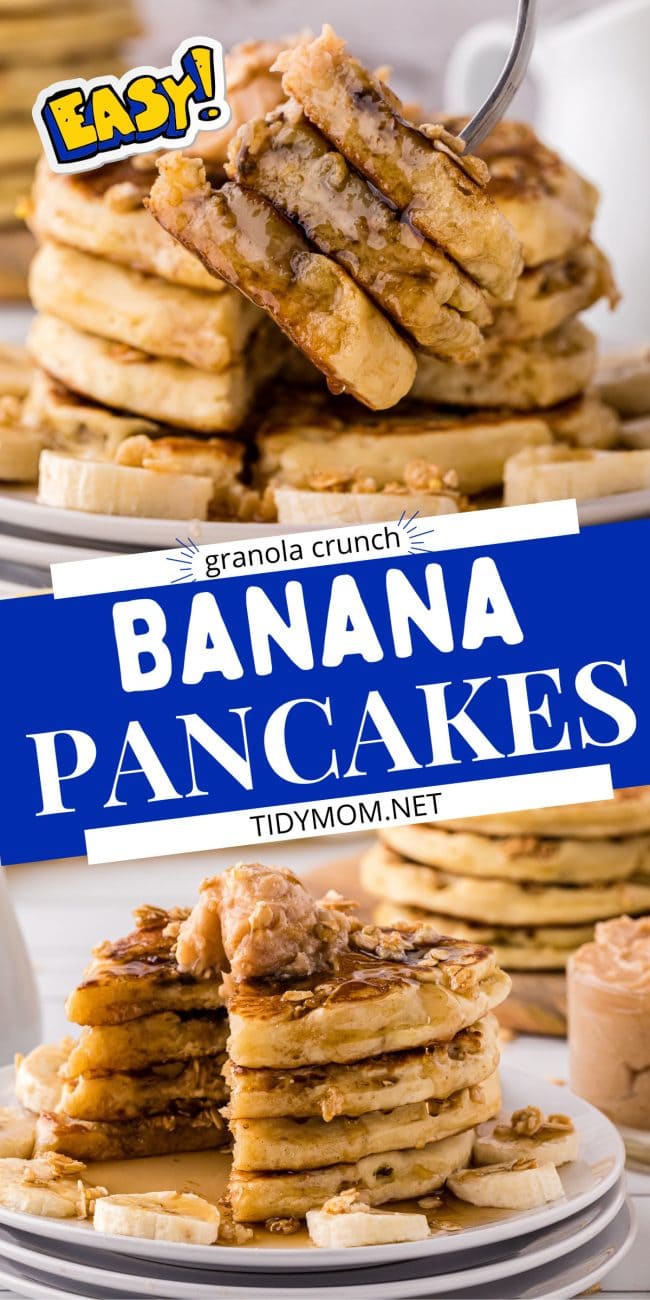 Originally posted in October 2009. UPDATED November 2018 and September 2023. We spiffed up this post with more information and 1 change to the recipe: I now use white chili beans in place of cannellini beans.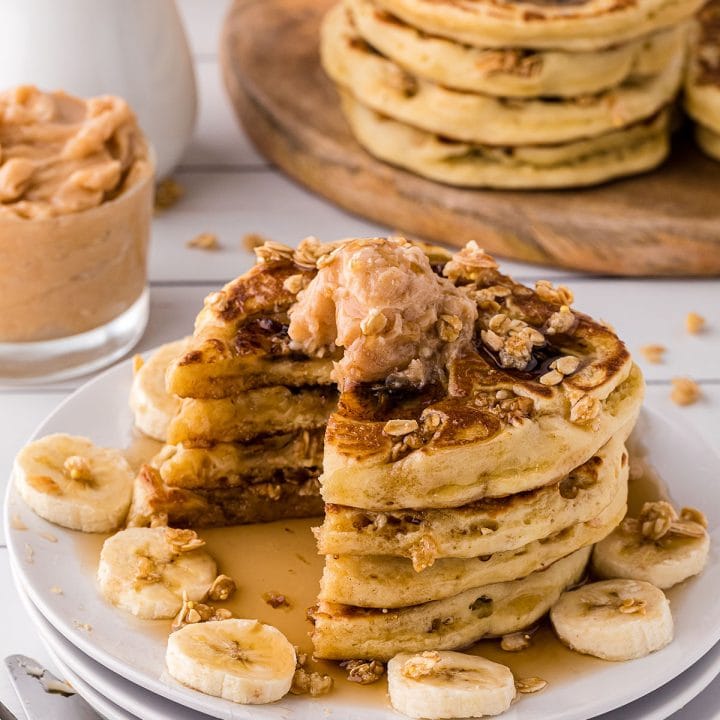 Granola Banana Pancakes with Cinnamon Honey Butter
Yield: 10 pancakes
Prep Time: 5 minutes
Cook Time: 15 minutes
This fluffy Banana Pancake Recipe With Granola is just the update your weekend breakfast needs. Take a satisfying buttermilk pancake recipe to scrumptious with bananas and crunchy granola, and slide right into superb with cinnamon honey butter! You'll be serving up smiles in no time!
Ingredients
1 egg
1 cup milk
1 cup buttermilk
2 tablespoons vegetable oil
1 teaspoon baking soda
1 ½ teaspoons baking powder
2 tablespoons sugar
2 cups flour (to thicken)
2-3 large bananas sliced
1 cup granola
Instructions
In large bowl mix egg and milks and oil until well combined.
In another bowl, whisk baking soda, baking powder and sugar. Add to wet ingredients.
Add flour a little at a time, until batter is runny, but not watery (I used about 2 cups maybe a little less) don't over-mix (lumpy batter is desired).
Heat griddle or pan to 350°F (or medium).
Grease with a little butter or no-stick spray.
Add 1/4 cup batter to the preheated pan, for each pancake (don't overcrowd).
Sprinkle each pancake with granola and top with banana slices.
Cook for 1 ½ to 2 minutes before carefully flipping.
Cook for an additional 1-2 minutes.
Serve immediately with cinnamon honey butter and maple syrup.
Notes
*If you don't have buttermilk on hand, add 1 tablespoon of white vinegar or lemon juice to 1 cup of milk and let sit 5-10 minutes.
Nutrition Information:
Yield: 10
Serving Size: 1
Amount Per Serving:
Calories: 250
Total Fat: 7g
Saturated Fat: 1g
Trans Fat: 0g
Unsaturated Fat: 5g
Cholesterol: 22mg
Sodium: 268mg
Carbohydrates: 40g
Fiber: 3g
Sugar: 12g
Protein: 7g
Nutrition information is estimated based on the ingredients and cooking instructions as described in each recipe and is intended to be used for informational purposes only. Please note that nutrition details may vary based on methods of preparation, origin, and freshness of ingredients used and are just estimates. We encourage, especially if these numbers are important to you, to calculate these on your own for most accurate results.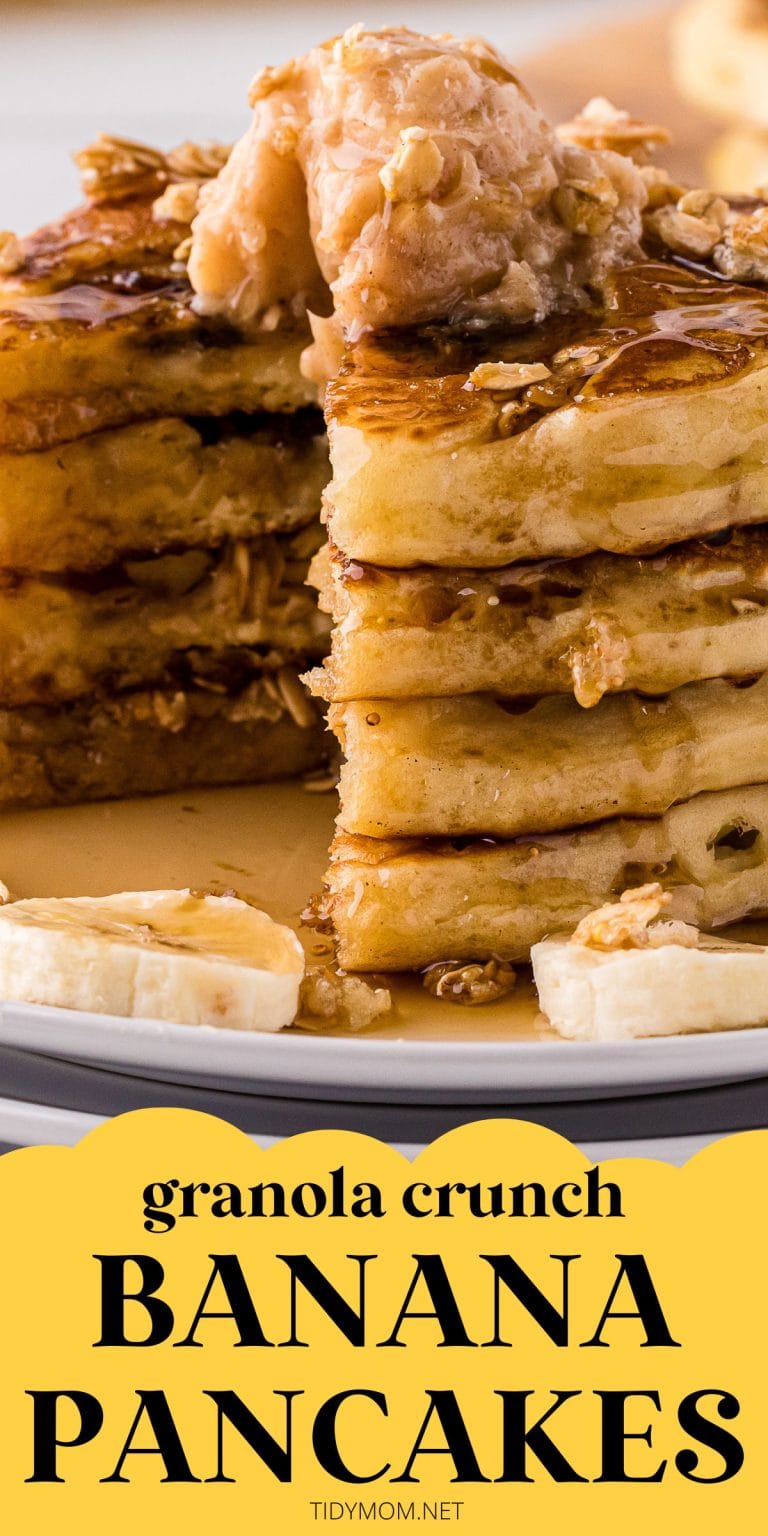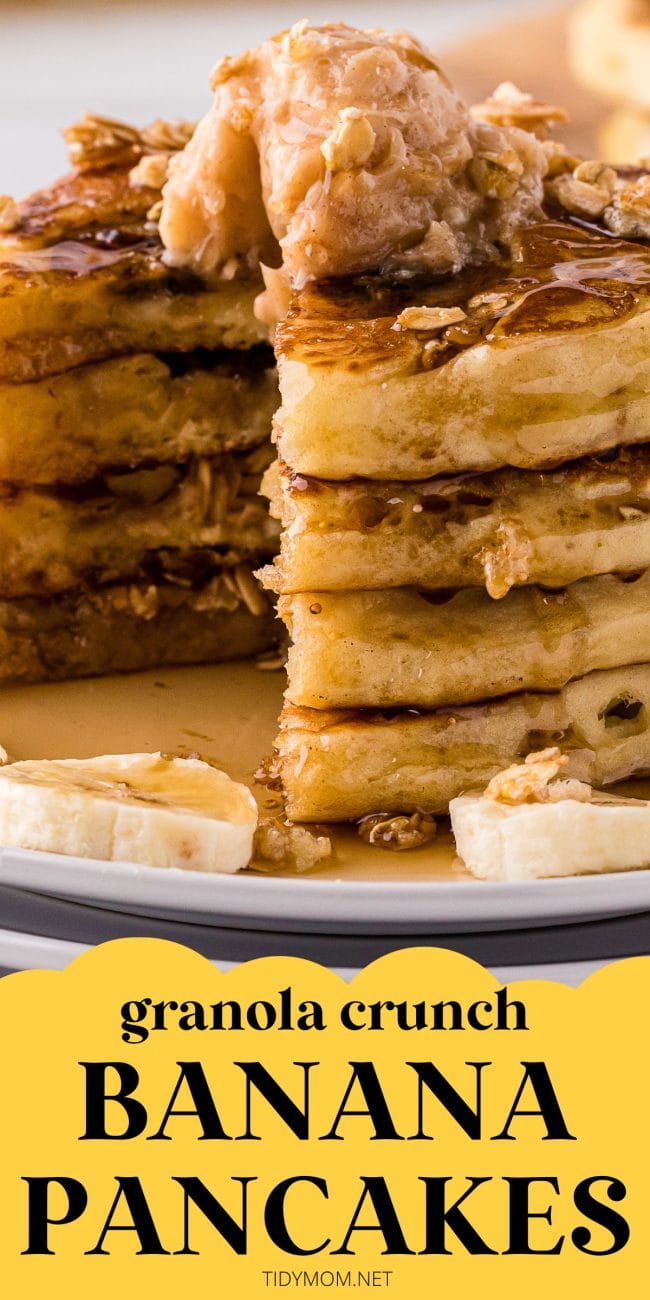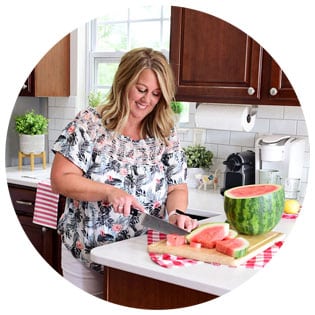 Hi there, I'm Cheryl!
As a wife, mom, and caffeine enthusiast, my journey has taken me from bustling mornings with my family to sharing delicious recipes, home care tips, and heartfelt decorating insights with wonderful readers like you. My love for baking, photography, and tidiness shines through every post I craft. Dive into my world and discover the art of homemaking, one tidy moment at a time. Read more...
Tidymom is a participant in the amazon services llc associates program, an affiliate advertising program designed to provide a means for sites to earn advertising fees by advertising and linking to Amazon.com.
Please respect my work, recipes and photographs. If you do use a recipe in your own writing, please give proper credit and link back to the original post.