Cucumber Tomato Feta & Olive Salad
This Cucumber Tomato Feta & Olive Salad is bright and bursting with flavor from cucumbers and Garlic Basil Cherry tomatoes, to feta cheese and my favorite, kalamata olives, marinated in a Homemade Honey Dill Vinaigrette. It's one of those salads you crave as the weather starts to warm up, especially if you're tired of leafy salads that just don't seem to fill you up. It makes for a beautiful and tasty lunch, but it also makes a great dinner when topped with a piece of grilled chicken.
Be sure to sign up for my email… to get new recipes and ideas in your inbox!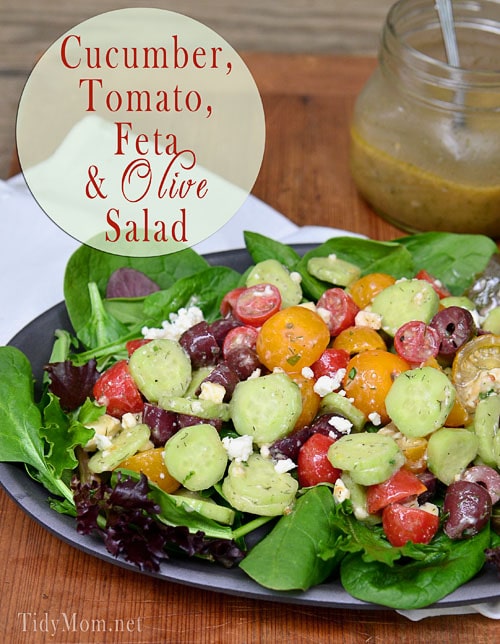 Leftovers, if you have any, will stay good in the fridge for several days. I'm planning to make a big batch to keep in the fridge to eat all week.
oh, and this would make a GREAT dish to take to a summer BBQ or picnic! Much more fun and flavorful than potato salad or coleslaw. This Cucumber, Tomato, Feta & Olive salad would surely steal the show!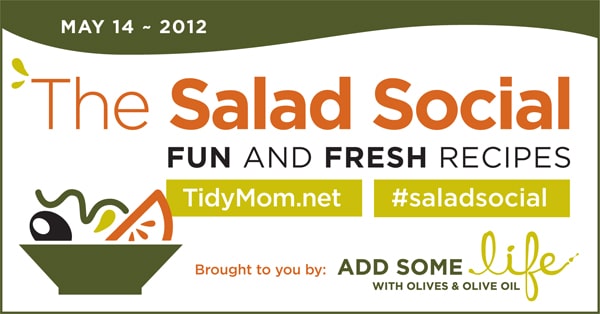 Are you ready?!!!!!!!!
Today is the day I've been telling you about for two weeks. The day we celebrate SALAD! It's time to grab those tongs and toss up your best salad recipe.
Why are we celebrating salad? Because the International Olive Council's Add Some Life campaign would like to remind us that healthy eating does not need to be boring, bland and unsatisfying.
By adding color with fruits, vegetables, and heart-healthy olive oils, it's easy to achieve a satisfying, nutrient-rich diet that's as appealing to the eye as it is to the palate. Bright red tomatoes. Ripe olives of deep ebony. Vivid red and green peppers. An array of bold cheese varieties and crusty bread. Intensely green olives. The warm, golden hue of olive oil. Aesthetically — and nutritionally — healthy eating is a thing of beauty.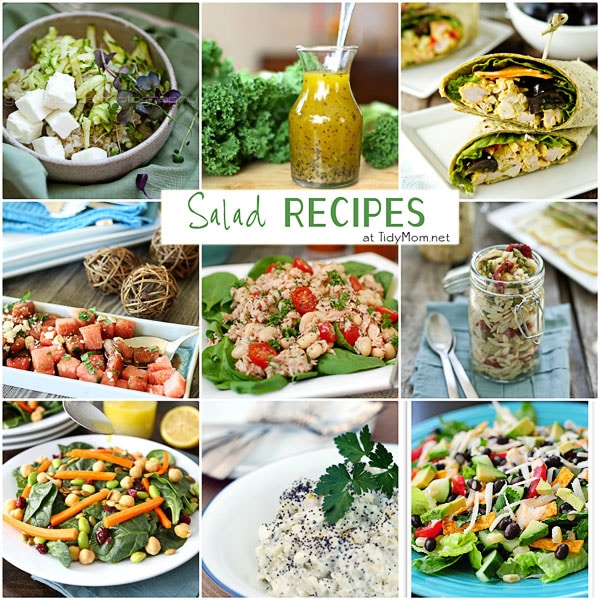 Eating salad almost every day may be one of the most healthy eating habits you can adopt! Let's see what you've got!
Cucumber, Tomato, Feta & Olive Salad
Yield: 4 servings
Prep Time: 10 minutes
Additional Time: 1 hour
Total Time: 1 hour 10 minutes
Bright and bursting with flavor this salad makes for a beautiful and tasty lunch, but it also makes a great dinner when topped with a piece of grilled chicken
Ingredients
1 cucumber sliced, unpeeled (I like to use English cucumbers)
1/2 cup kalamata olives, pitted and sliced in half
salt & pepper to taste
3/4 cup feta cheese, crumbled
Fresh dill and basil
Salad Greens (we prefer 50/50 spring mix with baby spinach)
Instructions
In a large bowl, combine the tomatoes, olives, cucumbers, dill and basil. Salt and pepper to taste. Drizzle Honey Dill Vinaigrette on top and toss to coat. (Best if you let sit at least an hour in the refrigerator before serving.)
Add feta cheese, toss, and serve or serve with salad greens.
Enjoy!
Notes
Should keep for several days in the refrigerator without the salad greens. Enjoy without without salad greens.
Disclaimer: Thank you to The Olive Council's Add Some Life for providing compensation and prizes for The Salad Social. The views and opinions expressed on TidyMom are purely my own.
Tidymom is a participant in the amazon services llc associates program, an affiliate advertising program designed to provide a means for sites to earn advertising fees by advertising and linking to Amazon.com.
Please respect my work, recipes and photographs. If you do use a recipe in your own writing, please give proper credit and link back to the original post.