Tasty Lasagna and Strawberry Season
One of the best ways to get dinner on the table in a hurry is to make a one dish meal. Convenient and easy cleanup—without sacrificing taste or elegance. One of the favorites in our house is Lasagna. It's easy, you can make the sauce ahead of time for even quicker prep or make the full dish and freeze for a homemade frozen dinner on a busy night.
This Lasagna recipe has been a "specialty" of mine since middle school.
This is the dish we made in home ec class and I made it at home for my family.
It was an instant hit and became a family favorite that was always made by me.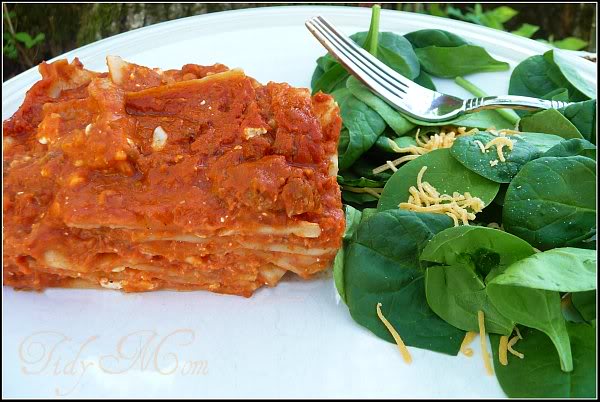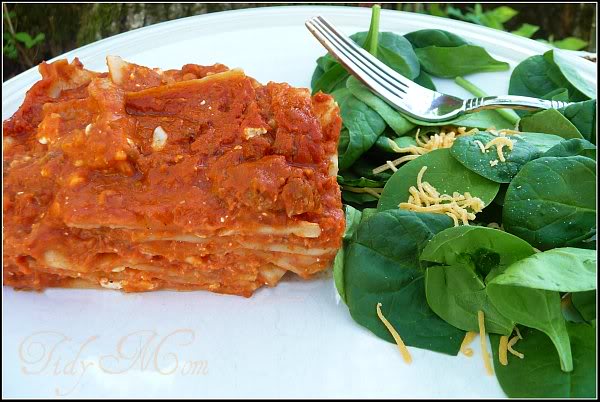 Ingredients
1 pound ground beef
garlic salt
pepper
1 (28 ounce) can crushed tomato
1 80z can tomato sauce
1 pkg spaghetti sauce mix
9-12 lasagna noodles
8 ounces ricotta or cottage cheese
3/4 pound mozzarella cheese, sliced
1/2 cup grated Parmesan cheese
Instructions
In a Dutch oven, cook ground beef, garlic salt and pepper over medium heat until well browned. Stir in crushed tomatoes, tomato sauce, and seasoning packet. Simmer, covered, for about 1/2 hour, stirring occasionally.
Bring a large pot of lightly salted water to a boil. Cook lasagna noodles in boiling water for 8 to 10 minutes. Drain noodles, and rinse with cold water.
Preheat oven to 350 degrees F.
Remove meat sauce from heat and stir in ricotta/cottage cheese (and cream cheese if you're using it)
To assemble, line the bottom of a greased 9×13 glass pan with 3 or 4 noodles, spread 1/3 of meat & cheese sauce over noodles. Top with 1/3 of mozzarella cheese slices, sprinkle with 1/3 of parmasean cheese. Repeat with 2 more layers.
Bake for 30 mins.
Notes
*OPTIONAL
sometimes I also add 4-6 oz cream cheese
sometimes I use jarred spaghetti sauce in place of the tomatoes and seasoning packet

Tips
This dish can be prepared ahead of time and put in the freezer. When you want to cook the lasagna, thaw and add a few mins to the cooking time if it's still chilled when putting in the oven.
(Do NOT cook frozen and do not use foil when freezing).
https://tidymom.net/tasty-lasagna-and-strawberry-season/
Copyright© 2009-2013 TidyMom.Net
***********************************************************
Strawberries are coming into season! Even though you can find strawberries in the grocery store almost all year, locally grown berries are ripe and ready to eat and enjoy during late spring and early summer.
How did strawberries get their name?
Most people think strawberries got their name from the common practice of growing berries under straw to protect them from the winter cold and late spring frosts. Others think the name came from the practice of weaving together long stems holding ripe fruit to form "straw" of berries.
What to look for when buying strawberries.
*berries should be a vibrant, shiny scarlet and blemish free
*If the tips are paler, or green, the berries are probably not ripe and could be tasteless
*berries should also look firm
*If their color is dull and flat, or if they look dry and deflated, they may well be old
*if you're buying a container of strawberries, make sure none of them are moldy, especially on the bottom
*sniff your strawberries: a fragrant rush of strawberry aroma should greet you
*don't buy berries that are partly white and unripe, they do not continue to ripen after they've been picked
When you get them home store them in the refrigerator; they'll keep a couple of days. Do not wash fresh strawberries or remove the caps until you're ready to eat them or use them in a recipe. To wash strawberries, place them in a large strainer or colander and rinse with cool water. Remove their caps with the point of a paring knife or gently twist and pull them off.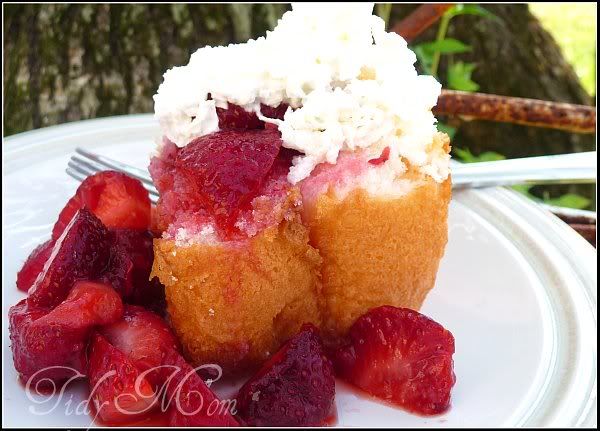 The night I made the lasagna I bought an Angel Food cake and we topped it with strawberries and whip cream for an easy dessert.
Leave me a comment and let me know how you like to eat your strawberries!