Pepperoni Pizza Sliders
PIZZA SLIDERS are always the hit of the party! Pull-apart dinner rolls are layered with sauce, mozzarella, and pepperoni topped with a buttery garlic Parmesan crust. It's hard to go wrong with this one and you can use your favorite pizza toppings if you like!
Looking for other family-friendly pizza recipes? You'll also love Black Bean & Chicken Taco Pizza, BBQ Chicken Pizza Soup, or Homemade Pizza Rolls.
Be sure to sign up for my email… to get new recipes and ideas in your inbox!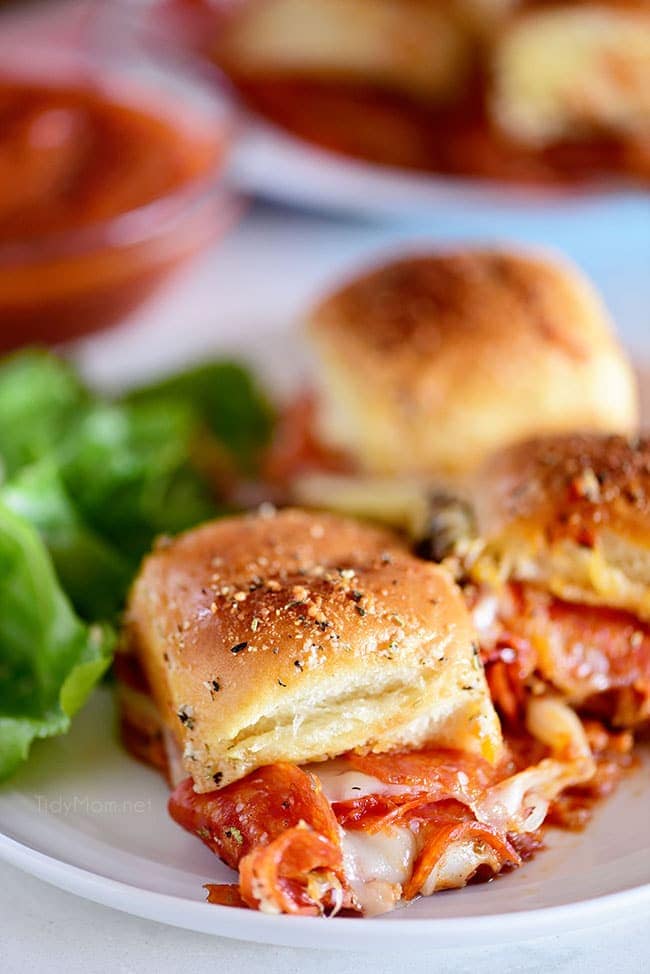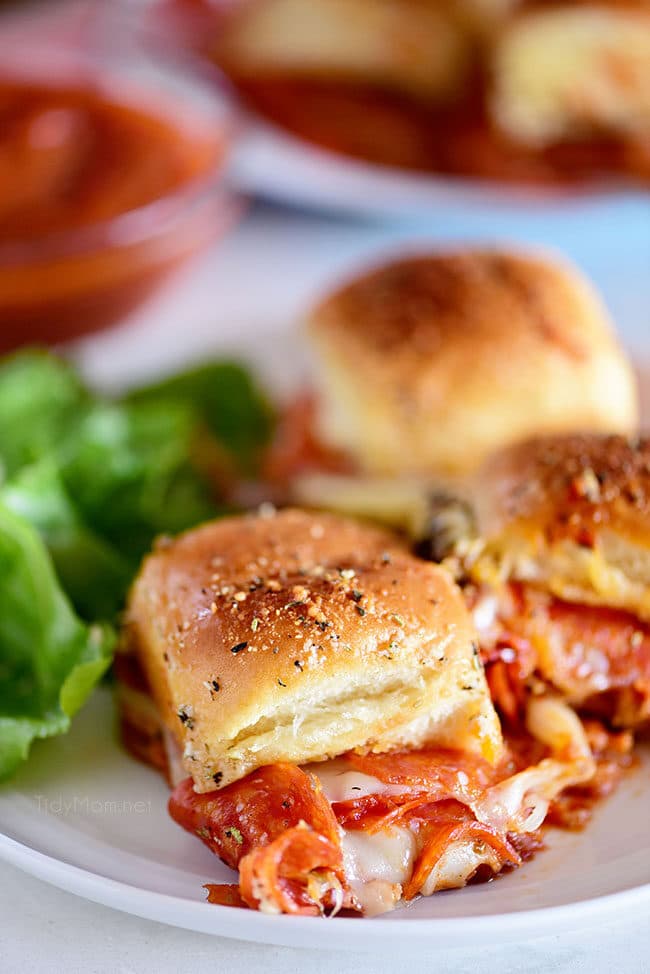 Click HERE to save recipe to Pinterest!
Pepperoni Pizza Sliders
A lot of you might still have your minds focused on the start of the year health kick, but my mind is already on one thing only… game day food!
Gameday food comes only second to my love for holiday food, so, you could say that we are currently in the midst of the second-best time of the year. We always go all out on snacks for the big game, and every year that spread has to include the fan-favorite, pepperoni pizza sliders.
This recipe takes the beloved pizza we all know and love and turns it into a quick and easy slider recipe that will be devoured in minutes. So, skip the expensive pizza delivery this year, and whip up a batch of the most amazing homemade pizza sliders you'll ever have!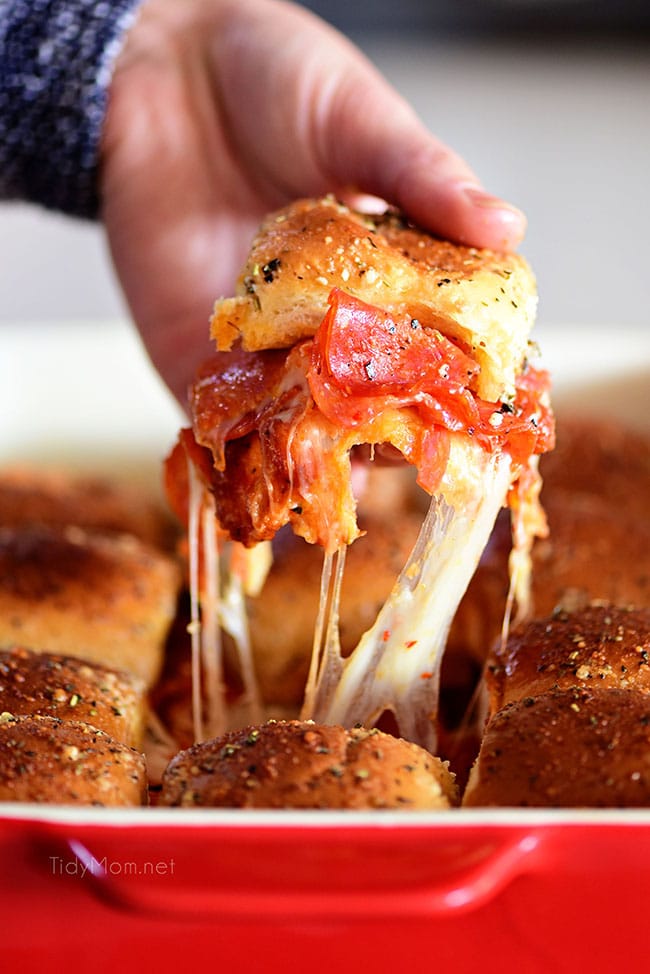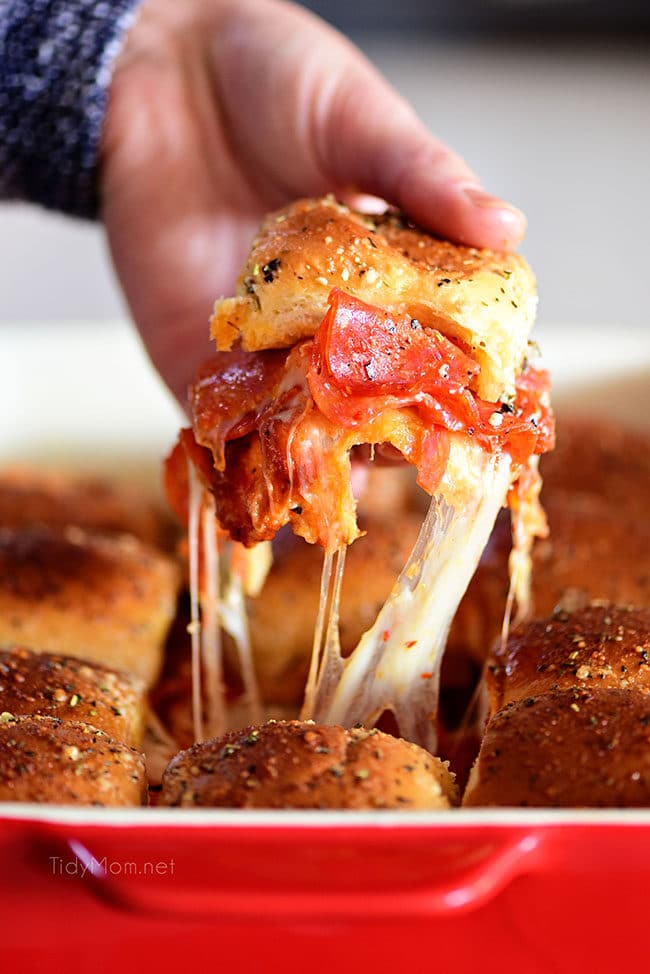 Ingredients Needed To Make Pepperoni Pizza Sliders
I mean it when I say this pizza slider recipe comes together in no time. Especially because odds are you already have a lot of the ingredients stocked up in your kitchen. Just gather up this simple list of ingredients and you'll be ready to go.
Hawaiian dinner rolls
Pizza or marinara sauce
Mozzarella cheese
Sliced pepperoni
Butter
Grated parmesan
Italian seasoning
Garlic powder
Onion powder
Crushed red pepper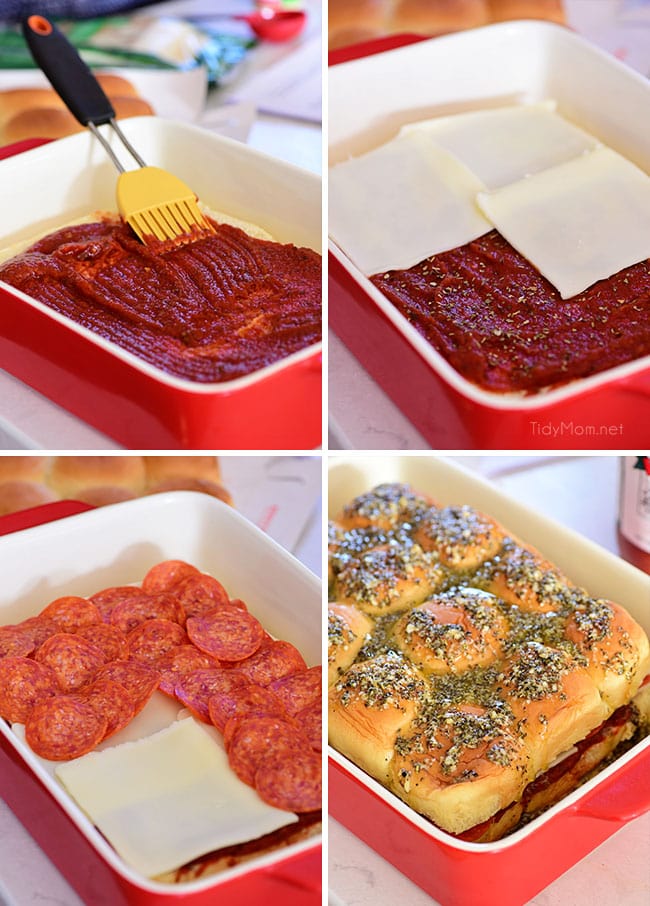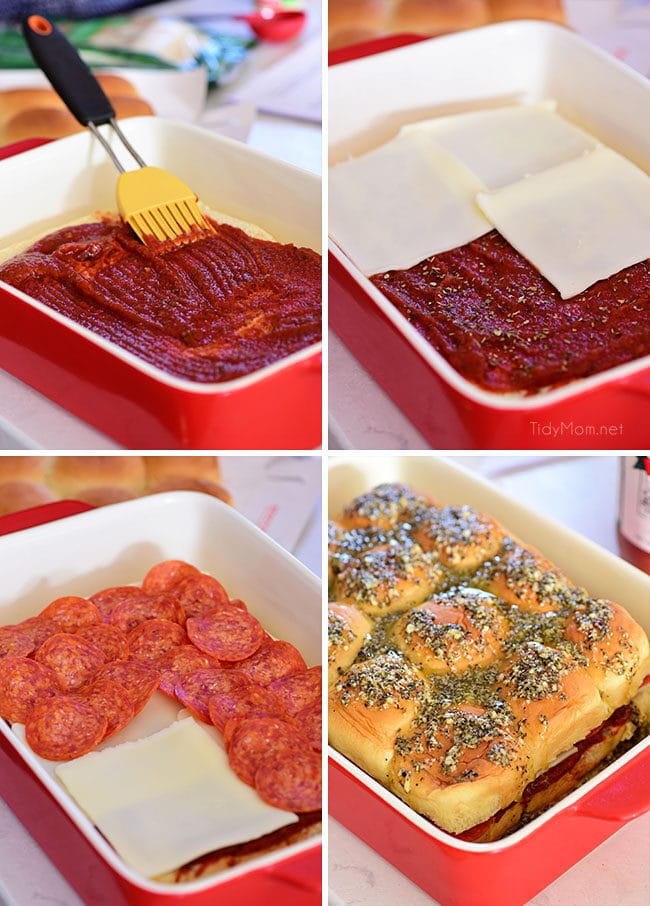 How To Make The Best Pepperoni Pizza Sliders
All you need is 30 minutes to throw together a delicious appetizer coated in an Italian spiced melted butter and loaded with Parmesan melted mozzarella cheese. Follow these easy steps and you'll be in gooey, cheesy pizza heaven.
To begin, preheat the oven and lightly spray the pan with cooking spray. Using a bread knife cut sheet of rolls through the middle to make them into buns and place the bottom half of the rolls in a baking dish.
Spread the marinara sauce on the bottom layer of buns, layer on some the cheese and half the pepperoni, then layer the remaining cheese and pepperoni and replace the top half of the rolls to close sandwiches.
Once the sliders are assembled, begin to make the butter sauce. In a small bowl combine butter, Parmesan cheese, Italian seasoning, garlic powder, onion powder, and crushed red pepper and brush the sauce evenly over the sliders.
Lastly, you'll cover the dish with aluminum foil and bake until the cheese is melted. Then take the foil off cook for a few extra minutes, and remove from the oven. Slice them apart, serve warm, and enjoy!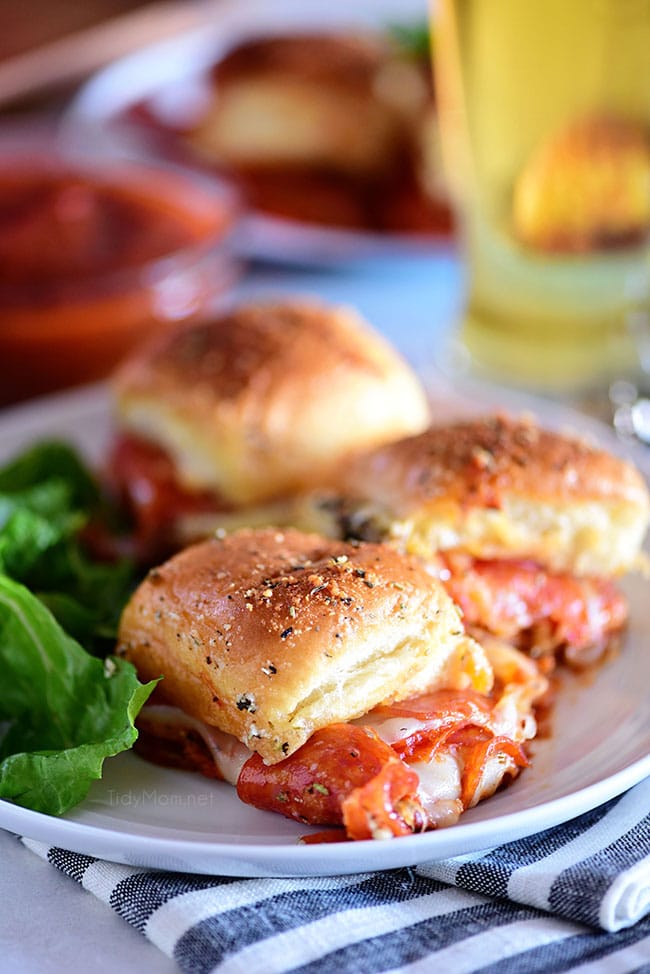 Can I Customize These Pepperoni Pizza Sliders?
Yes! You can switch up the toppings, cheese, or buns for this recipe to fit your personal preferences. The pepperoni pizza sliders are my personal favorite topping combo, but here are a few other options as well.
Protein: cooked bacon, sausage, Canadian bacon, chicken
Cheese: provolone, provel, cheddar, pepper jack, colby
Bread: dinner rolls, brioche rolls, mini hoagies
Veggies: Peppers, broccoli, mushrooms, onions
Best Ways To Serve Pepperoni Pizza Sliders
While these pepperoni pizza sliders make for a great party snack when you need to feed a crowd, that's not all they are good for. With how easily the recipe comes together, add these to your weeknight meal plan on a night where you need a dinner that won't take hours to prep.
Simply add a salad or some roasted cauliflower on the side, and you'll have yourself a meal the whole family will enjoy. My family loved it some much we had sliders for either lunch or dinner, three days in a row!
Just like pizza, these bad boys are amazing leftover, served warm or cold!
How To Store Pizza Sliders
There are a few different ways you can store your leftover pepperoni pizza sliders (if you even make it out with leftovers). If you don't want to dirty any other dishes, you can place a piece of foil or plastic wrap over the top of the baking dish, and store in the refrigerator.
If you would rather clean the baking dish right away, then transfer your cooled pizza sliders into a large airtight container and store it in the refrigerator. No matter which storing method you use, your leftovers will stay fresh for up to 5 days.
I don't suggest freezing the pizza sliders, as they will likely become soggy, or tough once thawed and reheated.
To reheat, place the sliders on a baking pan and put in a 350° F preheated oven for about 10-15 minutes.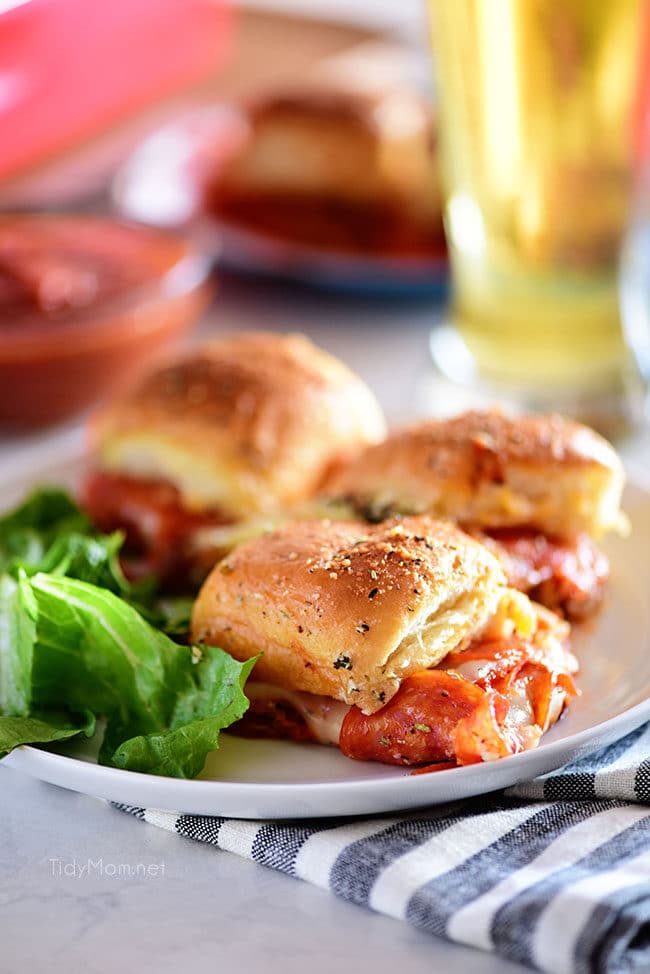 Check Out More Party Appetizers Here!
Spinach Artichoke Dip – An easy crowd-pleasing appetizer recipe that's loaded with flavor. Served right from the oven, it's creamy, cheesy, and the ultimate party food for the holidays and game day!
Creamy Chorizo Dip – Spicy, cheesy, and the EASIEST dip to make! Packed with, chorizo, tomatoes, green chiles and lots of cheese. This creamy dip is sure to be a hit whether you're watching the Big Game or just need to satisfy that warm gooey cheese craving.
Beer Cheese Dip – Serve warm or cold, everyone will love this dip. It's perfect for game day or anytime you need a cheesy snack.
Sweet and Tangy Asian Meatballs – Cook up in no time with a homemade sticky teriyaki sauce. They make a sensational appetizer for a party or dinner idea when served over rice and broccoli.
Aloha BBQ Sliders – Mini beef burger recipe flavored with barbecue sauce and served on sweet rolls with cheese, pineapple, and bacon.
Like This Pepperoni Pizza Sliders Recipe? Pin It!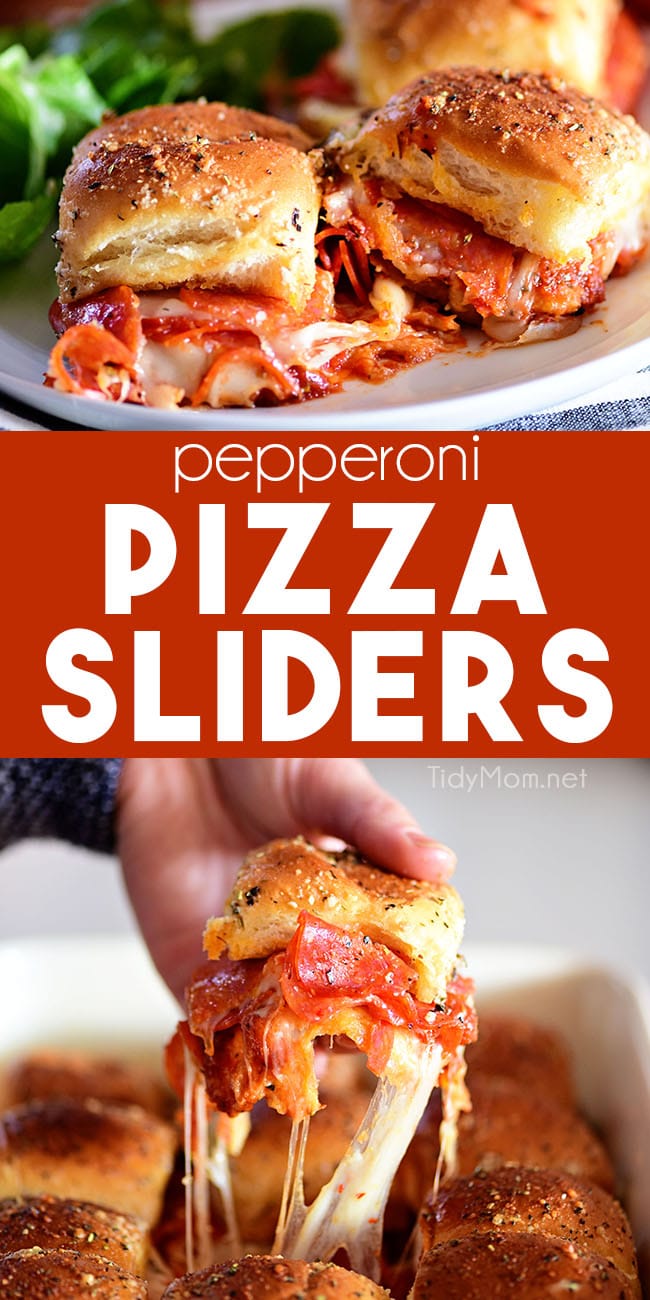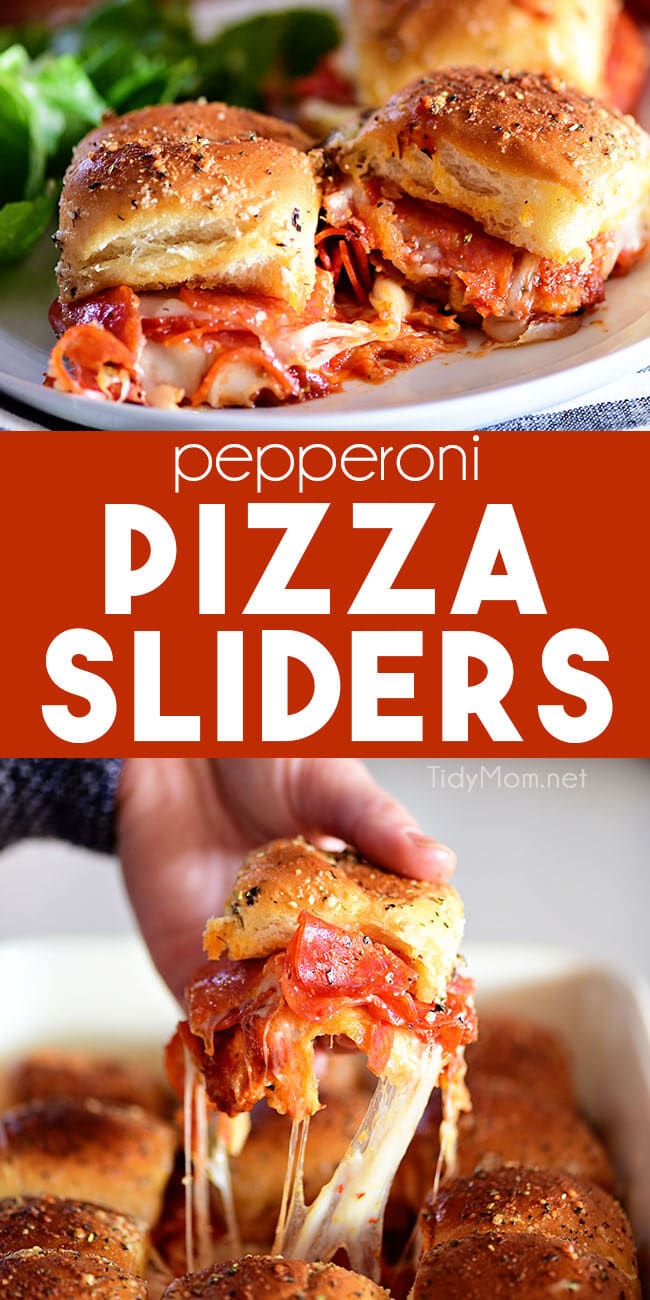 Tools Used To Make These Pepperoni Pizza Sliders
This silicone basting brush is my go-to over a traditional basting bush because the silicone bristles are so much easier to clean, and it spreads sauce and any other liquids with ease!
A good quality bread knife is a must-have in the kitchen! I've had this knife for years and it still works beautifully, saving me from a sore arm any time I need to cut through a dense loaf of bread.
I love the functionality and the cute color of this baker. It's perfect for impressing friends and family with a dish that not only tastes amazing but looks amazing too.
Follow Along on Social Media
If you're looking for even more inspiration check out the fun little group I created on Facebook, I'd love for you to join in! It's a place where you can share YOUR favorite recipes, home tips, creative ideas and ask questions and see what's new with TidyMom! If you'd like to check it out, you can request to join HERE.
Be sure to follow me on Instagram and tag #tidymom so I can see all the wonderful TidyMom recipes YOU make and tips YOU use!
Connect with TidyMom! Facebook | Twitter | Pinterest | Instagram
Sign up to receive an email in your inbox for each new recipe:
Pepperoni Pizza Sliders
Yield: 12 sliders

Prep Time: 15 minutes

Cook Time: 12 minutes

Total Time: 27 minutes

Pizza night reimagined! If pizza night is a regularity in your house, then you need to get your hands on this Pizza Sliders recipe. Pull-apart dinner rolls are layered with sauce, mozzarella, and pepperoni topped with a buttery garlic Parmesan crust. Perfect for parties, dinner or snacking.
Ingredients
12 Hawaiian dinner rolls (don't separate the rolls)
3/4 cup pizza or marinara sauce
12 slices of mozzarella cheese
6 ounce package of sliced pepperoni
1/2 cup butter, melted
3 tablespoon grated parmesan
1½ tablespoon Italian seasoning
1 teaspoon garlic powder
1 teaspoon onion powder
1/4 teaspoon crushed red pepper
Instructions
Preheat oven to 350° F. Lightly spray an 11 x 8-inch pan with cooking spray
Using a bread knife cut sheet of rolls through the middle to make them into buns (separating tops from bottoms), being careful to try to keep rolls connected. Place the bottom half of the rolls in a baking dish.
Spread the marinara sauce on the bottom layer of buns, layer on 6 slices of the cheese and half the pepperoni. Layer remaining cheese and pepperoni then replace top half of the rolls to close sandwiches.
In a small bowl combine butter, Parmesan cheese, Italian seasoning, garlic powder, onion powder, and crushed red pepper. Brush evenly over sliders.
Cover dish with aluminum foil and bake for 15 minutes or until cheese is melted. Take foil off and cook an additional two minutes. Remove from the oven. Slice them apart and serve warm.
Recommended Products
As an Amazon Associate and member of other affiliate programs, I earn from qualifying purchases.
Nutrition Information:
Yield: 12 Serving Size: 1
Amount Per Serving: Calories: 352Total Fat: 24gSaturated Fat: 12gTrans Fat: 1gUnsaturated Fat: 10gCholesterol: 60mgSodium: 767mgCarbohydrates: 20gFiber: 2gSugar: 2gProtein: 14g

Nutrition information is estimated based on the ingredients and cooking instructions as described in each recipe and is intended to be used for informational purposes only. Please note that nutrition details may vary based on methods of preparation, origin, and freshness of ingredients used.