Parmesan Oven Roasted Broccoli, A Favorite Side Dish
This post may contain Amazon or other affiliate links. As an Amazon associate, I earn from qualifying purchases.
Parmesan Oven-Roasted Broccoli: Find the perfect recipe for crisp, flavorful, and easy-to-make baked broccoli that pairs with just about everything. Effortless, and kid-approved!
We love oven-roasted vegetables or baked vegetable side dishes around here. Looking for other convenient oven-to-table menu items? Check out Cheesy Parmesan Smashed Potatoes, Easy Carrot Souffle (Brown Sugar & Cinnamon), and Bacon Green Bean Casserole.
Be sure to sign up for my email… to get new recipes and ideas in your inbox!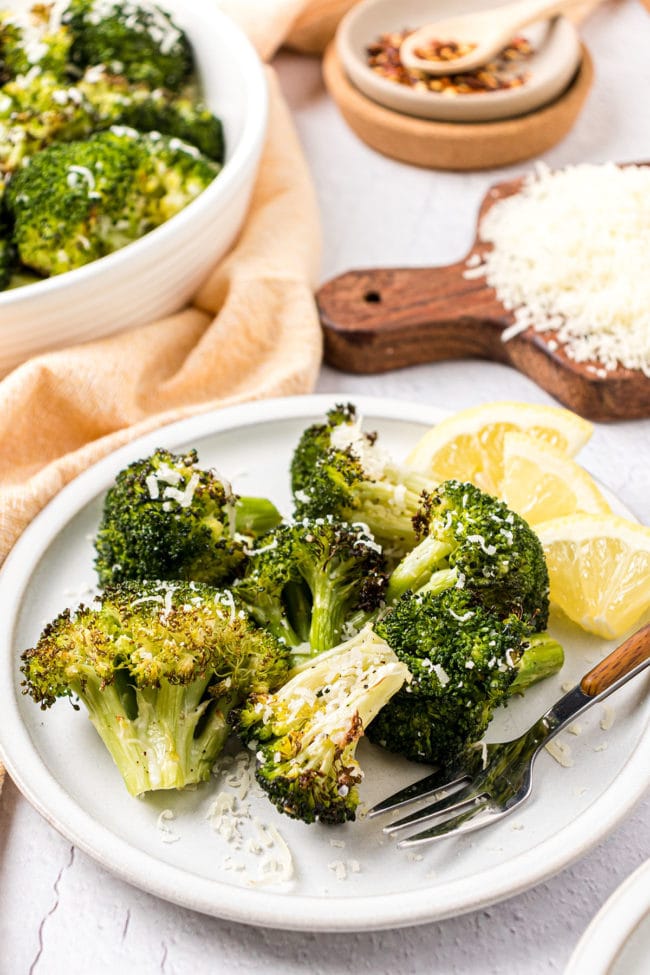 Why Even Veggie Nay-Sayers Will Love Roasted Broccoli
No other preparation method has brought more people to the "veggie side" than seasoned roasting! Oven-roasted broccoli has pleasantly surprised more than a few veggie nay-sayers. We love oven-roasted vegetables, and you will too.
Roasting brings out the natural sugars in broccoli and a lovely mild flavor (without the sulfurous notes that kids shy away from).
Oven roasting gives broccoli a delightful crisp-tender texture.
Prep is a breeze! Toss everything together on the baking sheet or in a plastic bag and bake!
To enjoy the inherently sweet flavor of broccoli, the natural combination of olive oil, salt, and pepper is the ultimate.
Roasted vegetable Thanksgiving dishes are steadily becoming a go-to for convenience and amazing caramelized flavors.
Seasoned roasting is so versatile; customized spice combinations are endless.
Broccoli roasted in the oven is an ideal side dish for any meal, even Thanksgiving.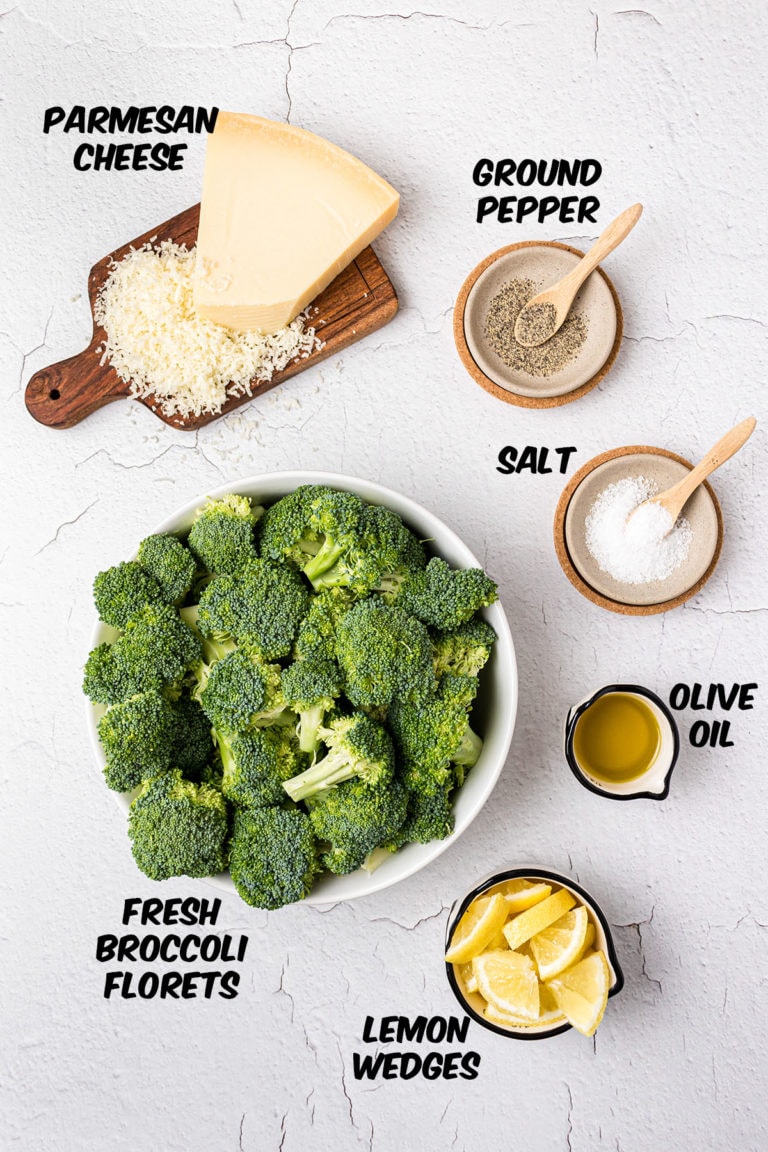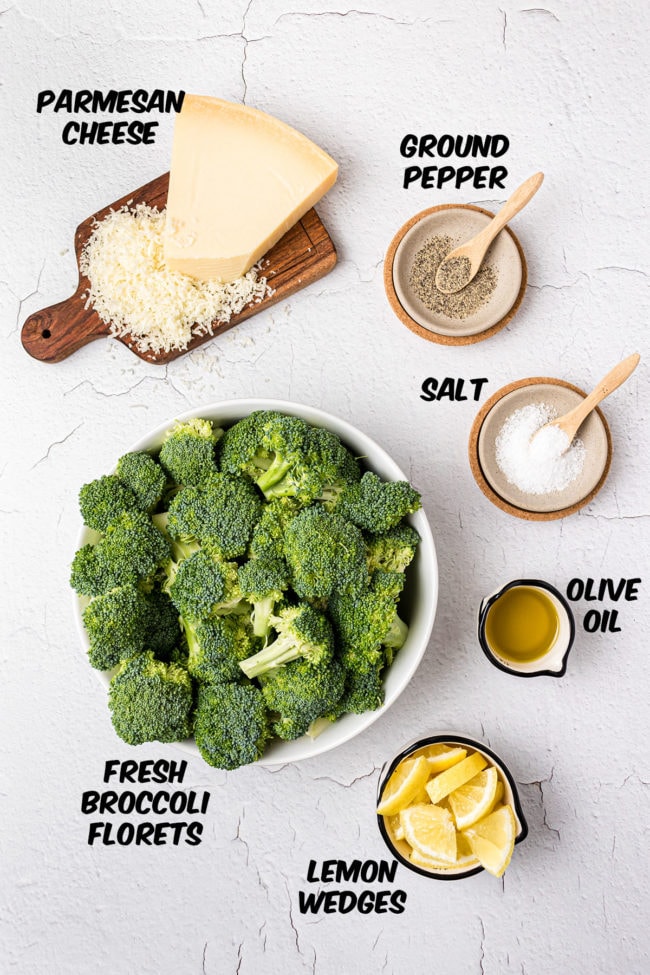 Ingredients For Oven-Roasted Broccoli
For specific amounts, please refer to the printable recipe card at the bottom of the post.
Fresh Broccoli Florets – Start with 1 pound of fresh broccoli florets washed and dried well to achieve the perfect roast.
Olive Oil – A good quality and pleasantly flavored olive oil coats the broccoli and enhances the savory, crispy bits.
Salt & Fresh Ground Pepper
Parmesan Cheese – Freshly grated Parm, a salty, nutty cheese that adds a delicious flavor to broccoli roasted in the oven.
Lemon Wedges – (optional) to serve on the side, or squeeze some lemon over the roasted broccoli to contrast and brighten with a pop of fresh flavor.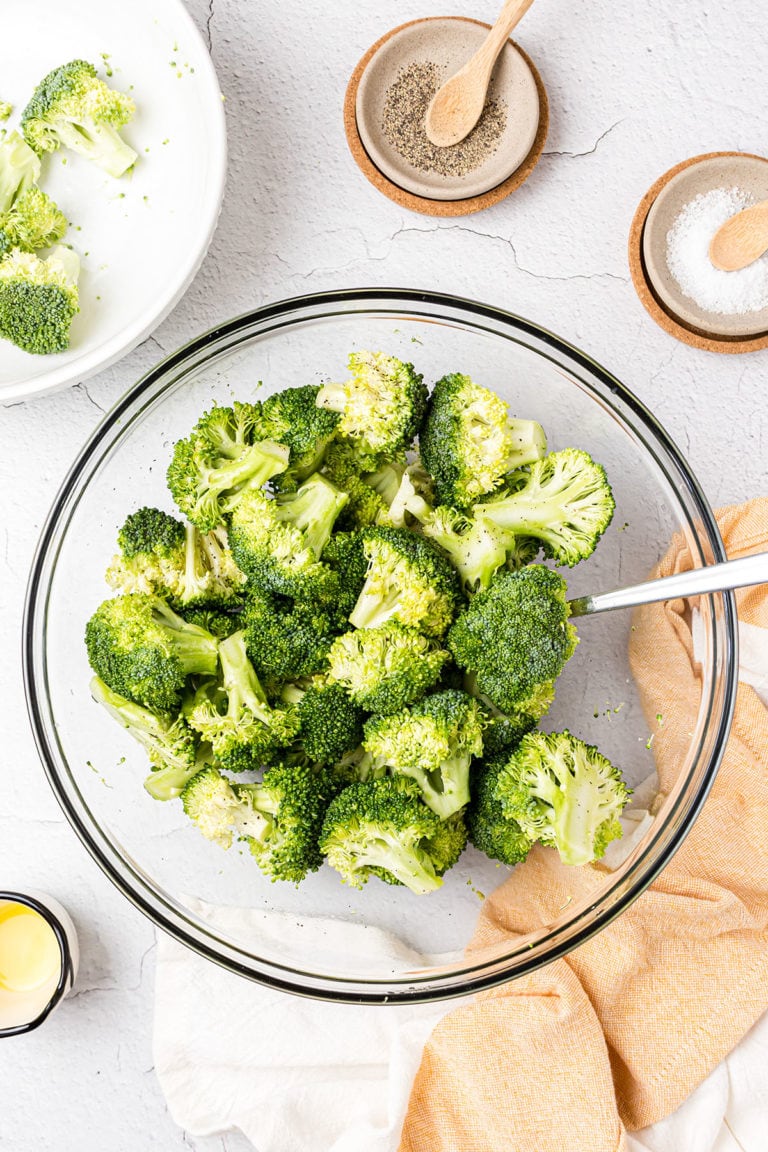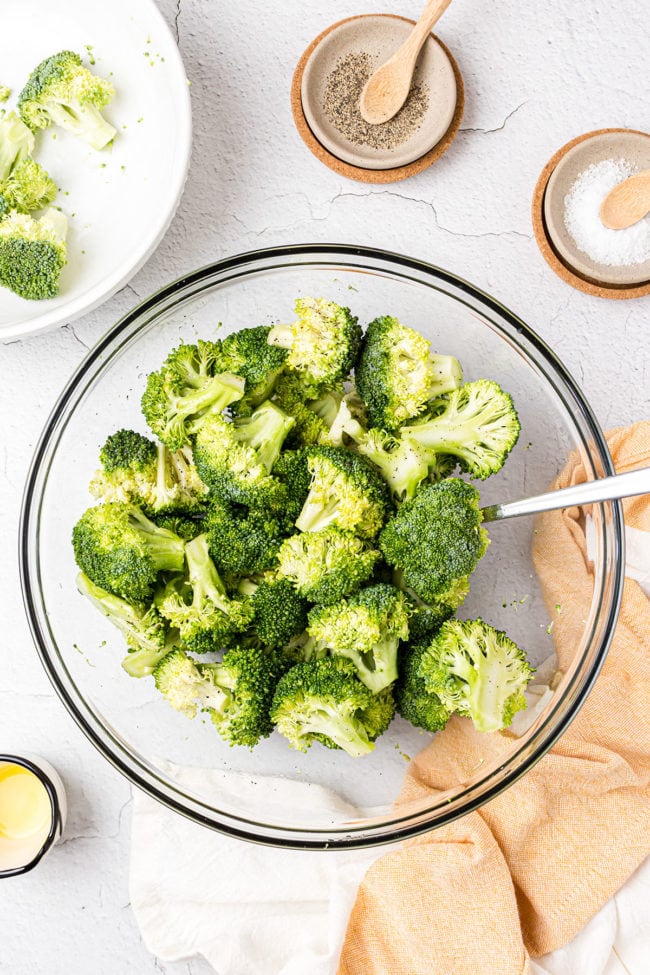 This post may contain affiliate links. Please read my disclosure policy here.
How To Make Roasted Broccoli In The Oven
Ready for an effortless and delicious side dish? All you need is a large baking sheet and parchment paper.
When you are baking, you'll want to use the full recipe at the bottom of the page.
Toss and evenly coat broccoli with olive oil, salt, and pepper.
Spread florets on the baking sheet without overlapping.*
Roast on the middle rack for 15-25 minutes or until the desired color is achieved.
Sprinkle with grated Parmesan cheese and season to taste.
Squeeze or serve with lemon wedges, and enjoy!
*Chef Tip:
For the perfect tender-crisp roasted broccoli that everyone will love – tender on the inside with a crispy edge – it's essential to avoid overcrowding and spread the florets on the baking sheet. Broccoli has a high water content that needs to escape during roasting. If florets are too close, they steam instead of developing a sweet caramelized flavor and delightful crispy texture that oven roasting is known for.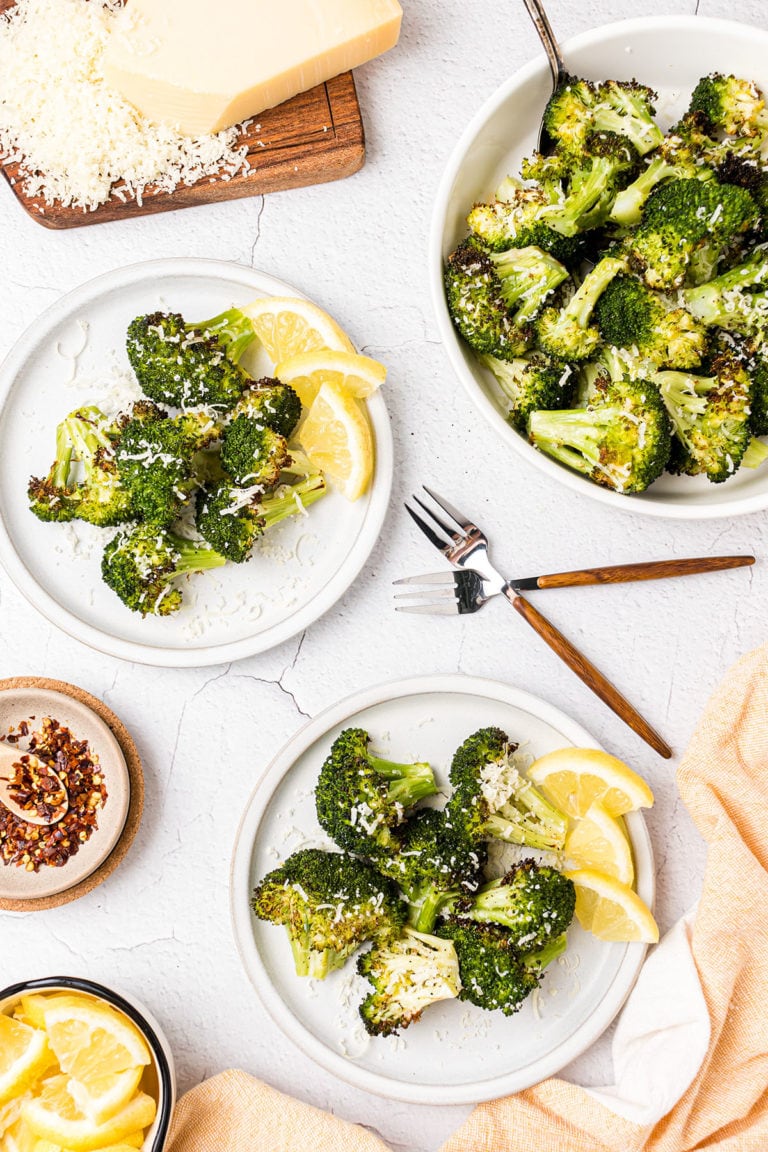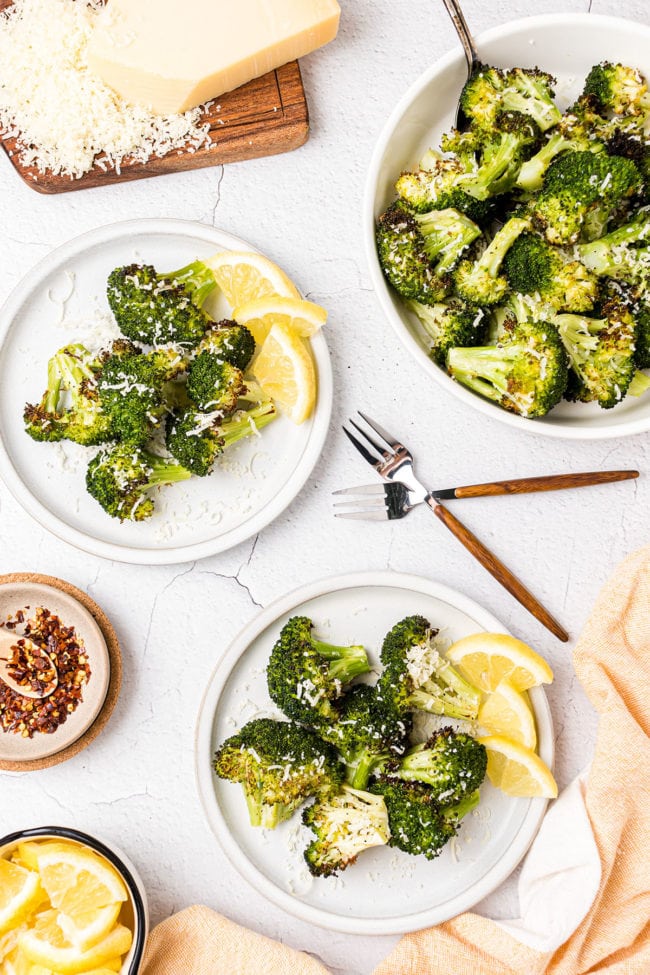 Recipe Notes And Tips
It's really important to make sure the broccoli is completely dry before you roast it. If it's wet, the oil and seasonings won't stick well.
When preparing florets to roast in the oven, it is best to cut the broccoli florets as close to the same size as possible so they cook evenly. 1 ½ to 2-inch floret top is ideal.
Smaller florets cook faster, so check them around 10 minutes to prevent burning. They can go from slightly crispy to burnt in no time.
Larger florets do take longer to roast, but they have more time to become tender inside and crispy on the outside.
Fully but lightly covering the broccoli florets in oil helps oven-roasted broccoli crisp up and avoid burning.
Older broccoli florets aren't as tightly compacted as fresh and can cook much faster than the stems. To avoid overly charred florets, swirl the stalk heads in a small bowl of oil before tossing and seasoning them together.
Using separate baking sheets is essential when making oven-roasted broccoli and roasted root vegetables. Broccoli cooks faster and becomes overcooked before roasted root veggies reach their desired crisp-tender texture.
Chef Tip:
You can roast and eat the stem of the broccoli head too. Simply peel the tough outer layer and then slice or chop the inner stem before putting it on the pan with the rest of the broccoli. It has a slightly different texture than the florets but is still nutritious and delicious when properly prepared.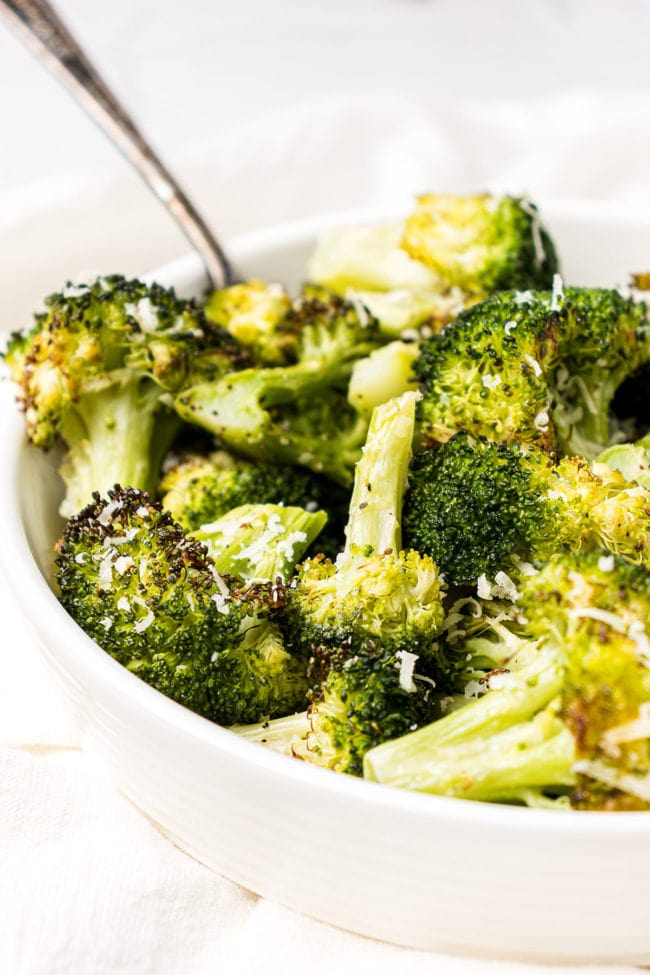 Recipe FAQs
Why is my oven-baked broccoli soggy?
Overcrowding the broccoli on the pan can lead to soggy broccoli because it traps moisture, preventing proper roasting and making the broccoli less crispy. It's important to give the broccoli some space on the pan to ensure it cooks evenly.
Can you use frozen broccoli for this recipe?
Fresh broccoli is recommended for the best results when you roast vegetables. You can use frozen broccoli if that's what you have on hand; just be sure to thaw, drain really well, and pat dry before roasting.
How do I make broccoli more kid-friendly?
Roasted broccoli is more likely to appeal to kids because of the caramelized sugars versus steamed or boiled broccoli. You can melt cheddar cheese over it after roasting or toss it with a bit of honey. The added sweetness or the familiar melty cheese flavor can make it more likable for young taste buds; they won't know what hit 'em!
Is it normal for the edges of roasted broccoli to become crispy?
Absolutely! It's a desired feature and perfectly normal for the edges of roasted broccoli to become crispy. It's also what sets oven-roasted veggies apart from other vegetable cooking methods and why many people love oven-roasted broccoli, for the contrast between the crisp edges and the tender interior.
How To Store Leftovers
Storage
Store any leftover parmesan roasted broccoli in an airtight container in the refrigerator to remain fresh for up to approximately 3 to 4 days.
Reheating
For optimal results, when reheating, place the broccoli in the oven at 375°F for around 5 minutes or until it regains its delightful crispiness.*
*Note: Reheating in the microwave is also an option, but it won't restore that satisfying crisp texture.
Facts About Broccoli
Broccoli boasts a relatively high protein content, constituting 29% of its weight, which sets it apart from many other vegetables.
Broccoli belongs to the cabbage family of vegetables.
Broccoli didn't gain widespread recognition in the United States until the 1920s.
A single cup of broccoli contains just 55 calories, making it a low-calorie option.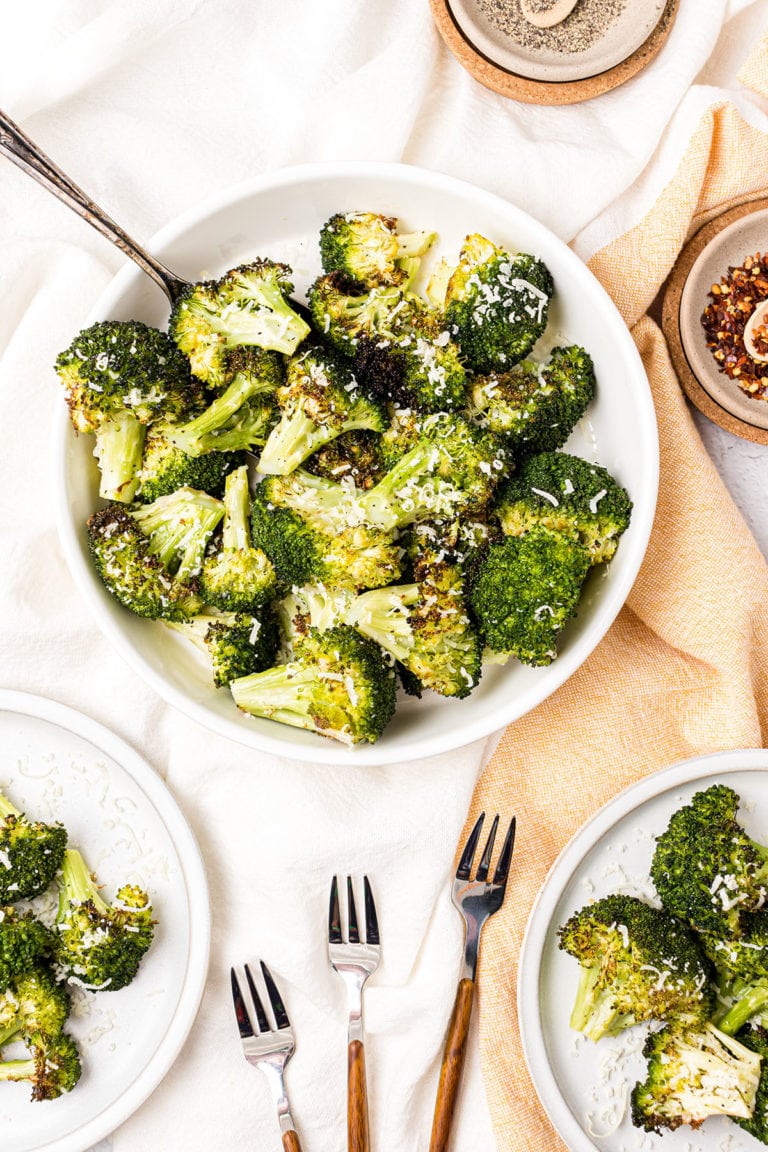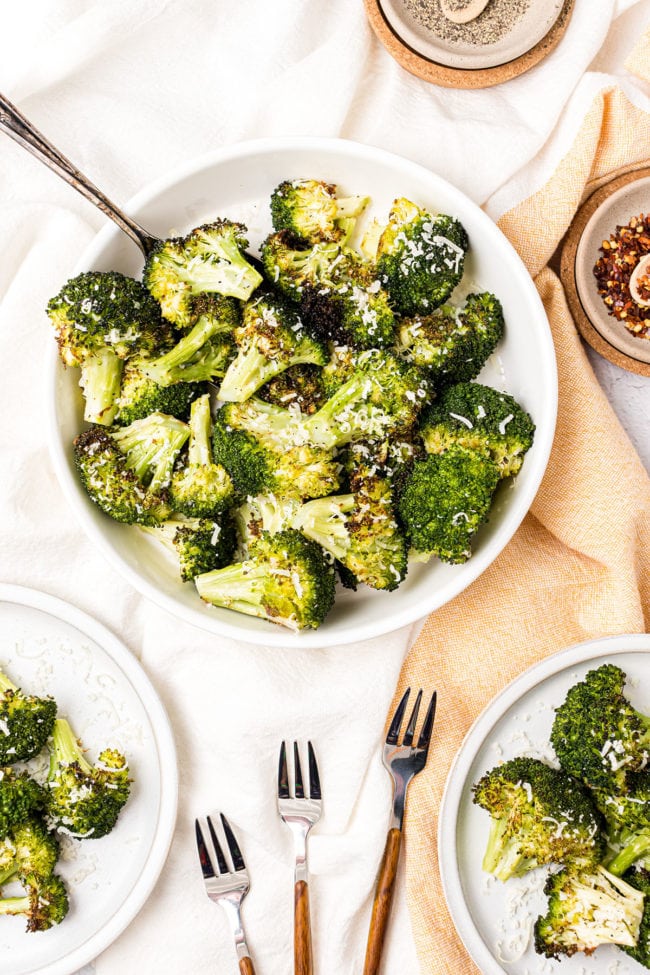 Parmesan Roasted Broccoli Variations
Top roasted broccoli with toasted almonds or pine nuts for added crunch.
Serve with a squeeze of fresh lemon juice.
I love to season roasted broccoli with Zesty Lemon Seasoning
If you like a little heat, add a pinch of crushed red pepper to the broccoli when roasting.
You can never go wrong with a drizzle of balsamic glaze just before serving.
Roast broccoli along with cauliflower florets.
Sprinkle with Ranch seasoning when tossing in oil.
If you'd like to add garlic, either toss with ½ teaspoon of garlic powder, a little garlic salt, or add thinly sliced garlic fresh garlic, (minced garlic will burn and should only be added to the last 5 minutes of roasting).
Serving Suggestions
Oven-roasted broccoli complements just about anything and is an uncomplicated side dish to include in your meal, especially when you're already baking another entree!
We love this easy side dish served alongside: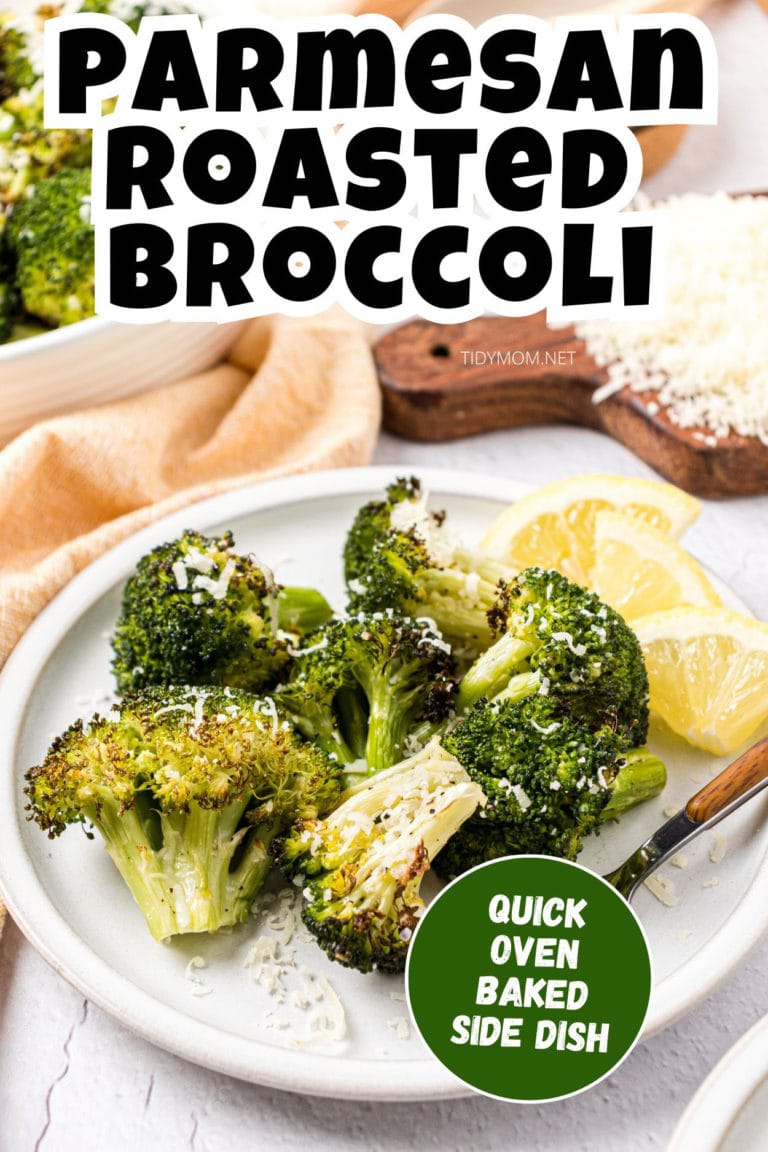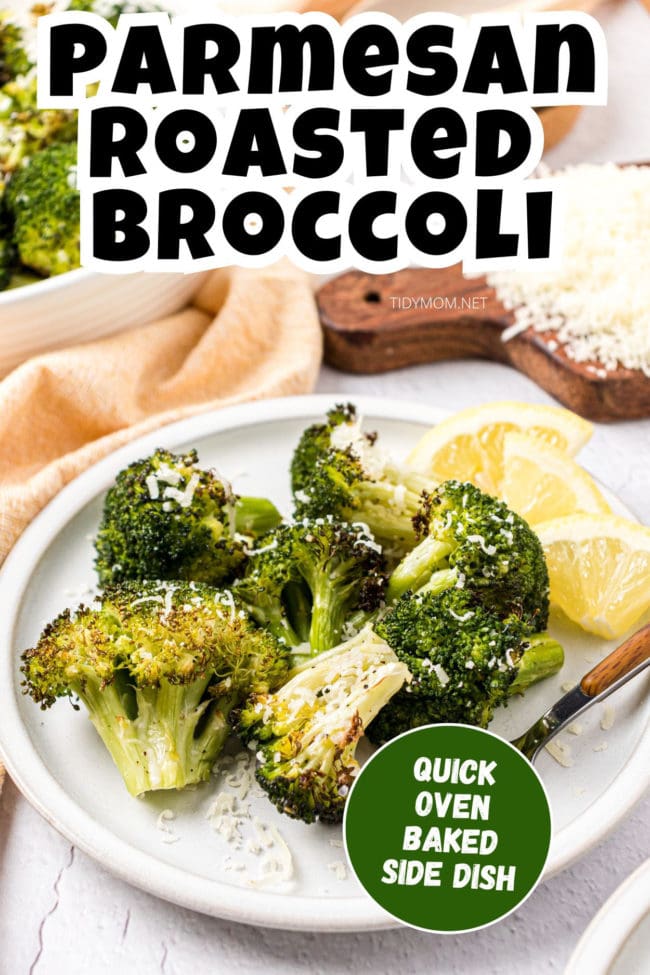 Like This Recipe?
I'd love to hear what you think! Leave a review below and let me know how you liked the recipe!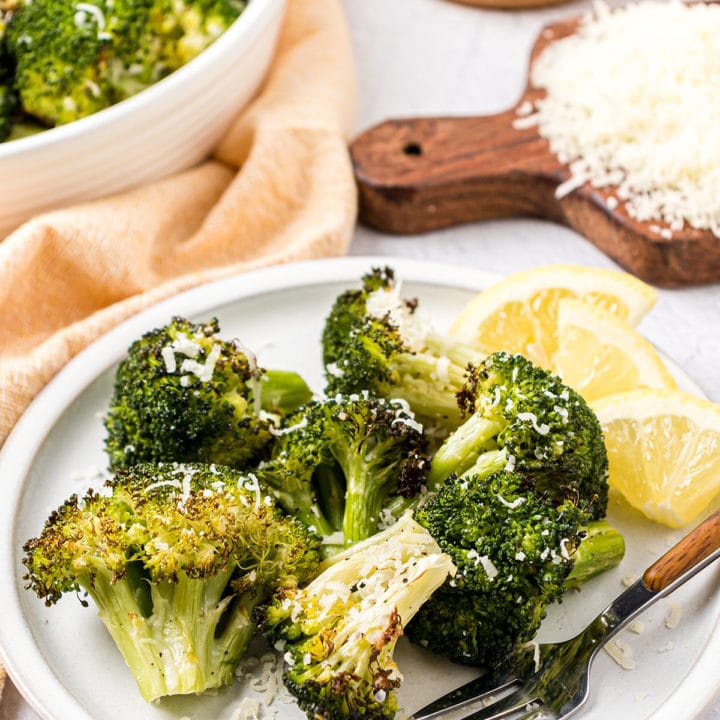 Oven Roasted Broccoli
Yield: 4 servings
Prep Time: 5 minutes
Cook Time: 20 minutes
Total Time: 25 minutes
Parmesan Oven-Baked Broccoli: Find the perfect recipe for crisp, flavorful, and easy-to-make roasted broccoli that pairs with just about everything. Effortless, and kid-approved!
Ingredients
1 pound fresh broccoli florets, washed and completely dried
2 tablespoons olive oil
1/2 teaspoon salt
1/4 teaspoon fresh ground pepper
¼ cup grated Parmesan cheese
Lemon Wedges (optional)
Instructions
Preheat the oven to 425° F. and line a baking sheet with parchment paper.
Place the broccoli on the prepared baking sheet, and toss with olive oil salt, and pepper until all of the florets are lightly coated.
Spread in an even layer on the sheet without overlapping so that the edges get crisp.
Roast on the middle rack for 15-25 minutes, or until the desired color is achieved, and remove from the oven.
Sprinkle with grated Parmesan cheese and additional salt & pepper to taste and toss to coat. Serve immediately with lemon wedges if desired and enjoy!
Notes
Be sure to cut the florets into uniform size for even cooking.
Smaller florets will take less time, so keep a close eye on them and start checking around 10 minutes. They can go from slightly crispy to burnt in no time.
Larger florets do take longer to roast, but they have more time to become tender on the inside and crispy on the outside. 1 ½ to 2 inches wide at the top is ideal.
Make sure the florets are well-coated with olive oil so they don't burn.
Don't overcrowd the pan. You could end up with mushy broccoli if they are too close together on the pan.
Nutrition Information:
Yield: 4
Serving Size: 1
Amount Per Serving:
Calories: 132
Total Fat: 9g
Saturated Fat: 2g
Trans Fat: 0g
Unsaturated Fat: 6g
Cholesterol: 5mg
Sodium: 424mg
Carbohydrates: 11g
Fiber: 4g
Sugar: 2g
Protein: 5g
Nutrition information is estimated based on the ingredients and cooking instructions as described in each recipe and is intended to be used for informational purposes only. Please note that nutrition details may vary based on methods of preparation, origin, and freshness of ingredients used and are just estimates. We encourage, especially if these numbers are important to you, to calculate these on your own for most accurate results.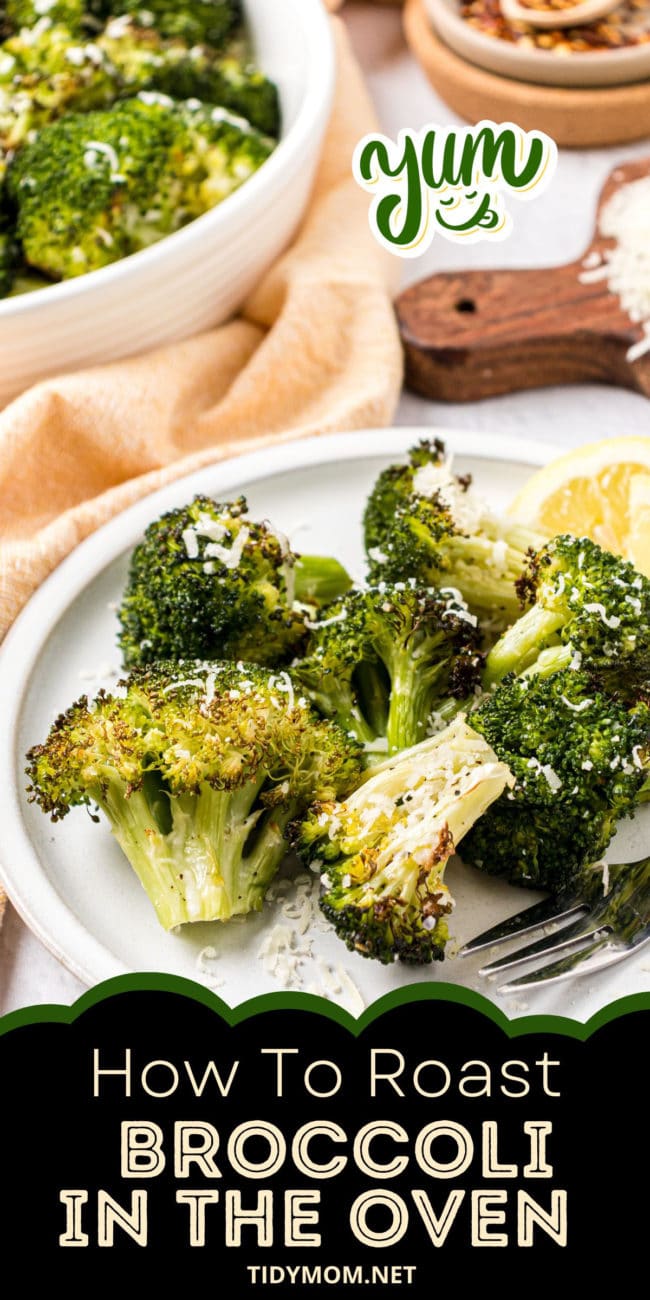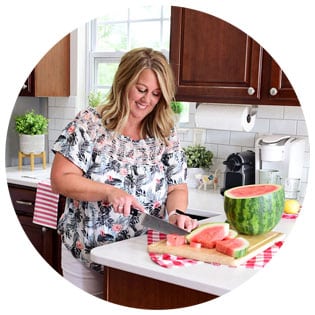 Hi there, I'm Cheryl!
As a wife, mom, and caffeine enthusiast, my journey has taken me from bustling mornings with my family to sharing delicious recipes, home care tips, and heartfelt decorating insights with wonderful readers like you. My love for baking, photography, and tidiness shines through every post I craft. Dive into my world and discover the art of homemaking, one tidy moment at a time. Read more...
Tidymom is a participant in the amazon services llc associates program, an affiliate advertising program designed to provide a means for sites to earn advertising fees by advertising and linking to Amazon.com.
Please respect my work, recipes and photographs. If you do use a recipe in your own writing, please give proper credit and link back to the original post.