Easy Carrot Souffle With Brown Sugar & Cinnamon
This Carrot Souffle recipe is the perfect way to enjoy a holiday side dish that eats like a delectable dessert! Loaded with sweet carrot goodness, fluffy custard-like texture, and cinnamon and brown sugar. Super easy to make, delicious served warm or cold, unique addition to any holiday menu!
Carrot souffle is an excellent Easter side dish; if you are looking for a few more holiday sides, check out: smoky Sauteed Green Beans With Bacon, savory Oven-Roasted Parmesan Asparagus, and easy Ambrosia Salad. Contemplating a main dish? I've got a fantastic and easy Apricot Glazed Ham Recipe. Don't forget a Raspberry Kir Royale or Lemon Meringue Martini for your brunch menu.
Be sure to sign up for my email… to get new recipes and ideas in your inbox!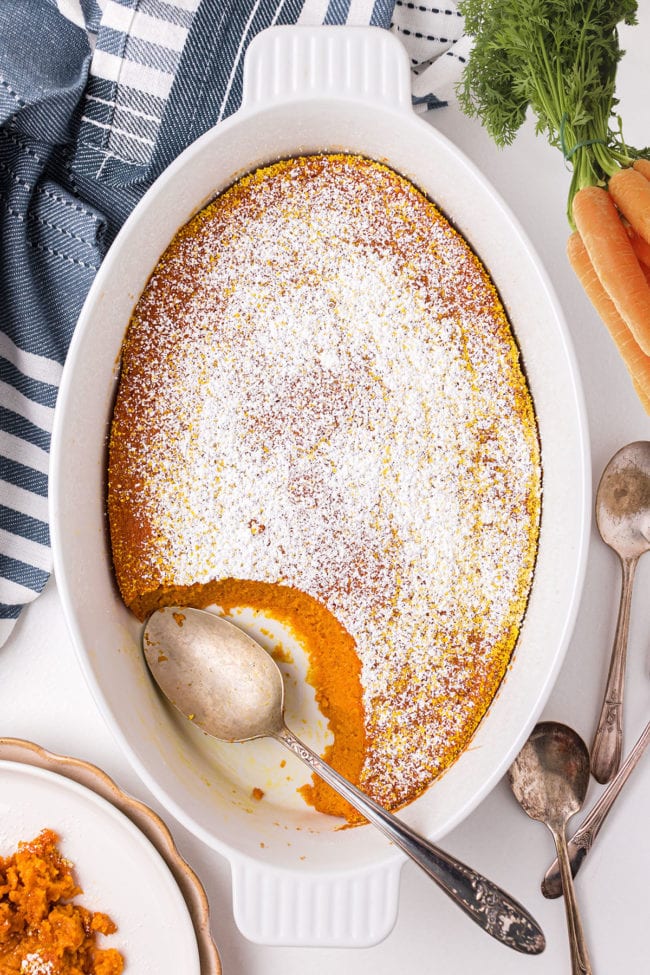 Why A Carrot Souffle Isn't Just A Holiday Side Dish
Every season, I pull out a traditional recipe and tell myself I've got to remember to make it throughout the year. It's like a good year's resolution, full of intent that slides right into forgotten! This vegetable souffle recipe is no exception; it elevates the humble carrot to the highest levels!
A carrot souffle recipe with brown sugar is delicious and super easy to whip up.
"Eye Love Carrots!" A Great source of vitamin A and fiber.
Fool-proof fluffy, custard-like texture with cinnamon caramel-toffee notes is superb.
A great way to win over finicky carrot eaters!
Serve as a hot vegetable side dish or a chilled dessert souffle.
Vegetable souffle recipes are versatile and can be switched up from sweet to savory carrot souffle.
Brown Sugar Cinnamon Carrot Souffle Ingredients
For those of us who've been around the block at least once, it's well-known the Picadilly Cafeteria skyrocketed the carrot souffle to stardom. Many a carrot convert owes their good eyesight to this versatile veggie souffle dish!
For specific amounts, please refer to the printable recipe card at the bottom of the post.
Carrots – use sliced, canned, and drained carrots for convenience. See the notes below if you'd like to use fresh carrots instead of canned ones.
Butter – melted. Avoid overheating butter and allow it to cool sufficiently, so it doesn't "cook" the eggs when mixing.
Granulated White Sugar
Packed Brown Sugar
Eggs – bring eggs to room temperature.
Vanilla Extract – add soft, warm notes to the souffle. Use real vanilla extract for the best flavor.
Flour – all-purpose flour is used for thickening and provides structure. Avoid "scooping" the flour for the correct amount.
Baking Powder – is used for additional leavening to create lift for the heavier carrot component.
Cinnamon – ground cinnamon has warm, woody, and slightly citrus notes that complement the vanilla while adding a little something extra to a carrot souffle.
Powdered Sugar – dusted for a sweet and pretty topping.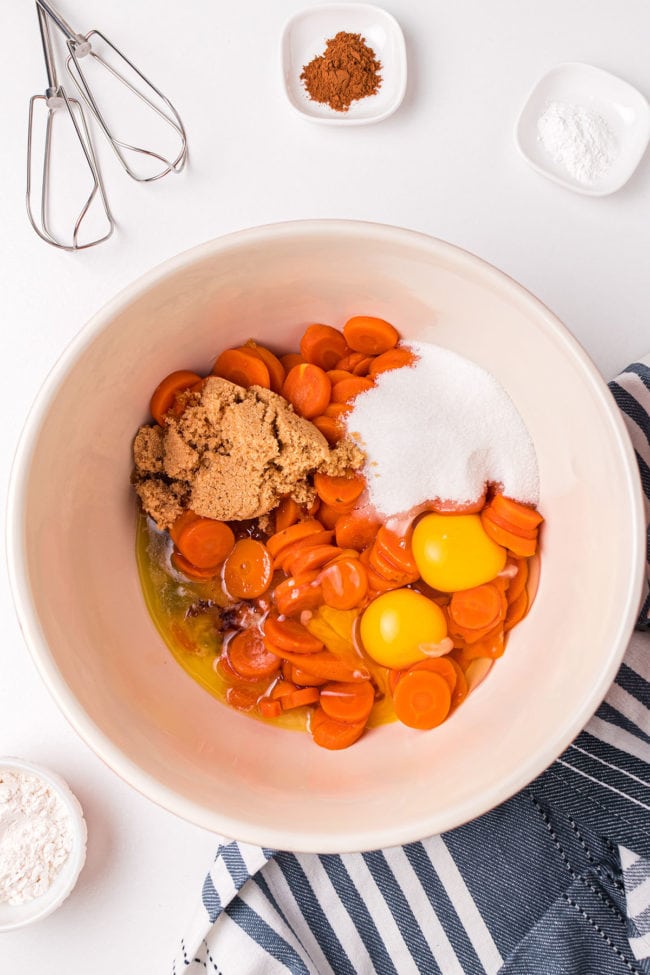 This post may contain affiliate links. Please read my disclosure policy here.
How To Make A Carrot Souffle
You don't have to worry about a veggie souffle "falling" like when making a chocolate souffle. This buttery sweet carrot version puffs up and will naturally settle as it cools with a wonderfully airy, "custardy" texture similar to a creamy pumpkin pie. A mixer, spatula, and greased 2-quart casserole dish are all you need to prepare a sweet carrot side dish.
When you are cooking, you'll want to use the full recipe at the bottom of the page.
Thoroughly blend* drained carrots, melted butter, sugars, eggs, and vanilla in a large mixing bowl until smooth and fluffy.
Add the remaining ingredients and beat until well combined.
Bake souffle in a prepared casserole dish in preheated oven until lightly golden brown.
A toothpick test will have a pudding consistency.
Sprinkle the top with powdered sugar and serve warm.
TIP:
*You can use an electric mixer, food processor, or blender to puree your carrot mixture. The food processor and blender will give you a creamier souffle batter.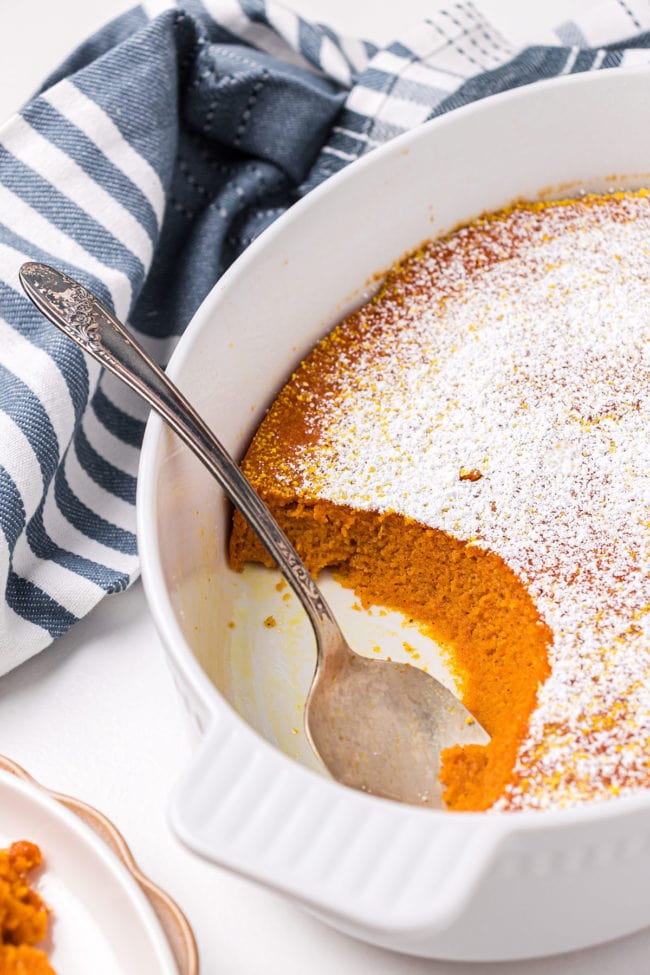 How To Use Fresh Carrots For Carrot Souffle
If you prefer not to use canned carrots, you can prepare fresh carrots for this souffle recipe instead!
Wash, peel, and coarsely chop 2 lbs of fresh carrots.
Boil carrots, 15-25 minutes, in a large pot of salted water until very tender.
Drain and cool softened carrots, then follow the recipe as directed.
As a hot vegetable or holiday side dish, this carrot souffle is best when served right from the oven, hot and puffy.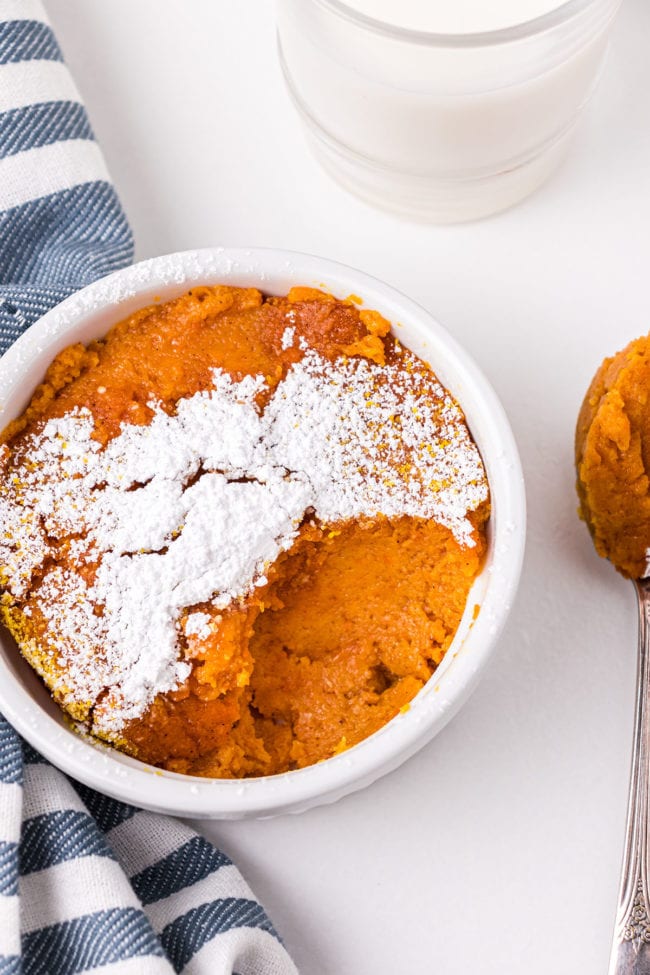 Carrot Souffle Recipe Notes/Tips
The sweetness level of a carrot souffle can be adjusted for taste and dietary preferences by adding or reducing the sugar content.
Feel free to zap the canned carrots in the micro for a few minutes if the canned carrots are too firm. An electric mixer needs to be able to easily beat the carrots into a puree.
Using a food processor or blender to puree the carrots breaks down the fibers and creams them more thoroughly. This creates a lighter, whipped consistency, and the souffle batter can puff up more readily.
Watch your veggie souffle carefully for browning towards the end. Check it with a toothpick inserted in the middle – you are looking for a pudding-like consistency on the toothpick.
A carrot souffle is a delicious make-ahead dessert souffle served cold. Keep in mind the structure naturally compresses as it cools but affects the flavor not one bit!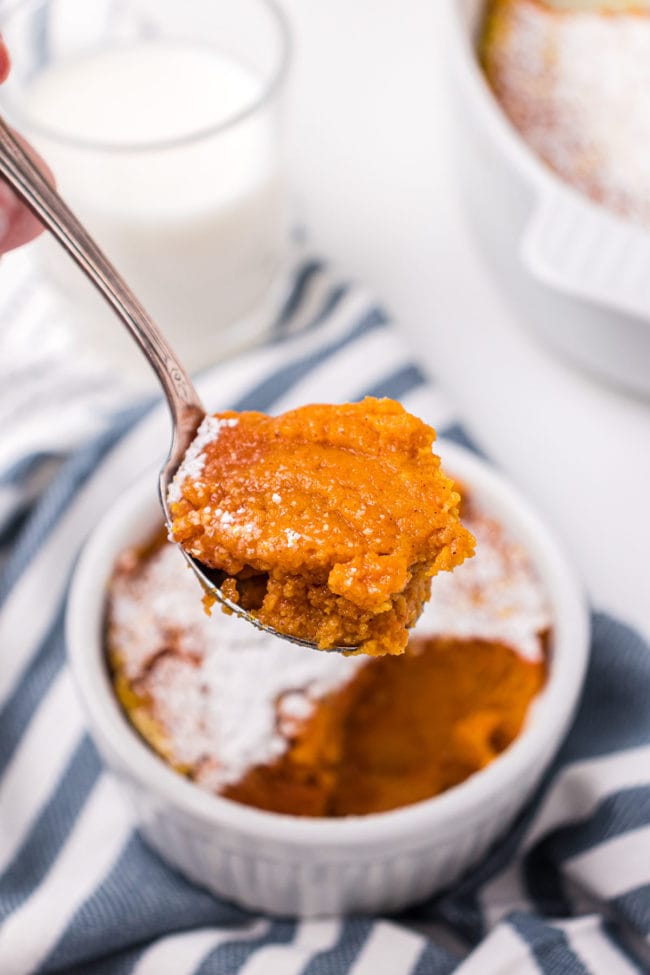 How To Store Carrot Souffle With Brown Sugar
Refrigerate/Leftovers
Cover the casserole dish tightly with plastic wrap, or gently lift cut souffle squares with a flat-edge spatula into an airtight storage dish. Carrot souffle should keep in the fridge for up to three days.
Freeze
Store carrot souffle in the freezer for up to two months in an airtight freezer-safe container. Thaw overnight in the refrigerator before serving.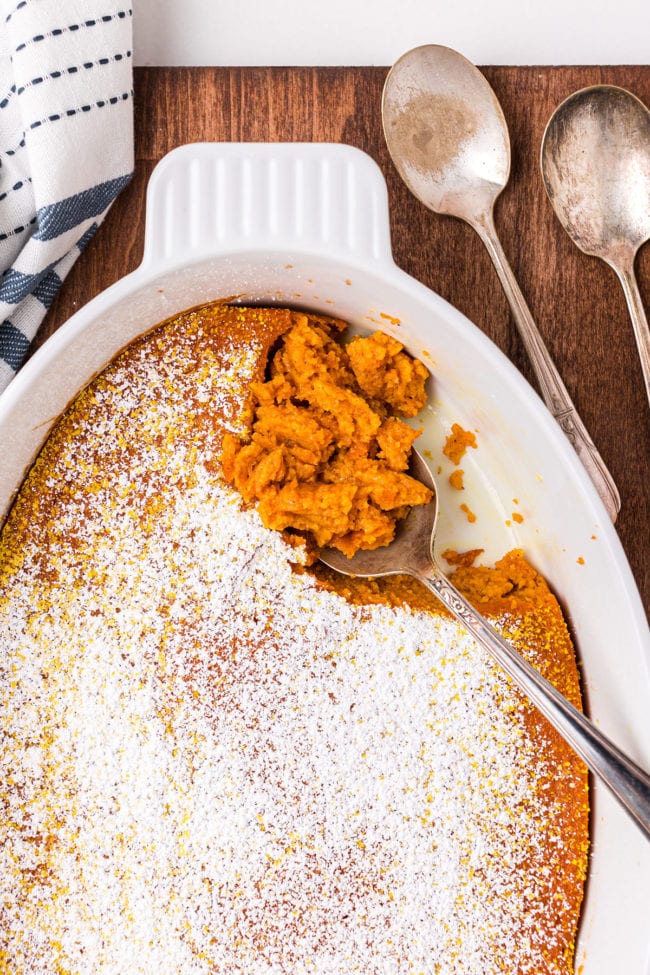 Carrot Souffle Recipe FAQs
What is the difference between a souffle and a casserole?
A fluffy homogeneous texture of a souffle is one of the main differences from a casserole's chunkier, distinct ingredients. Also, a traditional souffle's lighter texture is from leavened egg whites, which causes a batter to puff as it bakes and provides an airy structure.
Can you use fresh carrots instead of canned carrots in a carrot souffle?
Yes, you can use fresh carrots instead of canned carrots in this dessert souffle recipe. You will need to take the extra step of cooking fresh carrots to soften them. Drain carrots well and allow them to cool so the heat doesn't thicken the egg before baking.
How do I know when my carrot souffle is done?
When the carrot souffle is set, and there's no jiggle, it's ready. If the souffle batter appears liquidy and jiggles in the center, it needs more time. You can also check with a toothpick inserted in the center – you are looking for pudding-like consistency on the toothpick. Just note this will slightly deflate the souffle.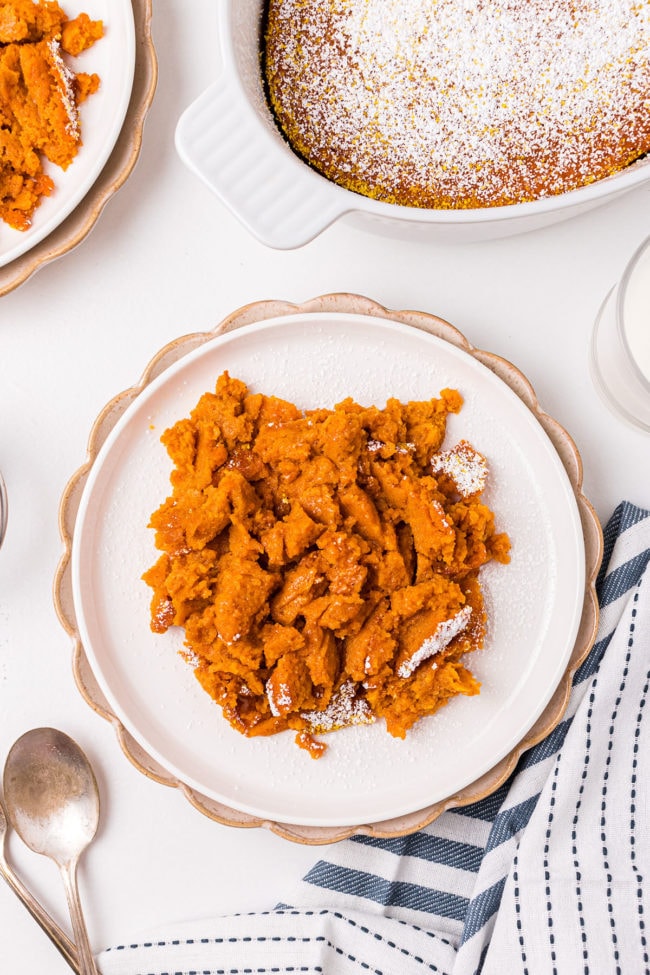 Carrot Souffle With Brown Sugar and Cinnamon Serving Suggestions
As a hot side dish or warm dessert, carrot souffle is nice, fluffy, and at its optimum height from the oven. If serving your souffle cold, cool completely and refrigerate until it's time to dig in!
Like This Recipe? Pin It!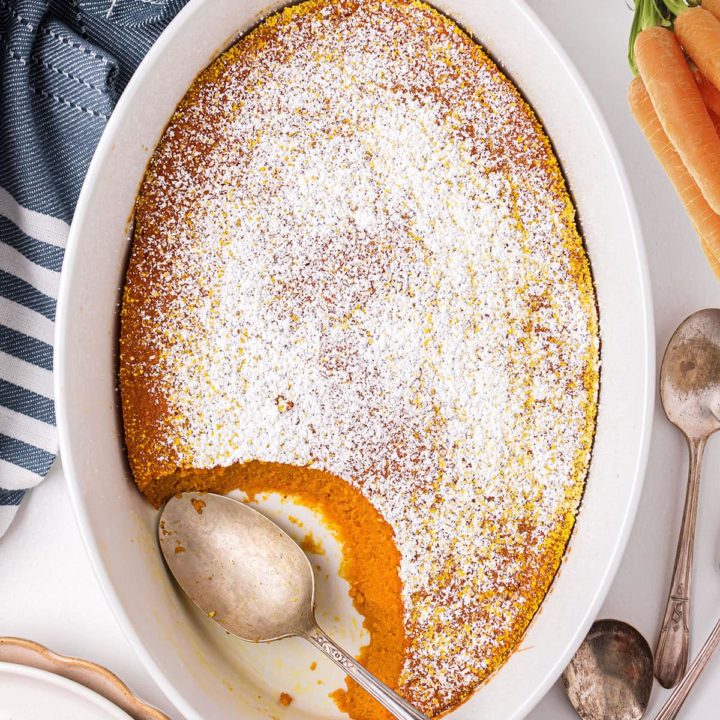 Carrot Souffle
Yield: 8 servings
Prep Time: 10 minutes
Cook Time: 45 minutes
Total Time: 55 minutes
This Carrot Souffle is an ideal holiday side dish that can be enjoyed like a scrumptious dessert! It is incredibly simple to make and can be served either warm or cold, making it a great addition to any festive menu.
Ingredients
2 (15 ounce) cans sliced carrots, drained (see notes for using fresh carrots)
½ cup butter, melted
½ cup granulated white sugar
¼ cup packed brown sugar
3 eggs
1 teaspoon vanilla extract
3 tablespoons flour
1 teaspoon baking powder
½ teaspoon cinnamon
2-3 tablespoons powdered sugar for topping
Instructions
Preheat oven to 350° F. Lightly greatest a 2-quart casserole dish.
Place the drained carrots, melted butter, sugars, eggs, and vanilla in a large mixing bowl. Using an electric mixer, food processor or blender* (see notes), blend until smooth and fluffy.
Add the flour, baking powder, and cinnamon and beat until well combined.
Transfer to the prepared baking dish and bake for 45-50 minutes just until lightly golden brown.
After removing from the oven, sprinkle the top with powdered sugar and serve immediately.
Notes
Storage: Will keep in the fridge in an airtight container for 3 days or freezer for 2 months.
Serve hot as a side dish or cold as a dessert with ice cream or whipped cream. If serving cold, cool completely, then refrigerate.
Use fresh carrots: coarsely chop 2 pounds of peeled carrots. Boil in large pot with salted water until very tender (about 15-25 minutes) Drain and follow recipe as directed.
Use a food processor or blender instead of an electric mixer, to get a really smooth consistency.
Add more or less sugar based on your preference.
You can easily halve this recipe, just bake in a 1.5 qt or 8x8 dish.
Nutrition Information:
Yield: 8
Serving Size: 1
Amount Per Serving:
Calories: 224
Total Fat: 13g
Saturated Fat: 8g
Trans Fat: 0g
Unsaturated Fat: 4g
Cholesterol: 100mg
Sodium: 184mg
Carbohydrates: 24g
Fiber: 0g
Sugar: 21g
Protein: 3g
Nutrition information is estimated based on the ingredients and cooking instructions as described in each recipe and is intended to be used for informational purposes only. Please note that nutrition details may vary based on methods of preparation, origin, and freshness of ingredients used and are just estimates. We encourage, especially if these numbers are important to you, to calculate these on your own for most accurate results.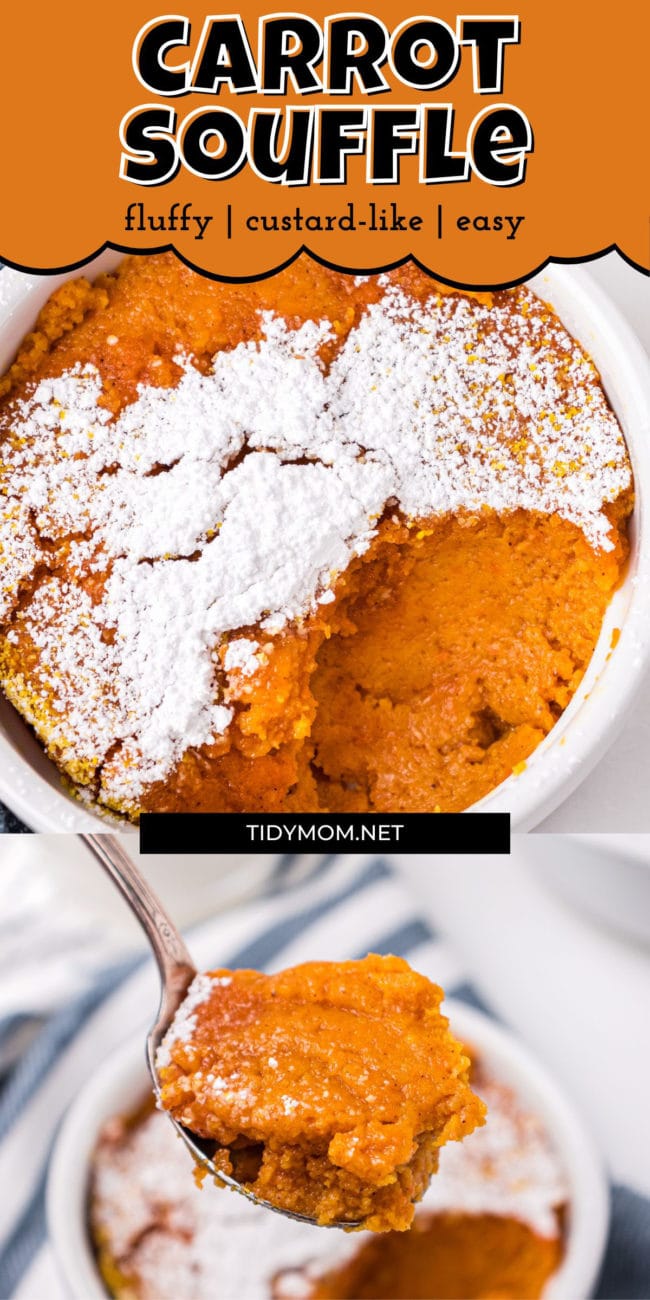 Tidymom is a participant in the amazon services llc associates program, an affiliate advertising program designed to provide a means for sites to earn advertising fees by advertising and linking to Amazon.com.
Please respect my work, recipes and photographs. If you do use a recipe in your own writing, please give proper credit and link back to the original post.