Dole Salad Summit – Broccoli Slaw and Garlic Quiche Recipe
Blogging can have some really amazing perks!  I'm astonished at some of the opportunities that have come knocking on my door.  Who would have ever thought that blogging could become the best job I've ever had!
Recently I was  fortunate enough to be the guest of Dole for their first-ever Salad Summit in Monterey, California.  I was treated to three days of bliss at the InterContinental the Clement Monterey with 10 other incredible bloggers.   We received an inside look at Dole, by visiting the Dole fields, meeting farmers, workers in the fields, employees and touring their impressive processing plant.
Incredibly I have so much to share with you, I hope you don't mind if I just break it down in to a few posts over the course of the next few weeks.
Much of our 36 hours was focused on food, but the better part of day 2 was spent at an actual Dole farm and processing plant.
We were asked  to 'gear up' in hair nets and thick rubber gloves- as we headed into the fields where iceberg lettuce was being harvested.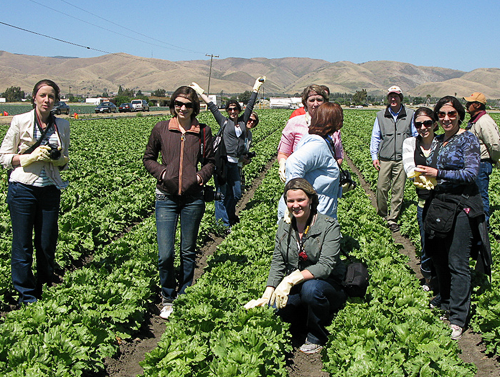 I was amazed to learn that iceberg lettuce is harvested by hand and even bagged right in the field.
It was almost surreal seeing how the head of lettuce that I throw in my cart every week with out a second thought, was handled with so much pride, attention and hard work.  They work together as a team, and were excited to see us out there, they were more than happy to let us get in their way and snap photos while they worked!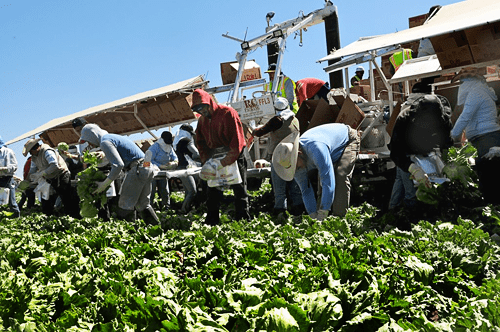 image by Kristen Doyle
Many of these workers have worked with Dole for many many years, and have moved up from a base employee, to a team manager, to a higher manager and beyond.
The plastic wrapped heads are packed in a box right in the field, where it is then sent to a chilled area – to be immediately shipped to the customers.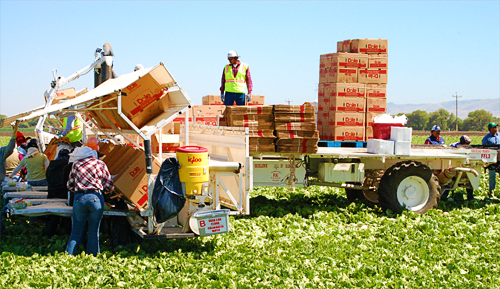 We learned that Dole uses smaller family owned farms to carry out the field-to-harvest process.  We spoke with one of the farmers who told us he loves living on the farm, "if there is a water leak at 2am, I'm right there to take care of it".  It was heartwarming to know that the food I put on my family's table is watched over by passionate produce farmers all over the country.
Back at the plant we took a tour to see how the produced is processed for packaging.  Packaged lettuce actually go through a triple washing cycle in a highly sanitized production plant. The water that is used for all of this washing, is actually recycled and used for cattle field irrigation.
Dole bags up a lot of salad!  We had a pop quiz on "Salad 101".  Out of all 11 bloggers, I don't think any one identified all Twenty-five different lettuces and veggies correctly! haha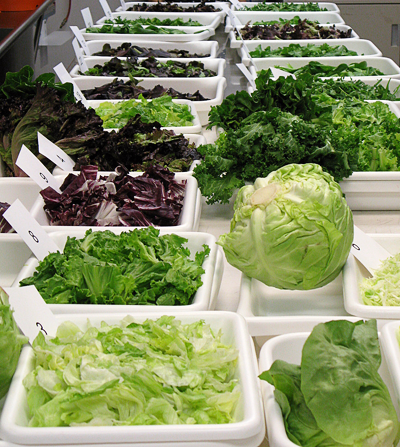 This emphasized the importance of Dole's new packaging with taste, texture and suggested pairings right on the bag. This new packaging hopes to help many venture out and try something other than the standard iceberg or romaine they grew up eating.  Be sure to stop and READ the LABELS! I think  you will be pleasantly surprised at all the information your can find on a bag of Dole salad!
Most of the recipes we ate during our trip were Dole inspired, and I can't wait to share many of them with you!
Our first morning we were served a  beautiful breakfast;  a green smoothie, berry-stuffed French toast, Frittata and quiche which had be specially prepared by the hotel restaurant using Dole berries, salads and vegetables.
Dole was kind enough to share many of the recipes we enjoyed during the trip, so I thought I would start off by sharing one of my favorites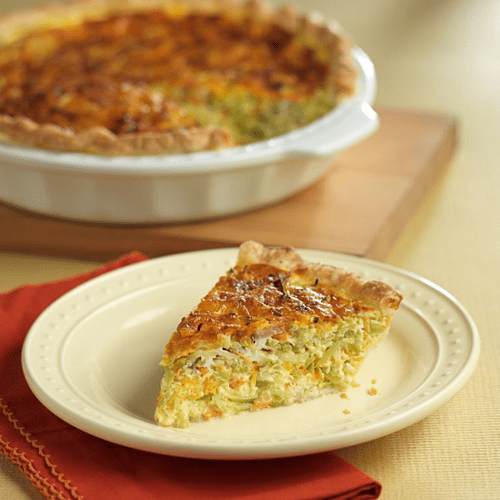 Broccoli Slaw and Garlic Quiche Recipe
Ingredients
4 large eggs
1 cup half and half
2 large garlic cloves, finely chopped
1/4 teaspoon ground nutmeg
5 drops hot pepper sauce
1 (9-inch) unbaked pie crust
1-1/2 cups DOLE® Broccoli Slaw
1-1/2 cups extra-sharp Cheddar cheese, coarsely grated
1/4 cup grated Parmigiano-Reggiano
Instructions
Preheat oven to 375°F., with rack in middle.
Heat a jelly roll pan at same time.
Whisk together, eggs, half and half, garlic, nutmeg, and hot sauce in a large bowl until smooth.
Pour filling into 9-inch pie crust. Distribute broccoli slaw evenly over egg mixture.
Sprinkle with cheeses and place on heated pan.
Bake 30 to 35 minutes or until custard is just set.
Cool at least 20 minutes.
Notes
Serve quiche warm or at room temperature.
https://tidymom.net/dole-salad-broccoli-quiche/
Copyright© 2009-2013 TidyMom.Net
So here's the story………..Dole is trying to increase our nutritional health and get more Americans to EAT MORE SALAD! and this new campaign is trying to get us to try new salads and understand how to use them. I'd like to thank Dole for taking such pride in producing fresh fruits and vegetables for me to put on my families plates and in their bellies!
Stay tuned for part two! I will share the sights on Monterey area, including Pebble Beach and the 17-Mile Drive, as well as, some of the restaurants we visited.
Meet the other Bloggers at the Dole Salad Summit!…..
Cheeky Kitchen
Dine and Dish
Fit Celeb
Food for My Family
Lunchbox Bunch
My Fave Everything
Romy Raves
Smith Bites
Steamy Kitchen
Three Many Cooks
More from Dole Salad Guide
twitter: @DoleSaladGuide
Facebook: Dole Salad Guide
Also follow @DoleNutrition

Disclaimer: Dole paid for all expenses of this trip. However, no expectations were made for my review. All opinions and love of Dole Salad are my own .