Cucumber Tomato Feta & Olive Salad #SaladSocial Linky Party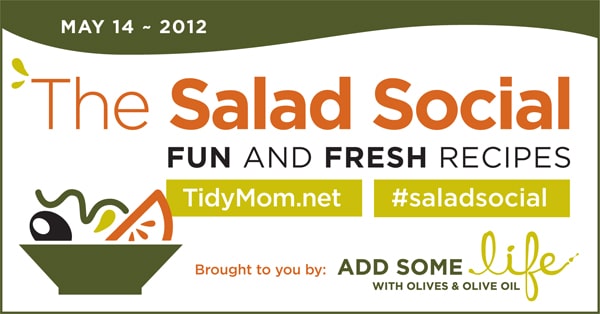 Are you ready?!!!!!!!!
Today is the day I've been telling you about for two weeks.  The day we celebrate SALAD! It's time to grab those tongs and toss up your best salad recipe.
Why are we celebrating salad?  Because the International Olive Council's Add Some Life campaign would like to remind us that healthy eating does not need to be boring, bland and unsatisfying. 
By adding color with fruits, vegetables and heart-healthy olive oils, it's easy to achieve a satisfying, nutrient-rich diet that's as appealing to the eye as it is to the palate. Bright red tomatoes. Ripe olives of deep ebony. Vivid red and green peppers. An array of bold cheese varieties and crusty breads. Intensely green olives. The warm, golden hue of olive oil. Aesthetically — and nutritionally — healthy eating is a thing of beauty.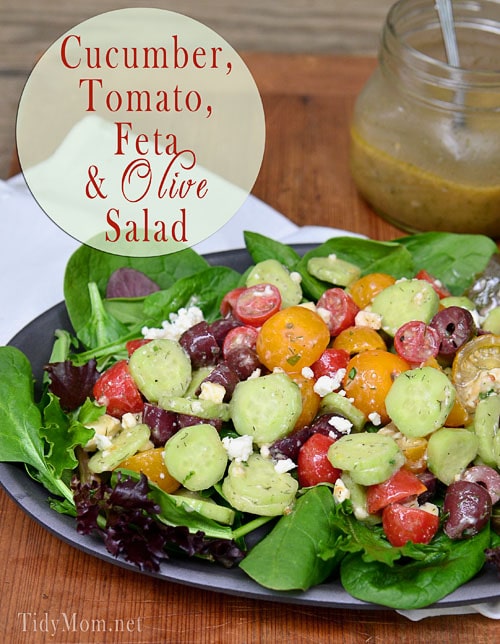 My salad is bright and bursting with flavor from cucumbers, Garlic Basil Cherry tomatoes, feta cheese and my favorite, kalamata olives, marinated in a Homemade Honey Dill Vinaigrette.  It's one of those salads you crave as the weather starts to warm up, especially if  you're tired of leafy salads that just don't seem to fill you up.  It makes for a beautiful and tasty lunch, but it also makes a great dinner when topped with a piece of grilled chicken .
Leftovers, if you have any, will stay good in the fridge for several days.  I'm planning to make a big batch to keep in the fridge to eat on all week. 
oh, and this would make a GREAT dish to take to a summer BBQ or picnic! Much more fun and flavorful than potato salad or coleslaw.  This Cucumber, Tomato, Feta & Olive salad would surely steal the show!
Cucumber, Tomato, Feta & Olive Salad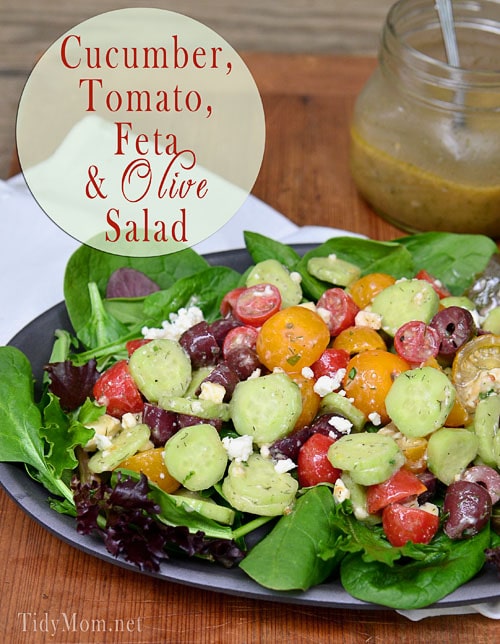 Ingredients
2 cups cherry tomatoes, cut in half ( I used Garlic Basil Cherry Tomatoes)
1 cucumber sliced, peeled or unpeeled
1/2 cup kalamata olives, pitted and sliced in half
salt & pepper to taste
3/4 cup feta cheese, crumbled
Salad Greens
Instructions
In a large bowl, combine the tomatoes, olives and cucumber. Salt and pepper to taste. Drizzle Honey Dill Vinaigrette on top. (Best if you let sit at least an hour in refrigerator before serving.)
Add feta cheese and serve over a bed of greens.
Enjoy!
Notes
should keep for several days in the refrigerator with out the salad greens. Eat plain, or over salad greens
https://tidymom.net/2012/cucumber-tomato-feta-olive-salad-social/
Copyright© 2009-2013 TidyMom.Net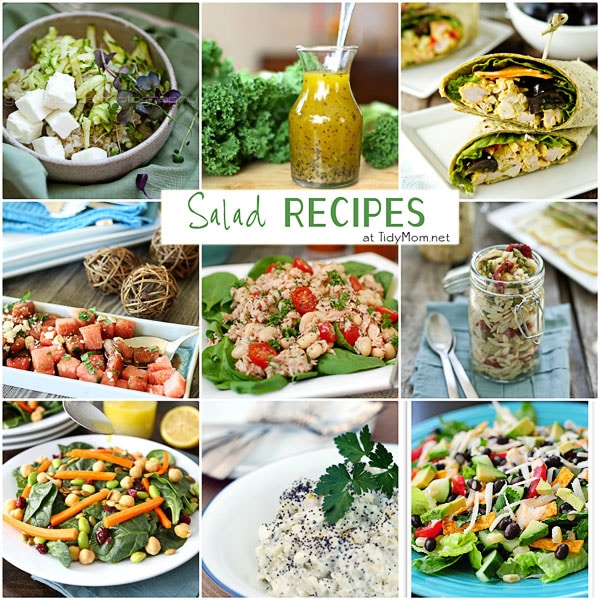 So let's get this party started!
 2 TidyMom readers will have the chance to win a fabulous prize pack worth $150!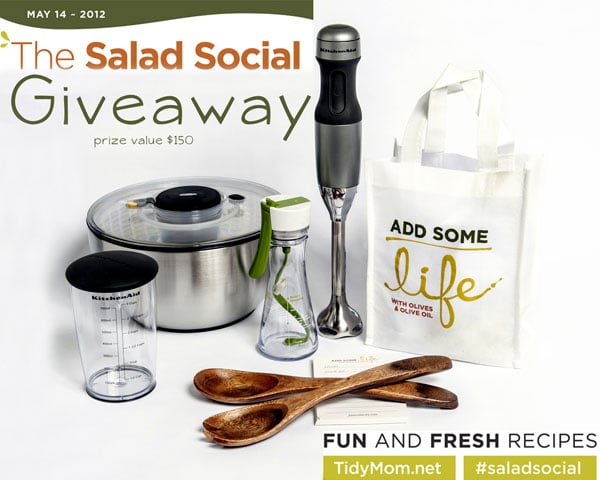 each prize pack contains: 1 William Sonoma Salad Spinner | 1 William Sonoma Salad Dressing Emulsifer | 1 Crate&Barrel Wood Tongs | 1 Add Some Life reusable tote bag | 1 Add Some Life grocery list notepad | 1 Kitchen Aid Hand Blender and Measuring Cup
* GIVEAWAY HAS ENDED *
Congrats to the winners:  Comment #26 Pam  and #92 Rachel
Required:
 1. Write and post a recipe on your blog featuring a salad recipe. It can be any kind of salad. (you can link an old post…just PLEASE be sure to link back AND follow #2 below)
2. Include "Come join The Salad Social at TidyMom sponsored by The International Olive Council's Add Some Life" in your blog post. (you MUST include this to be eligible for prizes)

3. Starting today, May 14th thru May 21st add your link to your salad post to the widget in this post.(below) and LEAVE A COMMENT on this POST letting me know you linked up. (you can add up to 2 recipes)
4. Don't have a blog? no problem…..leave your recipe in the comments on this post during The Salad Social party (May 14 – May 21, 2012) **recipes sent via email will not count as an entry
Extra Entries:
5. We'd love your help spreading the word about The Salad Social through social media outlets such as Facebook, Twitter , Pinterest and Instagram using the hashtag #SaladSocial (leave a comment letting me know for each way you share)
Sample Tweet: Eating healthy is a thing of beauty Join @TidyMom & @AddSomeLife for the #SaladSocial Share your recipes and #WIN at ow.ly/aSN9d
Instagram photos of your salad using the hashtag #saladsocial
Follow

TidyMom on Pinterest

and Pin this post using the hashtag #saladsocial in the description (you can pin my salad or the salad social banner)
Button for your sidebar or post – if you would like a button for your sidebar or post, use the one below
click here to get the code to copy for button
Ok, ready to link up?  We will keep the linky open through Monday May 21, 2012. Winners will be announced the following week .  All winners with a valid entry will be selected at random using random.org. Winners will be emailed and they will have 48 hours to claim their prize.   Giveaways  available to U.S. residents only. Thanks for participating!  
Hundreds of recipes linked up to Past Parties
Eating salad almost every day may be one of the most healthy eating habits you can adopt!  Let's see what you've got!


Disclaimer: Thank you to The Olive Council's Add Some Life for providing compensation and prizes for The Salad Social. The views and opinions expressed on TidyMom are purely my own.