Recipes
Black Bean & Cheese Quesadillas
For a quick and hearty lunch or game day appetizer, these black bean and cheese quesadillas with salsa and cumin are perfect.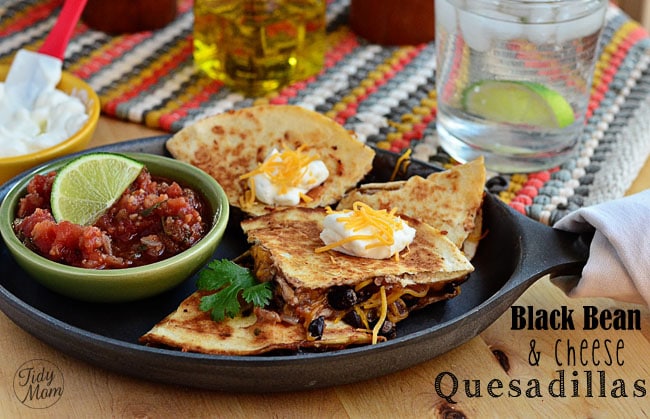 Will you be watching Super Bowl XLVII this Sunday?  or do you just watch for the commercials and food like I do? HAHA
Regardless if you are cheering on the 49ers or the Ravens,  you might be scrambling for some Super Bowl Party Food ideas. ~shhhh, but I had to look up who was playing so I could put that in my post 😉
The unofficial American holiday requires not only watching the game on television, but also eating hefty snacks.  Such an event calls for manly cuisine……dishes designed to be eaten by hand and that will stick to the ribs. 
Black Bean and Cheese Quesadillas fit that bill rather nicely!  I use the recipe from Bush's Beans and it's a dish that gets everyone in my house hustling to the kitchen fast!
These quesadillas are packed with protein and couldn't be easier to make. They take only minutes to 
prepare and another few minutes to cook – gotta love that! You can use any type of tortilla, we just usually have flour tortillas on hand.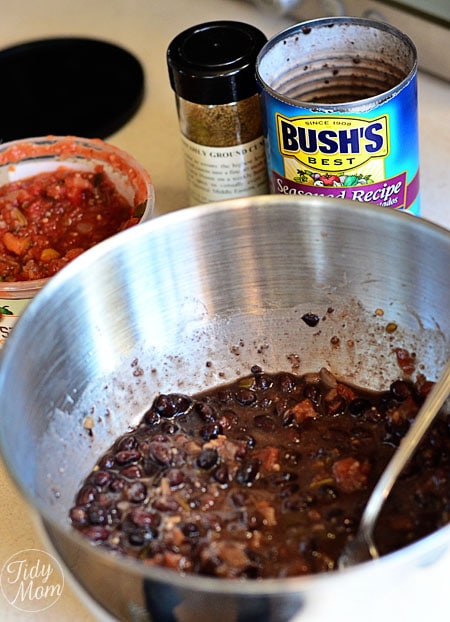 Simply drain your black beans, I like BUSH'S® Black Beans Seasoned Recipe (I should have drained mine a little better) and add your favorite salsa and a little cumin.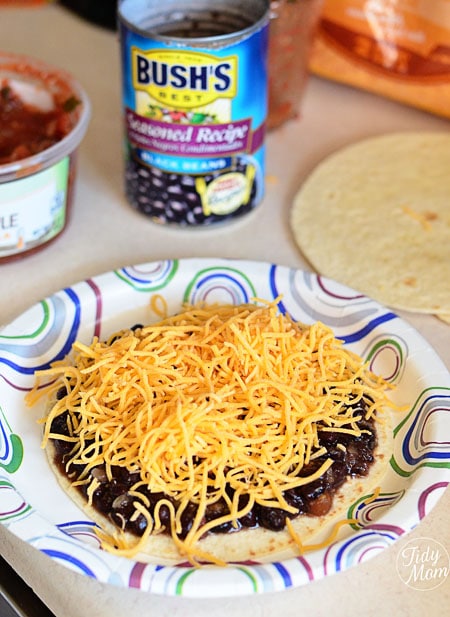 Using your fanciest paper plates (or a pan), spread the bean mixture on a tortilla and sprinkle with your favorite cheese (someone ate all of our Colby-Monterey Jack, so I used cheddar)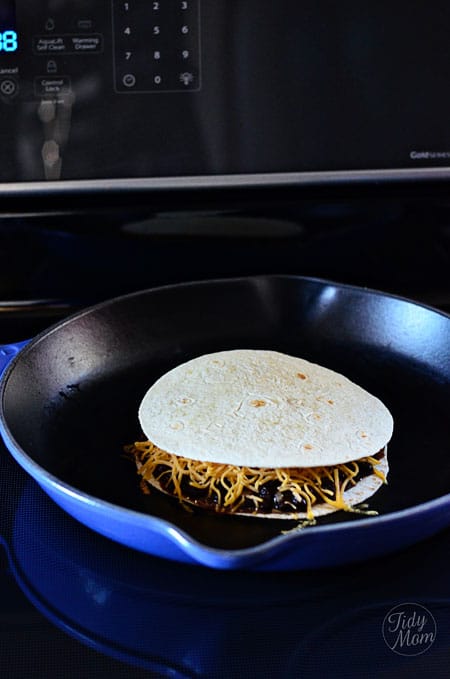 Heat a 10-inch skillet over medium heat. Cook quesadillas about 2 minutes (until the bottom is toasted brown)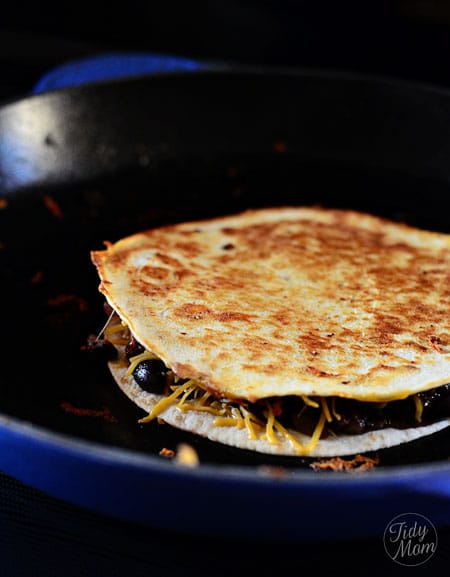 Using a large spatula and your hand, carefully flip quesadilla over and cook other side 2-3 mins until brown and cheese is melted.
Remove from skillet and cut with a pizza cutter. 
Serve with more salsa or sour cream.
That's it!!  Enjoy!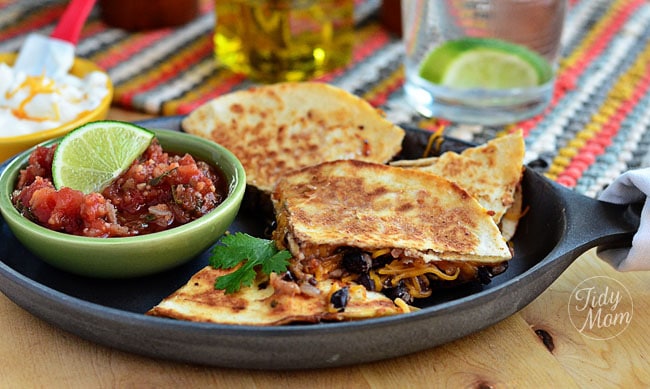 More Super Bowl Recipes you might enjoy
Bean and Avocado Salsa Tortilla Cups
Mini Ham and Swiss Party Rolls
Amazing Pulled Pork Sandwiches
**Please join us on Feb 4th for the Bush's Winter Comfort Foods Virtual Link-Up party hosted by Aggie's Kitchen and Real Mom Kitchen for recipes, a giveaway and lots of fun!
So how about you?  Do you watch the game?  What are some of your favorite game day recipes to serve and enjoy?  Feel free to share in the comments or on the TidyMom Facebook page!
Black Bean & Cheese Quesadillas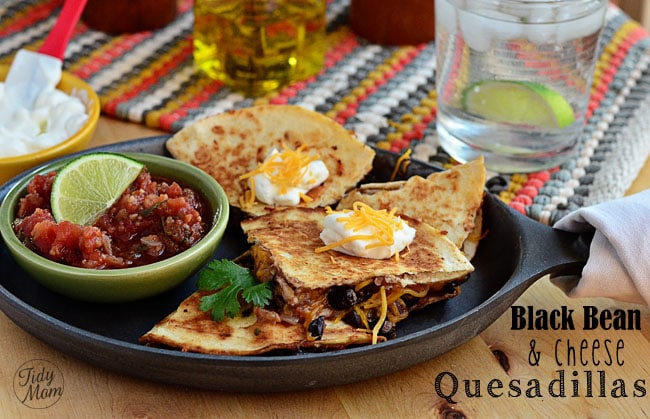 For a quick and hearty lunch or appetizer, these black bean and cheese quesadillas with salsa and cumin are perfect.
Ingredients
2 (15 ounce) cans BUSH'S® Black Beans, drained
1 1/2 cups salsa, mild or spicy
1 teaspoon ground cumin
2 cups shredded Colby-Monterey Jack or Cheddar cheese mix
8 (8-inch) flour tortillas
1/3 cup sour cream (optional)
Instructions
Empty one can of beans into a bowl and mash gently with a potato masher or the back of a fork. Mix in remaining can of whole beans, 1 cup of salsa and cumin. Spread mixture evenly on 4 tortillas; top each with cheese. Cover with remaining tortillas.
Heat a 10-inch skillet over medium heat. Cook quesadillas 2-3 minutes per side.
Cut into wedges and serve with remaining salsa and sour cream on the side for dipping.
Notes
http://tidymom.net/2013/black-bean-cheese-quesadillas/
Copyright© 2009-2013 TidyMom.Net
NEW FEATURE: Save recipes to your personal recipe box with the

Once you have your favorite recipes in your Recipe Box create a Meal Plan with them and the ingredients will automatically be added to a Grocery List!

Disclaimer:  I grew up in a house who used Bush's Beans, I am now proud to be a brand ambassador for them. All opinions and views are my own.
You May Also Like...