Homemade Pizza Rolls
A family favorite! Homemade pizza rolls put a new spin on pizza night! Stuffed with cheese and pepperoni what's not to love about a pizza pinwheel?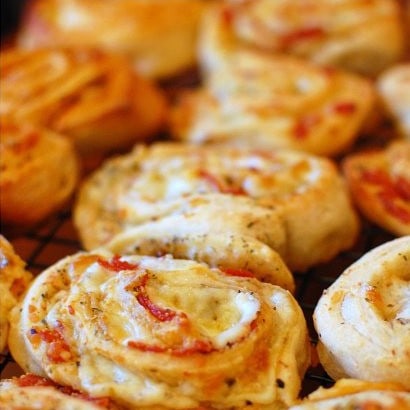 We love pizza at our house. Sure sometimes it's just easier to order pizza in.  We only have one place that will deliver to our house, a little pizza joint you may have heard of….. it rhymes with Prominose.  It's the only food we can get delivered, so we've grown very tired of their pizza and it get's expensive.
As much as I love to bake, I don't always enjoy cooking.…..yet my family continues to ask "What's for dinner" EVERY. SINGLE. NIGHT! geeze…..didn't I just feed them LAST night?!
So I have come up with something they will like/eat and something I don't mind making. Homemade pizza is usually a hit with everyone!!  We've grilled pizza made garlic chicken pizza, even made these calzones with pizza sauce and toppings.
I'm  always looking for ways to change it up so it doesn't always feel like "pizza again". I haven't experimented with making our own pizza crust yet……..that's next on my list.
These homemade pizza rolls have now become one of our favorites!  They were even tasty the next day leftover and cold! *you can make this with whatever pizza toppings your family likes.
SEE HOW EASY IT IS TO MAKE HOMEMADE PIZZA ROLLS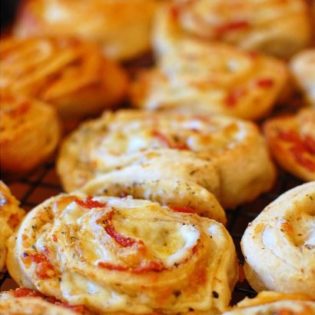 Homemade Pizza Rolls
Ingredients:
2 cans refrigerated pizza crust
garlic salt
Italian Seasoning
1 cup sliced and chopped pepperoni
1 cup shredded cheese (we used Provolone and Pepper Jack or Mozzarella)
1/2 cup Parmesan cheese
your favorite pasta sauce for dipping
Directions:
Preheat oven to 425
Dust a large cutting board or piece of wax paper with flour and roll out each pizza crust.
Season each crust with garlic salt and Italian seasoning.
Top with cheese and meat
Starting with a short end, roll crust into a tight log
Slice into 1-inch sections
Place pizza rolls on lightly greased pan, sprinkle with a little more cheese (optional) and bake for 10-12 mins.
Serve with pasta sauce for dipping.
Making this recipe? Share it with us on Instagram using the hashtag #TidyMom so we can see what you're creating in the kitchen!
Want more great recipes like this? Follow my TidyMom Easy Recipes Pinterest Board

  Do you make homemade pizza?  What's your favorite way to eat pizza? favorite toppings?
LIKE THIS HOMEMADE PIZZA ROLLS RECIPE? PIN IT!

*Disclosure- This post was created in connection with my appointment as an Ambassador in Unilever's Family Dish Program. For more great ideas, go to www.thefamilydish.com.