Black Bean & Chicken Taco Pizza
Refrigerated pizza crust and pre-cooked chicken makes this taco pizza easy as can be.  Add you favorite taco toppings, and don't forget the crushed Doritos for unexpected crunch and bold flavor.
Pizza is the 'answer to everything' kind of food. It's a winter food and a summer food. It's a "we could eat it every single day" kind of food. Pizza is probably one of the most customizable dishes you can make. And it's one of the meals you can make, and almost guarantee everyone will eat it. It's easy to make several varieties per meal so the picky eaters can get their own pizza……….. but a least we are all eating the same food when pizza is on the table!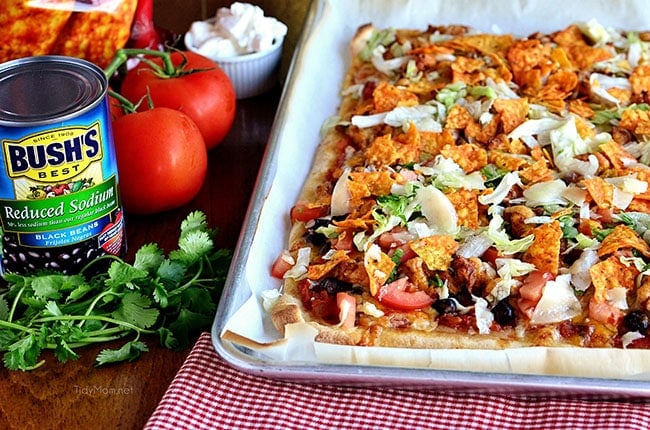 If you make pizza often, sometimes it's easy to get a little bored with the same ol' toppings.  Last week we decided to combine two of our favorite "easy diners" into one and made a Taco Pizza!
This pizza combines everything we love in a taco; taco seasoned chicken, salsa, Bush's black beans, tomatoes, cheese, lettuce…..and my new favorite thanks to my new favorite Doritos Tacos…. we added crushed Nachos Cheese Doritos for added crunch and bold flavor all on a pizza crust!
The only thing it was missing was the avocado I bought and forgot to put on the pizza….grrrr.  Next time for sure!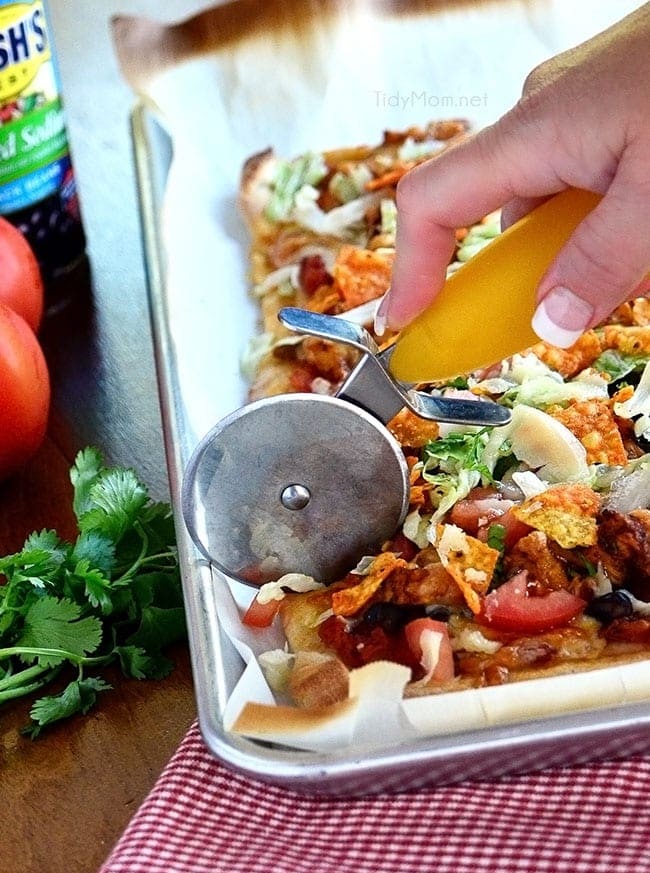 How I know it was really a success? everyone at the same pizza!  SCORE one for Mom!!
Whatever you do just make this pizza, the combination of flavors is spot on with it's taco-y deliciousness!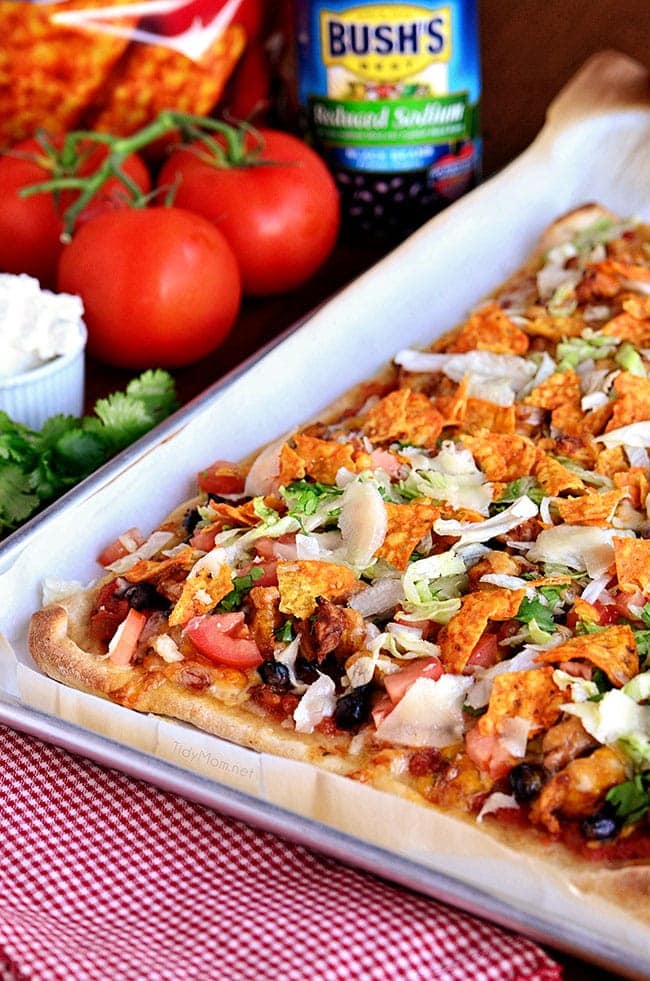 Black Bean & Chicken Taco Pizza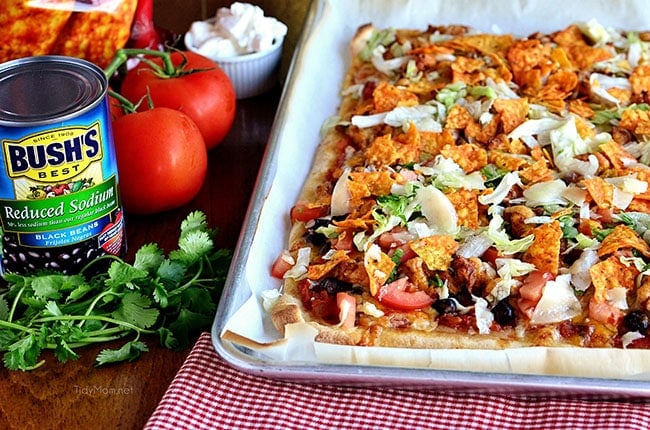 Refrigerated pizza crust and pre-cooked chicken makes this taco pizza easy as can be. Add you favorite taco toppings, and dont' forget the crushed Doritos for added crunch and bold flavor.
Ingredients
1 pizza dough (refrigerated or use your favorite recipe)
1-1/2 cup cooked chicken, diced (I use Tyson Grilled and Ready)
1 packet taco seasoning
3/4 cup water
1-1/2 cups salsa
1 cup Bush's Black Beans, drained
2 cups Mexican blend cheese, shredded
1/2 cup grated mozzarella cheese
1-2 cups coarsely crushed Nacho Cheese Dortios
1 cup shredded lettuce
2 medium tomatoes, doced
fresh cilantro, chopped
sour cream
Instructions
In a large skillet, warm chicken over medium heat until no longer cold. Stir in taco seasoning and water. Bring to a boil; reduce heat. Simmer, uncovered, for 10 minutes; set aside.
Preheat oven to 500 degrees. Line large baking sheet with parchment paper and spread out pizza dough. Spread salsa evenly over crust. Top with beans, seasoned chicken and Mexican cheese. Bake 8-10 minutes or until cheese is bubbly and crust is golden brown.
Remove pizza from oven and top with remaining ingredients (feel free to adjust toppings to your liking)
Cut into squares and enjoy!
https://tidymom.net/2014/taco-pizza/
Copyright© 2009-2013 TidyMom.Net
NEW FEATURE: Save recipes to your personal recipe box with the

Once you have your favorite recipes in your Recipe Box create a Meal Plan with them and the ingredients will automatically be added to a Grocery List!
What's your family's favorite kind of pizza to make at home?
More Pizza recipes you might enjoy:
Shaved Asparagus and Whipped Ricotta pizza
White Pizza with Shrimp on Naan
Berry With Arugula and Prosciutto Pizza 
Studded Cherry-Tomato, Bacon & Blue Cheese Pizza
 Craving more? Sign up for the TidyMom newsletter to stay on top of what's new right to your inbox! And stay in touch on Facebook, Twitter, Google+ and Pinterest for all of the latest updates

Disclaimer:  I grew up in a house who used Bush's Beans, I am now proud to be a brand ambassador for them for over three years and counting! As always, all opinions and views are my own.