AMAZING Pulled Pork
This Amazing Pulled Pork recipe is made in a slow cook roaster for a tender, juicy pulled pork sandwich that is always a big hit!
I have to share an AMAZING new pulled pork recipe I tried last week!  I wanted to make Pulled Pork Sandwiches and I happened across Ree's Spicy Shredded Pork Recipe – I made just a few minor changes due to what I had available.
**Update (Jan 20, 2017) This is still a family favorite that we make several times a year. Last week I took new photos for the post.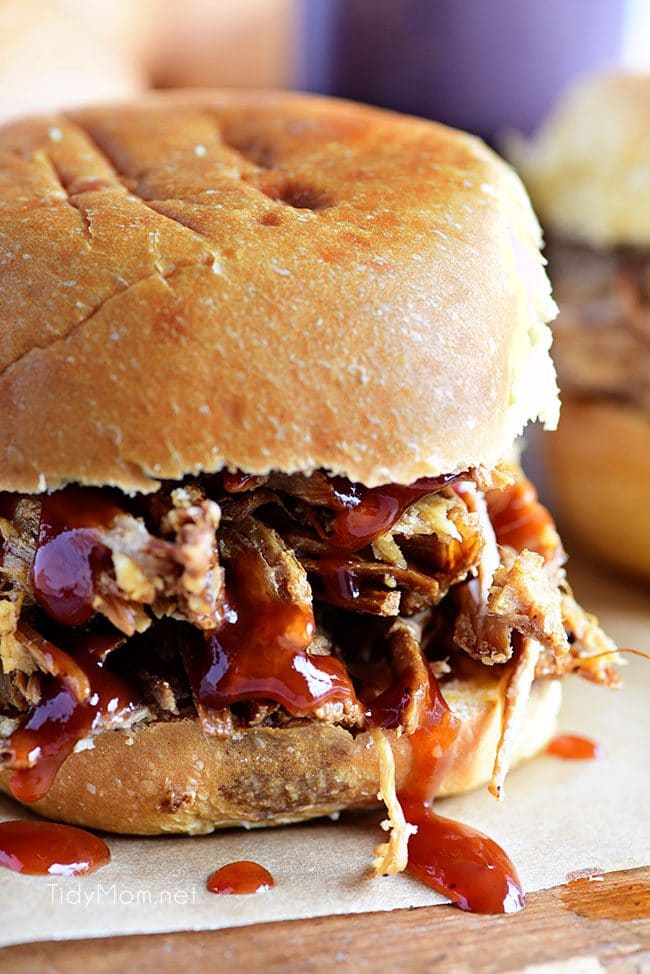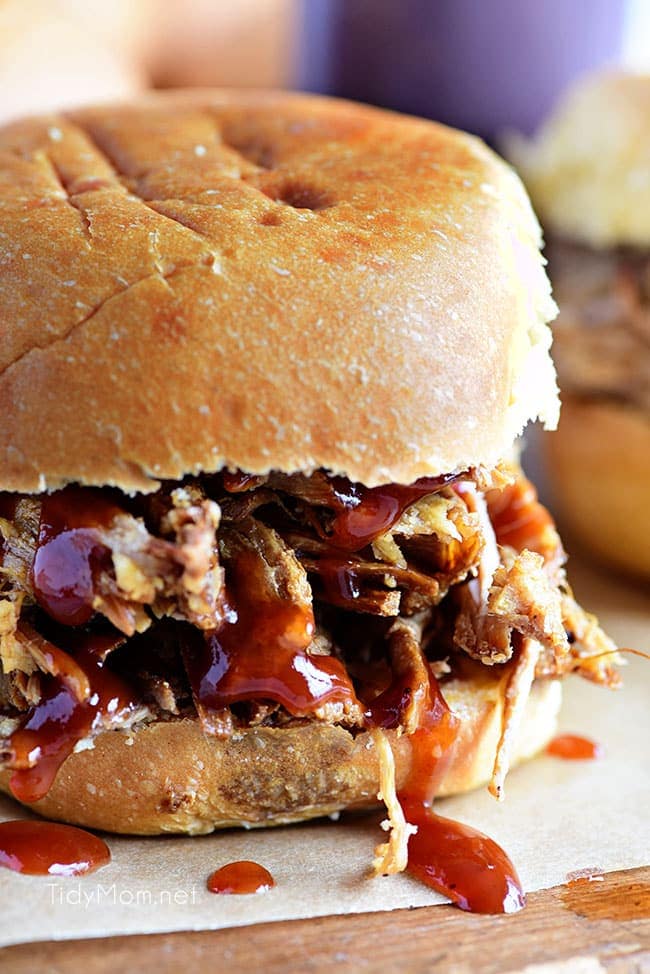 Let me tell you……….you have NOT had Pulled Pork until you've had this  Amazing Pulled Pork! OMG it was incredible! I mean, it was SOOOO good we all could NOT stop raving about it while eating, we ate the left overs for 2 more meals (which we NEVER do) and it kept getting better each time we ate it!
It's good with or without BBQ sauce.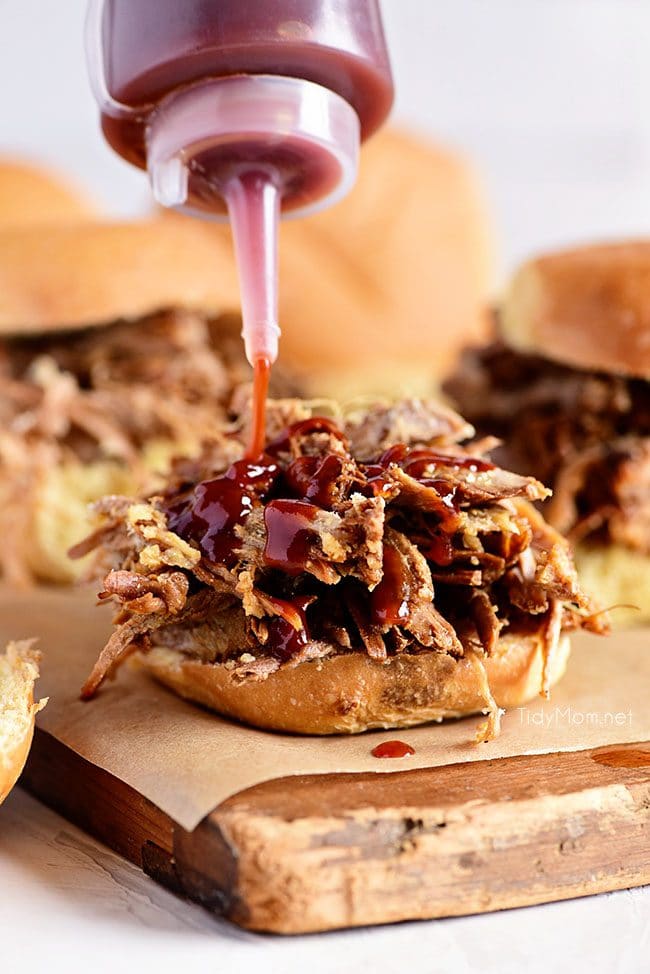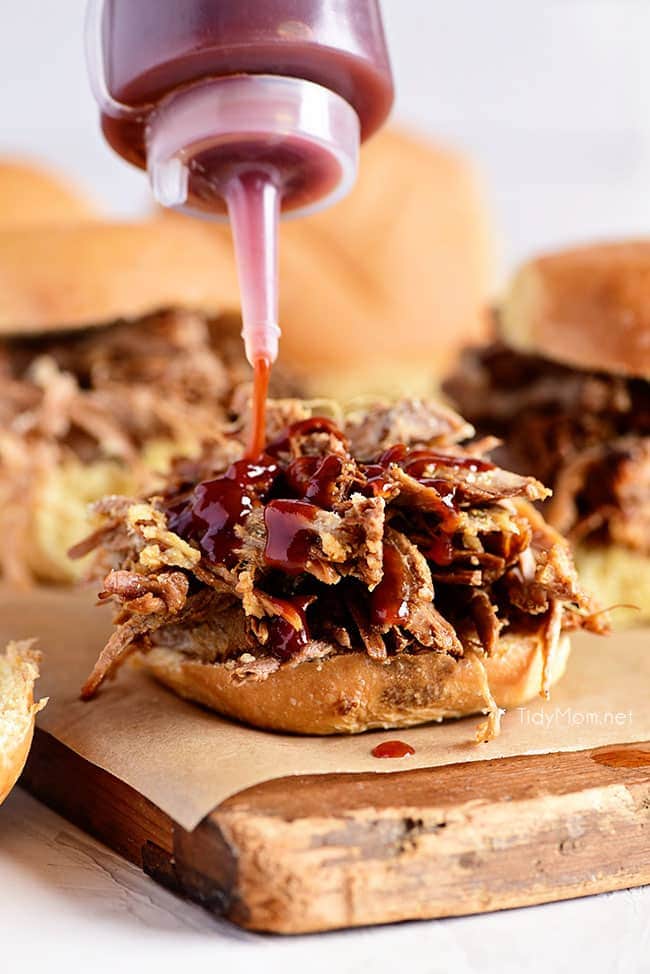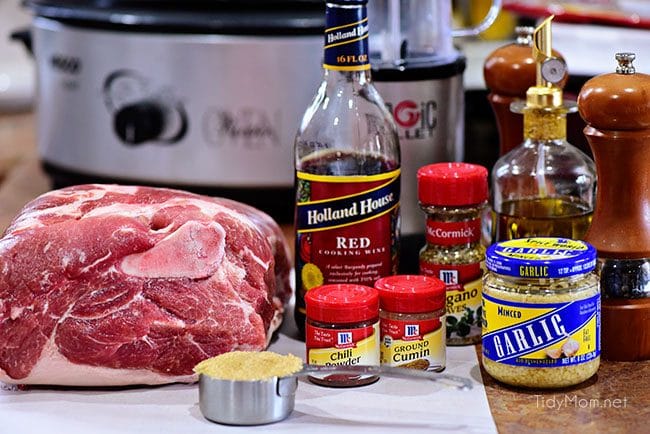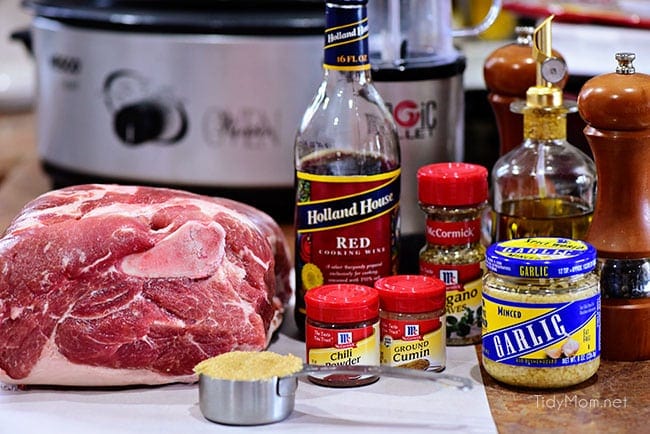 You will want a 4 – 7 pound pork butt roast or pork shoulder with the bone in.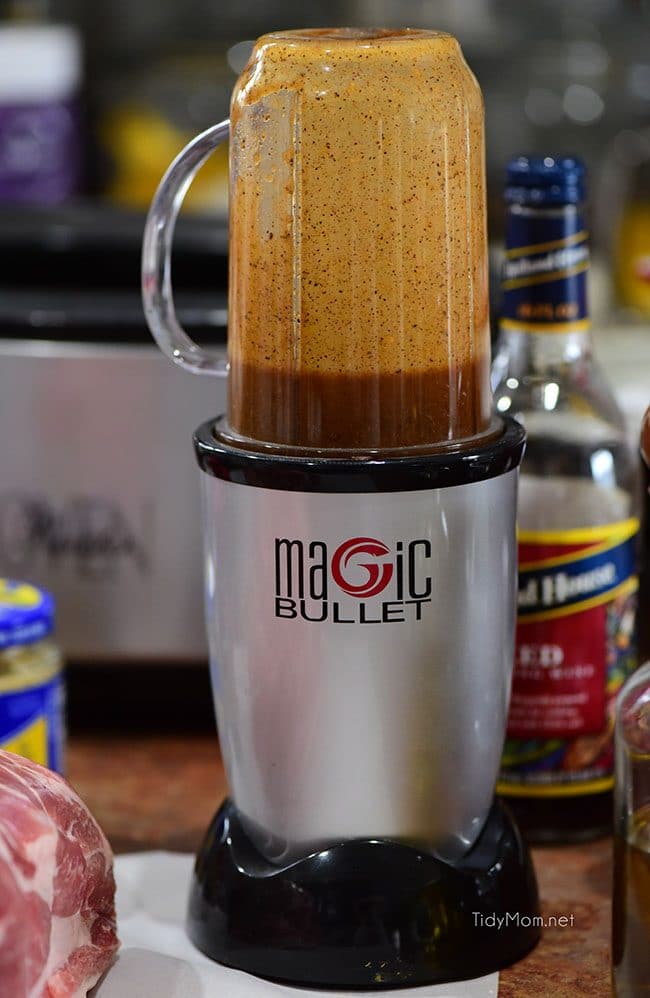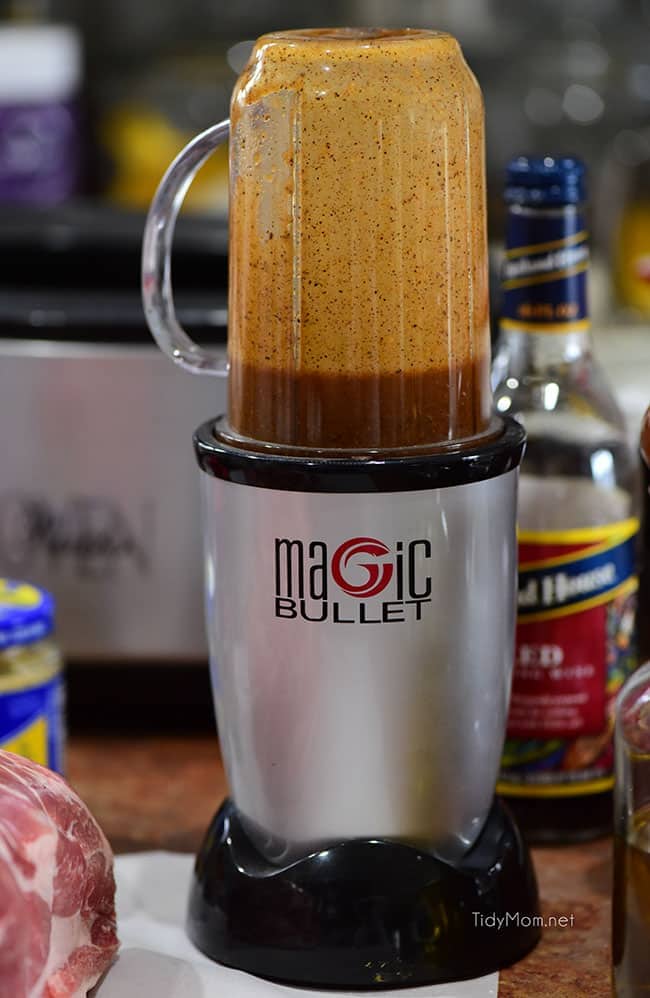 You can use a small food processor, but I like to use my Magic Bullet to combine chili powder, brown sugar, garlic, oregano, cumin, salt, pepper, olive oil and red wine vinegar.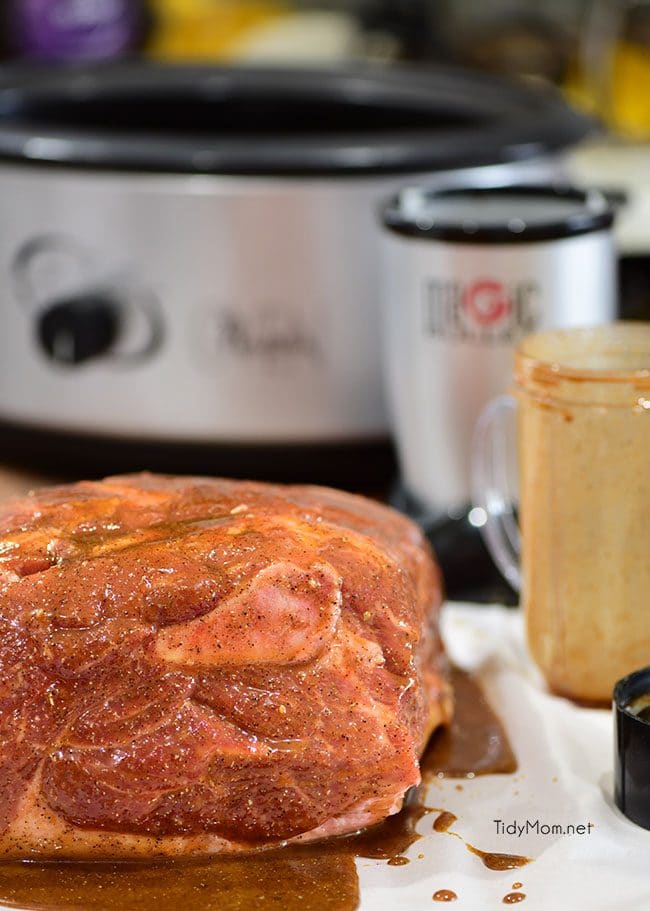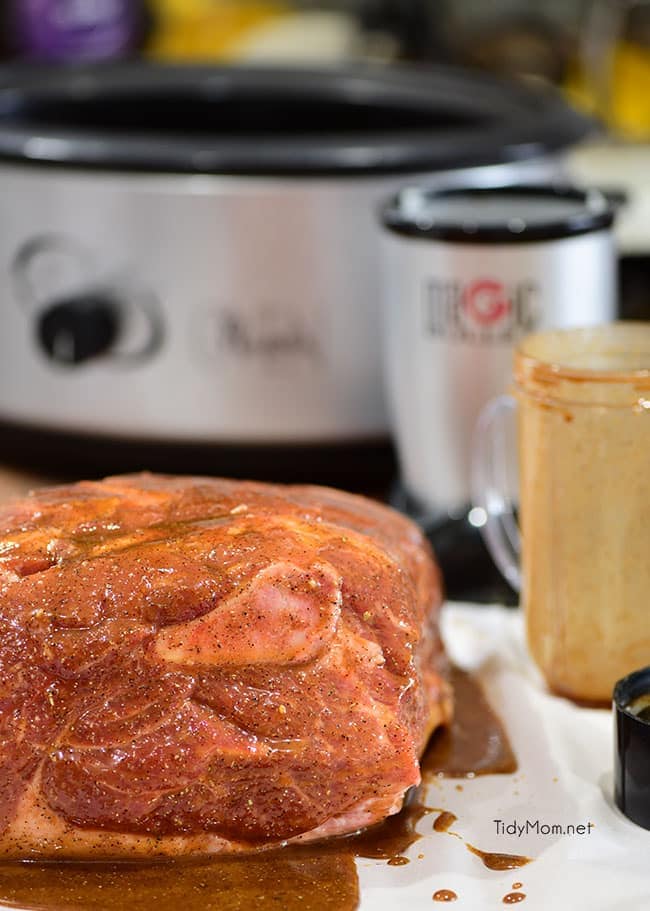 Wash your hands and rub the spice mixture all over the roast.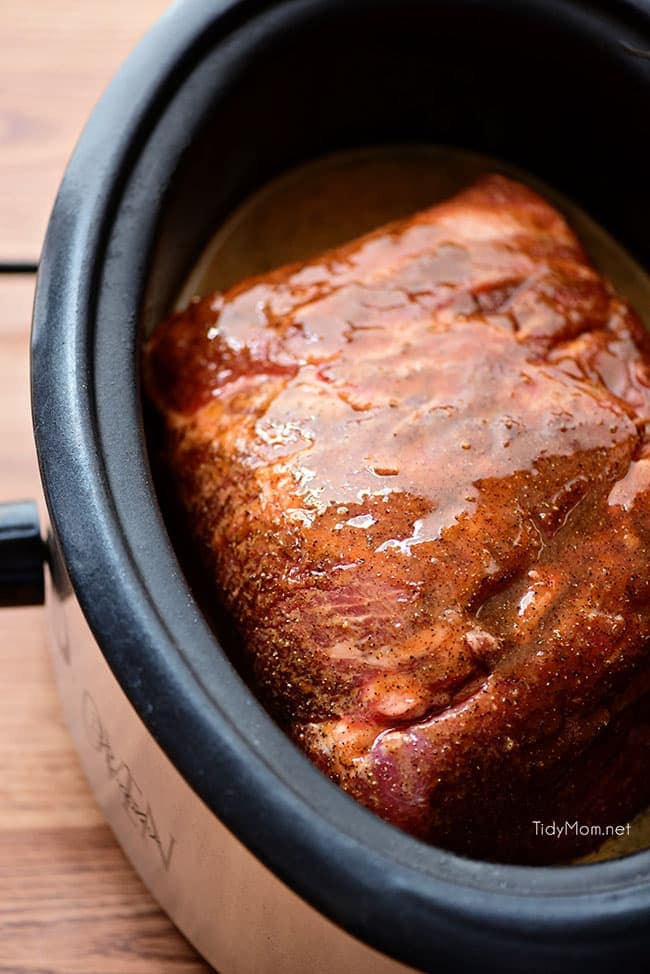 Next I place the roast in my Nesco Slow Cook Roaster, or you can use a roasting pan or dutch oven and add 1 1/2 to 2 cups of water. Cover tightly and roast the pork at 300 degrees for several hours (one hour per pound or until for tender), turning once every hour.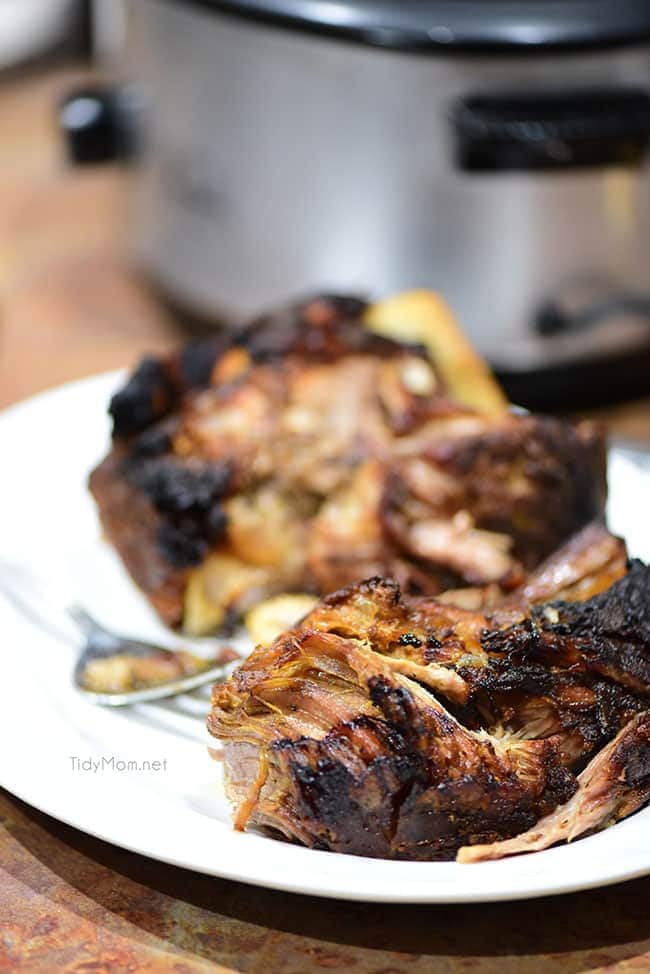 When the pulled pork is fork tender, crank up the heat to 400, remove the lid, and roast it, skin side up for 15 minutes. This step makes it nice and crispy! (best part according to my family)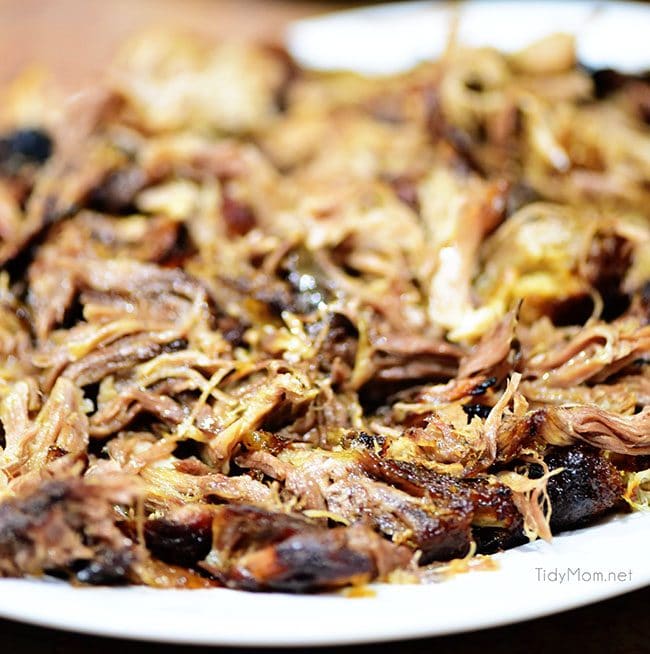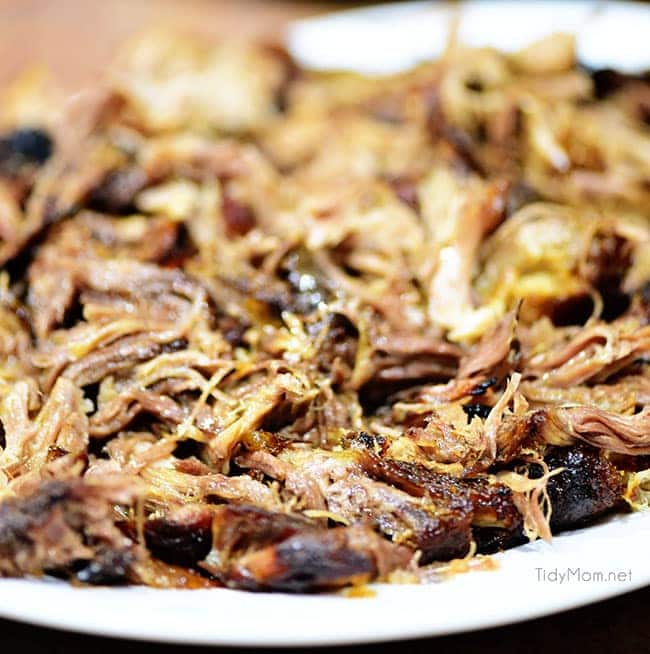 When it's done, let it rest for 15 minutes before shredding. Be sure to pour the juices all over the meat and enjoy!!  Serve on buns with our with out your favorite BBQ sauce.
 Get what you need to make Amazing Pulled Pork

Amazing Pulled Pork a DEFINITE keeper in our house!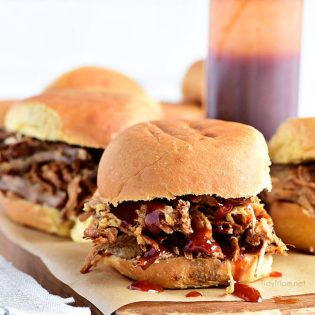 AMAZING Pulled Pork
Ingredients:
4-7 pound pork butt roast with bone (or pork shoulder)
1 teaspoon Chili powder
1/4 cup Brown Sugar
3-4 Cloves of Garlic (I use the jarred minced garlic)
1 teaspoon dried Oregano
1 teaspoon Ground Cumin
2 tablespoon Salt & Pepper
2 tablespoon Olive Oil
3 tablespoon Red Wine Vinegar
Directions:
Rinse roast and pat dry.
Blend all of the ingredients (except roast) in food processor, I used my Magic Bullet.
Rub all over roast. Be sure to get into all creases and folds in the roast.
Spray roasting pan with no-stick spray and place roast in roster (I used my Nesco Roaster ) and added about 1-1/2 cups water and cover with lid. Roast at 300, 4-6 hours (1 hour per pound) – turning every hour.
When it's fork tender, remove the lid, roast it by cranking the temperature to 400 and let it cook skin side up for another 15-20 mins. This step makes it nice and crispy! (best part according to my family)
Let it sit for about 10 mins. before shredding.
Remove bone (if you have one) and shred meat on a platter with two forks. Be sure to pour the juice from the pan over the pork. – I could NOT keep my family's fingers OUT at this point!
We served it with buns and BBQ sauce but it was also fantastic right off the platter!
You could do this with a slow cooker, but you would not get the crispy skin that you get by roasting this meat, and in my opinion, that's what made this SO good.
My roast was almost 5 pounds and fed 7 people.
My store did not have a pork shoulder roast, the butcher suggested the pork butt, and I bought bone in for more flavor (and it was cheaper).
I did NOT spray my roaster with no stick spray and I had to soak my pan for 2 days – so next time I will spray my roaster first!
Making this recipe? Share it with us on Instagram using the hashtag #TidyMom so we can see what you're creating in the kitchen!
Want more great recipes like this? Follow my TidyMom Easy Recipes Pinterest Board