Garlic Chicken Puffs – The Perfect Party Appetizer
with recipe video
Garlic Chicken Puffs have a rich creamy garlic chicken mixture inside a croissant and baked to form a yummy appetizer. This finger food is a big crowd pleaser and great for gatherings!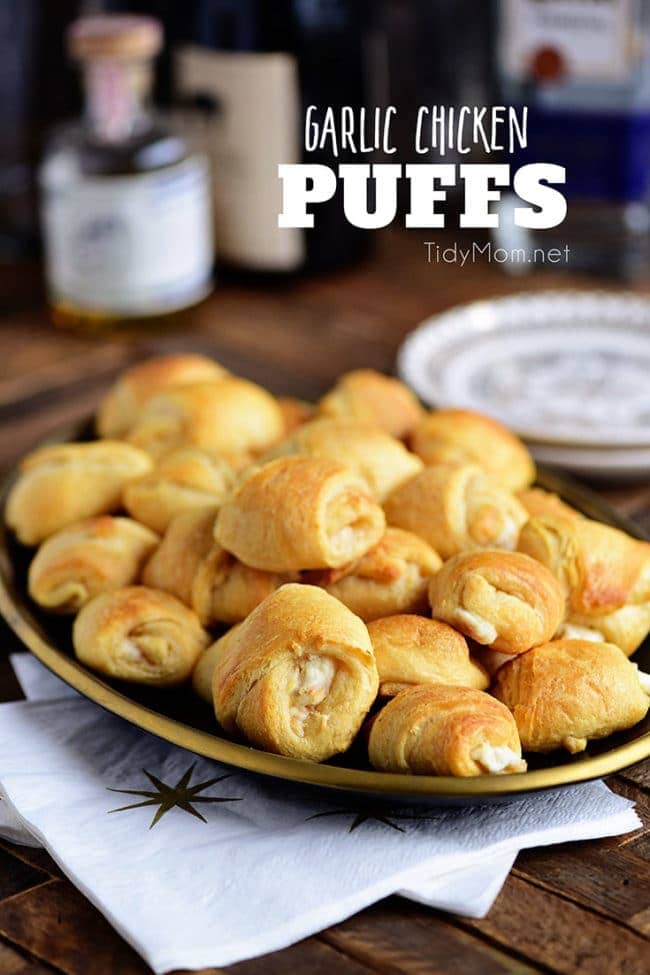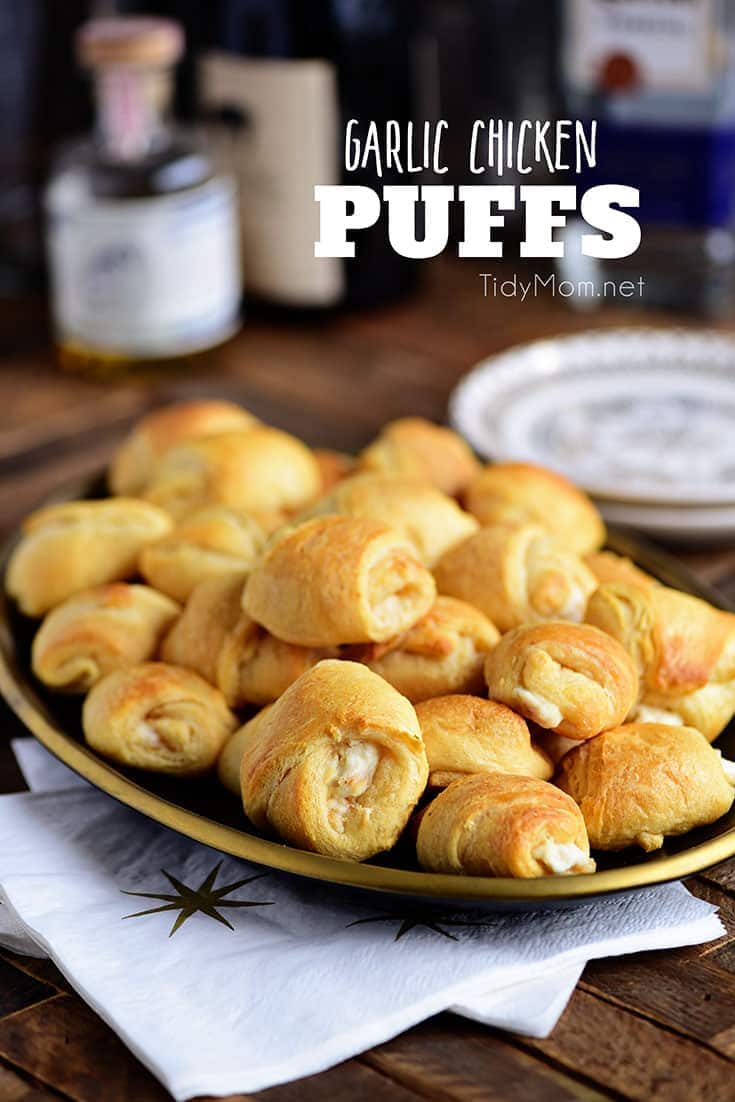 We had a GREAT time at a family Christmas party on Sunday.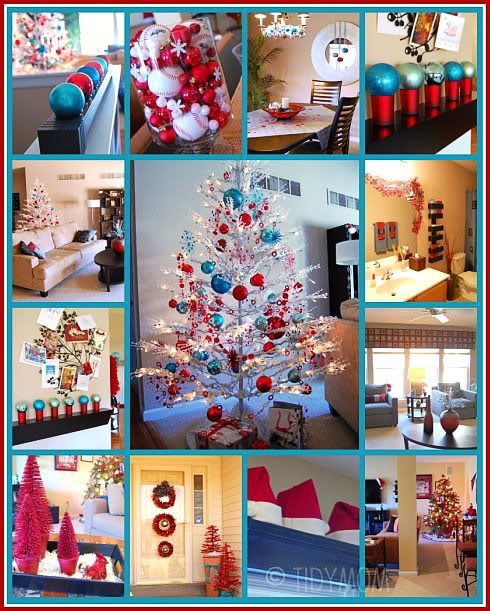 I have to share my aunts home with you all! She decorates for Christmas in Turquoise and Red, and their finished basement is St. Louis Cardinals themed.
Don't you just love all the little touches?
The ornament balls on top the votive candle holders!
The Santa hats lined up on a shelf, the baseballs mixed with ornaments!
That white tree changes colors, well the lights change colors, she also has these adorable red feather wreaths that I didn't get a good picture of to show you, but they are adorable with a turquoise bow and turquoise ornament hanging in the middle!
We snacked, we drank, we played a White Elephant Ornament Exchange, this year all 17 people played!
and we laughed…..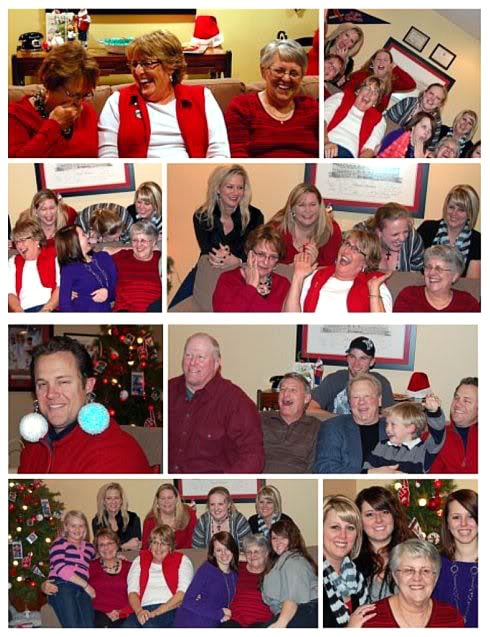 GARLIC CHICKEN PUFFS APPETIZER RECIPE
Everyone brought an appetizer to the party.
I brought my new favorite finger food.  My niece made these tasty little puffs filled with garlic chicken a few months ago for another party. We all loved them and they were the first appetizer to go.
So I called her to get the recipe.
Garlic Chicken Puffs!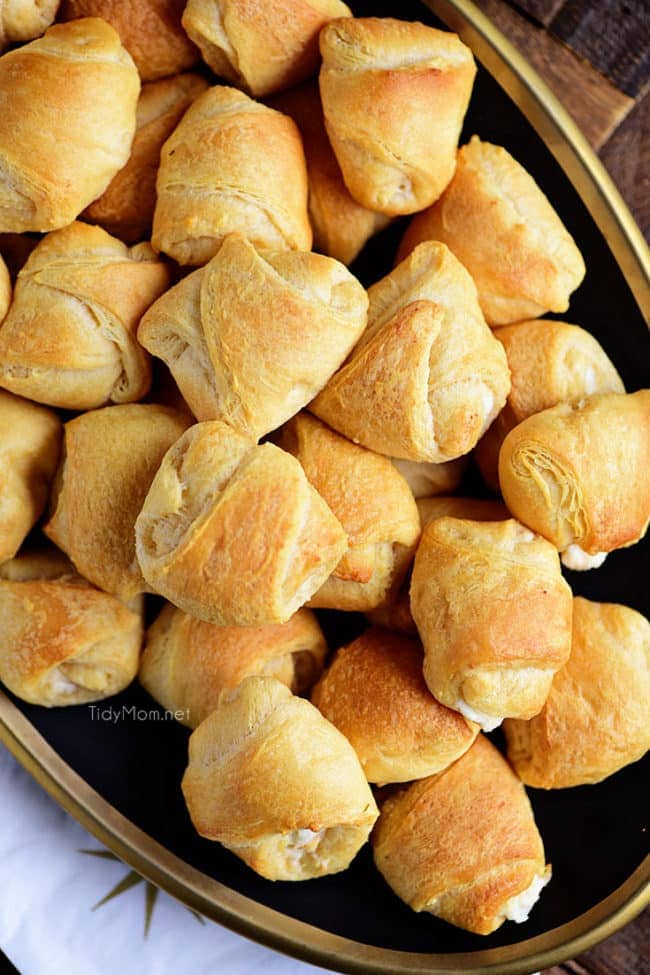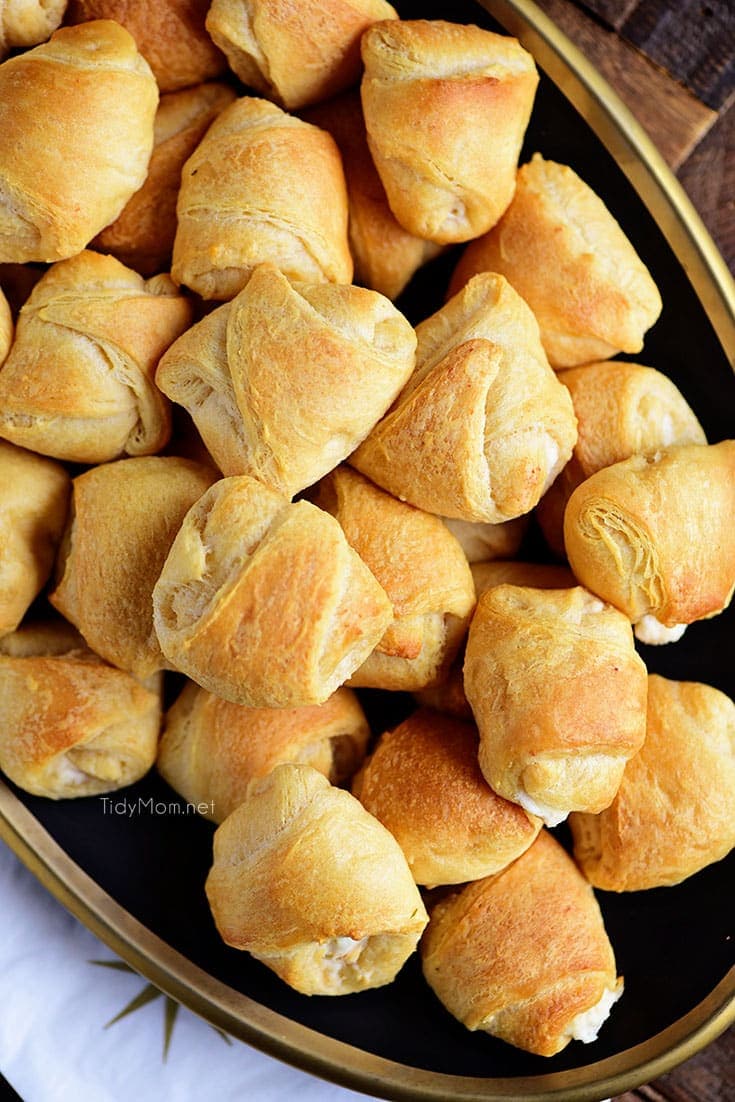 A rich creamy garlic chicken in a croissant that you eat with your fingers! What's not to love
They are a little messy to make, and I think I filled mine a little too much, so some of the chicken mixture oozed out, but still tasted DELICIOUS!
CHECK OUT HOW EASY THIS GARLIC CHICKEN PUFFS RECIPE IS TO MAKE! WATCH THE VIDEO!
click to see more of my recipe videos
If you love chicken appetizer recipes the way my family does, you'll want to check out these Buffalo Chicken Meatballs, Chicken Enchilada Puffs and Cheese Stuffed Chicken & Spinach Pizza Bread. Italian Eggrolls with Marinara Sauce, Buffalo Chicken Roll Up Appetizers, Bacon Wrapped Chicken Teriyaki Bites, and Green Curry Chicken Wonton Bites are on my list to try soon too!
Garlic Chicken Puffs
A rich creamy garlic chicken mixture inside a croissant and baked to form yummy puffs. A big crowd pleaser and great for gatherings!
Ingredients:
1/2 cup cooked shredded chicken*
4 ounces cream cheese
1 teaspoon garlic powder
a pinch of salt
2 (8 count) cans refrigerator crescent rolls
Directions:
Preheat oven to 375° F and line a baking sheet with aluminum foil sprayed with cooking spray.
In a medium bowl mix cream cheese, garlic, and shredded chicken until well blended.
Unroll crescent rolls and cut each triangle into 2 triangles (when you unroll the crescent rolls, 2 triangles are attached making a big square, I just cut from there following the perforation for one cut and made another cut from the other corners = giving you 4 little triangles)
Place one teaspoon of chicken mixture in the center of each crescent triangle. Fold the corners over the chicken mixture and place on prepared pan.
Bake for 11-14 mins.
*For cooked chicken, I either use shredded rotisserie chicken, or I cook a few chicken tenderloins in a 350°F oven for about 25 mins.  After the chicken has cooked and cooled some, I place it in the bowl of my electric mixer and beat with the paddle attachment to quickly shred the chicken.
Making this recipe? Share it with us on Instagram using the hashtag #TidyMom so we can see what you're creating in the kitchen!
Want more great recipes like this? Follow my TidyMom Easy Recipes Pinterest Board
LIKE THIS GARLIC CHICKEN PUFFS APPETIZER RECIPE? PIN IT!